Profiles of Members of the Native-American Community at EPA: Michelle Davis
Profiles of Members of the Native-American Community at EPA
---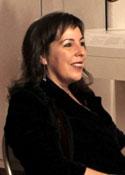 Michelle Davis, Tribal Coordinator
EPA Region 10 - Alaska Operations Office
Anchorage, AK
What is your tribal affiliation?
I am an enrolled member of the Central Council of Tlingit and Haida Indian Tribes of Alaska and I am from the Tlingit Eagle Moiety and Killer Whale House.
What brought you to EPA?
Before joining EPA, I was the Alaska regional coordinator for the Native American Fish and Wildlife Society. I wanted to continue working on environmental issues. I applied when there was an opportunity at EPA, and I brought on as a Tribal Coordinator at the agency's office in Anchorage.
Describe the type of work you do at EPA.
I am one of the tribal coordinators with the US EPA Region 10.  I work with Alaskan tribes in the southeastern part of the state. I also work on tribal climate change issues in Region 10. 
What message would you like to send other American Indians/Alaska Natives who are considering college or a career in environmental protection?
In my view, working in the environmental fields is a natural fit for many tribal members.  Scientists often spend a great deal of time in the field. This fits with many of our traditional ways of life.  The values and skills we learned from our parents and grandparents, like patience, endurance, good humor, outdoor skills and the ability to observe the natural world, are very useful in science.  Traditional knowledge enhances the western (new) sciences, as do our values of stewardship and respect for all living beings.