Profiles of Women of EPA: Ann Richard
---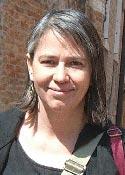 Ann Richard, Research Chemist
Office of Research and Development
Research Triangle Park, NC
Where were you born?
Worcester, Mass.
What brought you to EPA?
My husband and I had both just graduated with Ph.D.s when he landed a good job at NC State University. As is the case with many professional couples, I looked for a job locally and learned of a postdoctoral position available at EPA for a computational chemist. I was hesitant at first, since this area of toxicology was pretty far from my original field of research. But having no other good prospects at the time, I jumped at the opportunity. I had no idea back in 1984 that it would define my new career path and I'd still be at EPA 32 years later!
What type of work do you do at EPA?
I'm a researcher in EPA's Center for Computational Toxicology & Exposure. I use computers and chemistry to develop models to predict whether a molecule might be toxic to animals and people. I also do something called "cheminformatics", where we process very large numbers of chemical structures. I also manage a very large chemical database for EPA's ToxCast, Tox21, and PFAS research programs, which test chemicals using plates the size of an iPhone instead of dosing animals, and can analyze up to 1536 chemicals at a time. This new approach is called "computational toxicology" and is revolutionizing the way we do testing in the 21st century.
What is your highest level of education? What was your major?
My undergraduate degree is from SUNY Oswego, where I double-majored in chemistry and math.  I earned a Ph.D. in physical chemistry from the University of North Carolina at Chapel Hill in 1983.
What message would you like to send other women who are considering college or a career in environmental protection?
My advice to women considering a career in environmental protection is to not limit yourself to "environmental studies," but rather to follow your passion and aptitude first. Take advantage of internships and research opportunities along the way, whether in the fields of law, social sciences, chemistry, math, computer science, biology or toxicology.  In my view, it's more important to first build on your strengths and interests, and then seek ways to apply your training and talents to the problems that most concern you.  Environmental protection is a very large tent that requires a wide range of expertise and capabilities; so use an undergraduate course of study to build the skills, and then seek out one of the many doors to bring those skills into the tent.