Profiles of Women of EPA: Dale Perry
---
Dale H. Perry, Ph.D., Associate Chief of Staff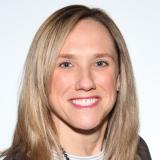 Office of Research and Development
Washington, D.C.
Where were you born?
New Jersey. While I've been living in the metropolitan DC area for years, I will always be a Jersey girl at heart.
What brought you to EPA?
I started working as a contractor performing ecological risk assessments for EPA in 1997 while I was finishing my masters degree. That was my first introduction to the EPA, but I immediately knew that I wanted to work for an agency that values science and the role it plays in environmental protection.  Being able to apply my science knowledge to help guide policy and regulatory decisions was incredibly appealing.
What type of work do you do at EPA?
I am currently the Deputy Chief of Staff for EPA's Office of Research and Development (ORD). ORD is home to many of the agency's world class scientists and technical experts so it's exciting to have a front row to seat to all of EPA's cutting edge science and research. As the Deputy Chief of Staff I like to think that it's my job to support our scientists at the corporate level so they can focus on their important work and I'm honored to do so.
What is your highest level of education? What was your major?
I have a master of science and a Ph.D. in ecology and evolution from Rutgers University.
What message would you like to send other women who are considering college or a career in environmental protection?
Think outside of the box when it comes to environmental protection and a science career. Though I am a scientist by training, I discovered a passion and skill in science communication while in graduate school. I think people get stuck thinking that a degree in science means either a career as a professor, a researcher in a lab, or some combination of both. A strong background in science can open the door to many different types of careers in environmental protection. Do some research and talk to people who actually work in the field you're interested in. You will likely be surprised how they got to where they are versus what they studied in school. There are a lot of different careers, so dream big!