Profiles of Women of EPA: Francesca Grifo
---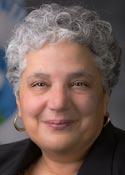 Francesca Grifo, Scientific Integrity Official
Office of Research and Development
Washington, DC
Where were you born?
Easton, Pennsylvania.
What brought you to EPA?
Before I came to EPA, I was working at the Union of Concerned Scientists. I was part of a new program investigating scientific integrity in agencies across the federal government. I came to EPA because I thought it would be fascinating to work on this issue from inside the federal government, especially taking the next step: implementing it. So here I am!
What type of work do you do at EPA?
As EPA's Scientific Integrity Official, it's my job to work with the Scientific Integrity Committee to make sure that we use the best science and technology to make decisions. Scientific integrity is a long process. From identifying a scientific problem to gathering the data to solve it, we ensure that the science makes it through in a robust, independent way.
What is your highest level of education? What was your major?
I earned my bachelors degree in biology from Smith College. I received my Ph.D. from Cornell University in botany.
What message would you like to send other women who are considering college or a career in environmental protection?
Pursue what you love. That's the only thing that really matters. If you're passionate about something, you'll work hard at it and you'll find something meaningful to do. We spend too many hours at work to do something that we don't enjoy.
From a broader career point of view, always be thinking about what your next job might be. Ask yourself, what are you doing now that will demonstrate your excellence and your ability to do good work at your next job? That can be really important.
My final piece of advice is that it's tough and it will make you crazy, but there's no better crazy than to try to balance a family and work. I talk to a lot of young people who say they are intimidated by this concept. When I was growing up, my friends used to say, "We're all going to have it all."  Don't worry about that. You never have it all. But you can certainly have an awful lot.