Profiles of Women of EPA: Justina Fugh
---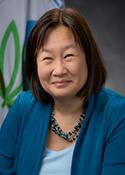 Justina Fugh, Director
Ethics Law Office
Washington, DC
Where were you born?
San Francisco, CA.
What brought you to EPA?
Both of my parents emigrated from China to the United States. My father was a lawyer who was the first Chinese American to become a general in the US Army and who retired as The Judge Advocate General. He instilled in me a keen commitment to public service. Given that my parents and financial aid had provided for my college education at a private school, I committed to pay my own way through law school. I went to school at night and worked during the day for an environmental law firm. Of course, my parents helped and allowed me to live at home while attending school. I was impressed by the caliber of EPA attorneys I met while I was at the firm. Upon graduation, I committed to join them.
What type of work do you do at EPA?
I oversee EPA's day-to-day ethics program and advise agency personnel on all legal issues pertaining to government ethics, professional responsibility and the Hatch Act (which limits partisan political activity of federal employees).  Because we work for the federal government, all EPA employees must abide by the Standards of Ethical Conduct and conflict of interest statutes. We have to be sure that the American public is able to trust that we carry out our jobs without any financial conflict, or inappropriate favoritism, or partisan political influence. My job is to help EPA employees understand their ethics rules and responsibilities.
What is your highest level of education? What was your major?
I majored in art history at Vassar and have a JD from George Washington University.
What message would you like to send other women who are considering college or a career in environmental protection?
Don't define yourself by your gender or any perceived limitations. You are as powerful as your imagination and heart.