Profiles of Women of EPA: Sandra Rivera
---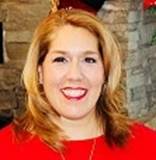 Sandra Rivera, MBA, Acting Associate Director and EPA's Hispanic Employment Program Manager Council Chair Customer Advocacy & Communications Division; Office of Customer Advocacy, Policy & Portfolio Management
Office of Mission Support (OMS)
Washington, DC
Where were you born?
I was born and raised in Lynn, Massachusetts. My mother is from Cali, Colombia and my father is from Arecibo, Puerto Rico.
What brought you to EPA?
While attending a job fair, I approached the EPA booth to ask about the type of opportunities they were recruiting for.  I told them I had a business degree and I am sure they could use someone like me in their organization.  I provided them with my resume and within a few weeks I got a call for an interview in their acquisition's office.  EPA provided me my first federal government opportunity.
What type of work do you do at EPA?
In June 2020, I started a 4-month promotional detail as the Associate Division Director for the Customer Advocacy and Communications Division (OCAPPM-CACD), which provides the bridge between Agency customers and OMS's portfolio of services.  In this role, I provide complex technical advice and administrative expertise in support of the Division Director to oversee and manage OMS' communication portfolio including intranet site, customer communications, weekly communications to OMS Senior management, and other means of communication with EPA staff and managers, significantly influencing the communication policies of the Division and the Agency.  In addition, I oversee contractor support for the division, advise the Division Director regarding staff work priorities and oversee the Division budget, including Working Capital Fund, and other contracts to grants.  Finally, I support the OMS Communications program including development of policy, strategies, tactics, program and project plans, and support the Division Director in their implementation.
Prior to my promotional detail, I was a Program Manager in the Office of Mission Support/Office of Information Management managing the development and implementation of IT projects for the Agency's Central Data Exchange (CDX) in support of EPA's mission and program areas such as air, water, waste and toxic substances and functional areas such as enforcements, compliance, technical assistance and permitting.  In my role, I also administer the CDX Help Desks, manage contracts over $100M+, provide analysis of program reporting, security requirements and technical solutions for over 95+ data flows while analyzing EPA's operating programs to evaluate effectiveness in achieving Agency goals through shared data exchange services. 
Since 2014, I have been EPA's Hispanic Employment Program Council Chair overseeing the Hispanic Employment Program a special emphasis program supporting Hispanic outreach efforts and diversity initiatives under OHR's DRESD and OCR.
Since January 2005, I have held a variety of permanent and promotional detail positions within EPA, from Sr. Contract Specialist in OAS to Information Technology Specialist in the Information Technology Service Center to Special Assistant in WPD to Acting Team Leader for the Program Management Analysis Data Team to Project Officer with OMS/OIM to Senior Program Manager leading a team of IT and SMEs in streamlining electronic permitting and reporting solutions.
What is your highest level of education?  What was your major?
I hold a BS in International Business Management from the University of New Haven and an MBA from Trinity Washington University with a focus on business administration.
What message would you like to send women who are considering college or a career in environmental protection?
Be a risk-taker and learn to explore new environments as you venture into new destinations. Become an agent of change within your community!