Yvette T. Collazo, Director
---
Yvette T. Collazo, Director
Office of Pollution Prevention and Toxics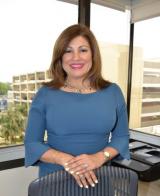 Office of Chemical Safety and Pollution Prevention (OCSPP), Washington, DC  
Where were you born?
I was born in Chicago, Illinois and I was raised in Puerto Rico, both my parents are Puerto Rican.
What brought you to EPA?
I have always been interested in working for the EPA so in a way it's a career goal come true. I believe the EPA mission is essential to the country.
What type of work do you do at EPA?
On March 30, 2020, I joined the EPA as Director for the Office of Pollution Prevention and Toxics (OPPT).  I am responsible for leading efforts to ensure chemical safety under the Toxic Substances Control Act, reduce waste and increase innovation through the Pollution Prevention Act, and increase public information on chemicals through the Toxics Release Inventory.
What is your highest level of education? What was your major?
I have a Bachelor of Science in Mechanical Engineering from the University of Puerto Rico- Mayaguez Campus and a Master's of Science in Environmental Management from Illinois Institute of Technology.
What message would you like to send other Hispanics who are considering college or a career in environmental protection?
Having the opportunity to attend college is a privilege and one that should not be taken lightly. You have an opportunity to choose something you are passionate about, embrace it.  Remember, education is the one thing no one can ever take away from you.