Atmospheric Research Related to CASTNET
Alberta Environment and Parks, Elk Island, Alberta Canada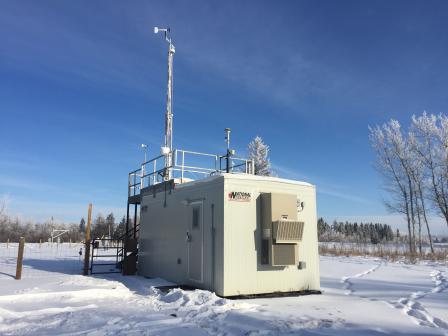 Elk Island Monitoring StationAs part of the Alberta Atmospheric Deposition Monitoring Network, Alberta Environment and Parks has been conducting a pilot study in dry deposition monitoring using the CASTNET protocol 3-staged filter pack. The pilot study launched in fall of 2019 at the existing monitoring station at Elk Island National Park in Alberta. Similar to the CASTNET protocol, the filters are deployed under a rain shelter at 10-meters from Tuesday-Tuesday.
The filter packs from the Elk Island station are analyzed at the Wood Environment Infrastructure Solution Laboratory. While not part of the CASTNET monitoring program, the site is a partner in dry deposition research. Results on concentrations and depositions from this pilot study can be requested through Alberta Environment and Parks.
The monitoring location is co-located with existing provincial continuous air quality and wet deposition monitoring. Quality-assured data are submitted to the provincial database. A link to the database is provided on the Alberta Environment and Parks web page. ExitThe Elk Island station also participates in the passive ammonia (NH3) monitoring network (NADP/AMoN). Data from the AMoN site can be found on the NADP web page.Exit
Cary Institute of Ecosystem Studies, Millbrook NY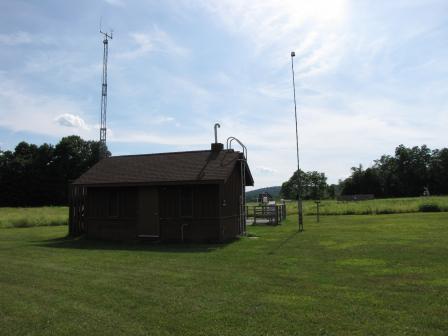 Cary Institute of Ecosystems Studies Monitoring StationThe Cary Institute has been monitoring acidic gases and particles using a CASTNET protocol 3-stage filter pack since 1988. In addition, the monitoring site, located in Millbrook, NY, collects hourly meteorological parameters and hourly ozone data. While not part of the CASTNET monitoring program, the site is an obvious partner in dry deposition research.
Similar to the CASTNET protocol, the filters are deployed under a rain shelter at 10m from Tuesday-Tuesday. The filter packs from the Millbrook site are analyzed at the Cary Institute of Ecosystem Studies Laboratory. The meteorological data is now being processed by the Multi-Layer Model (MLM) which is also used by the CASTNET program to calculate deposition velocities. The concentration data and flux estimates from the Cary Institute can be found here on the Data Summary website.Exit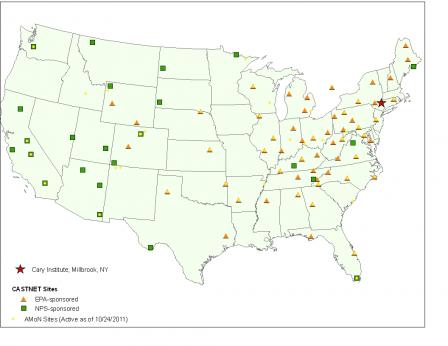 Cary Institute Site Location; Millbrook, NY. Click to enlarge the map.The NY DEC collects hourly ozone measurements at the Cary Institute. The state QA's the data and submits the data to EPA's AQS database (36-027-0007). A link to near-real time ozone data is provided here on the NY DEC web page.Exit
The Cary Institute has also joined the NADP AMoN, a passive ammonia (NH3) monitoring network. Data from all AMoN sites can be found on the NADP Web page. Additional monitoring at the Millbrook site includes a Climate Reference Network site and a wet precipitation site. Data from all the measurements collected at the Cary Institute site, as well as additional information about the Cary Institute Monitoring program, can be found on the their website.Exit