In 2011, EPA upgraded all ozone monitoring equipment at CASTNET sites to comply with the requirements in 40 Code of Federal Regulations (CFR) Part 58. Each CASTNET site that measures hourly ozone meets the additional audit requirements and complies with the data reporting deadlines set forth in the CFR. CASTNET ozone data are submitted near real-time to AIRNow Tech and updated on the CASTNET website daily. In addition, CASTNET ozone data are submitted to the EPA's Air Quality System (AQS). All ambient monitors that meet regulatory requirements are required to submit data to AQS. Ozone measurements from CASTNET sites will now be used to determine if an area meets, or exceeds, the National Ambient Air Quality Standard (NAAQS). An area is designated out of attainment if the 3-year average annual 4th highest daily maximum 8-hour ozone concentration exceeds 0.070 ppm (70 ppb).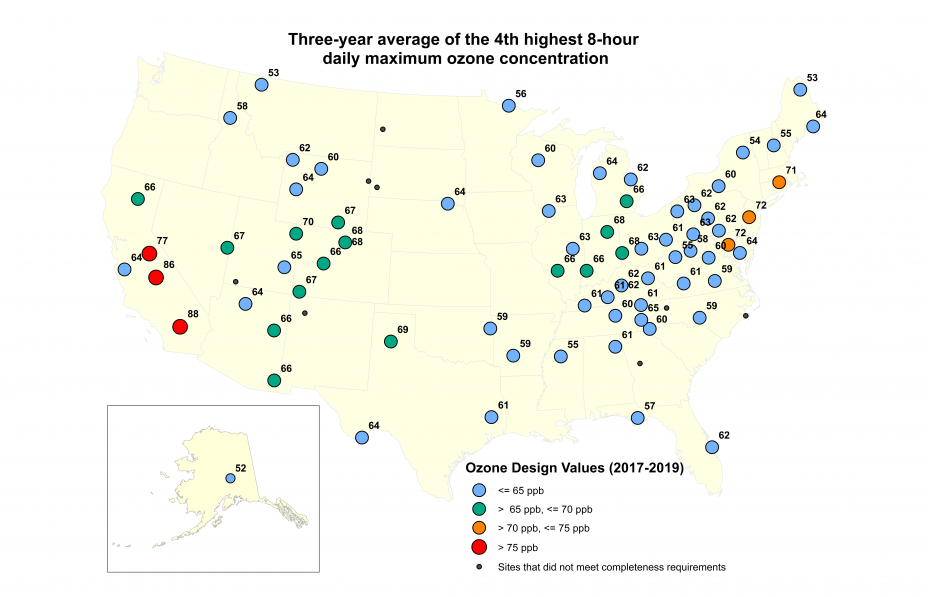 Quality Assurance
The CASTNET ozone analyzers undergo nightly zero, span, and precision checks to quickly diagnose any problems with the system. Data review is performed daily by an automatic screening system.
All on-site transfer standards are certified Level III, meaning they have been calibrated by a Level II standard. The Level II transfer standards are used to calibrate the on-site ozone transfer standards twice per year. The Level II transfer standards are calibrated once per year at NIST or at one of the EPA regional laboratories by a Standard Reference Photometer (SRP), otherwise known as a Level I standard.
Every CASTNET ozone monitor within the network is audited once per year by an independent auditor who completes a Performance Evaluation (PE). The PE results are required to be submitted to AQS before annual data can be certified. A monitoring agency may perform an independent PE at a CASTNET site if they follow the procedures outlined in the Third Party Audit Guidelines(2 pp, 68 K, About PDF) document. In addition, each year 20% of the network participates in the National Performance Audit Program (NPAP). State, local, and tribal agencies participate in the NPAP to provide consistency in the data across all monitoring organizations.
Technical Systems Audit
Every three years the reporting agency is required to participate in a Technical Systems Audit (TSA) to verify the monitoring program complies with the established regulations in the Code of Federal Regulations (40 CFR Part 50, 53, and 58). In late 2012, the EPA CASTNET contractor, Wood, participated in the first CASTNET program TSA for regulatory ozone monitoring. ARS, Inc., the NPS and BLM-WSO CASTNET contractor, participated in a TSA at their facility in 2013. The final audit reports and contractor responses to the findings can be found on the Documents page.
Ozone Documents
You may need a PDF reader to view some of the files on this page. See EPA's About PDF page to learn more.