What's Changed Between BASINS 4.0 and 4.1?
BASINS 4.1 (released in 2013) provides a number of significant improvements over BASINS 4.0. These improvements increase the functionality and applicability of BASINS. The major changes that have been incorporated into BASINS 4.1 are listed below. For more detail on BASINS 4.1, please refer to the BASINS 4.1 User Manual(1 pg, 27 MB, 2013) .
---
Significant Improvements:
BASINS 4.1 is built upon the latest stable release of the non-proprietary, open-source MapWindow GIS. The new MapWindow interface has changed in appearance from BASINS 4.0, but the main functions remain the same.
The BASINS automatic watershed delineation tools have been updated to use TauDEM (Terrain Analysis Using Digital Elevation Models) version 5 from Utah State University. TauDEM is a software program that delineates watershed boundaries from topographic information such as elevation grids, slope and stream flow direction.
Beginning with BASINS 4.1, two of the main utilities, GenScn and WDMUtil, are available as separate downloads. However, most of the functionality of GenScn and WDMUtil is now included in the core BASINS user interface, making the separate programs unnecessary for most users.
BASINS 4.1 includes DFLOW, a tool to estimate design stream flows for use in water quality studies.
The BASINS 4.1 User Manual has been updated to reflect the current software.
Verified 64-bit and Windows 8 compatibility.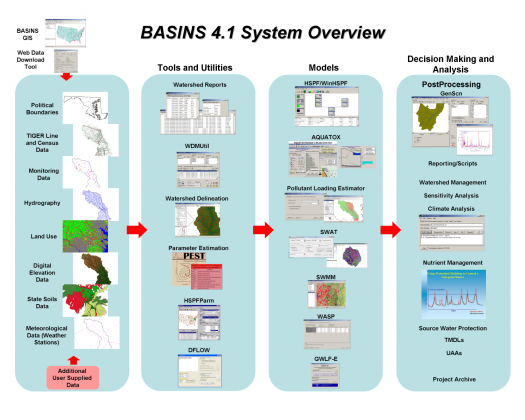 The BASINS 4.1 system allows the user to process data through a variety of tools and utilities, run models, and analyze the data and results to facilitate informed decision making.
---