ToxCast Data Generation: Publicly Available Data
Data Releases
The ToxCast effort has been developed in three phases: Phase I, Phase II and Phase III (in progress). Starting with the release of Phase I data in 2010, each phase has added new data for unique chemicals and assay endpoints to the library.
There is currently data available for more than 1800 unique chemicals and 700 assay endpoints (Note: not all chemicals are subjected to testing in all assays). The graphic below presents a breakdown by phase of the chemical set names, release dates, number of unique chemicals assessed and number of assay endpoints.
The current data files are available for download here.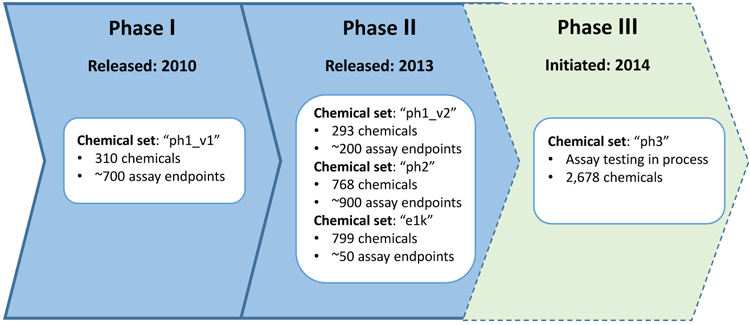 Previous ToxCast Data Releases
Data files from previously published ToxCast data releases are available here.  These files are NOT recommended for use in new analyses, but are provided for users who may need access to previous data files for ongoing analyses.
Additional Information on Data Releases
Richard, A. M., Judson, R. S., Houck, K. A., Grulke, C. M., Volarath, P., Thillainadarajah, I., ... & Knudsen, T. B. (2016). ToxCast chemical landscape: Paving the road to 21st century toxicology. Chemical Research in Toxicology, 29(8), 1225-1251.
Links