Children's Health Curriculum Lesson 2: Pesky Pests and Household Hazards

This lesson teaches kids about pests, pesticides, and how to get rid of pests in homes and schools safely by taking away their food, water, and shelter.
Kids Will Be Able To:
define pests, pesticides, household hazards, chemicals, and toxic;
list the steps to take if they ingest or touch a household hazard; and
name three household pests and explain how to safely get rid of them.
How to Get This Lesson:
The complete lesson plan offers everything you need, including all visual materials.
Download the complete lesson plan
Lesson 2: Pesky Pests and Household Hazards
Download parts of the lesson plan
Instructor materials:
Lesson Cards (PDF) (11 pp, 3 MB)
Handouts for students:
Househouse Hazards Hunt (PDF) (15 pp, 2 MB)
Take Home Talk (PDF) (1 pg, 650 K)
Visuals:
Poster 1 Pests (PDF) (2 pp, 979 K)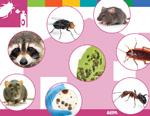 Poster 2 Pests (PDF) (2 pp, 2 MB)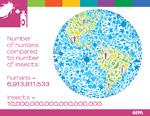 Poster 3 Pests (PDF) (2 pp, 559 K)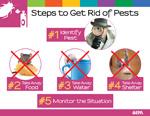 Additional Resources:
Instructor Resources
Kids' Activities / Coloring Sheets