Children's Health Curriculum Lesson 6: Keeping All of Our Waterways Clean

This lesson helps kids understand the importance of water in our lives and describes the life cycle of freshwater. It also discusses how to keep trash from getting in storm drains and polluting our waterways.
Kids Will Be Able To:
define rainwater runoff, drainage pollution, freshwater, saltwater, and potable;
name three different types of waterways;
explain three ways to stop drainage pollution; and
explain how keeping our waterways clean benefits the entire community.
How to Get This Lesson:
The complete lesson plan offers everything you need, including all visual materials.
Download the complete lesson plan
Lesson 6: Keeping All of Our Waterways Clean
Download parts of the lesson plan
Instructor materials:
Lesson Cards (PDF) (9 pp, 3 MB)
Handouts for students:
Take Home Talk (PDF) (2 pp, 685 K)
Visuals:
Poster 1 Waterways (PDF) (2 pp, 416 K)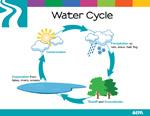 Additional Resources:
Instructor Resources
Kids' Activities / Coloring Sheets