From the executive summary: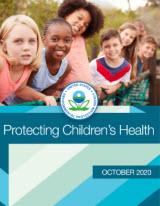 Protecting children's health is one of the most important responsibilities of the U.S. Environmental Protection Agency (EPA). Over the last 50 years, the agency has worked to fulfill its mission by improving the nation's air, cleaning up our lands, ensuring that Americans have safe water for drinking and recreation, and providing a cleaner, healthier environment—especially for pregnant women, infants, and children who are in the most vulnerable life stages. This brochure highlights some of EPA's current initiatives to protect children where they live, learn, and play. Tips to help protect children's health.
Read the full booklet, below.
You may need a PDF reader to view some of the files on this page. See EPA's About PDF page to learn more.