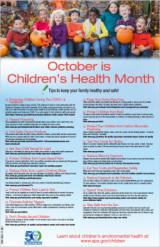 This poster provides a variety of tips to protect children's health during Children's Health Month to help keep your family healthy and safe! Read all the tips in the poster, below.
en español
Read the 2020 booklet.
Learn more about protecting children's environmental health.
You may need a PDF reader to view some of the files on this page. See EPA's About PDF page to learn more.