Cleanup Related Links
---
Hotlines and Information Centers
Reporting Oil and Hazardous Substance Spills, Accidents and Emergencies (including terrorist activity):
If you have concerns about a possible violation of environmental laws or regulations, please use the "Report Environmental Violations " shield or  "Report a Violation" link below.  
If you need to report an oil or chemical spill or other hazardous substance contamination to the environment, please click on the "Emergencies" square below.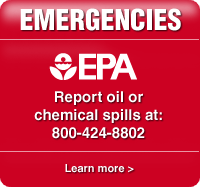 If you are unable to use e-mail or this form, you can send comments and questions by regular mail to:
U.S. Environmental Protection Agency
Office of Solid Waste and Emergency Response (5103-T)
1200 Pennsylvania Avenue, N.W.
Washington, D.C. 20460
---
Other Related Information Sources
Contaminated Site Clean-up Information - Clu-in
Frequently Asked Questions for Specific Topics - includes Emergency Management, Hazardous Waste, Superfund, Underground Storage Tanks, and Wastes
Resource Conservation and Recovery Act (RCRA) Tools and Resources - Links to may RCRA tools and resources including: 
RCRA Online - a database of documents, including publications and outreach materials, covering a wide range of RCRA issues and topics.
RCRA Orientation Module
RCRA Docket
Learn About RCRA Corrective Action
RCRA Corrective Action Programs Around the Nation
Baseline List of RCRA Corrective Actions
Enforcement of RCRA Corrective Action
Superfund Resources - Policy, guidance, data, reports, and documents
Superfund Home Page - with many other links
WasteWise
- voluntary EPA program through which organizations eliminate costly municipal solid waste and select industrial wastes, benefiting their bottom line and the environment.