About the Climate Leadership Awards Partners

The Agency has decided to discontinue the U.S. Environmental Protection Agency's (EPA) involvement with the 2018 Climate Leadership Awards program. This includes canceling the 2018 Climate Leadership Awards as well as EPA's sponsorship of the Climate Leadership Conference.
The Center for Climate and Energy Solutions (C2ES) and The Climate Registry (TCR) were selected by EPA to partner on this national recognition program. C2ES and TCR have a history of collaboration and complementary expertise.
Together they have extensive experience working with national and global organizations on carbon management, energy efficiency, renewable energy, and strategies to integrate climate change into their operations.
About the Center for Climate and Energy Solutions
The Center for Climate and Energy Solutions (C2ES) Exit is an independent, non-profit, non-partisan organization promoting strong policy and action to address the twin challenges of energy and climate change. Launched in 2011, C2ES is the successor to the Pew Center on Global Climate Change, long recognized in the United States and abroad as an influential and pragmatic voice on climate issues. C2ES, a 501(c)(3) organization, is an unbiased source of information, a trusted convener, and a catalyst for constructive business engagement.
About The Climate Registry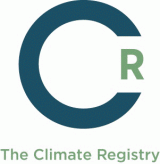 The Climate Registry Exit envisions the world on a measureable path to sustainability and provides organizations with tools and resources to help them measure, report, verify, and manage their GHG emissions. TCR also provides governments and organizations with guidance and support to develop and run GHG registries (either voluntary or mandatory); and to build capacity in various components of their carbon management programs, such as training, software platforms, and protocol development. TCR was established in 2007 as a 501(c)(3) and is governed by a Board of Directors comprised of senior officials from 59 North American states, provinces, and territories.