Scope 1 and Scope 2 Inventory Guidance
Scope 1 emissions are direct greenhouse (GHG) emissions that occur from sources that are controlled or owned by an organization (e.g., emissions associated with fuel combustion in boilers, furnaces, vehicles). Scope 2 emissions are indirect GHG emissions associated with the purchase of electricity, steam, heat, or cooling. Although scope 2 emissions physically occur at the facility where they are generated, they are accounted for in an organization's GHG inventory because they are a result of the organization's energy use.
Overview of GHG Protocol scopes and emissions across the value chain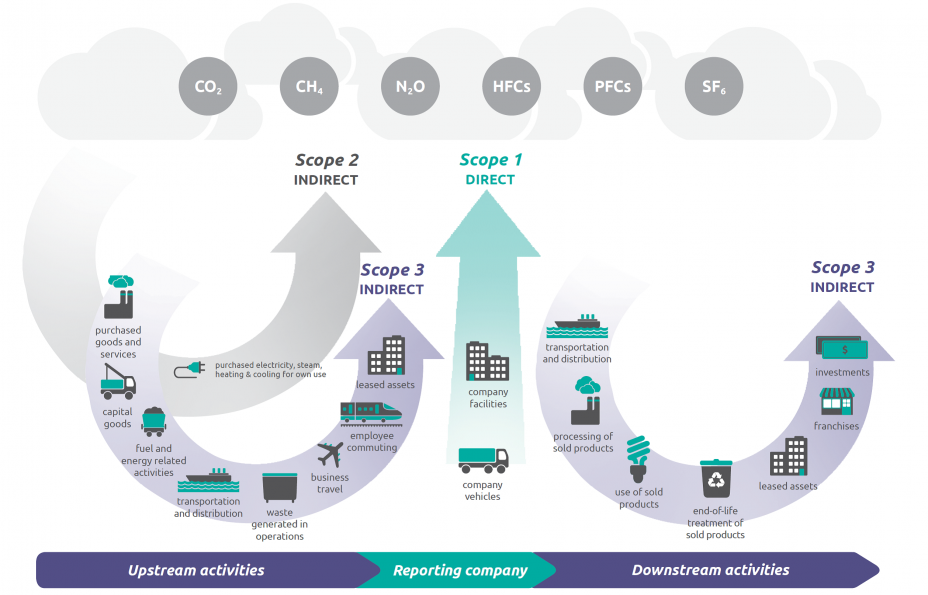 Source: WRI/WBCSD Corporate Value Chain (Scope 3) Accounting and Reporting Standard (PDF) (152 pp, 5.9MB), page 5.
The following EPA guidance documents describe methods to calculate and report emissions from these sources.
The GHG Protocol published Scope 2 Guidance Exit that standardizes how corporations measure emissions from purchased or acquired electricity, steam, heat and cooling.
Note: Many industrial sectors also have process-related emissions sources that are specific to their sector. EPA's Greenhouse Gas Reporting Program provides guidance and tools that can aid in the calculation and reporting of these emissions.