Air Quality and Climate - CMAQ
The air we breathe and its interactions with pollutants is impacted by climate. Changes to temperatures, rainfall, clouds, wind patterns, and humidity will impact chemistry in the air and near the ground.
Regional climate can be simulated by using outputs from global climate models to drive a regional meteorological model, such as the Weather Research and Forecasting model (WRF), using a process known as "dynamical downscaling".  Together with a projected emissions scenario, the dynamically downscaled meteorology can be used with CMAQ to simulate future air quality.
Dynamical Downscaling with WRF
WRF is set up differently for regional climate than it is for historical meteorological simulations for CMAQ.
Validation of downscaled WRF for future scenarios uses different methods than for historical simulations because there are no observations available for the future.
Simulating Future Air Quality with CMAQ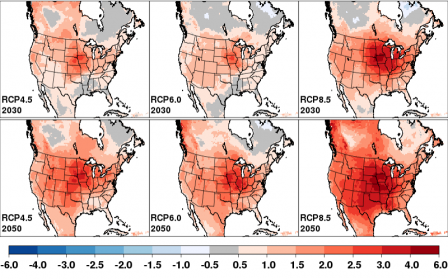 Eleven-year averages of projected changes to summertime daily average maximum temperature following three warming scenarios at 2030 and 2050.
CMAQ is run similarly for climate change applications as it is for historical (retrospective) studies.
One area of active research is the development of methods to link projections of future wildfire incidences and area burned with WRF and CMAQ to simulate resulting impacts on air quality and human health.
Future air quality simulations from CMAQ have been used for health analysis with EPA's Benefits Mapping and Analysis Program (BenMAP) and the Air Pollutants Exposure Model (APEX).  Additional information on studies involving climate change, air quality, and human health interactions can be found on the Projecting Changes to Human Health with CMAQ page.
Related Links
References
Otte, T. L., C. G. Nolte, M. J. Otte, and J. H. Bowden, 2012:  Does nudging squelch the extremes in regional climate modeling?  J. Climate, 26, 789–804.  doi:10.1175/JCLI-D-12-00140.1Exit.
Seltzer, K. M., C. G. Nolte, T. L. Spero, K. W. Appel, and J. Xing, 2016:  Evaluation of near surface ozone and particulate matter in air quality simulations driven by dynamically downscaled historical meteorological fields.  Atmos. Environ., 138, 42–54.  doi:10.1016/j.atmosenv.2016.05.010EXIT.
Spero, T. L., C. G. Nolte, J. H. Bowden, M. S. Mallard, and J. A. Herwehe, 2016:  The impact of incongruous lake temperatures on regional climate extremes downscaled from the CMIP5 archive using the WRF model.  J. Climate, 29, 839–853.  doi:10.1175/JCLI-D-15-0233.1Exit.
Nolte, C.G., T.L. Spero, J.H. Bowden, M.S. Mallard, and P. Dolwick, 2018: The potential effects of climate change on air quality across the conterminous U.S. at 2030 under three Representative Concentration Pathways, Atmos. Chem. Phys., 18, 15471-15489, doi:10.5194/acp-18-15471-2018Exit.