List of Publicly Accessible Internet Sites Hosting Compliance Data and Information Required by the Disposal of Coal Combustion Residuals Rule
The Disposal of Coal Combustion Residuals (CCR) from Electric Utilities final rule was published on April 17, 2015 and became effective on October 19, 2015. The rule includes a number of technical requirements that have various implementation deadlines. Many of these technical requirements also have Internet posting requirements associated with them. EPA included Internet posting requirements so that compliance information would be readily available because this rule is self-implementing and is enforced by citizens and states using the citizen suit provisions of section 7002 of the Resource Conservation and Recovery Act (RCRA).
In 2016, Congress passed the Water Infrastructure Improvements for the Nation Act providing, among other things, States the ability to submit State permitting (or other system of prior approval) programs to EPA for approval. Facilities, however, must continue to comply with the 2015 rule (or any successor regulations) until or unless a permit is issued by an approved State or by EPA. Thus, facilities must continue to maintain their publicly accessible internet sites and post required compliance data.
Below is a list of the Internet sites EPA found (as of March 26, 2019) for facilities posting CCR rule compliance information organized alphabetically by state. All of these links are outside of EPA's website and EPA is not responsible for the content of these websites.
There may be other regulated units with CCR compliance websites that we are not aware of. If you have any updated information about these or any other CCR compliance websites, please submit your comments online.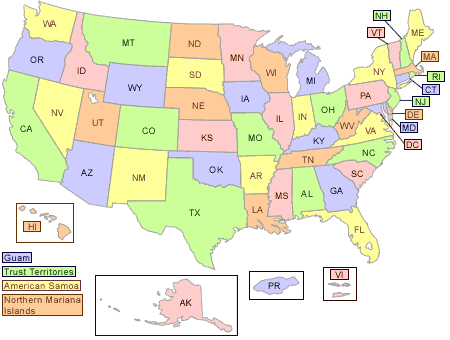 The following links exit the site Exit
A
Alabama
Alaska
American Samoa – U.S. Territory
Arizona
Arkansas
B
C
California
Colorado
Connecticut
D
Delaware
District of Columbia – Washington DC
E
F
Florida
G
Georgia
Guam – U.S. Territory
H
Hawaii
I
Idaho
Illinois
Indiana
Iowa
J
K
Kansas
Kentucky
L
Louisiana
M
Maine
Maryland
Massachusetts
Michigan
Minnesota
Mississippi
Missouri
Montana
N
Nebraska
Nevada
New Hampshire
New Jersey
New Mexico
New York
North Carolina
North Dakota
Northern Mariana Islands – U.S. Territory
O
Ohio
Oklahoma
Oregon
P
Pennsylvania
Puerto Rico – U.S. Commonwealth
Q
R
Rhode Island
S
South Carolina
South Dakota
T
Tennessee
Texas
Trust Territories
U
Utah
V
Vermont
Virginia
Virgin Islands – U.S. Territory
W

Washington
West Virginia

Wisconsin
Wyoming
X
No entries available
 
Y
No entries available
 
Z
No entries available