2009 State of the River Report for Toxics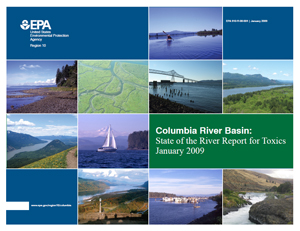 The 2009 Columbia River Basin State of the River Report for Toxics is a summary of what we know about four of the most widespread toxic contaminants found in the basin:
Mercury
DDT and its breakdown products
PCBs
PBDE flame retardants
The report also highlights efforts that are already happening to reduce pollution from these and other toxics.
---
Executive Summary
This report summarizes what we currently know about four main contaminants in the Basin and the risks they pose to people, fish, and wildlife. We also identify major gaps in current information that we must fill to understand and reduce these contaminants.
Current information in the Basin indicates that toxics are a health concern for people, fish, and wildlife, but this information is sparse. In many locations, toxics have not been monitored at all. We do not have enough information in the majority of the Basin to know whether contaminant levels are increasing or decreasing over time. We need to fill these information gaps to understand the impacts on the ecosystem and to plan and prioritize toxics reduction actions.
This report focuses primarily on the following four contaminants: mercury, dichlorodiphenyltrichloroethane (DDT) and its breakdown products, polychlorinated biphenyls (PCBs), and polybrominated diphenyl ether (PBDE) flame retardants. We focus on these contaminants because they are found throughout the Basin at levels that could adversely impact people, fish, and wildlife.
Many other contaminants are found in the Basin, including arsenic, dioxins, radionuclides, lead, pesticides, industrial chemicals, and newly emerging contaminants such as pharmaceuticals in wastewater. This report does not focus on those contaminants, in part because there is a lack of widespread information on their presence in the Basin.
Mercury contaminates the Basin from industrial and energy-related activities occurring within and outside of the Basin. Mercury poses a special challenge because much of the Basin's mercury pollution comes from sources outside of the Basin via atmospheric deposition. At a watershed scale, however, local and regional sources can be significant contributors of mercury to the Basin. Fish consumption advisories for mercury continue to be issued in every state throughout the Basin.
The pesticide DDT and industrial chemicals known as PCBs have been banned since the 1970s, and reduction efforts have lowered their levels in the environment. Unfortunately, these chemicals persist in the environment and continue to pollute the Basin' waterbodies from various sources, including stormwater and agricultural land runoff and hazardous waste releases. In many areas, DDT and PCB concentrations still exceed levels of concern, and fish consumption advisories for these contaminants continue to be issued in every state throughout the Basin.
This report provides preliminary information on the presence of mercury, DDT, PCBs, and PBDEs in the following species: juvenile salmon; resident fish (sucker, bass, and mountain whitefish); sturgeon; predatory birds (osprey and bald eagles); aquatic mammals (mink and otter); and sediment-dwelling shellfish (Asian clams). These species can help us understand trends in the levels of toxics in the Basin and judge the effectiveness of toxics reduction efforts.
Some initial steps to address the problem of toxics have already been taken. In 2005, EPA joined other federal, state, tribal, local, and nonprofit partners to form the Columbia River Toxics Reduction Working Group to better coordinate toxics reduction work and share information. The goal of the Working Group is to reduce toxics in the Columbia River Basin and prevent further contamination. This State of the River Report for Toxics was identified as a priority by this multi-stakeholder group and was prepared under the leadership of EPA Region 10 with the support and guidance of the Working Group.
Meanwhile, there are many ongoing efforts to reduce toxics in the Basin. Some examples include erosion control efforts in the Yakima Basin; Pesticide Stewardship Partnerships in the Hood River and Walla Walla Basins; PCB cleanup at Bonneville Dam; legacy pesticide collection throughout the Basin; and investigation and cleanup of the Portland Harbor, Hanford, and Upper Columbia/Lake Roosevelt contamination sites. These and other combined efforts have reduced toxics over the years, but we still need to further reduce toxics to make the Basin a healthier place for people, fish, and wildlife.
To ensure a more coordinated strategy, EPA and our Working Group partners developed a set of six broad Toxics Reduction Initiatives needed to reduce toxics in the Basin. Over the next year, the Working Group will develop a detailed work plan to provide a roadmap for future reduction efforts with input from Basin citizens; local watershed councils; Basin communities and other entities; and tribal, federal, and state governments.
Reducing toxics in the Basin will require a comprehensive, coordinated effort by all levels of government, nongovernmental organizations, and the public. The problems are too large, widespread, and complex to be solved by only one organization. Our hope is that this report and the subsequent toxics reduction work plan will help us make this ecosystem healthier for all who live, work, and play in the Basin.