About EPA's Work in the Columbia River Basin
On this page:
---
Columbia River Basin Restoration Program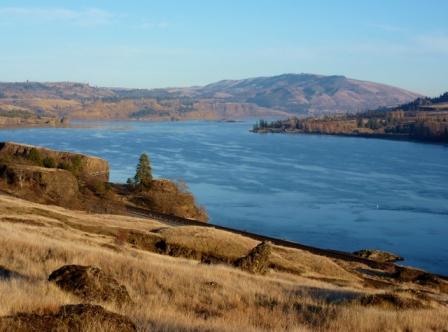 Congress amended the Clean Water Act in 2016 by adding Section 123, which required EPA to establish a Columbia River Basin Restoration Program.
It was the first legislation to officially designate the national importance of restoring the Columbia River Basin, one of our nation's largest watersheds. The legislation focuses on the U.S. portion of the Basin, including the states of Oregon, Washington, Idaho, and Montana.
Section 123 authorized EPA to establish the Columbia River Basin Restoration Working Group that is representative of states, tribal governments, industry, and other entities.
Section 123 also directed EPA to develop the Columbia River Basin Restoration Funding Assistance Program, a voluntary, competitive grants program for environmental protection and restoration programs throughout the Basin. The legislation provides a framework for future funding of toxic reduction, monitoring, and outreach actions.
EPA is committed to coordinating with tribal, state, federal and other partners, as well as other regional Columbia River Basin restoration work efforts, including the Bonneville Power Administration's Columbia Basin Fish and Wildlife Program, to implement the Columbia River Basin Restoration Act.
The U.S. Government Accountability Office (GAO) began an investigation of Columbia River Basin restoration efforts in early 2017. The GAO's final report, Columbia River Basin: Additional Federal Actions Would Benefit Restoration Efforts, was released in 2018 and recommended that EPA develop a program management plan for implementing the Act.
Congress appropriated $2.2 million to EPA in 2019 for implementing the Columbia River Basin Restoration Program.
Related Information:
---
Highlights Around the Basin
The EPA and other federal agencies, states, tribes, local governments, nonprofit organizations, and individual citizens are all engaged in efforts to restore and improve the quality of the water, land and air within the Columbia River Basin.
The sheer size and geography of the watershed requires unprecedented cooperation to accomplish these critical ecosystem restoration efforts. Below are summaries that highlight some of these efforts.
Idaho Chemical Roundup Program for Schools
Pollution prevention is less expensive and more effective than treating, recycling or cleaning up pollution. Idaho has been a leader in the Columbia River Basin in pollution prevention successes.
Since 2002, the Idaho Chemical Roundup Program for Schools has assisted more than 50 schools with the safe disposal of over 7,500 pounds of hazardous lab chemicals. The program trained over 100 teachers in green chemistry principles, including instruction on safe "replacement labs" which use non-toxic materials to demonstrate core chemical principles in middle and high school curriculum.
Each year this training has helped to reduce the purchase and disposal of an estimated 300 pounds of hazardous lab chemicals for in-class demonstrations.
Learn more:
Oregon's Pesticide Stewardship Partnerships
Since 2000, EPA, Oregon Department of Environmental Quality, Oregon Department of Agriculture and other state agencies have worked closely with agricultural producers in several watersheds to monitor pesticides in streams; and implement best practices to reduce pesticides and improve water quality.
One example of how this type of collaboration can result in improved environmental quality is the project in Wasco County, near The Dalles. Since 2010, the Pesticide Stewardship Partnerships program has been collaborating with cherry growers, OSU Extension, the soil and water conservation district and watershed councils in this area to conduct stream monitoring, and use the data to inform enhancement of best management practices to reduce pesticide drift. The results were dramatic – the concentration of the insecticide malathion decreased by 96 percent at sampled sites and the frequency of detections dropped from 70 percent in 2012 to below 10 percent in 2018. Similar results were achieved for other priority pesticides in the Hood River and Walla Walla watersheds.
For more information about Oregon Pesticide Stewardship Partnerships, contact Kevin Masterson (masterson.kevin@deq.state.or.us), Oregon Department of Environmental Quality, or Kirk Cook (kcook@oda.state.or.us), Oregon Department of Agriculture.
Learn more:
Yakima Basin DDT
The implementation of best management practices in Washington's Yakima River Basin has proven successful in controlling soil erosion and reducing pesticide runoff. The work was the result of a collaborative partnership between Washington Department of Ecology, Yakima Valley growers, water purveyors, local conservation districts, and the Yakama Nation. The goal of the project was to lift the DDT fish advisory on the Yakima River within 20 years.
Local growers upgraded to drip irrigation on 8,000 acres of hops and installed vegetated buffer strips to keep soil on the fields. Suspended sediment loading to the Lower Yakima River decreased 67 to 80 percent during the irrigation season and total DDT concentrations in fish were reduced 30 to 85 percent. Fish advisories for DDT on the Yakima River were lifted 5 years after the project started – 15 years earlier than the initial goal.
Learn more: Success Story: Changes in Irrigation Practices Reduce Turbidity in the Lower Yakima River (PDF)(2 pp, 165 K, About PDF)
Stormwater Management at Port of Vancouver USA
The Port of Vancouver USA's staff have developed innovative treatment technologies to manage stormwater, helping to reduce run-off from the Port facility into the Columbia River. These technologies include "Floating Treatment Wetlands" which reduce copper levels by up to 55 percent, and the "Grattix," a rain garden in a box that can reduce zinc levels by 90 to 95 percent.
The Port uses a variety of other treatment methods including detention ponds, biofiltration systems, hydrodynamic separation units and filter vaults, to ensure a balance of sustainable industrial activity, a strong local economy and responsible waterway stewardship.
Learn more:
Greening the Jade
The Jade District in southeast Portland, Oregon, is one of the state's most diverse neighborhoods – its residents speak over 140 languages. However, incomes are lower than average, and historic public disinvestment has led to a lack of key infrastructure, including local flooding, public park deficiencies, and limited pedestrian access.
Through the Greening America's Communities program, EPA coordinated a team of federal and local agencies and consultants to host community workshops, which led to new project designs tailored to the needs of the community. One of the key goals was to minimize future infrastructure costs through green infrastructure. This would be accomplished through improved stormwater management and retrofits of the neighborhood's currently unimproved streets to add more green space.
The Greening the Jade designs are already being implemented. Portland Bureau of Transportation received an $87 million grant to implement improvements to Division Street in the Jade. The Division Street designs were revised to include green infrastructure to infiltrate stormwater in medians. Construction begins in fall of 2019.
Learn more: Greening America's Communities: Multnomah County, Oregon
Lower Columbia Estuary Partnership
The Lower Columbia Estuary Partnership was established in 1995 and is one of 28 programs in EPA's National Estuary Program that protects and restores an estuary of national significance.
It is a 501(c)3 non-profit corporation that works along the lower 146 miles of the Columbia River from Bonneville Dam to the Pacific Ocean. Its mission is to improve the lower Columbia River by protecting and restoring ecosystems and enhancing clean water for current and future generations of fish, wildlife, and people.
The Partnership is a collaborative program led by farmers, educators, businesses and economic interests, conservation groups, citizens, state governments, federal agencies, and tribal governments to restore and protect habitat, improve water quality, advance science, and provide information about the river to a range of audiences.
Learn more:
Clean Water Act Planning and Restoration for Metals in Montana's Little Blackfoot River Watershed
Between 2011 and 2014, Montana Department of Environmental Quality (DEQ) developed 55 metal Total Maximum Daily Loads (TMDLs) in the Little Blackfoot River watershed, a tributary to the Columbia River via the Clark Fork and Pend Oreille Rivers. Abandoned mine sites – the major source of metal pollution in the watershed – contribute aluminum, arsenic, beryllium, cadmium, copper, cyanide, iron, lead, mercury, selenium, and zinc to local waterways.
In 2016, Trout Unlimited, Helena National Forest, Montana DEQ, EPA, the Watershed Restoration Coalition, and private landowners developed a Watershed Restoration Plan to describe management measures needed to achieve the TMDL reductions and prioritize restoration of abandoned mine sites. As of 2019, one mine reclamation project, Lilly Orphan Boy, has been completed and three additional sites are planned to be reclaimed in the summer of 2020.
Learn more:
Spokane River Regional Toxics Task Force
The Spokane River Regional Toxics Task Force collaborative finds and reduces toxic compounds in the Spokane River as a TMDL alternative. Their goal is to develop a comprehensive plan to bring the Spokane River into compliance with water quality standards for PCBs. These pollutants exceed water quality standards in several segments of the river.
Learn more: Spokane River Regional Toxics Task ForceExit
Portland Harbor Superfund Site
The Portland Harbor Superfund site in Portland, Oregon, is the result of more than a century of industrial use along the Willamette River. Sediment is contaminated with many hazardous substances, including heavy metals, polychlorinated biphenyls (PCBs), polycyclic aromatic hydrocarbons (PAHs), dioxins/furans, and pesticides.
The cleanup area currently extends along the lower Willamette River, approximately between the Broadway Bridge in downtown Portland and Sauvie Island.
Although we work and recreate along Portland Harbor, the primary way people are exposed to contamination is by eating fish such as bass, catfish and carp. These fish, called resident fish, carry levels of chemical contaminants which may cause cancer or developmental problems. PCBs are the primary contaminant associated with most of the risk from eating resident fish. Young children, nursing infants and babies in the womb are the most sensitive to the chemicals.
Learn more: Portland Harbor Superfund Site
---
About the Columbia River Basin
The Columbia River Basin is one of the nation's largest watersheds, covering more than 260,000 square miles and providing drainage for hundreds of rivers, creeks, and streams.
The Columbia River flows over 1,200 miles from its source in the Canadian Rockies to the Pacific Ocean. It's the second largest river in the United States by volume of water flow, behind only the Mississippi River.
The watershed provides an important backdrop for urban development, agriculture, transportation, recreation, fisheries, and hydropower in western North America. The tribal people of the region have depended on it for food, trade, cultural and spiritual use for thousands of years.
But heavy use has also caused significant declines in water quality in some areas, putting human health at risk and threatening the survival of salmon and other species.