Community Action Roadmap Step 6: Build Momentum for Change
On this page:
---
During and after implementation, there are a number of steps you can take to make sure that you are capturing the energy and effort of your actions in a way that builds momentum for the future. 
Reflect and Evaluate
After your project is done (and along the way!), take time to reflect and evaluate. For grassroots efforts using a lot of volunteer support, it's natural that some areas excel from passion alone, while other areas are more challenging and have a steeper learning curve. 
As you evaluate, revisit your measures of success for (1) process and organizational capacity and (2) environmental and/or quality of life improvements. Metrics for the former can usually be assessed using a self-evaluation like the one below. Metrics for the latter may require data collection and analysis.
Try it Out! Evaluate Your Process
Use a self-evaluation to improve and identify next steps. Ideally, you should include feedback from your key partners. You can use an anonymous survey or discuss as a group and flip chart the notes. Walk through each of the key functions (e.g., outreach, volunteer coordination, fundraising, data gathering and analysis, the message, enlisting partners) and solicit feedback.
Example Self-Evaluation
What worked well?
What could be improved?
What are some ideas for addressing those challenges?
Do you have existing partners who could help build success in these areas?
Are there any new partnerships you could form to address any gaps?
What are some next steps?
Celebrate Success
It's important to celebrate small successes as you go and to share the results of your project with the public. Whether or not you were able to accomplish all of the intended outcomes, celebrating the efforts of community members and partners can help ensure supporters feel appreciated and maintain momentum for the next round. 
Try it Out! Celebrate Creatively
It is important to recognize hard work and accomplishments. Review the ideas below, and add your own. What would draw on local talent and demonstrate success and appreciation?
Celebrate Accomplishments!
Develop a press release.
Send thank you notes.
Post video interviews online.
Present recognition awards.
Paint a mural with local artists.
Host a block party or hold a parade.
Invite a motivational speaker.
Enlist a youth band or dance group.
Provide food from a local vendor.
Include activities for children/youth.
Formalize and Institutionalize
The close of your first project may also be a time to reflect on your organizational and communication structure. Whether you entered the Community Action Roadmap as an individual activist, a newly formed environmental justice organization, or a seasoned organization, after all the work you have done, you have likely built quite a bit of capacity that did not exist before. Now is the time to think about how to institutionalize (build a lasting organization) that capacity so that it can be used again and again. 
Would it be helpful to organize your partnerships into a more formal coalition? Could you formalize some key roles (such as outreach, fundraising, media, technical analysis, government liaison, volunteer coordinator) to streamline your process? Are there ways to enhance communication and outreach? 
Try it Out! Consider Ways to Institutionalize
Consider which of the following tools would help you be more effective and then describe why. Are there other tools you could add to the list?
Ways to Institutionalize
Form a coalition or partnership.
Apply for non-profit status.
Establish key roles (within your organization or across multiple partner organizations).
Develop a decision-making structure and process.
Establish an outreach strategy.
Identify an academic partner to support research and data analysis.
Secure more funding.
Decide What's Next!
Whether you win or lose your first advocacy campaign, generally there is more to accomplish. Based on the successes and challenges you identified during your self-evaluation, determine what remains to be done to achieve your goal. You may be ready to move on to tackling a new goal, or you may have ideas about new projects that could help you meet your initial goal.
If you are ready to consider selecting a new goal to work on, circle back to Step 1 to identify which priority goal(s) to tackle next. Cycling through the steps a second time will likely be much quicker and can add value and ensure you are building the necessary capacity for each goal to achieve your vision.
Try it Out! Capture Your Momentum
When you have fully completed your project, revisit the priority goals you identified in Step 1. Based on the work you have done, are there any new goals you would add? Select the next goal or project to tackle!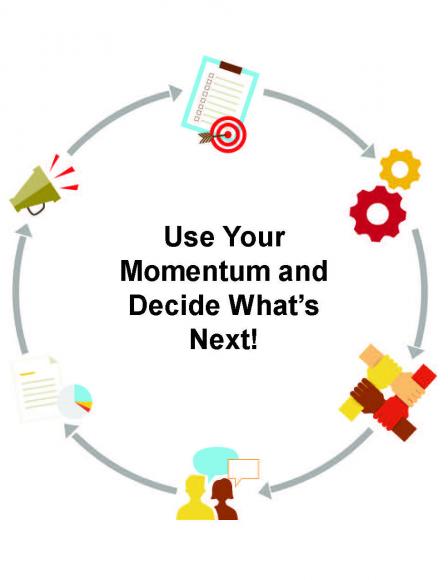 ---