Community-Port Collaboration: Training Modules and Resources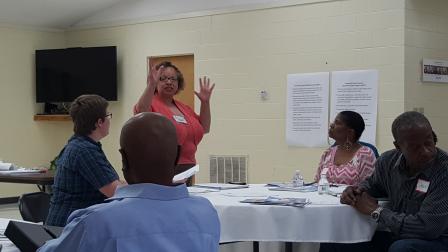 This page provides training materials and other resources to help facilitate community-port collaboration including training modules specific to the Community-Port Collaboration Toolkit. 
On this page:
Free Viewers are available for viewing documents on this webpage.
---
Community-Port Collaboration Toolkit Training
Below are three training modules for the Community-Port Collaboration Toolkit designed to introduce each tool with options for more or less detail depending on the allotted time for training as outlined in the Training Facilitators Resource.
Pilot Projects Lessons Learned Training
This training module provides a look at some of the key lessons learned from the pilots.
Community Benefits Agreement Training
Community benefits agreement (CBA) training seeks to help participants learn the basics of CBAs, develop a shared language for communicating community concerns, and engage in dialogue around lessons learned from other similar CBA processes.  Below are the training CBA training materials.
Community Resource Publications
The Community Action Roadmap: Resources webpage contains a table that has resources on additional subjects that may be of interest to near-port communities including:
Community Action for a Renewed Environment (CARE) Roadmap
Strategies for advancing Smart Growth, environmental justice and equitable development;

Developing effective coalitions;

Collaborative problem-solving;

Local use planning;

Environmental justice best practices for local governments;

Public participation; and

Sustainability workbook for environmental justice and equitable development.