Savannah Community-Port Collaboration Pilot Project
In 2016, EPA selected the Harambee House, Inc. / Citizens for Environmental Justice (Harambee House)Exitto receive EPA technical assistance and pilot a draft Community-Port Collaboration Toolkit. This pilot project was one of four pilots that were collectively known as the Near-Port Community Capacity Building Project. Harambee House applied to participate in the pilot program to strengthen collaboration between near-port communities, Georgia Ports Authority (GPA)Exitand other Port of Savannah terminal operator/owners. This page provides an overview of the pilot project. For more information, go to Case Study: Savannah Pilot (PDF)(4 pp, 311 K, EPA-420-F-20-024, July 2020 About PDF).  
On this page:
---
Technical Assistance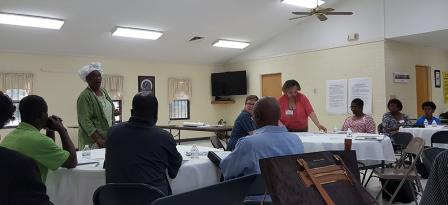 In May  2017, EPA convened the first of a series of in-person Needs Assessment meetings involving GPA, community leaders and the City of Savannah.  The Needs Assessment included the following.
Boat and bus tours of the Port of Savannah and GPA terminal facilities;
Tour of the near-port communities; and
Sharing of experiences and views on the status of their working relationships.
Based on the the Needs Assessment, the EPA technical assistance provider developed a draft collaboration plan with shared goals and outcomes to guide the pilot process. The plan outlined three site visits with in-person training and facilitated meetings aimed at creating a shared action plan to improve air quality for Savannah's near-port communities. The following training was conducted: Ports Operations 101, Effective Community Engagement, and Leadership Skills-Building.
Outcomes
There were several successful outcomes from the Savannah Pilot including the following. 
Increased awareness of air quality-related health risks and truck and rail traffic health and safety concerns;
Shared understanding about past air quality levels, current air quality trends and opportunities for continued improvement;
Increased community understanding of technical and scientific information related to Port activities;
Development of an environmental/public health working group of residents;
The Air Quality Improvement Action Plan for Savannah's Near-Port Communities, which addresses community concerns through tangible action steps; and 
Increased trust and expanded partnerships between community leaders, the City of Savannah, GPA and port-related, industry and agency partners.
Lessons Learned
The pilot resulted in the following set of insights that could be helpful to other ports communities:
Renew relationships and build intentional partnerships;
Be flexible and persistent with unexpected challenges;
Understand local environmental justice history;
Provide accurate information on existing conditions and empower community leaders to gather data;
Address participation barriers for community leaders; and 
Invest in expanding partnerships that align actions with community-defined needs and goals.