Lesson 6: Using the Checklist to Work through System Requirements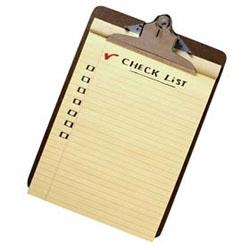 Lesson 5 described how CROMERR presents the system requirements for receiving electronic reports, with a focus on the system- and enforcement-related requirements.
Lesson 6 describes how these same requirements are presented in the Blank System Checklist which was introduced in Lesson 4. You may want to refer to the checklist as you step through this lesson.
See: Blank System Checklist (DOC)(13 pp, 120 K)
Registration
Signature Process
Submission Process
Signature Validation
Copy of Record (COR)
This lesson covers these five processes in detail, and:
Shows how the CROMERR requirements and checklist processes are interrelated.
Suggests how to use the CROMERR System Checklist Template in conjunction with the CROMERR System Checklist to describe how your system meets the CROMERR system requirements.
Note
The CROMERR System Checklist is not a required part of your CROMERR application; instead, it is a tool created to assist you as you work toward meeting the requirements.
Processes three and five are involved in electronic submissions, while processes one, two, and four are only involved where the submissions include an electronic signature.