Chronic Toxicity to Freshwater Organisms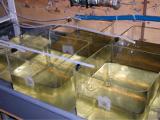 This manual describes four- to seven-day methods for estimating the chronic toxicity of effluents and receiving waters to three species. The methods are approved under Clean Water Act section 304(h) and specified at 40 CFR 136.3, Table I–A.
The complete manual and individual method documents are provided. The individual methods are included in the manual.
sheet (2016)
---
You may need a PDF reader to view some of the files on this page. See EPA's About PDF page to learn more.