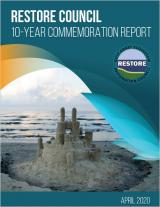 From the introduction: The 10th year serves as a time to look back at the Deepwater Horizon spill and describe the projects and programs thus far, which is the purpose of this 10-year report. It is not a legal document or a statutorily required report. It is instead a story about people who have been inspired to take action for a region they call home.
Read the full report below.
You may need a PDF reader to view some of the files on this page. See EPA's About PDF page to learn more.