Diving Case Study: Wyckoff-Eagle Harbor Cleanup
Location
Eagle Harbor, Bainbridge Island, WA
Summary
Our dive unit in Seattle has supported the Wyckoff-Eagle Harbor Superfund Site cleanup since the early 1980's. Past industrial activity at the site left behind extensive contamination (largely creosote) in soils, groundwater, and in the sediment on the bottom of Eagle Harbor.
Divers have conducted a variety of sampling to help determine the cleanup needed at the site, monitor the installation of the cleanup, and later to monitor the effectiveness of the cleanup.
Video: Wyckoff-Eagle Harbor - Check out the stunning underwater footage of tar pools on the seafloor at this Superfund cleanup in Bainbridge Island, Washington.
Eelgrass monitoring, 1993-1997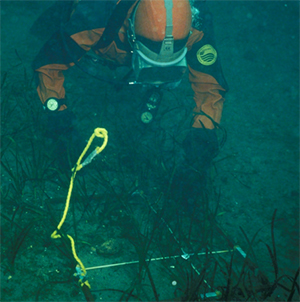 An EPA diver surveys eelgrass in Eagle Harbor.Purpose: Determine what impact intalling a protective sediment "cap" might have on nearby eelgrass beds.
Method: Density of eelgrass (Zostera marina L.) was recorded as counts of stalks within 0.1 m2 quadrats; 30 quadrats were placed randomly in a 100m by 20m rectangle in the middle of each bed.
Equipment: Quadrats were used for eelgrass counts.
Results: The Wyckoff bed (nearest the sediment cap) consistently had the least amount of eelgrass, and the Murden Cove bed (to the north of Eagle Harbor) had the most. Changes within beds appeared to be related to the natural cycle of winter reduction rather than the movement and subsequent deposition of cap sediment. Variability among divers in counting stalks was highest when the density was high, and within 1 or 2 stalks when density was low.
Wyckoff treatment plant outfall survey, 2002 and 2013
Purpose: Determine the impact of the outfall on nearby sediment, and observe the outfall to determine if it was in need of maintenance. The outfall discharges treated effluent from the Wyckoff treatment plant, which treats creosote contaminated groundwater as part of a Superfund cleanup.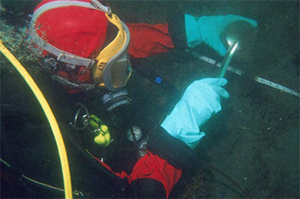 A diver carefully collects a surface sedment sample.Method: Divers took still photos and video of the outfall, then placed a transect along which surface sediment samples were taken. Samples of the top 2 cm were collected into 16 oz. jars using pre-cleaned stainless steel spoons, with special care to include the very fine flocculent surface layer. In total, 54 samples were collected from the acute and chronic mixing zone/zone of deposit.
Equipment: A GPS device attached to diver-towed GPS raft, underwater digital camera (using still photo capability while simultaneously recording bottom video), and GIS software and laptop were used to create a map of the boundary and observations.
Results: Divers found that the groundwater treatment system was operating as designed, and that there were no measurable benthic impacts.
Sediment cap surveys, 1990's - 2007
Purpose: (1) Assess the nature of the cap during and after capping, including evidence of recontamination; (2) evaluate recovery by benthic

benthicRefers to material, especially sediment, at the bottom of an aquatic ecosystem. It can be used to describe the organisms that live on, or in, the bottom of a waterbody. macrofauna and algae after cap placement; (3) assess movement of cap sediments (due to resuspension); and (4) maintain "no anchor zone" buoys to help protect the sediment cap.
Divers measure the thickness of the protective sediment cap in Eagle Harbor.Method: Transect surveys crossing the cap were used to look for problem areas.
Equipment: Divers used still cameras, video equipment, and GPS synchronization in some cases to precisely locate areas where fixes to the cap might be required.
Results: Cap surveys that took place between 2001 and 2007 found that the cap was smooth in the south part of the harbor and "hummocky" (irregular) in the north. A lot of woody debris was present. Creosote "marbles" were observed in the south on two occasions. Some settlement plates were lost (tipped over, broken, dragged, buried). Divers could feel the difference in substrate type (sand placed over mud).
Recovery by macrofauna was rapid. Anemones pulled up through the cap and crab, flatfish, and drift algae were common. Polynuclear aromatic hydrocarbons (PAHs) were detected in samples from the sediment traps at times. Only minor accumulations of sediment occurred around stakes in a nearby marina. Nearby eelgrass beds were probably not affected.
A survey was conducted in December 2003 of areas that formerly seeped or pooled creosote which was capped in 2000-2001. Life on the cap included various types of anemones including the frilled anemone (Metridium senile), seastars including the sunflower star (Pycnopodia helianthoides) sea lettuce (Ulva), unidentified bivalves, unidentified tube worms, and sporadic eel grass (Zostera marina). Several fish including unidentified sole, ratfish (Hydrolagus colliei), and other unidentified small fish were seen on the bottom or above the cap in addition to various crab - including Dungeness (Cancer magister).
Sediment cap sampling, 2011 and 2013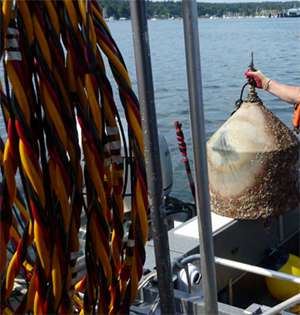 Flux chamber sampled in 2011. Purpose: Determine how well the seafloor cap was meeting performance objectives.
Method: For flux chamber location, surface supplied dive equipment was used to employ arc pattern searches. Deployment of SPMDs was generally conducted with SCUBA "buddy teams" on transects.
Equipment: Flux chambers (devices used to determine levels of volatile organic compounds, or VOCs) and solid phase microextraction devices (SPMD/SPME).
Results: Though results were generally favorable, the cap inspection highlighted areas in need of repair and/or placement of additional cap material. These inspections and repairs help ensure that the cleanup remains protective of human health and the environment.
---
Learn more
EPA's blog: Over 30 years of Wyckoff Superfund Site Diving Science
Superfund cleanup: Wyckoff-Eagle Harbor Superfund Site
Project contact: Sean Sheldrake (sheldrake.sean@epa.gov), 206-553-1220