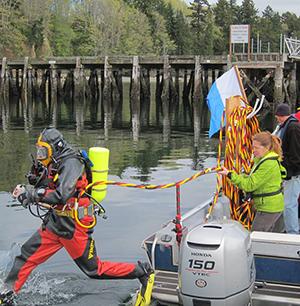 EPA divers practice how to safely tender a surface supply line.EPA's Diving Safety Program includes policies, guidelines, and standard operating procedures that help minimize our workers' occupational hazards.
Our Diving Safety Manual (see below) addresses job-related hazards typically found at land-based EPA work sites, as well as hazards specific to underwater environments, including:
Immersion in chemically and/or biologically contaminated waters, and
Hyperbaric-induced illnesses, such as decompression sickness (DCS) and arterial gas embolism (AGE).
Diving Safety Board
We have an active Diving Safety Board made up of experienced divers from each of our diving units. The Board recommends policy and changes in operating procedures, and routinely reviews existing policies, procedures and training to ensure a high level of technical skills and knowledge throughout our diving program.
For more information about diving safety at EPA, contact Mel Parsons (parsons.mel@epa.gov), Chair, EPA Diving Safety Board.
---
Manuals and Reports
You may need a PDF reader to view some of the files on this page. See EPA's About PDF page to learn more.