Alabama
State Agencies Supporting Water System Partnerships
Alabama Department of Environmental Management (ADEM)
Alabama Cooperative Extension System
State Policies and Programs Regarding Water System Partnerships
DWSRF PRIORITIZATION OF CONSOLIDATION PROJECTS
Alabama's DWSRF program gives priority to projects that "use consolidation with other systems to correct existing deficiencies and improve management." The Alabama Drinking Water Finance Authority Act, No. 97-415 specifies that the DWSRF may finance legal fees and water buy-in fees associated with consolidation.
IDENTIFYING POSSIBLE SYSTEM CONSOLIDATIONS THROUGH SANITARY SURVEYS
The Capacity Development Program encourages consolidation of non-viable water systems with other viable water systems with the goal to improve or inactivate non-compliant systems. Sanitary surveys are used to identify systems lacking in TMF capacity that could benefit from consolidation. The number of non-viable water systems, both community and non-community, has decreased as a result. According to Alabama's 2014 Triennial Capacity Development Report to the Governor, the number of overall active PWSs has gone down by half as non-viable systems are inactivated and as systems consolidate (see Figure 1).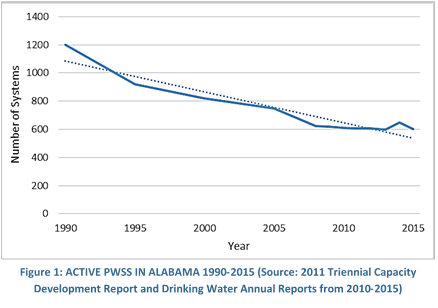 COORDINATION WITH OTHER GROUPS REGARDING NEW AND EXISTING SYSTEMS
ADEM's Drinking Water Branch coordinates with local stakeholder groups and other state and federal agencies to discuss the TMF capacity of proposed new water systems. "Communication with these groups has discouraged the construction of non-viable new water systems and the expansion of marginally operated existing water systems" (see the 2014 Triennial Capacity Development Report to the Governor in link below). Encouraging existing viable systems to extend service to new areas rather than allowing the construction of new systems eases the regulatory burden on the state and increases public health protection.
Helpful Links To State Resources