Georgia
State Agencies Supporting Water System Partnerships
Georgia Environmental Finance Authority
Georgia Environmental Protection Division (EPD)
State Policies and Programs Regarding Water System Partnerships
DWSRF PRIORITIZATION OF CONSOLIDATION PROJECTS.
The DWSRF ranking criteria awards interconnections or consolidation projects with 5 extra points. Each project has the potential to earn up to 100 points.
FUNDING INTERCONNECTIONS WITH STATE LOAN FUNDS
The Georgia Reservoir Fund provides loans for water supply projects. In addition to financing the development of new sources, the fund can also finance interconnections between water systems, whether to consolidate two or more water systems to enhance the redundancy of water supply.
LOWER ENFORCEMENT PENALTIES FOR SYSTEMS THAT WILL CONNECT TO COMMUNITY WATER SYSTEMS
If formal enforcement action is taken on a privately-owned water system, EPD may offer lower penalties if the water system agrees to connect to a publicly-owned water system or water authority within a reasonable period of time. From 1998 to June 2015, 412 privately-owned water systems had consolidated with a nearby publicly-owned water system. The figure below displays the number of consolidations in Georgia each year since 1998 and indicates that an average of 24 water systems have successfully consolidated with a local government owned water system or water authority each year.
CONTINUITY OF SERVICE AGREEMENTS
Privately-owned community water systems (CWSs) are required to provide a performance bond or letter of credit to assure the continuity of service. In some cases, CWS owners have entered into trust agreements with the local government in which the system is located. In other cases, the CWS owners have used non-government trustees (Georgia Rules for Safe Drinking Water, Chapter 391-3-5-.04(9)).
NEW SYSTEMS MUST CONSIDER INTERCONNECTION TO EXISTING SYSTEMS
New privately-owned PWSs and CWSs are required to evaluate the possibility of connecting to an existing publicly-owned and operated PWS. If the system cannot connect to the existing system, then they must describe the reasons to the EPD. New systems must also: provide written certification from the local government that it is aware and in concurrence with the development of the privately-owned CWS; have a back-up water source; and enter into a trust indenture with the local government to assure compliance, unless the local government provides documentation that it has no desire to act in this capacity (Chapter 391-3-5-.04).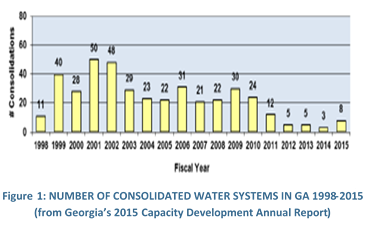 Helpful Links to State Resources