Kentucky
State Agencies Supporting Water System Partnerships
Kentucky Department for Environmental Protection Division of Water (KDOW)
Kentucky Public Service Commission (PSC)
Kentucky Infrastructure Authority (KIA)
State Policies and Programs Regarding Water System Partnerships
DWSRF PRIORITIZATION OF CONSOLIDATION PROJECTS
The KIA awards priority points to regionalization projects, including: elimination of a PWS through a merger or acquisition, elimination of a water treatment plant as a result of an interconnection, or acquisition of an emergency potable water supply. According to the 2017 DWSRF IUP, regional borrowers may also be eligible for a discounted interest rate of 1.75 percent (as opposed to 2.75 percent).
REGIONAL PLANNING
In 2000, Area Water Management Councils were created in each of Kentucky's 15 Area Development Districts (ADDs). The Councils bring together local utilities and officials to discuss and identify the drinking water and wastewater needs in each area and prioritize potential infrastructure projects. This information is then entered into the Water Resources Information System (WRIS), which is a geo-database of water infrastructure and proposed projects in the state. KIA uses the WRIS information to prioritize funding from the DWSRF and CWSRF. Councils also use the information in the WRIS to make regional water needs assessments and plans.
STATE ORDERED CONSOLIDATION OR RECEIVERSHIP
The PSC is authorized to initiate and carry out feasibility studies to determine the possibility of merging water districts or merging water associations into water districts. Upon completion of a study, and after a public hearing, the PSC can order the merging of water districts or associations into a single water district, and make any additional orders in connection with rates and charges. Secured debts continue to be paid under the terms and conditions of the outstanding obligations. The PSC can also purchase a system (KRS Chapter 74).
NEW SYSTEMS MUST CONSIDER INTERCONNECTION TO EXISTING SYSTEMS
The KDOW has statutory authority under Kentucky Revised Statutes (KRS) 151.634 to approve or refuse plans for all new water systems based on their ability to demonstrate TMF capability. 
STRATEGIC PLAN FOR WATER RESOURCE DEVELOPMENT
In 1999, the Water Resource Development Commission (WRDC) prepared a strategic plan for water resource development under the governor's executive order. One of the plan's recommendations was to: "promote and encourage water system regionalization." In 1999, there were roughly 700 PWSs in Kentucky, and now there are approximately 400 PWSs, with most non-community water systems being absorbed by community water systems.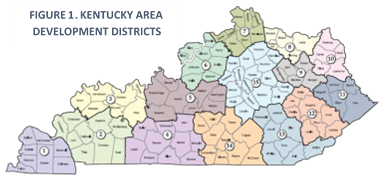 Helpful Links to State Resources