Nevada
State Agencies Supporting Water System Partnerships
Nevada Public Utility Commission
Nevada Division of Environmental Protection
State Policies and Programs Regarding Water System Partnerships
TMF SELF-ASSESSMENTS
The major objectives of Nevada's Capacity Development Strategy are: 1. Prioritization of systems most in need. 2. Assessment of system capacity. 3. Developing programs to assist systems with SDWA compliance. 4. Encouraging partnering between systems. 5. Measuring success. One of the ways the state encourages water system partnerships is through a TMF Capacity Survey, which is used to assess overall capacity and DWSRF eligibility (See Figure 1).
REGIONAL PLANNING OF SOURCE WATER PROTECTION
Nevada is implementing an Integrated Source Water Protection Program in an effort to address groundwater quality and quantity challenges facing many areas in the state. The NDEP's Bureau of Safe Drinking Water administers the ISWPP and helps communities develop and implement Community Source Water Protection Plans (CSWPPs). Local CSWPPs require coordinated planning among all PWSs within a specific county to examine shared water sources, evaluate community development impacts to those sources, and discuss how to collectively manage potential risks from a broader perspective. This provides opportunities for a wide array of PWSs, from mobile home parks to larger districts and municipalities, to leverage resources and promote community-wide awareness and acceptance of the plan.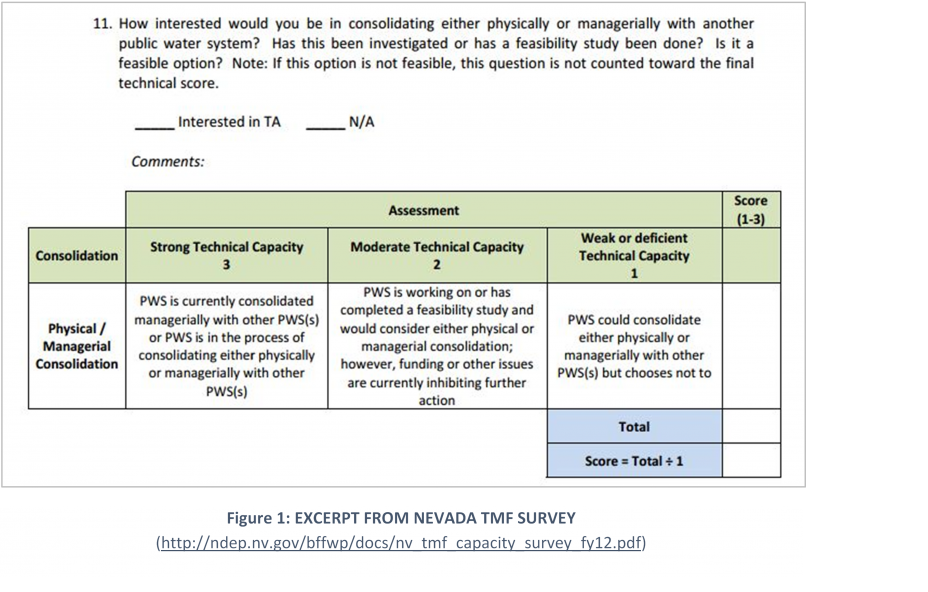 Helpful Links to State Resources