North Dakota
State Agencies Supporting Water System Partnerships
North Dakota State Water Commission
North Dakota Department of Health, Environmental Health Section
North Dakota Public Finance Authority
State Policies and Programs Regarding Water System Partnerships
DWSRF PRIORITIZATION OF CONSOLIDATION PROJECTS
The Department of Health developed a priority ranking system that assigns a maximum of 100-points, of which up to 10 points can be awarded to systems that include the consolidation or regionalization of water supplies. Points are awarded based on the criticality/severity of compliance problems that consolidation would address. For comparison, water quality issues can be assigned up to 35 points. 
NEW SYSTEMS MUST CONSIDER CONSOLIDATION
New systems are required to submit a technical plan to the state that includes an assessment of interconnection alternatives and describes the rationale for the chosen alternative. The Capacity Development Program reports that new developments, including subdivisions, trailer courts, and

industries, generally occur adjacent to or within the service areas of existing PWSs and typically choose to consolidate with or purchase bulk water service by existing PWSs. As a result, there are many rural water systems throughout North Dakota that provide regionalized service or consolidation. 
REGIONAL PLANNING
North Dakota's municipal, rural, and industrial (MR&I) water supply program was amended (in 2000) to disperse funding to meet statewide water requirements. As a result of this program, regional and rural water systems have expanded throughout the state. As of 2012, there were 31 regional water systems providing drinking water to over 200,000 people in 319 cities, 88 various water systems, and over 90,000 rural residents. Currently, all or part of North Dakota's 53 counties are served by regional water systems, with several having plans to expand. The North Dakota State Water Commission has produced and regularly updated the North Dakota Water Development Plan to identify regional water infrastructure needs, and coordinate the funding of various projects, including regional water systems.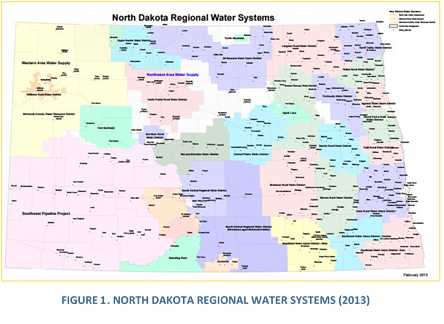 Helpful Links to State Resources