Tennessee
State Agencies Supporting Water System Partnerships
Tennessee Department of Environment and Conservation (TDEC)
Tennessee Utility Management Review Board
State Policies and Programs Regarding Water System Partnerships
OPERATOR SHARING
Many systems share certified operators. Several regional and statewide "management" groups have emerged in Tennessee, which offer their services to water systems that by themselves are not capable of retaining certified operators, nor is it feasible for them to interconnect.
REGIONAL PLANNING
In conjunction with Drought Management planning (see Emergency Planning and Response below), Water Resources Technical Advisory Committee (WRTAC) and TDEC partnered with the U.S. Army Corps of Engineers and other regional planning experts to initiate a water resources planning pilot program in two regions: North Central Tennessee and Southern Cumberland. The pilot study was conducted in order to establish a statewide process for regional water supply planning process and to identify potential interconnections.
STATE PRESCRIBED RESTRUCTURING OR CONSOLIDATION STUDIES
The Utility Management Review Board advises and assists financially distressed utility districts in the area of utility management, and it has the authority to prescribe a user rate structure that will allow the utility to be self-sufficient. In addition, the board must review the creation of a utility district, and the board may undertake a study leading to the consolidation and regionalization of a utility district with another to achieve compliance.
STRICT TMF REQUIREMENTS FOR NEW AND EXISTING SYSTEMS
Tennessee Rules [Rule 0400-45-01-.05 (9)] "require" systems to consider regionalization "insofar as feasible." The Capacity Development Program reports that consolidations and partnerships are occurring as a consequence of economic and managerial conditions that limit the capacity of small systems to operate effectively. The environment for the creation of smaller, stand-alone water districts is unfavorable.

EMERGENCY PLANNING AND RESPONSE
In response to an extreme drought that lasted two years, the WRTAC was created to develop a Drought Management Plan to outline TDEC's role in facilitating coordination and emergency response to lessen the impacts from drought. Communication and collaboration among water systems as well as physical interconnects have mitigated the impacts from past droughts. CWSs are required to develop drought management plans, which can be a companion to the regional water supply plan.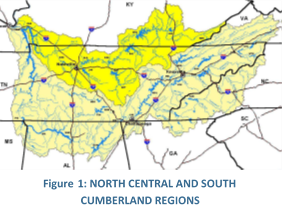 Helpful Links to State Resources