About E3's Green Suppliers Network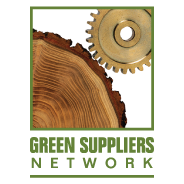 Part of the E3 framework, Green Suppliers Network helps manufacturers and supply chains nationwide enhance competitiveness, reduce cost, and improve performance.

Established in 2003 by EPA and the U.S. Department of Commerce's National Institute of Standards and Technology Manufacturing Extension Partnership (NIST MEP), Green Suppliers Network was integrated into the E3 framework. 
As a result, participants in the Green Suppliers Network gained access to resources not previously available, and manufacturers wishing to target their supply chains and those located outside "E3 communities" can turn to the Network. 
For each manufacturing facility, the Green Suppliers Network team conducts a customized technical assessment of production processes to help the manufacturer reduce waste and operate more efficiently.
For manufacturers looking to bring the Green Suppliers Network to their supply chain, participating can:
Strengthen suppliers' ability to respond to needs.
Share priorities and issues with suppliers.
Improve the overall quality of products.
Reduce the cumulative carbon footprint of products.
An individual manufacturing facility undergoing a Green Suppliers Network assessment can:
Achieve additional savings and efficiencies beyond traditional lean techniques by addressing energy efficiency and environmental performance.
Find customized solutions by identifying the root causes of waste and inefficiency.
Save money and increase capacity.
See immediate results through hands-on training on the shop floor.
Stay competitive and profitable while reducing impacts on the environment.
On other pages: