E3 Newsroom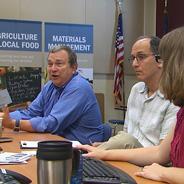 Archives
2015
Mooresville helps put NC among leaders in green jobs growth
March 15, 2015 - Several Mooresville, NC companies are doing their part to increase the number of green, clean energy jobs in North Carolina serving the solar energy, recycling, and manufacturing sectors. "There are several programs, credits and existing companies that make our market attractive for companies to relocate and grow jobs here," said Mooresville-South Iredell Economic Development Corporation (MSIEDC) marketing manager Jessica Stewart.
UTEP Engineering Center Can Boost Business Efficiency, Profits
February 23, 2015 - The Texas Manufacturing Assistance Center (TMAC), an engineering program based at The University of Texas at El Paso, provides technical, operational, and business assistance to the local manufacturing community. Plastic Molding Technology is one of TMAC's biggest success stories. In search of opportunities to become greener, they contacted the center for advice in 2013. Recommendations to save on water usage, installation of motion-sensitive lights, and identification of non-value adding activities led to dramatic improvements. As a result, the company has saved approximately $300,000 and earned a national 2014 Sustainability Leadership Award.
2014
E3 Green Suppliers Network—How It Works
December 9, 2014 - In 2006, Sermatech, in Connecticut, a provider of high-performance coatings to the aerospace industry, decided to partner with the Green Suppliers Network (GSN) to address both lean and green manufacturing. The GSN assessment found that the sprayed helicopter hub parts were at a higher risk of damage because they were traveling a considerable distance during the production process. The resulting need for rework of damaged parts was costing the company about $46,000 annually, or about two percent of its profit margin. To address these problems, the assessment team recommended the company install an enclosed environmental workstation or spray booth that served to both eliminate the travel and exposure time for parts and optimize available workspace. The changes are anticipated to reduce necessary rework by 75 percent.
E3.gov: Economy, Energy, Environment – Another Resource for Manufacturers
November 4, 2014 - To compete in today's global marketplace, manufacturers need to be smart, innovative, and sustainable." That's the first thing you read on the federal government's E3 webpage – E3 stands for "Economy – Energy – Environment." Manufacturers are an adaptable bunch, or they don't stay in business for very long. Today, with materials of all sorts increasing in costs or impact, manufacturers who want to adapt to be more energy efficient, sustainable or "green" may have another tool to help them.
GENEDGE Announces Blue Ridge Fiberboard As Virginia's NASCAR Green/E3 Sustainability Competition Winner
October 1, 2014 - Blue Ridge Fiberboard Inc., a Danville, Virginia manufacturer of fiberboard products, was recognized October 1, 2014, as the winner of the Virginia NASCAR Green/E3 Challenge. The challenge winner was selected for demonstrating an outstanding commitment to world-class business practices that align with sustainability and making the company more profitable.
GENEDGE Announces a Race for Virginia Manufacturers to Showcase Best Practices in Green Through the NASCAR Green/E3 Challenge
April 22, 2014 - E3: Economy - Energy - Environment, EPA, and NASCAR Green are working together to encourage businesses to operate in a green and sustainable fashion by launching the second NASCAR Green/E3 Challenge. The goal of the challenge is to underscore the sustainability efforts that the E3 (Energy, Economy, Environment) Initiative has been making in Virginia and help move their sustainability efforts forward with the help of NASCAR Green.
EDAC Discusses Federal IMCP Competition and MoDOT Freight Plan
April 15, 2014 - The Mid-Missouri Regional Planning Commission's Economic Development Advisory Committee (EDAC) recently met to discuss the Business & Research Information Development Group's (BRIDG's) application to the Investing in Manufacturing Communities Partnership (IMCP), an effort by the federal government to encourage the development of advanced manufacturing. Since the competition requires that applicants select a specific geography and identify a target manufacturing cluster within their proposed region, the BRIDGE application will focus on Production and Energy Technology with the intention to make investments in workforce development.
Local Programs Help Alabama Manufacturers Add Jobs, Reduce Waste and Increase Profit
April 9, 2014 - Across Alabama, manufacturing facilities are participating in a program aimed at increasing competitiveness through efficient production processes, reducing waste, lowering costs, growing jobs, and encouraging innovation. The program, called E3, is a joint federal initiative and is administered in Alabama by the Alabama Technology Network with support from more than 28 partners, including the Alabama Department of Economic and Community Affairs' Energy Division. Leveraging federal and local funds, the E3 program in Alabama has conducted 60 energy assessments and 60 lean assessments that provide companies with suggestions on ways to operate more cost-effectively.
Study looking at ways to bring more manufacturing to area
April 2, 2014 - As new advanced machinery and manufacturing technology continue to shift the economic landscape, the Northwest Georgia Regional Commission and Georgia Tech are seeking ways to maximize the impact of the $85,000 grant from the Investing in Manufacturing Communities Partnership (IMCP). With Georgia Tech and the commission matching $75,000 and $10,000, respectively, the collaborative group must now develop a long-range plan for the region that ensures workers have the skills they need to compete in the 21st century and that the region can attract advanced manufacturing.
Allen commissioners support application into Obama initiative
March 25, 2014 - The Allen Economic Development Group, Lima-Allen County Regional Planning Commission, the city of Lima and the Ohio Energy & Advanced Manufacturing Center, collaborative group from Allen County, Ohio, is working together to submit an application to be one of a dozen communities to receive special designation by the Obama administration's Investing in Manufacturing Communities Partnership (IMCP). The aim of the ICMP is to help accelerate the resurgence of manufacturing and create jobs in cities across the country. It provided funds to conduct more in-depth studies and to develop plans to increase jobs and enhance a more global manufacturing presence within a region.
ME3 energy audit program looking for final few participants before funding dries up
March 21, 2014 - A Central Ohio manufacturing plant has found more than $250,000 in energy savings with help from a program that is looking for more participants as funding for it nears an end. Momentive Performance Materials Inc.'s Newark plant recently took part in the federally and locally supported ME3 program. Run by the Mid-Ohio Regional Planning Commission, the program melds previous Ohio programs that focused on energy-efficiency and recycling manufacturing waste products. ME3 originally started as an E3 pilot program in Columbus, but has been expanded to include a waste-and-materials reduction component.
Mooresville, Charlotte mayors lead business consortium visit to D.C.
February 28, 2014 - As advanced manufacturing in the Greater Charlotte Region is continues to expand rapidly, local leaders are working with the federal government to accelerate progress and become increasingly competitive in the world market. Recently, the Global Charlotte Manufacturing Community Consortium, a Consortium of business, public sector and regional leaders, led by Charlotte Mayor Patrick Cannon and Mooresville Mayor Miles Atkins, visited the White House for a roundtable discussion on the successes, opportunities and constraints of advancing the internationally prominent manufacturing ecosystem of the Greater Charlotte Region.
Cranley joins forces with another mayor to get millions in federal funding
February 19, 2014 - Recently, Cincinnati Mayor John Cranley announced that he is working with his counterpart in Dayton to vie for a share of $1.3 billion in funding the federal government is offering as part of the Investing Manufacturing Communities Partnership (IMCP). The two cities will compete for designation as one of 12 federal Manufacturing Communities. Both mayors believe that the partnership between Cincinnati and Dayton will increase the region's chances at being selected.
Milwaukee to apply for 'manufacturing communities' designation
February 17, 2014 - The city of Milwaukee recently announced plans to apply for designation as one of 12 "manufacturing communities" under the Investing in Manufacturing Communities Partnership (IMCP). IMCP is a new federal program launched last year that will initially offer 12 cities preferential consideration for up to $1.3 billion in grants from 10 federal agencies. The program, meant to help accelerate the resurgence of manufacturing in regions across the country ranks among Obama's top manufacturing policies.
Charlotte region in competition for $25M in federal aid to manufacturing economies
January 8, 2014 - The Charlotte, NC, region is in the running for $25 million in funding from the Investing in Manufacturing Communities Partnership (IMCP), a federal program designed to aid communities that have demonstrated they can attract and grow advanced manufacturing companies. The goal of the IMCP, an Obama administration initiative, is to reward local communities that have shown proficiency attracting and supporting manufacturers and ensure the country's manufacturers are able to compete around the globe.