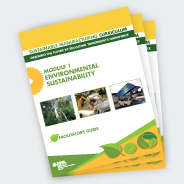 Greening the Future by Educating Tomorrow's Workforce is intended for educators at high schools, career and vocational institutes, community colleges and trade schools.The curriculum, at the right and below, is made up of three modules:
Environmental Sustainability
Lean Manufacturing and Pollution Prevention
Energy and Carbon.
Each module includes a slide presentation and a facilitator's guide complete with handouts, activities, quizzes, and facilitator's notes. The facilitator's guide also uses visually engaging icons to assist educators in appropriately conveying the material to the students.
The curriculum is designed so that educators have the flexibility to incorporate these modules into their existing course material or parceled by topic. Each module requires approximately three hours of classroom time, requiring up to nine hours implement the entire curriculum.
The curriculum modules were built with flexibility in mind. They include many discussion questions and activities allowing for variable times to implement in the classroom. Educators can and should pick and choose which topics, discussion questions, and activities best fit their classroom needs.
Please save files to your computer for best viewing.
For more information, please email EPA Region 4 Office of Sustainability.
You may need a PDF reader to view some of the files on this page. See EPA's About PDF page to learn more.