National Ecosystem Services Classification System (NESCS) Plus
Overview: A Tool for Considering Ecosystem Services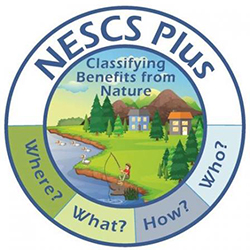 EPA researchers are identifying and quantifying ways in which natural ecosystems contribute to healthy and sustainable communities. An explicit goal is to provide information and tools that help decision makers and local communities sustain such contributions, known as ecosystem services, to enhance aspects of human wellbeing, including economic growth and prosperity, public health, stability, and resiliency.
The National Ecosystems Classification System-Plus (NESCS Plus, pronounced "nex-us plus") is one such tool. EPA researchers developed it as a robust, step-by-step resource for tracing the links between natural ecosystems and human well-being.
The main purpose of NESCS Plus is to serve as a framework for analyzing how changes to ecosystems impact human welfare. This system can aid in the analysis of different types of environmental management actions, policies, and regulations. Potential applications include, but are not limited to, cost-benefit analysis of environmental programs, natural capital accounting, and measurement of "green" gross domestic product (green GDP). Though NESCS Plus is not a valuation or accounting system, it is designed to support systematic and comprehensive accounting of changes in final ecosystem services (FES).
A Final Ecosystem Services (FES) Classification System  
This webpage introduces, defines, and describes a classification system for final ecosystem services (FES). The EPA is providing a means to standardize ecosystem services classification which provides a solid foundation for their further use and development.
The intended audience for this resource includes individuals, communities, private and public sector firms, as well as non-profit organizations looking to measure, quantify, map, model, and/or value a comprehensive standard set of ecosystem services anywhere on the Earth.
The relatively fine separation of ecosystem services in the classification system, together with common language established in it and supporting documentation provide technical practitioners (e.g., social scientists, economists, natural scientists, decision-makers, etc.) of ecosystem services a means to efficiently communicate across disciplines and with the general public (nontechnical audiences). Accordingly, NESCS Plus can serve as a common standard classification system for ecosystem valuations and metrics, and advancing approaches for embracing ecosystem services perspectives into environmental and related human health research, decision-making, and planning.
General Principles for NESCS Plus (Adapted from Landers and Nahlik, 2013)
Before diving into the classification system, it is best to understand these four guiding principles:
Defining, measuring, quantifying, valuing, and/or accounting for FES requires a wholly collaborative effort among natural scientists and social scientists.
Environmental processes and functions produce potential FES, while people, groups, or firms (hereon referred to as "users") enjoy, use, or consume FES.
Defining, identifying, and classifying a complete, but non-duplicative, set of FES is the foundation that can be used as a transdisciplinary approach to measure, quantify, map, model, and value ecosystem services.
Because users enjoy, use, or consume FES, an understanding of how they directly use or appreciate ecological end-products is crucial to identify FES and contribute to the framing of the research and implementation plan.
Learn more on the NESCS Frequently Asked Questions (FAQs) page.
Example applications of NESCS Plus and Previous Versions
Explore some recent publications that have applied the components of NESCS Plus on the Case Studies page.
The precursors to NESCS Plus:
Related Ecosystem Services Tools