EPA EcoBox Tools by Stressors - Physical
Overview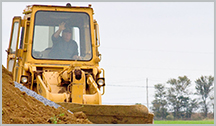 Habitat disturbances and landscape effects (e.g., loss of habitat or habitat connectivity, habitat degradation) are physical stressors (U.S. EPA 1998). Many examples of physical stressors are related to human activities and/or exploitation within ecosystems (see figure below). Physical stressors can eliminate ecosystems or portions of them (e.g., logging or fishing activities [that can result in overharvesting], construction of dams, removal of riparian habitat, land development).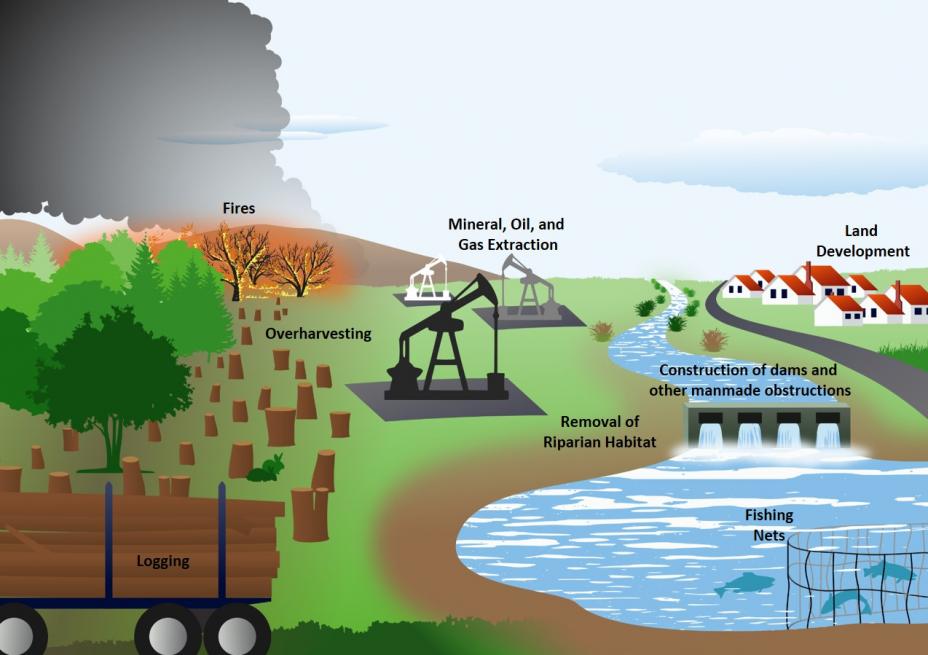 For physical stressors, an initial disturbance

disturbanceAn uncommon occurrence from a natural agent, such as floods, fires, or hurricanes, that has a significant influence on ecosystems. may cause primary effects on the assessment endpoint, but secondary stressors might also occur. These secondary stressors might represent "natural counterparts" of the primary disturbance. For example, in removing riparian habitat, secondary stressors—e.g., changes in nutrient levels, stream temperature, suspended sediments, and stream flow—are possible. Land development may decrease the frequency but increase the severity of fires or may increase the frequency and severity of flooding in a watershed. Secondary effects—a series of effects that cascade through the ecosystem due to stressor exposure—can also occur, and sometimes these secondary effects become the principle concern. For example, during land development, a loss of wetland acreage might result in a decline of wildlife populations that depended on the wetlands.
Adverse effects to ecological receptors from physical stressors may often result from co-occurrence

co-occurrenceExposure that is not the result of direct contact with a stressor, but occurs when a stressor, due to its spatial or temporal proximity to a receptor, results in significantly altered receptor response. with physical stressors rather than contact. According to the U.S. EPA Guidelines for Ecological Risk Assessment (1998) it is important to understand the temporal and spatial distribution of the disturbed environment for any physical stressor that directly alters or eliminates portions of the ecosystem.
Tools
Resources that are applicable to conducting ERAs for physical stressors are provided below. 
Some content on this page requires JavaScript in order to be viewed. If you wish to view content on this page, you must have JavaScript enabled.