Environmental Education Grant Descriptions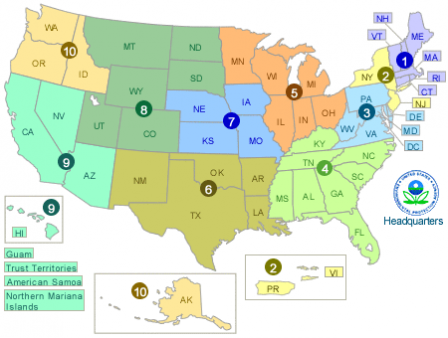 Map of EPA RegionsSince 1992, a total of 3,859 environmental education (EE) grants have been awarded by EPA nationwide for a cumulative total of $85,105,990. The table below provides information about each of those EE grants.  See also: National Statistics
Columns shown below:
Year: The year in which the grant was awarded by EPA.
State: The state in which the recipient organization is located.
Region: The EPA Region in which the recipient organization is located.
Grant Project Description: Includes the recipient organization, the value of the EPA grant, the title of the grant project, and a brief description of the grant project.
Export buttons (only rows that match your selected filters or search criteria are included):
Copy: Copies the table to your clipboard.
CSV: Creates a comma-separated values (CSV) file that can be opened with a spreadsheet application (for example, Excel) or imported into a database.
PDF: Generates a portable document format (PDF) file in landscape format.
Explore Environmental Education Grants
Use the dropdown selections to filter the table or enter a keyword in the search box. Click on the column heading to sort the table. You can also conduct a keyword search to find grants, such as those related to environmental topics, types of audiences, and educational methods. Please note, the table below includes a large data set and may load slowly.
Tip:  Looking for grants near you?  Enter your zip code into the Search box to find matching grants.  You can also use the Search box to find grants by city, organization, or project name.   
Year
State
Region
Grant Project Description
Year
State
Region
 
1992
AL
4
Creekview Elementary School -- $4,284
Alabaster, AL 35007
Environmental Protection
The purpose of this project is to teach environmental protection to educators and students using the natural area around the school and other learning materials. The curriculum will educate teachers and pupils using the school setting as an instructional resource.
1992
AL
4
Elmore County Board of Education -- $2,208
Wetumpka, AL 36092
Pass it Down - A Study of Nature
"Pass it Down - A Study of Nature" is a school yard nature center curriculum for 4th through 6th grade pupils that includes on-campus field study, wetlands preservation, high technology microscopy, and computer data analyses. The curriculum uses school-owned land as the nature center.
1992
AL
4
Gadsden Cultural Arts Foundation -- $4,715
Gadsden, AL 36092
Alabama Wetlands Exhibit
The "Alabama Wetlands Exhibit" is a museum exhibit that is used as a communication device to promote the aesthetic and environmental value of Alabama's wetlands. The exhibit includes both the art and science of a wetland.
1992
AL
4
Gulf Coast RC&D Area -- $5,000
Bay Minette, AL 36507
Gulf Coast RC&D Composting Education Project
The "Gulf Coast RC&D Composting Education Project" provides the public with practical knowledge about composting through a public information and education campaign. The program teaches why home and farm composting is useful and how it can be done.
1992
AL
4
Montgomery Clean City Commission -- $4,964
Montgomery, AL 36024
Puppet Show for Conservation and Recycling
This grant funds a puppet show to teach children in kindergarten through 3rd grade how to conserve resources and recycle used products. The project includes activity pages and brochures for parents to use at home after the show to reinforce topics discussed.
1992
AK
10
Business Park Wetlands Coalition -- $5,000
Anchorage, AK 99501 99501
Swamp Art
The "Swamp Art" project is a community-based hands-on learning experience that combines science and art at a newly developed nature center and business wetlands park.
1992
AK
10
Joy Elementary School-Fairbanks North Star Borough Schools -- $8,346
Fairbanks, AK 99707
In Our Back Yard
The "In Our Back Yard" project was developed to create interior Alaska ecosystem learning activity kits for elementary school children and to train educators in the use of the kits.
1992
AK
10
Lathrop High School-Fairbanks North Star Borough Schools -- $4,940
Fairbanks, AK 99707
EcoNet
An environmental computer bulletin board, called EcoNet, was created with this grant. The purpose of the bulletin board is to communicate with peers across the country concerning local environmental efforts, problem solving, and the initiation of joint projects.
1992
AK
10
Matanuska-Susitna Borough School District -- $1,629
Palmer, AK 99645
Envira-Ware
This grant funds a project called "Envira-Ware." For this project, the Willow School will use computer and laser videodisc technologies to organize, expand, and reinforce the study of environmental issues. The pilot run of the program reached 25 6th grade students, but the program will expand to include students from kindergarten through 6th grade.
1992
AZ
9
Arizona Department of Environmental Quality -- $25,000
Phoenix, AZ 85012
Educators' Academy
This grant funded a project to develop an Educators' Academy that will focus on environmental issues facing Arizona, such as water pollution and use, hazardous waste dumping, and riparian habitat preservation. The Academy will also provide practical ideas for environmental activities through the exploration of curriculum resources and the development of regional and state networks of environmental educators. The Academy seeks to increase knowledge about effective instructional methods.
1992
AZ
9
Chandler Unified School District -- $4,900
Chandler, AZ 85224
Environmental Play
This project involves an environmental play performed locally, which will utilize acting, song, and dance to teach content, explore problem-solving strategies, and encourage individual and group action toward projects related to the environment. Prior to the performance by elementary school students, teachers will test student knowledge and attitudes towards topics such as recycling, water conservation, ozone depletion, acid rain, and others.
1992
AZ
9
Resource Center for Environmental Education -- $4,704
Flagstaff, AZ 86004
Solid Waste Alternatives
This program involves in-service training for educators for kindergarten through 12th grade to increase awareness and knowledge of solid waste alternatives in an area where open dump burning is common.
1992
AZ
9
Tucson Audubon Society -- $5,000
Tucson, AZ 85705
Biodiversity Identification in the Classroom
Students from the inner city will attend classroom sessions to identify plants, birds, and animals in their neighborhood. The students also will be transported to three nearby desert habitats to compare and contrast them with their local neighborhoods.
1992
AR
6
Henderson State University -- $5,000
Arkadelphia, AR 71999
Putting Waste in Its Place in Arkansas
"Putting Waste in Its Place in Arkansas" is a project that teaches educators about solid-waste management during the statewide Math and Science Leadership Conference and the Arkansas Science Teachers Association conference.
1992
CA
9
Evans Community Adult School -- $5,000
Los Angeles, CA 90012
The Earth, Our Shared Cultural Heritage
This grant funds a teachers' workshop, entitled "The Earth, Our Shared Cultural Heritage," which will provide training for English-as-a-second-language instructors. The curriculum will focus on two areas: the study of environment from prehistory to the present and the study of biogeography to enable students to see beyond their neighborhoods to an expanded view of natural communities.
1992
CA
9
Live Oak School District -- $5,000
Santa Cruz, CA 95062
Classroom Rainforest Project
This project is a classroom rainforest project which uses the tropical rainforest as a theme to explore the interaction of humans with their environment. Students will construct a three-dimensional tropical rainforest in the classroom and will create and monitor rainforest terrariums which simulate tropical ecosystems.
1992
CA
9
Marin County Office of Waste Management -- $5,000
San Rafael, CA 94913
Composting Program
This school composting program is designed to develop an education program on yard- and worm-composting for selected elementary and middle schools in Marin County. The program includes development of curriculum on composting, training of educators, classroom demonstrations, purchase of compost systems, and design of a marketing program.
1992
CA
9
Mount Diablo Unified School District -- $4,690
Concord, CA 94519
Sampling the San Francisco Bay/Delta
This project will allow fifth grade science teachers to gather data and analyze samples collected from the San Francisco Bay/Delta using the latest scientific method and equipment.
1992
CA
9
Napa Valley Unified School District -- $16,835
Napa, CA 94558
Millions of Trees
The project "Millions of Trees" is designed to promote student, faculty, and community proactive environmental involvement. Students will raise conifers to be sold as living Christmas trees and a variety of native plants to reforest local areas. The students also will read significant non-fiction and fiction material related to the project; run scientific experiments on tree growth, and participate in other activities.
1992
CA
9
National Audubon Society -- $25,000
Tiburon, CA 94920
Adopt a Threatened Plant or Animal
This project will encourage students to "adopt" a local threatened plant or animal and develop a plan to help their "adoptee" survive. Participating schools will create a report of their activities and submit it in a statewide contest.
1992
CA
9
Pacific Primary School -- $5,000
San Francisco, CA 94117
Water is Life
"Water is Life" is a project that includes the development of kindergarten curriculum that will create an awareness of the environment among pre-school children. The curriculum will focus on the issue of water, including its vital uses, its importance as a natural resource, and the critical need for water conservation.
1992
CA
9
San Diego State University Foundation -- $4,999
San Diego, CA 92182
Radiation and the Human Environment
The "Radiation and the Human Environment" project is a curriculum for public health officials and students. A graduate-level course will be developed to familiarize the students with principles and issues related to exposure of the public to various sources of radiation.
1992
CA
9
San Francisco Conservation Corps -- $4,531
San Francisco, CA 94110
Corps to College Environmental Education
The Corps to College Environmental Education project is a proposed curriculum based on the principle of interdependence among culture, community, and ecology. The curriculum will be taught to 18 to 25 young people for four hours a week for one semester. Corps members will learn about how those people in their ethnic history related to the environment, and how the communities in which they live are influenced by the environment.
1992
CA
9
San Mateo-Foster City School District -- $4,850
San Mateo, CA 94403
Training in Chemical Education
This project includes teacher training in chemical education and is a collaborative effort between the school district and the Chemical Education for Public Understanding (CEPUP) at the Lawrence Hall of Science, University of California, Berkeley. Teachers from the district's middle schools will be trained in using CEPUP materials to develop a curriculum which will be used by 7th and 8th grade students to improve their understanding of chemical concepts and processes related to current environmental health risks.
1992
CA
9
Shasta Natural Science Association -- $4,950
Redding, CA 96001
Carter House Museum
Those working on the Carter House Museum project will design, demonstrate, and disseminate a wetlands curriculum and hold in-service training for educators in the region.
1992
CA
9
Ventura County Solid Waste Management Department -- $4,979
Ventura, CA 93009
Backyard Composting Demonstration Garden
The Backyard Composting Demonstration Garden project is a partnership between the Cities of Ojai and Ventura County to motivate residents to adopt habits that benefit the environment while helping to meet California's waste-reduction goal. A demonstration garden will be used as an educational tool to teach citizens to compost.
1992
CO
8
Educational Resources Association -- $4,500
Longmont, CO 80503
Materials and Training for Conservation Education
This grant funds an expansion of a nationally-validated science program which will provide materials and training in conservation education to students and teachers nationwide.
1992
CO
8
E-Town -- $25,000
Boulder, CO 80306
Radio Broadcasts of Environmental Education
This project consists of a radio station broadcasting environmental education in-between music segments.
1992
CO
8
Putnam-Fullana Elementary School -- $4,482
Fort Collins, CO 80521
Students Assess Local Ecological Conditions
This program will teach 3rd and 4th graders to use science tools to assess local ecological conditions.
1992
CO
8
San Luis Valley Board of Cooperative Services -- $5,000
Alamosa, CO 81101
Outdoor Environmental Education Program
This project is an outdoor environmental education program that will increase the opportunities for teachers and students to experience and learn about their environment.
1992
CO
8
Transportation 2000 -- $5,000
Boulder, CO 80301
Educational Video Series
This grant funds an educational video series for classrooms, public television, and for individual and institutional use.
1992
CT
1
Connecticut Department of Environmental Protection, Office of Environmental Education -- $24,000
Hartford, CT 06106
Environmental Education Computer Programs
This project revises and disseminates novel computerized environmental education programs that deal with risk communication and public outreach on toxic substances which have been piloted to youth and adults in the state through a coalition of environmental, health, and educational agencies.
1992
CT
1
Rainbow Recycling, Inc. -- $5,000
New Haven, CT 06511
Rainbow Recycling, Inc. and Students United for a Rebirth of Excellence (SURE)
Rainbow Recycling, Inc. and Students United for a Rebirth of Excellence (SURE) seek to introduce community youth groups about solid waste reduction through development of a curriculum on composting and the construction of compost bins from recycled materials.
1992
DE
3
Cape Henlopen High School -- $5,000
Lewes, DE 19958
Teen Environmental Network
The "Teen Environmental Network" project develops a grassroots link among all of the high school environmental clubs in Sussex County, Delaware.
1992
DE
3
Delaware Academy of Science -- $4,995
New Castle County, DE 19702
Habitat Enhancement Education Project
The "Habitat Enhancement Education Project" is designed to help landowners and community groups enhance wildlife habitat with the use of recycled garbage and organic sludge while developing a curriculum for educators.
1992
DC
3
Friends of the Earth -- $12,000
Washington, DC 20005
Guide to Environmental Education Resources
This grant funds a project to develop and distribute a printed guide of available environmental education resources and activities for Washington, DC students, senior citizens, and others.
1992
DC
3
The Terrene Institute, Inc. -- $4,993
Washington, DC 20036
Water Pollution Board Game
This grant funds a project to develop a simplified version of a board game that teaches students and the public about basic principles of water-pollution control, including the relationship among water-quality standards, land-use practices, and the installation of best management practices for pollution control in a free-market system.
1992
FL
4
American Lung Association of Southeast Florida -- $5,000
West Palm Beach, FL 33407
Air Conservation
This project is a 45-minute-long program on air conservation designed for students from kindergarten through college. The program includes a group discussion, written materials, and a slide presentation that focuses on environmental concerns in Palm Beach County, FL.
1992
FL
4
Brevard County School District -- $4,800
Melbourne, FL 32940
Compost Curriculum
This project involves curriculum for high school students to develop a compost method suitable to the local biome and then to use their organic compost to fertilize a simple square-foot garden they design.
1992
FL
4
University of Miami -- $4,952
Coral Gables, FL 33124
Quality Function Development (QFD)
This grant funds a broad-based secondary school course in environmental science and engineering, which uses Quality Function Development (QFD). A by-product of the activity will be development of a methodology that can be replicated and used for other educational levels.
1992
GA
4
Elachee Nature Science Center & Creative Museum -- $87,500 (HQ Grant)
Gainesville, GA 30504
If Everyone Lived Like Me...
"If Everyone Lived Like Me..." involves the creation of an interactive video software program for school children and adults to inspire individual action and educated choices on consumer behavior with the goal of reducing global pollution.
1992
GA
4
Elbert County Board of Education -- $5,000
Elberton, GA 30635
Rivers and Watersheds
"Rivers and Watersheds" is a curriculum about rivers and watersheds designed to increase the awareness of students and educators in grades 6 through 8 of plant and animal diversity within the river, the benefits of rivers to humans, and how human activities can affect rivers.
1992
GA
4
Oconee Clean and Beautiful Commission -- $4,600
Watkinsville, GA 30677
Kids Environmental Talk Show
The "Kids Environmental Talk Show" project involves six environmental talk shows featuring 12 students each that will be videotaped. The shows will be shown nationwide on the local public television stations. Six classroom presentations and field trips will be used to prepare 5th through 8th graders for the talk show.
1992
GA
4
University of Georgia -- $5,000
Eatonton, GA 31024
Discovery Pond Laboratory Project
The "Discovery Pond Laboratory Project" is a curriculum and outdoor pond for the hands-on instruction of more than 16,000 students in grades 3 through 8 yearly. Curriculum will include water quality, lake habitat, lake biology, and demonstrations of modern measuring and diagnostic equipment.
1992
GA
4
Woodward Academy -- $15,880
College Park, GA 30337
Air, Soil, and Water Laboratory Exercises
This grant funds instruction and laboratory exercises for grades 7 through 12 to teach about the air, soil, and water. The project provides middle school and secondary school teachers and students with a short course in pollution detection and mitigation.
1992
HI
9
University of Hawaii -- $5,000
Honolulu, HI 96813
Water-Quality Monitoring Training
The Water-Quality Monitoring Training project trains selected high school teachers and students in the field method of collecting and analyzing water samples. Teachers will participate in a five-day summer workshop which will cover the basic issues of marine pollution, indicators of pollution, collection of water samples, and recording of results. Teachers would then nominate students who would be eligible to take an oceanography lab course in which they would study water pollution, the history of pollution in Pearl Harbor, and learn how to collect and analyze water samples.
1992
ID
10
Idaho Conservation League -- $4,809
Boise, ID 83701
Water Watch Program
The "Water Watch Program" fosters citizen involvement in water quality protection efforts by providing opportunities for hands-on activities. A "Water Watch" group will eventually be developed for particular streams, rivers, wetlands, and lakes.
1992
ID
10
Idaho State University -- $4,904
Pocatello, ID 83209
Water Quality in Agriculture
The grant funds the development and testing of a unit for grades 7 through 12 on water quality in agricultural areas of the Intermountain West. The project also includes development of background materials for students and teachers, a pilot curriculum, and a follow-up test at a rural high school.
1992
ID
10
The Nature Conservancy -- $5,000
Picabo, ID 83348
Silver Creek Preserve
The Silver Creek Preserve environmental and wetlands education program provides a location for students to learn about wetlands ecology, water issues, and natural areas management.
1992
IL
5
Amundsen High School -- $12,861
Chicago, IL 60625
Environmental Studies Laboratory
This grant will help to establish an environmental studies laboratory to service the entire student body at the Amundsen High School in Chicago. This high school has recently converted the focus of its entire curriculum to that of an environmental magnet school.
1992
IL
5
Chicago Academy of Sciences -- $117,825 (HQ Grant)
Chicago, IL 60614
Ecological-Citizenship
Project "Ecological-Citizenship" incorporates environmental education into the urban community's culture. Designed specifically for urban areas, Eco-Cit involves students, teachers, parents, and the community. The core element of the program is a multi-disciplinary ecology program involving hands-on exploration of environmental issues that affect the community. The Academy proposes to create a model program that can be used to introduce environmental education in inner-city settings throughout the country.
1992
IL
5
Gaia Theater -- $4,875
Chicago, IL 60645
Energy Curriculum
This grant funds the development of a theatrical presentation and curriculum package on energy conservation and consumption geared toward Chicago Public School students in grades 4 through 8.
1992
IL
5
Illinois State University, Department of Health Sciences -- $5,000
Normal, IL 61761
Environmental Education Curriculum
The project involves the development, implementation, and evaluation of a 1st grade environmental education curriculum with a teacher workshop.
1992
IL
5
Marist High School -- $2,250
Chicago, IL 60655
WEATHERFAX
This grant funds the installation of the WEATHERFAX system to allow students to interact with live, continuous, incoming weather satellite images that can be applied to the school's physics and laboratory science classes. The project also involves teacher education.
1992
IL
5
Millikin University -- $4,700
Decatur, IL 62522
Freshwater Ecosystems
This project introduces high school students to freshwater ecosystems. Students participate as field investigators in a six-day course, in which they learn methods of identification, collection, and the development of a plan of study.
1992
IL
5
Skokie Park District, Emily Oaks Nature Center -- $4,380
Skokie, IL 60076
Earth Education Program
This grant funds the development of sequential two-year cumulative hands-on earth education program consisting of a nature center and school-based activities.
1992
IL
5
South Suburban College -- $5,000
South Holland, IL 60473
Teacher Workshop for Environmental Science
This project establishes a teacher workshop to conduct hands-on environmental science experiences in their respective classrooms. The project also establishes a science hotline for district teachers.
1992
IL
5
Spring Valley Nature Sanctuary, Schaumburg Park -- $5,000
Schaumburg, IL 60194
Environmental Education Outreach Program and Nature Center
This project involves the formulation of an environmental education outreach program and nature center.
1992
IN
5
Indiana Department of Environmental Management -- $6,807
Indianapolis, IN 46205
Enviro-mobile
This grant funds the development of an Enviro-mobile. The Enviro-mobile is a self-contained interactive mobile learning center that will accompany environmental education in the Northwest Indiana area.
1992
IA
7
Colo-Nesco Community School -- $5,000
Colo, IA 50056
Waste Not, Want Not
The "Waste Not, Want Not" project helps students understand and assess certain environmental issues. The project also helps educators design and demonstrate environmental curricula that foster international cooperation by addressing environmental issues.
1992
IA
7
Eastern Iowa Community College -- $4,300
Davenport, IA 52801
Multidisciplinary Environmental Studies Workshop
The "Multidisciplinary Environmental Studies Workshop" provides a one-week workshop for 25 educators at the high school level for the following disciplines: English, all basic sciences, and social studies.
1992
IA
7
Neighborhoods United -- $4,537
Cedar Rapids, IA 52402
Expansion of Iowa's Adopt-A-Stream Program
The "Expansion of Iowa's Adopt-A-Stream Program" fosters active and ongoing stewardship of our waterways by local residents and will improve the environment for all the area.
1992
IA
7
St. Joseph School District -- $1,500
Earlville, IA 52041
Rethinking Our Use of Recyclables
The "Rethinking Our Use of Recyclables" project contains methods for developing a recycling curriculum for grades 1 through 6.
1992
KS
7
Ellis County Unified Schools -- $5,000
Hays, KS 67601
Creative Solutions to Plant and Water Solution
This grant, titled "Creative Solutions to Plant and Water Solution," provides tools for expanding students' knowledge by providing opportunities for first-hand observations in an outdoor classroom. The project enables students to generate creative solutions and to disseminate those solutions to the public.
1992
KS
7
Ft. Hays State University -- $12,216
Hays, KS 67601
Environmental Workshop for Teachers
The "Environmental Workshop for Teachers" project involves enrolling 24 western Kansas educators, kindergarten through 12th grade, in a week-long workshop.
1992
KS
7
Haskell Indian Junior College -- $25,000
Lawrence, KS 66046
Multi-Cultural Environmental Education Curriculum
This grant at Haskell College proposes a multi-cultural environmental education curriculum involving four key components: an environmental science curriculum development program, an environmental education resource center, an ongoing series of environmental workshops, and an environmental outreach program.
1992
KS
7
Olathe South High School -- $3,750
Olathe, KS 66062
Growing Plants
This program will allow students to learn about various methods for growing plants under conditions that are environmentally safe.
1992
KS
7
Queen of the Holy Rosary School -- $5,000
Overland Park, KS 66204
Earth and Environmental Science Curriculum
The goal of this project is to develop an earth and environmental science curriculum that allows for students to become active participants in examining specific environmental issues.
1992
KY
4
Kentucky Tech - Harrison County Center -- $5,000
Cynthiana, KY 41031
Testing Residential Water Supplies
This two-week long curriculum will require students to test the purity of samples taken from the South Fork of Licking River, residential water supplies (from wells and cisterns), and the effluent of a major local drainage outfall. A videotape will be made of the course for instructional purposes.
1992
KY
4
Madison County Clean Community -- $806
Richmond, KY 40475
Ground Water Pollution Program
The "Ground Water Pollution Program" is a three-dimensional model and videotape presentation for 4-H Club members, farmers, and visitors to the Madison county fair. The program will provide an overview of the geology specific to Madison County and the effects of routine activities on the potential to pollute ground water.
1992
LA
6
Nature Conservancy of Louisiana -- $5,000
Baton Rouge, LA 70821
Environment and the Economy in Your Backyard: Forested Wetlands and Agriculture
This grant, titled "Environment and the Economy in Your Backyard: Forested Wetlands and Agriculture," will provide the tools necessary to design, develop, and distribute an educational curriculum. A sideshow will be presented that will address the functions and value of forested wetlands and their relationship to the economy.
1992
LA
6
Southern University -- $170,000 (HQ Grant)
Baton Rouge, LA 70813
Environmental Education and Training
The goal of this project is to achieve increased minority participation in environmental education and management initiatives through a two-phase, multi-site environmental education and training program. Groups that will be affected include elementary, middle and high school students, and educators; parents; college students; and members of community organizations. The program will be simultaneously implemented in the 17 communities served by member institutions of the Historically Black Colleges and Universities and Minority Institutions Environmental Technology and Waste Management Consortium.
1992
LA
6
University of Southwestern Louisiana -- $23,962
Lafayette, LA 70504
Environmental Training Institute
This grants funds a collaborative project between the University's College of Education and Gulf States Utility Companies to present a summer environmental training institute for educators and college students who plan to become educators. The project will focus on environmental issues such as wetlands and on-shore and off-shore oil drilling.
1992
ME
1
Cumberland County Soil & Water Conservation District -- $5,000
Gorham, ME 04092
Groundwater and Drinking Water Curriculum
This grant funds a project to develop and disseminate an integrated, goal-oriented environmental education curriculum on groundwater and drinking water issues. The project will focus on investigation and evaluation skills and citizenship action issues for students in grade 9 through 12.
1992
ME
1
Maine Audubon Society -- $4,998
Falmouth, ME 04105
Wetlands Education Project
The"Wetlands Education Project" will provide relevant and accessible educational materials and programs to teachers and concerned community members that includes wetlands curricula, slide shows, videos, brochures, and posters.
1992
ME
1
Maine Department of Inland Fisheries & Wildlife -- $3,750
Augusta, ME 04333
Wetlands and Wildlife Interpretation Area
The "Wetlands and Wildlife Interpretation Area" project, located in Gray, Maine, will focus on methods in which the public can protect or enhance wetland habitat, including areas located on their own property, in order to attract wildlife.
1992
ME
1
Maine Organic Farmers & Gardeners Association -- $5,000
Augusta, ME 04338
Seed-To-Table Farm Stewardship Exhibition
The "Seed-To-Table Farm Stewardship Exhibition" is a project for farmers and consumers to make them more aware of the environmental impacts on food choices. The exhibit will include a portable, walk-through display that will use models, games, stories, photographs, and performers to demonstrate the proper farming practices used to protect natural ecosystems. The exhibit will travel to major agricultural and environmental events across New England.
1992
ME
1
Saint Joseph's College Department of Biology -- $5,000
Windham, ME 04062
Remote Sensing in Southern Maine
This grant funds a project that incorporates the analysis of remote sensing satellite images into a curriculum for undergraduate students and the public. The project is designed to educate students on the impacts of environmentally destructive processes occurring in southern Maine.
1992
MD
3
Hillcrest School District -- $3,660
Catonsville, MD 21228
Environmental Education Curriculum
This project involves creating and implementing a comprehensive environmental education curriculum for students in kindergarten though 5th grade.
1992
MD
3
Howard B. Owens Science Center -- $4,000
Lanham, MD 20706
Project Gain
This grant, titled "Project Gain," focuses on designing a composting project and curriculum that encourages food waste composting at three local schools and backyard composting at home. The project will be designed for high school, middle school and elementary school students, and other county residents of Prince Georges County.
1992
MD
3
Howard County Public School System -- $22,440
Ellicott City, MD 21042
Building a Wetland
This project focuses on designing and building a wetland using recycled materials. The project also involves developing associated study areas and an educational curriculum for the community, including local departments and businesses, national companies, and scientific organizations.
1992
MD
3
Maryland Environmental Trust -- $4,950
Annapolis, MD 21401
Land Preservation Education and Training
The "Land Preservation Education and Training" project focuses on educating Maryland local land trusts on the legal, technical, and financial aspects of land conservation.
1992
MD
3
Maryland Envirothon -- $1,000
Annapolis, MD 21401
Natural Resource Problem Solving Competition
This project involves hosting a statewide student competition for high school students on natural resource problem solving.
1992
MD
3
National 4-H Council -- $50,000 (HQ Grant)
Chevy Chase, MD 20815
Computer Simulation of Environmental Process
This grant funds a project on developing a computer-based simulation of environmental processes for 9 to 11 year-olds. The game will be part of a youth program called Environmental Stewardship that will focus on cultivating personal commitment to responsible resource management.
1992
MA
1
Commonwealth Zoological Corp.'s Franklin Park Zoo -- $13,340
Boston, MA 02121
Black Scientists in the Environment Festival -- 1993
The "Black Scientists in the Environment Festival -- 1993" project provides an educational and fun environmental science program for urban, minority youth and access to role models in the environmental sciences.
1992
MA
1
Massachusetts Audubon Society -- $4,958
Easthampton, MA 01027
Water Quality Assessment Curriculum
This grant funds a project to design and demonstrate a hands-on, long-term, multi-disciplinary water quality assessment curriculum for 5th graders.
1992
MA
1
Massachusetts Audubon Society -- $5,000
Milton, MA 02186
Endangered Species/Habitat Destruction Project
The Endangered Species/Habitat Destruction Project at Blue Hills Trailside Museum introduces awareness of endangered and threatened species to 4th graders. The project involves a field trip to 4th grade classrooms with live animals. The purpose of the field trip is to discuss the factors leading to species decline and includes a day-long environmental education workshop for educators.
1992
MA
1
Massachusetts Audubon Society -- $5,000
Worcester, MA 01604
Blackstone River Watershed Education Project
The "Blackstone River Watershed Education Project" prepares high school educators and students to conduct intensive water quality monitoring and computer networking projects.
1992
MA
1
Quebec-Labrador Foundation -- $84,125 (HQ Grant)
Ipswich, MA 01938
Atlantic Riverkeepers Program
This grant funds a model community-based environmental education and conservation project in northern New England and eastern Canada called the Atlantic Riverkeepers Program. The purpose of the program is to provide education, training, and other enrichment opportunities in targeted communities, including the St. John, St. Croix, and Connecticut Rivers.
1992
MA
1
Reading Memorial High School -- $5,000
Reading, MA 01867
Vernal Pool Curriculum Project
The "Vernal Pool Curriculum Project" involves educating high school students in Middlesex and Essex Counties in vernal pool certification, gathering of water quality data, and investigation of organisms and habitat.
1992
MA
1
Technical Education Research Center (TERC) -- $99,988 (HQ Grant)
Cambridge, MA 02140
Smog Watch
This grant funds "Smog Watch," a project that involves a study of ground-level ozone, a key component of smog. The project will be conducted at 11 museums and science and nature centers nationwide for youths and their families. Participants will learn the causes and effects of ozone as well as individual lifestyle choices that impact the ozone problem.
1992
MA
1
West Roxbury High School -- $5,000
Boston, MA 02132
Environmental Quality of School Campuses
This project involves development of a science program for 9th grade English, special education, science, and conservation classes that raises student awareness of major environmental science topics that may improve the quality of school campuses and surrounding "urban wilds."
1992
MI
5
Holy Family Middle School, Diocese of Saginaw, Vicariate VIII Catholic Schools -- $5,000
Bay City, MI 48708
Ecosystems of the Great Lakes
This grants funds a project for middle school students to investigate, analyze, and evaluate five ecosystems in the Great Lakes watershed for their biological, physical, and chemical properties. Limnological and other testing kits and microscopes will be provided for the school's 5th through 8th grade science classes.
1992
MI
5
Onaway Area Community Schools -- $977
Onaway, MI 48765
Water Quality of the Black River
This project will allow for several area high schools to purchase sophisticated water quality testing equipment to complete tests on the Black River. The information collected as part of this project will be used to develop an educational curriculum for biology classes.
1992
MI
5
Washtenaw County -- $20,000
Ann Arbor, MI 48107
Washtenaw County Environmental Internship Program
The "Washtenaw County Environmental Internship Program" project will involve developing and implementing an environmental internship program for junior and senior high school students of color. The program will provide six-week-long paid internships for eligible students.
1992
MN
5
Education Coop Service Unit of the Metro Twin Cities Area -- $9,212
St. Paul, MN 55104
Aquatic Ecology and STELLA Models
This grant funds a workshop for 20 high school math and science educators. The purpose of the workshop is to introduce the educators to current issues in aquatic ecology using STELLA software. Necessary testing equipment will be made available to participants for use at their schools.
1992
MN
5
Minnesota Extension Service -- $4,800
Clarkfield, MN 56223-0128
Environmental Education Camps
This project will focus on educating more than 360 youths, grades 4 to 11, using environmental education camps. The camps will provide a hands-on approach to environmental education and will draw on assistance from other state environmental agencies.
1992
MN
5
Northwoods Audubon Center -- $20,000
Sandstone, MN 55072
Ecological Education Curriculum
This project will focus on developing an experiential ecological education curriculum program for multi-cultural populations and young people with disabilities.
1992
MN
5
Regents of University of Minnesota, Morris -- $5,000
Morris, MN 56267
Environmental Education Curriculum Development
This project involves developing and testing a pre-service educator training model that focuses on infusing environmental concepts, issues and methodologies into an educational curriculum. The project will involve a full-day workshop for pre-service educators for kindergarten through 6th grade.
1992
MS
4
Keep Clarksdale Beautiful, Inc. -- $5,000
Clarksdale, MS 38614
Solid Waste Curriculum
This project involves developing a curriculum in local schools for kindergarten through 12th grade. The purpose of the project is to: (1) educate workshop participants about the proper handling of solid waste, (2) identify effective methods for reducing solid waste streams in the community, and (3) address specific problems of the Mississippi delta region.
1992
MS
4
University of Mississippi -- $5,000
University, MS 38677
Traveling Trunk Environmental Program
The "Traveling Trunk Environmental Program" project will introduce environmental responsibility and stewardship concepts to local youths. Two trunks, containing educational material formatted at a 4th grade level, will travel to and be presented at schools in a 12-county area in northern Mississippi.
1992
MO
7
Climax Springs, R-IV -- $4,920
Climax Springs, MO 65324
Biomonitoring for Students
This grant funds a project that will enhance environmental science educational opportunities for students in grades 7 through 12. Students will be allowed to perform biomonitoring of their environment, including analysis of a local creek and a watershed of the Climax Springs Cave system.
1992
MO
7
Jackson County Extension -- $4,650
Independence, MO 64057
Minimizing Waste Streams
This project will address the technical and educational needs of municipalities, small business operators, and citizens with regards to minimizing waste streams for 11 counties.
1992
MO
7
Kansas City Southwest Science/Math -- $4,608
Kansas City, MO 64106
Surface Water Monitoring in Kansas City
The purpose of this project is to enable students to assess and monitor the quality of the primary surface water body in the Kansas City metropolitan area.
1992
MO
7
Kansas City, Missouri School District -- $5,000
Kansas City, MO 64106
Environmental Education Lesson Plans
The purpose of this project is to design educational methods and techniques, such as lesson plans, related to environmental issues.
1992
MO
7
Lincoln University -- $5,000
Jefferson City, MO 65101
Environmental Conflict Resolution
This grant funds a project that will expose students to the social, ethical, economic, and political aspects of environmental conflict resolution and decision-making. The project will encourage active participation in the resolution of such issues.
1992
MO
7
Martha Lafite Thompson Nature Sanctuary -- $5,000
Liberty, MO 64068
Teacher Training Workshop
The Teacher Training Workshop project focuses on training educators in the Liberty Public School District in environmental education.
1992
MO
7
Missouri Botanical Garden -- $16,538
St. Louis, MO 63166
Water Quality in St. Louis
The purpose of this project is to increase awareness of aquatic ecology and water quality and the factors affecting water pollution in St. Louis.
1992
MO
7
Shenandoah Valley Kindergarten -- $200
Chesterfield, MO 63017
Energy and Fiber Resource Conservation
This project will promote energy and fiber resource conservation and recycling.
1992
MO
7
The Magic House -- $3,600
St. Louis, MO 63122
Early Childhood Educator Workshop
This grant funds a workshop for educators that is specifically geared towards examining the classroom methodology used by early childhood educators.
1992
MO
7
Waynesville Middle School -- $3,585
Waynesville, MO 65583
Environmental Community Issues
This grant funds a hands-on laboratory project that promotes student interest in community issues and encourages decision making skills.
1992
MO
7
Westport Senior High School -- $5,000
Kansas City, MO 64111
Soil Testing
This project will develop methods to test soil in the urban environment.
1992
MT
8
Bozeman Public Schools -- $4,500
Bozeman, MT 59802
Yellowstone Habitats
This project will involve sixth graders conducting habitat analysis of the Yellowstone ecosystem.
1992
MT
8
Butte-Silver Bow Health Department -- $5,000
Butte, MT 59701
Prevention of Lead Poisoning
This program will focus on educating children in the prevention of lead poisoning.
1992
MT
8
Missoula City/County Health Department -- $4,995
Missoula, MT 59802
Air Pollution Kits
The grant funds the development of kits for studying air pollution in the valley.
1992
MT
8
Montana Environmental Education Association (MEEA) -- $5,000
Dillon, MT 59725
Environmental Education Curricula and Statewide Network
This project focuses on increasing the general public's knowledge and understanding of environmental issues and ecological principles by enhancing the skills and curricula of educators and by building a statewide network of educators committed to integrating environmental education into existing school curricula.
1992
MT
8
Northern Montana College -- $18,750
Havre, MT 59501
Environmental Technology Education Partnership
This grant funds a project for representatives of educational institutions to establish a partnership for environmental technology education in the Northwest region.
1992
NE
7
Educational Services Unit #3, Omaha, NE -- $5,000
Omaha, NE 68137
Identifying Environmental Education Needs
This project will allow environmental specialists to work with educators from area school districts, kindergarten through 12th grade, in identifying the environmental education needs of this area.
1992
NE
7
Governor's Council to Keep Nebraska Beautiful -- $4,887
Lincoln, NE 68508
Train the Trainer
This "Train the Trainer" project will provide an opportunity for 40 Nebraska elementary educators to attend one of four one-day workshops.
1992
NE
7
Lakeview High School -- $750
Columbus, NE 68601
Groundwater Testing
Lakeview chemistry students have been testing the quality of the groundwater in Platte County for 11 different substances. This grant will allow the project to be expanded.
1992
NE
7
University of Nebraska, Veterinary Science -- $24,850
Lincoln, NE 68583
Livestock Waste Management Curriculum
The purpose of this project is to develop a curriculum for teaching important principles and practices related to livestock waste management.
1992
NV
9
Sierra Nevada College -- $5,000
Incline Village, NV 89451
Environmental Education in Elementary Classroom
The Environmental Education in Elementary Classroom project is a series of workshops for elementary educators. The workshops will provide participants with the techniques to integrate environmental science subjects into their curricula. Participants also will study pertinent local issues such as desert management, smog, drought, recycling, etc.
1992
NH
1
Harris Center for Conservation Education -- $17,620
Hancock, NH 03449
Monitoring Ambient Air Quality
This project involves educating high school students and teachers in the research methods of monitoring ambient air-quality in the Monandnock Region through interdisciplinary learning and analysis of data.
1992
NH
1
Lake Sunapee Protective Association -- $4,993
Georges Mills, NH 03751
Sunapee Lakes Regional Environmental Laboratory
The "Sunapee Lakes Regional Environmental Laboratory" project educates junior and senior high school students on the skills necessary to conduct reliable analyses of water-quality samples from the region's lakes. The project involves training students in the laboratory techniques used by water-quality professionals.
1992
NH
1
Proctor Academy Environmental Program -- $3,000
Andover, NH 03216
Environmental Outreach Program
This grant funds a project that focuses on the development of an environmental outreach program that promotes environmental issues and awareness throughout high school campuses in northern New England.
1992
NJ
2
Cherry Hill Public Schools -- $4,135
Cherry Hill, NJ 08034
Project Earth
For "Project Earth," two high school environmental clubs will establish environmental programs in district elementary schools to address natural resource conservation, pollution, and recycling issues. The project also will implement a district-wide environmental curriculum in the schools.
1992
NJ
2
Collier Services -- $3,745
Wickatunk, NJ 07765
Wetlands: Save or Pave
The "Wetlands: Save or Pave" program at the Kateri Center will expose handicapped and at-risk youth to environmental issues concerning ponds, wetlands, and other water systems. The program also will educate the youth on the need for conservation practices in these aquatic settings. Hands-on activities will include field investigations of water chemistry and macro- and microscopic biota.
1992
NJ
2
Montclair Board of Education -- $5,000
Montclair, NJ 07042
Courtyard Conservation: An Environmental Education Project
This grant funds the "Courtyard Conservation: An Environmental Education Project" which involves developing an outdoor site for educating participants about environmental issues. For this project, participants will learn to design a curriculum that maximizes the educational uses of the facility.
1992
NJ
2
Pinelands Regional School District -- $5,000
Tuckerton, NJ 08087
Pinelands Environmental Experience
The "Pinelands Environmental Experience" project provides educators in-service training on methods for integrating existing curricula with the Pinelands Environmental Experience residential program. The project will provide an enhanced, hands-on approach for participants.
1992
NM
6
Moriarity Municipal Schools -- $5,000
Moriarity, NM 87035
Operation Desert Grow
The "Operation Desert Grow" project will allow students to explore water conservation issues through activities that emphasize exploration, scientific process skills, and discovery learning. The activities of this project will be conducted in the following settings: classroom laboratory, garden plots, a greenhouse, a nature trail, and a composting area.
1992
NM
6
New Mexico State University -- $127,500 (HQ Grant)
Las Cruces, NM 88003
Project del Rio
This grant funds "Project del Rio" which seeks to expand participation by high schools in monitoring the water quality of the Rio Grande on both sides of the border. This project will: (1) provide greater coverage of water-quality monitoring; (2) enhance educational curriculum by incorporating newly available resources; (3) address specific water-quality concerns within the Rio Grande watershed; (4) establish partnerships with citizen-monitoring groups; and (5) draw upon the resources of Mexican educators.
1992
NM
6
New Mexico Energy, Minerals and Natural Resources -- $24,750
Santa Fe, NM 87505
Statewide Source Reduction Public Information Campaign
This grant funds the "Statewide Source Reduction Public Information Campaign" project which will focus on expanding the state's present programs by creating task force audit teams to promote commercial source-reduction audits and to recommend effective source-reduction methods.
1992
NM
6
Road Runners Recyclers, Inc. -- $5,000
El Prado, NM 87529
A Recycled Playground
This grant funds a project to construct a playground out of discarded materials in a low-income housing area. The project will demonstrate methods of teaching recycling, reuse, and reduction techniques that can be implemented throughout communities nationwide.
1992
NY
2
American Lung Association -- $4,990
Albany, NY 12205
Clean Indoor-Air Super-Sleuths
The "Clean Indoor-Air Super-Sleuths" project involves designing, implementing, and evaluating a program to enhance environmental studies for grades 3 through 5. The curricula developed for this project will focus on increasing awareness of health and environmental hazards in the home.
1992
NY
2
Board of Cooperative Educational Services (TST BOCES) -- $4,900
Ithaca, NY 14850
Stream Analysis at TST Boces Middle School
The "Stream Analysis at TST Boces Middle School" project will involve having participants perform water-quality studies at small, urban streams near the middle school. The results of the project will contribute to the integration of science studies into the general curriculum of the middle-school students.
1992
NY
2
Bolton Central School -- $5,000
Bolton Landing, NY 12814
Water Monitoring and Analysis of Watershed in Junior High Science
The "Water Monitoring and Analysis of Watershed in Junior High Science" project involves developing a monitoring program for seventh grade students as part of the River Watch Network. Participants of the program will use Lake George as a living laboratory. Sampling equipment will be acquired for the project to monitor and analyze nearby streams, ponds, lakes, river beds, marshes, mixed forest, and urban areas.
1992
NY
2
Brooklyn Center for the Urban Environment -- $25,000
Brooklyn, NY 11215
Environmental Education Teacher Training and Class Field Study Subsidy Program
The "Environmental Education Teacher Training and Class Field Study Subsidy Program" will prepare Brooklyn school children to recognize and understand issues and concerns related to water-quality management and water pollution. The program will provide training for educators, single and multi-session field trips, and on-going support for educators through follow-on consultations and a newsletter.
1992
NY
2
City of Rye -- $5,000
Rye, NY 10580
Rye Nature Center Summer Environmental Science Institute
The Rye Nature Center Summer Environmental Science Institute is a joint venture of the Rye Nature Center and the City School District. The institute will provide educators of kindergarten through 6th grade with a progressive study core curriculum of 42 units that will be suitable for interfacing with middle and high school science programs.
1992
NY
2
Cornell Cooperative Extension, Ontario County -- $2,250
Canandaigua, NY 14424
A Citizen's Guide to Water Resource Protection
This grant funds "A Citizen's Guide to Water Resource Protection," which involves enrolling high-school seniors in Participation-in-Government classes. Through this project, participants will develop a better understanding of the environmental, governmental, and economic issues impacting the management of ground water and surface water resources in local communities.
1992
NY
2
County of Madison -- $5,000
Wampsville, NY 13163
Waste Reduction and Recycling Education Project
The "Waste Reduction and Recycling Education Project" involves developing and designing a waste-reduction and recycling curriculum for elementary schools. Participants will be involved in the demonstration, field testing, evaluation, and dissemination of the curriculum through workshops for educators held across the country.
1992
NY
2
Greenbelt Conservancy, Inc. -- $4,984
Staten Island, NY 10306
Identification and Evaluation of Wetlands
This grant funds a project to research, develop, and implement a pilot program for the identification and evaluation of wetlands. The program will target 3rd through 5th grade students and will focus on evaluating an urban wetland area.
1992
NY
2
Network for Social Justice -- $24,961
New York, NY 10003
ACTS: Active Change Through Schools
The "ACTS: Active Change Through Schools" project is sponsored by Innovative Community Enterprises with Community School District #16 with the participation of New York University, the New York City Board of Education's NYCNET, the Crown Height Youth Collective, All Boro Recycling, Inc., and seven Brooklyn members of the Community Recycling Alliance. The project will involve developing an integrated, inter-disciplinary environmental curriculum that will be widely applicable to students throughout New York City.
1992
NY
2
Ontario County Soil and Water Conservation District -- $5,000
Canandaigua, NY 14424
WATERWORKS Project
The "WATERWORKS Project" focuses on developing a curriculum for middle-school students with special emphasis on water quality issues. The project will provide training for educators and will involve the participation of water-quality specialists and public officials and field trips. As part of the project, course material will be revised for use in environmental education programs offered in area schools.
1992
NY
2
Port Washington Union Free School District -- $3,600
Port Washington, NY 11050
Long Island Sound: A Past, Present and Future Project
The "Long Island Sound: A Past, Present and Future Project" provides experience-oriented learning activities related to the condition and future of Long Island Sound. The project will be cooperative effort with the Science Museum of Long Island and will include field trips on a schooner.
1992
NY
2
Research Foundation of the State University of New York (SUNY) -- $5,000
Albany, NY 12201
Computer Simulation of the Environmental Impact of Modern Conveniences
The "Computer Simulation of the Environmental Impact of Modern Conveniences" project involves developing a computer program and accompanying curriculum to educate participants on the impacts to the environment of the use of everyday goods and services such as fossil fuels and electricity and through the production of products such as plastic, paper, and metal.
1992
NY
2
Syracuse University -- $5,000
Syracuse, NY 13224
Environmental Issues and the Community
The "Environmental Issues and the Community" project will provide participants with an understanding of the problem-solving skills required to evaluate various environmental issues. The project will consist of a series of seminars involving adults and government employees.
1992
NY
2
Teatown Lake Reservation -- $5,000
Ossining, NY 10562
Water Quality Monitoring in the Classroom
This project involves a series of workshops that will provide educators with the skills required to develop a classroom water-quality monitoring program. The workshops will focus on issues related to prevention of water pollution and on techniques for monitoring water quality and evaluating data.
1992
NY
2
Ticonderoga Central School District -- $5,000
Ticonderoga, NY 12883
Education/Action: Dual Strategy for Environmental Conservation of Ticonderoga
The "Education/Action: Dual Strategy for Environmental Conservation of Ticonderoga" program aims to enhance environmental education in an economically depressed area. The program will include a course introduction and plans for establishing a Conservation Corps to develop and implement a recycling and energy-conservation program.
1992
NY
2
Town of Cheektowaga -- $5,000
Cheektowaga, NY 14227
Town of Cheektowaga, NY, Environmental Education
The "Town of Cheektowaga, NY, Environmental Education" program will use a town park as a laboratory to develop and implement an environmental education program and curricula. On-site training sessions will be held for area educators.
1992
NC
4
Frank Porter Graham Elementary School PTA -- $24,950
Chapel Hill, NC 27516
Hands on the Environment
This grant funds the "Hands on the Environment" project that will involve developing a science program for elementary school students. Participants of this program will learn to build and use a loop trail and will study aspects of soil quality, plant and wildlife habitat, erosion, and weather. The activities of the project will be integrated into several different areas of study and a user manual will be prepared for educators and other instructors.
1992
NC
4
McDowell High School -- $4,951
Marion, NC 28752
Environmental Science II
The "Environmental Science II" project involves developing a science curriculum for advanced high school students to research and report on environmental issues, perform field studies, and communicate with the appropriate authorities on the results of the project.
1992
NC
4
North Carolina Cooperative Extension Service -- $4,490
Asheville, NC 28802
Project Earth Angel
This grant funds "Project Earth Angel" which focuses on educating consumers on making more environmentally-responsible decisions. The project will attempt to demonstrate to participants how their behavior can impact the environment and how their behavior may be improved.
1992
NC
4
Pines of Carolina Girl Scout Council -- $5,000
Raleigh, NC 27612-0294
Pines of Carolina Girl Scouts Care for the Earth
The "Pines of Carolina Girl Scouts Care for the Earth" project will attempt to promote a better understanding of recycling as a multi-faceted issue and a social problem among 1,600 Girl Scouts and adult leaders. The project will: (1) provide training workshops for adult voluntary leaders, (2) encourage community-based cooperative ventures, and (3) challenge each Girl Scout to implement recycling programs in her own household.
1992
ND
8
North Dakota State University -- $25,000
Fargo, ND 58105
Environmental Education for Native American Youth
The purpose of this program is to develop and implement a series of lessons in environmental education for Native American youths.
1992
OH
5
Bowling Green State University -- $4,956
Bowling Green, OH 43403
Early Childhood Environmental Education Network
This project will involve an international network of more than 60 individuals who will establish an information-sharing network focusing on the development, expansion, and evaluation of quality programs in early childhood environmental education.
1992
OH
5
Miami University, Department of Zoology -- $1,986
Oxford, OH 45056
Lake Erie and Local Endangered Species
This project will involve developing and implementing enhancements to curricula for educators of kindergarten through 6th grade, on Lake Erie and local endangered species.
1992
OH
5
Northeast Ohio Greens -- $2,500
Cleveland, OH 44133
Growing Food Without Pesticides
This grant will fund a project to educate low-income and area students on how to grow and preserve nutritious food without the use of pesticides. Participants will use vacant lots and low-income housing areas to grow their crops.
1992
OH
5
Tuscarawas Soil and Water Conservation District -- $5,000
New Philadelphia, OH 44663
Impacts of Non-point Source Pollution
This project will involve educating elementary, high school, and college students to identify the impacts of nonpoint source pollution on the county. The project will demonstrate land management techniques through the establishment of six land lab sites throughout the county and using a curriculum booklet.
1992
OK
6
Mid-Del Schools -- $4,753
Midwest City, OK 73140
Wild Classroom
The "Wild Classroom" project will involve creating an outdoor classroom for students in kindergarten through 6th grade and educating teaching staff on developing training that will be incorporated into the student's educational curriculum.
1992
OK
6
Oklahoma 4-H Foundation -- $4,650
Stillwater, OK 74078
Environmental Exhibit
This grant funds a project to develop an exhibit that addresses issues such as global climate change, ozone depletion, solid waste management, water quality, and household hazardous substances. The exhibit will include an interactive weather Mesonet system.
1992
OK
6
Project Learning Tree -- $1,272
Oklahoma City, OK 73105
Tree Trunks Project
The "Tree Trunks Project" involves developing or purchasing educational material such as videos, slide programs, hand lenses, field guides, computer programs, posters, naturescopes, and forestry equipment that will be displayed in an artificial tree trunk.
1992
OK
6
Shawnee Conservation District -- $5,000
Shawnee, OK 74801
Environmental Education Workshop
This grant funds a project to conduct workshops in outdoor classrooms for educators and community leaders on utilizing environmental education programs. The project will include a newsletter and a scholarship program.
1992
OR
10
Administrative School District #10 -- $4,060
Seaside, OR 97138
Haystack Rock Awareness Program (HRAP)
The "Haystack Rock Awareness Program (HRAP)" will allow local schools, communities, and city governments to protect intertidal habitat through educational programs and through a new concept of protective stewardship.
1992
OR
10
Chintimini Wildlife Rehabilitation Center -- $5,000
Benton County, OR 97339
Wildlife Rehabilitation
This grant funds a project that involves using wildlife rehabilitation efforts as an experimental learning method for use in public educational systems. CWRC staff, in partnership with area educators, will integrate knowledge about debilitated wildlife into the local public educational system.
1992
OR
10
Eugene School District -- $5,000
Eugene, OR 97402
Cal Young Middle School Stormwater-Wetland Study
The Cal Young Middle School Stormwater-Wetland Study involves educating students about creating and implementing environmental solutions in their community through a environmental education curriculum.
1992
OR
10
Oregon Department of Agriculture -- $5,000
Salem, OR 97301
Small Farm/Rural Homesite Water Quality Education Project
The Small Farm/Rural Homesite Water Quality Education Project provides funding for printing and disseminating a handbook of recommended pollution control practices for rural homeowners and noncommercial farms.
1992
OR
10
Oregon School for the Blind -- $4,866
Salem, OR 97301
Stream Enhancement and Fish Habitat
This grant funds a summer environmental workshop for students and staff to work with Oregon Fish and Wildlife personnel in planning and implementing a stream enhancement and fish habitat improvement project.
1992
OR
10
University of Oregon -- $5,000
Eugene, OR 97403
Environmentally Sustainable Development
The "Environmentally Sustainable Development" project involves a two-term course that will assess the long-term environmental sustainability of various development strategies.
1992
PA
3
Cumberland Valley Education Association -- $4,975
Mechanicsburg/Cumberland, PA 17055
Spotlight on the Environment
This grant funds a project for fifth grade students to produce environmental videos that put a "spotlight on the environment".
1992
PA
3
Montgomery County Intermediate Unit -- $5,000
Erdenheim, PA 19118
Electronic Environmental Database
This grant funds a project to develop and train students to use an electronic environmental database on Montgomery County schools.
1992
PA
3
Morraine Preservation Fund -- $5,000
Zelienople and Butler Counties, PA 16001
Environmental Education Curricula
This project involves developing environmental education curricula for students of public schools and Slippery Rock University and providing for educators throughout western Pennsylvania electronic links to environmental education databases.
1992
PA
3
Penn State Cooperative Extension -- $1,300
Towanda, PA 18848
Water Quality Monitoring
This project aims to generate interest in and motivate 4-H members, students, and pond and lake owners to protect ground water and surface water through effective monitoring of water quality.
1992
PA
3
Penn State Harrisburg -- $16,269
Harrisburg, PA 17057
Preventing Pollution During Road Construction
This project involves developing for the Pennsylvania Local Roads Program an environmental curriculum, handbook, and training course for use in educating municipalities on how to prevent pollution during the construction of roads.
1992
PA
3
Pennsylvania Department of Education -- $5,000
Harrisburg, PA 17126
Learn About Environmental Education Projects
This grant funds a project to familiarize Pennsylvania educators with 15 regional and national environmental education projects.
1992
PA
3
Southern Alleghenies Planning and Development Commission -- $4,300
Altoona, PA 16602
Water Resources Curriculum
This project involves developing and distributing to school districts in the drought-stricken Southern Alleghenies region curriculum packages on water resource management and conservation.
1992
PA
3
The Philadelphia School -- $5,000
Philadelphia, PA 19102
Urban Forestry Curriculum
This grant funds a project for students in kindergarten through 8th grade to develop and test an urban forestry curriculum.
1992
RI
1
Community Preparatory School, Inc. -- $12,500
Providence, RI 02907
Earthworks Project
The "Earthworks Project" focuses on assisting non-science educators, grades 4 through 8, to integrate environmental education curricula into their subjects.
1992
RI
1
Washington Park United Methodist Church -- $5,000
Providence, RI 02907
Childhood Lead Action Project
The "Childhood Lead Action Project" involves implementing for young children and parents in Rhode Island grass-roots education and outreach programs in the prevention of childhood lead poisoning.
1992
SC
4
Clemson University Cooperative Extension Service -- $5,000
St. George, SC 29477
Workshop for Environmental Education Techniques
The "Workshop for Environmental Education Techniques" focuses on educating county council members, educators, and school administrators, through tours and lectures by experts, about the effects local and regional activities have on natural resources. Participants will learn to develop a lesson plan for educating students about environmental issues.
1992
SC
4
Mead Hall -- $4,800
Aiken, SC 29801
Environmental Education Curriculum
This grant funds a project to develop an environmental education curriculum that can be readily integrated into a 5th grade science program. Students will participate directly in the development of environmental education material, ecological field techniques, and methods of environmental assessment.
1992
SD
8
Aurora County Conservation District -- $3,652
Plankington, SD 57368
Cultivation of Shelterbelts
This grant funds a project that will demonstrate techniques for cultivation of shelterbelts in the county.
1992
SD
8
Pennington County Air Quality Board -- $5,000
Rapid City, SD 57701
Air Pollution Campaign
This grant will implement a public education campaign on air pollution.
1992
TN
4
Cleveland-Bradley Keep America Beautiful, Inc. -- $5,000
Cleveland, TN 37311
Waste Disposal
This grant funds a project for trained community volunteers to educate students in kindergarten through 6th grade using nine lessons about waste disposal in order to make students more aware of the value of proper waste handling as a key to improving the quality of life at school and in the community. The lessons will involve examining the environmental impacts of constructing a new landfill in the area.
1992
TN
4
Recycle Signal, Inc. -- $4,000
Signal Mountain, TN 37377
Recycling
This grant funds a program to motivate children and parents to take an active part in working towards a solution to the problem of solid waste.
1992
TN
4
Sevier County 4-H Club -- $3,600
Sevierville, TN 37862
Solid Waste and Water Quality Program
This grant funds a program to educate 4-H Club members about solid waste disposal and water quality issues in Sevier County and to teach members methods to reduce solid waste disposal and to increase awareness of solid waste issues. The project aims to encourage the public's participation in dealing with local solid waste issues and eliminating excessive and wasteful habits.
1992
TX
6
Cameron Independent School District -- $5,000
Cameron, TX 76520
Water Quality Monitoring
This grant funds a project to educate students and science teachers about monitoring of water quality and watershed issues on the Little River Basin watershed in Central Texas.
1992
TX
6
Coastal Soil and Water Conservation District -- $4,673
Beaumont, TX 77706
Environmental Education Libraries
This grant funds a project to promote environmental education in a highly industrialized area along the upper Texas Gulf Coast by developing and disseminating environmental education libraries to targeted schools with grades 4 to 6. The project will provide training for educators and other assistance.
1992
TX
6
Grapevine-Colleyville Independent School District -- $5,000
Grapevine, TX 76051
Environmental Science Curricula
This project involves disseminating curricula to environmental science classes at Grapevine High School. The project will focus on educating students in wildlife biology, ecosystem stability, natural resource conservation, and ecology.
1992
TX
6
Houston Botanical Society -- $5,000
Houston, TX 77024
Discovery Boxes for the Houston Arboretum and Nature Center
This project involves creating six Discovery Boxes for the Houston Arboretum and Nature Center for the multi-level participatory education of children ages 3 to 12.
1992
TX
6
Keep San Antonio Beautiful, Inc. -- $5,000
San Antonio, TX 78238
Teachers Earth, Inc.
This grant funds a project to develop materials on solid waste reuse and recycling for Teachers Earth, Inc.
1992
TX
6
National Audubon Society, Texas -- $15,948
Brownsville, TX 78523
International Youth Alliance
This grant funds an International Youth Alliance project to raise the awareness of local community members and students of Brownsville, Texas and Matamoros, Mexico concerning local environmental issues. The project promotes international communication and cooperation in approaching environmental problems and solutions.
1992
TX
6
Sierra Club Foundation -- $5,000
Austin, TX 78767
Environmental Education Video Project
The "Environmental Education Video Project" involves producing and disseminating a video to schools and the public about how their daily decisions impact the environment. The video is intended to motivate citizens to take a more active role in solving environmental problems.
1992
TX
6
Upshur-Gregg Soil and Water Conservation District -- $5,000
Longview, TX 75604
Upshur-Gregg Soil and Water Conservation District
This grant funds a project to develop outdoor environmental classrooms for schools in Upshur and Gregg Counties, Texas.
1992
UT
8
TreeUtah -- $1,025
Salt Lake City, UT 84101
TreeUtah
This grant will go towards planting trees in Utah.
1992
UT
8
University of Utah/Fuels Engineering -- $5,000
Salt Lake City, UT 84112
Air Pollution Education Materials
This grant will fund the design and development of educational materials that support the university's course on air pollution.
1992
UT
8
Utah State Lands and Forestry -- $5,000
Salt Lake City, UT 84180-1204
Project Learning Tree (PLT)
This grant will help fund the Project Learning Tree (PLT) program currently being administered to educate teachers.
1992
VT
1
Montshire Museum of Science -- $13,500
Norwich, VT 05055
Community Environmental Education Program
This project involves the development of a community environmental education program for 5th and 6th grade students aimed at forging a partnership between public schools and municipal environmental facilities such as solid waste and wastewater treatment plants. Participants will learn to develop techniques and curricula materials.
1992
VT
1
University of Vermont, Department of Geography -- $4,986
Burlington, VT 05405
Water Resources Workshop
This grant funds a project to conduct a workshop for educators in Vermont on water resources and environmental analyses.
1992
VA
3
Alliance for Environmental Education -- $250,000 (HQ Grant)
The Plains, VA 20198
Public-Private Partnership Among The Alliance, EPA, and Warner Brothers
The "Public-Private Partnership Among The Alliance, EPA, and Warner Brothers" project involves developing an environmental education campaign capable of reaching 50,000 educators, hundreds of thousands of students, and most of the households in the United States during its first year. "Tweety's Global Patrol," a national media program aimed at all households, is one of the featured school-based programs. The project's first campaign will highlight the importance of controlling solid waste and will emphasize the project's theme "Reduce, Reuse and Recycle."
1992
VA
3
Flint Hill Elementary School -- $5,000
Vienna, VA 22180
Community Environmental Concerns
This grant funds a project that will help elementary students, parents, and siblings develop a better understanding of local environmental concerns and how they can influence day-to-day community service activities.
1992
VA
3
Friends of the North Folk Shenandoah River -- $4,902
Woodstock, VA 22664
River Rangers Project
The "River Rangers Project" will promote an ongoing awareness of the resources of the North Folk Shenandoah river. The project will initially target 4th grade students.
1992
VA
3
Virginia Polytechnic Institute and State University -- $5,000
Blacksburg, VA 24061
Water Conservation Training
This grant will fund a project to train educators in water resources and conservation issues in an attempt to increase environmental education awareness in rural Giles County, Virginia.
1992
WA
10
Gonzaga University -- $3,145
Spokane, WA 99258
Air Pollution Workshop
This grant funds a workshop for primary and secondary educators in Spokane on the control of air pollution.
1992
WA
10
Marine Science Society of the Pacific Northwest -- $4,996
Poulsbo, WA 98370
Water World Kits
The "Water World Kits" project involves developing an environmental education curriculum that will serve as the pilot for an extensive program to design, test, and disseminate hands-on environmental study kits for junior high students.
1992
WA
10
Mt. Baker School -- $24,900
Deming, WA 98244
Connections
The "Connections" project will allow educators and students from kindergarten through 12th grade to participate in research and problem solving activities that involve local solid waste activities.
1992
WA
10
Quileute Tribal Council -- $5,000
La Push, WA 98350
Marine Science Program
This grant funds a project that will initiate a marine coastal science and stewardship program in the Tribal School. The project will involve developing a diverse library of educational resources for use by educators and students who also will participate in Adopt-A-Beach activities.
1992
WA
10
Seattle Solid Waste Utility -- $26,625 (HQ Grant)
Seattle, WA 98104
Kids for Recycling
The "Kids for Recycling" project will provide a school-based recycling education program for students in kindergarten through 5th grade using a variety of methods to encourage and support children in their understanding of solid waste issues. The program includes a kick-off magic show, faculty training on the use of a Learning Box filled with hands-on activities, site visits, community resource references for in-class assistance, field trip subsidies, and incentives geared towards reaching specified recycling and waste reduction goals.
1992
WA
10
Seattle University -- $4,990
Seattle, WA 98102
Streamwater in the Urban Environment
The "Streamwater in the Urban Environment" project at Seattle University will involve a week-long summer educational program for 25 minority middle school students and five middle school educators.
1992
WA
10
Snake River Nature Center Foundation -- $5,000
Tacoma, WA 98405
Self-Assessment Resource Station for Watershed Citizens
This Self-Assessment Resource Station for Watershed Citizens project is designed to provide opportunities for students and visitors to perform self assessments using a touch-screen computer application.
1992
WA
10
Spokane County Conservation District -- $21,481
Spokane, WA 99202
Upper Palouse Habitat Restoration Project
The "Upper Palouse Habitat Restoration Project" will promote environmental stewardship opportunities for students in kindergarten through 12th grade by incorporating principles of ecology and activities related to native habitat restoration.
1992
WA
10
YMCA of Greater Seattle/Earth Service Corps -- $4,900
Seattle, WA 98104
YMCA Earth Students
This grant funds an environmental education symposium for up to 400 YMCA Earth Students from western Washington high schools. The symposium will provide a scientific foundation for the students' understanding of environmental issues and for becoming active, educated leaders.
1992
WV
3
West Virginia Environmental Education Training Center -- $15,470
Ripley, WV 25271
Environmental Education Curriculum Workshop
This grant funds a project to present environmental education curriculum workshops to elementary, intermediate, and secondary science educators in a state with a large rural population.
1992
WV
3
West Virginia State Soil Conservation Committee -- $5,000
Charleston, WV 25305
Farmer/Landowner Workshop
This grant funds a project to provide workshops for 100 farmers and landowners to educate them about non-point source water pollution.
1992
WI
5
Midwest Nutrition Education Research Council -- $5,000
Brookfield, WI 53045
Health and Environmental Education Activity Book
This project involves developing, testing, and distributing a coloring and activity booklet for 5- to 7-year-old children that addresses heath and environmental education issues. The booklet will be distributed during school field trips to grocery stores in northern Illinois and Wisconsin.
1992
WI
5
University of Wisconsin, Stevens Point Native American Center -- $4,696
Stevens Point, WI 54481
Pre-college Summer Program
This grant will partially fund a two-week, pre-college summer program for 42 Native American students from eleven tribes across the U.S. who range in age from 14 to 18.
1992
WY
8
Carbon County School District #1 -- $5,000
Rawlins, WY 82301
Environmental Tool Kits
This grant funds a project to develop "toolkits" that will be used in model classrooms, grades kindergarten through 8. These kits, on various environmental topics, will be developed by teams of educators, businesses, agencies, and other local community members.
1992
WY
8
Carbon County School District #2 -- $5,000
Saratoga, WY 82331
Greenhouse Project
This project will allow students to plan and build a greenhouse. The students will be involved in researching, planting, and caring for plants that grow well in the xeriscape landscape.
1993
AL
4
Foley High School -- $5,000
Pam Henson, Pride Place, Foley, AL 36535
Take A Class Outdoors: The Key to Introducing Environmental Issues
The "Take A Class Outdoors: The Key to Introducing Environmental Issues" project will develop an outdoor environmental laboratory, arboretum, and nature study center for use by 1,300 students from Foley High School and seven other schools, as well as for teachers in-service activities.
1993
AL
4
Poarch Band of Creek Indian -- $5,000
James T. Martin, HCR 69, A Box 85-B, Atmore, AL 36502
Non-point Source Pollution and Tribal Surface Waters
The purpose of this project is to develop and implement an environmental education program to address non-point source pollution of tribal surface waters. The program includes hands-on, field demonstration projects and production of instructor and student program manuals.
1993
AK
10
Center for Alaskan Coastal Studies -- $5,000
Penny Hodges, P. O. Box 2225, Homer, AK 99603
Oceanography Project
This oceanography project provides a forum for studying cruises in the south central Alaska area. The project will include hands-on activities for students and teachers while on the cruises. Also pre-trip classroom preparations and follow-up class activities will be developed.
1993
AK
10
Chugachmiut -- $4,999
Barbara Miklos, 3300 C Street, Anchorage, AK 99503
Household Hazardous Wastes
This grant funds a project to develop and provide consumer education on Household Hazardous Wastes to the Alaska Native residents of the Chugach Region. A pamphlet, poster, and public service announcement will be developed and printed or broadcast in Alutiiq, the Alaskan Native language.
1993
AK
10
Fairbanks North Star Borough School District -- $15,122
Susan Creventsen, Ticasuk Brown Elementary School, P. O. Box 71250, Fairbanks, AK 99707-1250
Where Do the Geese Go?
This project, entitled "Where Do the Geese Go?" - From Alaska to Washington: Environmental Education With A Bird's Eye View, has four elementary schools in Alaska, Canada, and Washington exploring environmental issues affecting Canadian Geese as the geese are tracked by satellite on their fall and spring migration.
1993
AS
9
American Samoa Community College -- $4,400
Don Vargo, P. O. Box 2609, Pago Pago, AS 96799
School Garden Pilot Project
The "School Garden Pilot Project" generates a partnership between the community college and South Pacific Academy, a private elementary school, to develop and implement a curriculum for grades 3 through 5 which will include nutrient cycles, the role of recycling, and integrated pest management. Using small individualized vegetable plots, the children will produce fast-growing, high-demand vegetable varieties while practicing low-input, sustainable, environmentally friendly organic growing techniques.
1993
AS
9
American Samoa Government, EPA -- $5,000
Sheila Wiegman, Pago Pago, AS 96799
Environmental Education for Elementary Teachers
The "Environmental Education for Elementary Teachers" project initiates a college course for public and private elementary school teachers covering solid waste management, water pollution, Samoa's wildlife, wetlands, and sustainable development. An essential element of the course will be the establishment of communication networks for the teachers enrolled and with environmental specialists.
1993
AZ
9
Casa Grande Elementary School District -- $5,000
Yvonne Billingsley, 1460 North Pinal Avenue, Casa Grande, AZ 85222
Environmentally Smart Students
The "Environmentally Smart Students" project will provide for an outdoor environmental education center consisting of a garden, aviary, ponds, and a meeting area. The project features hands-on activities for 90 at-risk students in partnership with the University of Arizona Cooperative Extension, Arizona Department of Game and Fish, and the U.S. Department of Agriculture.
1993
AZ
9
Inter-Tribal Council of Arizona -- $25,000
John Lewis, 4205 North 7th Avenue, Suite 200, Phoenix, AZ 85013
Environmental Education Curriculum Project
The "Environmental Education Curriculum Project" implements a program for teachers of kindergarten through 8th grade in schools on reservations and communities of 19 member tribes in Arizona. Teachers will receive training in knowledge, skills, and attitudes to teach a curriculum consisting of endangered species protection, solid waste management, clean air, and clean water. Arizona Clean and Beautiful, Desert Botanical Garden, and Arizona Indian Education Department will participate in the development of the curriculum.
1993
AZ
9
Payson Unified School District #10 -- $5,000
Roy Sandoval, P. O. Box 919, Payson, AZ 85547
Enhancing Student and Community Environmental Awareness through the Use of Portal Sites Specific Modules
The "Enhancing Student and Community Environmental Awareness through the Use of Portal Sites Specific Modules" project creates a network between the school district, government agencies, and commercial businesses to develop a curriculum and materials for grades 4 and 8. Students will use field techniques to gain an insight on local environmental issues of water conservation, air quality, forest management, range and riparian management through field trips to desert, chaparral, conifer, and alpine sites within a 30-mile radius of Payson. The training of instructors will require that they experience the field activities as a "student" before leading a group.
1993
AZ
9
Pima County, Department of Environmental Quality -- $4,800
John A. Bernardo, 130 West Congress Street, Tucson, AZ 85701-1317
Clean Air Concepts
This project introduces clean air concepts to students in grades 1 through 3 at Tucson schools. The project will offer teacher training workshops, three to five demonstrations in the classroom featuring a puppet show, detailed lesson plans, follow-up activities, and a help hotline for teachers' questions.
1993
AR
6
Arkansas 4-H Foundation, Inc. -- $5,000
Suzanne Smith Hirrel, P. O. Box 351, Little Rock, AR 72211
4-H Environmental Stewardship "Green Team"
In this project, 150 youth and adults will be trained as 4-H Environmental Stewardship "Green Team" members. Participants will develop outreach plans for their local communities and conduct environmental education activities with the ultimate goal of reaching 10,000 people.
1993
AR
6
Kerr Center for Sustainable Agriculture -- $5,000
Luke Elliott, 1 Meadowcreek Lane, P. O. Box 100, Fox, AR 72051
Workshops for Teachers
This grant funds workshops that will be held for 100 junior high school teachers and curriculum provided to 366 schools. Topics will include organic gardening, efficient lighting, solar ovens and alternative energy. Activities will help students understand how they can make decisions which affect change.
1993
CA
9
American River Land Trust -- $4,631
Debra Jensen, 8913 Highway 49, P. O. Box 562, Coloma, CA 95613
Habitat Restoration and Field Studies Partners
The "Habitat Restoration and Field Studies Partners" project involves youth service groups and students in kindergarten through 12th grade in El Dorado County in habitat restoration by providing hands-on training in field methods. Students will be introduced to important ongoing field projects by agency and organizational professionals from the U.S. Departments of the Interior and Agriculture (Forest Service), U.S. Geological Survey, and the California Department of Parks and Recreation.
1993
CA
9
City of San Buenaventura -- $5,000
Johnji Stone, P. O. Box 99, Ventura, CA 93002
Habitat Conservation Education Programs for Middle Schools
"Habitat Conservation Education Programs for Middle Schools" introduces an interactive interpretive habitat awareness curriculum to 792 7th and 8th grade students and their 24 teachers. In a mock trial role-playing activity, students will stand accused as suspects in the murder of a coastal sage plant and must defend their actions in the community. During the classroom presentation, students will visit a series of stations and develop their defense from response cards. The activity concludes with a summary of basic community dynamics and the need for species diversity and habitat conservation.
1993
CA
9
Golden Gate National Park Association -- $5,000
Louise C. Burnham, Building 201, Fort Mason, San Francisco, CA 94123
Environmental Education Program at Crissey Field, Grades 6-8
The "Environmental Education Program at Crissey Field, Grades 6-8" sets up an outdoor conservation and marine science program by National Park staff at Crissey Field in the Presidio for students in 6th through 8th grade from nine schools with ethnically diverse populations in San Francisco and Oakland. Teacher workshops will precede and follow the student field trips where lessons specifically geared to grade level curriculum will enable students to study the ecology of the area in a site-specific way.
1993
CA
9
Humboldt State University Foundation, Center for Indian Community Development -- $137,110 (HQ Grant)
James A. Hamby, Student & Business Services Bldg., Room 295, Arcata, CA 95521
Environmental Protection and Land Development in Native American Communities
The "Environmental Protection and Land Development in Native American Communities" program will ensure the environmental and cultural integrity of Native American lands by preparing tribal communities to make informed decisions about land development. They will use toxic waste disposal as a thematic focus for land development issues. The project will expand upon existing environmental education programs and materials such as Project WILD, Project Learning Tree, and NatureScope and will reach out to regional and international Native American communities in the United States and the Canadian Pacific Northwest.
1993
CA
9
Humboldt County Office of Education -- $4,950
Garry Eagles, 901 Myrtle Avenue, Eureka, CA 95501
School Waste Reduction Task Force
The "School Waste Reduction Task Force" project establishes a county-wide task force of administrators, maintenance personnel, parents, students, and teachers. Not only will the task force encourage waste reduction at each site by providing useful information to implement day-to-day activities in the school and the classroom, but it will also establish a vehicle of communication both on-site and among participating schools regarding other environmental issues.
1993
CA
9
Kern County Water Agency -- $5,000
Jim Beck, 3200 Rio Mirada Drive, P. O. Box 58, Bakersfield, CA 93302-0058
Water Education Spanish Program
The "Water Education Spanish Program" translates a workbook on water conservation into Spanish for distribution to English a second language and bilingual teachers of grades 4 through 6 in Kern County. Through the use of the workbook, students will perform experiments that present water conservation principles as a vital element in daily activities.
1993
CA
9
Los Angeles Educational Partnership -- $25,000
Patricia C. Dung, 315 W. Ninth Street, Suite 1110, Los Angeles, CA 90015
Los Angeles River Ecosystem: Past, Present, and Future
The "Los Angeles River Ecosystem: Past, Present, and Future" project connects a team of 60 teachers from 30 schools in the vicinity of the Los Angeles River with university and industry scientists. The teachers will participate in workshops and field study presentations focusing on land and water use, human impact on the ecosystems, water quality, and pollution. Following the workshops, students will conduct a field experiment on water quality, soil analysis, wildlife, and engage in discussions on environmental issues with university and industry scientists and with students from other participating schools through a telecommunications network.
1993
CA
9
Petrolia School, Inc. -- $5,000
Seth Zuckerman, P. O. Box 197, Petrolia, CA 95558
Integrated, Interdisciplinary Environmental Curriculum for High Schools
This grant funds the "Integrated, Interdisciplinary Environmental Curriculum for High Schools" project which offers a curriculum linking science and social studies with an emphasis on environmental issues both local and global. Restoration of salmon runs, reforestation and erosion control projects, and controversies over logging in ancient forests will serve as the context for teaching basic skills. The curriculum will be designed and tested during the year's instruction, and then refined, publicized, and made available to other educators.
1993
CA
9
Sacramento Zoological Society -- $5,000
Kimberly Parker, Development Director, 3930 West Land Park Drive, Sacramento, CA 95822
Project Edzoocation
"Project Edzoocation" forms a partnership with the California State University, Sacramento, to offer four teacher workshops consisting of practical and technical assistance in using the zoo more effectively as a resource for environmental education. The workshops will incorporate ideas and activities for teachers to take back to their classrooms and enhance daily lesson plans.
1993
CA
9
San Francisco Bay-Delta Aquatic Habitat Institute -- $4,820
Kathryn Kramer, Building 1801, 301 South 46th Street, Richmond, CA 94804
Exploring the Estuary
The "Exploring the Estuary" project supplies 25 junior and senior high school teachers and their classes with a computer software display of the San Francisco Bay and Delta and the Gulf of the Farallones, accompanying resource guide and materials packet. The institute will also hold a training workshop to assist teachers in the use of the program.
1993
CA
9
University of California, Berkeley -- $3,184
Neil Maxwell, Sponsored Projects Office, 336 Sproul Hall, University of California, Berkeley, CA 94720
Environmental Education Across the Curriculum
The "Environmental Education Across the Curriculum" project is a four session seminar for teams of high school teachers from four schools in Contra Costa County. Seminar leaders and representatives from business, industry, and the community will demonstrate how teachers can identify and assess ecological conditions at a particular school site. They then will develop remediation plans and identify tools and activities that students can engage in to understand the problem and to propose and implement a solution.
1993
CA
9
University of California, Berkeley, School of Law (Boalt Hall) -- $5,000
Neil Maxwell, Joseph L. Sax, Sponsored Projects Office, 336 Sproul Hall, University of California, Berkeley, CA 94720
Bay Area Environmental Law Clinic
This grant establishes the Bay Area Environmental Law Clinic, which will provide law school students with opportunities to design and practice field work techniques in the emerging field of environmental law. The clinic will offer students supervised practical professional work experience on environmental problems that affect traditionally under represented groups in the community.
1993
CA
9
Yucca Loma School, Apple Valley Unified School District -- $4,880
Paul Swick, 21351 Yucca Loma Road, Apple Valley, CA 92307
Yucca Loma School Environmental Education Project
The "Yucca Loma School Environmental Education Project" sets up an outdoor biological and earth science center equipped with a seismograph, weather station, and greenhouse. Through the use of the outdoor study area, staff development, and accompanying curricular materials, teachers will be equipped to provide hands-on activities for elementary students to develop critical thinking skills as they conduct investigations and solve problems.
1993
CO
8
City of Englewood, Environmental Services -- $3,000
Dana C. Glazier, 3400 South Elati Street, Englewood, CO 80110
Environmental Law
The purpose of this project is to conduct an environmental education seminar that educates small- to medium-sized businesses about environmental laws and issues, as well as ways to reduce pollution.
1993
CO
8
City of Northglenn -- $3,804
Kipp E. Scott, 11701 Community Center Drive, Northglenn, CO 80233
Water Education Program, Department of Natural Resources
This program will expand the education program of the Water Festival program from one secondary school to three. It will include class presentations by various water agencies designed to cover areas such as groundwater pollution, water quality, wastewater treatment, water rights, aquatic habitats, endangered species, and others.
1993
CO
8
Colorado Creative Education -- $10,555
P. O. Box 1383, 120 Grand Avenue, Paonia, CO 81428
Science Curriculum that Makes a Difference
This project will establish Public Interest Research Projects (PIRP) where students work with local community groups and experts to collect data or disseminate environmental information that will be of use to the community at large.
1993
CO
8
Denver Audubon Society -- $4,890
Jan White, 8751 East Hampden Avenue, Suite A-1, Denver, CO 80231
Urban Education Project
This grant funds an outdoor, hands-on environmental education program for children 8 to 12 years old in three schools with high minority populations. The project emphasizes environmental awareness and respect for natural surroundings, recruiting minority adult and teen volunteers for training as role models.
1993
CO
8
Eco-Urban Habitat Project -- $24,840
Carol Bylsma, 6060 North Broadway, Denver, CO 80216
Urban Environment Education Program - Eco Urban Habitats Program, CDOW-CWHF-CDOE COLORADO
This program will design and target urban populations with hands-on projects applying natural resource concepts to improve and sustain environmental quality and awareness and to serve as a national model in the field of environmental education. The project also will establish lasting collaborations and liaisons between the urban communities.
1993
CO
8
E-Town -- $120,000 (HQ Grant)
Nicholas Forster, 1729 Spruce Street, P. O. Box 954, Boulder, CO 80306
Support for a National Public Radio (NPR) Program Promoting a More Informed and Environmentally Responsible Citizenry
This grant will fund the second year of a program titled "Support for a National Public Radio (NPR) Program Promoting a More Informed and Environmentally Responsible Citizenry." The project will provide NPR radio listeners with a weekly, hour-long message of community and environmental responsibility on such topics as pollution prevention, sustainable development, energy efficiency, waste minimization, and public health with an emphasis on personal responsibility and action.
1993
CO
8
Hygiene Elementary School -- $4,850
Billie G. Pett, 11698 North 75th Street, Longmont, CO 80503
Project S.O.S - Save Our Species
This project will consist of a complex, year-long study of important environmental issues and conservation methods with the core focus on endangered species and habitat destruction. The project is designed to provide the school with an environmental education model that teaches the students about the vital link between habitat interference within an ecosystem and the resulting species endangerment.
1993
CO
8
Pitkin County Resource Recovery -- $5,000
Chris Hall, 76 Service Center Road, Aspen, CO 81611
Regional Roaring Fork Recycling and Household, Hazardous Waste Educational Program
The goal of this project is to provide the public with a means of targeting manufacturers to encourage them to recycle by reducing packaging. The grant will fund the development of a brochure to educate the public and the production of a slide show, both of which will be designed to reach the local Spanish-speaking community.
1993
CO
8
Regents of the University of Colorado -- $5,000
Carol McLaren, Campus Box 19, Boulder, CO 80309-0019
Science Discovery Program, School of Education
The Science Explorers program will focus on the topic of water and the Colorado environment, using activities from existing resources and water curriculum in a unique method of teacher training.
1993
CO
8
Rocky Mountain Nature Association -- $5,000
Mark De Gregorio, Rocky Mountain National Park, Estes Park, CO 80517
Heart of the Rockies Adventure Guide
This grant funds production of a curriculum guide. The purpose of the guide for grades 6 through 9 is to provide interactive opportunities that weave multi disciplinary environmental themes into an existing school curriculum to help teachers structure a learning experience that provides continuity for students visiting Rocky Mountain National Park.
1993
CO
8
San Juan National Forest Association -- $3,500
Laurie Gruel, P. O. Box 2261, Durango, CO 81302
ForestWorks
The goals of this project are to bring nature back into the lives of youth and to emphasize the importance of community involvement in public land management. Four one-day sessions will be held discussing evaluating current environmental issues facing southwestern Colorado, installing birdhouses, river and campsite cleanup, and reseeding disturbed areas.
1993
CO
8
Thompson School District R2-J -- $16,255
Rob R. Buirgy, 535 North Douglas Avenue, Loveland, CO 80537
Thompson River Project
This grant funds a watershed-based environmental studies course that has students examine the quality and character of the Big Thompson River and its watershed by studying specific aspects such as plant and animal communities, and water quality. The goal of the project is to determine how to manage that quality and character into the future.
1993
CT
1
20th Century Trends Institute, Inc. -- $4,149
Mary McLaughlin, 720 West Lake Avenue, Guilford, CT 06437-1305
Resources on Environmental Topics
This project provides teachers of grades 5 through 8 at three intermediate schools in the New Haven school system, with access to a wide range of resources and perspectives on environmental topics. The program will allow teachers in this urban setting to more easily incorporate lessons and activities into all aspects of their curricula.
1993
CT
1
Connecticut Geographic Alliance -- $4,996
Judith W. Meyer, 354 Mansfield Road, Storrs, CT 06269-2148
University of Connecticut
The grant funds a project called the "Connecticut's River Basin: The Physical and Human Ecology of the Connecticut River." The project is a weekend advanced training institute where teachers of kindergarten through 6th grade work with Connecticut Department of Environmental Protection experts to study a variety of wetland and other habitats in the Basin, including participation in demonstration lessons that illustrate how the content can be used in the classroom.
1993
DE
3
Delaware 4-H Foundation -- $5,000
Ted Palmer, 122 Townsend Hall, Newark, DE 19717-1303
University of Delaware Cooperative Extension's 4-H Program
Through this grant, volunteers will teach younger students about environmental issues and how to take action to resolve them. Partnering with state agencies, the University of Delaware Cooperative Extension's 4-H Program will develop a curriculum from existing materials which is tailored to students involved in the statewide environmental network, 4-H programs, and other student leadership programs.
1993
DC
3
District of Columbia Public Schools, Paul Junior High School -- $12,750
Geraldine C. Okwesa, 8th & Oglethorpe, NW, Washington, DC 20011
Outdoor Laboratory Center
This grant provides funding for an outdoor laboratory center, designed by the industrial arts students at the high school to create a commitment by minority 6th, 7th, 8th, and 9th graders to improve attitudes, behaviors, and practices concerning environmental protection.
1993
DC
3
League of Women Voters Education Fund -- $39,117 (HQ Grant)
Elizabeth Kraft, 1730 M Street, NW, Washington, DC 20036
Managing Solid Waste Community Education Train-the-Trainers Program
This grant funds a national workshop, which is part of Phase II of the League of Women Voters two year "Managing Solid Waste Community Education Train-the-Trainers Program." Phase II will train state and local League members nationwide on municipal solid waste management issues (including source reduction and recycling) and options.
1993
FL
4
DaySpring Conference Center -- $5,000
Ellen Anne Manning, P. O. Box 661, Ellenton, FL 34222
Educational Equipment for a Nature Center
The purpose of this project is to purchase educational equipment and materials to augment a nature center and to facilitate environmental education for more than 200 visiting classroom teachers and groups of school students.
1993
FL
4
Florida Atlantic University -- $5,000
Patricia A. Welch, 6301 Summit Blvd., West Palm Beach, FL 33415
Pine Jog Environmental Education Center of Florida Atlantic University
The Pine Jog Environmental Education Center of Florida Atlantic University will improve environmental education teaching skills through instructional design procedures and a teacher education workshop series for teachers of kindergarten through the 5th grade.
1993
FL
4
Florida State University -- $16,942
Ellen Granger, 109 Herb Morgan Bldg. R-23, Tallahassee, FL 32306-1047
Saturday-at-the-Sea (SATS)
The Saturday-at-the-Sea (SATS) educational program will expand to a week-long, summer, marine, ecology, research, day camp program for female and minority middle school students from Florida's panhandle. Students will apply current technology, basic math, computer, and statistical skills to environmental issues through hands-on experience in the natural environment.
1993
FL
4
Pinellas County Cooperative Extension Service -- $4,880
Sheila Smith, 12175-125th Street North, Largo, FL 33770
4-H Earth Connections
The "4-H Earth Connections" projects is designed for youth in kindergarten through 6th grade who are enrolled at 25 summer program sites and will receive hands-on experience through experiments, demonstrations, games, and workbook activities utilizing the "Earth Connections" curriculum. The purpose of this project is to help them understand the environmental and stewardship issues associated with soil, air, and water conservation and quality.
1993
FL
4
Reef Relief, Inc. -- $5,000
DeeVon Quirolo, P. O. Box 430, 210 William Street, Key West, FL 33041
Coral Reef Awareness Program
This grant funds the "Coral Reef Awareness Program." The program includes field trips and school activities for kindergarten through 5th grade students in five elementary schools on the lower Florida keys. The program will foster their understanding of Florida's coral reef ecosystem and encourage active efforts by them to protect it.
1993
FL
4
Roosevelt Elementary School -- $5,000
Ann B. Ziehl/Daniel Moore, 3205 Ferdinand Street, Tampa, FL 33629
Curriculum for Nature Area
This project involves the development of curriculum for use with an indigenous nature area at the school and purchase of equipment for use with the curriculum. Students will contrast and compare habitats, analyze environmental problems, and evaluate solutions.
1993
GA
4
Atlanta Fulton County Zoo, Inc. -- $5,000
Vicki Davison, 800 Cherokee Avenue, SE, Atlanta, GA 30315
Environmental Activity Boxes
This grant funds a project to develop multidisciplinary, interactive, educational activities for 20 middle and high school teachers. Ten environmental "activity boxes" will be developed for use during the one-day workshop and for use in the zoo's discovery area; the boxes will be made available to teachers for classroom use.
1993
GA
4
Clairemont Elementary School -- $5,000
Judy Greene, 155 Erie Avenue, Decatur, GA 30030
Clairemont Elementary School
This project will educate students and parents in identifying and correcting non-point source pollution and erosion, tree and vegetation identification, stream buffer preservation, and wetland and stream protection. Field trips to the Chattahoochee River will be scheduled.
1993
GA
4
Griffin-Spalding County School System -- $4,985
P.O. Drawer N, Griffin, GA 30224
Outdoor Environmental Laboratory (ODEL)
The "Outdoor Environmental Laboratory (ODEL)" project provides for the development of an outdoor classroom and environmental trail for use in holding environmental workshops for elementary and middle school teachers. These facilities will emphasize hands-on activities that teachers can duplicate in the classroom.
1993
GA
4
Montgomery County Board of Education -- $4,930
Arthur D. Strickland, P. O. Box 315, Mt. Vernon, GA 30445
Solid Waste Education and Recycling
The grant funds a project to develop an environmental education program for the Montgomery County, Georgia school system. The project focuses on solid waste education and recycling. An environmental education curriculum center will be developed along with teacher workshops and special programs for adults.
1993
GA
4
Park Pride Atlanta, Inc. -- $5,000
Allison Ickes, 675 Ponce de Leon Avenue, Atlanta, GA 30308
Atlanta Urban Tree House
The Atlanta Urban Tree House is an urban, community-based program to help minority children understand natural resource conservation concepts and careers. This project will provide instructional training to professionals who teach environmental education lessons to urban communities through two environmental workshops.
1993
HI
9
Hawaii State Department of Education -- $23,399
Colleen Murakami, Office of Instructional Services, General Education Branch, P. O. Box 2360, Honolulu, HI 96804
Developing Environmental Stewards
The "Developing Environmental Stewards" project targets science, social studies, and language arts students and teachers throughout the state of Hawaii. Teachers and students will team with field experts, business representatives, and community members to study and suggest solutions to current environmental issues. The project will develop an inquiry-based instructional guidebook and action strategies that build citizenship behaviors so that an increased number of students and teachers will be aware of environmental issues and know how to apply the process for resolving them.
1993
HI
9
Pacific Whale Foundation -- $5,000
Dr. Paul Forestell, Director of Research and Education, 101 North Kihei Road, Kihei, HI 96753
Ocean Van Project
The "Ocean Van Project" proposes a visitation program of marine educators with both teaching and field experience to elementary and intermediate schools. Project educators, working closely with classroom teachers to build on established curricula, will present one of three themes: endangered marine mammals, tropical reef dynamics, or marine debris. Follow-up activities encourage community efforts to improve marine and shore environments.
1993
HI
9
University of Hawaii, Sea Grant College Program -- $4,908
Bruce J. Miller, Office of Research Admin., 2540 Maile Way, Spaulding 253, Honolulu, HI 96822
Global Environmental Change: An Institute for Educators
This grant funds the "Global Environmental Change: An Institute for Educators." The project provides for a two and a half day seminar for 46 public, informal educators from museums, aquariums, and nature centers to become involved in active discussion and investigation of global issues. By participating in the seminar, each person will be certified as a global education trainer and will conduct training for 15 other educators in his or her local community.
1993
ID
10
Boise State University -- $5,000
Richard McCloskey, Biology Department, 1910 University Drive, Boise, ID 83725
Boise River Ecology
The purpose of this project is to use the Boise River ecology to increase an urban public's (Ada County, Idaho) awareness about the environment. Environmental education lessons and activities will be developed to help visitors and residents better understand the ecological processes at work in Idaho's environment.
1993
ID
10
Bonner County School District #82 -- $5,000
Susan Seaman, Priest River Elementary School, Box 489, Harriet Street, Priest River, ID 83856
Wildlife Ecology Project
The "Wildlife Ecology Project" provides environmental conservation outreach with hands-on activities for kindergarten through 6th grade students. Two outdoor classrooms will be established on school grounds. One will have a focus on wildlife plantings and the other classroom will be a reclamation project.
1993
ID
10
University of Idaho -- $21,500
Leland Mink, Idaho Water Resources Research Institute, Morrill Hall 106, Moscow, ID 83843
Wellhead Protection Training
This project involves public education through a wellhead inventory training program. The training will actively involve community members in conducting wellhead protection area inventories and teach them about groundwater contamination and protection.
1993
IL
5
American College of Occupational and Environmental Medicine -- $5,000
Susan Adamowski, 55 West Seegers Road, Arlington Heights, IL 60005
Environmental Medicine Core Curriculum
The purpose of this project is to develop a core curriculum in environmental medicine aimed at educating health care professionals so that they can serve as environmental educators in their communities. The curriculum will enable the physicians to instruct on the subject of environmental risks.
1993
IL
5
Heartland Water Resources Council -- $5,000
Michael Platt, 5823 Forest Park Drive, Peoria, IL 61614
Water Monitoring for High School Students
The grant funds a project intended to teach high school students about environmental damage caused by non-point source pollution by involving them in a water-monitoring program. Students will sample and measure streams and sediment deposition and present their findings to city councils and the public. Project results will be presented to 200 schools in 14 states at the March 1994 Illinois Rivers Project Student Congress.
1993
IL
5
Illinois Benedictine College -- $4,997
Theodore Suchy, 5700 College Road, Lisle, IL 60532
Teaching Aids for Elementary Teachers
The purpose of this project is to develop a series of teaching aids, curricular materials, and workshops which support and improve the efforts of local elementary teachers. Workshops will show teachers hands-on science strategies that focus on the Midwest ecosystem.
1993
IL
5
Illinois Department of Public Health -- $21,658
Sharron LaFollette, 525 West Jefferson, Springfield, IL 62761
Reduction of Lead Poisoning
This project pilots an educational program on lead poisoning and reduction in one of the most impoverished communities in the nation: East St. Louis, a high-risk, low-income community in Illinois. Funds will be used to develop a videotape and accompanying booklet on strategies for identifying and reducing sources of lead cost-effectively. The Illinois Department of Public Health will work closely with community leaders and families so that homeowners understand how to minimize risks from lead exposure.
1993
IL
5
Robert Crown Center for Health Education -- $3,850
Cyndi Weingard, 21 Salt Creek Lane, Hinsdale, IL 60521
Saving Mother Earth
The "Saving Mother Earth" project is an environmental/human ecology program aimed at 2nd and 3rd graders. The program uses multimedia instruction to empower young students so that they understand their role in preserving the environment. The program will reach more than 207,000 students in the Chicagoland area.
1993
IN
5
Geography Educator's Network of Indiana -- $5,000
Frederick Bein, IUPUI Department of Geology, 425 University Blvd., Indianapolis, IN 46202-5140
Stimulating Environmental Education in Indiana: A Geographical Assessment of Critical Environmental Issues
The purpose of this project is to sponsor a three-week environmental institute entitled "Stimulating Environmental Education in Indiana: A Geographical Assessment of Critical Environmental Issues." An outcome of the institute will be more than 50 classroom-ready lesson plans with a geographical focus for the teachers to use in the upcoming year.
1993
IN
5
Grand Cal Task Force -- $5,000
Dorreen Carey, 2400 New York Avenue, Whiting, IN 46394
Grand Cal Task Force
The purpose of this project is to broaden an educational program aimed at educating students in at least 30 middle schools and high schools in Gary, East Chicago and Hammond, Indiana. Grand Cal Task Force will travel to schools with a slide presentation and teach the predominately minority student population about local environmental problems in that Great Lakes Area of Concern.
1993
IN
5
Indiana University -- $5,000
David Borneman, School of Health, Physical Education and Recreation, P. O. Box 1847, Bloomington, IN 47402
Bradford Woods Outdoor Center Waste Education
A comprehensive, integrated waste education project will be developed at its Bradford Woods Outdoor Center through this grant. The program will teach 6,000 elementary students, 600 physically disabled persons, and 15,000 people in the community about responsible waste management.
1993
IA
7
Benton Community Schools -- $4,644
Rick Heldt, 400 First Street, Van Horne, IA 52346
Environmental Curriculum by Grade Level
The purpose of this project is to develop an environmental unit of study for each grade level, kindergarten through 5th grade. The environmental curriculum packages will focus on a map and use it as part of the activities to educate the children. The classroom experience, combined with the outdoor activities, will provide the basis to motivate the children to weigh the various sides of environmental issues and to make informed, responsible decisions. The cooperative efforts between the teachers and environmental specialists will ensure the material is not only grade level appropriate but also technically sound.
1993
IA
7
Clarinda Lutheran School -- $5,000
Duane Miller, 707 W. Scidmore, Clarinda, IA 51632
Integrating Environmental Awareness into the School Curriculum
This project will integrate environmental awareness into the school curriculum and provide hands-on conservation and preservation experience. The grant provides funds to enhance existing wetlands, create a shallow pond, increase woodland species by planting 100 trees, establish a native prairie grassland, develop a naturalist club, and develop a field study notebook and chronology of the project and the wildlife population.
1993
IA
7
Davenport Community School District -- $5,000
Carol Webb, 902 E. 29th Street, Davenport, IA 52801
Outdoor Environmental Education Laboratory
The purpose of this project is to improve elementary environmental education by enhancing environmental teaching skills. The method is development of an outdoor environmental education laboratory in which students will confront the issues of habitat destruction, species loss, and waste disposal.
1993
IA
7
Hazardous Materials Training Research Institute -- $99,174 (HQ Grant)
Pat Berntsen, 6301 Kirkwood Boulevard, SW, Cedar Rapids, IA 52406
Distance Supported Local Education Community College Model for Innovation and Expansion of Environmental Education and Training
The "Distance Supported Local Education Community College Model for Innovation and Expansion of Environmental Education and Training" program will provide environmental health and safety job training to students at four community colleges in Iowa, through teacher training sessions, the development of multi-media curricula, and the design and delivery of two environmental education courses.
1993
IA
7
Iowa Arboretum, Inc. -- $5,000
Rae Boysen, 1875 Peach Street, Madrid, IA 50156
Tree Collections
This grant funds a project to place instructional signs at the entrance to each collection of trees. By doing so, the Iowa Arboretum will be able to provide information on the qualities of each collection including conservation benefits, soil and water requirements, history, wildlife uses, food or crop production, and aesthetic value. The sign also may describe special care needs so that visitors can make informed decisions about plant choices.
1993
IA
7
Johnson County Soil and Water Conservation -- $4,934
Wayne Petersen, 238 Stevens Drive, Iowa City, IA 52240
Environmental Impacts of Agriculture
This project involves a series of workshops that will provide exposure and training to the non-farm sector on the environmental impacts of agriculture. The workshops will provide classroom training combined with field tours of farms and agri-business facilities. The project will provide hands-on exposure to a target audience of teachers, members of the Iowa City Chamber of Commerce's Leadership Development Program, representatives of local environmental groups, and the business and university community of Iowa City.
1993
IA
7
Kirkwood Community College -- $5,000
Douglas Feil, P. O. Box 2068, Cedar Rapids, IA 52406
Teaching Packages for Pre-school and Elementary School Teachers
This project is designed to improve environmental education at the pre-school and lower elementary level by enhancing environment teaching skills. The project will result in the development of four teaching packages. These packages and printed instructional guides will contain a working model that will assist teachers in organizing and presenting material for visual learners and will provide the teacher with hands-on training.
1993
KS
7
Haskell Indian Junior College -- $25,000
Charles E. Haines Jr., 155 Indian Avenue, Lawrence, KS 66046
Multi-cultural Environmental Education Program
This project proposes a multi-cultural environmental education program with four key components: environmental science curriculum development, environmental education resource center, and an ongoing series of environmental education workshops and an environmental outreach program. Each of these components will combine advanced technological research and development in environmental education with traditional Native American perspectives and sensitivity to the earth and its products.
1993
KS
7
Hesston Unified School District 460 -- $5,000
Sandra Thies, 150 N. Ridge Road, Box 2000, Hesston, KS 67062
Environmental Data Collection
This grant funds the purchase of equipment to facilitate environmental data collection as part of an outdoor environmental education site. Adjacent to the outdoor site will be an indoor laboratory with equipment for observation, measurement, and analysis of environmental data. The project's purpose is to improve teachers' knowledge and instructional skills and to enhance environmental learning experiences for students.
1993
KS
7
Kansas Department of Health and Environment -- $13,200
Janet Neff, 900 SW Jackson, Room 1051, Topeka, KS 66612-1290
Stream Sampling Techniques
This project funds the development of a videotape and guidebook with optional field exercises for citizen stream sampling techniques. Sixth graders from Berryton Elementary School will participate in production of the videotape. The materials developed will target upper elementary students through general adult audiences.
1993
KS
7
Kansas Wildscape Foundation -- $25,000
Richard B. Bailey, P. O. Box 4029, Lawrence, KS 66046
100 Outdoor Wildlife Learning Sites (OWLS)
This grant funds the development of 100 Outdoor Wildlife Learning Sites (OWLS) to involve students in interdisciplinary hands-on activities designed to increase their appreciation of wildlife and their understanding of the dependency of wildlife on specific habitats. The goal for the year is to fund 25 OWLS. This is a partnership venture with the schools, the OWLS program, the Kansas Advisory Council, Kansas Association of Conservation Districts, Kansas State and Extension Forestry, Soil Conservation Service, Project Learning Tree and Project Wild.
1993
KS
7
Kickapoo Nation in Kansas -- $5,000
Sharon Kabeah-Benson, P. O. Box 271, Horton, KS 66439-0271
Kickapoo Nation
This project initiates steps that will integrate, through the educational process, the Kickapoo Nation's natural heritage and relationship with the historic environment and current environmental conditions and ecosystems of the reservation. The project incorporates a historical perspective of the environmental conditions encountered by the early forefathers of the Kickapoo.
1993
KY
4
Council of State Governments -- $4,700
Karen Marshall, Iron Works Pike, P. O. Box 11910, Lexington, KY 40578-1910
Environmental Indicators in the Classroom
The "Environmental Indicators in the Classroom" project goal is to develop a secondary education curriculum about issues investigation, using environmental indicators as the teaching method. In-service education will enable teachers to carry out, evaluate, and disseminate project results for use in other classrooms.
1993
KY
4
Jefferson County Public Schools - Lassiter Middle School -- $4,915
Joyce Paul, P. O. Box 34020, Louisville, KY 40232-4020
Environmental Issues for the Community
This program will be held at a local middle school and will include environmental issues seminars for the community, a student-prepared environmental newsletter for parents and other community members, multi-generational community gardens, and an environmental celebration for the entire school community.
1993
KY
4
Kentucky Tech - Harrison County Center -- $5,000
Steve Slade, 551 Webster Avenue, Cynthiana, KY 41031
Drinking Water Information Centers
The purpose of this project is to develop a drinking water awareness program with classroom education and laboratory research about drinking water purification systems. Drinking Water Information Centers will be established in feeder school libraries, and a Drinking Water Education Bulletin Board will be developed on existing computer modem network systems.
1993
KY
4
Oldham County Middle School -- $5,000
Linda D'Antoni, P. O. Box 157, La Grange, KY 40010
Coal: Energy vs. Environment
The "Coal: Energy vs. Environment" project will develop interdisciplinary units and group research projects to enhance middle school students' knowledge of coal and its relation to the environment and energy production. The project seeks to actively engage students in assessing environmental risks and formulating solutions for risk reduction.
1993
LA
6
City of Shreveport -- $5,000
Bill Robertson, P. O. Box 3602, Shreveport, LA 71133-3602
Caddo Parrish Environmental Education Mobile Unit Recycling
The grant funds for this project will be used to purchase and develop display materials and projects about recycling for the Caddo Parrish Environmental Education Mobile Unit. The mobile unit will educate students about recycling at public schools and additional private schools in remote locations.
1993
LA
6
Louisiana State University Agricultural Center -- $85,588 (HQ Grant)
Karen Overstreet, P. O. Box 25100, Baton Rouge, LA 70894-5100
Baton Rouge Environmental Fridays Program
The "Baton Rouge Environmental Fridays Program" will empower citizens of all ages, in low-income and minority neighborhoods through workshops, newsletters, and public service announcements on such issues as indoor air quality, mosquito-borne diseases from poor solid waste disposal, household hazardous waste, energy conservation, and curbside recycling and composting.
1993
LA
6
Louisiana State University Agricultural Center -- $5,000
Bill Branch, Knapp Hall, University Station, Baton Rouge, LA 70803
Environmental Issue Resolution Workshops
At "Environmental Issue Resolution Workshops," adult 4-H leaders and youth will develop their critical thinking skills in evaluating and resolving environmental issues identified in Louisiana's Comparative Risk Ranking Project. Workshop participants are expected to train youth and adults in their communities upon completion of the workshop.
1993
ME
1
Department of Environmental Protection -- $3,000
Nick Archer, 1235 Central Drive, Presque Isle, ME 04769-2053
Mr. & Mrs. Fish
"Mr. & Mrs. Fish" is a 3rd grade water education program designed to introduce and teach water conservation and reuse. It utilizes scripts tailored to specific geographic locations, and will reach at least 400 students in rural Aroostook County during the first year. One character, Ebenezer Sewage, is visited by three aquatic spirits before he learns not to waste water which "all earthlings depend on for survival and sustenance."
1993
ME
1
Laudholm Trust -- $5,000
Henrietta E. List, P. O. Box 1007, Wells, ME 04090
Pathway to Change
The "Pathway to Change" project expands an outreach program that has reached 6,000 students in kindergarten through 8th grade in eight school districts since 1990. The project provides a summer teaching institute for grades 7 through 12, teaching what estuaries are, why they are important, and how each of us affects and is affected by the health of estuaries. The project also enables teachers to enhance their understanding of the science of ecology and critical thinking skills.
1993
ME
1
Threshold to Maine Resource, Conservation, and Development Area -- $5,000
Jim Chandler, 67 Shaker Road, Gray, ME 04039
Maine ENVIROTHON
This project develops and offers a hands-on environmental decision-making institute for high school teachers to strengthen the "Maine ENVIROTHON," a competition focusing on environmental assessment and problem solving in the areas of soil, water, forestry, and wildlife. The Institute is designed to enhance teaching skills by involving the teachers in current case studies coupled with real-life problem situations and data gathering, such as watershed survey work, habitat analysis.
1993
MD
3
Baltimore City Public Schools, Booker T. Washington Middle School -- $4,680
Mary Cherry, 1301 McCulloh Street, Baltimore, MD 21217
MISSION Possible
Through MISSION Possible (Maryland Inner-City Self-esteem enhancement, Skill-development, and Instruction in Outdoor Natural Sciences), middle school students from inner city public housing will learn about wetland ecology, and serve as mentors for next year's students. At the same time, their teachers will participate in classroom and field experiences from which they will develop a field study.
1993
MD
3
Environmental Concern, Inc. -- $22,350
Mark Kraus, P. O. Box P, St. Michaels, MD 21663
Guidebook for Student Action Projects
This project involves the preparation of a guidebook for high school teachers to provide a single source of technical ideas and technical instructions for student action projects, addressing the functioning, hydrologic regime, and plant communities of North American wetlands.
1993
MD
3
Harford Day School -- $5,000
Sandra A. Conway, 715 Moores Mill Road, Bel Air, MD 21014
Environmental Satellites in the Classroom
The purpose of this project is to learn how behavior influences the environment. An environmental satellite receiver, installed in the classroom, will enable students in pre-school through the 8th grade to participate in real scientific investigations by using data sets captured on a real time basis.
1993
MD
3
Maryland Environmental Trust -- $4,798
Nick Williams, Maryland Land Trust Alliance, 275 West Street, Suite 322, Annapolis, MD 21401
Training in Conservation
For this project, training opportunities will be offered to Maryland local land trusts in conservation methods through lunch-time seminars, conservation conferences, and specialized training.
1993
MD
3
Queen Anne's Soil Conservation District -- $5,000
Jeffrey Opel or Mary Ann Skilling, 505 Railroad Avenue, Centreville, MD 21617
Outdoor Curriculum
This project involves a week-long teacher training workshop to develop curriculum and teaching techniques for grades kindergarten through 8, expanding on the Queen Anne School District's Outdoor Classrooms.
1993
MD
3
University of Maryland System Cooperative Extension System, Baltimore City Office -- $2,750
Jon Traunfeld, 17 S. Gay Street, Baltimore, MD 21202
Composting for Baltimore Residents
Residents of the City of Baltimore will be taught composting principles and techniques by on-site demonstrations at an arboretum and through traveling demonstrations at farmers' markets, major fairs, and festivals.
1993
MA
1
Appalachian Mountain Club -- $5,000
Walter Graff, 5 Joy Street, Boston, MA 02108
North Country Environmental Education Network
The "North Country Environmental Education Network" is a new educational program for secondary school teachers. The project is designed to launch a resource center for the 37 secondary schools in northern New Hampshire. The project fills an existing communication gap and promotes environmental education through a newsletter and bi-annual workshops. It also ensures teachers are provided with the most current information, and creates a forum to share ideas about teaching methods.
1993
MA
1
Center for Ecological Technology, Inc. -- $5,000
Amanda Graham, 112 Elm Street, Pittsfield, MA 01201
Environmental Interactive Video and Teleconferences
This project involves the production and broadcast of interactive video teleconferences on environmental themes to high schools throughout Berkshire County. The project uses an innovative environmental education method, the purpose of which is to stimulate critical thinking and discussion about the impact of people on local, national, and global environmental issues.
1993
MA
1
City of Boston Fund for Parks and Recreation -- $5,000
Michael T. Quinn, 1010 Massachusetts Avenue, Boston, MA 02118
ENVIROCATION
This project will make the existing Boston Park Rangers' ENVIROCATION program more widespread and accessible in the Boston Public Schools. It will create five 30-minute videotape lessons and materials aimed at 4th and 5th grade students and teachers. The Boston Park Ranger will serve as the adult role model, with 14 through 17-year old youths, primarily from minority populations, serving as peer role models. The videotape program will be promoted over the school system's cable television channel and through other methods.
1993
MA
1
Connecticut River Watershed Council -- $5,000
Tom Miner, One Ferry Street, Easthampton, MA 01027
River Education Program
This grant funds the creation of a model river education program that reinforces an awareness and understanding of the watershed region which covers four states and 11,000 square miles. The council's methods include teacher-training workshops, written material, and community presentations to encourage public involvement and participation in the program.
1993
MA
1
Franklin County Soil & Water Conservation District -- $13,263
Lynn Rose, 324 Wells St., Greenfield, MA 01301
Beyond 3Rs
This project, entitled Beyond 3Rs, is a solid waste education program for grades 7 through 12 which provides students and teachers with the tools to make responsible environmental choices before, during, and after the point of purchase.
1993
MA
1
Hispanic Office of Planning and Evaluation -- $24,060
Tubal Padilla-Galiano, 165 Brookside Avenue, Jamaica Plain, MA 02130
Eco-Ciudadanos (Eco-Citizens)
The "Eco-Ciudadanos" (Eco-Citizens) initiative is designed for Spanish-bilingual environmental education training and curriculum development. It provides teachers with the knowledge, skills, and resources to make the environment an integral part of all their teaching. The project involves a core group of twelve teachers who will participate in sixteen intensive workshops to develop classroom activities and materials in each of four environmental subjects. The results of the project will be a resource booklet that will be disseminated to other Spanish-speaking teachers at a day-long training conference.
1993
MA
1
The Children's Museum -- $24,967
Marianne Galvin, 300 Congress Street, Boston, MA 02210-1034
Green Facts
"Green Facts" is a three-part environmental survey that will lead to a teaching guide to make environmental content more accessible to children through public education. The program will assess what environmental information children know, what they have been exposed to, how they have internalized that information, and the level of understanding and misconceptions they possess. Results will be made available to educators and museum professionals through national conferences, workshops, and direct mail.
1993
MA
1
Watertown Public Schools - Cunniff School -- $4,100
Kevin Cushman, 165 Warren Street, Watertown, MA 02472
Project CURRENT (Community Use of River Resources for Encouraging Noteworthy Teaching)
"Project CURRENT (Community Use of River Resources for Encouraging Noteworthy Teaching)" is a long-term, thematic multi-grade-level, cross-curricula project focusing on the Charles River. It involves a summer planning and professional development workshop, development of five activities (one each in science, math, social studies, language arts, and arts), a professional article on the effort, and a student-organized river resources day.
1993
MA
1
Wilbraham Middle School -- $5,000
Tarin Weiss, 466 Stony Hill Road, Wilbraham, MA 01095
Outdoor Learning Laboratory
This grant funds the development of an environmental education program for 6th grade science teachers, including the creation of an outdoor learning laboratory on school grounds. The project encompasses a site assessment of the trail system, documenting the biology, geology, geography, land-use history, and meteorological specifics. The framework of the program will be described through a teacher's guide, containing outlines for class activities.
1993
MI
5
Ecology Center of Ann Arbor -- $4,800
Ruth Kraut, 417 Detroit Street, Ann Arbor, MI 48104
Solid and Household Hazardous Waste Issues
The purpose of this grant is to educate teenagers in low-income housing and low-income residents of public and subsidized housing about solid and household hazardous waste issues. Students will develop and carry out several educational initiatives on waste in their communities.
1993
MI
5
Fair Winds Girl Scout Council -- $4,585
Mary Lorah-Hammond, 2029-C South Elms Road, Swartz Creek, MI 48473
Girl Scout Environmental Service Projects
This project promotes learning about the environment by involving Girl Scouts in the design and implementation of environmental service projects in their communities.
1993
MI
5
Hannahville Indian Community -- $5,000
Kenneth Meshigaud, N14911 Hannahville B-1 Road, Wilson, MI 49896
Native American Teachings and Groundwater Education
The purpose of this project is to incorporate Native American cultural beliefs and teachings into already-existing groundwater education materials. Hannahville will educate Tribal council members, school children, and the Native American community about the current state of their local environment and ways they can protect their water source.
1993
MI
5
Ingham County Health Department -- $5,000
Jim Wilson, 5303 S. Cedar Street, P. O. Box 30161, Lansing, MI 48909
Chemical House of Horrors
The "Chemical House of Horrors" project will produce a portable household hazardous waste learning center to educate civic groups, school children, senior citizens, and environmental groups about household hazardous waste. The Chemical House of Horrors will consist of a series of rooms including a kitchen, bathroom, garage, and basement that contain hazardous products on one side, and their less toxic alternatives on the other.
1993
MN
5
District 14 Community Council -- $4,910
Deborah Meister, 320 S. Griggs Street, St. Paul, MN 55105
Reduce Waste
This project aims to change behavior so that consumers learn to make purchases that reduce waste. The District 14 Community Council will also work with buyers to evaluate current packaging alternatives that reduce waste at the source.
1993
MN
5
St. Olaf College -- $5,000
Gary Deason, 1520 St. Olaf Avenue, Northfield, MN 55057
School Area Nature Project (SNAP)
The "School Area Nature Project (SNAP)" is designed to extend to ten economically-depressed, rural schools in southeastern and southwestern Minnesota. The funding will enable SNAP to establish nature areas within walking distance of each school and assist teachers in integrating outdoor learning activities into existing curricula.
1993
MS
4
The University of Southern Mississippi -- $25,000
Rosalina V. Hairston, SS Box 5157, Hattiesburg, MS 39406
Wetlands Watch
This project involves an intensive, two-week " wetlands watch" summer institute for teachers focusing on fresh water and wetlands. The community-based environmental action project is led by teachers and high school students in grades 9 through 12.
1993
MS
4
University of Mississippi -- $1,988
Clifford A. Ochs, Department of Biology, University, MS 38677
Biology Laboratory for Non-majors
The purpose of this project is to develop a college biology laboratory exercise for non-biology majors to examine causes and consequences of nutrient pollution of an aquatic system and to understand ecological principles related to dependency and interaction of human beings and the environment. Laboratory exercises will include field sampling and testing.
1993
MO
7
Cave Springs Association -- $710
Marilyn Appleby, 8701 E Gregory Blvd., Kansas City, MO 64133
Environmental Awareness for Urban Children
Six workshops will be held for this project, with 20 teachers who work in the urban elementary school attending. The project aims to empower the educators to demonstrate environmental awareness to urban children. In addition, the program will produce a resource booklet for use in the classroom.
1993
MO
7
Clark County R-1 School District -- $5,000
Monte Morris, 427 W. Chestnut Street, Kahoka, MO 63445
Illinois River Project
The Illinois River Project is an integrated science, technology, and society project developed to introduce water quality dimensions into high schools. The project involves science, history and English students in an integrated study of their local river and community. Science students conduct water quality tests; history classes evaluate the cultural and historical impact of the river, along with its relationship to water quality; English students use this information to create a collection of writings about river life that is published.
1993
MO
7
Ferguson-Florissant School District -- $5,000
Judith J. Huck, 1005 Waterford Drive, Florissant, MO 63033
Training in Environmental Issue Identification and Investigation
This grant funds training in environmental issue identification and investigation for 6th grade teachers. The staff development is focused on ecological foundations, issue identification, issue analysis and investigation, and citizenship action and responsibility. A hallmark of the curriculum will meet the needs of the physically disabled and of minority students.
1993
MO
7
Francis Howell High School -- $5,000
Gerry Boehm, 7001 S. Highway 94, St. Charles, MO 63304
Wildlife Observation
This project provides a hands-on, laboratory-based course, allowing students the opportunity to collect data and observe wildlife in their native habitat. Schools throughout the St. Charles community will be able to visit the outdoor classroom trail site, arboretum, and ecological displays and exhibits constructed by the students involved in the environmental study course.
1993
MO
7
Jackson County Extension Council -- $5,000
Leon A. Moon, 2820 S. Highway 291, Independence, MO 64057
Four Phase Environmental Education Curriculum
This grants funds the Four Phase Environmental Education Curriculum. Phase 1, which involves training for 4-H members in 15 clubs about water awareness, composting, and recycling. Phase 2 involves the development of handbooks as a school enrichment program for grades 3, 4, and 5. In Phase 3, Jackson County 4-H youth, in cooperation with the city of Independence, will put into effect a "Storm Drain Stenciling" project. Phase 4 involves area High Schools with Community Service graduation requirements who will cooperate for specific training for their youth in the various curriculum for utilization in the elementary school (cross-age) programs.
1993
MO
7
Jackson County Parks and Recreation -- $5,000
Marty Swindell, 22807 Woods Chapel Road, Blue Springs, MO 64015
Environmental Work/Study for Juvenile Offenders
The Environmental Work/Study for Juvenile Offenders program is a unique environmental education summer program for juvenile offenders, a portion of the population with little or no access to outdoor educational opportunities. The program will also develop a leaders' manual, introduce participants to outdoor activities which enhance their appreciation and enjoyment of park lands, collect specimens and artifacts for the Kemper Outdoor Recreation Center, design and develop a three mile nature trail, and aid participants in realizing their personal rehabilitation goals.
1993
MO
7
Linn R-11 School -- $4,650
James P. Symmonds, One Technology Drive, Linn, MO 65051
Radio Broadcasts Concerning Environmental Problems
The project involves the development and dissemination of information concerning environmental problems using a student operated public service FM radio station. The target audience is high school and college students, and the anticipated listening audience is 30,000 citizens within central Missouri. Students will conduct research, write and edit scripts, and broadcast the reports. An advisory committee will monitor all broadcasts for accuracy.
1993
MO
7
Otahki Girl Scout Council, Inc. -- $3,750
Elsie B. Miller, 1432 Kurren Lane, Cape Girardeau, MO 63701
Environmental Education for Girl Scouts
The purpose of the grant is to provide plans and materials for use by 450 adult volunteers who deliver services to Girl Scouts. The materials will increase environmental awareness, expand environmental knowledge, and inspire pro-environmental activity for 2,700 Girl Scouts who are served by the Council.
1993
MO
7
River Bluffs Audubon Society -- $2,000
Linda Landon, 611 Belridge Drive, Jefferson City, MO 65109
Yard Waste Display
The purpose of this project is to establish an informational display relating to yard waste, to be exhibited in a public area. The society will then embark on a community educational campaign to encourage home composting instead of burning. The project was developed in response to a vote in 1992 to return to open burning of yard waste in the Jefferson City area.
1993
MO
7
Southeast Missouri State University -- $4,275
Stephen Overmann, One University Plaza, Cape Girardeau, MO 63701
Workshop on Waste Management Education
This grant funds an in-service, continuing education credit workshop on waste management education offered to kindergarten through 12th grade teachers. Seminars for public officials and public servants will also be conducted. The project includes development of a training program for community volunteers, a composting demonstration site, and a waste management education program tailored to the needs of elderly citizens.
1993
MO
7
University of Missouri -- $5,000
Syed E. Hasan, Office of Research Administration, Kansas City, MO 64110-2499
Training for Integrated Waste Management
The project provides training for 30 science teachers in integrated waste management. The topics discussed in the course will be compiled in a notebook given to each participant for use during the course and for future reference.
1993
MO
7
Waynesville Middle School -- $2,595
Herbert Turner, 403 School Street, Waynesville, MO 65583
Integrated Field Study and Stewardship of Roubidoux Creek
The Integrated Field Study and Stewardship of Roubidoux Creek program includes the development of a simple, usable environmental curriculum which can be used or modified by educators. The project also includes development of a water quality monitoring program.
1993
MT
8
Missoula City/County Health Department, Environmental Health Division -- $3,778
Peggy Schmidt, 301 West Alder Street, Missoula, MT 59802
Educational Materials for Air Pollution
This project will add educational materials to an existing set of three kits on the subject of air pollution in the Missoula Valley. The project also will provide funding for a Missoula-based non-profit organization to administer a program where local teachers may borrow the kits for classroom use free of charge.
1993
MT
8
Montana State University, Extension Service -- $4,630
Michael P. Vogel, Taylor Hall, Room 203, Bozeman, MT 59717
Community Involvement in Environmental Education
The primary purpose of this project is to involve community and tribal volunteers in environmental education by providing them with the tools, training, and follow-up support necessary to reach the public in rural isolated areas through a program that will be created, marketed, implemented, and evaluated in Montana.
1993
MT
8
The Nature Conservancy, Pine Butte Preserve -- $3,306
Mary Sexton, HC 58 Box 34B, Choteau, MT 59422
Grizzly Bear Ecology
The purpose of this project is to develop curriculum and field trip opportunities that will focus on the study of grizzly bear ecology followed by the investigation into and comparison of two sub-groups of the grizzly bear population.
1993
NE
7
Educational Service Unit #3 -- $5,000
Patrick T. Geary, 4224 S. 133rd Street, Omaha, NE 68137
Environmental Education Needs
For this project, environmental agency specialists work with educators of kindergarten through 12th grade students to create a vision of environmental education needs. Curriculum and materials will be used by 25 school districts serving nearly 100,000 students in the Omaha area. This is the second year of a three-year Master Plan developed under the 1992-93 project which is funded by EPA.
1993
NE
7
Governor's Council to Keep Nebraska Beautiful -- $7,280
Jane Polson, 605 S. 14th, Suite 411, Lincoln, NE 68508
Train the Trainer
The "Train the Trainer" teacher workshops will be conducted in four locations throughout the state with 48 teachers chosen to attend. The immediate goal of the project is to provide classroom activities for students in grades kindergarten through 6 using an environmental curriculum entitled Waste in Place. The secondary goal is to have the 48 teachers share their knowledge with at least 480 additional classroom teachers through in-service training. This project could, in the end, reach as many as 12,000 to 24,000 additional students.
1993
NE
7
Nebraska Groundwater Foundation -- $5,000
Susan C. Seacrest, P. O. Box 22558, Lincoln, NE 68542-2558
Children's Groundwater Festival Educators Workshop
The Children's Groundwater Festival Educators Workshop demonstrates, promotes, and facilitates the effective use of hands-on groundwater education in the classroom. Workshop objectives include: training 200 Nebraska upper elementary teachers to use hands-on activities to teach about groundwater, distributing 200 copies of the festival's "how-to" manual Making Waves, and motivating 100 teachers to use workshop activities in their classrooms during the 1993-94 school year.
1993
NE
7
Prairie Plains Resource Institute -- $5,000
William S. Whitney, 1307 L. Street, Aurora, NE 68818
Summer Orientation About Rivers (SOAR)
Summer Orientation About Rivers (SOAR), is a two-week day camp for 112 students from grades 3 through 6. The primary purpose of the program is to expose elementary-aged students to watershed concepts, biodiversity, and ecological interrelatedness. Concentration will be on aquatic and terrestrial aspects of the Platte River ecosystem.
1993
NE
7
University of Nebraska -- $5,000
David Keith, Department of Entomology, Lincoln, NE 68583-0816
Pest Management in an Urban Setting
The project involves the development of materials demonstrating how integrated pest management principles can be applied in the urban setting to reduce chemical use in homes, lawns, trees and shrubs and, ultimately, runoff in surface waters. School children will develop an understanding of insects and learn that most insects are in fact harmless or beneficial. Children will learn the benefits and risks of pesticide use and develop an understanding of food production.
1993
NE
7
University of Nebraska -- $5,000
Robert H. Stoddard, 303 Administration Building, Lincoln, NE 68588-0135
Crane Meadows Nature Study Center
This grant funds the creation and publishing of an activity packet of educational materials for the Crane Meadows Nature Study Center to enhance the lessons of classroom teachers who teach about the environmental issues of the Platte River region. The activity packets will contain materials on migratory birds, the geography of the flyway, and the complex human environmental interactions of the region.
1993
NV
9
Washoe Tribe of California and Nevada -- $5,000
Beth Shervey, 919 Highway 395 South, Gardnerville, NV 89410
Willow, Environmental Project
The "Willow, Environmental Project" develops a partnership between the tribe and the school district of Douglas County, Nevada, to present a cross-cultural environmental education curriculum for 4th grade students. The curriculum will not only expose students to a variety of environmental issues, but will also introduce Native American traditions in a scientific context rather than through social science or arts and crafts.
1993
NH
1
New Hampshire Association of Conservation Districts -- $5,000
Dick Obyc, Concord Center, P. O. Box 2042, Concord, NH 03302-2042
New Hampshire ENVIROTHON
The "New Hampshire ENVIROTHON" is a high school educational and competition program designed to increase responsible approaches to environmental issues through a hands-on approach. Twelve teams from ten schools will compete in this, the second, year of the program. State winners will compete in the National ENVIROTHON.
1993
NH
1
New Hampshire Department of Environmental Services -- $5,000
Jody Connor, P. O. Box 95 - 6 Hazen Drive, Concord, NH 03301
Interactive Lake Ecology Program
The "Interactive Lake Ecology Program" is designed for students in grades 5 through 8 to promote environmental consciousness through an understanding of the impacts humans can have on lake ecosystems. The program provides students with the knowledge they need to make informed decisions, especially regarding their activities in and around lakes. The program reaches out to teachers and students in less advantaged school districts that demonstrate the most financial need. Teacher workshops are conducted with the active participation of biologists from the state's environmental division.
1993
NH
1
University of New Hampshire -- $24,995
Barrett Rock, Office of Sponsored Research, 107 Service Building, Durham, NH 03824
A Space Age Approach to Environmental Education
"A Space Age Approach to Environmental Education" is a video-based environmental monitoring curriculum targeted to middle, junior high, and high school teachers across New England. The project will support production of two, thirty-minute broadcast-quality television programs designed to show teachers how to incorporate environmental monitoring research activities into their science curricula.
1993
NJ
2
Bridgeton School District -- $4,875
Douglas Frost, Bridgeton Board of Education, P. O. Box 657, Bridgeton, NJ 08302
Green Plant Program
The "Green Plant Program" will train elementary and high school teachers to use plant identification and field practices to teach environmental principles. High school students will work with elementary school students in plant identification and conduct field work to study the ability of local plants to concentrate heavy metals.
1993
NJ
2
Cape May County Municipal Utilities Authority -- $4,480
Bridget M. O'Connor, P. O. Box 610, Cape May Court House, NJ 08210
Shoe Box Teaching Kit
The "Shoe Box Teaching Kit" project will develop classroom-ready, interesting kits, by and for teachers, for use in environmental education in Cape May County. Each kit will include background information for teachers, lesson plans, and the necessary equipment. County personnel will be involved in teacher training and materials evaluation.
1993
NJ
2
Englewood Public Schools -- $5,000
Richard Segall, 12 Tenafly Road, Englewood, NJ 07631
Outcomes-Based Environmental Curriculum
This "Outcomes-Based Environmental Curriculum" project will result in at least eight interdisciplinary units and a core of teachers prepared to implement them. The units will explore human impact on the environment and develop a strategy to effect change. Summer workshops and follow-up sessions will develop teacher-guided units in elementary, middle, and high schools.
1993
NJ
2
Greater Newark Conservancy -- $5,000
Deborah Hadley, 303-9 Washington Street, Fifth Floor-Room 2, Newark, NJ 07102
Weatherwatch
The "Weatherwatch" project will involve the students in five schools and their 20 teachers in a study of meteorological phenomena and the impact they have on the local environment. The project will also develop an information network with five other New Jersey schools and partnerships with professional meteorologists. "Weatherwatch" will improve the environmental consciousness of Newark's predominantly African-American and Hispanic youth.
1993
NJ
2
Mercer County Soil Conservation District -- $2,182
Craig C. Halbower, 508 Hughes Drive, Hamilton Square, NJ 08690
Envirothon
This project will initiate a statewide Envirothon, a national hands-on, environmental competition for high school students. A reference handbook will be devised to guide preparation in the following areas: soil, forestry, aquatics, wildlife ecology, and environmental issues. The target audience will include New Jersey high school environmental clubs and youth organizations.
1993
NJ
2
South Branch Watershed Association -- $2,750
Winnie Fatton, 45 Emery Avenue, Flemington, NJ 08822
Compiling a Natural Resource Inventory (NRI)
The "Compiling a Natural Resource Inventory (NRI)" and "Student Environmental Exchange (SEE)" projects will complement and expand the elementary science curriculum in this school district. Teachers will be provided with needed assistance in conducting outdoor field studies and maintaining an NRI. The project provides students with an understanding of the watershed and improves communication among schools.
1993
NM
6
Bernalillo, New Mexico -- $5,000
Belinda Casto-Landolt, P. O. Box 640, Bernalillo, NM 87004
Ecology of the Bosque del Apache
The purpose of this project is to develop an environmental education curriculum which will focus on the unique local ecology of the Bosque del Apache, a major flyway for sandhill cranes, snow geese, Canadian geese, and raptors. Students will use an outdoor laboratory to gain understanding of the problem of disappearing bosques.
1993
NM
6
New Mexico Museum of Natural History and Science -- $4,960
Letitia Morris, 1801 Mountain Road NW, Albuquerque, NM 87104-1375
Compost Bins Exhibit
An exhibit of replicable compost bins, including a worm bin, will be designed and installed under this project at the New Mexico Museum of Natural History and Science, which is visited annually by 350,000 tourists. The simple graphics and text will encourage home composting by explaining its benefits and the need to reduce landfill use.
1993
NM
6
Northern New Mexico Community College -- $5,000
Connie Valdez, 1002 N. Ornate Street, Espanola, NM 87532
The Environment: A Summer Workshop for Teachers
"The Environment: A Summer Workshop for Teachers" project will provide five days of intensive training for 30 teachers who work directly with students and parents in the eight Northern Indian Pueblos tribes. Instruction will include hands-on training in the use of monitoring equipment.
1993
NM
6
Pojoaque Pueblo -- $5,000
Rey Ann Nastacio, Route 11, Box 71, Santa Fe, NM 87501
Making Connections
The "Making Connections" project will educate area residents to make decisions and take action to prevent further groundwater contamination in the valleys. Nine workshops are planned for 500 attendees who will organize grassroots committees to plan further environmental education activities.
1993
NM
6
Rio Grande Community Development -- $5,000
Julia A. Stephens, P. O. Box 12791, Albuquerque, NM 87195-2791
Constructed Wetlands/Wildlife Sanctuary Education
The "Constructed Wetlands/Wildlife Sanctuary Education" project will educate the public about using constructed wetlands as an alternative to conventional sewage treatment. Thirty households will participate in a pilot workshop which will be developed as a model for replication in other communities.
1993
NM
6
Sol Y Sombra Foundation -- $23,600
Cheryl Charles, 4018 Old Santa Fe Trail, Santa Fe, NM 87505
Watershed Rehabilitation Leadership and Volunteer Education Program
The "Watershed Rehabilitation Leadership and Volunteer Education Program" will promote ecological restoration projects in watersheds by developing educational materials, promoting informed volunteerism for environmental quality, conducting workshops, and conducting and evaluating actual site projects.
1993
NM
6
Western Network -- $5,000
Rosemary Romero Morris, 616 Don Gasper, Santa Fe, NM 87501
Open-Air Classroom Environmental Project
The "Open-Air Classroom Environmental Project" will develop a model environmental education program for rural northern New Mexico schools. Resources from a variety of state and federal land and resource management agencies will be used. Three parcels of land will be acquired through the Environmental Education Easement program to use in teaching about such topics as soil, vegetation, and wildlife.
1993
NY
2
Audubon Society of New York State, Inc. -- $4,600
Jean T. Mackay, 131 Rarick Road, Selkirk, NY 12158
Audubon Cooperative Sanctuary Program for Schools
The "Audubon Cooperative Sanctuary Program for Schools" project integrates conservation practices, habitat enhancement, and environmental education. Teachers, students, and members of the local community will be involved in projects that create sanctuaries for wildlife on school property. As they examine their schools and lives, students will explore ways to enhance wildlife habitats, conserve natural resources, and act on their decisions.
1993
NY
2
Brooklyn Botanic Garden -- $5,000
Yvonne Presha, 1000 Washington Avenue, Brooklyn, NY 11225
Brooklyn Botanic Garden (BBG)
The Brooklyn Botanic Garden (BBG) project will expand its successful "Project Green Reach" to four under-served high schools with a special emphasis on attracting minority and female students to careers in the environment. The project will involve 200 students and eight teachers featuring teacher training, classroom instruction, a workshop, and a tour at BBG and greening projects in the students' communities.
1993
NY
2
Brooklyn Center for the Urban Environment -- $18,400
John C. Muir, The Tennis House, Prospect Park, Brooklyn, NY 11215-9992
Environmental Education Teacher Training and Class Field Study Subsidy Program
The "Environmental Education Teacher Training and Class Field Study Subsidy Program" will bring together young children, their teachers, and parents as they explore and enjoy water in the urban environment. Teacher and parent workshops, Environmental Family Days in Prospect Park, and a field study program for early childhood classes expect to reach more than 3,000 participants.
1993
NY
2
Central Park Conservancy -- $5,000
Cheryl Best, The Arsenal, 830 5th Avenue, New York, NY 10021
City Naturalists: An Environmental Studies Program for Early Childhood Teachers
The "City Naturalists: An Environmental Studies Program for Early Childhood Teachers" provides preschool through 3rd grade educators with training in science, natural systems, and the environment. Utilization of city parks as environmental science resources will be an integral part of this project which seeks to reinforce the natural curiosity of children with appropriate environmental studies.
1993
NY
2
Citizens Committee for New York City, Inc. -- $130,000 (HQ Grant)
Michael Clark, 3 West 29th Street, New York, NY 10001
Neighborhood Environmental Leadership Institute
The "Neighborhood Environmental Leadership Institute" project will train more than 450 neighborhood leaders from low-income minority neighborhoods throughout New York City to reduce exposure to water and air pollution, lead poisoning, and hazardous wastes. The program includes leadership and environmental workshops for community leaders and the development and distribution of organizing kits for neighborhood groups. It develops a partnership with the City University of New York and the Urban Fellows Program.
1993
NY
2
City of New York Department of Parks and Recreation -- $5,000
Alexander R. Brash, 1234 Fifth Avenue, Room 114, New York, NY 10029
Parklands Partnership
The Parklands Partnership is a forest project in an urban environment. Young people and their teachers learn how to care for the forests in their local parklands. This grant will provide for development of a teacher guide to provide additional activities and support teachers who wish to remain involved in restoration projects.
1993
NY
2
Columbia-Greene Community College -- $5,000
Ronald S. Payson, Box 1000, Hudson, NY 12534-0327
Habitats of the Hudson River
This project will involve a wide audience in on-site work at local habitats and the Hudson River. Teachers, students, and the general public in these two rural counties will participate in a number of educational field experiences to develop an awareness of ecosystem management and the interconnected nature of the estuarine environment.
1993
NY
2
Community School District 4 -- $5,000
Camille Aromando, 319 East 117 Street, New York, NY 10035
Early Childhood Environmental Studies Curriculum Design and Development
The "Early Childhood Environmental Studies Curriculum Design and Development" project will be undertaken by this school district located in East Harlem. The project will develop an early childhood curriculum framework taking full advantage of nearby Central Park as a classroom and laboratory. Students will acquire knowledge of the effects of human choices as they relate to the environment.
1993
NY
2
Cortland Enlarged School District -- $12,450
Per Omland, One Valley View Drive, Cortland, NY 13045-3297
Outdoor Environmental Education Classroom
Educational materials will be developed for an Outdoor Environmental Education Classroom. Project coordination, curriculum development, provision of supplies and equipment, and development of a teacher's manual will enable this rural county to provide its young people with a reality-based center of study. Project implementation includes field activity in a community with concerns related to its water supply.
1993
NY
2
Friends of the Buffalo River, Inc. -- $5,000
Margaret Wooster, 84 Vandalia Street, Buffalo, NY 14204
Watershed Learning Project
The "Watershed Learning Project" will involve students in the U.S. and Canada in a study of the Buffalo-Niagara River Watershed. Building on an earlier project developed by the Friends of the Buffalo River, this project expands on the pilot to encompass this larger bioregional study. Project materials will be distributed to more than 40 school districts within the study area.
1993
NY
2
Henry Street Settlement -- $5,000
Christine Koenig, 265 Henry Street, New York, NY 10002
The Greening Challenge: Youth For Ecology
This grant funds "The Greening Challenge: Youth For Ecology" project, which is a summer education and employment program for young people from low-income families living in Manhattan's Lower East Side. Local environmental groups will be involved in educating area youth and preparing them for careers in the environment. Combining work experience and education, this project facilitates Henry Street Settlement's partnership with the New York City Department of Employment.
1993
NY
2
Hunters Point Community Development Corp. -- $5,000
Thomas V. Sobczak, 47-43 Vernon Blvd., Long Island City, NY 11101
Community Recycling Project
Through the "Community Recycling Project" young people will develop and manage a recycling project involving the employees of local businesses. Participants will develop an improved understanding of waste management techniques. The project encourages environmental awareness, business management, communication skills, and respect for members of the local community.
1993
NY
2
Keuka Lake Foundation, Inc. -- $5,000
Peter Landre, P. O. Box 415, Hammondsport, NY 14840-0415
Keuka Lake Adopt-a-Stream Program
The "Keuka Lake Adopt-a-Stream Program" will develop an educational program in which local citizens participate in stream stewardship activities on a continuing basis. This project includes development of a three-phase stream adoption process, training educators for outreach programs, a program demonstration on a highly visible stream, and the recruitment of volunteer stream stewards.
1993
NY
2
Madison County Soil and Water District -- $1,000
Michael Johnston, P. O. Box 189, Morrisville, NY 13408
Community Water Resource Education Program
The "Community Water Resource Education Program" will increase understanding of water quality and nonpoint source issues and encourage public stewardship of water resources through a student water resource education program. The teachers of Madison County will participate in work sessions to select appropriate materials which will accomplish these goals.
1993
NY
2
New Paltz Central School District -- $4,946
Debora Banner, 196 Main Street, New Paltz, NY 12561
School Grounds Water Study Project
The New Paltz Central School District, in partnership with the Mohonk Preserve, will design the "School Grounds Water Study Project". Primarily targeting teachers in grades 5 and 6, workshops will enable teachers to build on field trips to the Mohonk preserve. Students will conduct field studies at wetlands and ponds on their school grounds.
1993
NY
2
Oneida Indian Nation of New York -- $9,935
Jane Booher, 101 Canal Street, Canastota, NY 13032
Curriculum Development and Demonstration Project on Native American Environmental Ethics
The "Curriculum Development and Demonstration Project on Native American Environmental Ethics" will use traditional Native American stories and legends to teach elementary school children about the web of life and how humans can live in harmony with and have respect for other species on this planet. Students in grades 4 through 6 are the target audience in three school districts.
1993
NY
2
Port Washington Union Free School District -- $3,636
William B. Heebink, 100 Camous Drive, Port Washington, NY 11050
Citizen's Impact on Long Island Sound
Families of all 2nd through 5th graders in the Port Washington School District will participate in family learning sessions emphasizing the citizens' impact on Long Island Sound. Parents and students will learn about the effects their recreational, gardening, and personal habits have on the Sound and discover ways to change them with the Sound's ecology in mind.
1993
NY
2
Red Hook Central School District -- $5,000
Michelle Hughes or Sharon Mascaro, Mill Road, Red Hook, NY 12571
Water!
The "Water!" project will integrate the study of water into literature, writing, and mathematics in this small, rural school district on the Hudson River. Students will learn about river and estuary issues from local groups. School science curricula will enhance the project with a study of water as a chemical substance, habitat, and resource.
1993
NY
2
Research Foundation of the State University of New York -- $4,773
Ray W. Spear & Robert D. Simon, P. O. Box 9, Albany, NY 12202
Training Environmental Educators Project
The "Training Environmental Educators Project" will develop the environmental teaching skills of secondary education biology majors at SUNY-Geneseo. The students will share problem solving exercises on environmental issues with regional high school teachers. This work will be the foundation for a regional environmental education workshop. (Dept. of Biology, SUNY-Geneseo, Geneseo, NY 14454).
1993
NY
2
Saratoga-Warren BOCES (Board of Cooperative Educational Services) -- $4,600
John Rizio, 112 Spring Street, Saratoga Springs, NY 12866
Teacher Training Program in Outcomes-Based Environmental Curricula
The "Teacher Training Program in Outcomes-Based Environmental Curricula" will provide teacher training for 30 educators in an interdisciplinary, environmental curriculum that promotes reverence and stewardship for the earth. Teacher workshops will focus on the curriculum and its implementation. Participating teachers will then act as trainers for other teachers in the district.
1993
NY
2
Starflower Experiences, Inc. -- $4,630
Laurie Farber, 79 Martin Court, Jericho, NY 11753
Here Comes the Water Patrol
An educational experience, "Here Comes the Water Patrol", will incorporate puppets, costumes, rhyme, and rap music with creative dramatics and humor to teach important lessons about water. Information about the water cycle, Long Island's sole-source aquifer, water conservation, and aquifer protection will be taught in an educational experience designed for 3rd and 4th graders.
1993
NY
2
Theodore Roosevelt Sanctuary, Inc. -- $5,000
Mary E. Richard, 134 Cove Road, Oyster Bay, NY 11771
Groundwater and Solid Waste Curriculum
This project maximizes field trip and accompanying activities in the classroom to teach environmental education. Ten workshops will familiarize educators with the sanctuary and its educational activities. Three thousand curriculum guides will be produced which will, using the sanctuary as a resource, teach about groundwater and solid waste issues.
1993
NC
4
Bessemer City Junior High School -- $10,000
Jerry J. Bostic, P. O. Box 624, South Skyland Drive, Bessemer City, NC 28016
Weaving Our Way To a Better Future
The purpose of the "Weaving Our Way To a Better Future" project is to develop an outdoor classroom for use in teaching inter-departmental curriculum which will include hands-on environmental content. Teaching stations will emphasize the efficient use of natural resources and protection of environmental quality. The project is designed to involve parents and the community in the learning cycle.
1993
NC
4
Fred A. Anderson Elementary School -- $2,960
Nancy Jones Piner, P. O. Box 264, Bayboro, NC 28571
Good News for the Neuse
This project, entitled "Good News for the Neuse," involves 25 academically gifted 4th graders, who will develop awareness of the estuarine system and examine present and possible future ecological problems related to the Neuse River. Students will share local environmental concerns with other students, regionally and globally, using the AT&T Learning Network and an environmental youth summit.
1993
NC
4
Long Branch Environmental Education Center, Inc. -- $5,000
Paul B. Gallimore, Route 2, Box 132, Leicester, NC 28748
Composting and Organic Gardening
This outdoor science project will teach grade school and high school students in seven western North Carolina counties resource conservation through composting and organic gardening. The project will emphasize participation with an integrated curriculum approach.
1993
NC
4
North Carolina Science and Mathematics Alliance, Inc. -- $5,000
Robert P. Cullen, 410 Oberlin Road, Suite 306, Raleigh, NC 27605
Environmental Laboratory
This grants funds an elementary school program that will integrate science into the school's overall education program by focusing on the environment and developing an open, hands-on, environmental laboratory at the school's site for use in the program.
1993
NC
4
North Carolina State University, Department of Mathematics and Science Education -- $24,802
Dr. Harriet S. Stubbs, Sci-Link, 1509 Varsity Drive, Raleigh, NC 27606
SCI-LINK Goes to Camp Wannagoma
"SCI-LINK Goes to Camp Wannagoma" will develop and test a model program for teaching kindergarten through 5th graders about the impact of nonpoint source pollution in estuarine environments. The project will include a summer training workshop for teachers and a summer camp for children in kindergarten through 5th grade.
1993
ND
8
North Dakota Forest Service -- $10,150
Glenda Fauske, First and Brander, Bottineau, ND 58318
Project Learning Tree, Info & Education
This program will implement the revised Project Learning Tree (PLT) curriculum guides and modules in North Dakota to provide teaching aids through a group of volunteer facilitators comprised of teachers and local and state government employees.
1993
ND
8
Willing Kids Recycle Project, Inc. -- $5,000
WKRP, P. O. Box 02, Washburn, ND 58577-0002
Willing Kids Recycle Project
The purpose of the WKRP project is to conduct training seminars on implementing rural recycling programs and source reduction to tribal community leaders and youth.
1993
OH
5
Marietta College -- $4,000
Dorothy J. Erb, Marietta, OH 45750
Women in the Sciences
The purpose of this project is to enhance Marietta College's Academic Alliances for Environmental Education network. The network consists of public school teachers, college science faculty, and specialists from local industry. Participating 5th through 8th grade teachers will field test lesson plans under the mentorship of college science faculty and environmental industry specialists. Students seeking certification to teach science will also work with the teachers during the field testing.
1993
OH
5
Northeast Ohio Greens -- $4,500
Alanna Meyers, 1328 West 59th Street, Cleveland, OH 44102
Growing Together Organically
The "Growing Together Organically" project uses local garden sites to teach organic gardening and composting methods to elementary students in low-income areas, homeless women and children, and runaway adolescents in the Cleveland area. This project will build on an environmental education grant that the organization was awarded by EPA in 1992.
1993
OH
5
University of Findlay -- $4,870
Natalie Abell, Division of Teacher Education, 1000 N. Main Street, Findlay, OH 45840
Pest Management Alternatives
This grant funds a project to conduct pre-service teacher training seminars to graduate-level elementary and middle school teachers on integrated pest-management alternatives. Teachers will expose more than 900 students to the strategies and data they learned at the workshop. Students will apply their knowledge beyond the classroom to farm settings.
1993
OH
5
Wooster City Schools -- $4,280
Kevin Hennis, 144 N. Market Street, Wooster, OH 44691
Stream Monitoring Program
This project will allow high school math and science students to engage in a stream monitoring program. Students will collect and statistically analyze data on the biological, chemical, and physical factors of a stream that flows through Wooster.
1993
OH
5
WSOS Community Action Commission, Inc. -- $5,000
Julie Ward, P. O. Box 590, 109 S. Front Street, Fremont, OH 43420
Health Hazards of Indoor Air Pollution
The purpose of this project is to educate more than 4,000 economically-disadvantaged senior citizens about the health hazards of indoor air pollution. Problem-solving modules will be developed that emphasize pollution prevention and energy conservation. Once piloted, WSOS will disseminate materials through a network that reaches 153 grassroots organizations in the states surrounding the Great Lakes.
1993
OK
6
Oklahoma Department of Transportation -- $5,000
Joann Orr, 200 NE 21st, Oklahoma City, OK 73105
Don't Lay That Trash on Oklahoma
"Don't Lay That Trash on Oklahoma" is the slogan for a statewide poster contest, which is part of this project to teach solid waste awareness. More than 15,000 school children, teachers, and adults are expected to participate, and -- $2,000 will be awarded in cash. The first prize poster will be developed into a poster for state schools.
1993
OK
6
Oklahoma Department of Wildlife Conservation -- $3,500
Lisa Anderson, 1801 N. Lincoln, Oklahoma City, OK 73105
Oklahoma Natural Resource Trunk Program
The purpose of this project is to develop workshops to train teachers how to use the Tree Trunks available through the Oklahoma Natural Resource Trunk Program. The trunks, used by teachers statewide, contain educational materials such as videos, posters, curriculum guides, and other hands-on materials and guides for environmental education activities.
1993
OK
6
Oklahoma State University -- $5,000
Donald French, Department of Zoology, Stillwater, OK 74078
Wetlands Laboratory
The purpose of this project is to enhance learning at a hands-on wetlands laboratory. Computer-based video presentation stations will be developed to supplement the existing material.
1993
OK
6
Oklahoma State University -- $5,000
Tim O'Hara, 139 Agriculture Hall, Stillwater, OK 74078
Computer Quiz Program on Forests
The result of this project will be a refined computer quiz program about the forest environment which is planned to be introduced into the Oklahoma school system in grades 3 through 6 during the next year. A user's manual and a quiz on recycling will be developed.
1993
OK
6
Oklahoma Tourism and Recreation Department -- $5,000
Tom Creider, 500 Will Rogers Building, Oklahoma City, OK 73105
Water Pollution Problems in Oklahoma
This grant funds a project to develop videotapes and materials to heighten the public's awareness of Oklahoma's water pollution problems. The result will be a public which is better informed on conservation practices in their homes and at state parks.
1993
OK
6
Redlands Community College -- $5,000
David Dawkins, 1300 South Country Club Road, El Reno, OK 73036
Environmental and Ecological Education
Through this grant, an annual program will be developed to teach educators and other citizens how to promote environmental and ecological education and how to initiate their own community programs
1993
OK
6
University of Oklahoma -- $5,000
Mark Meo, Office of Research Administration, 1000 Asp Avenue, Room 314, Norman, OK 73019
Management for Total Environmental Quality
This project is a joint effort between the colleges of Engineering and Business at the University of Oklahoma to produce curriculum for teaching "Management for Total Environmental Quality.
1993
OR
10
City of Salem -- $4,998
Tina Schweickert, Public Works Department, 555 Liberty Street, SE, Room 325, Salem, OR 97301
Adopt-a-Stream
The Adopt-a-Stream Project provides teacher training and coordination for student monitoring and assessment of local streams. Six teachers and students from elementary to high school will participate in adopting a section of a local stream and will record information. A Salem Youth Watershed Summit will be held for students to report on their projects and share information.
1993
OR
10
Columbia Basin Institute -- $22,000
William H. Bean, P. O. Box 3795, Portland, OR 97208
Hispanic Environmental Education Demonstration
This grant funds an Hispanic environmental education demonstration and publications to educate the Spanish-speaking residents regarding environmental issues in the Columbia Basin area. Four informational and motivational presentations and a question and answer meeting with regulatory agencies will be held to discuss Hispanic environmental concerns. A bilingual manual also will be written. The project is located in Washington.
1993
OR
10
Columbia River Estuary Study Task Force (CREST) -- $5,000
Carol Rushmore, 750 Commercial Street, Room 214, Astoria, OR 97103
Columbia River Estuary Natural Resource ArcView Educational Pilot
The "Columbia River Estuary Natural Resource ArcView Educational Pilot" project provides GIS end-user training to teachers in Seaside, Oregon's Coastal Studies and Technology Center designed for 9th through 12th grade students. The project will assist those teachers to develop GIS curriculum for students using the natural resource GIS database of the Columbia River Estuary, which was developed by CREST.
1993
OR
10
Northwest Film and Video Center -- $5,000
David S. Mayne, 1219 S.W. Park Avenue, Portland, OR 97205
Paths to a Sustainable World Project
The purpose of the "Paths to a Sustainable World Project" is to develop a five-part documentary film series that demonstrates new methods and technologies that preserve the environment. The project will provide a communications link between various groups pursuing environmentally sustainable projects and can also be used in the high school and college level classrooms. The film will be designed for both broadcast and Multimedia applications.
1993
OR
10
Oregon 4-H Foundation -- $5,000
Virginia Thompson, 5390 4-H Road NW, Salem, OR 97304
Wetland Wonders
The implementation of a "Wetland Wonders" study program in Oregon for 30 to 50 elementary school teachers is the goal of this project. This grant will provide program components with equipment and supplies for classroom activities and printing costs for the curriculum and program leader's manual.
1993
OR
10
The Wetlands Conservancy -- $21,449
Anthony Laska, P. O. Box 1195, Tualatin, OR 97062
The Oregon Wetlands Stewardship Program
The Oregon Wetlands Stewardship Program will enable citizens, through The Wetlands Conservancy's Site Evaluation Program and Wetlands Watch Program, to distinguish types of impacts in wetlands they are monitoring. A Wetlands Permits Primer for training will be developed.
1993
PA
3
Cobbs Creek Community Environmental Education Center -- $4,958
Valerie L. Minor, 835 S. 59th Street, Philadelphia, PA 19143
The Environmental Scholars Program
The summer session of "The Environmental Scholars Program" is a community-based project that will introduce minority students to career opportunities through a stream study and its surrounding community. The project also will allow the opportunity for older students of a High School Academy Program to mentor younger students.
1993
PA
3
Easton Area School District -- $5,000
Bernard T. Matus, Easton Area High School, 811 Northampton Street, Easton, PA 18042
Groundwater Database
This project allows for the coordination of a public-private partnership that will result in the development of a database for high school students to use on groundwater issues in the Lehigh Valley.
1993
PA
3
Glinodo Conference Center -- $10,000
Patricia Lupo, OSB, 6270 E. Lake Road, Erie, PA 16511
Lake Erie - Great Lakes
The Lake Erie - Great Lakes project will train teachers to educate students in kindergarten through 12th grade about the Great Lakes and their key environmental issues. Erie County residents will be educated through a cooperative effort for Earth Day '94.
1993
PA
3
Group For Recycling in Pennsylvania -- $5,000
Julie Murphy, P. O. Box 4806, Pittsburgh, PA 15206
Senior Citizen Environmental Education Program
This project involves the development of a one-hour environmental education program designed to teach senior citizens methods of identifying and disposing of household products that become hazardous waste in the home. The program will be incorporated into regularly scheduled training for local senior centers and their staff.
1993
PA
3
Litter Control & Beautification Program of Monroe County -- $4,900
Patricia K. Eveland, Monroe County Courthouse, Stroudsburg, PA 18360
Pollution Prevention
This grantee will team with East Stroudsburg University to train teachers to educate pre-school through 6th grade children about pollution and its impact on the environment. Pollution prevention will be a highlight of the program.
1993
PA
3
Sierra Club - Allegheny Group -- $5,000
Donald L. Gibbon, 205 Elysan, Pittsburgh, PA 15229
Greenprint for Allegheny County
This project seeks to create a grassroots base of influential citizens in the Pittsburgh area through a high-level program of public education in conservation and biodiversity. This group will help implement the "Greenprint for Allegheny County," which includes the development of a regional biodiversity center.
1993
PA
3
The Schuylkill Center for Environmental Education -- $24,900
Nancy E. Christie, 8480 Hagy's Mill Road, Philadelphia, PA 19128-1998
Regional Environmental Education Program (REEP)
Seventy-three teachers of kindergarten through 12th grade will participate in the third-year of the "Regional Environmental Education Program" (REEP) curriculum and evaluation study, which will culminate in national publication.
1993
PA
3
Widener University, School of Management -- $4,996
Mary L. Williams, University Place, Chester, PA 19013
Environmental Management Curriculum
This grant funds the development of an environmental management curriculum designed for faculty to offer new courses to graduates and undergraduates, focusing on economics and environment.
1993
PR
2
Inter American University of Puerto Rico (IAUPR) -- $20,185
Eddie N. Laboy, P. O. Box 363255, San Juan, PR 00932-3255
Inter American University of Puerto Rico Environmental Education Workshop
The Inter American University of Puerto Rico will develop an environmental education workshop for elementary and junior high school teachers from southeastern Puerto Rico to strengthen their teaching methodology. Forty-five science teachers will be involved in a program to enhance their teaching skills and develop interpretive materials and a teacher's guide about the estuarine environment. Hands-on experience and critical thinking activities will be incorporated into the program.
1993
Palau
9
Republic of Palau -- $4,998
Kloulbak Philip, Environmental Quality Protection Board, P. O. Box 100, Koror, Palau 96940
Living Green in Palau
The result of the "Living Green in Palau" project will be to distribute a handbook of environmental lessons and activities for students in grades 7 and 8. Instructors will use the handbook, published in both English and the Palauan languages, at the intermediate school level and also for adult education evening classes.
1993
RI
1
Audubon Society of Rhode Island -- $5,000
Eugenia Marks, 12 Sanderson Road, Smithfield, RI 02917
Bay Animals Like It Clean and Salty
The "Bay Animals Like It Clean and Salty" project provides a curriculum and kit about the effects of pollution on Narraganset Bay. The target audience, students in grades 7 and 8 and their teachers, will learn about watershed pollution and its impact on the ecosystem of receiving waters of this and other estuaries.
1993
RI
1
Rhode Island Department of Environmental Management -- $14,525
Elizabeth Scott, 291 Promenade Street, Providence, RI 02908
Water for Today and Tomorrow
The "Water for Today and Tomorrow" project involves the dissemination of a water conservation curriculum, teacher training, and video production of an original musical puppet show entitled "Saven R. Drinkwater Speaks." The program teaches primary grade children the basics of what water is, where it comes from, how it is used, where it goes, and how dirty or polluted water becomes reusable.
1993
RI
1
Rhode Island Zoological Society -- $4,940
Anne Savage, Roger Williams Park Zoo, 1000 Elmwood Avenue, Providence, RI 02907
An International Perspective on Water Conservation
The project entitled "An International Perspective on Water Conservation" includes monitoring ecosystems in Rhode Island and Colombia. The project involves training teachers in both countries in water quality monitoring techniques and exchanging data on selected local sites between schools. Through this program, students from similar socioeconomic backgrounds not only address local environmental issues, but also explore global water conservation issues.
1993
RI
1
University of Rhode Island, Graduate School of Oceanography -- $140,447 (HQ Grant)
Lynne Carter Hanson, Narragansett Bay Campus, Narragansett, RI 02882
Middle School Teacher Institute on Global Change and Health Issues
The "Middle School Teacher Institute on Global Change and Health Issues" project is intended to train middle school teachers, through workshops and curriculum development in science, mathematics, and social studies to supplement current state mandated health curricula for grades 5 through 8. The project develops partnerships with the Audubon Society of Rhode Island, the Roger Williams Park Zoo, and the State of Rhode Island Department of Elementary and Secondary Education.
1993
RI
1
University of Rhode Island -- $4,979
Ernest Morreira, Research Office, 70 Lower College Road, Kingston, RI 02881
Classroom Worm Composting Demonstration
The "Classroom Worm Composting Demonstration" project provides teachers with a curriculum, materials, equipment, and training and support in the curriculum's use. The project enables the teachers to educate 4th through 9th graders in municipal solid waste. The worm, as a "natural waste manager," is the focus for teaching the concepts and practices of environmental risk reduction of solid waste.
1993
SC
4
Consolidated School District of Aiken County -- $4,200
Karey M. Santos, 843 Edgefield Avenue, NW, P. O. Box 1137, Aiken, SC 29802-1137
Wild and Wonderful Wetland
The "Wild and Wonderful Wetland" program at the Millbrook Elementary School will enable elementary school students to study environmental issues through laboratory work, field experiences, research projects, and observations.
1993
SC
4
South Carolina Dept. of Health & Environmental Control -- $5,000
Richard L. Chesley, 2600 Bull Street, Columbia, SC 29201
Solid Waste and Recycling Curriculum
For this project, teachers will review, edit, and make final recommendations about the state's solid waste and recycling curriculum for grades 9 through 12. The curriculum affects 171,000 students in more than 200 schools. Teachers will also help train other teachers on how to use and promote the curriculum statewide.
1993
SD
8
Capital University Center -- $1,500
809 East Dakota, Pierre, SD 57501-3312
Project SAVE Education
These grant funds will be used to help finalize the production of a board game, the CAN MAN. This game was developed to work in conjunction with a hands-on environmental education program on waste reduction, reuse and recycling, and to work as a bridge to other environmental issues and concerns.
1993
SD
8
Sinte Gleska University -- $4,130
Georgia Hackett, Tribal College/University, P. O. Box 490, Rosebud, SD 57570
Workshops for the Rosebud Sioux Reservation
The Sinte Gleska University proposes to sponsor two environmental workshops designed for the Rosebud Sioux Reservation targeting the general public, tribal and agency officials, tribal council representatives, community chairpersons, and all those who have some impact on tribal and local policy decisions. The objective of the project is to encourage participants to network and develop partnerships to implement a reservation-wide environmental management plan and monitoring effort.
1993
TN
4
Chattanooga's Kids on the Block -- $5,000
Robbye Lewis, 865 East 3rd Street, Chattanooga, TN 37403
Project Take Action
"Project Take Action" involves twenty puppet performances, which will be presented in Hamilton County and Chattanooga to increase elementary school-aged children's environmental knowledge, especially of solid waste problems and solutions. The project also aims to have those children develop and complete projects related to environmental education.
1993
TN
4
Sevier County 4-H Club -- $4,500
Glenn K. Turner, 125 Court Avenue, Room 102, Sevierville, TN 37862
Water-A Resource for Life to Sevier County
This grant funds the "Water-A Resource for Life to Sevier County" environmental education program, which will educate youth and the community about water quality and conservation. Methods used for the project will include demonstrations, videos, educational packets, tours of water treatment plants, a speech contest, a poster contest, an essay contest, a well-testing day, and a stream monitoring program.
1993
TN
4
Vanderbilt University Medical Center -- $5,000
Barbara Clinton, P. O. Box 567 Station 17, Nashville, TN 37232
Service Training for Environmental Progress
The "Service Training for Environmental Progress" program trains graduate and undergraduate students to provide technical assistance through environmental education to low income community groups confronting environmental health threats in the southeast. The program also aims to enhance classroom instruction of students interested in environmental careers.
1993
TX
6
Austin Independent School District -- $5,000
Claudia Tousek, 1111 W. 6th Street, Austin, TX 78703-5399
Building Pests Out
The goal of the "Building Pests Out" project is to eliminate pesticide spraying at schools by using a multi-disciplinary approach to environmental education. The plan includes environmental education activities, campus landscaping, development of an outdoor learning center, and shaping a model for introducing the program to other schools.
1993
TX
6
Galveston Bay Foundation, Inc. -- $5,000
Linda R. Shead, 17324-a Highway 3, Webster, TX 77598
Marsh Grass Outdoor Education Project
The "Marsh Grass Outdoor Education Project" focuses on the major problems of habitat degradation and loss in the Galveston Bay system. Participants in the project will develop and test a curriculum for a hands-on outdoor education program. Specific activities will include smooth cordgrass plantings and scientific measurements.
1993
TX
6
Keep Austin Beautiful -- $12,785
Robin Loving, 206 East 9th Street, Austin, TX 78701
The Green Classroom
In "The Green Classroom" senior citizens will team with young school children to gain knowledge about the environment and share in the decision-making process. The focus for learning will include organic gardening, landscaping, water and energy conservation, and waste reduction.
1993
TX
6
Kountze Independent School District -- $4,992
Jennifer Robbins, P. O. Box 460, Kountze, TX 77625
Big Thicket Environmental Curriculum Guide
Under this project, the existing Big Thicket Environmental Curriculum Guide will be revised for secondary school students and tested in a summer camp. Materials will be disseminated through publications, teacher in-service training, and a traveling exhibit of student work and student art.
1993
TX
6
Nolan Catholic High School -- $4,366
Joseph F. Kuban, 4501 Bridge Street, Fort Worth, TX 76103
Water Quality of Lake Arlington
This project will be a two-year water quality analysis of Lake Arlington which provides water for the city of Arlington, Texas and surrounding communities. Students and teachers will gain a better understanding of the Lake Arlington system while learning water sampling techniques and data analysis.
1993
TX
6
Prude Ranch Environmental Educational Center -- $5,000
John Robert Prude, P. O. Box 1431, Fort Davis, TX 79734
Prude Ranch Environmental Education Center
The Prude Ranch Environmental Education Center, in conjunction with Sol Ross University, will conduct two three-week training sessions for 4th through 8th grade teachers in the West Texas Permian Basin education planning region. Participants will earn college accreditation through classroom instruction, field trips, hands-on learning, and by writing a term paper.
1993
TX
6
Sam Houston State University -- $5,000
Joel Bass, P. O. Box 2119, Huntsville, TX 77341
Workshop for Impacts of Energy Choices
For this project and in cooperation with Gulf State Utilities, the university will conduct a three-week teacher workshop focusing on the impact of energy choices on the environment. The 22 science and social studies teachers for kindergarten through 12th grade will visit sites which illustrate the potential environmental impact of energy production and usage.
1993
TX
6
Sierra Club Foundation -- $5,000
7070 Skillman, #1065, Dallas, TX 75231
Inner City Outings
The "Inner City Outings" program provides outdoor experiences like hiking, camping, and canoeing to economically disadvantaged youth, mentally handicapped individuals, and senior citizens. Activities include educating participants on the inter-relationships of all living things and the need to protect and preserve the environment for future generations.
1993
TX
6
Texas Tech University -- $5,000
Cynthia McKinney, 203 Holden Hall, Lubbock, TX 79409-1035
Xeriscaping
This project will provide a facility for teaching the principles of xeriscaping to educators, students, nursery professionals, and the general public. A demonstration xeriscape will be designed as a model to other universities and municipalities that want to implement water saving programs.
1993
TX
6
Texas Water Commission -- $4,530
John Janak, P. O. Box 13087, Capitol Station, Austin, TX 78711
Environmental Education and Magic
For this project, a professional magician will develop a standardized presentation for use by district staff of the Texas Water Commission on visits to community schools. Key environmental topics to be covered will include water conservation, solid waste issues, and managing automotive wastes. Magical illusions will visually reinforce the concepts presented.
1993
TX
6
The Nature Conservancy of Texas -- $5,000
James Bergan, P. O. Box 163, Collegeport, TX 77428-0163
Mad Island Marsh Conservation Education Program
The "Mad Island Marsh Conservation Education Program" will be designed to educate the public and environmental educators. Marine and wetland ecology, wetland restoration, wildlife and marine biology, water quality, and coastal prairie ecology will be explored in the preserve's living laboratory.
1993
UT
8
Hawthorne Elementary School/KOPE -- $5,000
Sheri Lyn Sohm, KOPE (Kids Organized to Protect our Environment), 1675 South 6th East, Salt Lake City, UT 84105
Outdoor Classrooms: Organization and Curriculum Guide
The expected results of this program are the production of a teacher's guide, Outdoor Classrooms: Organization and Curriculum Guide; networking and in-service support for teachers interested in outdoor classroom education; and planning and implementing a model outdoor classroom site.
1993
UT
8
Snow College -- $4,962
Katie Jean Larsen or Kerry Hansen, Great Basin Environmental Education Center, 150 College Avenue, Ephraim, UT 84627
Environmental Education for Inter-Mountain Region
The primary purpose of this project is to stimulate environmental education for a large inter-mountain region by designing and disseminating practices, methods, and techniques into proposed and existing courses through the training of faculty in a specific geographical region.
1993
UT
8
The Summit Land Conservation Association -- $5,000
Wendy E. Fisher, Environmental Education Curriculum, P. O. Box 680921, Park City, UT 84068
Land Stewardship Curriculum
This program will produce a localized land stewardship curriculum sensitive to the value of a diverse and rural community. The program will use existing ideas and programs, and will integrate the conservation and open space ethic of the Summit Land Trust with the Forest Service philosophy of a shared citizen and government responsibility for public land stewardship.
1993
UT
8
UCC WHALE Center -- $25,000
David W. Randle, 9844 Glendover Way, Sandy, UT 84092
Eco Action
The purpose of the Eco Action Project is to facilitate the educational development and motivation for action among diverse age and interest groups by creating a climate of respect and caring. The project also will enhance leadership skills and provide tools to inspire a sense of common purpose and responsible action among individuals representing a variety of ages, social, cultural, and business concerns.
1993
VT
1
Vermont Land Trust, Inc. -- $4,725
Preston Bristow, 8 Bailey Avenue, Montpelier, VT 05602
Monitor Training Curriculum and Handbook
The "Monitor Training Curriculum and Handbook" project involves the development of a training program for monitors of conservation easements held on 280 privately-owned properties in the state. Monitors will include community volunteers, local land trust organizations, town conservation commissions, and student interns. Broadening the monitoring effort to keep up with a growing number of properties requires formal training.
1993
VT
1
Vermont Public Interest Research Group -- $4,050
Michael A. Veitch, P. O. Box 721, Bellows Falls, VT 05101
Missing Links: A Community Outreach, Education and Training Program
"Missing Links: A Community Outreach, Education and Training Program" closes the gap between the citizen's desire to implement sound waste reduction and recycling, and their level of knowledge and ability to accomplish those goals. The Vermont Public Interest Research Group (VPIRG) will help form working groups in the schools and communities of southern Vermont. Once organized, VPIRG will provide ongoing technical support and follow-up contact with the groups' leaders.
1993
VA
3
Center for Watershed Protection, Inc. -- $5,000
Harvey Olem, 1020 Elden Street, Suite 205, Herndon, VA 20170
Water Monitoring Program
This grant funds the development of a water monitoring program for middle and high school students to stimulate involvement in protection of water resources. Through this program, students will decide what streams to monitor.
1993
VA
3
Loudoun Soil and Water Conservation District -- $3,540
Patricia J. McIlvain, 30H Catoctin Circle, S.E., Leesburg, VA 20175
Living Aquatic Exhibit
This grant will fund the construction of a living aquatic exhibit for elementary students and the public to increase understanding of water quality issues and encourage protection of natural resources.
1993
VA
3
Shenandoah Natural History Association -- $4,900
Greta Miller, Route 4 - Box 348, Luray, VA 22835
Workshop Addressing Key Environmental Issues
This project includes workshops for teachers in eleven school districts near the Shenandoah National Park. The workshops will stress a hands-on approach to six key environmental issues, which will then be incorporated into classroom instructions.
1993
VA
3
The River Foundation -- $4,950
Virginia P. Webb, Environmental Education Center of Virginia, 101 S. Jefferson Street, Roanoke, VA 24011
Student Environmental Network
The "Student Environmental Network" will result in communication by students using computers concerning how to start an environmental club at the high school level, what projects have been tried by existing schools, and determining what works best. Training sessions and a conference will be held.
1993
VA
3
Virginia Institute of Marine Science of the College of William & Mary -- $5,000
Frances Lee Lawrence, Gloucester Point, VA 23062
Virginia's Public Education Network (VAPEN)
For this project, small group assistance will be provided to all teachers for grades kindergarten through 12 in Virginia schools, enabling them to access environmental education teaching materials and news items by computer on Virginia's Public Education Network (VAPEN).
1993
VA
3
Virginia Polytechnic Institute and State University -- $5,000
Mike Ellerbrock and Sandra Batie, Center for Economic Education, Virginia Cooperative Extension, Blacksburg, VA 24061-0249
Environmental and Resource Economics: Contents and Strategies
During a two-week summer institute, teachers will field test curriculum materials for the grade school level, which will be published and disseminated to Virginia schools. The goal of the project, entitled "Environmental and Resource Economics: Contents and Strategies," is to enhance understanding of the inter-relationship of economics and environmental protection.
1993
WA
10
Benton Conservation District -- $4,395
Jack Chenoweth, 618 8th Street, Prosser, WA 99350
Air and Water Quality Curriculum
The purpose of this project is to set up an environmental curriculum and teaching unit for enhancing air and water quality available to high school teachers in the Yakima Valley schools. Participants will work with agricultural educators in the development of the curriculum.
1993
WA
10
Bethel School District -- $5,000
Cathy Patterson, 516 E. 176th Street, Spanaway, WA 98387
Woodland and Meadowland Wilderness Laboratories
The Woodland and Meadowland Wilderness Laboratories project will give district students hands-on opportunities to study a basic environmental curriculum at two wilderness laboratories that the school district will establish.
1993
WA
10
Chautauqua Northwest -- $5,000
Jane Hardy, 1510 IBM Building, 1200 Fifth Avenue, Seattle, WA 98101-1127
Water Quality in the Puget Sound
This project is designed to educate senior citizens in the Puget Sound region regarding water quality concerns and practices. The participants will be involved as instructors and students. The project involves one-hour presentations to 20 target audiences of active retiree organizations, using senior presenters, guest experts, educational video, and take-home materials.
1993
WA
10
Kettle Falls School District #212 -- $4,790
Al Kowitz, Kettle Falls, WA 99141-0300
Water Quality in the Colville River Watershed
For this project, high school environmental science students and community members will learn about ways of preserving water quality in the Colville River watershed. Two public workshops will be held after data is collected by the students. A problem-solving format will be used to discuss water quality and best management practices.
1993
WA
10
King County Department of Development and Environmental Services -- $4,420
Ken Carrasco, Environmental Education Section, 3600 136th Place S.E., Suite C, Bellevue, WA 98006-1400
Workshop on the King County Senstive Areas Ordinance
This pilot program involves two 3-day environmental education training workshops for 50 teachers of grades 7 through 12, community college teachers, and advanced students. The workshop is based on the King County Sensitive Areas Ordinance which addresses wetlands; streams; and hazardous areas involving erosion, flood, volcanic, seismic, and historic coal mining.
1993
WA
10
Public Utility District #1 of Kitsap County -- $5,000
Kathy Dickerson, Water Quality Education, P. O. Box 1989, Poulsbo, WA 98370
Stream Watcher
The Stream Watcher curriculum for the Kitsap County Girl Scouts will provide water quality education materials prepared for Junior Girl Scouts in the 4th through 6th grades. The curriculum will teach a method of biological monitoring for water pollution.
1993
WA
10
Seattle Audubon Society -- $5,000
Kathy Malley, 8028 35th Avenue NE, Seattle, WA 98115
Finding Urban Nature Program
The "Finding Urban Nature Program" is comprised of volunteers leading 4th graders in 15 Seattle public schools through a series of nine separate hands-on nature oriented science explorations over the course of a school year. The intent of the program is to teach children about nature and science, and the basics of scientific investigation.
1993
WA
10
University of Washington -- $4,930
Nan Little, Department of Chemistry, BG-10, University of Washington, Seattle, WA 98195
Science Role Models
The Science Role Models course will include women and minority students in the science outreach program. College students will make environmental education presentations at high schools, especially targeting Native American, women, and other minority students.
1993
WA
10
Washington State Office of Superintendent of Public Instruction -- $249,948 (HQ Grant)
Cheryl Lemke, Old Capitol Bldg., P. O. Box 47200, Olympia, WA 98504-7200
Environmental Education in the School Culture: A Systemic Approach
This grant is funding a statewide project entitled "Environmental Education in the School Culture: A Systemic Approach." The project will ensure interdisciplinary instruction in the sciences, social studies, and the humanities on conservation, natural resource, and environmental issues, including the link between the natural environment, the well-being of the populace, and the health and sustainability of the economy. The project will focus on wetlands and ecosystems and will create a state model enabling schools across the state to access the knowledge, skills, research, and support to design and implement community-based environmental education programs in their schools.
1993
WA
10
Yelm School District -- $5,000
Mary Zodrow, P. O. Box 476, Yelm, WA 98597
Nisqually River Basin: Ecology Plus Mathematics
The "Nisqually River Basin: Ecology Plus Mathematics" curriculum will be developed for an environmental math and science high school class which will use the streams of the Nisqually River basin as its field laboratory. In the field, the participants will study the geology, hydrology, habitats, natural and cultural history, and economy of the basin.
1993
WA
10
YMCA of Greater Seattle/Earth Service Corps -- $5,000
Mary Smith, 909 4th Avenue, Seattle, WA 98104
Earth Service Corps
For this project, 250 students and teachers from 40 high schools in western Washington will be involved in planning and preparing for an environmental education symposium. At the symposium they will learn from a variety of community experts about the realities of science, engage in role-playing real life environmental dilemmas, and resolve issues among diverse interest groups. From this experience, the teachers and students then will create and carry out community service follow-up projects.
1993
WV
3
Pocahontas Communications Cooperative Corporation -- $5,000
Gibbs Kinderman, State Route 28, Dunmore, WV 24934
Impacts of the Logging Industry on the Environment
This grant funds a hands-on, informal education program on the impact of the logging industry on the environment. The program will be presented to approximately 1,500 summer visitors to the Cass Scenic Railroad State Park.
1993
WV
3
Southern Appalachian Labor School -- $5,000
John P. David, P. O. Box 127, Kincaid, WV 25119
Identification of PCB Hot Spots
Through workshops, research, and site identification, Labor School staff will work with at least eight community groups to identify sources of polychlorinated biphenyl (PCB) contamination from coal mining operations and report "hot spots" to EPA. Citizens will learn about the health risks of PCBs and how to prevent the risks.
1993
WV
3
West Virginia Community Action Directors Association -- $5,000
Dave Treharne, P. O. Box 4007, Parkersburg, WV 26104
Workshops for Social Service Employees
Through four regional workshops, social service employees will learn about the environmental issues faced by low-income families in the 55 counties they serve. The ultimate goal of the project is to teach these families how to effectively deal with environmental problems.
1993
WI
5
Mercer School District -- $3,990
Steven Stevenoski, P. O. Box 567 Margaret Street, Mercer, WI 54547
Forest Research Program
The purpose of this project is to develop a forest research program on the school's 40-acre parcel of forest and an accompanying outdoor-based school curriculum. Flora and wilderness trails will be used by more than 200 elementary and secondary students for educational purposes, and the funding will enable a study station to be established in the forest to enhance the study of soils, insects, forestry, and plant and animal life. Project results will be distributed to 19 other schools impacting more than 9,000 students.
1993
WI
5
Sokaogon Chippewa Nation, Mole Lake Band -- $25,000
Holly YoungBear-Tibbetts, Rte 1, Box 625, Crandon, WI 54520
Tribes at Risk
The purpose of this project is to teach all 11 tribes in Wisconsin about the findings of the recently released EPA comparative risk analysis report entitled, "Tribes at Risk." The report is the first study in the U.S. that evaluates environmental risks to particular groups of Native Americans. The project will educate Native Americans to be aware of and minimize potential environmental risks that they face in their communities. Interactive computer technology and video will accompany presentations to tribal government staff, local communities, and secondary science educators.
1993
WI
5
University of Wisconsin - College of Agricultural and Life Science -- $13,738
Elaine Andrews, 216 Agriculture Hall, 1450 Linden Drive, Madison, WI 53706
Community Leader Training Materials on Residential Indoor Quality
This grant funds a project designed to create a partnership between the University of Wisconsin and the University of Minnesota Cooperative Extension to create community leader training materials on residential indoor air quality. The partnership will enable the grantees to supply county extension agents with hands-on educational materials in 72 Wisconsin and 90 Minnesota county offices.
1993
WY
8
Little Snake River Conservation District -- $5,000
Larry Hicks, Box 355, Baggs, WY 82321
Biological Water Monitoring
The purpose of this project is to educate students and residents in the district on the importance of water quality through a program of biological water monitoring that helps to evaluate best management practices related to livestock grazing.
1994
AL
4
Poarch Band of Creek Indians -- $3,500
James T. Martin, HCR 69A Box 85B, Atmore, AL 36502
Water Quality Assessment
This project involves a classroom presentation to high school students concerning water quality assessment. The presentation includes identification of pollution sources and reinforcing the understanding of the methods of abatement.
1994
AK
10
Alaska Pacific University -- $3,941
Richard Myers, 4101 University Dr., Anchorage, AK 99508-4672
Environmental Science Kits
For this project, the university will construct environmental science kits, primarily for water testing in rural Alaskan villages. Workshops will be held to train teachers on the use of the kits, which will be distributed statewide, even to isolated village schools. The intent of the project is to enable educators to increase residents' awareness of their environment.
1994
AK
10
Kenai Peninsula School District -- $5,000
Diane Borgman, 150 Park Ave., Soldotna, AK 99669
Kenai Peninsula School District
The Kenai Peninsula School District will introduce environmental education to the students by infusing it into existing curricula using thematic units at each grade level. To accompany the thematic units, a series of seven tubs (educational materials) will be developed for students in kindergarten through sixth grade. Tubs will contain materials designed with hands-on activities. Facilitators will be hired to train the teachers at a pilot school in the use of the materials.
1994
AK
10
Prince William Sound -- $4,710
Nancy Bird, P. O. Box 705, Cordova, AK 99574-0705
Visit the Prince William Sound
For this project, a team of educators will visit Prince William Sound communities and present a series of interactive environmental education activities in each of the elementary schools. The activities will be tailored to meet the needs and concerns of each community. The educators will bring self-contained education kits and provide environmental education resources and extension activities to the community school.
1994
AS
9
American Samoa Community College -- $5,000
Don Vargo, P. O. Box 2609, Pago Pago, AS 96799
Tree Production Project
Through the "Tree Production Project," the American Samoa Community College will team with Manumalo Baptist School in a forest conservation project. Students will learn about the role trees play in Samoan culture and the fundamentals of forestry as they nurse seedlings along until they are ready for transplanting.
1994
AZ
9
Growing Connections, Inc. -- $5,000
Linda Herzog, 2123 E. Grant Rd., Tucson, AZ 85719
Workshop on Environmental Gardens
Organic gardening and nutrition are the themes of the two-day workshop which will be presented twice for 32 elementary school teachers. Teachers will then guide their students in planting environmental gardens. Parents will be surveyed to determine if students' eating habits or other behavior has been affected.
1994
AZ
9
Hualapai Tribe -- $5,000
Thomas Gordon, P. O. Box 179, Peach Springs, AZ 86434
Hualapai Environmental Education Program
The "Hualapai Environmental Education Program," aimed at all community members, will also have particular emphasis for high school youth. Community activities will include recycling workshops, clean-up days, poster contests, and an Earth Day Fair. An environmental education summer camp and habitat study will be conducted for the tribal youth.
1994
AZ
9
Rough Rock School Board, Inc. -- $5,000
A. Keith Warner, P. O. Box 217 RRDS, Chinle, AZ 86503
Reservation Environmental Science Education Training
The "Reservation Environmental Science Education Training" project includes staff development training in the environmental science curriculum. The project allows Native American students to get involved in hands-on projects that address daily environmental problems of waste management and water pollution on the Navajo Reservation.
1994
AZ
9
Southwest Center for Education & Natural Environment -- $5,000
Kathryn Kyle, Arizona State University, Tempe, AZ 85287-2512
Workshop on the Effects of Urbanization on the Sonoran Desert Ecosystem
The effects of urban development on the Sonoran Desert ecosystem is the theme of this teacher workshop designed to transform scientific content into classroom environmental education activities. The grant will also help to identify gaps in the database of existing environmental education materials and offer teachers training in accessing the database.
1994
AZ
9
Tempe Unified High School District -- $4,965
Mike Trimble, 500 W. Guadalupe Rd., Tempe, AZ 85283
Investigating the Desert
This project will provide training for 24 high school students who will investigate and explore the fragile and varied desert environment. Their observation of key wildlife species, riparian ecosystems, and the relationship of human influence on these species and habitats will form the basis of a report to be disseminated at Arizona teacher conferences.
1994
AR
6
Arkansas Department of Pollution Control and Ecology -- $18,000
Gregg Patterson, 8001 National Dr., Little Rock, AR 72209
Arkansas Water Education Team
The purpose of this project is to purchase equipment to support the "Arkansas Water Education Team" program in which students will monitor a water resource near their community and study the results to better understand the impact of surrounding land use practices on water quality.
1994
AR
6
Arkansas Recycling Coalition -- $4,000
Maureen Rose, P. O. Box 190825, Little Rock, AR 72219
Workshops on Solid Waste Management
This grant funds workshops for elementary and junior high school teachers from central and southeastern Arkansas. The focus of these workshops will be on solid waste management, recycling, and source reduction.
1994
CA
9
Armory Center for the Arts -- $5,000
David Spiro, 145 N. Raymond Ave., Pasadena, CA 91103
Interactive Science Education
This project brings together teaching staff from the arts and sciences to promote interactive science education through observation, experimentation, data gathering, classification, and problem solving.
1994
CA
9
Atascadero Unified School District -- $3,842
Gene Elsdon, 5601 West Mall, Atascadero, CA 93422
Creek School
Using Atascadero Creek and the Salinas River as environmental education laboratories, high school students will join with faculty to present "Creek School" workshops to elementary students and teachers.
1994
CA
9
Calaveras Unified School District -- $5,000
Betty White, P. O. Box 788, San Andreas, CA 95249
Environmental Education for Kindergarten and Elementary School
This project presents an interdisciplinary, thematic, environmental education program to students in kindergarten through 6th grade with the goal of encouraging environmental literacy, which should lead to more environmentally-responsible lifestyles.
1994
CA
9
Daedalus Education Foundation -- $4,840
Merle O'Neil, 12702 Via Cortina #201B, Del Mar, CA 92014
Environmental Education Teacher Training Institute
The "Environmental Education Teacher Training Institute" project provides for training of 120 teachers in Tijuana, Mexico. The content of the training will focus on the environmental issues linked to water, health, solid waste, land and resource management, and human interaction with the surrounding environment.
1994
CA
9
Desert Tortoise Preserve Committee -- $4,850
Jun Lee, 255 S. Grand Ave. #2203, Los Angeles, CA 90012
Interdisciplinary Approaches to Environmental Education
A one-day conference, called "Interdisciplinary Approaches to Environmental Education," will bring together high school teachers with representatives of government agencies and private conservation organizations. The task of the workshop participants is to develop a sample teaching plan which employs endangered species themes for an interdisciplinary curriculum for four pilot high schools.
1994
CA
9
Friends of the San Francisco Estuary -- $5,000
Marcia Brockbank, P. O. Box 2050, Oakland, CA 94604-2050
Cleaning Estuary Habitats
This project will target two inner city classes and their teachers for a ten-week project. As part of these activities, the students, working with local resource agents, will clean up and enhance estuary habitats near their schools.
1994
CA
9
Konocti Unified School District -- $5,000
Olga Clymire, P. O. Box 6630, Clearlake, CA 95422
A Child's Place in the Environment
The "A Child's Place in the Environment" project includes demonstrations on how an environmental education program can be organized through integration of the traditional elementary school subjects. The program will be offered in teacher workshops in four geographical regions of California. Teachers will participate in hands-on activities and develop a plan to assist their students to select and implement environment-enhancing projects.
1994
CA
9
Napa Valley Unified School District -- $5,000
Dr. Barbara Pahre, 2425 Jefferson Street, Napa, CA 94558
The New 3 R's: Reduce, Re-use, Recycle
Through "The New 3 R's: Reduce, Re-use, Recycle" project, pollution prevention becomes an issue that students can effect on a daily basis through their hands-on involvement in gardening and composting, which are components of this waste reduction curriculum.
1994
CA
9
Outward Bound Adventure, Inc. -- $4,948
Helen Mary Williams, P. O. Box 202, Pasadena, CA 91102
Curriculum for Water and Conservation
Grant funds will be used to prepare a curriculum focusing on water and conservation concepts which will provide for six 1-day field trips for 24 middle school students to sites that are linked to the delivery and use of water to the Los Angeles metropolitan area. Selected students (12 from Markham Jr. High in Watts and 12 from Washington Middle School in Pasadena) also will prepare for a seven-day High Sierra environmental study trip that will be funded from other sources. Through this project, students will have the opportunity to trace a drop of melted snow from the mountains to their own neighborhood.
1994
CA
9
Regents of the University of California -- $108,000 (HQ Grant)
Neil Maxwell, Lawrence Hall of Science, Regents of the University of California, Sponsored Projects Office, Sproul Hall, Room 336, University of California, Berkeley, CA 94720
Environmental Education School Action Projects
The "Environmental Education School Action Projects" will develop a model school action and public education program in the Greater San Francisco Bay Area. It will provide teachers, students, and community volunteers with an opportunity to work together to develop projects designed to solve local environmental problems. The project will include an environmental education teacher institute for primary and secondary school teachers and community volunteers and will draw hands-on curricula from existing programs that teach responsible decision making and action.
1994
CA
9
Rising Sun Energy Center -- $5,000
Michael Arenson, P. O. Box 2874, Santa Cruz, CA 95063
Solar Energy Education
For the "Solar Energy Education" project, student interns from the Department of Environmental Studies at the University of California, Santa Cruz, will be trained in solar energy and conservation to develop lessons and activities that are compatible with Santa Cruz school district's science education goals. The interns will make in-class presentations at four public elementary schools.
1994
CA
9
Sacramento Science Center -- $5,000
Patricia McVicar, 3615 Auburn Blvd., Sacramento, CA 95821
Workshops on Water Resources
This grant funds three workshops for separate groups of 20 elementary school teachers which will emphasize the stewardship of water resources. Each participant will create an educational kit for subsequent use in their classrooms.
1994
CA
9
San Bernardino County -- $5,000
Phyllis Hebbard, 385 N. Arrowhead Ave., San Bernardino, CA 92415-0160
Video on Hazardous Household Products
For this project, the San Bernardino Health Services Department will offer a video and lecture presentation to public and private schools in the county to increase awareness of hazardous household products, less toxic alternative products, the dangers of improper hazardous waste disposal, and the location of hazardous waste collection centers.
1994
CA
9
San Francisco Bay Delta Aquatic Habitat Institute -- $11,259
Kathryn Kramer, 1301 S. 46th St. #180, Richmond, CA 94804
Kids in Creeks: A Creek Exploration and Restoration Program
The "Kids in Creeks: A Creek Exploration and Restoration Program" will provide educators in Contra Costa County with two and a half days of training in creek ecology, access to a lending library, and support for conducting community-based action projects with their classes.
1994
CA
9
San Joaquin Office of Education -- $5,000
Judi Wilson, P. O. Box 213030, Stockton, CA 95213-9030
Kids Make a Difference: Environmental Projects for Elementary Students
For the "Kids Make a Difference: Environmental Projects for Elementary Students" project, 50 teachers will be trained to use projects related to an environmental issue that children at differing developmental levels can share perspectives and work together to arrive at a common solution to the problem.
1994
CA
9
San Lorenzo Valley Unified School District -- $4,998
Jane Orbuch, 6134 Highway 9, Felton, CA 95018
Monitoring the San Lorenzo River
The San Lorenzo River and its watershed provide the unifying theme for this project, which will involve students in kindergarten through 12th grade in hands-on monitoring, measuring, and classifying water quality, riparian vegetation and wildlife, status of aquatic organisms, sedimentation and erosion, and human uses and impacts.
1994
CA
9
Southern Sonoma County Resource Conservation District -- $14,438
Sheila Adams, 1301 Redwood Way Suite 170, Petaluma, CA 94954
Adopt-a-Watershed Curriculum
The "Adopt-a-Watershed Curriculum" project will provide in-service training for participating teachers in Sonoma Valley and Petaluma schools. This training will assist teachers in providing their students with increased environmental sensitivity through outdoor field observation and experimentation.
1994
CA
9
Tree People -- $10,000
Diane Hunt, 12601 Mulholland Dr., Beverly Hills, CA 90201
The Magical City Forest
"The Magical City Forest" project involves three teacher workshops for 150 teachers of kindergarten through 6th grade which will emphasize hands-on training in the curriculum. The curriculum will link information about the cycles of the earth, air, trees, wildlife, fresh water, and oceans with children's everyday lives in Los Angeles. To give students a sense of where they fit in the ecosystem, the curriculum addresses the realities of urban living.
1994
CO
8
Bauder Elementary School -- $4,970
Mary Joyce Fink, 2345 W. Prospect Rd., Fort Collins, CO 80526
Environmental Literacy for Families (ELF) Program
This project involves the development and implementation of an Environmental Literacy for Families (ELF) program. The overall purpose of this project is to target environmental education at the family level, focusing on air pollution, land management, water pollution, energy conservation, solid waste management, and human co-existence with other animal species.
1994
CO
8
Biological Sciences Curriculum Study -- $25,000
James Ellis, 830 N. Tejon Suite 405, Colorado Springs, CO 80903
Improving Teaching Skills in Science
This program is part of a five-year project that will improve the background in science content and teaching skills of teachers of 4th through 6th grades and will support the implementation of effective instruction in science, with an emphasis in environmental education.
1994
CO
8
Bookcliff Middle School -- $2,698
Teri Lindauer, 2935 Orchard Ave., Grand Junction, CO 81504
Ecology Community Service Projects
This project is designed to motivate students to be more environmentally conscious and to make informed decisions through hands-on involvement in environmental education. The school will conduct ecology-based community service projects by converting the campus into an environmentally sensitive recreation area and developing it as a learning environment.
1994
CO
8
Clean Air Campaign of the Pikes Peak Region -- $3,450
Linda Lewis, 219 W. Colorado Ave. Suite 210, Colorado Springs, CO 80903
Workshops and Curriculum for Air Pollution
This project proposes to improve environmental education teaching skills by conducting educator workshops and distributing the curriculum and accompanying kits to each participant for classroom use. The overall purpose of the project is to educate the community to solve air pollution problems through pollution prevention activities.
1994
CO
8
Colorado Alliance for Environmental Education, Inc. -- $5,000
Walt Blackford, P. O. Box 101744, Denver, CO 80250
Database for Environmental Education Training
The overall purpose of the project is to significantly improve a statewide database and clearinghouse service of environmental education training, curricula, materials, and other resources. This project will develop more capacity for the dissemination of environmental curricula and resources to a statewide network of environmental education organizations and individuals.
1994
CO
8
Colorado Bird Observatory -- $24,910
Michael Carter, 13401 Piccadilly Rd., Brighton, CO 80601
Birds Beyond Borders
This program will develop Birds Beyond Borders, an international educational program designed to link teachers and students from different countries and cultures through shared environmental issues and natural resources, using migratory birds as the focus. Workshops will be offered in Colorado and in Jalisco, Mexico, that will equip teachers with information they need to encourage government support of environmental education.
1994
CO
8
Colorado Division of Wildlife -- $5,000
Karen Hardesty, 6060 Broadway, Denver, CO 80216
Workshops for Inner City Teachers
The project seeks to improve environmental education teaching skills through a series of advanced workshops for teachers who use inner city places and people to enhance environmental awareness. It will target teachers of urban student populations to develop an increased self-confidence in their abilities to teach environmental education in any neighborhood setting.
1994
CO
8
Colorado Hospitals for a Healthy Environment (CHHE) -- $5,000
Patricia McClearn, 2140 S. Holly St., Denver, CO 80222-5607
Workshops on Recycled Paper and Soy Ink
Using these grant funds, CHHE will hold three workshops in Denver, Pueblo, and Grand Junction to educate participants about recycled paper and soy ink to promote their increased use for hospital print materials. This project has the potential to become a model for other industries in helping them to participate in source reduction to solve the solid waste problem.
1994
CO
8
Colorado State Forest Service -- $4,800
Mike Way, Project Learning Tree, Fort Collins, CO 80523
Demonstration and Dissemination of Project Learning Tree and Project Wild
The overall purpose of this project is to enhance the demonstration and dissemination of Project Learning Tree and Project Wild (PLT/PW) environmental education curricula materials. This project will recruit and train a group of PLT/PW workshop trainers and facilitators from the ethnic minority community in the Denver area, with special attention on cultural diversity and at-risk students.
1994
CO
8
Food, Land, and People -- $35,000 (HQ Grant)
Roxanne Brickell, National Steering Committee, Project Food, Land, and People, 643 Jackson Street, Denver, CO 80206
Environment and Agriculture
This project will teach students in kindergarten through 12th grade about the interdependencies between the environment and agriculture. It will emphasize a holistic learning of environmental and agricultural issues, such as relating to water quality, solid waste management, natural resource management, soil conservation, pest management, food production, sustainability, biotechnology, and land use. Participants in the project will use existing materials, complete the development of new materials, and translate key lessons into Spanish.
1994
CO
8
Hallett Elementary School -- $5,000
Cynthia Kahns, 2950 Jasmine St., Denver, CO 80207
Eco-Urban Sensory Garden
The Eco-Urban Sensory Garden project will be an outdoor science laboratory for teachers and students in an urban neighborhood of Denver. This project is part of the school renewal program, and is designed to improve the teaching of elementary science to students and their families through a hands-on approach in ecology, plant growth, and habitat development in the urban environment.
1994
CO
8
The Keystone Center -- $18,031
Jon Thompson, P. O. Box 8606, Keystone, CO 80435
Training for Rural Educators
The goal of this project is to develop an institute that will provide a six-day, intensive training program to educators from rural communities about environmental issues. The institute will provide a scientific framework for the teachers to use in diverse issues investigations, will offer specific hands-on activities, and will instruct educators on methods to develop and implement their own classroom plans. The participants also will conduct a mediation role-play to demonstrate the public policy process.
1994
CO
8
Thorne Ecological Institute -- $18,750
Susan Foster, 5398 Manhattan Circle Suite 120, Boulder, CO 80303
Guidebook on Chatfield State Park's Ecology
This program will improve efficiency in educational outreach and increase participation by educators and children through trained volunteers. A guidebook will be developed to provide background on Chatfield State Park's ecological setting. Human history and critical environmental issues will be addressed during hands-on workshops that can serve as a model for replication elsewhere.
1994
CO
8
Woodland Park School District RE-2 -- $2,191
Fred Wall, P. O. Box 1808, Woodland Park, CO 80866
Wetlands Learning Environment
The purpose of this project is to provide a wetlands learning environment for students and to control the flow velocity of the water downstream from the school property. Controlling this flow of water will provide a hands-on study experience for science students and help to create a wetlands environment.
1994
CT
1
Farmington River Watershed Association -- $4,975
Maryon Attwood, 749 Hopmeadow Street, Simsbury, CT 06070
Phase I, Adopt-A Stream
The "Phase I, Adopt-A Stream" portion of the Farmington River Green Way project will identify and create a plan to focus on the unprotected lower portion of the Farmington River. The project will facilitate the partnership of diverse groups through environmental education and community stewardship activities. The groups to be targeted include community civic groups, town officials, and businesses in seven area communities. Eventually, more than 600,000 people may be affected. The collection of natural resource data and the subsequent adoption of sections of the river by these different groups will lead to a river corridor conservation plan that affects many towns.
1994
CT
1
Science Center of Connecticut/Roaring Brook Nature Center, Inc. -- $7,790
Beth Dal Negro, 70 Gracey Rd., Canton, CT 06019
Roaring Brook Nature Center
The Roaring Brook Nature Center project will establish a partnership with 17 developmental pre-schools, comprising 680 four-year-old children, more than 70% of them African American or Hispanic, in the Hartford Public School system. These developmentally at-risk pre-school children will begin to understand the interconnectedness of the natural world of people, plants, and animals. The project, which consists of an initial teacher workshop, in-class program, and field trip to the Nature Center, will lead to an increase in the children's familiarity with the natural world and greater environmental consciousness.
1994
CT
1
The Nature Conservancy -- $4,586
Stephen R. Patton, Box 1162, Weston, CT 06883
Interactive Interpretive Trail Guide
The "Interactive Interpretive Trail Guide" will provide visitors to the Lucius Pond Ordway - Devil's Den Preserve education in watershed protection, ecosystem function, and conservation of biological diversity. Through these interactive, outdoor educational and walking tours, visitors of varying backgrounds will learn about watersheds, habitats, and wildlife migratory routes on their own while walking a two-mile loop within the 1,660-acre preserve.
1994
CT
1
University of Connecticut -- $24,494
Richard Cooper, 1084 Shennecossett Rd., Groton, CT 06340
Aquanaut Program
The National Undersea Research Center at the University of Connecticut, through its "Aquanaut Program," will facilitate environmental research partnerships between high schools and research scientists. All high schools in Rhode Island will be provided with a brochure promoting the program. Highlights of the program include the use of the scientific method and its application using modern, in situ technology. Teachers and students will gain experience in hands-on research through the Narragansett Bay summer research cruise which will provide access to and promote regional geographic relevancy of environmental issues.
1994
DC
3
Metropolitan Washington Council of Governments -- $25,000
Stuart Freudberg, 777 North Capitol St., NE, Washington, DC 20002
Public Education about Non-point Source Pollution from Vehicles
The Metropolitan Washington Council of Governments will establish a public education campaign to teach minority communities about reducing non-point source pollution generated from vehicles. The goal of the project is to increase used oil recycling and antifreeze, battery, and tire returns in minority communities by 10 percent. The environmental objective is to increase awareness of non-point source pollution in such communities.
1994
FL
4
Broward County Audubon Society, Inc. -- $5,000
Karen Mauck, 616 NW 22 Court, Wilton Manors, FL 33311
Broward Outdoor Natural Urban Studies Project
The Broward Outdoor Natural Urban Studies project will train 150 teen and adult volunteers to conduct hands-on, outdoor, nature and science activities for 1,200 4th grade students in a series of investigations of the living things found in the elementary schoolyard.
1994
FL
4
Broward County School Board -- $5,000
Frank Mandley, 600 Southeast 3rd Avenue, Fort Lauderdale, FL 33301
Plantation High School ECO-LAB
This grant funds the Plantation High School ECO-LAB, which will provide high school students with an opportunity to investigate, observe, and experiment with a small scale southern Florida ecosystem.
1994
FL
4
Charlotte Harbor Environmental Center, Inc. -- $4,675
Joy Duperault, 10941 Burnt Store Road, Punta Gorda, FL 33955
Curriculum for Charlotte Harbor Watershed
The purpose of this project is to adapt an existing estuarine curriculum to the Charlotte Harbor watershed region and conduct middle school teacher workshops in the use of the curriculum.
1994
FL
4
Northwest Florida Water Management District -- $5,000
Carol Pugh, Route 1, Box 3100, Havana, FL 32333
Activities to Reduce Storm Water Run-off and Surface Water Degradation
This project includes field trips and hands-on environmental science activities for middle school students and teachers that focus on environmental actions to reduce storm water run-off and surface water degradation. Approximately 30,000 teachers of kindergarten through 12th grade and their students will be involved in the project.
1994
FL
4
Tampa Palms Elementary School -- $5,000
Charmaine Jones, 6100 Tampa Palms Blvd., Tampa, FL 33647
Curriculum for the Hillsborough River
This project will provide all teachers at the Tampa Palms Elementary School with hands-on curriculum materials and workshops to heighten their awareness of the Hillsborough River as an important resource needing environmental protection.
1994
GA
4
Bleckley County School System -- $4,990
Donald M. Turknett, P. O. Box 516, Cochran, GA 31014
Environmental Education Center
This grant funds the development of an environmental education center for students in kindergarten through 12th grade, which includes an outdoor classroom and natural resource study stations to emphasize hands-on learning activities.
1994
GA
4
City of Atlanta -- $4,735
Commissioner Remedios K. del Rosairo, Department of Water, 68 Mitchell St., Suite 5700, Atlanta, GA 30335
Water Sourcebook
This project helps to build a partnership with the Atlanta Water Department, Georgia-Pacific Corporation, Georgia Water Wise Council, and the Atlanta Public Schools to introduce the Water Sourcebook to 36,000 students in grades 3 through 5 and 1,400 teachers.
1994
GA
4
Friends of Geosphere -- $5,000
Deron Davis, 8615 Barnwell Road, Alpharetta, GA 30022
Working in the Magic Garden
The Working in the Magic Garden project will provide a training program for 30 teachers of kindergarten through 5th grade to establish Wildlife Sanctuary Outdoor Learning Centers at five economically-depressed, urban elementary schools.
1994
GA
4
Georgia State University -- $24,906
Jack Hassard, University Plaza, Atlanta, GA 30303
Teacher Preparation for Global Thinking Project
The purpose of this project is to conduct a summer teacher preparation institute based on the Global Thinking Project, a computer-based distance learning curriculum, and convene a Global Summit. The Summit consists of two days of workshops and seminars on global thinking and environmental science for eight elementary school teachers, two high school teachers, and 800 ethnic minority and low-income students in grades 5 through 7.
1994
GA
4
Golden Triangle Resource Conservation and Development Area -- $4,450
Jerome Brown, 1016 Lowe Road, Albany, GA 31701
Operation Clean
Participants in "Operation Clean" will develop a solid waste collection and composting demonstration site and conduct a high school teacher workshop to increase county residents' awareness of environmental issues and encourage them to take an active role in addressing environmental problems.
1994
GA
4
Griffin-Spalding County School System -- $5,000
Ann Nunan, P.O. Drawer N, Griffin, GA 30224
Outdoor Environmental Laboratory Urban Model
The "Outdoor Environmental Laboratory Urban Model" will emphasize ecology and biodiversity to demonstrate how elementary environmental education can be implemented in a limited natural resource environment.
1994
GA
4
Medlock Bridge Elementary School -- $4,995
Virginia C. Smiley, 10215 Medlock Bridge Parkway, Alpharetta, GA 30022
Living Classroom II
The "Living Classroom II" will develop an outdoor classroom area and utilize the site as a teaching laboratory to train kindergarten through 5th grade teachers in Project Learning Tree and Project Wild workshops.
1994
GA
4
SciTrek, Science and Technology Museum -- $24,000
Bernadette M. Peiffer, 395 Piedmont Ave. NE, Atlanta, GA 30308
Water Sourcebook
The purpose of this project is to disseminate to grades 3 through 5 the "Water Sourcebook," using a teacher training model and community partners. The project will seek to establish 200 teacher/trainers across Georgia and establish 12 partner site learning communities.
1994
HI
9
American Lung Association of Hawaii -- $4,860
Shirley Robinson, 245 N. Kukui Street, Honolulu, HI 96817
Health Hazards of Indoor Air Pollution
The American Lung Association is joining with Girl Scouts of Hawaii, Hawaii Children's Museum, and the State Department of Education in an outreach project expected to extend to 10,000 students, promoting awareness of potential health hazards associated with indoor air pollution. At the end of the educational unit, students and their parents will be able to recognize indoor air pollution hazards and know how to minimize and control them in their home and school environments.
1994
HI
9
County of Maui -- $5,000
Steve Parabicoli, 200 S. High St., Wailuku, HI 96793
Wastewater Education
The "Wastewater Education" seeks to establish an educational partnership between the Wastewater Reclamation District and the county's schools by combining classroom presentations with tours of the wastewater reclamation facilities.
1994
HI
9
Hawaii Nature Center -- $20,000
Tamar Chotzen, 2131 Makiki Heights Dr., Honolulu, HI 96822
Field Study of Wetland Endangered Species
This project will provide teacher training and produce resource guides for field study of wetland endangered species. This training, affecting as many as 11,000 elementary school students, focuses on the preservation of wetland endangered species and conservation of their habitat.
1994
ID
10
Better Living -- $5,000
Loreca Stauber, Route 1 Box 54, Genessee, ID 83832
Workshops for Hands-on Environmental Education
Workshops for youth leaders, teachers, and high school students will be designed to enhance their skills in hands-on environmental education and to give them a better understanding of ecological concepts. The workshops will take place at an environmental park site in Moscow, with an emphasis on ecological implications of Moscow's land use practices.
1994
ID
10
Boise State University -- $5,000
Richard McCloskey, 1910 University Dr., Boise, ID 83725
Workshop on Parks, Zoos, Botanical Gardens, and Natural Areas
For this project, Boise State University will hold an elementary and secondary teacher workshop on how parks, zoos, botanical gardens, and natural areas can be used to teach scientific skills and develop students' knowledge of English, reinforcing writing skills through the use of journals and children's literature. The workshop will include investigations of river ecology and will demonstrate hands-on activities that can be used to reinforce concepts with students.
1994
IL
5
Boys & Girls Clubs of Chicago -- $5,000
Ellen Glantz, 625 W. Jackson, Suite 300, Chicago, IL 60661
Community Network for Solid Waste Management Education
This project will seek to develop a community network for solid waste management education. With the grant funds, the organization will offer bilingual workshops that will result in improved recycling practices and reduction of waste in the Lathrop Homes Community. Lathrop Homes is comprised of 1,000 families, predominately African American and Hispanic. The workshops, which will be presented in partnership with other Chicago non-profit organizations and local government offices, will be targeted toward parents and emphasize family recycling.
1994
IL
5
DeWitt County Soil and Water Conservation District -- $5,000
Carol Thompson, 804 W. VanBuren, P. O. Box 617, Clinton, IL 61727
Habitat Enhancement
The goal of this project is to collaborate on an environmental education program with Weldon Springs Foundation and State Recreational Area that will offer some 2,087 students in kindergarten through 12th grade in Clinton, Illinois the opportunity to learn about habitat enhancement and the local ecosystem. Funds will be used to develop a teacher workshop and lesson plans that present the park as a living classroom.
1994
IL
5
Environmental Education Association of Illinois -- $5,000
John Beaver, 47 Horrabin Hall, WIU, Macomb, IL 61455
1994 Midwest Environmental Education Conference
This project will assist the Environmental Education Association of Illinois in its sponsorship of the 1994 Midwest Environmental Education Conference. Funds will support educational programming at the conference which will be held October 27-29, 1994, at the Eagle Ridge Resort and Conference Center in Galena, Illinois. Sponsorship of the Midwest conference rotates between Illinois, Iowa, Minnesota, and Wisconsin. The theme of this year's conference in Illinois is "Environmental Education: Making the Right Connection." The conference, which will offer workshops, interactive sessions, presentations, and networking opportunities, is open to all Midwest environmental educators.
1994
IL
5
Madison County Soil and Water Conservation District -- $4,913
Larry Firkus, P. O. Box 482, Edwardsville, IL 62025
Environmental Education Programs for the Community
This project will facilitate in the delivery of environmental education programs to the community. Funds will be used to hire an environmental education coordinator to work in cooperation with several local organizations. The Madison County Soil and Water Conservation District environmental education coordinator will work to integrate environmental education in 14 school districts throughout the county, make presentations to city officials on erosion control and storm water management, and assist rural landowners with sustainable agriculture research.
1994
IL
5
Mark Sheridan Magnet School -- $5,000
Susan O'Neill, 533 W. 27th Street, Chicago, IL 60616
Environmental Education for the Mark Sheridan Magnet School
The purpose of this project is to add a strong environmental education component to the Mark Sheridan Magnet School's math, science and art curriculum. Funds will be used to teach ten classroom teachers and five artists to integrate environmental issues into their classroom curriculum and focus on the ecosystems of Southeast Chicago and Northwest Indiana. Workshops will foster higher order thinking and learning by teaching environmental education through the arts. The project will serve as a model for teacher training at 43 other schools throughout Chicago's sixth school district.
1994
IL
5
Native American Educational Services College (NAES) -- $24,995
Faith Smith, 2838 West Peterson, Chicago, IL 60659
Environmental Education Program for the Native American Education Services
The purpose of this project is to develop a comprehensive environmental education program at the Native American Education Services (NAES) College campus located on the Menominee Reservation in northeastern Wisconsin. With the grant, NAES College will develop a bachelor's degree program in natural resources, formalize a community service training program with the Tribe, integrate environmental instruction into Native American study for kindergarten through 12th graders, and create a local library resource related to the environment for Menominee community members. The project will reach more than 2,000 Menominees.
1994
IN
5
Clarksville Riverfront Foundation -- $5,000
Kenny Karem, 430 Marriott Dr., Clarksville, IN 47130
Ecosystem Education Program
The purpose of this project is to develop a hands-on ecosystem education program for the nearby Falls Interpretive Center. The center will serve more than 800,000 people in southern Indiana and northern Kentucky. The project will enable the Falls Interpretive Center, which will be established in 1994, to offer teacher education workshops and student programs that focus on the diverse habitat found on its 1,400-acre wilderness area.
1994
IN
5
Indiana Recycling Coalition -- $16,000
Jane St. John, 1040 W. 17th St., Bloomington, IN 47404
Environmental Education Master Teacher Network
This project will establish the "Environmental Education Master Teacher Network" and sponsor environmental education workshops for master teachers in sixteen counties of southern Indiana. Master teachers will then educate other teachers so that the program could potentially reach 24,000 students In kindergarten through 12th grade. The workshops will revolve around an interdisciplinary environmental curriculum developed by the Heritage Education Foundation of Indianapolis called, "Partners with the Earth."
1994
IA
7
Bettendorf High School -- $5,000
Barb Jacobsen, 33333 18th St., Bettendorf, IA 52722
Search, Solve, Create and Share
The project is an environmental source reduction education project conducted in four stages using a new methodology called Search, Solve, Create and Share developed by researchers at the University of Iowa. The goal of the project is to involve others in environmental education in an active role. Along with workshops for teachers and students, an activity booklet related to solid waste issues will be developed.
1994
IA
7
Eastern Iowa Community College District -- $4,250
Ed Stoessel, 306 W. River Dr., Davenport, IA 52801-1221
Environmental Resources Workshop
The Eastern Iowa Community College will provide high school teachers with the opportunity to discover environmental resources and experience environmental education through a five-day workshop. Participants will receive an environmental science resource instructor guide and a sampler of an environmentally-centered English composition anthology comprising classical, journalistic, and technical selections.
1994
IA
7
Grant Wood Area Education Agency -- $24,974
Dean Hartman, 4401 6th St. SW, Cedar Rapids, IA 52404-4499
Save Our Water Project
The "Save Our Water Project" is designed to improve the quality and quantity of environmental education teaching skills in the upper elementary grade levels. Teacher workshops will use new, interactive hands-on tools and techniques. A locally-relevant water quality resource guide will be developed. An increased partnership among educators, students, parents, and the soil and water conservation personnel in the community is expected to evolve.
1994
IA
7
Hoover Elementary School -- $30,000 (HQ Grant)
Roberta Dardyshire, Hoover School, 1002 Spring Street, Davenport, IA 52803
Instruction on the Importance of Preserving the Environment
This project will add several weeks of instruction to the school year to teach preschool through 3rd graders about the importance of preserving the environment and providing them with stewardship skills. The majority of the school's students are considered to be at-risk; they are from low income and minority families or test at or below grade level in reading and mathematics. Teachers will use existing curricula that use an interdisciplinary approach to learning and that emphasize student interaction with the natural and social environment. Curricula from programs such as Project Learning Tree, Project Wild, and Project Aquatics will be used.
1994
IA
7
Iowa 4-H Foundation -- $4,989
Beverly Berna, Iowa State University, Ames, IA 50011
Environmental Education Curriculum Integration for Classroom Educators
This project will improve environmental education teaching skills by providing curriculum integration and modeling of classroom in-service to educators. Classroom educators or learning center teachers will be empowered to teach their students with an age-specific, integrated, sequential curriculum. Students will have the opportunity to participate in community projects such as paint recycling and household hazardous waste reduction.
1994
IA
7
Iowa Department of Education -- $5,000
Duane Toomsen, Grimes State Office Bldg., Des Moines, IA 50319
Volunteer Wilderness
The goals of the "Volunteer Wilderness" project are to enhance teaching skills through a wilderness awareness and ecological restoration workshop for educators, to enable educators to communicate this experience with a presentation, and to expand the knowledge base within the community so that community members will make more positive environmental choices. The program will affect more than 1,500 people and will be developed in cooperation with the Iowa Department of Education, the U.S. EPA, the U.S. Forest Service, Idaho Fish and Game, the University of Northern Iowa, and the Iowa State University Extension Youth and the 4-H Program.
1994
IA
7
Kirkwood Community College -- $5,000
Douglas Feil, P. O. Box 2068, Cedar Rapids, IA 52406
Curriculum for Literate Adults and Families
The purpose of this project is to develop a curriculum package that will motivate marginally literate adults and their families to be environmentally conscious, informed, and responsible. It does so by coupling environmental issues with the Adult Basic Education curricular emphasis on family literacy and life skills. This curriculum will teach basic environmental responsibility using hands-on activities adapted from the pre-reader program that was funded and successfully administered last year.
1994
IA
7
University of Iowa -- $24,862
Susan M. Blunck, Van Allen Hall, University of IA, Iowa City, IA 52242
The Iowa Floods Follow-up Project
"The Iowa Floods Follow-up Project" will be a means of improving environmental teaching skills. The project will build on a nationally recognized teacher in-service program known as the Iowa Chautauqua Program, which is a model science in-service program. The focus will be on the effects in Iowa of the floods of the summer of 1993. Teachers will use information from their investigations during visits throughout the state to create modules that can be used in the classroom. The university will coordinate teacher planning and design of resource modules for summer workshops.
1994
KS
7
Emporia State University -- $3,735
Thomas Eddy, Box 4050, Emporia State University, Emporia, KS 66801
Kansas School Naturalist: Role of Animals in Succession
The purpose of the project is to publish one issue of the Kansas School Naturalist that deals with the newly understood role of animals in succession. The Kansas School Naturalist integrates birds, insects, and other animals as co-determiners of succession through seed dispersal and soil development. The issue will be maintained and referenced over the years by those attending libraries in Iowa, Kansas, Missouri, and Nebraska.
1994
KS
7
Emporia State University -- $3,735
William P. Lanier, Emporia State University, Emporia, KS 66801
Kansas School Naturalist: 1993 Flood of Upper Mississippi
The purpose of this project is to publish one issue of the Kansas School Naturalist that deals with the 1993 flood of the upper Mississippi region, which continues to affect the populations of Iowa, Kansas, Missouri, and Nebraska. The proposed issue of the Kansas School Naturalist will address certain aspects of flood science and will provide problem-solving activities along with basic science behind common flood phenomena. The issue will be maintained and referenced over the years by those using school libraries.
1994
KS
7
Geary County Fish & Game Association -- $5,000
Kathy Brown George, P. O. Box 631, Junction City, KS 66441
Environmental Education Workshop
The purpose of this project is to develop a teacher workshop that will blend discussion sessions with hands-on activities designed to supply information through the full range of education from elementary to secondary and special education classes. The workshop will reach beyond the science curricula instructors to emphasize the blending of science, mathematics, social studies, and language arts into a connected pattern of learning that includes environmental education.
1994
KS
7
Johnson County Parks & Recreation District -- $3,705
Bill McGowan, 909 N. Highway 7, Olathe, KS 66061
Ecology Encounters
The purpose of this project is to improve the aquatic education program, Ecology Encounters, which is a 4th through 6th grade field trip accompanied by hands-on reinforcement activities. This project will reach five school districts in Johnson County, Kansas; schools in Kansas City, Kansas; schools Kansas City, Missouri; and numerous private schools. Based on figures from past years, the expected goal is to reach 700 to 800 students with the program.
1994
KS
7
Kansas State University -- $6,676
Carol Shanklin, KSU, 2 Fairchild Hall, Manhattan, KS 66506-1103
Workshops for Food Service Managers
This grant funds train-the-trainer workshops for food service managers and personnel that will address environmental problems and alternative approaches for managing solid waste and preventing air and water pollution from food service operations. Participants will use the knowledge learned to present training sessions to their employees or other food service managers.
1994
KS
7
Olathe East High School -- $5,000
Brad Williamson, 14545 W. 127th, Olathe, KS 66062
Monarch Butterfly Tagging
The purpose of this project is to expand the monarch butterfly tagging effort and to implement new student-based research projects related to the migration phenomenon. A workshop will give teachers necessary skills and materials to culture the monarchs under different light regimens. Protocols for investigation will be developed in a collaborative manner and piloted by the core schools. The tagging aspect of the monarch project will involve teachers and students from the Midwest. It provides the opportunity for students to learn science by working in collaboration with a professional researcher.
1994
KY
4
Jessamine County Middle School -- $750
Grant Felice, 851 Wilmore Road, Nicholasville, KY 40356
Water Analysis in Jessamine County
The "Water Analysis in Jessamine County" project will integrate life, earth, and physical science into the 6th through 8th grade curriculum, using water quality testing as an environmental education medium.
1994
KY
4
Kentucky School For The Deaf -- $5,000
Angela K. Wilson, P. O. Box 27, South Second St., Danville, KY 40422
Workshops for Teachers of the Hearing Impaired
For this project, a series of workshops will provide teachers with the tools to give pre-school through high school hearing-impaired students a wide range of non-sheltered environmental education experiences, such as trips to nature centers and telecommunication projects with Kentucky Educational Television.
1994
LA
6
Imperial Calcasieu Resource Conservation and Development Council -- $5,000
Jim Neveu, 2422 Port Dr., Jennings, LA 70546
Forestry Awareness Project
The "Forestry Awareness Project" will target sixth grade students in Allen and Northers Evangeline Parishes. Educators will use hands-on activities to address issues of multiple use of forests.
1994
LA
6
Sam Houston High School -- $5,000
Linda Wygoda, 880 Sam Houston Jones Pkwy., Lake Charles, LA 70611
Workshop for Water Monitoring
This grant funds a week-long workshop that will train educators to use hands-on water monitoring activities for the intensive study of the Calcasieu River.
1994
LA
6
Southern University and A&M College -- $18,000
Chukwu Onu, Southern Branch Post Office, Baton Rouge, LA 70813
Environmental Awareness and Career Training
The "Environmental Awareness and Career Training" program will use a variety of environmental education activities and hands-on experiences to improve decision-making skills of non-technical, minority college students and community leaders.
1994
ME
1
Cumberland County Soil & Water Conservation District -- $4,900
Forrest Bell, 381 Main Street, Suite 3, Gorham, ME 04038
The Campers' Lake Ecology Book
"The Campers' Lake Ecology Book" will provide campers and camp staff within the Sebago Lake Watershed area with information on soil and water resources. Specifically, it will explain to younger "lake users" (ages 6 through 10) how lakes function, how they are threatened, and how they can be protected. The project makes use of a variety of activities including puzzles and illustrations. The goal of the "Camper's Book" is to teach about lake ecology while stressing the importance of the water quality of their lakes to young campers.
1994
ME
1
Department of Environmental Protection -- $3,600
Nick Archer, 1235 Central Drive, Presque Isle, ME 04769-2053
Mr. and Mrs. Fish
The St. John River "Mr. and Mrs. Fish" water quality education program will market its project focusing on enhancing the understanding of water ecosystems among students living on the American and Canadian banks of the river. The program, directed at 3rd grade students and their teachers, consists of a teacher workshop, performance for students, and a training package. The project will provide teachers with the resources to introduce water quality lessons in the classroom curriculum. Furthermore, the project will enhance partnerships between local school systems, municipalities, and regional natural resource agencies, all on behalf of the water quality of the area's St. John River.
1994
ME
1
Maine Audubon Society -- $4,998
Maureen K. Oates, 118 U.S. Route 1, P. O. Box 6009, Falmouth, ME 04105
Casco Bay Water Quality and Watershed Education Project
"The Casco Bay Water Quality and Watershed Education Project" will provide middle and high school teachers with hands-on experience in water quality and watershed issues. Teachers will participate in interactive workshops and use watershed models and topographic and watershed maps for wetland education in the classroom. The Casco Bay Watershed program is the vehicle which will establish a student and community water quality monitoring project on Casco Bay and foster ongoing "mentoring" relationships between citizens and the schools.
1994
MD
3
Alliance for Community Education -- $5,000
Anne Pearson, 5103 North Crain Hwy., Bowie, MD 20715
Non-toxic Lawn and Garden Care
The Alliance for Community Education will start an adult education program, primarily for minority students, about non-toxic lawn and garden care. The goal of the project is to provide jobs and to launch "green gardens," which will treat lawns and gardens as an ecosystem. The environmental objective is to reduce non-point source pollution into the Chesapeake Bay.
1994
MD
3
Baltimore Metropolitan Council -- $24,954
Jack Anderson, 601 N. Howard St., Baltimore, MD 21201
Reservoir Watershed Protection Project
With these grant funds, the Baltimore Metropolitan Council will launch a Reservoir Watershed Protection project that will result in staff training and curriculum development.
1994
MD
3
Baltimore School District (Sussex Elementary) -- $4,955
Kathy Brauer, 515 S. Woodward Dr., Baltimore, MD 21221
Water Quality Project
For this project, the Baltimore County Public School System (Sussex Elementary) will fund a water quality project using the ChesNet forum on the Metnet bulletin board system. This project will create a network of teachers and students who have been trained in both environmental and telecommunications technologies.
1994
MD
3
The Loading Dock, Inc. -- $15,900
Hope Cucina, 2523 Gwynns Falls Pkwy., Baltimore, MD 21216
Guide to Successful Building Recycling
The Loading Dock, Inc., a nonprofit building materials recycler, will publish A Guide to Successful Building Recycling and provide technical assistance, one-on-one, to improve methods of materials reuse, as well as alternative means to supporting the creation of low-income housing.
1994
MA
1
Boston Private Industry Council, Inc. -- $119,956 (HQ Grant)
George Moriarty, Boston Private Industry Council, Inc., 2 Oliver St., 9th Floor, Boston, MA 02109
Green Tech
"Green Tech" is an environmental career school-to-work transition program for South Boston High School students, 73% of whom are from minority communities. The program is designed to teach students that what they learn in the classroom and through work experience is fundamental to future employment opportunities. The program will increase student awareness about environmental career opportunities through classroom instruction and on-site experiences such as internships and summer jobs in environmental agencies, businesses, and nonprofit organizations.
1994
MA
1
Environmental Careers Organization (ECO) -- $80,000 (HQ Grant)
Lori Colombo, Environmental Careers Organization, Inc., 286 Congress Street, Third Floor, Boston, MA 02210-1009
Environmental Studies: 2000 Project
The "Environmental Studies: 2000 Project" is a national program to assist those designing university environmental studies programs to prepare for environmental workforce needs and to assist students in preparing for environmental careers. The goal of the program will be to disseminate the results of an ECO study which assesses the needs of environmental employers to the environmental studies departments and minority academic institutions through workshops at national conferences. Activities will include developing environmental career strategies and creating lasting partnerships between educators and employers.
1994
MA
1
Lloyd Center for Environmental Studies -- $5,000
Alan Harris, 430 Potomska Road, P. O. Box 87037, South Dartmouth, MA 02748
Docent Program
The "Docent Program" will train volunteers to lead school children in explorations of their local environments. There will be ten workshop sessions, including coastal field studies, wildlife in the school yard, and marine organisms. The workshops will provide volunteers with the ability and access to materials necessary to lead students in hands-on investigation. The program will reach a diverse audience of adult volunteers and children from across New Bedford, promoting and enhancing environmental education in the area.
1994
MA
1
Manomet Observatory -- $58,880 (HQ Grant)
Janis Burton, Manomet Observatory, 81 Stage Point Rd., Plymouth, MA 02345
Save Our Migratory Birds
"Save Our Migratory Birds" will emphasize the global nature of environmental and natural resource issues by teaching middle school students in the U.S., Mexico, Canada, and Argentina how to protect local habitats used by migratory birds. This "think globally, act locally" project includes a partnership between non-profit conservation and education organizations in all four countries.
1994
MA
1
Massachusetts Audubon Society/Arcadia Wildlife Sanctuary -- $5,000
Anthony Symasko III, 127 Combs Rd., Easthampton, MA 01027
Summer Environmental Field Trip
The Arcadia Nature Center and Wildlife Sanctuary, a local arm of the Audubon Society, will expand its six-week summer environmental field trip program to eight weeks and continue serving 350 Holyoke Hispanic children, ages five to eleven, in their increasing awareness of their natural environments. The expansion of the program will allow for emphasis on adult workshops, the hiring of an additional part-time professional educator, the training of assistants in the use of observation and sampling equipment, and additional hours for children to participate at the sites and at community meeting halls after the field trips.
1994
MA
1
Massachusetts Audubon Society/Wellfleet Bay Wildlife Sanctuary -- $5,000
Christine Brothers, P. O. Box 236, South Wellfleet, MA 02663
Project Pond
Through classroom sessions, field trips, and summer interpretation, "Project Pond" will educate 240 tenth grade biology students in the natural history and management of the Outer Cape's kettle ponds. The program will expose the students to scientific research, natural resource management, and work experience in environmental management. The participants then will use these skills and knowledge to educate town residents and visitors who use the ponds.
1994
MA
1
Patriots' Trail Girl Scout Council -- $7,965
Brenda Rich, 95 Berkeley St., Boston, MA 02116
Trails to Action
"Trails to Action," a weekend workshop, will provide approximately 150 Girl Scout troop leaders with environmental materials and curricula which will enable them to bring environmental education to the scouts, volunteer staff, board members, and committee members. The goal of the project is to have the leaders and the girls display environmental awareness in all aspects of their lives and make environmentally-conscious decisions.
1994
MA
1
Reading Public Schools -- $4,990
Leo P. Kenney, 62 Oakland Rd., Reading, MA 01867
Vernal Pool Education Project
Through its "Vernal Pool Education Project," the Reading Public Schools seek to improve environmental education in Massachusetts by involving high school students and their teachers in the identification, study, and certification of vernal pools in their communities. Through a series of workshops, students and teachers from approximately 60 high schools in Middlesex County will become involved in data gathering, study and certification of vernal pools. The workshops will use an investigative, hands-on approach using color-infrared aerial photographs to identify and plot vernal pools on U.S. Geological Survey maps, eventually leading to applications for vernal pool certification. The goal of the project is to promote partnerships with agencies such as the Department of Environmental Protection Wetland Conservancy Program and the Essex County Greenbelt Association.
1994
MA
1
Westport River Watershed Alliance -- $5,000
Gay Gillespie, 1151 Main Rd., P. O. Box 3427, Westport, MA 02790
Watershed Education Project (WEP)
The Westport River Watershed Alliance's "Watershed Education Project (WEP)," will expand its environmental program by using hands-on, grade-specific curriculum kits, expanding teacher workshops, and developing Family Nights wherein students will share with parents and friends the activities resulting from the WEP kits. This program seeks to incorporate communities within the Westport River's watershed, like Fall River and Freetown, Massachusetts and Tiverton and Little Compton, Rhode Island, which were previously not included in the project. The expansion of WEP will increase the students' and public's awareness of the environmental health of the watershed.
1994
MI
5
Grand Traverse Band of Ottawa and Chippewa Indians -- $5,000
Robert Kewaygoshkum, 2605 NW Bay Shore Dr., Suttons Bay, MI 49682
Environmental Education for the Ottawa and Chippewa Indian Communities
The goal of this project is to build tribal capacity to develop and deliver an environmental education program to the Ottawa and Chippewa Indian communities. EPA funds will enable the Grand Traverse Band to develop a first-ever tribal plan for environmental education by convening a task force and identifying existing resources and gaps. In addition to earmarking goals and objectives for a holistic environmental education program, the Tribal Plan will describe demonstration projects that combine Native American cultural practices with local natural resources.
1994
MI
5
Ingham Soil Conservation District -- $4,747
Ann Nebe, 521 N. Okemos Rd., P. O. Box 236, Mason, MI 48854
Sycamore Creek Watershed
This grant funds a project to educate students, adults, community members, and businesses in the Sycamore Creek Watershed about their local watershed and about the environmental importance of small streams. Further education will focus on how individual actions can eventually impact the Great Lakes. Funds will be used to support forums to reach residents and businesses and to involve students in actual water quality sampling.
1994
MI
5
Michigan State University Division of Science Education -- $5,000
Clarence Suelter, 302 Admin. Bldg., East Lansing, MI 48824
Workshop in Physical Environmental Science
Participants in this project will offer a three-week, interdisciplinary workshop in physical environmental science for 30 high school chemistry, physics, and earth science teachers. The workshop will incorporate the use of science, technology, and society to demonstrate the complexity of environmental issues involved with water usage and reclamation. The workshop will stress the need for multidisciplinary approaches to solving problems by challenging teachers to work through different environmental scenarios. Teachers who participate in the workshop will be required to either share their experience with their peers or give a presentation on the program at the Michigan Science Teachers Association conference.
1994
MI
5
Muskegon Area Intermediate School District -- $23,239
Tom Green, 630 Harvey St., Muskegon, MI 49442
River and Groundwater Project
The purpose of this project is to expand the school district's river and groundwater project, which involves students in cooperative study of the history, geography, hydrology, biology, chemistry and politics of the Muskegon River and White River watersheds. EPA funds will enable the Muskegon Area Intermediate School District to reach 1,000 additional middle and high school students in four additional districts. Muskegon School District ultimately aims to establish the program in 10 to 20 regional sites in Michigan. Students will share data they gain from the watersheds through the Global Rivers Environmental Education computer network.
1994
MI
5
Urban Options, Inc. -- $5,000
Marisa McGlue, 405 Grove St., East Lansing, MI 48823
Workshops on Energy Efficiency and Conservation
The purpose of this project is to deliver a series of workshops to elementary teachers on energy efficiency and conservation. EPA funds will be used to support the first year of a four-year plan for an in-service program aiming to reach 200 teachers. Urban Options will survey existing energy curricula in order to use hands-on energy activities with the teachers that complement Michigan's educational science objectives.
1994
MI
5
Washtenaw County -- $23,241
Rebecca Head, 220 N. Main St., P. O. Box 8645, Ann Arbor, MI 48107-8645
Environmental Equity Community Outreach
This grant funds the development of a new program entitled "Environmental Equity Community Outreach," which aims to form partnerships between Washtenaw County government agencies and low income, diverse communities in the county. The goal of the program is to increase citizen awareness of the county's environmental programs and services and to gain input from citizens to ensure that county programs meet the expressed needs of under represented communities of color. Citizens will participate in community workshops, presentations, and environmental projects. The project builds on a 1992 EPA environmental education grant awarded to Washtenaw County to run an Environmental Career Internship Program for students of color. The former interns will assist in cultivating community contacts for this program.
1994
MN
5
Bell Museum of Natural History -- $5,000
Don Luce, 1100 Washington Ave. South, Suite 201, Minneapolis, MN 55415
Public Understanding of Endangered Species
The purpose of this project is to develop and conduct a series of focus groups to assess public understanding of issues surrounding endangered species in the north central region of the United States. Bell Museum will use data collected from these focus groups to shape a series of exhibitions the museum is now developing in collaboration with the U.S. Fish and Wildlife Service. The exhibit's goal will be to challenge visitors to think about the extended consequences of their actions on the natural world and to further develop their conservation ethic. Some of the exhibitions will be used to travel to classrooms and will actively engage viewers by including dioramas, graphics, interactive objects and videos, learning kits, and games.
1994
MN
5
Prairie Island Tribal Council -- $26,260 (HQ Grant)
Lin Nelson, 118 Island Blvd., Prairie Island Tribal Council, Welch, MN 55089
Curriculum on Community Environmental Issues
This project will enhance environmental awareness and motivate area school children, tribal members, and visitors to the reservation community to be more environmentally conscious in making decisions that affect the environment. The project will develop a culturally sensitive curriculum that addresses a wide-range of environmental problems on the reservation, including problems associated with air and water pollution, woodland ecology, and solid waste disposal.
1994
MN
5
Red Lake County Soil and Water Conservation District (SWCD) -- $5,000
Irene Hill, Route 1, Box 31B, Red Lake Falls, MN 56750
Value of Wetlands
The purpose of this project is to offer outdoor education on the value and benefits of wetlands to local educators. Funds will enable the Red Lake County Soil and Water Conservation District to reach at least 20 educators who will then teach more than 400 local students about wetland biology, plant identification, water quality, adjacent land use, and other related subjects.
1994
MN
5
The International Coalition for Land/Water Stewardship in the Red River Basin -- $4,120
Karla Parkinson, P. O. Box 127, Moorehead, MN 56561-0127
Smart Shoppers
The "Smart Shopper's" program is currently disseminating environmental education materials through grocery stores. The funds from this grant will expand this program to include new waste reducing tips and also add "WaterWise" tips promoting the more efficient use of water. The goal of the program is to educate, inform, and help the grass roots population address these important issues. Please note that although the mailing address for this project is in Minnesota, the project is taking place in North Dakota.
1994
MS
4
University of Mississippi -- $5,000
Bonnie J. Krause, Graduate School/Office of Research, University, MS 38677
Traveling Trunk Environmental Education Program
The purpose of this project is to develop a "Traveling Trunk Environmental Education Program" on soil conservation and conduct 3 workshops to train teachers and volunteers in a 20-county area in northern Mississippi in the use of the materials. The program is designed to serve about 1,750 elementary students and 20 teachers.
1994
MO
7
Francis Howell School District -- $10,000
Gerry Boehm, 7001 Hwy 94 South, St. Charles, MO 63304
River Project
This grant will fund the introduction of other local high schools to this already functioning project. The River Project has focused on teachers training teachers and will improve on that model by having teachers instruct students, who will then train students from other high schools. The project will create an environmental education partnership and deliver environmental education training to St. Charles County high schools.
1994
MO
7
Meadow Heights R-II School -- $5,000
Cheri Fuemmeler, Hwy 72E, Box 210D, Patton, MO 63662
Outdoor Classroom
For this project, the Meadow Heights teachers of kindergarten through 4th grade and science specialists teaching 5th through 12th grade will create an outdoor classroom to provide real-life contact with nature. Summer workshops will enable teachers to improve instructional skills, incorporate environmental studies into existing curriculum, and incorporate the outdoor classroom as a laboratory for regular science instruction.
1994
MO
7
Meramec Regional Planning Commission -- $4,038
Bonnie Prigge, 101 W. 10th St., Rolla, MO 65401
Household Hazardous Waste Workshop
This project is designed to provide education about household hazardous waste and includes a workshop for representatives from a six-county area. The training will include issues relating to proper disposal methods and use of alternative products. The goal of the project is to reach elected officials, educators, and students who will be able to share their experiences and knowledge in their communities, schools, and local governments.
1994
MO
7
Meramec Regional Planning Commission -- $4,728
Bonnie Prigge, 101 W. 10th St., Rolla, MO 65401
Backyard Composting
The goal of this project is to educate the public on backyard composting and generate interest and participation in waste reduction and reuse through composting. The project will consist of six hours of classroom instruction and three hours of hands-on field work. Participants will be selected from each community in the district and will serve on the environmental speakers bureau, reaching a broad spectrum of the Ozark River's Solid Waste Management District.
1994
MO
7
Metropolitan Energy Center -- $24,910
Peter Dreyfuss, 3808 Paseo, Kansas City, MO 64109
Improving Lighting Efficiency
This project will educate school staff and students about the management and control of lighting and the environmental impact of improving lighting efficiency. It involves students in conducting a lighting audit as an educational tool and provides workshops for educators to learn basic principles of energy-efficient lighting.
1994
MO
7
Niangua R-V School -- $4,000
Roy W. Manion, P. O. Box 77, Niangua, MO 65713
Teacher Training on Water Sampling
This grant will provide additional environmental education material for teachers of kindergarten through 12th grade to incorporate into their general curriculum. The training will include an emphasis on water sampling for students. Information will be shared with the community in hopes that the community will become more aware of problems, possible solutions, and the need for clean rivers, creeks, and water.
1994
MO
7
River Bluffs Audubon Society -- $4,972
Celeste Koon, 1017 Holly, Jefferson City, MO 65109
Environmental Education Partnership
This project will facilitate an environmental education partnership among the local government, the local school district, and the River Bluffs Audubon Society. Funding will be used to prepare a traveling display, fliers, and public service announcements to promote recycling and strengthen the public's awareness of how individual actions can create or reduce pollution.
1994
MO
7
Waynesville R-VI Schools -- $3,750
Herbert Turner, 403 School St., Waynesville, MO 65583
Studying the Roubidoux Creek
This project is a continuation and expansion of hands-on laboratory activities and a stewardship program involving the Roubidoux Creek. The project encompasses a year-long study of creek conditions and will result in the development of a simple environmental curriculum that can be used or modified by other educators. Eighth-grade students act as mentors for the elementary grades. Participants in the water quality monitoring program have identified, and will continue to monitor for, minor problems early so that the community can react and make corrections as needed.
1994
MT
8
Butte-Silver Bow Health Department -- $5,000
Barbara Popovich, 25 West Front St., Butte, MT 59701
Lead in Our Environment
The purpose of this project is to encourage students in grades 4 through 8 and educators to take an investigative and scientific approach to understanding the influence of lead as an environmental substance. Health department staff will go into the classroom to explain about lead in our environment, suggest projects for discovering more about the effects of lead, and offer assistance to develop these projects. The grant funds will be used for awards given through a regional science fair.
1994
MT
8
Montana Environmental Education Association -- $4,500
Carol Soth, P. O. Box 928, Dillon, MT 59725
Outreach Program
The purpose of this project is to extend a pilot outreach program to rural school districts to further the integration of environmental education into the kindergarten through 12th grade curriculum. The project seeks to expand the Resource Lending Library, install a toll-free telephone line, conduct five to eight additional residencies in rural schools, and conduct five to eight additional in-service programs for teachers around the state.
1994
NE
7
Nebraska Groundwater Foundation -- $9,480
Susan Seacrest, P. O. Box 22558, Lincoln, NE 68542-2558
Groundwater Festival
The purpose of this grant is to help the Nebraska Groundwater Foundation to match secondary students with an interest in groundwater with environmental professionals in a mentor relationship. Student and mentor recruitment, training, and recognition will be built on established Groundwater Festival partnerships with state agencies, higher education, and natural resource districts. Specific objectives of the project includes the creation of a visual product suitable for public demonstration while promoting communication and cooperation between students and groundwater professionals.
1994
NE
7
University of Nebraska -- $4,000
Joel Cahoon, South Central Research & Extension Center, P. O. Box 66, Clay Center, NE 68933
Irrigation Workshop
The primary goals of this project are to demonstrate and evaluate techniques that reduce deep percolation of irrigation water below the active root zone in furrow-irrigated fields and to narrow the gap between irrigation application amounts and the actual amounts of water extracted by the crop. The results of the project will be presented at an irrigation workshop in Clay County and at the Central Plains Irrigation Short Course and Equipment Expo, which annually attracts more than 300 irrigators from three states.
1994
NE
7
University of Nebraska -- $5,000
Shirley Niemeyer, University of Nebraska, Lincoln, NE 68588
Interactive Computer Program for Pollution Prevention
The goal of this project is to transfer existing pollution prevention technology to consumers and householders through the use of a touch-screen, interactive, multimedia computer program. The multimedia program has the potential to improve environmental education teaching through use in educators' workshops, conventions, or displays. It builds on state and local government capacity to develop and deliver environmental pollution prevention educational programs.
1994
NV
9
University of Nevada-Las Vegas -- $11,000
Roberta Williams, 4505 Maryland Pkwy, Las Vegas, NV 89154-4004
Science and Society Course
This grant will fund the development of the Science and Society course. The course will target teachers from rural Nevada and residents of Clark County and will provide insights into national and local environmental issues. Participating teachers will be encouraged to conduct workshops at their home schools to extend to their peers the hands-on experiments, instructional materials, and critical thinking about environmental issues they have learned through the course.
1994
NV
9
Washoe Tribe of California and Nevada -- $5,000
Sherry Smokey, 919 Hwy 395 South, Gardnerville, NV 89410
Willow Project Expansion
The "Willow Project Expansion" will provide teacher training and curriculum activity kits for 4th grade teachers in Alpine County, California and Carson City, Nevada. The model, currently in use in the schools of Douglas County, Nevada, offers a cross-cultural environmental curriculum and presents Native American traditions in a scientific context.
1994
NH
1
Connecticut River Joint Commission -- $12,350
Sharon Francis, P. O. Box 1182, Charlestown, NH 03603
Guide to the Connecticut River Watershed
Working as a joint commission, the Connecticut River Watershed Council and the Vermont Department of Environmental Conservation will promote environmental literacy by developing, publishing, and distributing an illustrated guide which will serve as an educational tool for teachers, students, and citizens of the Connecticut River watershed. The guide will focus on combating non-point source pollution by suggesting actions that can be taken to prevent and control pollution and serving as a reference guide for best management practices. In addition to the guide, workshops such as "The River that Connects Us," and publications such as Environmental Management will provide the teaching tools necessary for numerous interest groups, especially teachers and students in the states of Connecticut, Massachusetts, New Hampshire, and Vermont.
1994
NH
1
Harris Center for Conservation Education -- $5,000
Marian K. Baker, 341 Kings Highway, Rte. 1, Hancock, NH 03449
AIRNET
AIRNET, an air quality monitoring project, will create partnerships between the Harris Center, town and state officials, and ten local, private, and public high schools in New Hampshire. This grant will be used to expand the existing AIRNET monitoring project, which promotes environmental education through interdisciplinary learning. Activities include workshops, team teaching, computer networking, multidisciplinary research, and analysis of data. The goal of this unique program is to increase the interest and knowledge of air quality issues throughout the community.
1994
NH
1
Raymond Parks and Recreation Department -- $5,000
Richard C. Bates, Raymond, NH 03077
Environmental Education Programs for Citizens of Raymond
The Raymond Parks and Recreation Department, in conjunction with the Raymond School District, will manage environmental education programs which enlighten and empower the citizens of Raymond to actively monitor environmental health. Specific projects include evaluating wetlands, monitoring water quality, and finding alternatives to landfills. Students from high schools in Raymond will be trained as environmental docents -- providing environmental lectures, demonstrations, and tours to elementary and middles school classrooms and community organizations. Also, in the summer, environmental education will be incorporated into the summer youth program as the docents or other students work as Junior Conservation Counselors. A part-time environmental education coordinator will be hired to schedule workshops and other relevant community events to complement the students' efforts.
1994
NH
1
University of New Hampshire -- $4,999
Ihab Faraq/Linda Kahan Meier, Office of Sponsored Research, 107 Service Bldg., Durham, NH 03824-3585
P2 Consortium
In conjunction with the Pollution Prevention Consortium of New England Universities, the University of New Hampshire plans to sponsor a regional conference facilitating the transfer of pollution prevention technology to undergraduate and graduate students and faculty. The "P2 Consortium," the first of its type, will encourage demonstrations, discussions, and dissemination of pollution prevention activities and information. Students will get an opportunity to present pollution prevention projects and foster greater awareness and understanding of pollution prevention.
1994
NJ
2
American Littoral Society -- $18,500
D.W. Bennett, Highlands, NJ 07732
ESTUARIES Workshops
The American Littoral Society will sponsor teacher workshops in the New York Harbor area using an existing curriculum, ESTUARIES. This program is designed to motivate teachers to introduce estuarine-related studies to students, introduce interdisciplinary curricula related to estuaries, complement efforts in the public and private sectors in environmental education related to harbor and estuary programs, and demonstrate how individuals can protect estuaries.
1994
NJ
2
Genesis Farm, Inc. -- $5,000
Sister Patricia Daly OP, 41a Silver Lake Road, Blairstown, NJ 07825
Teacher Workshops on Ecosystems
Genesis Farm embodies the ideal of "living lightly on the earth." This program will consist of teacher workshops for elementary school educators, which will provide them with materials for classroom implementation and current scientific understanding of ecosystems. The workshops will enable teachers to collaborate on the development of environmental education programs and share information regarding effective models.
1994
NJ
2
Greater Newark Conservancy -- $5,000
Deborah Hadley, 303-9 Washington Street, 5th Floor Room 2, Newark, NJ 07102
Weatherwatch Pilot Program
With this grant, the Weatherwatch Pilot Program will continue and expand a pilot project to measure the impact of meteorological phenomena and pollution on the environment by creating partnerships between Newark schools and nonprofit environmental organizations. This phase of the program that began in 1993 will reach ten schools, enabling educators to use the hands-on weather curriculum with an estimated 400 students.
1994
NJ
2
New Jersey Department of Education -- $224,583 (HQ Grant)
Sylvia Kaplan, NJ Department of Education, 225 E. State St., CN 500, Trenton, NJ 08625
Project CLEEN
"Project CLEEN" will prepare New Jersey vocational technical students for environmental careers. It will identify ten occupational areas throughout the state which have the greatest pollution problems, develop environmental management curriculum resources to address problems at these sites, host educator workshops, and disseminate curriculum and professional development materials nationwide. The focus of the project will be to prepare individuals to prevent pollution in the workplace.
1994
NJ
2
New Jersey Audubon Society -- $24,000
Peter Bacinski, 790 Ewing Avenue, P. O. Box 125, Franklin Lakes, NJ 07417
New Jersey Audubon Society's Bridges to the Natural World
This grant funds the New Jersey Audubon Society's Bridges to the Natural World, the first natural history guide providing educators with information specific to New Jersey. The guide will be the basis for teacher and facilitator workshops, which will reach educators throughout New Jersey. The goal of the project is to empower the educators to make environmental education relevant, exciting, and accessible in urban, suburban, and rural settings.
1994
NJ
2
Warren County 4-H Leaders Association -- $5,000
Carol Knowlton Ward, 165 County Road, Route 519 South, Belvidere, NJ 07823
Training for Teens
The New Jersey 4-H Conservation School will be a hands-on program for teens, introducing them to environmental issues such as waste management and water quality. State, county, and private sector partners also fund this program that will draw youth from throughout New Jersey. Participants learn about the environment and how to relate their concern about environmental issues to policy makers.
1994
NJ
2
Washington Township Board of Education -- $4,000
Helen E. DiPascale, 234 Sharon Road, Robbinsville, NJ 08691
Family Learning for Environmental Education
This grant will fund "Family Learning for Environmental Education." The project will involve students in grades 4 through 6 and their parents. It provides them with the opportunity to learn about the environment and prepares them to make informed decisions. The family learning sessions will be conducted in evening and Saturday morning sessions.
1994
NM
6
Carlsbad Caverns-Guadalupe Mountains Association -- $5,000
Teresa M. Jaskiewicz, P. O. Box 1417, Carlsbad, NM 88221
Partnerships with Carlsbad Caverns Teacher Workshops
The "Partnerships with Carlsbad Caverns Teacher Workshops" will train teachers to prepare students for visits to the national park and to lead tours through the park.
1994
NM
6
Gadsden Independent School District -- $5,000
Pamela Donaldson, 2500 W. Washington Ave., Anthony, NM 88021
Water Quality Curriculum
Under this grant, materials and curricula will be developed and equipment purchased for this school district. Teachers will be trained to guide high school students as they teach 5th graders about water quality issues in the Gadsden area.
1994
NM
6
Santa Fe Community College -- $5,000
Mary Ann Walz, P. O. Box 4187, Santa Fe, NM 87502
Teacher and Counselor Environmental Workshop
The "Teacher and Counselor Environmental Workshop" will focus on how to incorporate 50-minute environmental lessons into existing curricula. Workshop content also includes environmental career counseling and promoting awareness of environmental concerns in the Santa Fe, New Mexico area.
1994
NM
6
Youth Development, Inc. -- $18,000
Augustine C. Baca, 6301 Central NW, Albuquerque, NM 87105
Children Develop Educational Tools
For this project, children will develop multi-cultural, bilingual educational tools, including a coloring book, to raise awareness of groundwater contamination and other environmental issues.
1994
NY
2
American Lung Association of Nassau-Suffolk -- $13,200
Madelon Goldberg Givant, Program Department, 214 Marcus Blvd., Hauppauge, NY 11788
Future Workers' Education Project
This project will provide educator workshops for school personnel working with students in occupational education classes in public and private educational institutions in Nassau and Suffolk Counties. The Future Workers' Education Project provides young people and adults entering the work place with the knowledge, skill, and understanding that will enable them to minimize exposure to lung hazards.
1994
NY
2
Bronx High School Science Foundation, Inc. -- $20,500
75 West 205th Street, Bronx, NY 10468
Ecology Training Institute
The summer Ecology Training Institute will use the Inwood Hill Park Spartina marsh and Van Cortlandt Park freshwater wetlands as urban habitat themes. New York City(NYC) teachers will receive training on how to design and disseminate NYC-based aquatic ecology lessons and use the parks as outdoor laboratories. This project will establish an Ecology Resource Center for middle school teachers at the Bronx High School of Science.
1994
NY
2
Brooklyn Botanic Garden -- $5,000
Ann T. Schwartz, 1000 Washington Avenue, Brooklyn, NY 11220
Brooklyn GreenBridge
This grant will support the pilot phase of a community environmental education program, "Brooklyn GreenBridge." Using gardens as an educational vehicle to create stronger communities also enhances the quality of the local environment. Brooklyn GreenBridge targets school groups in under served urban neighborhoods, bringing them together with community educators to create teaching gardens in vacant lots.
1994
NY
2
City of New York Department of Parks and Recreation -- $5,000
Alexander R. Brash, Urban Park Rangers, 1234 Fifth Avenue, New York, NY 10029
Teacher's Guide for the Urban Forest Ecology Center
For this project, a teacher's guide for the Urban Forest Ecology Center and surrounding Van Cortlandt Park will be developed enabling educators to use the park to teach urban forestry and restoration ecology. The guide will support teacher efforts to continue their involvement with restoration of urban natural areas. This model program seeks to draw a more diverse population to conservation-related careers.
1994
NY
2
Cornell Cooperative Extension -- $5,000
Ann Herriott, Environmental Issue Team, East Kirkbride Road, P. O. Box 1000, Thiells, NY 10984
Home Composting
This project will educate the community about the environment and encourage citizens, through hands-on learning, to take responsibility for processing most of their yard and food waste through home composting. The project promises to be a model for Rockland County and seeks to demonstrate the economic and horticultural benefits of home composting in a community venture.
1994
NY
2
Cornell University, Institute on Science and Environment for Teachers -- $4,873
Arlene Hansen, Office of Sponsored Programs, 120 Day Hall, Cornell University, Ithaca, NY 14853
Aquatic Research Projects and Training
This funding will extend the resources of the Institute of Science and Environment for Teachers by focusing on experimental aquatic research projects and offering regional training workshops, equipment loans, and ongoing support on a computer network. The project supports the teaching of aquatic environmental science using open-ended, student-generated, original empirical research.
1994
NY
2
Earth Day New York -- $5,000
Pamela Lippe, 10 East 39th St., Suite 601, New York, NY 10016
Earth Day Education Program
"The Earth Day Education Program" proposes to build a distribution network to disseminate existing curricula and teaching guides and make them available directly to schools at every grade level, in every school, in every state, impacting students across all social and ethnic lines. The program will establish partnerships between schools through a network of Earth Day coordinators, nonprofit organizations, and the private sector. By motivating and instilling an environmental ethic in children, the general public will reap the rewards of their enlightened environmental consciousness in the years ahead.
1994
NY
2
Educational Broadcasting Corporation -- $100,000 (HQ Grant)
Rose Tatlow, Foundation and Government Underwriting, Educational Broadcasting Corp., 356 West 58th Street, New York, NY 10019
Nature Trail
"Nature Trail" is a 13-week television series that will appear in 30-minute increments and will educate children about their everyday natural world. The program will demonstrate to young people that they do not need go outside of their immediate environment to experience nature; they can learn about the importance of protecting the environment from suburban backyards, city streets, neighborhood streams, and urban parks. Educational materials will be developed with the series to be disseminated to schools and environmental education organizations.
1994
NY
2
Friends of the Anderson Program, Inc. -- $4,974
Helen Krasnow, The Anderson Program at P.S. 9, 100 West 84th Street, New York, NY 10024
Anderson Program
The Anderson Program serves inner city, culturally-diverse, gifted students. The project focuses on wetlands and wetland preservation in and around the Metropolitan New York area. Students do field work including research, observation, and comparison at various estuarine sites. A major aspect of this project involves 4th graders working with kindergarten students cooperatively and as mentors.
1994
NY
2
Hudson River Sloop Clearwater, Inc. -- $5,000
Kate Mitchell, 112 Market Street, Poughkeepsie, NY 12601
Clearwater's Teacher Training Workshops
The overall purpose of the Clearwater's Teacher Training Workshops project is to promote a sense of stewardship of the Hudson River and other waterways. Using A Hudson River Primer, created for workshop use, in partnership with Scenic Hudson, the project will reach educators in the Hudson Valley to improve their understanding of and access to riverfront ecology.
1994
NY
2
Niagara Falls City School District -- $5,000
Cynthia A. Bianco, 607 Walnut Avenue, Niagara Falls, NY 14301
Paddle to the Sea: A Great Lakes Journey
The "Paddle to the Sea: A Great Lakes Journey" project is designed to stimulate interdisciplinary environmental education regarding pollution in the Great Lakes using technology and the Internet system. Specific objectives include development of interdisciplinary units for grades 6 through 8. The units will contain techniques for developing projects for each grade and include ways in which teachers can assess performance. The project will train educators in telecommunications and seeks to improve student problem solving strategies and thinking skills.
1994
NY
2
NYC Board of Education, Community School District 19 -- $4,892
Anthony DeLucia, 557 Pennsylvania Avenue, Brooklyn, NY 11207
Project ECOLE Plus
"Project ECOLE Plus" expands an environmental education apprenticeship for teams of regular and special education classroom teachers. The aspect of the program this grant will fund will develop skills and knowledge teachers need to apply from ECOLE field experiences. Workshops will combine classroom instruction with field experiences for teachers in the East New York section of Brooklyn.
1994
NY
2
NYC Board of Education, Community School District 75 -- $5,000
Susan Erber, P.S. 233, Blue Mini Building, 204 Street and 109 Avenue, Hollis, NY 11412
Environmental Recycling for Multiple Handicapped Students
"Environmental Recycling for Multiple Handicapped Students" is an educational program promoting re-utilization of waste materials from school meals at this school that serves 260 severely handicapped students, ages 5 to 21 years. An objective of the program is the development of students' environmental and recycling awareness and skills, such as packaging materials that are taken to recyclers and composting organic waste in the school garden.
1994
NY
2
Okeanos Ocean Research Foundation, Inc. -- $4,800
Samuel S. Sadove, 278 East Montauk Highway, Hampton Bays, NY 11946
Marine Ecosystems
This project will provide multi-media, multi-subject programming using current teaching techniques. Concentrating on marine mammal and turtle populations and their ecology in the New York region, materials and activities will be combined with visuals to educate students in grades 4 through 12. The project will investigate how human activities have impacted the marine ecosystem.
1994
NY
2
Orleans-Niagara Board of Cooperative Educational Services -- $5,000
Jean K. O'Connell, 4232 Shelby Basin Road, Medina, NY 14103
The Many Fa(u)cets of Water
Four school districts, Lewiston Porter Central, Niagara Falls City, Niagara Wheatfield Central, and Wilson Central, will participate in "The Many Fa(u)cets of Water." This program will educate students about the area's water resources, including nearby Lake Ontario and the Niagara River. In-service workshops and field trips will enable teams of teachers to develop a course of study for use in area classrooms.
1994
NY
2
Public Policy and Education Fund of New York -- $5,000
John Stouffer, 94 Central Avenue, Albany, NY 12206
Waste Prevention and Recycling Curriculum
This project will result in the development and publication of a waste prevention and recycling curriculum for public housing projects. Employing participatory educational techniques, the project will identify attitudes towards solid waste issues, test existing materials for suitability, and develop workshops to enable peer educators to work with residents of public housing units.
1994
NY
2
Rome Teacher Resource Center -- $4,950
Louis V. Campola, Marine Midland Bank Building, 199 Liberty Plaza, Rome, NY 13440
Open Space, Defining-Assessing-Deciding
The "Open Space, Defining-Assessing-Deciding" project will stress the profound impact current decisions on open space have on the future. The project will involve designing a course to teach open space use principles, present the course to key representatives of the community, and disseminate programs and activities to interested groups. Community representatives will include those from education, business, industry, local government, and special interest groups.
1994
NY
2
Wave Hill, Inc. -- $5,000
Marilyn Oser, 675 West 252 Street, Bronx, NY 10471
Wave Hill Project
The Wave Hill project seeks to develop a kit for use by visiting elementary school teachers. Wave Hill educators will work with teachers from New York City School District 11, the Bronx, to develop kits containing materials and instructions. By enabling teachers to bring their own classes through this outdoor learning facility, and not requiring a Wave Hill leader, this outdoor facility becomes more accessible to more students who can benefit from the outdoor educational experiences.
1994
NC
4
East Carolina University -- $36,551 (HQ Grant)
Roger Rulifson, Biology Dept., Howell Science Complex, East Carolina University, Greenville, NC 27858
Project TEACH
"Project TEACH" will provide elementary and junior high school science teachers with the knowledge and instructional skills to teach students about coastal environmental problems in eastern North Carolina. It will educate students about basic ecological principles and the role of people in the balance of nature, and develop student skills in analyzing data and solving local environmental problems. Teachers will become acquainted with local environmental problems, given a variety of classroom field activities suitable for their grade levels, and aided in integrating these activities into their science curriculum.
1994
NC
4
Wake County Public School System -- $5,000
Geraldine Ritter, 3600 Wake Forest Road, Raleigh, NC 27611
Training for Pond Habitat and Butterfly Garden
This project will provide training and educational materials for kindergarten through 5th grade teachers at the Underwood Elementary School to fully utilize the school's planned, on-site pond habitat and butterfly garden.
1994
OH
5
Clintonville Academy -- $4,600
Christine Sellers, 3916 Indianola Ave., Columbus, OH 43214
Assessment of Adena Brook
This grant funds a project to give elementary students the opportunity to participate in a comprehensive educational experience through stream and watershed assessment of the Adena Brook. The project will initially serve 40 5th and 8th grade students and will include delineation of drainage boundaries, biological assessment, chemical sampling, and an environmental exchange program with another school.
1994
OH
5
Environmental Health Watch -- $5,000
Stuart Greenberg, 4115 Bridge Ave., Cleveland, OH 44113
Indoor Air Issues
The purpose of this project is to raise the general public's awareness of indoor air issues and help citizens make informed and responsible decisions that affect their home environment. Funds will be used to develop a decision-maker's guide for families and to support presentations on household pollutants to a wide variety of civic organizations. The guide will walk homeowners through the risk assessment and management process to enable them to determine whether there is a need for action in their homes and which course of action to take to minimize risk from indoor air pollutants.
1994
OH
5
Rural Action -- $5,000
Heather Cantino, 36 S. Congress St., Athens, OH 45701
Pest or Guest?
The purpose of this project is to carry out an educators' training project in integrated pest management entitled "Pest or Guest?" Funds will enable at least 75 teachers of kindergarten through 12th grade to participate in workshops that prepare them to teach integrated pest management curricula to students in five local school districts. Workshops will teach educators to engage students in interdisciplinary, community-based, problem-solving related to pollution prevention.
1994
OK
6
Cushing Public Schools -- $4,986
Denise Parish, 123 E. Broadway, Cushing, OK 74023
Studying About Vitalizing Ecology
The "Studying About Vitalizing Ecology" project will provide children with awareness and appreciation of nature and wildlife and teach the consequences of human activity in relation to wildlife resources.
1994
OK
6
East Central University -- $16,545
Nancy Heitland, Center of Continuing Education, Ada, OK 74820
Water Conservation Seminar
This grant will fund a two-week graduate level seminar for ten teachers to develop a water conservation and water quality program for their classrooms.
1994
OK
6
University of Oklahoma -- $4,963
Cheryl M. Patton, 1000 Asp Ave., Room 314, Norman, OK 73019
Resources for Sold Waste Management
For this project, graduate-level students will develop a data and resource book concerning integrated solid waste management in small communities in Oklahoma.
1994
OR
10
Central Oregon Environmental Center -- $5,000
Peter Geiser, 16 NW Kansas St., Bend, OR 97701
Central Oregon Household Ecoteam Program
The "Central Oregon Household Ecoteam Program" will consist of households forming community-based "EcoTeams" to work on specific environmental projects. The objectives of this project are to educate the public about environmentally sustainable lifestyles, to help team members achieve measurable reductions and efficiencies, to promote partnerships with community and public organizations, and to empower the community to make informed and responsible environmental decisions.
1994
OR
10
Chintimini Wildlife Rehabilitation -- $5,000
Kathleen Kanury, P. O. Box 1433, Corvallis, OR 97339
Wildlife Rehabilitation
This project will use wildlife rehabilitation resources to bring environmental education to the public. Students from the Corvallis School District will apply problem-solving techniques to local environmental problems contained in wildlife rehabilitation records. The students will produce and publicly display information about living with wildlife in a shared environment.
1994
OR
10
City of Hillsboro -- $15,651
Patrick Willis, 123 W. Main Street, Hillsboro, OR 97123
Wetland Education Broadcasts
For this grant, the City of Hillsboro will design and implement a wetland education program for broadcast over the Oregon Ed-Net satellite video-telecommunications system. The program will consist of a 10-week educator training session with classroom student discussions, demonstrations, and hands-on laboratory experiences.
1994
OR
10
Columbia Education Center -- $21,941
Ralph Nelsen, 11325, SE Lexington, Portland, OR 97266-5927
Learning About Biodiversity
The project, "Learning About Biodiversity," will involve students in environmental issues, investigations, evaluation, and resolution. A two-week summer training will be held for 20 teachers from public and private schools in Oregon and Idaho. These teachers will set their schools up as demonstration sites.
1994
OR
10
Jacksonville Woodlands -- $5,000
Larry Smith, P. O. Box 252, Jacksonville, OR 97530
Visit to Jacksonville Woodlands
The purpose of this project is to prepare students and teachers before their visit to the Jacksonville Woodlands. Participants in this project will produce a woodlands educational videotape and supporting teachers' materials.
1994
OR
10
Monument High School -- $5,000
Ron Gaither, North Street, Monument, OR 97864
Water Quality Monitoring for John Day Watershed
In coordination with state and local organizations, the Student Watershed Enhancement Team from Monument High School will assist in the collection and processing of John Day watershed data. The team will establish a water quality monitoring network. This grant will allow the team to acquire the computer power to analyze the data and communicate results in a professional manner.
1994
PA
3
Heritage Conservancy -- $10,000
Carol Quay, 85 Old Dublin Pike, Doylestown, PA 18901
Heritage Conservancy Education Program
The Heritage Conservancy's two-year educational program will lead to informed landowner decisions regarding native plants, heighten awareness in the community at large, encourage permanent native plant protection strategies, and create a better understanding of the value of native plants among school children.
1994
PA
3
Keystone Tall Tree Girl Scout Council -- $5,000
Carol Sheetz, Rd. #7 Box 368, Kittanning, PA 16201
Keystone Tall Tree Girl Scout Council
The Keystone Tall Tree Girl Scout Council will feature water monitoring workshops to include hands-on awareness activities for scouts and teaching methods for adults leaders. The Council will work with the Pennsylvania Bureau of State Parks and a nonprofit organization, Alliance for Acid Rain Monitoring. The natural resource objective of this project is water conservation.
1994
PA
3
Laurel Mountain Environmental Education and Research Institute -- $5,000
Lawrence Bonino, 244 Pine Court, Pittsburgh, PA 15237
Guidebooks on Environmental Issues
For this project, the Laurel Mountain Institute will develop guidebooks on environmental issues. These guidebooks will be used to conduct teacher training workshops in western Pennsylvania and at the Pennsylvania Alliance for Environmental Education Annual Conference.
1994
PA
3
North Museum of Natural History and Science -- $5,000
Robert Gingerich, P. O. Box 3003, Lancaster, PA 17604
Museum Exhibit on Environmental Issues
Using funding from this grant, the North Museum of Natural History and Science will design an interactive exhibit on complex aspects of environmental issues. This exhibit, developed in English and Spanish, will complement the museum's activities to reach out to the Latino community in Lancaster City, Pennsylvania.
1994
PA
3
Penns Valley School District -- $4,369
Stephen Boston, R.D. 2 Box 116, Spring Mills, PA 16875
Environmental Curriculum Training
For this project, the Penns Valley Area School District will hold educator workshops that will train teachers from kindergarten through high school. With this training, educators will be able to use the newly-designed curriculum material and their environmental center.
1994
PA
3
School District of Philadelphia -- $2,500
Ethel Goldberg, 21st St. & the Pkwy, Philadelphia, PA 19103
Habitat Preservation
Under this grant, the School District of Philadelphia's Fels High School is planning a hands-on project for African American, White, Asian, Indian, and Hispanic inner-city school students. With the help of local experts, Fels students will begin to understand more about habitat preservation as they create a butterfly habitat in their school yard.
1994
PA
3
South Western School District -- $5,000
Philip Hempfing, 225 Bowman Rd., Hanover, PA 19173
Teacher Environmental Awareness Workshop
For this project, the South Western School District will hold a teacher workshop that will result in greater environmental awareness for both students and teachers in York and surrounding counties.
1994
PA
3
Wyoming County Conservation District -- $5,000
Denise Coleman, RR#3 Box 178-B, Tunkhannock, PA 18657
Water Quality Workshops
Funds from this grant will go to the Wyoming County Conservation District to conduct a series of water quality workshops designed to train teachers from all grade levels. The developers of the project hope to reach teachers from five school districts.
1994
PR
2
Mayaguezanos por la Salud y el Ambiente, Inc. -- $5,000
Henry L. Beauchamp, Claudio Carrero #293, El Mani, Mayaguez, PR 00680
Classroom Presentations on Recycling
This program will specifically target communities in western Puerto Rico and orient environmental education activities by taking into account the cultural and social reality of this area. Teacher resources and materials will be developed and used in workshops to enable educators to develop classroom presentations on recycling, a critical issue in western Puerto Rico.
1994
RI
1
Childhood Lead Action Project -- $5,000
Eleanor Freda, 421 Elmwood Ave., Providence, RI 02907
Childhood Lead Action Project
"The Childhood Lead Action Project" will train a myriad of outreach workers providing services to families of young children by making lead poisoning prevention a basic component of their work. Through workshops, partnerships will be established among diverse agencies like Visiting Nurses Associations, Early Start Programs, and Parents as Teachers. In this way, knowledge of lead poisoning and of the ways to prevent it will lead to a lead-safe environment throughout Rhode Island.
1994
RI
1
Save The Bay -- $5,000
Fred Massie, 434 Smith Street, Providence, RI 02908
Narragansett BayWork
The "Narragansett BayWork" project is designed to increase environmental awareness and pollution prevention using a specially-designed poster and brochure program. The program will target adults in the workplace, including 15 businesses, blue and white-collar, located throughout southeastern New England. Through the use of the posters and brochures, the program seeks to increase the environmental literacy of employees from low-income minority communities and create partnerships between area businesses and Save The Bay.
1994
RI
1
Southern Rhode Island Conservation District -- $5,000
Carl Sawyer, 5 Mechanic St., P. O. Box 1145, Hope Valley, RI 02832
Pawcatuck Watershed Education Program Curriculum Guide
This grant funds the development of the Pawcatuck Watershed Education Program Curriculum Guide, which will serve as the basis for teacher training workshops to be provided to seven elementary and middle schools in the Pawcatuck Watershed area. A part-time employee will promote, organize, and conduct the workshops. The goal of the workshops is to have the teacher incorporate environmental awareness and heightened appreciation for the watershed in their school year curricula. The project will also foster partnerships among the district, educational institutions, and government and nonprofit organizations. The guide's effectiveness will be evaluated using pre- and post-tests to be administered by the teachers.
1994
SC
4
South Carolina Wildlife Federation -- $3,000
Patricia L. Jerman, P. O. Box 61159, Columbia, SC 29260
Schoolyard Habitat Teacher Workshops
This grant will fund the Schoolyard Habitat Teacher Workshops. The purpose of the workshops is to enhance the ability of 50 elementary and middle school teachers to develop outdoor nature study areas and school yard habitats at their schools.
1994
SD
8
Sinte Gleska University (SGU) -- $5,000
Georgia Hackett, P. O. Box 490, Rosebud, SD 57570
Workshops for the Rosebud Sioux Reservation
Sinte Gleska University proposes to sponsor two environmental workshops designed for the Rosebud Sioux Reservation. The workshops will target community members, tribal and agency officials, and teachers in the local education districts who are responsible for tribal educational matters. The objective of the program is for participants to learn terms and facts regarding solid waste, water and air quality, and radon detection, and to design a work plan for recycling and reuse on the reservation.
1994
TN
4
Tennessee Conservation League -- $25,000
L. Kay Linder, 300 Orlando Avenue, Nashville, TN 37209
Multi-media Environmental Education Unit
This grant will fund a project to develop a multi-media environmental educational unit for middle and high school classrooms. The unit will include a video program, teaching guide, and other written materials to encourage critical thinking, problem solving, and decision-making about biodiversity issues.
1994
TN
4
Tennessee Technological University -- $4,999
Edwin Lamberth, Box 5034, Cookeville, TN 38505
Environmental Agriscience Workshop
The Environmental Agriscience Workshop is an eight-day, in-service workshop in environmental agriscience for 20 high school agriculture teachers. Workshop sessions will focus on teaching techniques and development of instructional and resource units on conservation.
1994
TN
4
Williamson County Schools -- $25,000
Judy Butler, 1320 West Main Street, Franklin, TN 37064
Harpeth River Environmental and Educational Project
The Harpeth River Environmental and Educational Project will use the river as an outdoor classroom to provide hands-on experience in the theory and practice of historical, chemical, biological, and sociological research. The project will include a student field trip, two one-week summer workshops for middle and high school teachers, and partnerships to train teachers to replicate the project across Tennessee.
1994
TX
6
Austin Nature Center -- $2,300
Louise Morell, 301 Nature Center Dr., Austin, TX 78746
Your Back Yard Ecoguide
This grant will help to print 4,000 copies of Your Back Yard Ecoguide. The guide will be handed out at the Nature Center's exhibit, "for Birds, Bats, Butterflies and More." The guide will explain how to reproduce native plant and animal habitats seen at the exhibit.
1994
TX
6
Bryan Independent School District -- $4,275
Laura North, 101 North Texas Ave., Bryan, TX 77803
Environmental Science Through Gardening
The purpose of this project is to teach students at Sul Ross Elementary School earth stewardship and environmental sciences through gardening. Funds will go to the purchase of gardening tools, equipment and materials for two purple martin houses and a pond.
1994
TX
6
Clean Pearland, Inc. -- $2,900
Delores Fenwick, P. O. Box 3041, Pearland, TX 77588
Waste: A Hidden Resource
This project involves a teacher training workshop for the "Waste: A Hidden Resource" curriculum. This project will fill an existing gap between the environmental education program in the elementary schools and Clean Pearland's education and information for adults in the community.
1994
TX
6
Fort Worth Clean City, Inc. -- $3,744
Carolyn Bellah, 4100 Columbus Trail, Fort Worth, TX 76133
Earth Kids
Project "Earth Kids" involves youth in the Summer Day Camp at Fort Worth's Handley-Meadowbrook Center. Activities will include recycling, litter reduction and beautification projects.
1994
TX
6
Galveston Bay Foundation -- $5,000
Linda R. Shead, 17324-A Highway 3, Webster, TX 77598
Galveston Bay Training
This project will train volunteers (Galveston Bay Ambassadors) to give educational programs about Galveston Bay issues to students in kindergarten through 12th grade. Scientific study sheets also will be developed.
1994
TX
6
Houston Clean City Commission, Inc. -- $4,816
Robin Blut, 2700 Post Oak Blvd., #1728, Houston, TX 77056
Waste: A Hidden Resource
This grant funds the presentation of workshops for secondary school teachers in the Houston area. The workshops will include hands-on training in use of the "Waste: A Hidden Resource" curriculum.
1994
TX
6
Lower Clear Fork of the Brazos Soil and Water Conservation District -- $4,949
Tommy L. Hailey, Rt. 1, Box 146 B, Albany, TX 76430
Bobwhite Brigade
Participants in this project will develop the "Bobwhite Brigade" program. The program will use trained volunteers to deliver presentations centered around quail conservation practices to youth and adults in their communities.
1994
TX
6
Pedernales Falls State Park -- $5,000
Rod Rylander, Rt. 1, Box 450, Johnson City, TX 78636
Ecology of Texas and Mexico
These grant funds will provide environmental education training for bilingual teachers from Mexico in methods for teaching youth about the regional flora and fauna. The goal of the project is to create an understanding about the ecological relationships of Texas and southern Mexico.
1994
TX
6
Sam Houston State University -- $5,000
Joel Bass, P.O. 2119, Huntsville, TX 77341
Workshop on Water Quality, Pollution Prevention, and Recycliing
For this project, a workshop will be conducted with Gulf Coast Utilities for elementary and junior high teachers in the East Texas Gulf Coast region. Important issues discussed during the workshop include water quality, pollution prevention, and recycling.
1994
TX
6
Texas A&M Research Foundation -- $5,000
Lori Wilkinson, Box 3578, College Station, TX 77843
Geography Curriculum
The purpose of this project is to develop a geography curriculum for teaching environmental education and to design model teacher workshops for social studies and science teachers of kindergarten through the 12th grade.
1994
TX
6
Texas Department of Transportation -- $5,000
Karen LaFevre, 125 E. 11th Street, Austin, TX 78701-2483
Vegetation Management Curriculum
Funds from this grant will go to produce curriculum and outreach materials and create a volunteer program to educate Texans about the value and importance of appropriate vegetation management on approximately 800,000 acres of highway right-of-way.
1994
TX
6
Texas Marine Education Association -- $3,000
Pamela Stryker, 3112 Ammunition Dr., Austin, TX 78748
Aquatic Workshops
Participants in this project will conduct two aquatic environmental workshops for teachers. The workshops will include laboratories, hands-on activities, and field trips. Topics discussed will include organism and habitat protection and the effects of pollution on the entire ecosystem.
1994
TX
6
University of Texas Health Science Center -- $69,594 (HQ Grant)
Irena Cech, School of Public Health, University of Texas Health Science Center, Houston, TX 77225
Outreach for Community Health Workers
The "Outreach for Community Health Workers" project will expand existing environmental education and field demonstration outreach efforts to help meet the environmental health education needs on the U.S. and Mexican border. It will provide environmental health training for community nurse-practitioners, doctors, and other health care providers to enable them to recognize and address environmental causes of ill health in the communities they serve. Environmental health problems to be addressed include those relating to inadequate treatment and management of sewage, industrial effluents, and agricultural and mining wastewater.
1994
TX
6
University of Texas at El Paso -- $18,000
Randy Neeb, 500 W. University Dr., El Paso, TX 79968
Water Quality Curriculum
The purpose of this project is to adapt water quality and other environmental curriculum for teachers in the U.S. and Mexico. Funds will also be used to design and coordinate a water quality monitoring program for both countries and to conduct teacher training.
1994
UT
8
Greater Ogden Community Nature Center -- $5,000
Mary Cox, 966 W. 12th Street, Ogden, UT 84404
Nature Education Program Guide
By publishing a Nature Education Program Guide, this program seeks to (1) significantly enhance the quality of the experience for groups who attend naturalist-led programs, (2) make nature education programs available to new groups not previously able to use the program, and (3) facilitate effective planning and use by making the guide available to teachers for their ongoing research needs.
1994
UT
8
Utah Society for Environmental Education -- $17,500
Vern Fridley, 230 South 500 East Suite 280, Salt Lake City, UT 84102
Environmental Education Teacher Network (EETN)
The proposed Environmental Education Teacher Network (EETN) will develop capacity to improve teaching skills by providing resource materials, consultation with experts, and workshops. The network seeks to integrate environmental education into the school curriculum state-wide. The EETN will serve as a model of how to develop communication between formal and non-formal educators and state and federal agency specialists.
1994
UT
8
Wasatch Fish and Gardens Project -- $11,030
Cara Cahoon, P. O. Box 2924, Salt Lake City, UT 84110-2924
Urban Garden Ecology Project
The aim of the "Urban Garden Ecology Project" is to provide city residents with hands-on training in biointensive gardening and landscaping techniques and to encourage resource conservation and source reduction of chemical pesticides and herbicides at the household and neighborhood level. Participants in the project will demonstrate gardening techniques that reduce water and resource waste and consumption and decrease the use of hazardous materials.
1994
VT
1
Montshire Museum of Science -- $13,589
David Goudy, P. O. Box 770, Norwich, VT 05055
Solid Waste Reduction Program
In conjunction with the Antioch New England Graduate School in Keene, New Hampshire, the Montshire Museum of Science expects to establish a model program to disseminate information on solid waste source reduction to eight communities in rural Vermont and New Hampshire. The training program will use curricular and logistical materials to train middle school students during training sessions and workshops at the museum. Ultimately, the intent is for these students to initiate and formalize the information transfer by creating partnerships with their own local communities, business, public works operations, and other citizens.
1994
VT
1
River Watch Network -- $4,896
Sharon Behar, 153 State St., Montpelier, VT 05602
Clean Water Institute
River Watch Network will host its "Clean Water Institute," a week-long conference at the University of Massachusetts, Amherst, for a team of 20 teachers and community members from throughout the Commonwealth of Massachusetts. The training program will teach pollution prevention and encourage the use of hands-on science in the classroom setting. The Institute will build partnerships with existing environmental groups and schools, design river monitoring projects, and create teams of teachers and community representatives, affecting more than 900 people.
1994
VI
2
University of the Virgin Islands -- $4,994
Marcia G. Taylor, Eastern Caribbean Center, Virgin Islands Marine Advisory Service (VIMAS), Charlotte Amalie, St. Thomas, VI 00802
Marine Field Service Curriculum
For this project, the Virgin Islands Marine Advisory Service will develop marine field service curriculum materials for the Virgin Islands Department of Education. These materials, which will be suitable for use in any tropical environment, will serve as a pilot program in St. Croix Central High School's field studies center. The project will expand the school's marine science curriculum and educate students about local marine resources.
1994
VA
3
Center for Watershed Protection, Inc. -- $5,000
Harvey Olem, 1020 Elden St. Suite 205, Herndon, VA 20170
Watershed Puzzle
For this project, the Center for Watershed Protection, Inc. will develop a watershed puzzle and a companion teacher's guide to be used for teacher training. The environmental goal of this project is to teach non-point source pollution prevention.
1994
VA
3
Charlotte County School Board -- $4,998
George Jones, Randolph Henry HS Agriculture Dept., P. O. Box 790, Charlotte, VA 23923
Impacts of Traditional Irrigation Systems
The Charlotte County School Board's Randolph-Henry High School Agriculture Department will teach vocational students and area farmers about the environmental impacts of traditional irrigation systems, comparing them to new irrigation systems. The natural resource objective of this project is water conservation.
1994
VA
3
Chesapeake Volunteers In Youth Services, Inc. -- $5,000
Donald Marx, Jr., 301 Albermarle Dr., Chesapeake, VA 23220
Habitats for Wildlife
The Chesapeake Volunteers In Youth Services, Inc. project will result in a visible benefit to the public. Using native plants, at-risk youth will develop and maintain a habitat project that will provide a sanctuary for wildlife. This sanctuary is planned as an outdoor classroom for local residents and visitors.
1994
VA
3
Friends of the North Fork of the Shenandoah River -- $5,000
Patricia Maier, 122 South Commerce St., Woodstock, VA 22664
Water Quaility and Monitoring Training
Under this grant, the Friends of the North Fork of the Shenandoah River will train 4th grade students, in all four Shenandoah County elementary schools, about water quality and water monitoring. This program will reach 16 4th grade classes and approximately 400 students.
1994
VA
3
Keep Fauquier Clean -- $4,999
Patricia Katzen, 78 West Lee St., Suite 100, Warrenton, VA 20186
A Garden with a Message
This grant funds the creation of a project titled "A Garden with a Message" by the nonprofit organization, Keep Fauquier Clean. The environmental garden will include a constructed wetlands demonstration site. The anticipated environmental benefits include better use of water, less expensive waste water treatment, and a reduction of non-point source pollution in the Chesapeake Bay.
1994
VA
3
Virginia Commonwealth University -- $4,997
Elske Smith, Box 568 MCV Station, Richmond, VA 23298
Renewable Energy
For this project, the Virginia Commonwealth University will hold a workshop on renewable energy for Richmond-Petersburg area teachers of 5th through 12th grades.
1994
VA
3
Virginia Institute of Marine Science of the College of William and Mary -- $33,175
Ginger Smith, Virginia Institute of Marine Science, Gloucester Point, VA 23062
Estuarine Monitoring
This project will train Virginia middle and high school science educators to incorporate real environmental monitoring data on estuarine debris into their instructional materials. The goal of the project is to disseminate educational materials through a computer network and through various existing marine science programs.
1994
VA
3
Virginia Polytechnic Institute and State University -- $4,991
James Parkhurst, 301 Burruss Hall, Blacksburg, VA 24061-0249
Workshop on Wetlands
Under this grant the Virginia Polytechnic Institute and State University's Department of Fisheries and Wildlife will train county-based cooperative extension educators. The university will develop a workshop where these educators will learn about wetlands and wetland-related issues.
1994
WA
10
Adopt-A-Stream Foundation -- $100,000 (HQ Grant)
Tom Murdoch, Adopt-A-Stream Foundation, Snohomish County Admin. Bldg. 4th Floor, 3000 Rockefeller, Everett, WA 98201
Northwest Region Streamkeeper Network
The "Northwest Region Streamkeeper Network" will train volunteers in Washington, Oregon, Idaho, and British Columbia to become watershed stewards by monitoring the physical, chemical, and biological characteristics of streams and developing action plans for protecting them. The project places emphasis on establishing and maintaining partnerships between citizen volunteers, community leaders, and the Adopt-A-Stream Foundation.
1994
WA
10
Bainbridge Island School District -- $21,942
Brent Peterson, 8489 Madison Ave. NE, Bainbridge Island, WA 98110
Watershed Characterization
The purpose of this project is to develop and integrate a school district-wide education program with the Bainbridge Island watershed management planning process and to develop action plans that protect the quality of Bainbridge Island's watersheds. Teachers will be trained in watershed characterization techniques and the process of student action and project implementation.
1994
WA
10
Department of Ecology -- $5,000
Sandi Newton, P. O. Box 47600, Olympia, WA 98504-7600
Maintenance of Motor Vehicles to Ensure Air Quality
Funding from this grant will be used to develop a workshop, instructional videos, and classroom materials for high school driver education, automotive shop, science, and social studies teachers to educate and train students on the proper use and maintenance of motor vehicles to ensure air quality.
1994
WA
10
Environmental Education Association of Washington -- $5,000
Russ Hanbey, P. O. Box 4122, Bellingham, WA 98227
Project Diversity
"Project Diversity" addresses a state-wide need to bring under-represented populations into the mainstream of environmental education and to bring the environmental education community closer to minority and under-represented communities. This grant will fund localized workshop series, held throughout the state, which will include recommended approaches in structured problem solving, interactive hands-on exercises, and community action strategies.
1994
WA
10
North Cascades Institute -- $5,000
Saul Weisberg, 2105 Highway 20, Sedro Woolley, WA 98284
Watershed Restoration Education
This project, "Watershed Restoration Education," will make practical connections between classroom instruction and field applications in watershed restoration. Teacher training will be provided for middle school classroom teachers on how to involve children in environmental restoration and how to lead restoration projects for 6th grade classes. This is a cooperative partnership with children, school districts, natural resource agencies, the three Skagit River Indian Tribes, and the business community.
1994
WA
10
Northwest Chicano Network -- $5,000
Amelia Ramon, 120 Sunnyside Ave., Granger, WA 98932
Pollution Prevention and Environmental Equity Program
Participants in this project will work with government agencies, nonprofit organizations, and schools to implement an environmental education program, with a focus on pollution prevention and environmental equity (waste reduction, household hazardous waste, and pesticides). The goal of the project is to motivate the general public to make informed and responsible decisions that impact the environment. Materials printed in both Spanish and English will be developed. Existing brochures and focus sheets will be translated into Spanish. Radio public service announcements, call-in programs, and surveys will be used to provide environmental information.
1994
WA
10
Olympic Peninsula Foundation -- $4,985
Betsy Carlson, 1200 W. Sims Way Suite 201, Port Townsend, WA 98368
Tutoring Program on Wetlands
In partnership with the Olympic Peninsula Foundation and Port Townsend School District, this project will create a tutoring program on wetlands for 7th and 8th grade students working with 3rd and 4th grade students. A two-week 8th grade wetland tutoring curriculum will be created to instruct younger students. To improve their understanding of and protection for local wetlands, 3rd and 5th grade students will participate in classroom and outdoor workshops on wetlands.
1994
WA
10
Pacific Lutheran University -- $7,800
Rachel Nugent, 12180 121st St., Tacoma, WA 98447
Watershed Evaluation and Planning
Using funds from this grant, Pacific Lutheran University will conduct a four-week summer course for teachers of kindergarten through 12th grade, providing hands-on, inter-disciplinary approaches to watershed evaluation and planning with the focus on the Clover Creek Watershed. The course facilitates cooperative relationships among the university, a nonprofit citizen organization, and the county by involving them in a cooperative process of gathering, interpreting, and disseminating data and analysis.
1994
WA
10
Pacific Science Center -- $5,000
Suzanne Tripp, 200 Second Ave. North, Seattle, WA 98109
Mercer Slough School Program
This project will support the development of the Mercer Slough School Program for elementary school groups. Hands-on learning experiences will be offered for classes on field trips to the slough. The classes will study the ecosystems of the freshwater peat bog and its surrounding scrub-shrub and forest wetland communities.
1994
WA
10
Seattle Audubon Society -- $5,000
Kathy Malley, 8028 35th Ave. NE, Seattle, WA 98115
Finding Urban Nature Program
The "Finding Urban Nature Program" uses volunteers to lead 3rd and 4th graders in Seattle Public Schools through a series of eight separate hands-on, nature-oriented science explorations over the course of a school year. The goals of these explorations are to teach children about nature and science and the basics of scientific investigation, and to show the children that nature can be appreciated in all areas, even on the school grounds.
1994
WA
10
Spokane Conservation District -- $9,663
Christine Armstrong, North 222 Havana, Spokane, WA 99202
Watershed Education
This existing project incorporates watershed education into the social studies, science, and language arts curricula. Approximately 1,000 high school and middle school students will work on the Upper Palouse Habitat Restoration Project. Students have spent time in the field learning about riparian habitat and doing actual restoration work. This grant will fund the portion of the project that will help the students to develop an understanding of the individual and cultural choices which impact water quality. They will study the history of areas to provide the context in which these choices have been made.
1994
WA
10
Thurston Conservation District -- $4,992
Rochelle Rothaus, 6128 Capitol Blvd. South, Olympia, WA 98501
Project GREEN
For this project, a training session will be provided for teachers in six schools on applying Project GREEN to the Budd/Deschutes Watershed. The training will include instruction on monitoring, telecommunications, and global change. The training will make use of an action research and community problem solving approach to education. Students and teachers will be able to participate in field work with community members.
1994
WA
10
University of Washington -- $4,751
Nan Little, Dept. of Chemistry BG-10, Seattle, WA 98195
Science Role Models Program
The Science Role Models program was developed to address issues of science-based environmental education and to increase the number of women and minorities entering careers in science. This project targets Native Americans, women, and other minority students to research and make environmental education presentations at local high schools.
1994
WA
10
Washington State University Cooperative Extension -- $14,623
Craig MacConnell, Courthouse Annex-1000 N. Forest St., Bellingham, WA 98225
Lake Whatcom Watershed School and Community Partnership Project
The "Lake Whatcom Watershed School and Community Partnership Project" is designed to promote interaction among watershed volunteers, science students, and the public. Participants will work together on the study of Lake Whatcom, the municipal water supply and its outlet, Whatcom Creek. They will collect and analyze data. This data will be used by the residents of Whatcom County to make informed decisions when developing the watershed management plan.
1994
WV
3
Monogalia County Health Department -- $4,995
Sally Taylor, 453 Van Voorhis Rd., Morgantown, WV 26505
Drinking Water Contaminants
For this project, the Monogalia County Health Department will sponsor three workshops: one for the public, a second for plumbers and contractors, and another for State Health Department Environmental Specialists. The environmental objective of this project is to protect drinking water from contaminants.
1994
WV
3
The Woodlands Mountain Institute -- $5,000
John Eckman, Main & Dogwood Streets, P. O. Box 907, Franklin, WV 26807
Environmental Assessment
Under this grant, the Woodlands Mountain Institute will train 100 youth in West Virginia about environmental assessment. The environmental benefit of this project is that after the training students will return to their communities to begin local environmental action or environmental assessment projects.
1994
WI
5
Friends of Riverside Nature Center -- $4,300
Else Ankel, 3368 N-Bartlett Ave., Milwaukee, WI 53211
Lead Poisoning Prevention--A Pilot Project for Community Education in Milwaukee
The funds from this grant will help to carry out a program entitled "Lead Poisoning Prevention--A Pilot Project for Community Education in Milwaukee." The program aims to increase knowledge about the health risks of ingested lead paint and to provide information about removing lead paint from the home. Outcomes of the project include educating more than 100 community residents about lead poisoning and prevention, conducting educator workshops on lead to middle-school teachers in eight schools, training 15 community members to safely remove lead paint from their home, and testing 30 homes for the presence of lead paint.
1994
WI
5
Lac du Flambeau Public School -- $3,969
Karen Crisman, 2899 Highway 47, Lac du Flambeau, WI 54538
Environmental Education Curriculum
The purpose of this project is to incorporate environmental education in the new school's curriculum. Funds will be used to integrate environmental concepts, outdoor education, and Native American culture across the school's curriculum and to develop teacher workshops for kindergarten through 8th grade that promote the environmental curriculum focus. The school, which opened in the 1993-94 school year, is located on the Lake Superior Chippewa Indian reservation. More than 90 percent of the school's student population is Native American.
1994
WI
5
River Alliance of Wisconsin -- $5,000
Sara Johnson, 122 State St., Suite 200, Madison, WI 53703
Workshop on Rivers and Watersheds
The purpose of this project is to hold an interactive workshop at Wisconsin's 1994 state-wide conference on rivers and watersheds that will convene partners in watershed management to discuss societal aspects of river use and protection. Funds will be used to provide stipends for workshop facilitators and scholarships for Native Americans, farmers, and other under-represented individuals. The workshop will use consensus building and conflict resolution techniques to first find common ground and then to develop long-term solutions for preserving Wisconsin's rivers.
1994
WI
5
University of Wisconsin, Stevens Point -- $100,411 (HQ Grant)
Abby Ruskey, College of Natural Resources, University of Wisconsin, 1900 Franklin, CNR Bldg., Stevens Point, WI 54481
Environmental Education Demonstrations State Project
The "Environmental Education Demonstrations State Project" will build state governmental capacity to develop and deliver environmental education programs in five states -- Iowa, Kentucky, Louisiana, New Jersey, and Illinois. The goal of the project is to assist these states in developing and implementing comprehensive state-wide environmental education action plans which may include the development of state coordinating councils and pre-service and in-service teacher training.
1994
WY
8
Uinta County School District #1 -- $5,000
Craig Patterson, 701 W. Cheyenne Dr., Evanston, WY 82931-6002
Teaching Statistical Techniques
This project is designed to use computers and software as a new approach to teaching students about environmental impacts and environmental sciences and to upgrade the school's current ecology and environmental science curriculum. The results of the project will provide a new teaching tool which will reduce time required to teach students to use statistical techniques when quantifying data.
1995
AL
4
Huntington College -- $4,100
Douglas McGinty, 1500 E. Fairview Avenue, Montgomery, AL 36024
Environmental Education Outreach Program
This project will develop an assortment of environmental education modules covering the following issues: pollution prevention, land use, wildlife, water, atmosphere, energy, population, and "Our Backyard". The target audience for the project is 5,404 students enrolled in 33 schools serving students in grades 5 and 6 in the Montgomery County Public School System. Teacher workshops will be an integral part of the project.
1995
AK
10
Alaska Center for the Environment -- $20,000
Kevin Harun, 519 W. 8th Avenue #201, Anchorage, AK 99501
Green Star in the Schools Experimental Learning Project
The goal of this project is to develop a Green Star pollution prevention and recycling program in 25 Anchorage schools involving students of all ethnic backgrounds. It will teach students to develop life-long pollution prevention habits, hands-on problem solving skills, and respect for the environment. Students will implement specific Green Star standards for each school by creating student environmental councils that will be responsible for developing solutions to actual school and neighborhood environmental problems.
1995
AK
10
Tanaina Child Development Center -- $2,150
Monica Milbradt, 3221 Providence Drive, Anchorage, AK 99508
Tanaina Child Development Center Teacher Training Workshop
This project will provide general environmental education training to the teaching staff of the Tanaina Child Development Center (five lead teachers and five assistants). Workshops will be method oriented and provide hands-on training that will prepare the teachers to go into the classroom and implement what they have learned. A curriculum will be used to show the teaching staff that science can be fun and relatable to young children. Tanaina will focus on preventing the wasteful use of everyday resources that are abundant in Alaska now, but still need to be used with care.
1995
AZ
9
Inter-Tribal Council of Arizona, Inc. -- $17,500
John R. Lewis, 4205 North Seventh Avenue, Suite 200, Phoenix, AZ 85013
Environmental Education Workshops for Teachers Employed on Indian Reservations
This project will provide a model environmental education curriculum for kindergarten through 8th grade. Ten educators' workshops also will be held for teachers employed on reservation schools. The project director will work with school boards and parents in the Native American community to institutionalize environmental education into the overall curriculum in schools on tribal lands.
1995
AZ
9
Madison Simis Elementary School -- $4,857
Lisa J. Dent, 7302 North Tenth Street, Phoenix, AZ 85020
Water Conservation: A Creative Children's Workshop
This project seeks to enroll elementary school students in a four-week summer institute during which students will investigate water quality and conservation issues. In a second phase of the project, representatives of the teaching staff will join the students for a three-day interactive workshop. In the fall semester, the student institute participants will co-present with the classroom teacher the units they developed during the summer to the classes directly below in grade level.
1995
AZ
9
Pima County Department of Environmental Quality -- $5,000
Beth Gorman, 130 West Congress Street, Tucson, AZ 85701-1317
Clean Air Teacher Training
This project will provide workshops for as many as 65 elementary school teachers in Sunnyside School District, a culturally diverse neighborhood on the southside of Tucson. With knowledge gained by the teachers and conveyed to the students and their parents, the population of this area will learn the effects of air pollution and what steps the public can take to reduce this pollution for a healthier future.
1995
AZ
9
Southwest Center for Education and the Natural Environment (SCENE) -- $5,000
Kathryn Kyle, Arizona State University, Tempe, AZ 85287-2512
Building Local Environmental Education Capacity through a Living Resource for Schools
The goal of this project is to connect high school teachers in Maricopa County and outlying rural and tribal communities with science professors and graduate students at Arizona State University. The clearinghouse will link secondary schools with science experts for telephone consultations, for guest speaker classroom visitations, and for access to the university campus to participate in environmentally-related scientific research.
1995
AR
6
Arkansas Department of Health -- $16,000
Harold R. Seifert, 4815 West Markham Street, Slot 37, Little Rock, AR 72205-386712
Environmental Youth Education Volunteer Training Program
The purpose of the project is to develop a youth environmental education training program and train water industry volunteers to enter classrooms in their communities and teach environmental concepts about drinking water treatment and conservation. The target audience is public school children in every county of the state of Arkansas. Volunteers will be trained in regional workshops. Instructional materials will be developed and provided to each volunteer.
1995
AR
6
Fayetteville Youth Center -- $2,027
Dale E. Clark, 915 California Drive, Fayetteville, AR 72701
Nature Discovery Camp: A Summer Environmental Education Program for Youth 6 to 15
The purpose of this project is to provide an environmental education program for the youth of Fayetteville that will enable them to become more knowledgeable and appreciative of the surrounding environment, including the forests, streams, lakes and habitat of northwest Arkansas. The target audience includes all youth from the ages of six to fifteen. Environmental education will be conducted through a youth summer camp. Existing curriculum materials will be adapted to address the following specific environmental issues: habitat destruction, overdevelopment, and endangered species.
1995
CA
9
Apple Valley Unified School District -- $2,150
Paul Swick, 21351 Yucca Loma Road, Apple Valley, CA 92307
Yucca Loma School Solid Waste Reduction Project
This project will involve the entire student body of Yucca Loma School with sorting, measuring or weighing, and recording solid waste produced in the school's classrooms, office, and cafeteria. Students will experiment with composting techniques and worm bins to seek efficient solutions for reducing quantities of waste requiring disposal. They will produce a documentary video of their efforts to provide a model for other schools to replicate.
1995
CA
9
Citizens for a Better Environment -- $22,800
Michelle Sypert, 605 West Olympic Blvd., Suite 850, Los Angeles, CA 90015
Southeast Los Angeles Lead Poisoning Environmental Education Project
This project will alert parents in southeast Los Angeles to the hazard of lead poisoning by conducting four bilingual community workshops for as many as 800 attendees and by distributing 5,000 educational flyers in door-to-door visitations. Follow-up interviews will be conducted with as many as 200 parents who respond and are interested in seeking testing and treatment, if necessary, for their children.
1995
CA
9
Conservation Science Institute -- $5,000
Thomas A. Okey, 1826 Nason Street, Alameda, CA 94501
Habitat Restoration at a Closed Military Base: A Case Study of Coast Live Oak Restoration at Alameda Naval Air Station
This project will initiate steps to restore a natural habitat at the Alameda Naval Air Station through the propagation and nurturing of oak seedlings by middle school students for subsequent transplanting on the closed military installation. A classroom unit on the area's natural history will be followed by a field-oriented experimental science project on germination and growth of Coast Live Oaks.
1995
CA
9
Friends of Cabrillo Marine Aquarium -- $4,600
Bill Brush, 3720 Stephen White Drive, San Pedro, CA 90731-7012
Hands on Marine Environments: Educator Workshops
This project will offer four workshops on marine environment issues for 20 teachers at each session. Workshop activities and follow-up consultations with aquarium staff will permit the 80 trained teachers to encourage their students to use problem-solving and decision-making techniques as they relate to water pollution, endangered species, recycling, and habitat preservation.
1995
CA
9
Friends of the San Francisco Estuary -- $5,000
Ron Sokolov, P. O. Box 791, Oakland, CA 94612
Water Quality Monitoring and Education Program
This project will encourage school-based or community-based water quality monitoring and education programs in the Corte Madera Creek watershed in Marin County. A two-day educators' workshop for teachers and Boy and Girl Scout leaders will teach techniques which will allow the attendees to recruit, train, and supervise volunteers for the creek monitoring project.
1995
CA
9
Greater Long Beach Girl Scout Council -- $4,950
Betty Irving, 4040 Bellflower Blvd., Long Beach, CA 90808
Project Water: Hands-On Introduction to Surface and Groundwater Problems in Southern California Communities for Young Children
This project will introduce 150 girls in grades 3 to 6 and their scout leaders to environmental issues relating to surface water and groundwater management. Led by members of the Association of Women Geoscientists and using a Girl Scout campground in the San Jacinto Mountains as their outdoor classroom, this project will allow the young people and their leaders to explore activities with soil and groundwater and to experience erosion problems firsthand to learn their causes, effects, and remediations.
1995
CA
9
Long Beach Unified School District -- $4,928
Christopher J. Steinhauser, 701 Locust Avenue, Long Beach, CA 90813
Project Future!
This project will train a staff member of Signal Hill Elementary School in three local environmental concerns of high priority to the community. The teacher will then train the rest of the staff and will provide leadership for school activities related to the following identified themes: nonpoint source pollution, composting, and petroleum refinery emissions.
1995
CA
9
Mattole Unified School District -- $5,000
Pamela Sturgeon, P. O. Box 211, Petrolia, CA 95558
Partnership for Implementing Adopt-A-Watershed Curriculum
This project will generate a partnership among the school district, the Bureau of Land Management, and a community advisory council to implement the Adopt-a-Watershed curriculum in the kindergarten through 12th grade. Training provided to the community's teachers, land owners, and other residents will allow them to define local needs and desirable outcomes, to identify ecologically responsible actions, and to support projects that sustain the environment.
1995
CA
9
Rural Community Assistance Corporation -- $33,750 (HQ Grant)
Elizabeth Ytell, 2125 19th Street, Suite 203, Sacramento, CA 95818
Closing the Loop
The purpose of this project is to conduct teacher training workshops on waste management to assist the State of California in reaching its waste management and waste prevention goals. "Closing the Loop" will focus on disseminating and demonstrating the use of an existing waste management curriculum approved and adopted by the State of California. The target audience will be kindergarten through 12th grade educators in low-income, rural areas and in school districts that serve American Indians and other racial minorities. The project will include a needs assessment to tailor workshops to these communities, and follow-up technical assistance to assist educators in incorporating the environmental curriculum into their existing lesson plans. The project will reach 350 teachers with 10 workshops throughout California.
1995
CA
9
Sacramento Zoological Society -- $2,480
Kimberly Parker, 3930 West Land Park Drive, Sacramento, CA 95822
Teacher Training Environmental Workshops
This project will provide orientation to environmental education curriculum materials developed by the California Department of Education and practical ways to apply them. Presenting two cycles of teacher workshops, three in the fall of 1995 and three in the spring of 1996, the society will offer attendees problem solving and investigative approaches to learning with exciting games and activities. Additional presentations will be made at regional elementary and secondary science teacher conferences.
1995
CA
9
San Francisco Bay Wildlife Society -- $5,000
Amy Hutzel, P. O. Box 524, Newark, CA 94560
Trekking the Refuge: A Field Trip Program for Educators and Parents
This project will establish a field trip program at the Wildlife Refuge for educator's, students, and parents to teach about wetlands, endangered species, migratory birds, and what the public can do to preserve these resources. The program anticipates serving 50 educators, 300 parents, and 1,500 students annually.
1995
CA
9
The Bayview Opera House, Inc. -- $25,000
Rochelle Frazier, P. O. Box 24086, San Francisco, CA 94124-0086
Bayview Opera House Environmental Education Project
This project will employ the creative vehicle of visual arts to educate at-risk students in three Bayview-Hunters Point neighborhood elementary schools about environmental issues. Artists from the Bayview Opera House will join with the faculty from the three schools in a planning workshop to determine the project's curriculum and the role that each party will perform. Over a six-month period, artists from Bayview Opera House will present weekly lessons cooperatively with classroom staff to provide students with a basic knowledge of environmental issues while enabling them to express their ideas and concerns through their artwork.
1995
CA
9
The Oakland Museum of California Foundation -- $13,436
Sandy Bredt, 1000 Oak Street, Oakland, CA 94607
Global Warming: An Interactive Exhibition and Environmental Education Program
This project will present an interactive exhibit on global warming, accompanied by a four-month long series of educational programs for students, teachers, and adults in the nine Bay Area counties. The program will include student workshops, teacher seminars, preparation of curriculum materials, and public presentations.
1995
CA
9
The Regents of the University of California (Santa Cruz) -- $5,000
Gary Griggs, 1156 High Street, Santa Cruz, CA 95064
Windows to Discovery
This project will strengthen marine science education programs in local schools of the tri-county Monterey Bay area through teacher training, supporting curricular material, and school site follow-up visits. The activities of the project are geared to stimulate student interest in marine science and conservation of the environment.
1995
CA
9
Tides Foundation Community Focus -- $5,000
Malka Koppell, 170 Columbus Avenue, San Francisco, CA 94133
Air Quality Education and Organization Project for Middle School Students
The participants in this project will assemble a team of students and parents in a San Diego middle school to study air quality issues and suggest solutions for their area. The team will design and implement a trip reduction plan for their school community.
1995
CA
9
Tuolumne County Superintendent of Schools Office -- $14,600
Celeste Boyd, 175 South Fairview Lane, Sonora, CA 95370
Teaching About Forests
The outcome of this project will be a week-long educators' workshop on forest health and management for 50 kindergarten through 12th grade teachers from counties near the mountains (Tuolumne, Calaveras, Amador) and the San Joaquin Valley urban communities of Stockton, Lodi, and Modesto. Topics to be covered include plant and tree identification, forest practices and harvesting, wildlife diversity, soils and geology, development of recreational opportunities, and pollution prevention strategies.
1995
CA
9
Yosemite Community College District -- $5,000
Bennett Tom, P. O. Box 4065, Modesto, CA 95352
Using Retired Scientists to Help Implement a Child's Place in the Environment
The purpose of this project is to match up retired scientists with 25 rural elementary school teachers. Following training in the California Department of Education environmental curriculum, A Child's Place in the Environment, the scientists and their partner teachers will implement the curriculum in schools in San Joaquin, Tuolumne, and Calaveras Counties.
1995
CO
8
City of Steamboat Springs, Colorado -- $5,000
Gretchen Schell, P. O. Box 775088, Steamboat Springs, CO 80477
Project Seed
This project will assist youth who are 14 to 19 years old in acquiring the skills necessary to analyze, assess and resolve environmental issues. Specialists in multidisciplinary fields and a wilderness course curriculum will be used to instruct the youth on current local and global environmental issues.
1995
CO
8
Clean Air Campaign -- $3,375
Christine D. Regan, 219 W. Colorado Avenue, #210, Colorado Springs, CO 80903
Clean Air Campaign of the Pikes Peak Region
The purpose of this project is to educate the community to solve air pollution problems through pollution prevention activities. Workshops will be held for educators who will teach approximately 30 students who will take the information home to their families. Hands-on education through the WHIFF curriculum and accompanying kits will reach members of the community.
1995
CO
8
Colorado Hospitals for a Healthy Environment -- $5,000
Patricia B. McClearn, 2140 South Holly Street, Denver, CO 80222
Colorado Hospitals Campaign for a Blue Sky
The purpose of this project is to motivate people in the Denver metropolitan area to be more aware of air pollution, its effects on their health, and what they can do about it. Approximately 100 to 150 hospital employees, volunteers, physicians, visitors, and the general public will attend a seminar with the objective of increasing knowledge and awareness of air pollution and its health effects.
1995
CO
8
Eco-Cycle, Inc. -- $3,900
Cyndra Dietz, Eco-Cycle, Inc., P. O. Box 19006, Boulder, CO 80308
Reduce, Reuse, Recycle: A Waste Reduction Activity Kit
The proposed Solid Waste Teaching Training Institute will be held for 60 participants chosen from every district in Colorado. The purpose of the project is to improve educators' environmental education teaching skills through curriculum entitled "Reduce, Reuse, Recycle: A Waste Reduction Activity Kit." The kit will provide hands-on activities and all of the necessary materials for implementing a program to encourage various forms of waste reduction, including collection and recycling of materials.
1995
CO
8
Environmental Component of Young AmeriTowne -- $4,865
Barbara Berv, 311 Steele Street, Denver, CO 80206
Young Americans Education Foundation
Funding from this grant will be used to cover the cost of the environmental component of the Young AmeriTowne program. The project involves teacher education on recycling and other environmental issues that will demonstrate to 5th and 6th graders throughout the greater metropolitan area that participation in commerce can and must involve environmentally sound decisions and practices.
1995
CO
8
Environmental Science and Technology -- $4,965
David Boon, 3645 West 112th Avenue, Westminster, CO 80030
Front Range Community College
The purpose of the Pollution Prevention (P2) Education and Training project is to develop, test, and disseminate a comprehensive P2 instructor manual, and conduct two P2 instructor workshops. The audience targeted will be students, and the workshop is designed to enhance teaching strategies for teachers in colleges and universities. Project organizers expect to reach more than 500 faculty with diffusion to thousands of students through EPA Region 8 and the Partnership for Environmental Technology Education (PETE).
1995
CT
1
20th Century Trends Institute, Inc. -- $4,500
Mary McLaughlin, 720 West Lake Ave., Guilford, CT 06437-1305
"The Source" Environmental Topic Books
This project will expand an existing program to three additional intermediate schools (grades 5 through 8) in the city of New Haven, Connecticut. The total student population of these schools is 1,736. Approximately 90 science and language arts teachers will have access to "The Source" environmental topic boxes. Teachers are trained in workshops on how to incorporate the materials into lessons and hands-on activities.
1995
CT
1
Soundwaters, Inc. -- $4,988
Ruth Ann Shapiro, 4 Yacht Haven Marina, Washington Blvd., Stamford, CT 06902
Science of the Sound Learning Station
This project will educate students and adults within the Long Island Sound watershed about factors that affect the health of the Sound. Objectives of the program include: 1) expanding the existing program to add water chemistry and geology components; 2) providing students with the opportunity to witness the impacts of human population on the watershed; and 3) encouraging students to make informed decisions about their lifestyles. To meet these objectives, the program must purchase equipment, upgrade curricula, and provide teachers with new options for studying Long Island Sound.
1995
CT
1
South Arsenal Neighborhood Development Corp. -- $20,000
Karen O. Lewis, 45 Canton Street, Hartford, CT 06120
SANDCLEAN
The purpose of this project is to educate members of the community through an environmental education and action program for 75 6th graders. These students are empowered to be community organizers, researchers, or journalists for the school year. The program culminates with a student-led conference that showcases their experiences for their parents and neighbors, and challenges the adults to address the issues they have identified as important to the community.
1995
CT
1
The New Haven Ecology Project, Inc. -- $4,968
Oliver D. Barton, West Rock Nature Center, P. O. Box 2969, New Haven, CT 06515
Teacher Training Workshop
This project will fund a field-based workshop that will be held in eight weeks to plan curriculum to improve the environmental education teaching skills of 15 elementary and 15 middle and high school teachers in New Haven, Connecticut. The project includes the collection of implementation plans connected to the curriculum in the teacher's class, and on-site field studies with each class with the support of a scientist and educator. Thirty inner-city classes (approximately 600 students) directly benefit from the effort.
1995
DC
3
ASACC Student Association Environmental Education Program -- $5,000
Carol Cross, 1643 Connecticut Avenue, NW, Washington, DC 20009
ASACC Student Association Environmental Education Program
This project will enable student leaders to educate members of their community about pollution prevention and recycling issues using the grassroots network of community college student activities associations. The audience will be comprised of at least 1,000 community college students representing the students attending two-year colleges across the country.
1995
DC
3
World Wildlife Fund -- $39,850 (HQ Grant)
Judy Braus, 1250 24th Street NW, Washington, DC 20037-1175
Windows on the Wild
The purpose of this project is to increase environmental literacy of middle school students, strengthen the links between formal and nonformal educators, and enhance training for educators at formal and nonformal institutions by using biodiversity as an organizing theme. "Windows on the Wild" will test biodiversity training materials and hold training workshops for educators in Seattle and Chicago to develop a national model for biodiversity education. Educators targeted for training include school teachers and nonformal educators at the middle school level from local zoos, aquariums, nature centers, and environmental education programs such as Project Wild and Project Learning Tree.
1995
DC
3
New Columbia Audubon Society -- $4,651
Pat Durkin, P. O. Box 15346, Washington, DC 20003
A Model Community-Composting and Butterfly Habitat Restoration in a Racially Diverse Neighborhood in Downtown Washington, DC
This project will serve as a model for the use of native plants and community-created compost to restore extirpated butterflies on fragmented urban landscapes and to encourage environmental awareness, connection to nature, and a sense of cooperative stewardship among residents of racially and culturally diverse inner-city neighborhoods.
1995
FL
4
Arbor Ridge Elementary School -- $5,000
Ralph Hewitt, 2900 Logandale Drive, Orlando, FL 32817
Project EPIC: Environmental Preservation Through Integrated Curriculum
This project increases elementary students' awareness of the various ecosystems in and around the community. The project also facilitates student action regarding the use and conservation of resources by improving teaching skills through workshops which focus on environmental education using an integrated curriculum model.
1995
FL
4
Broward County Department of Natural Resources Protection -- $4,995
Laura L. Geselbracht, 5218 SW 1st Avenue, Fort Lauderdale, FL 33301
Least Toxic Pest Management for the Lawn & Garden
This project is designed to increase citizen awareness and knowledge of pesticide use. The participants will be informed about why one approach may be the best under a specific set of circumstances. The participants will make selections of the best pest management approach for various scenarios. Results of these problem solving exercises will be discussed.
1995
FL
4
Harbor Branch Oceanographic Institution, Inc. -- $31,629 (HQ Grant)
Susan B. Cook, 5600 U.S. 1 North, Ft. Pierce, FL 34946
Mangroves, Mosquitos, and Man
This project will update and expand an existing environmental education program to address the ecological and economic importance of managing the flora and fauna populations in the mangrove marsh habitats along the Indian River Lagoon. "Mangroves, Mosquitos, and Man" will teach students and teachers in the 4th grade how carefully managed seasonal flooding of the mangrove marsh habitats is used to control the local mosquito population which has greatly affected the economic development of the region. At the same time, students and teachers will learn how careful management of the flooding minimizes the ecological impact of this action. Through hands-on field activities and teacher training workshops, students and teachers will be introduced to the technologies involved in monitoring and controlling water levels, and gain an increased understanding of the relationship between environmental and socioeconomic issues. The project will reach six teachers and 200 students, many of whom are from minority populations.
1995
FL
4
Joyce Bullock Elementary School -- $3,200
Kristen E. Russell, 130 SW Third Street, Williston, FL 32696
Teacher Training Environmental Workshop: Schoolyard Ecosystem and Environment
This project introduces the concept of the Schoolyard Ecosystem as a tool for teaching environmental education. The students will be able to observe, restore, and experience a natural environment containing local, easily-accessible plant and animal life and understand their ability to have a positive impact on the environment.
1995
FL
4
Palm Beach Soil and Water Conservation District -- $5,000
Diane D. Neill, 559 N. Military Trail, West Palm Beach, FL 33415-1311
Kids for Composting
The purpose of the Kids for Composting project is to implement a successful composting program at one public school to serve as a model for other schools wishing to achieve similar educational results. The project is designed to increase the awareness of students; educate students and administrators; and successfully compost the food, yard, and paper waste generated in a public school.
1995
FL
4
The School Board of Broward County -- $5,000
Frank Mandley, 600 Southeast Third Avenue, Fort Lauderdale, FL 33301
Broward Co. Fern Forest Wetlands Restoration and Succession Seed Bank and Revegetating Survey
This project focuses on the mitigation and restoration efforts in Fern Forest or a similar Florida Ecosystem. Student groups are required to develop a hypothesis for the project in cooperation with an environmental professional and assigned faculty mentor. Field trips for research and a curriculum are an integral part of the project. The project will be conducted at Stranahan High School and will involve approximately 1,400 students.
1995
GA
4
Dunwoody Nature Center, Inc. -- $5,000
Deron Davis, 5343 Roberts Drive, Dunwoody, GA 30338
Nature Makes Sense
This project focuses on educating members of the community through a grassroots, community-based organization. It provides environmental education experiences for preschool children with an emphasis on preserving the environment. The project includes three major components: conducting environmental education classes for Head-Start Program participants, developing a "Nature Makes Sense" exhibit for pre-school children, and training community volunteers to work with pre-school children.
1995
GA
4
Golden Triangle Resource Conservation and Development, Inc. -- $4,450
Jerome Brown, 712-R County Street, Blakely, GA 31723
Operation Clean Environment
Operation CLEAN will facilitate environmental education partnerships between educational institutions, governmental agencies, and the Golden Triangle Resource Conservation and Development Area. Environmental education curricula will be purchased and distributed. A shredder will be purchased and used for composing demonstrations. The project is designed to motivate and educate high school students in solid waste management.
1995
GA
4
Northside Elementary School -- $4,936
Brenda A. Douce, 1815 North Chestnut Avenue, Tifton, GA 31794
Outdoor Education Classroom
This project is designed to complete an outdoor classroom area at Northside Elementary School that is currently under development. The "outdoor science" laboratory will extend teaching and learning of science beyond the confines of classroom walls. The project will serve 600 students in kindergarten through 4th grade.
1995
GA
4
Savannah-Chatham County Schools -- $4,935
Bethany Hunton, 208 Bull Street, Savannah, GA 31401
Oatland Island Education Center Outdoor Discovery Area Demonstration Site
The project is designed to develop an appreciation and understanding of indigenous wildlife through provision, maintenance and observation of habitat settings. A demonstration site exhibiting various wildlife habitats will be developed. Teachers, parents, and other community members will be trained in the methods used to attract wildlife to outdoor learning areas.
1995
GA
4
SciTrek, The Science and Technology Museum of Atlanta -- $24,982
Bernadette M. Pfeiffer, 395 Piedmont Avenue, NE, Atlanta, GA 30308
Water Source Book Dissemination and Network Project
This project targets 3rd through 5th grade teachers by creating teacher-trainers across Georgia who will train other teachers in their local partner site learning communities and involve the larger community in the students' study of water resources. The teacher-trainers will disseminate the Water Sourcebook and elicit community support and involvement in the program.
1995
GA
4
Wilderness Southeast -- $4,255
Kelly Cichy, 711 Sandtown Road, Savannah, GA 31410
True Project: Teaching Responsibility, Understanding, Ecology
The Teaching Responsibility, Understanding, and Ecology (TRUE) program is designed to educate public housing neighborhood youth through a grass-roots, community-based organization in cooperation with the housing authority. The participants will participate in a week-long coastal ecology camp.
1995
HI
9
Hawaii State Department of Education -- $105,000 (HQ Grant)
Colleen Murakami, P. O. Box 2360, Honolulu, HI 96804
Developing Environmental Stewards
The purpose of this project is to improve their instructional delivery of environmental education throughout the Hawaiian Islands. "Developing Environmental Stewards" will use a nationally-recognized investigative and problem-solving approach to the study of local environmental concerns relating to non-point source pollution, the introduction of alien species to an existing ecosystem, and energy use. The ultimate goal of the project is to foster responsible environmental action to protect Hawaii's fragile ecosystem. The project will provide teacher training to science and social studies teachers of grades 6 through 12 (the vast majority of whom are of Japanese, Hawaiian, Chinese, and Filipino descent), compile a handbook of instructional strategies on investigating and evaluating environmental issues and actions, develop an instructional video of case studies, and establish a communication network for teachers. The project trains 120 teachers and 24 teacher trainers.
1995
HI
9
Honolulu Zoological Society -- $5,000
Joe D. Kimmins, 151 Kapahula Avenue, Honolulu, HI 96815
How To Effectively Use Honolulu Zoo To Teach About Nature And The Environment
This project will offer 16 workshops, each attended by 20 teachers, to make zoo visits more meaningful in terms of environmental conservation. The workshops will equip teachers to offer more creative and environmentally motivated lessons to their students in preparation for a zoo visit.
1995
ID
10
Idaho Department of Water Resources -- $5,000
Dick Larsen, 1301 N. Orchard Street, Boise, ID 83706
Water Awareness Week
This grant will provide support to the Water Awareness Week 1996" project, sponsored by eight federal, state, and local government agencies and two private sector companies. Water Awareness Week is a 6th grade science curriculum program designed to educate more than 5,000 students in Boise and Meridian school districts on environmental and resource issues and to educate the community to become more environmentally conscious. The program uses existing water and environmental education materials and consists of a specially designed, five-day course of water curriculum taught primarily in the science segment of all 6th grade classes.
1995
ID
10
Owyhee Soil Conservation District -- $4,400
Bob Bartholomew, P. O. Box 486, Marsing, ID 83639
Irrigation Induced Erosion Agricultural Producer Education
The goal of this project is to educate members of the local agricultural community through demonstration days and workshops held by the Soil Conservation District with assistance from the U.S. Department of Agriculture's Soil Conservation Service. These demonstrations and workshops will encourage the discussion and adoption of new and existing technologies to reduce nonpoint source pollution due to irrigation-induced soil erosion. These activities will be focused towards 60 producers operating within the Jump Creek Watershed, which has serious irrigation-induced erosion.
1995
ID
10
University of Idaho - Department of Chemical Engineering -- $4,900
Margrit Von Braun, University of Idaho, Moscow, ID 83844-3142
1995 Idaho Science Camp
Through this grant, the University of Idaho will conduct the Idaho Science Camp, a summer science and mathematics workshop for 50 students, in grades 8, 9, and 10. Recruiting emphasis is on Native Americans, Hispanics, young women, and other minority populations under-represented in science and math academic programs and careers. The theme of the workshop is "Environmental Discovery" and includes a variety of innovative, hands-on modules for environmental problem-solving and incorporates math and science into actual problems. The workshops also will include field trips and guest speakers. Special topic areas include pollution prevention, fisheries management, groundwater hydrology, and other water, air and solid waste issues. Classes will be taught by the university faculty and junior high science teachers; graduate and undergraduate student assistants will be used to help with the instruction and serve as role models for the program.
1995
IL
5
Alexander Dumas Chicago Public Elementary School -- $2,319
Linda Bloise, 6650 S. Ellis, Chicago, IL 60637
The Prairie Garden
Funds from this grant will go toward the purchase of seeds and equipment to enable elementary students to plan, prepare, plant, and maintain a prairie at the school site. Dissemination of the project to other schools through a newsletter will draw in partnerships throughout the school district.
1995
IL
5
Chicago Legal Clinic -- $15,000
Keith Harley, 2938 E. 91st Street, Chicago, IL 60617
"Toxic Watch" Sessions: EE in Northwest Indiana
The Chicago Legal Clinic will develop and offer 15 "Toxic Watch" educational sessions in partnership with PAHLS, an environmental organization in northwest Indiana. Sessions will empower residents of northwest Indiana to form a well-grounded understanding of the nature and extent of toxics and their use and emissions at area facilities.
1995
IL
5
Chicago State University - College of Arts and Sciences -- $5,000
Tim Beall, 9501 South King Drive, Chicago, IL 60628
Environmental Impact Analysis Course
The result of this project will be the development of an Environmental Impact Analysis course for college students and local citizens. The course will culminate in a project which requires that participants conduct an environmental analysis of a current issue in southeast Chicago.
1995
IL
5
Herbert Spencer Chicago Public Elementary School -- $4,850
Sandra Givens, 214 N. Lavergne Avenue, Chicago, IL 60644
Great Lakes Education Program for Urban Students
The purpose of this project is to educate 130 6th graders on the importance of the Great Lakes ecosystem. Students will learn how to protect this ecosystem through the use of hands-on classroom activities and exposure to the issues through field trips.
1995
IL
5
Illinois Audubon Society -- $5,000
Susie Schreiber, P. O. Box 608, White Thorn Road, Wayne, IL 60184
Building a Network Environmental Education Coalition in Illinois
In collaboration with the Illinois Environmental Education Advocacy Consortium, Illinois Audubon will build a networking coalition of environmental education providers throughout the state in order to establish statewide, comprehensive environmental education policies and promote environmental literacy.
1995
IL
5
Illinois Benedictine College - Jurica Nature Museum -- $4,989
Father Theodore Suchy, 5700 College Road, Lisle, IL 60532
Elementary Outreach in Environmental Education
The purpose of this project is to develop a series of workshops and discovery boxes for teachers in 150 schools in Dupage County. The focus of the workshops and boxes is on the museum's passerine and water bird collection. The project extends a 1993 EPA grant that funded the development of 14 discovery boxes for teachers to borrow and use in their classrooms for investigative, hands-on activities.
1995
IL
5
Illinois Department of Public Health, Division of Environmental Health -- $22,751
Bill Knorr, 525 W. Jefferson, Springfield, IL 62761
East St. Louis Schools Lead Poisoning Prevention Education Program
The purpose of this project is to provide educational modules and workshops on lead poisoning prevention to more than 800 primary and secondary school teachers and nurses in 29 East St. Louis schools. Modules will be translated into Spanish.
1995
IL
5
Mark Sheridan Math and Science Chicago Public Magnet School -- $5,000
Susan O'Neill, 533 W. 27th Street, Chicago, IL 60616
Teacher/Artist Environmental Education Curriculum Implementation
This project will provide a full school teacher in-service program using the arts as a mechanism for teaching environmental education. An integrated environmental curriculum developed by science teachers and artists under an EPA 1994 environmental grant will be used.
1995
IL
5
McHenry County Defenders -- $5,000
Cynthia Skrukrud, 132 Cass Street, Woodstock, IL 60098
Young Defenders: Parents and Children Investigating Local Ecology
Organizers of this project will recruit and train community volunteers to offer proven, hands-on environmental education activities to groups of 8 to 12 year old children and their families. The Young Defenders Project is part of Volunteers in Neighborhood Ecology Network (VINE) of the North American Association for Environmental Education.
1995
IL
5
Winnebago/Rockford Clean and Beautiful -- $2,615
Nancy Kalchbrenner, 6602 N. Second, Rockford, IL 61111
Wheel of 3R's Game
Organizers of this project seek to design, construct, and demonstrate a selective shopping education program called "Wheel of 3R's" that will be presented in game format. The game will be presented at schools, fairs, and conferences with the goal of encouraging purchasing habits which support waste minimization and source reduction.
1995
IN
5
Geography Educator's Network of Indiana -- $5,000
Rick Bein, Dept. of Geography, Indiana University-Purdue Univ. at Indianapolis, 425 University Blvd., Indianapolis, IN 46202-5140
Stimulating EE in Indiana: A Geographical Assessment of Critical Environmental Issues
Funds from this grant will partially support a three-week commuter institute for Indiana teachers of kindergarten through 12th grade entitled, "Stimulating Environmental Education in Indiana: A Geographical Assessment of Critical Environmental Issues in the Evansville Region." The institute will offer presentations and field trips on topics such as the symbiotic nature of life, climatic changes, land-based degradation and conservation, and photo-chemical pollution.
1995
IN
5
Grand Cal Task Force -- $5,000
Dorreen Carey, 2400 New York Ave, Ste. 303, Whiting, IN 46394
Northwest Indiana Ecosystem: The Community Connection, Executive Director
The Grand Cal Task Force will give seminars to churches, neighborhood and community groups, and civic organizations on how to promote pollution prevention, sustainable community development, and environmental improvement in northwest Indiana. Seminars will reach 1,500 community members using a slide show and educational presentation developed under a 1993 EPA grant.
1995
IN
5
Sierra Club -- $24,300
Patricia Werner, 960 E. Washington St., Suite 200B, Indianapolis, IN 46202
Teacher/Facilitator Training for Wetlands Curriculum
The purpose of this project is to educate 240 teachers of kindergarten through 8th grade throughout the state and 60 teacher-trainers on wetlands using the Sierra Club's Integrated Environmental Curriculum Wetlands Component. The project will be carried out with U.S. Fish and Wildlife Service, Indianapolis Zoo, and Indiana Department of Education. Other outcomes include establishing a wetlands network throughout the state.
1995
IA
7
Cedar Rapids Community Schools -- $4,900
Joyce Fowler, 346 2nd Ave SW, Cedar Rapids, IA 52404-2099
Outdoor Learning Lab
The purpose of this project is to develop and maintain an outdoor learning lab on the school campus. A subcommittee of teachers will use existing environmental educational references to create a handbook of environmental thematic units. Another subcommittee will plan activities to disseminate information to families and the community and actively involve them in the project.
1995
IA
7
Des Moines County Conservation Board -- $17,364
Sharon Kaufman, 512 M. Main St., Burlington, IA 52601
Landowner-Mentor Training for Water Quality Monitoring
This is a pilot project in which six area landowners will be trained to monitor the water quality within the waterways of the Flint Creek (Des Moines, County) watershed. They will be trained to serve as mentors to students from West Burlington Middle School who are also studying water quality issues, water quality monitoring, and the relationship between water quality and land use practices within the floodplain. The project will serve to educate members of the communities in and around Burlington and West Burlington, opening lines of communication between grassroots farming and non-farming agencies and organizations by training area landowners to monitor water quality and by providing opportunities for the landowners to serve as mentors to middle school students.
1995
IA
7
Polk County Conservation Board -- $24,423
Wendy Zohrer, Lewis A. Jester Park, Granger, IA 50109
The City as an Ecosystem Project Video
The purpose of this project is to develop a video targeting urban youth that complements the urban environmental education curriculum about environmental investigations. The video will provide an overview of the city as an ecosystem, highlighting urban environmental issues and demonstrate hands-on investigations by urban, multicultural, youth from the upper elementary level.
1995
IA
7
University of Northern Iowa -- $24,675
Carl W. Bollwinkel, Price Laboratory School, Cedar Falls, IA 50613-3593
Wetlands Issue Instruction
This project will train 30 educators of kindergarten through 12th grade to guide students in making wise decisions relating to wetlands issues. The project also will pilot an educational program appropriate for science centers and museums to educate about wetlands and to initiate educational programming for a "Wetlands Discovery Park."
1995
KS
7
Maize High School, Maize Unified School District -- $5,000
William Kruse, Maize, KS 67101
Workshop on Educator's Water Quality Analysis Training
The initial phase of this project is to train 266 science teachers from kindergarten through 12th grade and student mentors to sample water quality in the Arkansas River Basin using curriculum developed in the Illinois River Project. The training will create a network of teachers having direct contact with the Arkansas River. The result will impact approximately 2,000 students representing agricultural, urban, and industrial populations forming a partnership among school districts along the Arkansas River.
1995
KS
7
Topeka/Shawnee County Litter Control Commission -- $5,000
Chiquita Cornelius, 2933 SW Woodside Dr., Suite C, Topeka, KS 66614-4181
Teachers Training Workshop on Solid Waste Management
Funds from this grant will go toward developing two, one-day workshops for approximately 100 Shawnee Country teachers, providing them with training related to solid waste management. The target audience will be high school teachers in the four public schools in the county. The benefit is to introduce Keep America Beautiful (KAB) solid waste curricula into the schools of Shawnee County, Kansas.
1995
KY
4
Jefferson County Public Schools -- $4,925
Joyce Barnes, P. O. Box 34020, Louisville, KY 40232-4020
Lassiter Middle School Environmental Education Program
This project expands a multi-generational community garden to include a downtown zone and continues the development of an environmental center with the addition of weather-related equipment and air testing facilities. The project also develops a student-oriented library that focuses on environmental issues based on student research.
1995
KY
4
Kentucky Tech. - Harrison Center -- $5,000
Steve Slade, 551 Webster Ave, Cynthiana, KY 41031
Expansion of Know H2O Bulletin Board System
This project expands the WATER project to include a CD-ROM on the Know H2O Bulletin Board System to allow local access by educators and the public to the National Consortium for Environmental Education and Training's CD-ROM environmental education resources.
1995
KY
4
Oldham County Board of Education -- $5,000
Rhonda Hale, 8120 W. Highway 42, Goshen, KY 40026
Liberty Elementary Environmental Theater
The organizers of this project will develop an outdoor environmental theater and provide environmental education to 459 rural and suburban students through the school's science program and the environmental and science clubs. The program also will be used during the summer extended school period.
1995
LA
6
Baton Rouge Green -- $5,000
Peggy Glynn Davis, P. O. Box 66418, Baton Rouge, LA 70896
Trees For Our Children's Future
The purpose of this project is to educate public school children in kindergarten through 12th grade, within East Baton Rouge Parish, on the importance of trees in the environment. The project will produce an environmental education curriculum focusing on the reforestation of native trees. To reach the target audience, teachers will be provided training through workshops and environmental instructional materials. In addition, area schools will be provided a professionally designed tree planting plan, supervised volunteer labor to install the trees, maintenance workshops for tree care, and mulch delivery and tree inspections.
1995
LA
6
Louisiana State University and A & M College -- $16,000
Nancy L. Sidener, 117-D David Boyd Hall, Baton Rouge, LA 70803
Investigating Louisiana's Environmental Problems and Solutions Through Economic Analysis
The purpose of the project is to show, through integrated methods, the interdependence of problems on the environment and the rest of the economy. The target audience is 20 science teachers and 20 social studies teachers from middle schools around the state of Louisiana. The project will include the establishment of an enlightened group of educational leaders who can take back to their schools an understanding of the ramifications for society of environmental problems.
1995
ME
1
Maine Environmental Education Association -- $5,000
Marianne Dubois, P. O. Box 9, Wiscasset, ME 04578
Earthminders: Topics in Environmental Education
Earthminders, a coalition of organizations promoting environmental education in Maine, conducts a state-wide teacher training program by means of an interactive television series. The target audience for this project is 1,200 elementary and secondary school teachers. The program will reach them in remote locations and allow them to participate to the same extent as teachers in the more populous southern region of the state. The eight, 60-minute programs will be broadcast from the University of Maine to 78 school sites state-wide.
1995
ME
1
Passamaquoddy Tribe-Indian Township Tribal Government -- $12,000
Veronica Smith, P. O. Box 301, Princeton, ME 04668
Reservation Environmental Education Needs Assessment
Funds from this grant will go to conduct a needs assessment on the Indian Township Reservation to identify local environmental issues and determine how tribal members wish to be educated and involved. The project will engage tribal adults in defining water quality on the Reservation, nonpoint source pollution, energy consumption, water usage, and excess packaging issues. Participants in the project also will conduct a needs assessment for a kindergarten through 12th grade curriculum, and create five, one- to three-minute public service announcements for the tribal cable access channel.
1995
ME
1
University of Southern Maine/Maine Geographic Alliance -- $7,915
Pamela L. Wilson, 96 Falmouth Street, Portland, ME 04103
Summer Teacher Training Institute
This project involves a one-week residential workshop designed to improve the ability of 20 Maine teachers (10 two-teacher teams, grades 7 through 12) and members of 10 communities to address fresh water issues. This pilot project will reach 570 Maine citizens in its first year and will establish an ongoing network of support among the participants.
1995
MD
3
Clean Islands International, Inc. -- $5,000
8219 Elvaton Drive, Pasadena, MD 21122
Environmental Lessons on Video
"Environmental Lessons on Video is a U.S. Virgin Islands Education Project consisting of teacher workshops for Virgin Islands educators and a video for those unable to participate in the workshops. Goals of the project include development of methods to promote environmental awareness, conservation practices relevant to the resources and restrictions of island communities, and effective decision making for solid waste disposal alternatives.
1995
MD
3
Prince George's County Public School - Nicholas Orem Middle School -- $3,975
Richmond Myrick, 6100 Editor's Park Drive, Hyattsville, MD 20782
Teacher Training Workshop-Courtyard Habitat
This project proposes a series of teacher workshops to inform and to plan a multi-disciplinary environmental curriculum for students. The project would result in a product of a wildlife habitat within an existing school courtyard. The initial audience would be 10 classroom teachers and 250 students. An additional 350 to 500 people would be invited to participate in adult education opportunities.
1995
MA
1
Boston Private Industry Council, Inc. -- $119,685 (HQ Grant)
Lois Ann Porter, 2 Oliver St., 7th Floor, Boston, MA 02109
Green Tech
This project is the second year of a multi-year program to prepare South Boston High School students to make the school-to-work transition through environmental careers. "Green Tech" is designed to teach these students, 73% of whom are from minority populations, that what they learn in the classroom is central to their future employment opportunities and that both training and work experience are necessary to gain access to well-paying jobs. The program will increase student awareness about environmental career opportunities through multi-disciplinary classroom instruction and internships with environmental agencies and businesses. Central to this project is the formal collaboration which exists between the Council, the high school, and the area's government agencies, nonprofit organizations, and private sector businesses. The project will reach five teachers and 1,000 students.
1995
MA
1
Center for Ecological Technology -- $5,000
Nancy Nylen, 112 Elm Street, Pittsfield, MA 01201
Environmental Teleconference Project
This project is a collaborative effort among schools, community organizations, and businesses to produce and broadcast interactive video teleconferences. The project deepens middle school students' understanding about local environmental issues in 10 urban and rural towns in the Central Berkshire Regional School District.
1995
MA
1
Groton-Dunstable Regional School District, Tarbell School -- $5,000
Nancy Turkle, 73 Pepperell Road, West Groton, MA 01472
Groton Compost Corporation
Funds from this grant will go to a project supporting 30 high school students who form the core of a community organization which learns methods and develops plans to handle institutional organic waste more efficiently. These students use their group to educate fellow students, community residents, and school and municipal authorities on the nature and economic viability of composing options for waste management.
1995
MA
1
Ipswich River Watershed Association, Inc. -- $4,400
Kerry Mackin, 87 Perkins Row, Topsfield, MA 01983-1999
Water Education for Conservation Commissioners
Funds from this grant will support a model program designed to educate 120 volunteer conservation commissioners in the cities and towns which comprise the Ipswich River watershed on how to protect the watershed from pollution, loss of wildlife habitat, and fisheries decline. The project will adapt existing curricula, develop a handbook, and provide a series of workshops to enhance understanding of the resources that must be protected.
1995
MA
1
Joseph P. Manning School -- $5,000
Lorraine S. Theroux, 130 Louder's Lane, Jamaica Plain, MA 02130
Teacher Training Environmental Workshop
This project involves curriculum development on urban gardening and soil contamination for inner-city elementary school teacher training. Following the education of 65 4th and 5th grade students, project organizers hope that they will make a positive contribution to their community by writing about and publishing one of two newsletters for the benefit of the adult audience and the press.
1995
MA
1
Massachusetts Public Interest Research Group (MASSPIRG) Education Fund, -- $20,000
Amy Perry, 29 Temple Place, Boston, MA 02111
The "Make It Recycled","Buy It Recycled" Project
This project targets three important "consumer" populations: the general public, the purchasing managers of public agencies and other institutions, and owners and operators of the 25 largest manufacturers in one Massachusetts solid waste management district. It includes the development, printing and distribution of education materials and workshops to increase awareness of and promote the purchase and use of products made from recycled material.
1995
MA
1
Mount Holyoke College/Environmental Studies Program -- $4,988
Jens Christiansen, 115 Skinner Hall, South Hadley, MA 01075
A Bi-National (U.S.-Mexico) Environmental Studies Course
This project is a collaborative effort with the International University of Mexico to develop a bilingual course syllabus and pilot environmental studies course entitled, "Life, Environment, and Society." The focus of the project is on development of supporting materials to make the course especially relevant to issues of environmental justice in developing countries in general, and Mexico in particular.
1995
MA
1
New England Board of Higher Education -- $112,000 (HQ Grant)
William P. Fenstemacher, Ph.D., 45 Temple Place, Boston, MA 02111
A Regional EE Partnership for New England's Colleges and Universities
"A Regional EE Partnership for New England's Colleges and Universities" is designed to upgrade training and awareness for college environmental faculty and administrators about what is working and not working to better prepare students to undertake environmental careers. It also will establish an environmental science and engineering academic support network to enhance minority student preparation for environmental careers, and increase the accessibility of information on environmental education and research programs at the region's colleges and universities to government and industry. The target audience includes New England state government representatives in higher education, environmental protection, and economic development; presidents and faculty at New England's public and private colleges; and business and industry associations such as the Environmental Business Council. The project will reach 260 colleges and universities and numerous government officials and businesses in six states.
1995
MA
1
Northeast Sustainable Energy Association -- $9,930
23 Ames Street, Greenfield, MA 01301
Northeast Sustainable Energy Association (NESEA)
The Northeast Sustainable Energy Association (NESEA) will develop educational materials for 6th to 10th grade teachers in New Jersey and New York. The materials will be designed to develop student and teacher awareness about transportation choices and the impacts their actions and decisions have on air, land, and water pollution. NESEA's materials, which stress the use of renewable energy and energy conservation, will be disseminated prior to and during the 1996 Tour de Sol, an annual electric vehicle educational event and race.
1995
MA
1
Northeast Sustainable Energy Association -- $9,930
Nancy Hazard, 23 Ames Street, Greenfield, MA 01301
Creating Transportation Education Materials for Grades 6-10
The Northeast Sustainable Energy Association (NESEA), an energy education association, proposes to develop educational materials for 6th through 10th grade teachers in New Jersey and New York. The materials are designed to develop student and teacher awareness about transportation choices and the impacts their actions and decisions have on air, land, and water pollution. NESEA's materials, which stress the use of renewable energy and energy conservation, will be disseminated before and during the 1996 Tour de Sol, an annual electric vehicle educational event and race. NESEA will use its partnerships and communication channels to distribute the materials in both states.
1995
MA
1
Pioneer Valley Girl Scout Council -- $5,000
Barbara Bilz, 40 Harkness Avenue, East Longmeadow, MA 01028
Inner City Wetlands Environmental Education Project
Funds from this grant will support a wetlands environmental education program for 150 Girl Scout leaders and other interested adult leaders who live in the inner city of Springfield, Massachusetts. The project includes a series of three educational workshops which focus on providing hands-on learning opportunities, skills, and knowledge necessary to teach approximately 600 girls about wetland ecology in their communities.
1995
MA
1
Triton Regional School District -- $4,988
Ann Ringling, 112 Elm Street, Byfield, MA 01922
The Parker River Watershed Study Program
This project will develop a model for 248 4th, 5th, and 6th grade students that moves environmental education both physically and conceptually out of the classroom and into the natural world which surrounds them. The project forms a partnership with the Massachusetts Audubon Society's Plum Island Sound Project, providing teacher training and curriculum development.
1995
MI
5
Central Michigan University -- $5,000
Claudia Douglas, Central Michigan University EE Collaborative, Biology Department, Mt. Pleasant, MI 48848
Neithercut Nature Center
The organizers of this project hope to expand the use of Central Michigan University's (CMU) 160-acre property called Neithercut Nature Center. CMU will offer four, one-day workshops to 100 teachers of kindergarten through 8th grade to expose them to this educational resource. Workshops will build upon environmental education materials which already exist in Michigan.
1995
MI
5
Ecology Center of Ann Arbor -- $5,000
Michael Garfield, 417 Detroit St., Ann Arbor, MI 48104
Education for Environmental Justice
Organizers of this project will develop and disseminate a handbook describing the field methods and techniques used in a model youth education program about environmental justice. The handbook will be available nationwide and initially distributed to 1,000 people directly. Funds will also support the application of environmental justice field techniques in three southeast Michigan communities.
1995
MI
5
Grand Traverse Band of Ottawa and Chippewa Indians -- $25,000
Robert Kewaygoshkum, 2605 N. West Bay Shore, Suttons Bay, MI 49682
Tribal Environmental Education Initiative on Water Quality
Funds from this grant will launch the first component of a tribal education program by using the Global Rivers Environmental Education Network's (GREEN) water quality monitoring program. The project organizers seek to train five adult coordinators and 16 Native American youth to serve as peer educators for the Ottawa and Chippewa community.
1995
MI
5
Grand Traverse Bay Watershed Initiative -- $24,965
Jeanna Paluzza, 3197 Logan Valley Road, Traverse City, MI 49684
School-Based Watershed Education Program
This project will provide training and support to 15 5th through 12th grade teachers on water quality monitoring based on Stapp's Field Manual for Water Quality Monitoring. The Grand Traverse Bay Watershed initiative will provide a two-week summer institute for teachers, provide follow-up support for fall and spring monitoring activities, and culminate the year's efforts with a student congress.
1995
MI
5
Leslie Public School District -- $5,000
Net Curtis, 432 N. Main St., Leslie, MI 49251
Wild 100 Nature Center
Funds from this grant will be used to involve 400 high school students in the design and development of an outdoor 100-acre natural learning center called, "Wild 100 Nature Center." The nature center will become part of the high school curriculum and available for community use.
1995
MI
5
Macomb County-Michigan State University Extension, -- $5,000
Patrick Livingston, 21885 Dunham Rd., Clinton Township, MI 48036
Great Lakes Environmental Education Teacher Training
The purpose of this project is to build the environmental teaching skills of 4th grade teachers by expanding the Great Lakes and Clinton River Education Program, an experiential environmental education program that teaches about the importance of the Great Lakes Watershed.
1995
MI
5
Michigan Water Environment Association -- $4,930
Paul Freedman, P. O. Box 82410, Rochester, MI 48308-2410
The Water Sourcebook
The purpose of this project is to introduce the Water Sourcebook education program, produced by the Tennessee Valley Authority with funding from the EPA, to 300 middle school teachers in Washtenaw County, Michigan. The Michigan Water Environment Association will host workshops and provide follow-up support to teachers once they have returned to the classroom.
1995
MN
5
Minnesota Environmental Education Association, -- $5,000
Jennifer Gasperini, 3815 E. 80th Street, Bloomington, MN 55425
1995 Midwest Environmental Education Conference
Funds from this grant will partially sponsor the 1995 Midwest Environmental Education Conference held in Rochester, Minnesota in the fall. The conference will draw more than 500 formal and nonformal environmental educators and offer a broad range of workshops, seminars, and exhibits.
1995
MN
5
Southwest State University, -- $4,996
Elizabeth Desy, 1501 State St., Marshall, MN 56258
Field and Lab Experiences in Prairie and Wetland Conservation
The purpose of this project is to hold a three-day workshop for teachers of kindergarten through 6th grade in southwest Minnesota on investigating water and habitat quality in wetlands and prairies.
1995
MN
5
The International Coalition for Land/Water Stewardship in the Red River Basin -- $4,728
Julie Goehring, P. O. Box 127, Moorhead, MN 56561-0127
The International Coalition for Land/Water Stewardship in the Red River Basin
The purpose of this project is to develop 10 different flyers and distribute them to residents of the Red River Valley. Organizers of the project hope to promote land and water conservation among cafe and gas station owners.
1995
MN
5
Twin Cities Public Television -- $95,200 (HQ Grant)
Richard Hudson, 172 East Fourth Street, St. Paul, MN 55105
Newton's Apple
The goal of this project is to develop a series of environmental education video segments to be broadcast nationally on the Public Broadcasting Station (PBS) as part of their long-running science series "Newton's Apple." "Environmental Adventures" will address ecosystem protection, environmental justice, pollution prevention, and the role of science in environmental protection. "Newton's Apple" is carried on more than 300 PBS stations nationwide; the environmental education segments are expected to reach five million viewers (one-third children and two-thirds adults). The segments and supporting educational materials will be disseminated further to 50,000 educators as well as on cable services, videotape, videodisc, and CD-ROM through commercial distribution channels and various environmental education resource centers.
1995
MS
4
Alcorn State University -- $70,000 (HQ Grant)
Jerome Burton/Theodore Pinnock, P. O. Box 479 (ACEP), Lorman (Claiborne County), MS 39096
Empowering a Grassroots Community
This project will educate community leaders, residents, and volunteers in two rural counties in Mississippi about conditions such as waterborne diseases and other contaminants that threaten the area's surface water quality. "Empowering a Grassroots Community" is designed to educate poor rural residents about the importance of sustaining water quality in their communities; to identify public health risks associated with contaminated water reservoirs; and to assist local, state, and federal water quality agencies in developing solutions to reduce prevailing public health risks. Training activities will include a surface water preservation science fair and discovery program, adopt-a-water workshops, and community service projects. A key partner in the project is the Hermanville Ruritan Club which is responsible for recruiting community volunteers. The project will reach 600 community leaders, residents, and volunteers.
1995
MS
4
Puckett Attendance Center -- $16,175
Joe Ann Clark, P. O. Box 40, Pucket, MS 39151
Aqua Fair
This project will be a year-long water study involving classroom activities, field trips, seminars, investigative studies, and a water quality fair. The study will be initiated by an on-campus Aqua Fair with booths staffed by water quality specialists from universities and local, state, and federal agencies. Activities will be structured so that students in kindergarten through 12th grade will learn about environmental problems and their solutions.
1995
MO
7
Macon County University Extension Council -- $5,000
Wanda Eubank, 119 North Rubey, Macon, MO 63552
Mark Twain Water Quality Initiative Workshop for Educators
This project involves a water quality workshop for classroom teachers, assistants, professionals, and volunteers working with youth groups. The train-the-trainer model will result in reaching 5,000 youth the first year, and 5,000 the following year. The target audience is 50 teachers and youth educators from a 16-county northeast extension region of Missouri. These educators will be provided with 40 hours of instruction on water quality issues and will improve the understanding of public policy and decision-making skills.
1995
MO
7
Metropolitan Energy Center -- $13,574
Peter Dreyfuss, 3808 Paseo, Kansas City, MO 64109
Extend School Building Efficient Lighting Program Services to Community
The purpose of this project is to educate occupants of school buildings about management and impact of improving lighting efficiency and energy use. The target audience is high school students and their teachers. The expected results would be an increased awareness of the environmental issues surrounding air pollution and some possible solutions. The method of implementing the project will be to provide workshops, educational materials, and consulting services at the Energy Center to the target audience.
1995
MO
7
Missouri Botanical Garden -- $12,136
Larry DeBuhr, P. O. Box 299, St. Louis, MO 63026
Aquatic Biology and Water Quality Curriculum to New Teacher Audience
This project will disseminate an existing, field-tested, curriculum to teachers in the Kansas City metropolitan area. Twenty-five teachers from grades 4 through 8 will have a one-week training in aquatic biology and water quality curriculum and will assemble three instructional materials kits for circulation throughout the schools.
1995
MO
7
Ozark Mountain Center for Environmental Education -- $57,731 (HQ Grant)
Becky Horton, P. O. Box 466, Alton, MO 65606
Ozark River Project
This two-year project will empower communities to address local environmental problems in various rural and economically depressed areas in the Ozarks. The "Ozark River Project" will focus on water quality problems in five Ozark rivers to help the community understand the implications of land use practices, waste disposal options, and economic development upon surface and subsurface waters. The project uses already existing nationally-recognized curricula, and will provide students and teachers in grades 7 through 12, and various community organizations, with the skills and tools needed to conduct water quality testing. A mobile laboratory will be used to gather this data, and training workshops will be provided for teachers, students, and volunteer monitors to assist them in conducting the field activities. The project will reach 5,000 students and teachers in 21 schools and will be open to community participation.
1995
MT
8
Montana State University -- $25,000
Dennis Nelson, Culbertson Hall #210, Bozeman, MT 59717-0057
Project WET
The funds from this grant will support Project WET, a leadership training and network building initiative in EPA Region 8.
1995
MT
8
Western Montana College of University of Montana -- $24,700
Susan Dejmal, WMC Box 100, Dillon, MT 59725
Pioneering Discoveries
The purpose of this project is to train 30 teachers, who will reach 800 students, in a holistic approach to environmental education through the ECOSYSTEM curricula. The project will result in the development of the "Pioneering Discoveries curriculum and three teacher workshops in 1995 that focus on natural resources protection and conservation.
1995
NE
7
Nebraska Department of Environmental Quality -- $25,000
Elbert Taylor, P. O. Box 98922-Statehouse Station, Lincoln, NE 68509-8922
Hanna's View: An Interactive Theater Production on Water Quality
The organizers of this project seek to develop an interactive theater production on water quality to be performed over 100 times state-wide to 4th through 8th grade students. A training kit for other theater groups will also be produced to duplicate the performance. The play will give students accurate knowledge about water quality and teach them age-appropriate actions to prevent water pollution.
1995
NE
7
Omaha Tribe of Nebraska -- $24,825
Mark Versch, Dept. of Natural Resources, P. O. Box 368, Macy, NE 68039
Environmental Education Initiative of the Omaha Tribe
This project will initiate an "Environmental Education Council" to coordinate and encourage environmental studies in elementary and junior high curricula, and to disseminate consumer education on household hazardous products, waste, and related environmental issues. Participants will conduct a train-the-trainer session on household hazardous products and wastes. A lending library of household hazardous and waste management reference materials and resources also will be developed.
1995
NE
7
University of Nebraska, Lincoln -- $24,903
Marion H. O'Leary, 206 Biochemistry Hall, Department of Biochemistry, Lincoln, NE 68583-0718
The Nebraska Distance Learning Water Research Program
The purpose of this project is to produce a distance-learning program (using Nebraska's Neb*Sat satellite system) for Nebraska science teachers. The primary target audience is 100 Nebraska science teachers who participate in the SEER distance learning program. The secondary target audience is approximately 10,000 students. The project is expected to increase knowledge of Nebraska's water quality and to increase students' understanding of science, the environment, and research.
1995
NV
9
Northern Nevada Natural Resources Educational Council -- $5,000
Lorre Moyer, 10510 Chestnut, Reno, NV 89506
Great Basin Eco-region
This project will sponsor ten, one-day field trips for at-risk Washoe County 6th grade students for an outdoor, interdisciplinary education experience at Great Basin eco-region. Students will explore the unique Great Basin environment through learning experiences and activities consistent with state curriculum guidelines.
1995
NH
1
Hillsborough County Conservation District -- $2,864
Jo-Ann Turner, 468 Route 13 South, Milford, NH 03055-3442
Soils Training for Educators
This project involves training about soil with a soil educational toolkit for Hillsborough County's 50 elementary and middle school teachers. The purpose of the project is to fill a gap in knowledge of basic soil science. The knowledge gained through a variety of soil-related activities will cause students to become more aware of the importance of soil, and help prevent erosion and other actions which create land and water pollution and food shortages.
1995
NH
1
New Hampshire Association of Conservation Districts -- $5,000
R. J. (Dick) Obyc, 10 Ferry Street, P. O. Box 2042, Concord, NH 03302-2042
School Environmental Education Program
The Envirothon program helps New Hampshire high school students learn the process of group dynamics concerning real life issues affecting the ecology and how to make sound environmental decisions. The project is a unique partnership formed among the students, educators, volunteers, and resource persons from the state, private, and federal organizations. This year's subject is groundwater.
1995
NH
1
New Hampshire Fish and Game Department -- $4,900
Judith K. Silverberg, 2 Hazen Drive, Concord, NH 03301
Teacher Workshops Using Facilitator Model
This project is based upon a widely-distributed document, Homes for Wildlife - A Planning Guide for Habitat Enhancement on School Grounds. The project organizers will develop the necessary support materials and conduct a three-day workshop for 10 facilitators who are in the process of establishing schoolyard habitat sites for wildlife. Facilitators, in turn, conduct 20 workshops in diverse community settings, resulting in the training of 200 teachers of kindergarten through 12th grade.
1995
NH
1
University of New Hampshire, Durham -- $4,999
Ihab Farag, Office of Sponsored Research, 107 Service Bldg., Durham, NH 03824-32585
Pollution Prevention in Hawaii's Construction Industry: A Workshop for Faculties and Students in Architecture, Engineering, and Urban Planning
This project will offer a workshop in Honolulu to increase awareness of pollution prevention concepts among university students and faculties of disciplines with the largest impact on the construction industry. Co-sponsored by the Hawaii Department of Health, organizers of the workshop anticipate attracting 100 students and 50 professors from architecture, engineering, and urban planning departments of the University of Hawaii, community colleges, and private colleges in the state.
1995
NJ
2
Camden County Municipal Utilities Authority -- $2,250
Herman B. Engelbert, 1645 Ferry Avenue, P. O. Box 1432, Camden, NJ 08101-1432
Environmental Education Workshop Program
The Camden County Municipal Utilities Authority (CCMUA) will develop an interactive computer program depicting operation of a secondary wastewater treatment facility. The computer program can be adapted into an animated instructional video. The CCMUA will produce, duplicate, and distribute the materials to 220 schools in Camden County. CCMUA professional staff will be available to provide supplementary discussions before and after use of the materials.
1995
NJ
2
Citizen Policy and Education Fund -- $5,000
Ralph Scott, 400 Main Street, Hackensack, NJ 07601
Paterson Childhood Lead Poisoning Prevention Education Project
The Citizen Policy and Education Fund (CPEF) of New Jersey will educate families with children under six years of age about lead poisoning, the importance of lead screening, and how Paterson's lead poisoning prevention law can enhance lead poisoning prevention practices. CPEF will translate a brochure they developed into Spanish and Arabic. The Spanish translation will target a community that makes up more than 40% of the population. The Arabic translation will serve a population that is smaller, but substantial. This will be the first systematic lead poisoning education effort to target Paterson's Arabic population.
1995
NJ
2
City of New Brunswick, Bureau of Recycling -- $5,000
Donna Y. Caputo, 78 Bayard Street, New Brunswick, NJ 08901
Recycling in Multi-Family Dwellings
This project will educate multi-family residents, superintendents, and city management about recycling. Multi-family dwelling recycling has not reached the level of success which single family dwelling areas have demonstrated. This program will produce and disseminate print materials in multi-language format and provide presentations to building managers and supervisors on recycling. The plan will be implemented by a local cooperating committee which is comprised of representatives from residents and the local government.
1995
NJ
2
Greater Newark Conservancy -- $5,000
Deborah Hadley, 303-9 Washington Street, 5th Floor, Rm 3, Newark, NJ 07102
Teacher Training: Water Quality Projects for Newark Elementary Students
The Greater Newark Conservancy proposes through the Water Quality Project to train nine upper elementary and middle school teachers in three inner-city Newark schools. Through four workshops and on-going technical assistance, educators will be empowered to use hands-on activities from existing appropriate environmental curricula. As a result, more than 300 students will learn about the Hudson-Raritan Estuary and issues related to water quality. Each participating school will receive curricular materials and water testing equipment to enable students to assess local water pollution problems.
1995
NJ
2
University of Medicine and Dentistry of New Jersey - Robert Wood Johnson Medical School - Environmental and Occupational Health Sciences Institute (EOHSI) -- $24,589
Audrey R. Gotsch, 681 Frelinghuysen Road - P. O. Box 1179, Piscataway, NJ 08855-1179
Bilingual Environmental Education and Training Project
This project will reach Latino students and their families with environmental health science education. Environmental and Occupational Health Sciences Institute (EOHSI) will, in collaboration with educators, adapt an existing successful curriculum, "Healthy Environment-Healthy Me," to meet the needs of bilingual (Spanish/English) and English as a Second Language (ESL) educators and students. The grantee will prepare a bilingual supplement to its curriculum for kindergarten through 3rd grade and hold environmental education workshops for bilingual educators. The curriculum focuses on ecology, pollution prevention, solid waste management, safe handling and reduction of hazardous household products. Objectives include developing skills to evaluate, prevent, or avoid environmental health risks.
1995
NM
6
Navajo Community College -- $4,500
Mark C. Bauer, P. O. Box 580, Shiprock, NM 87420-0580
Incorporating Environmental Education into Children's Science Summer Program
This project will add an environmental education component to the "Summer Science Enrichment Program for Navajo Youth." The six-week program will enroll 80 Navajo students in grades 4 through 8 from the Four Corners area. Problems relating to solid waste management, drinking water quality, river water quality, air pollution, and hazardous waste management are issues to be included in the science curriculum.
1995
NM
6
Northern New Mexico Community College -- $5,000
Karen S. Young, 1002 N. Onate Street, Espanola, NM 87532
The Environment: A Summer Workshop for Teachers
The purpose of this project is to improve the environmental teaching skills of teachers. The target audience is the teachers of the five day schools and the Head Start programs of eight Northern Pueblos. The result of the project will be teachers who are well-informed about the environmental problems and issues faced on reservations. The project will deliver the education through a five-day workshop and instructional materials. The instruction will address issues relative to water pollution, habitat, waste disposal, and hazardous materials on reservations.
1995
NM
6
Talking Talons Youth Leadership -- $16,000
Wendy C. Aeschliman, P. O. Box 2020, Tijeras, NM 87059-2020
School-Based Peer to Peer Environmental Leadership
The purpose of this project is to educate an elementary school population in environmental education year round through ongoing environmental leadership classroom presentations by peers. The project calls for training approximately 25 elementary students bi-weekly to give presentations in assemblies and in classrooms. The emphasis will be on health, habitat preservation, and environmental science.
1995
NY
2
Central Park Conservancy -- $5,000
J. Lennox Hannan, 10 Columbus Circle, Suite 2155, New York, NY 10019
City Naturalists Institute
The City Naturalists Institute will reach 60 early childhood educators in two, five-day sessions. Institute participants will receive training in using New York City parks as a resource for environmental education and develop original curricula incorporating outdoor activities. A resource manual and curriculum resource guide will assist educators in their efforts to reach young children. This series of sessions will also focus on incorporating environmental education into early childhood language arts.
1995
NY
2
Chenango County Environmental Management Council -- $4,400
Cassie Stevenson-Rose, 5 Court Street, Norwich, NY 13815
Lead Paint Abatement Program
The Chenango County Environmental Management Council, whose members are appointed, unpaid volunteers, proposes to educate Chenango County residents about lead. The program will include public service announcements, printed materials, seminars, school education projects, and presentations to local organizations. The education program will include discussions of the health hazards of lead paint, testing, short-term and permanent abatement measures, disposal, local government contacts, and legal implications for homeowners and landlords.
1995
NY
2
Citizens Committee for New York City, Inc. -- $148,000 (HQ Grant)
Michael E. Clark, 305 Seventh Avenue, New York, NY 10001
Neighborhood Environmental Leadership Institute
This project will expand an existing program which trains grassroots neighborhood leaders to work within their communities to reduce the number of New York City residents exposed to harmful environmental pollutants (for example, air and water pollution, lead poisoning, and hazardous wastes). The "Neighborhood Environmental Leadership Institute" will train more than 700 grassroots neighborhood leaders from low-income and minority neighborhoods throughout New York City, the vast majority of who are Latino, African-American, and Asian, through various leadership and environmental workshops. The expanded program includes new workshops on collaborative environmental problem-solving and environmental equity, and will reach out to residents of the Bronx and Queens for the first time. The project continues to be developed in partnership with the City University of New York and various environmental and community organizations and local government agencies.
1995
NY
2
City of Syracuse -- $5,000
Linda DeFrancisco, 419 City Hall, Syracuse, NY 13202
Syracuse Environmental Education Program
The City of Syracuse Department of Parks, Recreation, and Youth Programs; the Syracuse City School District; Year Round Syracuse; and the Alternatives for Reaching Independence Through Services and Engineering (ARISE) group will develop materials using Elmwood Park as a resource for environmental education. Project participants will improve environmental aspects of the park, take students on walking tours, inform the public about the environmental education program, and assist in maximizing accessibility including production of Braille materials. The program is directed towards students from kindergarten through 6th grade also will be made available in several translations reflecting the diversity of this urban population.
1995
NY
2
Cornell Cooperative Extension of Suffolk County -- $5,000
John Scotti, 39 Sound Avenue, Riverhead, NY 11901
Long Island Marine Environment-Peconic Bay Estuary Primer
Filling an existing gap in environmental education materials for school-aged children, Cornell Cooperative Extension of Suffolk County will develop a curriculum and supportive educational resources entitled Long Island Marine Environment-Peconic Bay Estuary Primer. In addition to the curriculum development, the program objectives include involving students in community projects and recreational activities, conducting teacher training workshops, and establishing a resource education team responsible for coordinating the overall program. The Peconic Bay Estuary System has been included in the National Estuary Program since 1992.
1995
NY
2
Dutchess County Cornell Cooperative Extension; Dutchess County Environmental Management Council (EMC), -- $5,000
Barbara Kendall, Route 44, Box 259, Millbrook, NY 12545
Waste Prevention Program for Dutchess County
The Waste Prevention Program for Dutchess County will involve the community, educate the public, and undertake problem solving activities. The project will address the twofold problem of waste quantity and waste toxicity in Dutchess County. The project addresses problems posed by the cost of disposing of ash from a county resource recovery facility. The Environmental Management Council proposes to target residential and business communities and government officials to encourage the removal of materials from the waste stream which produce high levels of lead and cadmium. The project would also create models of waste prevention for businesses, institutions, and governments to demonstrate the benefit of waste prevention. Small business and consumer workshops in conjunction with a range of educational materials will be used.
1995
NY
2
Genesee Valley BOCESBoard of Cooperative Educational Services) -- $4,955
JoAnn Schlachter, 27 Lackawanna Avenue, Mt. Morris, NY 14510
The Earthling
Children in kindergarten through 3rd grade are the target audience for The Earthling Environmental Literacy Program. The centerpiece of the program is a live performance by The Earthling, symbolizing the environment in a way in which young people can relate. Children participate in an interactive performance in which they learn about pollution prevention. Follow-up materials for school and home reinforce the lessons learned. The program channels youthful willingness to help the environment into a foundation of positive and thoughtful environment attitudes.
1995
NY
2
Hudson River Sloop Clearwater, Inc. -- $5,000
Kate Mitchell, 112 Market Street, Poughkeepsie, NY 12601
The Hudson River: An Environment for Learning
Clearwater will offer an accredited course in environmental education methods for educators through the State University of New York at New Paltz. Clearwater's goal is to institutionalize Hudson River studies as part of the regional school curriculum. The six-week course will be held at Clearwater's riverfront education center with an intensive three day session on board the sloop, Clearwater. It will build on previously developed curricular materials and workshops. The program aims to enable participating educators to incorporate Hudson River estuary issues into existing curricula or initiate experiential Hudson River classwork for students.
1995
NY
2
Institute for Economic Growth Local Development Corporation -- $5,000
Carol Lutker, 94 Cove Road, Northport, NY 11768
Environment Values and Decision Making for Homeowners
The Institute for Economic Growth's target audience for this project is Long Island, New York homeowners considering remodeling. The objective is to help homeowners consider the environmental impact of their remodeling plans and to make home improvement decisions which both provide energy and resource savings while improving the quality of life within the home. The institute will conduct interactive workshops and provide individual advisement at the Home Improvement and Energy Expo at the Nassau Coliseum.
1995
NY
2
Long Island Pine Barrens Society -- $4,935
Richard Amper, P. O. Box 429, Manorville, NY 11949
Executive Director, Considering Remodeling-Pine Barrens Curriculum and Resource Guide
The Long Island Pine Barrens Society seeks to educate Long Island teachers about the newly-designated Pine Barrens State Preserve. The society seeks to educate teachers on the critical drinking water and habitat resources of the Pine Barrens and supply them with materials on this eco-system. The program will cover the hydrological and ecological importance of the Pine Barrens, highlight the role citizen action has played in preservation, and present the new management plan governing acquisition. Materials will be provided to every Long Island district and school.
1995
NY
2
Montgomery County Water Quality Committee -- $1,500
Thomas Bielli, 4001 State Highway 5 South, Fultonville, NY 12072-1721
Teacher Training Workshop: Local Water Quality Issues
The Montgomery County Water Quality Committee will hold workshops for 5th grade teachers from the six county school districts. In order to assist them in incorporating water resources related issues into their lesson plans, the program will use a surface water and groundwater model and develop lessons which address county-specific issues. Workshops will be held to train educators in both the lessons and use of the model and make the model available to educators to teach water-related issues.
1995
NY
2
Museum of the Hudson Highlands -- $5,000
Charles I. Keene, The Boulevard, Cornwall-on-Hudson, NY 12520
Water Education Program for Middle Schools
The Museum of the Hudson Highlands proposes to implement a project to revise and demonstrate a secondary school water education program on wetlands, water quality, and groundwater. Local information and examples will be the basis of illustrating general concepts. Educators will provide input on the educational materials to focus the materials and design appropriate evaluation materials. The materials will be piloted in the classroom. The program itself will become part of the museum's series of hands-on, interpretive classes provided to the school districts.
1995
NY
2
New York City High School for Environmental Studies -- $5,000
Alex Corbluth, 444 W. 56th Street, New York, NY 10019
Principal, An On-Site/On-Line Teacher Training Program
The New York City High School for Environmental Studies (NYC HSES) will implement a training program for educators in New York State interested in teaching a comprehensive course in environmental science. The training program will consist of a two-day workshop at NYC HSES and a permanent "Online Conference" on Econet or Nysernet. The course curriculum models current research on effective teaching and curriculum planning. The online component allows teachers to maintain a dialogue about curricular and instructional strategies after the workshop is conducted.
1995
NY
2
New York City High School for Environmental Studies -- $5,000
Alex Corbluth, 444 West 56th Street, New York, NY 10019
Principal, Development of the First High School Environmental Law Course
The purpose of this project is to promote environmental education by developing, in cooperation with the New York State Board of Regents and other appropriate organizations, the first environmental law course designed to culminate with a New York State Regents Exam. The development of a Regents Environmental Elective will promote the inclusion of environmental studies in the course of study for students working towards a New York State (NYS) Regents diploma. The course would also increase the likelihood that schools across the state would offer an environmental elective. The initial target audience will be the juniors and seniors at the New York City High School of Environmental Studies (NYC HSES). The NYC HSES will work with the NYS Board of Regents, NYS and Pace University Environmental Law Center.
1995
NY
2
Patchogue-Medford School District -- $4,896
Susan Kahl, 241 South Ocean Avenue, Patchogue, NY 11772
An Interdisciplinary Approach to Teaching Water Conservation and Preservation
This project will develop an ongoing program for middle school students to increase their understanding of Long Island water resources. Objectives of the project include: modification of existing curricula to provide an ongoing, interdisciplinary investigation of Long Island water issues, development of an understanding of attitudes towards environmental issues and historical changes beginning with Native American studies, and empowering students to take action to change practices related to water conservation and preservation.
1995
NY
2
Schoharie County Soil and Water Conservation District -- $4,910
Brenda Weaver, 41 S. Grand Street, Cobleskill, NY 12043
Nonpoint Source Pollution Education Program
The purpose of this project is to increase the understanding of nonpoint source pollution problems and introduce students and the public to methods which can prevent these problems in Schoharie County. The project is aimed at 4th through 6th grade students and teachers in six school districts, and youth, adult, and community organizations. Participants will learn how nonpoint sources of pollution affect water quality, practices that cause pollution, and ways to prevent this pollution.
1995
NY
2
The Catskill Center for Conservation and Development -- $6,720
Janet Crawshaw, Route 28, Arkville, NY 12406
Catskill Water Resource Protection
The grantee will revise and expand curricular materials of the Streamwatch Program, a water quality education and stream monitoring program involving students in grades 4 through 6, their teachers, and community volunteers. Participants become actively engaged in the program through teacher training workshops and student field experience. Environmental groups and New York State and City watershed protection agencies will be partners in this effort to expand a successful program into a five-county area. Training workshops will be held for teachers and volunteers.
1995
NY
2
Theodore Roosevelt Sanctuary -- $5,000
Mary E. Richard, 134 Cove Road, Oyster Bay, Nassau, NY 11771
International Program with Mexican Students
The Theodore Roosevelt Sanctuary will cooperate with the El Secreto del Boque in Santa Rosa, Mexico to increase awareness of declining populations of neotropical birds in Oyster Bay, New York and Santa Rosa. The project will motivate students to take action to solve problems facing these migratory birds. Students in both the U.S. and Mexico will be encouraged to examine the causes and effects of species loss at locations in both countries. Students will generate local solutions to habitat loss issues.
1995
NY
2
Ulster County BOCES -- $5,000
Donna J. Moss, 175 Route 32 North, New Paltz, NY 12561
Ulster Board of Cooperative Educational Services Underwater Simulation Planning Project
This program will build on existing curricula for grades 6 through 8 in the Ulster County BOCES and mid-Hudson region. This project will involve development of an environmental education program using telecommunication and underwater simulations. The redesigned program will complement the New York State curriculum Framework for Math, Science and Technology. Using a mobile underwater simulation vehicle, students will learn about Hudson River issues and develop inquiries and solutions drawing upon the science and math skills.
1995
NY
2
Village of Williamsville -- $5,000
Teressa Cummins, 5565 Main Street, P. O. Box 1557, Williamsville, NY 14221
Exploration for Grades K-5: Teacher Training
The Village of Williamsville will develop and implement an environmental education program at the Noll Nature Center to improve educators' abilities to teach about the environment and provide training to elementary school educators at Elliott Creek about pond and creek life and the effects of pollution. Four workshops will be conducted for teachers to learn about pond and creek habitats and the effects of human population on habitats and wetlands. Educators will receive training and materials that also enable them to use the habitats and learning laboratories.
1995
NY
2
Warren County Soil and Water Conservation District -- $4,600
Dave Wick, 51 Elm Street, Warrensburg, NY 12885
Warren County Water Quality Education Project
The Warren County Soil and Water Conservation District and Cornell Cooperative Extension of Warren County will implement an educational program to raise public awareness about issues related to the ground and surface waters of Warren County. Ground and surface water flow models will be used by an intern working with county students and teachers. The adult population also will be reached through presentations at functions and meetings of appropriate organizations such as planning boards, lake association events, and educational workshops. Emphasis will be placed on prevention of water pollution. The long-term effects should include improved decision making on land use.
1995
NC
4
Haw River Assembly -- $5,000
Elaine Chiosso, P. O. Box 187, Bynum, NC 27228
Haw River Assembly River Watch Project
This project creates and trains a community of stream watchers in the Haw River Basin to monitor the health of the river and its tributaries. Individuals and teams will adopt sites which they will monitor at least quarterly to collect biological, physical, and chemical data. A database will be developed to store and analyze the information.
1995
NC
4
North Carolina State University -- $5,000
Linda Jackson, Box 7514, Raleigh, NC 27695-7514
Pollution Prevention Enhancement for Advanced Degree Education
This project provides opportunities for students with advanced degrees to receive industrial in-plant education about leading-edge pollution prevention research. Students will spend two to three months at industrial facilities obtaining pollution prevention information from industrial practitioners.
1995
OH
5
Talawanda City Schools -- $5,000
Sharon Edwards, 131 W. Chestnut St., Oxford, OH 45056
PAWS: Projects to attract wildlife to schools
The purpose of this project is to train 45 teachers of kindergarten through 4th grade on how to use school grounds to learn about habitat improvement methods. Workshops will focus on using the scientific method with students and feature sessions on how to conduct biotic surveys.
1995
OK
6
Broken Arrow Public School District -- $5,000
Sharon Vereyken, 601 South Main Street, Tulsa, OK 74012
Country Lane Applauds Wetlands Science (CLAWS)
The purpose of this project is to improve educators' environmental education teaching skills. The target audience is elementary school teachers in the Broken Arrow School District. Two teacher/leaders will develop the environmental curriculum and train their peers to implement it. Existing curriculum guides and instructional materials will be adapted to train the teachers. The project curriculum addresses how unplanned development may threaten wildlife habitat: teachers and students will study, analyze, and identify ways to reestablish an ecosystem to benefit plant and animal life.
1995
OK
6
Kaw Nation of Oklahoma -- $4,401
Rita Anderson, Drawer 50, Kaw City, OK 74641
Disseminate Environmental Curriculum and Provide Teacher Training
The purpose of this project is to provide training in environmental education for teachers who work primarily with Native American students. The target audience will be teachers of kindergarten through 12th grade. Resource materials will be provided to the teachers who complete the course. Oklahoma State University will deliver the instruction through a one-hour course.
1995
OK
6
Oklahoma City Water Utilities Trust -- $16,000
Alaina Anderson, 420 N. Main, Suite 500, Oklahoma City, OK 73102
Elementary School Curriculum and Continuing Education for Teachers
The purpose of the project is to provide water resource education for teachers. The target audience is all teachers of grades 1 through 3. The product, delivered during a teacher workshop, includes teacher guides and student learning packets. The primary issue is prevention of water pollution.
1995
OK
6
Oklahoma State University Div. of Ag. Sci. & Natl. Resources -- $5,000
Champe Green, 139 Agriculture Hall, Stillwater, OK 74078
Construction and Demonstration of a Trailer-Mounted Stream Hydrology Model for Youth & Adult Education
The purpose of this project is to build a trailer-mounted stream hydrology model to improve educators' capacity to deliver visual, hands-on demonstrations of stream hydrology processes that will make an impact. The model will be used for instruction in surface and alluvial water flow, stream bank stabilization, sedimentation, and stream dynamics. The target population includes secondary school teachers, county extension agents, extension specialists, professors, and other natural resource professionals. The model will be available for the target population to use in an educational setting. Extension newsletters, state-wide television presentations, and links using county agents will assist in promoting the availability and utility of the model as a teaching tool.
1995
OK
6
Oklahoma State University -- $4,680
Sarah Kirby, 139 Agriculture Hall, Stillwater, OK 74078
Household Hazardous Waste Environmental Awareness Briefs
The purpose of the project is designed to motivate the public to be more environmentally conscious in making informed decisions and taking responsible action for household hazardous waste through the use of print media. The target audience is the general public. The product consists of eight household hazardous waste briefs entitled, "Environmental Awareness Briefs." The briefs will be displayed in seven counties in Oklahoma. The environmental issues addressed are the use and disposal of household hazardous waste.
1995
OK
6
Oklahoma State University -- $5,000
Ivan D. Geddie, 900 North Portland Avenue, Oklahoma City, OK 73107
Environmental Workshop for K-12 Teachers and Administrators
The purpose of this project is to improve environmental education in schools in Oklahoma City. The target audience is teachers of kindergarten through 12th grade and administrators in Oklahoma City. The delivery will consist of a three-day seminar using existing materials that have been adapted for the seminar.
1995
OK
6
Oklahoma Wildlife Federation -- $5,000
Mary Dennis, 3900 N. Santa Fe, Oklahoma City, OK 73118
Oklahoma Water Watch Community Outreach Project
The purpose of this project is to educate community members and educators through hands-on workshops which will increase the understanding of water quality issues and the public's role in monitoring and maintaining a clean water supply. The target audience is educators. Advanced water chemistry kits will be used to train the educators.
1995
OK
6
Osage County Conservation District -- $3,078
Joe Sweeden, P. O. Box 937, Pawhuska, OK 74056
OCCD Environmental Education Institute
This project will provide for an institute for teachers and others who work with young people. The primary topics will be using natural resources and sharing the earth with wildlife. The institute will address water quality and habitat management.
1995
OK
6
Roosevelt Elementary School -- $4,500
Vicki Medlin, 4250 West Tecumseh Road, Norman, OK 73072
Outdoor Classroom: A Place for All Learners
The purpose of this project is to expand the use of an existing overgrown area on the school grounds as an outdoor classroom, make it accessible to students, and to model preservation of wildlife in a suburban area. The target audience consists of 250 students in kindergarten through 5th grade, their teachers, and their parents. Thirty-six students are identified as handicapped. The project will result in an integration of the environment into arts and language curricula easily accessible to all students. A path will be constructed to provide for wheelchairs. An artist-in-residence will articulate the outdoor environment into creative lessons.
1995
OR
10
Columbia Education Center -- $75,490 (HQ Grant)
Ralph Nelsen, 11325 SE Lexington, Portland, OR 97266
Science Improvement Through Environmental Studies (SITES)
The Columbia Education Center has requested -- $75,490 in support of a project to expand their program to establish environmental education demonstration sites at public and private schools in five states. "Science Improvement Through Environmental Studies (SITES)" will use a nationally-recognized investigative and problem-solving approach to the study of the ecological, environmental, and social principles associated with biodiversity. The project will include a two-week summer training institute for middle school teachers to address ways to use and improve existing curriculum and to provide teachers with the skills needed to organize and lead effective in-service sessions. Following the training, the Center will monitor the teachers' implementation of their programs and certify qualified teachers to serve as state-level volunteer Peer Leaders to provide post-project in-service programs for their colleagues in the region. Once completed, the Center plans to market their project nationally by, for example, submitting it to the U.S. Department of Education for possible inclusion in the National Diffusion Network. The project will reach 60 teachers and 6,000 students.
1995
OR
10
Concordia College -- $4,800
Charles J. Kunert, 2811 NE Holman, Portland, OR 97211
Hands-On Environmental Experiences for Future Teachers
This project is aimed at all (1,500) Concordia College undergraduate students with special emphasis on the 300 students enrolled in elementary and secondary education. The class is called Problems in Science and is designed to assist students in gaining skills and understanding of environmental concepts which will transfer to their subsequent teaching experiences. The college will take these students to two environmentally-important sites and involve them in such hands-on activities as measuring and monitoring changes in the environment and the effects of harmful practices.
1995
OR
10
Douglas County School District #77 -- $5,000
Jim Docherty, P. O. Box E, Glendale, OR 97442
K-12 Environmental Education and School-Wide Recycling Program
The purpose of this project is to create the first environmental education recycling program for this kindergarten through 12th grade school district which serves 625 students. The Oregon Department of Environmental Quality curriculum for waste reduction will be used and adapted to the rural school setting. A school-wide recycling and waste reduction program also will be implemented. Through this project, the objective is to increase the understanding of recycling and waste issues by the students, staff, and school patrons.
1995
OR
10
LaGrande High School -- $14,734
Dolores Carmichael, 708 "K" Avenue, LaGrande, OR 97850
Watershed and Forest Health Education Program
This project will educate 941 high school students in the biological, social, and political issues involved in watershed and forest management using an outdoor laboratory setting. Aquatic survey data from the Five Point Creek Watershed and pre-reforestation data from the Rebarrow Experimental Forest will be gathered and compiled by a trained teams of students. The students will analyze that data using mathematic skills and computer technology. Working with federal and state agencies, landowners, tribes, and industry, they will develop a habitat restoration and enhancement plan. Some of the restoration and enhancement projects will be monitored to evaluate and adjust for watershed and forest health.
1995
OR
10
Multnomah Education Service District -- $20,000
Kris Persson, P. O. Box 301039, Portland, OR 97230-9039
Environmental Educator Training Partnership
The Outdoor School, a residential environmental education program for all 6th grade students in the Multnomah County area, will link its landscape ecology-based curriculum to middle school natural science instruction. It will use the environment to teach, build upon previous learning, provide hands-on activities, and include preparation and follow-up plans at 66 middle schools. The goal of the project is to improve the skills of the 40 teachers, 20 field instructors, and 35 program leaders by providing training for them and building the capacity of local schools to provide an integrated, applied environmental and natural science curriculum consistent with Oregon's school reform law.
1995
OR
10
Wasco County Soil and Water Conservation District -- $4,947
Ron Graves, 2325 River Road, #3, The Dalles, OR 97058
Fifteenmile Creek Watershed Water Quality Monitoring Pilot Project
This project will educate members of the local landowner community and high school students under leadership of the local Soil and Water Conservation District. By directly involving 115 families (550 people) owning property adjacent to streams in the Fifteenmile Creek Watershed, and approximately 300 high school students in environmental monitoring and analysis, this project will increase the awareness of both water quality and fisheries resource issues and show that local resource management decisions can make a difference. Landowner and student workshops will be held to provide background on the nature of the problems, teach necessary, hands-on skills in monitoring, and provide information to enable data interpretation.
1995
PA
3
Air & Waste Management Association -- $58,132 (HQ Grant)
Joel Anne Sweithelm, One Gateway Center, Third Floor, Pittsburgh, PA 15222
Air & Waste Management Association
The purpose of this project is to develop an air quality environmental resource guide for grades 9 through 12. The supplementary curriculum will address a broad range of air quality issues, including ozone, global climate change, acid rain, criteria pollutants, alternative fuels, and pollution prevention approaches. The materials will be written and field tested by teachers using interdisciplinary and problem-solving approaches to learning. The materials will be included in the Association's existing teacher training program which has conducted more than 70 workshops and reached 1,500 teachers in its first three years. The Association expects to reach 500 teachers who will, in turn, reach 15,000 students during the first year after the materials are developed.
1995
PA
3
California University of Pennsylvania -- $5,000
Robert Vargo, 250 University Avenue, California, PA 15419-1394
Instilling Local Environmental Awareness Through an Environmental Walking Tour: A Community-University Partnership
Organizers of this project will develop and implement a new 1.5 mile Environmental Walking Tour and booklet that will increase the general public's awareness of local environmental issues such as river flooding, mine subsidence, slope instability, and water quality problems.
1995
PA
3
Cambria County Conservation District -- $2,686
Joseph Emerick, P. O. Box 187, Ebensburg, PA 15931
Environmental Education Slide Presentation Promoting Wildlife Preservation and Natural Resources Conservation
This project will result in educating the school students, teachers, and adults in Cambria County about the community's natural resources, specifically focusing on the protection of the local wildlife and the preservation of their habitats. The workshops will encourage critical thinking and decision making. The audience is comprised of more than 9,000 participants yearly.
1995
PA
3
Chestnut Hill College -- $5,000
Helen Burke SSJ Ph.D, 9601 Germantown Avenue, Philadelphia, PA 19118
Chemistry Faculty Workshops in the Use of Microscale Techniques
Specific objectives of this project include increasing the use of microscale techniques in the general and organic courses in area colleges by providing faculty training and reducing the volume of chemical laboratory waste generated in the area by employing safer solvents and synthetic procedures. Four, two-day workshops will be offered for faculty training.
1995
PA
3
City of Pittsburgh -- $4,980
Kathleen Cowles, 400 City-County Building, Pittsburgh, PA 15219
"Let's Dream a City!": Teaching Children to Critically Explore Urban Environmental Issues
"Let's Dream a City!" will be offered to children in grades 1 through 6 at 10 schools throughout the city of Pittsburgh, primarily those located in under-served, low-to-moderate income neighborhoods. The purpose of this program is to motivate children to think more clearly about environmental issues that affect them now and to teach them the skills to make better informed decisions as adults.
1995
PA
3
Eastern Lancaster School District -- $1,603
Marlene Haas, 117-119 Custer Avenue, New Holland, PA 17557
Identify Habitat Study Sites to Provide Field Lab Experiences in Life Sciences Class at Garden Spot Middle School
For the Eastern Lancaster School District, this project will identify habitat sites for field study, create a new field lab experience for 7th grade students in life science classes, and connect the classroom study with a field lab experience. Organizers seek to educate a wider audience and address the environmental education standards set by local, state, and national curriculum initiatives.
1995
PA
3
Elwyn, Inc. -- $22,638
111 Elwyn Road, Elwyn, PA 19063
Training and Demonstration of the Curriculum for Environmental Education of the Disabled (C.E.E.D.)
The purpose of this project is to develop training modules for Davidson School teachers and graduate and undergraduate student teachers from West Chester and Temple Universities. The curriculum fosters environmental awareness and actions by students with developmental disabilities. National distribution of the curriculum is planned.
1995
PA
3
Girl Scouts of Delaware County -- $5,000
594 S. New Middletown Road, Media, PA 19063
Environmental Education In the Classroom: The City of Chester
This project is a hands-on teacher training program designed to assist local under-served schools in meeting the criteria of the Pennsylvania School Code. "Environmental Education in the Classroom" is designed to help teachers in the county's under-served schools become more confident in their ability to teach environmental education in the City of Chester. The program hopes to develop an environmental "ethic" for at least 500 4th and 5th grade students by teaching fundamental concepts in outdoor education and training at least 25 teachers using existing, age-appropriate curricula.
1995
PA
3
Lower Merion-Narberth Watershed Association -- $5,000
Michael G. Weilbacher, 206 Price Avenue, Narberth, PA 19072
Streamwatch: Citizen Restoration of the Mill Creek Watershed
This project will train adult residents in the basic techniques of chemical and biological monitoring, and use those residents to systematically collect data on the chemical and biological conditions of Mill Creek, the largest creek in Lower Merion/Radnor, Pennsylvania.
1995
PA
3
Pocono Environmental Education Center -- $4,902
Christina Russo, RD 2, Box 1010, Dingman's Ferry, PA 18328
Environmental Education Teacher Workshops: Water Resources and Air Pollution
This project will target an audience of 90 inner-city middle and high school teachers from the tri-state region, which includes New York, New Jersey, and Pennsylvania, for three professional development workshops. The workshops, designed to improve the environmental education skills of educators through hands-on activities, lecturers, and discussions, will focus on water and air pollution.
1995
PA
3
Riverbend Environmental Education Center -- $4,970
Cynthia V. Roberts, P. O. Box 2, 1950 Spring Mill Road, Gladwyne, PA 19035-0002
"A Watershed Year" Environmental Education Teacher Workshop
This project is a series of hands-on teacher workshops designed to improve educators' environmental education teaching skills by creating a model that teachers will use to design a comprehensive watershed study near schools. The target audience is middle and senior high school teachers in southeast Pennsylvania. Through five workshops, the project will include 100 teachers, with a total audience of 2,500 students per year.
1995
PA
3
School District of Philadelphia (Strawberry Mansion) -- $5,000
Ethel K. Goldberg, 21st Street South of the Parkway, Room 204, Philadelphia, PA 19103
North Philadelphia Urban Arboretum
This project will enhance the teacher's environmental education teaching skills with a living laboratory so that students can learn practical ways to abate pollution and enhance their ecosystem. Approximately 2,200 students will benefit from this project.
1995
PA
3
School District of Philadelphia-John Bartram High School -- $3,183
Ethel K. Goldberg, 21st Street South of the Parkway, Room 204, Philadelphia, PA 19103
Lead Paint Kit Project
For this project, teachers will learn about lead pigments, how they are used in paints, how to perform chemical tests for the identification of lead in paints, how widespread lead poisoning is, and what health effects lead may have on the general population.
1995
PA
3
Temple University -- $4,600
John Sorrentino, 821 Ritter Hall Annex, Temple University 004-00, Philadelphia, PA 19122
What Price Mother Nature? A Conference on Energy, Ecology and Economy (3-Es)
This project revolves around a two-day conference on energy, ecology, and economy (3-E) for 30 junior and senior high school teachers at Temple University's Ambler Campus. Using a hands-on approach, the overall purpose of the project is to establish a network of teachers who have been exposed to 3-E.
1995
PA
3
The Schuylkill Center for Environmental Education -- $25,000
Andrew S. Brundage, 98480 Hagy's Mill Road, Philadelphia, PA 19128-1998
Regional Environment Education Program (REEP)
This project focuses on the improvement of the environmental teaching skills of 45 secondary teachers from urban, suburban, and rural schools in the greater Philadelphia and New Jersey area by providing teachers with Regional Environment Education Program (REEP) curriculum materials, training them in their use during an intensive, week-long workshop, and gleaning their reactions by means of a curriculum evaluation and a workshop designed to obtain feedback.
1995
PA
3
Widener University -- $5,000
Charles Beehler, Hyatt Hall, 1 University Place, Chester, PA 19013-5792
Experimenting to Teach Scientific Thinking and the Human Ecology of Watersheds
For this project, Delaware County teachers will learn water quality monitoring techniques, collect data with their students in the three major streams in the county, and conduct a student-directed symposium on water quality. This project potentially could reach 1,200 secondary school students per year.
1995
PR
2
Hoy Desde Salinas, Inc./ComitT Comunal Playa-Playita, Inc. -- $5,000
Ruth Santiago, Apartado 467, Salinas, PR 00751
Teacher Training at Las Cabezas de San Juan Nature Reserve
Hoy Desde Salinas is a community newspaper incorporated to inform communities in and outside Salinas, Puerto Rico. In this project, Hoy Desde Salinas will facilitate the design, demonstration, and dissemination of environmental education curricula by a group of 20 low-income youth from five communities in Salinas. The youth will receive training in organizing grassroots groups to teach Salinas residents about pollution prevention issues.
1995
PR
2
Las Cabezas de San Juan Nature Reserve -- $24,510
Alexis Molinaras, P. O. Box 4747, San Juan, PR 00902-4747
Conservation Trust of Puerto Rico
The Conservation Trust will initiate a one-year, in-service workshop series for intermediate-level teachers. The program will expand use of an environmental education curriculum which focuses on the Cabezas de San Juan Nature Center. Teachers enrolled in the 18 session workshop will be encouraged to develop materials that infuse environmental education into current curricula. A special event as part of the workshop series will promote parental interest and involvement. The project will take place in Fajardo, an area of Puerto Rico where students are challenged by a history of high unemployment and the increased pressure on the environment from expanded tourism.
1995
PR
2
Mayaguezanos por la Salud y el Ambiente, Inc. -- $5,000
Juan C. Martinez-Cruzado, Calle Aduana 257, Suite 274, Mayaguez, PR 00680
Environmental Education Radio Broadcast
This project consists of an environmental education radio broadcast to increase public awareness about environmental problems and issues. The broadcasts will be developed to stimulate the public to design the solutions to problems and participate in solutions. The estimated audience is 300,000 residents of western Puerto Rico. Government agency members, leaders of communities, and volunteers from Mazaguezanos por la Salud y el Ambiente will do the broadcasts in cooperation with the faculty of the University of Puerto Rico, Mayaguez Campus and other universities in the region. Topsoil conservation and the conservation of coastal areas and river basins are issues of primary concern.
1995
RI
1
Childhood Lead Action Project -- $5,000
Eleanor Freda, 421 Elmwood Avenue, Providence, RI 02907
Community Education Project
This project is a lead poisoning prevention initiative providing education and training for community-based service providers. Individuals are trained in culturally-appropriate approaches to lead poisoning prevention using existing materials, translated as needed. The program targets children under six and their families in low income, mostly minority neighborhoods of Rhode Island.
1995
RI
1
Rhode Island 4-H Foundation -- $4,000
Kim Anderson, 17 Smith Ave., Greenville, RI 02818
Series: "Science Experience & Resources for Informal Education Setting"
The purpose of this project is to improve elementary educators' environmental education teaching skills and develop teams of teen instructors through state-wide training in the use of the SERIES curriculum. This teen-led science education program reaches approximately 2,000 youth throughout the state, increasing their understanding of environmental science through the use of creative thinking and the hands-on experience of obtaining and analyzing scientific data.
1995
RI
1
Rhode Island Zoological Society -- $4,992
Anne Savage Ph.D., 1000 Elmwood Ave., Providence, RI 02907
An International Perspective on Water Conservation, Roger Williams Park Zoo
Through a partnership with Colombia that focuses on developing an effective conservation plan for the highly endangered cotton-top tamarin, this project includes workshops for seven U.S. teachers and three Colombian teachers, with a goal of reaching 360 students. The subject matter concentrates on global issues in water conservation and how it effects not only the lives of humans in the U.S. and Colombia, but some of the world's most endangered species such as the cotton-top tamarin.
1995
RI
1
Roger Williams University -- $11,000
Susan Pasquarelli, Old Ferry Road, Bristol, RI 02809-2921
Water Supply and Conservation Curriculum
This project is a collaborative effort with the State's Department of Environmental Management's Division of Water Supply to provide 6th grade teachers with an inquiry-guided water supply conservation curriculum; provide 6th grade students with tools for authentic scientific inquiry; and raise the awareness of Rhode Island citizens through a student-led community survey. The target audience includes 600 6th grade teachers, 12,000 6th grade students, and 5,000 citizens for the survey.
1995
RI
1
Southern Rhode Island Conservation District -- $5,000
Carl Sawyer, P. O. Box 1145, 5 Mechanic Street, Hope Valley, RI 02832
Active Watershed Education Program
This project adapts an existing curriculum to include activities on groundwater to meet the needs of the local community. The curriculum then will be used to train 20 teachers in the watershed to incorporate a watershed education program into their existing curricula. Assuming 25 students per class, a total of 500 students will be reached with this project.
1995
RI
1
The Nature Conservancy -- $10,000
Kevin Doyle, P. O. Box 1287, Block Island, RI 02807
Green Gateways: Sensitizing Block Island Visitors
This project reaches 250,000 to 500,000 visitors per year at Block Island with the message that people have input to the ecosystem of the island. The instructional method used includes educational display boards strategically placed at various gateways to the island: airport terminals, ferry docks, and natural and cultural landmarks such as Great Salt Pond. The environmentally-responsible message will also reach Block Island's residents and schoolchildren.
1995
Saipan
9
Commonwealth of the Northern Mariana Islands -- $5,000
Department of Lands and Natural Resources, , Saipan 96950
Environmental Science Textbook
Organizers of this project will complete the development of a high school environmental science textbook presently in draft form. The text will specifically address the unique environmental characteristics and problems of the Northern Mariana Islands.
1995
SC
4
Coastal Carolina University -- $4,963
P. O. Box 1954, Conway, SC 29526
Development and Evaluation and Educator Wetland Science Workshop
Organizers of this project will develop an educator wetland science workshop integrating mathematics and environmental issues. In particular, a curriculum activities package will be developed for use in the middle and high school science and mathematics classrooms.
1995
SC
4
South Carolina Department of Natural Resources -- $17,474
2221 Devine St., Suite 222, Columbia, SC 29205
Local Watershed Investigation for Middle School
The goal of this project is to test and implement an integrated environmental education program for middle school students that uses hands-on activities to develop an understanding of watershed management in their local communities. The project also will reinforce essential mathematical skills and critical thinking skills. The department will work with teachers to develop a program that requires middle school students to investigate whether changes in land use of the local community caused changes in watershed management and the non-point source pollution associated with it.
1995
SD
8
Girl Scouts of the Black Hills Council -- $5,725
140 North St., P. O. Box 1846, Rapid City, SD 57701
Project Our Water
This project seeks to teach girls and parents how to protect their water systems. The goal of the project is to develop a resource training guide for Girl Scout leaders focusing on water quality and conservation activities.
1995
SD
8
University of South Dakota -- $9,683
1 East Main Room 103, Vermillion, SD 57069
Historical Preservation Information Service
For this project, teachers and students will gain a better understanding of how human cultural development has been affected by environmental transformations in the Great Plains region over the past 12,000 years. Project organizers will use hands-on activities in a classroom setting and a traveling exhibit to deliver their message.
1995
TN
4
Clinch-Powell RC & D Council -- $5,000
Route 2, Box 423, Rutledge, TN 37861
Garbage Busters
This project is designed to teach 2nd grade students what can be recycled, how to recycle, and why to recycle. The students also will be taught about the concept of green shopping.
1995
TN
4
Earth and Sciences Institute, Inc. -- $3,500
Jeff Farris, 210 E. Depot St., Shelbyville, TN 37160
Outdoor Environment Education Program
This project is designed to promote critical thinking and problem solving by allowing middle school students to actively engage in outdoor instructional projects at a variety of sites. The sites include a fish hatchery, a wildlife management area, a historic mill, a state archaeological area, and the Duck River.
1995
TN
4
Fountain City Elementary School -- $3,810
Cathy L. Summa, 2910 Montbelle Ave., Knoxville, TN 37918
The Green Neighbor Project
The Green Neighbor Project is designed to teach students in kindergarten through 5th grade the fundamentals of organic gardening and how to reduce waste through composting in their own backyards. The general public will have access to the site to learn the principles of backyard recycling through self guided tours.
1995
TN
4
Freedom Intermediate School -- $5,000
George Badon, 840 Glass Lane, Franklin, TN 37064
Technology Comes to a 21st Century Eden
"Technology Comes to a 21st Century EDEN" is a model project designed to motivate students to be more environmentally conscious. The Eco-Dome is a sealed environment that is ideal for students to enter and perform experiments measuring air and water quality, temperature, modulation, and experience a working model of symbiosis. All district teachers and students will be able to visit EDEN.
1995
TN
4
Global Village Institute -- $5,000
Cathy Chow, 560 Farm Road, Summertown, TN 38483
The Ecovillage Organic Garden Project
The Ecovillage Organic Garden Project is designed to educate participants through ongoing seminars and workshops in planning, planting, and cultivating ecologically sound and highly productive gardens using only small plots of land similar to those available to persons living in retirement communities.
1995
TN
4
Williamson County Schools -- $25,000
Judy Butler, 1320 W. Main Street, Franklin, TN 37064-3706
Improvement of Educators Environmental Education Teaching Skill
The goal of this project is to familiarize high school students with the interrelationships of biology, chemistry, math, and the use of computer graphics, relational databases, and geographic information system (GIS) technology in assessing the Cumberland River drainage basin. Teachers will be trained on the use of existing and new curricular materials.
1995
TX
6
American Institute for Learning -- $4,971
Richard H. Halpin, 422 Congress Avenue, Austin, TX 78701
Environmental Corps Watershed Project "Bouldin Creek Watershed"
The purpose of this project is to educate members of the community about watersheds through studying a working model -- the East Bouldin Creek Watershed. The target audience for the project consists of at-risk youth and 3rd graders at Becker Elementary School who will use a model of the East Bouldin Creek Watershed. At-risk students will be involved in creating and sharing information with elementary school students about water quality and conservation.
1995
TX
6
Austin Independent School District -- $3,000
Tom Case, 6700 Arroyo Seca, Austin, TX 78757
Brentwood Outdoor Natural Science Academic Instruction
The goal of this project is to create a natural science center at Brentwood Elementary School for students in kindergarten through 5th grade. Parents and community members will provide advice and assistance on gardening, composting, and native plants. The Community Resource Group, Inc. will provide materials and direct assistance in the area of water conservation, water supply, and water quality. Brentwood teachers will develop new curriculum that incorporates basic natural sciences into an experiential teaching and learning method wherein students can directly apply their knowledge to environmentally compatible projects.
1995
TX
6
City of Arlington (Texas) -- $5,000
Jerome F. Ewen, 101 W. Abram Street, Arlington, TX 76010
Nonpoint Source Pollution and Water Quality Workshop for Junior High Students
The purpose of this project is to create an awareness of water quality issues among junior high school students in the Arlington Independent School District. The target audience are junior high school students. The project proposes to train a group of science teachers in water quality testing techniques. Each trained science teacher will take back to campus lesson plans, reference materials, videos, and a water quality test kit with replacement reagents. The environmental problem addressed is preserving water quality.
1995
TX
6
Galveston Bay Foundation, Inc. -- $5,000
Linda R. Shead, 17324-A Highway 3, Webster, TX 77598
Science of Galveston Bay
The purpose of this project is to increase the awareness and knowledge of Galveston Bay and to provide participants with some problem-solving skills for addressing the issues facing the bay system. The target audience includes middle school students who will make use of the instructional tools and materials developed by participants that concern the ecology of the Bay area.
1995
TX
6
Keep Texas Beautiful -- $9,000
Elizabeth J. Howie, P. O. Box 2251, Austin, TX 78768
Project BEE: Better Environment Through Education
This project will emphasize pollution prevention in areas around the state of Texas where information may be lacking. Curricula on pollution prevention will be developed and training will be delivered through workshops for elementary and secondary school teachers.
1995
TX
6
Lower Colorado River Authority -- $4,635
Nora Mullarkey, P. O. Box 220, Austin, TX 78767
In Concert with the Environment: Educating Hispanic Families in Central Texas
This project will provide environmental education to a greater percentage of 7th grade students and parents from Spanish-speaking households in the Lower Colorado River Authority's service territory. "In Concert with the Environment" will be translated into Spanish, distributed to students, and evaluated. Course materials will include lesson plans, descriptions of activities, a teacher's guide, a video, and student handbooks.
1995
TX
6
National Migrant Resource Program, Inc. -- $33,803 (HQ Grant)
E. Roberta Ryder, 1515 Capital of Texas Hwy., So. Austin, TX 78746
Training Farm Workers
This project will coordinate "train-the-trainer" workshops to educate farm workers on pesticide safety, emergency response, and federally mandated workplace safety requirements. This program is directed at meeting federally mandated requirements to protect agricultural workers, the vast majority of whom are poor and of Hispanic origin, from possible adverse human health effects from pesticide exposure. The training workshops will be lead by an EPA-certified trainer and will draw national audiences of migrant health care providers, health educators, and farm worker peer educators. Training materials will include a Spanish/English video, trainer curriculum, and farm worker training guide developed in conjunction with and approved by the EPA Office of Pesticides' Occupational Safety Branch. The project will reach 90 trainers in three regional training workshops who will, in turn, make a commitment to train at least 100 farm workers each (for a total of 9,000) over the next year.
1995
TX
6
Neighborhood Service Council -- $5,000
Janis Reid Dumas, 7700 Spring Valley Road, Dallas, TX 75253
Cottonwood Creek Environmental Project
The purpose of this project is to create a nature trail along a small section of Cottonwood Creek and adjacent to the existing Cottonwood Park. The target audience comprises residents of the surrounding park area. The result will be a clear, safe, well-marked nature trail suitable for adults and children. The project will provide for a general cleanup of the banks of the creek and addresses the issue of environmental ecological awareness of the public.
1995
TX
6
Texas A & M Research Foundation -- $4,999
Judy Owens, Box 3578, College Station, TX 77843
Developing a World Wide Web Public Access Site
Organizers of this project will create a tool that educators throughout Texas can use to more easily gain access to environmental resources that are on the World Wide Web (WWW). The target audience are science and environmental middle and high school teachers in Texas working to develop a Texas WaterNet Home Page which will make many environmental resources and materials more readily available.
1995
TX
6
Texas A & M University, Texas Agricultural Extension Service -- $4,930
Matt Tarpley, Administration Bldg. Rm. 104, College Station, TX 77843
Water Conservation
The purpose of this project is to educate youth in urban areas about water conservation and protecting water quality. The project will reach 4-H members in Texas who will be trained in water conservation. Self-contained Water Conservation Project Guides will allow adult leaders to work with and train the individual youths.
1995
TX
6
Texas A & M University -- $16,000
Harold L. Stone, 1716 Briarcrest Drive, Suite 702, Bryan, TX 77802
Adopt a Ditch--A Holistic Approach to Watershed Education
The purpose of this project is to trace the water from a local ditch through the various land uses downstream, while studying how each affects water quality, and how changes in the water affects the estuary at its point of overflow. The target population consists of educators, elementary students, and secondary students. Existing environmental curricula will be expanded with tools and activities and environmental training will be expanded to include area social service providers. Training will be conducted through field experiences and six watershed modules.
1995
TX
6
The Green Classroom -- $4,950
Carla Marshall, 1701 Briar, Austin, TX 78704
Clean and Green Teacher Workshop
The purpose of this project is to improve environmental education teaching skills of the 13,000 teachers in the Austin Independent School District. The project will show teachers how to make and use non-toxic cleaning kits as part of their instruction. Instruction will be distributed to teachers through four workshops that address water quality issues.
1995
TX
6
The Woodlands Recycles -- $5,000
Kathie G. Herrick, P. O. Box 9934, The Woodlands, TX 77387
Water Resource Environmental Education Center
Organizers of this project will establish a regional environmental education center for water conservation education for The Woodlands, Texas, and all of Montgomery County, Texas. The center will be provided with media and printed materials and information about the center will be distributed through a Water Fair.
1995
UT
8
Four Corners School of Outdoor Education -- $20,000
Janet Ross, P. O. Box 1029, Monticello, UT 84535
Four Corners School of Outdoor Education
This project will provide an environmental education experience that will become a county-wide integrated program for five rural elementary schools in San Juan County, Utah. It will provide information and hands-on experience to students so that they are better able to make informed, knowledgeable decisions about public, Navajo, and Ute reservations lands and natural resources. It will also provide training to teachers in environmental education subjects and techniques.
1995
UT
8
Greater Ogden Community Nature Center -- $5,000
Mary Cox, 966 West 12th Street, Ogden, UT 84404
Greater Ogden Community Nature Center
The Greater Ogden Community Nature Center proposes to create three, interactive exhibits that explore strategies for reducing hazardous wastes, household wastes, and energy consumption in order to motivate the general public to be more environmentally conscious. The project will reach more than 36,000 people who will view the Center's updated exhibits and as many as 250,000 more by taking the exhibits to outside venues. The results organizers hope for will be the reduction of environmental pollution and the demand for use of our natural resources in a more productive manner.
1995
UT
8
Park City Conservation/Recycling Association -- $5,000
Mary Morrison, 613 Main St., P. O. Box 2548, Park City, UT 84060
Project Recycle
The purpose of this project is to help students in the Park City School District become more aware of their environment. Organizers hope to increase awareness of waste minimization and participation in recycling by using activity books, videos, and slides.
1995
UT
8
Utah Society for Environmental Education -- $19,500
350 South 400 East, Suite G-4, Salt Lake City, UT 84102
Two Resource Centers for Environmental Education
This project will establish two pilot resource centers, provide quantitative and qualitative evaluation, and find locations for two additional centers for future development. It will increase access to environmental education resources in rural communities, serve as "hubs" for rural teachers and local environmental organizations, and develop skills in using resources through various workshops and programs. A directory of the materials has been placed in the "Environmental Gopher" on the Internet, and the centers will be continuously updated on the Internet.
1995
UT
8
Utah Sovereign Lands & Forestry -- $5,000
Joan Dolph, 3 Triad Center #425, Salt Lake City, UT 84180-1204
Project Learning Tree
The goal of this project is to bring Project Learning Tree workshops to teachers through an in-service workshop for teachers of kindergarten through 8th grade. Approximately 20 workshops will be held in order to reach at least 200 teachers to discuss ecological concepts and natural resource education.
1995
UT
8
Utah State University: Utah Water Research Laboratory -- $5,000
UMC 1415, Logan, UT 84322-1415
Teacher Training for Environmental Education
This project seeks to train 10 substitute teachers, responsible for 2,500 elementary students in rural Cache County, in techniques and concepts behind environmental education.
1995
VT
1
Lyndon State College -- $9,663
Frances Barhydt or William Laramee, Lyndonville, VT 05851
"Energy and the Environment"
This project involves a teacher training program provided by the Vermont Energy Education Program (VEEP), a business-education partnership for public school teachers of kindergarten through 8th grade. The project fills a gap in teacher training by providing resource materials, equipment, and follow-up support. The project uses an energy-scientist-in-the-classroom residency method, and inquiry-based, constructivist, thematic teaching methods.
1995
VT
1
Winooski Valley Park District -- $5,000
Jennifer Ely, Ethan Allen Homestead, Burlington, VT 05401
Partnership for Wetland Education
This project customizes an existing wetlands curriculum for easier and more effective use at three to five Vermont parks with exemplary wetlands. The curriculum complements boardwalks with educational signage and brochures. Area teachers are offered at least three, 7 1/2-hour workshops in the use of the educational kits; each kit includes a curriculum guide and educational props. Thereafter, these materials will be made available as part of a traveling wetlands exhibit, on location at boardwalks, and included in school mailings.
1995
VA
3
Hollymead Elementary School -- $5,000
Deborah P. Newman, 2775 Powell Creek Drive, Charlottesville, VA 22901
Outdoor Classroom: An Experimental Science Lab and Presentation Area in a Natural Setting
This project is designed to improve the teaching of elementary science to students through a hands-on approach in habitat renewal, ecology, and organic gardening in a rapidly developing suburban environment. The development of this outdoor classroom will provide an experiential science lab and presentation area in a natural setting which allows for a better method of presenting and applying life and earth science concepts. The project is designed to reach an audience of approximately 700 students in kindergarten through 5th grade.
1995
VA
3
Mathematics & Science Center Foundation -- $24,750
Julia H. Cothron, 2401 Harmon Street, Richmond, VA 23223
Environmental Studies: The Chesapeake Bay and Its Tributaries
This project will provide environmental education activities for teachers and students to better understand the Chesapeake Bay, provide a marine ecology class for 15 teachers who will reach approximately 2,000 students, and provide educational resources for participating schools.
1995
VA
3
Maymont Foundation -- $3,000
Mary Buckwalter, 1700 Hampton Street, Richmond, VA 23220
Environmental Education Activity Kits
Using these grant funds, Maymont Foundation will upgrade and duplicate a series of environmental activity kits and provide teacher recertification workshops that demonstrate how to use the kits and present environmental education in general.
1995
VA
3
Northern Virginia Community College -- $115,730 (HQ Grant)
James A. Mustachio/Rosemary Craft, 15200 Neabsco Mills Road, Woodbridge, VA 22191
Northern Virginia Community College
This project will improve the environmental education teaching skills of public school teachers in Northern Virginia by focusing on local environment and development issues. Through teacher training workshops, seminars, and college courses, teachers will gain the knowledge and skills needed to teach environmental science, awareness and understanding of local environmental issues, and the ability to make informed decisions about development in their communities. The project will target teachers of kindergarten through 12th grade in Prince William, Fairfax, Stafford, and Fauquier Counties and the cities of Manassas and Manassas Park. The project will serve as a vehicle for ensuring that the Commonwealth of Virginia's newly adopted science "Standards of Learning" are integrated throughout local schools. The project will reach 500 teachers who will, in turn, be required to design and conduct environmental studies activities for students, other teachers, or members of their communities.
1995
VA
3
Radford University -- $5,000
Roy Ramthun, Box 6963, Radford, VA 24142
Environmental Education Training Workshop
The purpose of this project is to provide participants training in curriculum materials from Project Wild, Project Adventure, and the Institute for Earth Education. The teachers will develop their outdoor teaching skills while organizers create a pool of resources that teachers can subsequently use to conduct environmental education programs at their schools or facilities in a rural area of Virginia. The project will be offered to 10 to 12 individuals who will then gain hands-on experience with environmental education skills by offering a program for 25 to 30 elementary school students.
1995
VA
3
Reston Environmental Education Foundation -- $5,000
Nancy Herwig, P. O. Box 3421, Reston, VA 20190
Hose-Hands-On Solar Energy
This project is designed to disseminate knowledge about solar energy to youngsters attending the summer camps operated by the Reston Association, and at a later time, to the public at large. The program will be tailored to meet the needs and learning styles of children ages 3 through 15.
1995
WA
10
Brookside Elementary - Shoreline School District -- $5,000
Rick Stendera, 17447 37th Avenue N.E., Seattle, WA 98155
Developing Hillside Creek
The Brookside Elementary School will create a stream where there is now a cement culvert adjacent to the school. Once the stream enters this new corridor, it will become a migration route for salmon headed further upstream. The school and community will provide 1,000 feet of protected salmon habitat and a living laboratory for the students to do hands-on research and discovery. The students (504 in kindergarten through 12th grade) will test water quality, explore the role of debris and invertebrates in the water, discover the contributions each type of plant makes to riparian health, and examine the life cycle of the salmon.
1995
WA
10
Clark County Environmental Services Department -- $5,000
Peter DuBois, 1300 Esther Street, Vancouver, WA 98668
A-Way with Waste Teacher Workshop
Clark County will produce an environmental education video and new educational materials to be used by 200 Clark County teachers who have completed A-Way With Waste Workshops. The county will encourage the teachers to use the video as a classroom teaching tool to help empower students to solve environmental problems using an investigative learning approach. The video will explain what happens to Clark County's household waste and recycling after it leaves the curb. The video will follow a bag of trash as it moves to the landfill and trace curbside recycling collection, processing, and re-manufacturing into new products.
1995
WA
10
Department of Ecology -- $5,000
Susan Campbell, P. O. Box 47600, Olympia, WA 98504-7600
Clean Air Week Teacher Workshops
The Washington Department of Ecology, the Puget Sound Air Pollution Control Agency, and the American Lung Association will sponsor three teacher workshops during or near Clean Air Week in May 1996. The workshops will be held state-wide to reach 60 teachers in low income and rural communities to educate them about air quality and air pollution issues and how to prevent, reduce, and possibly eliminate environmental problems through the education of their students. The workshops will present available air quality curricula to the teachers in an interactive setting and make use of hands-on, problem solving activities and an investigative approach.
1995
WA
10
Gonzaga University - Department of Civil Engineering -- $5,000
Noel Bormann, Spokane, WA 99258
On-Site Environmental Analysis Workshop and Course
The University will have six high school educators and six university level students majoring in education and science participate in the analysis of environmental contamination while visiting sites during a university-sponsored workshop. Mobile laboratory equipment will be used to enable project participants to prepare detailed laboratory notebooks of the analysis; photograph sampling techniques; study analytical procedures and the effects of contamination at the site visited; and prepare a paper at the conclusion of the workshop. The educators and students will work together to collaborate in the analyses and interact throughout the project.
1995
WA
10
Jemtegaard Middle School -- $5,000
Mark Miller, 35300 SE Evergreen HW, Washougal, WA 98671
Jemtegaard Environmental Education Project
This project will enable the school to complete a discovery trail which will allow all students in kindergarten through 12th grade to gain access to Gibbons Creek, an on-site stream. This opportunity will allow students to study environmental conditions, improve riparian habitat for both plants and animals, and maintain a part of their natural environment. During construction, students will learn how to design and build the discovery trail, landscape for wildlife, and create an enhanced riparian zone along Gibbons Creek. Completion of the trail will increase the faculty's ability to teach skills, provide classes in a natural setting, promote awareness, and encourage environmental consciousness. This model facility will be available not only to all 2,000 Washougal School District students, but also to community education groups.
1995
WA
10
Mason County Conservation District -- $4,975
Susan Hayward, 615 W. Alder, Suite 3, Shelton, WA 98584
Farmer-to-Farmer: A Mentor Program
Mason County Conservation District will educate 100 members of the community through a grassroots, community-based organization about the use of Best Management Practices (BMP) to protect water quality and conserve and manage natural resources. Community volunteers will be used as mentors to educate the landowners. After mentors are recruited, a training session will be provided for them. A community workshop, using the mentors, will be held to promote BMPs, and a tour of mentor sites will be organized. A reference guide of existing educational material will also be developed.
1995
WA
10
North Canal Shellfish Coalition -- $20,000
James Donaldson, P. O. Box 327, Quilcene, WA 98376
Quilcene Brinnon Schools-Shellfish Farm Program
The North Canal Shellfish Coalition will develop a self-supporting shellfish farm for hands-on application of science, math, business, and leadership skills. Thirty teachers from Quilcene and Brinnon schools have been trained to use shellfish as a mechanism to present and teach environmental awareness and stewardship to 400 students in kindergarten through 12th grade. These students will learn about water quality, marine habitats, and watershed interaction and produce an educational video on the school farm, the bay, and a history of shellfish culture in the area. The communities will serve on advisory boards, attend field trips, and assist the students. The existing curriculum will be expanded to include working shellfish farms for Puget Sound schools.
1995
WA
10
North Cascades Institute -- $5,000
Saul Weisberg, 2105 State Route 20, Sedro Woolley, WA 98284
Changes in Our Own Backyard -Padden Creek Watershed
For this project, the North Cascades Institute will develop and implement a series of four teacher workshops for Larrabee Elementary School. Project organizers will develop materials for the students that will encourage effective critical-thinking and problem-solving skills around watershed issues in their community, and they will lead field trips for each class. The project will initially involve 225 children, 19 teachers and other staff, and 20 community members. The workshops will offer new materials, develop existing curricula further, provide a model for sequential watershed education in the community and throughout local school districts, and address a high priority issue, watershed degradation and protection.
1995
WA
10
North Mason School District -- $20,000
Marie Pickel, P. O. Box 167, E. 50 N. Mason School Rd., Belfair, WA 98528
Bringing Project GREEN to the Lower Hood Canal Watershed
This project will integrate Project GREEN into the North Mason School District's existing curriculum. The project seeks to train students and teachers in action research and water quality monitoring, while completing monitoring projects with various partners like the Department of Natural Resources and Department of Fish and Wildlife. Nine hundred students and 20 teachers will be directly involved in this project the first year. Through community outreach and agency interaction, many others are expected to be involved. Because many visitors come to the Hood Canal, the project will be highly visible as a public education tool.
1995
WA
10
Snohomish School District -- $5,000
Ardi Kveven, 1601 Avenue D, Snohomish, WA 98290
Elementary Teacher Training in Science Kits and Field Work
The purpose of this project is to develop a new 2nd grade science kit, provide in-service on the use of the kit, plan and coordinate the field work, and use high school students as mentors on site. Teachers will be given knowledge about the local environment and existing hands-on curriculum that integrates CD-ROM technology. The organizer of the project will plan and implement field work at the 2nd grade level, teaming each group of five elementary students with a high school student in order for the children to learn about salt water communities. The focus will be on the Snohomish Watershed and estuarine habitats. Seven hundred and fifty 2nd grade students will work with 30 teachers and 30 high school advanced oceanography students and their teachers on the project.
1995
WA
10
Spokane County Air Pollution Control Authority (SCAPCA) -- $4,879
Lisa Woodard, 1101 West College, Suite 403, Spokane, WA 99201
Two Live Cable-Delivered Classroom Enrichment Programs
The Spokane County Air Pollution Control Authority (SCAPCA), in conjunction with the Spokane Regional Solid Waste System and the Spokane County Water Quality Management Program, will develop a series of two live, interactive cable programs for teachers and their students in kindergarten through 6th grade in the Spokane and Seattle areas. The programs will be available to the Spokane City elementary schools (40,000 students) and the Seattle Schools Instruction Broadcast Center, which will include the programs as part of its after school weekly hands-on science series, "Eye on Science." Existing curriculum and hands-on activities will be modified for the television series. The programs will increase the students' awareness of environmental issues involving air quality, water quality, and solid waste management in a way that is relevant to their lives. These two programs are an expansion of an existing Spokane City school assembly program, hands-on environmental curriculum, and two live televised enrichment programs.
1995
WA
10
Thurston Conservation District -- $4,965
Rochelle Rothaus, 6128 Capitol Boulevard, Olympia, WA 98501
Teacher Training Environmental Workshop and Student Field Work
Budd/Deschutes Project GREEN will conduct a workshop for 30 teachers of kindergarten through 12th grade to learn methods for integrating environmental education using watershed investigation as a theme, to develop an understanding of the significance of water quality to watershed health, to be trained in water quality monitoring and analysis, and to provide opportunities for teachers and students in participating schools to work collaboratively with community members on action projects. Instruction will be designed to lead teachers toward implementing an action research and community problem-solving approach. At the workshop, teachers will meet local resource managers and community members.
1995
WA
10
University of Washington - Dept. of Environmental Health SC-34 -- $5,000
David Eaton, Seattle, WA 98195
Risky Business Teacher Training Workshop
This teacher training workshop will consist of a hands-on training session which will prepare 10 high school teachers to use new environmental educational materials from curriculum under development at the University entitled, "Risky Business: Living in an Chemical World." The first unit, "Environmental Genetic and Cells," teaches basic biology and chemistry incorporating principles of environmental health and toxicology. This new teaching strategy will introduce computer-aided teaching and learning which allows students to work at their own pace in a non-linear fashion, and to choose how much biology and chemistry review they need before proceeding on to an environmental health application of basic scientific principles. The teachers will be provided with materials to use in their classrooms, such as video discs, CDs, transparencies, and printed materials.
1995
WA
10
YMCA Earth Service Corps -- $5,000
Kara Palmer, 908 Fourth Avenue, Seattle, WA 98104
Environmental Education Symposium
The YMCA Earth Service Corps will enhance the design and dissemination of its one-day Environmental Education Symposiums through a series of experiential learning activities. At these symposiums, students and teachers learn from community experts about current regional environmental issues, engage in role-playing real environmental dilemmas, and apply win-win techniques to resolve issues among diverse interest groups. To add to the symposium, the YMCA will work with students, teacher advisors, and community volunteers to develop a series of related activities such as curriculum that may be used in the classroom before the Symposium and following it; field trips; carrying out action projects at schools or in the local community; and an Earth Day event that brings together the different issues addressed at the symposium. Participation by low income and minority youth will be increased at the symposium.
1995
WV
3
Boone County Board of Education -- $5,000
David Cooke, 69 Avenue B, Madison, WV 25130
Alternative Rural Waste Water Systems for the Southern West Virginia Counties: A Real-Life Laboratory
The goal of this project will be to build local capacity to develop and deliver solid environmental education programs through application of existing knowledge in a site specific manner - an outdoor laboratory aimed not only at school children but all residents of the area. The main objective will be site identification and analysis of appropriate alternative wastewater systems in Boone County and development of one site as a working system. The target audience for the project is all residents not hooked up to a municipal wastewater system, and for whom conventional septic systems are not feasible.
1995
WV
3
East Fairmont High School Foundation, Inc. -- $24,500
Terry Kerns, 1993 Airport Road, Fairmont, WV 26554
Acid Mine Drainage Project
This project proposes to develop a model on how acid mine drainage should be taught, how schools can be linked by electronic transmission, and how resource materials can be made available to schools with computer hook-ups in an economical manner. Initially the project will be aimed at approximately 10 teachers and their students in three or four states in the Appalachian region. Each teacher then will conduct a workshop for 10 or more teachers in his or her local area.
1995
WI
5
Brodhead School District -- $5,000
Greg Wells, 1400 21st St., Brodhead, WI 53520
Educate to Improve and Maintain Water Quality
The purpose of this project is to provide workshops and field trips for teachers of kindergarten through 5th grade on stormwater management, land use, and water quality as it relates to the Sugar River, the area's important watershed.
1995
WI
5
Friends of Hixon Forest Nature Center -- $4,950
Brenda Haug, 2702 Quarry Rd., LaCrosse, WI 54601
Promoting Environmental Education
Funds from this grant will enable the nature center to expand its program to reach 1,200 additional elementary students in the LaCrosse area. Curriculum offered as part of the program has already been developed under a Wisconsin Environmental Education Board grant.
1995
WI
5
International Crane Foundation -- $5,000
James Harris, P. O. Box 447, E-11376 Shady Lane Road, Baraboo, WI 53913-0447
Schools Involved in Sandhill Crane Research
The International Crane Foundation will partner with students and teachers from five schools to engage in the study of the Sandhill Crane. Students will track cranes using radios in the field, analyze data, and assess the conflicts that arise between agriculture and ecology.
1995
WY
8
The Nature Conservancy -- $3,750
Ann Humphrey, HC 30 Box 107, Tensleep, WY 82442
Tensleep Preserve
This project will be a long-term program in which participants will gain an enthusiastic sense of stewardship and an understanding of how biological diversity is important to their lives, while making real and significant contributions to the conservation efforts. The program will reach mostly rural residents, and will build state and local capacity to develop and deliver programs through an outdoor research laboratory. The one-week programs will be developed according to the season and the group's abilities and will emphasize habitat restoration.
1995
WY
8
Wyoming Geographic Alliance -- $10,884
Linda Marston, University of Wyoming Box 3371, Laramie, WY 82071
Environmental Education Institute for Wyoming Teachers
The goal of this project is to improve geographic environmental information in elementary and secondary schools. Lesson plans will be developed by twenty Wyoming teachers and tested by approximately 500 students. Project organizers hope to reach approximately 100 to 200 teachers and 600 to 1,500 students during the in-service activities.
1995
WY
8
Wyoming Nature Conservancy -- $9,194
Kim Palmer Parfitt, Red Canyon Ranch, 298 Main St., S. Lander, WY 82520
Red Canyon Ranch
No Summary Available.
1996
AL
4
Central Florida Muscogee Tribe, Inc. -- $5,000
Dr. Margaret B. Bogan, c/o EDRS Jacksonville State Univ., 700 Pelham Rd. N., Jacksonville, AL 36265-9982
Nature Trail Development
Participants in the Nature Trail Development project are building a system of nature trails, on tribal lands, through cypress, riverine swamp and low wetlands. A trail guide will be published to describe the plants found along the trail. The purpose of the project is to increase tribal capacity to deliver environmental education programs and to use the trail as a tool to educate tribal members about the ecology of tribal grounds.
1996
AL
4
Huntsville-Madison County Botanical Garden -- $4,965
Melanie Garton, 4747 Bob Wallace Ave., Huntsville, AL 35805
Introducing Environmental Science to Teachers Grades K-6
The purpose of this project is to introduce environmental science to teachers of kindergarten through sixth grade. A teacher workshop on water, ecology and plant life will be conducted. The workshop will use visits to field sites, exhibits and outdoor classrooms as a vehicle. The target audience is 50 elementary teachers who have demonstrated leadership in science education.
1996
AK
10
Anchorage School District - Central School of Science -- $5,000
Dwight Taylor, P. O. Box 196614, Anchorage, AK 99519-6614
Chester Creek Stream Ecology and Pollution Project
The Chester Creek Stream Ecology and Pollution Project instructs 700 multi-ethnic middle school students from low income backgrounds about neighborhood pollution problems. Students learn about stream ecology and pollution, conduct water quality tests, and gather and classify stream micro and macro invertebrates. The students also research, prepare, practice, and deliver lessons in the classroom and on field trips. The teachers and parents are involved by teaching the "Living in Water Curriculum," developed by the National Aquarium in Baltimore. This curriculum is the project's source of lesson material.
1996
AK
10
Matanuska-Susitna Borough School District -- $4,700
Susan Dent, 125 West Evergreen Avenue, Palmer, AK 99645
Wetlands Education Program
The purpose of this project is for ninth and tenth grade students to explore watersheds in the Cook Inlet. The students demonstrate their understanding of environmental science issues by constructing a nature trail with ponds and wetlands that can be used by the general public and other educational institutions and also by constructing model streams for use in each science classroom. These activities are helping the students engage in critical-thinking and problem-solving activities while creating projects for use by the community.
1996
AK
10
University of Alaska - Fairbanks, Center for Global Change -- $24,379
Elena Sparrow, P. O. Box 757740, Fairbanks, AK 99775-7740
Global Change Environmental Education in Alaska
The University of Alaska is piloting an interactive broadcasting training course on global change to 50-60 teachers in five sites in Alaska (Anchorage, Fairbanks, Juneau, Bethel, and Barrow). This course enables participants to successfully teach topics on global change through their existing curriculum, form partnerships with scientists, and use technology with their students to access scientific information and participate in science projects. The course is reaching more than 2,000 students.
1996
AZ
9
American Lung Association -- $4,000
Liz McAuliffe, 102 West McDowell Road, Phoenix, AZ 85003
Open Airways Indoor Air Quality Education with Emphasis on Second-Hand Smoke
This project identifies elementary school children who are at-risk for asthmatic illness in three metropolitan Phoenix school districts. Working with school nurse staff, the association conducts twice weekly sessions for three weeks to educate the children about asthma and the effects of environmental pollution, with special emphasis on second-hand smoke. Follow-up support seminars showing the effect of the disease on school attendance are being held for parents and school staff of asthmatic students.
1996
AZ
9
Northern Arizona University -- $15,000
Anita Polehla, Box 4130, Flagstaff, AZ 86011
Strategic Environmental Plan for the Hopi Nation
This grant generates a plan for the Hopi Tribe to assess current and potential environmental education materials and practices with reference to their cultural appropriateness for use on reservation schools. The study is producing clear guidelines for allocating time and resources to curricula which have a significant impact on improving the quality of life, health, and heritage within the Hopi community.
1996
AZ
9
The Nature Conservancy -- $15,000
Val Little, 300 East University Boulevard, Suite 230, Tucson, AZ 85705
Riparian Ecology Education Program (A teacher-training environmental education program)
Training under this grant is provided for 40 high school teachers from Maricopa and Yavapai Counties in water quality issues and riparian ecology. The sessions are conducted at Hassayampa River Preserve, one of the few places in Maricopa County where the Sonoran Desert is graced with perennial water, offering a wide array of plant and animal life. The workshop trains teachers to use curriculum which explores issues of resource allocation of natural elements, human use, and economic sustainability. The follow-up study involves field trips attended by classes of the trained teachers and is expected to attract 1,500 students to the preserve.
1996
AR
6
Arkansas 4-H Foundation, Inc. -- $5,000
Darlene Barker, P. O. Box 391, Little Rock, AR 72203
4-H Project S.T.O.P.
Through this project, Environmental Stewardship Youth Manuals and a teachers guide are being developed and training provided. The Stop Trashing Our Planet (STOP) and Respect the Land, Air and Water (LAW) program targets youth (ages 5 through 19), 100 extension professionals, and 125 volunteers.
1996
AR
6
Cossatot Technical College -- $5,000
Laura Brand, P. O. Box 960, DeQueen, AR 71832
Water Quality Analysis Lab
A classroom water quality analysis laboratory will be developed and equipped for basic water quality analysis through this project. In addition, a course on water quality testing will be created to give environmental technology students extensive hands-on experience. The lab also will be used by chemistry and science classes to introduce those students to the basic concepts of water quality testing.
1996
CA
9
American Lung Association -- $3,114
Jan H. Cortez, 2740 - 4th Avenue, San Diego, CA 92103
Kids for Clean Air - School Based Clean Air Education Program
This grant provides curriculum materials on air quality issues for up to 250 elementary school teachers in San Diego County. The curriculum kit contains a lesson plan incorporating the relationship between clean air and respiratory health. Students are encouraged to express their understanding of the concepts presented by submitting a drawing for a poster contest.
1996
CA
9
Capistrano Unified School District -- $15,000
Kristen Nelson, 32972 Calle Perfecto, San Juan Capistrano, CA 92675
The Dana Hills Environmental Center and Nature Canyon
The Capistrano Unified School District is creating an environmental education center in a canyon on city grounds adjacent to Dana Hills High School. The completed educational center and trail system will offer local outdoor field trip study of plant and animal life for students throughout the school district and provide environmental career opportunities for high school students who manage the center and act as docents.
1996
CA
9
City of Oakland -- $4,998
Karen Greenspan, 1333 Broadway, Suite 330, Oakland, CA 94612
Piralta Creek Community Education Project
This grant will support the implementation of a plan to reduce residential creek pollution to Peralta Creek by organizing a team of 15 high school youth to coordinate volunteer community workdays to clean up and revegetate a portion of the creek. The focus of the project is to teach residents that the health of the creek has a direct impact on the health of the watershed and ultimately on their community.
1996
CA
9
Community Environmental Council -- $4,923
Cay Sanchez, 930 Miramonte Drive, Santa Barbara, CA 93109
Teacher Training Environmental Workshops in Closing the Loop
This grant allows the Community Environmental Council to conduct ten training workshops for teachers of kindergarten through twelfth grade in Santa Barbara County to implement the recycling curriculum, "Closing the Loop. The curriculum, available in English and Spanish and distributed free to each teacher who attends a workshop, promotes techniques and habits which lead to significant reductions from the waste stream.
1996
CA
9
Daedalus Alliance for Environmental Education -- $5,000
Merle Okino O'Neill, 12702 Via Cortina, Suite 201B, Del Mar, CA 92014
Adopt-A-Watershed
Twenty teachers of kindergarten through 12th grade from Imperial Beach are being trained in an urban adaptation of the Adopt-A-Watershed curriculum. Using field inspection methods developed for city workers, the teachers visually inspect storm drains and monitor water quality at specified outlet points into the estuary and the bay. The data the teachers collect will be made available to students, other teachers, and community groups for long-range study and analysis.
1996
CA
9
Earth Island Institute -- $5,000
Mandy Billinge, 300 Broadway, Suite 28, San Francisco, CA 94133-3312
Pollution Reduction and Safe Bay Food Consumption
An orientation workshop is being conducted for the faculty of Franklin Elementary School in Berkeley about the sources of pollution entering San Francisco Bay and the effect of these pollutants on the Bay estuary ecosystem and on human health. There will be a follow-up series of 10 three-hour workshops for four selected teachers and their classes. These sessions consist of hands-on investigative activities leading to projects to reduce pollution and to make informed choices about Bay food consumption.
1996
CA
9
Rising Sun Energy Center -- $5,000
Michael Arenson, P.O Box 2874, Santa Cruz, CA 95062
Solar Energy Teacher Training
This grant supports a one-day workshop for 12 fourth through sixth grade teachers in Santa Cruz and Monterey Counties in renewable energy curriculum. Project personnel provide continuing support by presenting a demonstration lesson in each teacher's classroom and continuing to work with teachers to produce three additional lessons on renewable energy during the school year.
1996
CA
9
San Francisco League of Urban Gardeners -- $35,515 (HQ Grant)
Mohammed Nuru, 2088 Oakdale Ave., San Francisco, CA 94124
Lead Empowerment Action Demonstration
The San Francisco League of Urban Gardeners (SLUG) project empowers San Francisco residents from low income and ethnically diverse communities to take action to reduce adult and children's exposure to lead in the soil. The Lead Empowerment Action Demonstration is accomplishing this goal using intensive one-day workshops that provide 500 families with immediate, tangible knowledge about the hazards of lead in the soil. The demonstration also teaches them how to limit their exposure to lead through landscaping and hardscaping strategies. SLUG is constructing a demonstration bed of barrier plants and hardscapes useful for preventing human access to lead-contaminated soil and offers free soil tests and landscape consultations to workshop attendees. The target audience for this project is low income, ethnically-diverse neighborhoods and communities.
1996
CA
9
San Francisco Bay Wildlife Society -- $3,000
Amy Hutzel, P. O. Box 524, Newark, CA 94560
San Francisco Bay Models to be Used with Field Trip Orientation Workshops
The San Francisco Bay Wildlife Society's project adds two models of the southern portion of San Francisco Bay to the exhibits at the Visitor's Center in Fremont and the Environmental Education Center in Alviso. The models, depicting open sections of the bay, and upland, salt marsh, salt pond, and slough habitats, are used for orientation and interpretation for teachers and parents in preparation for class field trips to the Wildlife Refuge facilities.
1996
CA
9
San Francisco Unified School District -- $15,000
Carmelo Sgarlato, 2550 - 25th Avenue, San Francisco, CA 94116
The Environmental Leadership Initiative
Training is being provided for 16 high school teachers in an inquiry-based science curriculum, called "Issues, Evidence, and You," developed by the University of California Lawrence Hall of Science. Working in teams of two, the teachers will introduce a common ninth grade science program based on local environmental issues at their eight schools.
1996
CA
9
Santa Monica Malibu School District -- $5,000
Pixie Beery, Will Rogers Elementary School, 2401 - 14th Street, Santa Monica, CA 90405
Project Plants: A Community Outreach to Encourage Environmentally Friendly Gardening
The Santa Monica Malibu School District is bringing together members of the Native Plant Society, Coalition for Clean Air, and the City of Santa Monica with the fourth grade classes at Will Rogers Elementary School, an inner city school with a predominantly minority enrollment. The project educates the community through a brochure written and distributed by students that encourages residents to use plants compatible with the environment and by installing a demonstration garden on campus that exhibits the plants.
1996
CA
9
Save the Whales -- $5,000
Maris Sidenstecker, P. O. Box 2397, Venice, CA 90291
Whales on Wheels (AWOW): A Hands-on Educational Program Offered in Spanish
For this project, classroom presentations will take place targeting the Spanish bilingual program in Los Angeles schools to encourage students to take a participatory role in protecting oceans. The project emphasizes pollution reduction actions students can take to protect human and marine health.
1996
CA
9
Student Conservation Association -- $5,000
Brenda Cercone, 655 - 13th Street, Suite 304, Oakland, CA 94612
Bay Area Conservation Career Development Program: College Participants Educate Younger Peers
This grant supports a project to provide training for college mentors to lead 28 students, selected from six Oakland high schools, through a series of overnight outdoor education sessions at three Bay Area sites. The students will analyze geology, vegetation, ocean, and estuary habitats at Marin Headlands, Point Reyes Seashore, and Golden Gate Wildlife Refuge in the context of how they relate to the students' home communities.
1996
CO
8
City & County of Denver, Colorado -- $120,000 (HQ Grant)
Steve Foute, Denver Environmental Protection Division, Department of Health and Hospitals, Public Health, 605 Bannock Street, Denver, CO 80204-4507
Denver-CONNECT Environmental Education Teacher Training Project
The City & County of Denver project improves environmental education training skills for teachers using a training and teaching site in the metropolitan area. Denver-CONNECT Environmental Education Teacher Training Project--Stapleton Site establishes and operates an environmental education site centered around a retired National Weather Service Station at decommissioned Stapleton International Airport. The project builds school district capacity to deliver and improve environmental education programs for teachers and students and provides education on the impact of pollution on public health. The project partners are upgrading the site and instruction modules, which will be used to train teachers on hands-on/minds-on observation, investigation, and analysis of real world environmental conditions and problems to teach students critical-thinking and problem-solving skills. Several hundred teachers and 70,000 students are being reached. These students are: 44% Hispanic, 30% White, 20% African American, and 6% other.
1996
CO
8
Colorado State University -- $11,285
Marcella Wells/Betty Eckert, Sponsored Programs, Fort Collins, CO 80523
Infusing Environmental Education into Math Curriculum
The Infusing Environmental Education into Math Curriculum project determines if an experiential outdoor approach to teaching math skills is more effective than traditional methods and if the Colorado Board of Education State Standards are being met. The project involves students and teachers at a middle school in Loveland, Colorado.
1996
CO
8
Green City Data Project -- $5,000
Linda Baggus, 3800 S. Glencoe, Denver, CO 80237
Green City Data - Teacher Training
The Green City Data project focuses on teacher training in outdoor education for middle and high school students. The students collect data for planning and management of urban natural areas. Low income, minority students examine ecosystems in their own neighborhoods as part of the project.
1996
CO
8
The Keystone Science Center -- $5,000
Chris Chopyak-Minor, P. O. Box 8606, Keystone, CO 80435
Wilderness Box
This urban outreach environmental education program, through the use of the Wilderness Box teaching curriculum, provides a hands-on educational curriculum to inner-city and urban teachers in Denver. The project focuses on wilderness values and preservation of wild lands. It is used with students from kindergarten through eighth grade.
1996
CT
1
Connecticut Department of Environmental Protection -- $12,500
James Murphy, 79 Elm Street, Hartford, CT 06102-5127
Environmental Issues Traveling Exhibit
In conjunction with the University of Connecticut's Museum of Natural History, the Connecticut Department of Environmental Protection (DEP) is creating an Environmental Issues Traveling Exhibit for display at public venues statewide. The exhibit is communicating two primary ideas to exhibit viewers: 1) that the communities in which we live are the product of natural and cultural processes, which, when understood, can help us make more informed choices about how to use the land in the future; and 2) that the choices people make in their everyday lives affect the quality of life in their communities.
1996
CT
1
Save the Sound, Inc. -- $5,000
T. Robin Brown, 185 Magee Avenue, Stamford, CT 06902-5939
Long Island Sound Watershed Workshops for Connecticut Elementary School Teachers
Save the Sound, in conjunction with the University of Connecticut Cooperative Extension System, proposes training 100 upper-elementary school teachers from communities within the Long Island Sound watershed on how to integrate information about preservation and restoration of the Sound into their curriculum. The workshops will be held at five locations within the watershed and 15 to 30 teachers will receive ten hours of training. The training will include hands-on learning activities about the Sound, its watershed, and water quality to help them feel comfortable teaching this subject matter to their students.
1996
DE
3
Delaware Department of Natural Resources and Environmental Control -- $10,500
Nancy Rolli, 89 Kings Highway, P. O. Box 1401, Dover, DE 19903
Statewide Telecommunications for Delaware Educators
This project will train educators to integrate environmental education into existing curricula developed by Project WILD, Project Learning Tree, Aquatic WILD, and Project WET. The project will emphasize critical-thinking, problem-solving, and decision-making skills.
1996
DE
3
University of Delaware -- $5,000
Jo Mercer, 210 Hullihen Hall, Newark, DE 19716
Building Wild Life Habitat
This project will build wildlife habitat on school grounds to enhance environmental knowledge and commitment of elementary school students and teachers. Participants include 620 students and 56 teachers and assistants.
1996
DC
3
American Road and Transportation Builders Association (ARTBA) -- $5,000
Dr. Jonathan Deason, 1010 Massachusetts Avenue, N.W., Washington, DC 20001
Lead-Based Paint Abatement Curriculum Development
Participants in this project will develop a curriculum for teaching employees of the industry lead-based paint abatement practices to protect human health and the environment.
1996
FL
4
Clay County District Schools -- $5,000
Susan H. Helmey, 900 Walnut St., Green Cove Springs, FL 32043
Careers To Go
The Careers To Go project is providing students with knowledge of environmental careers. A partnership will be developed between fourth through eighth grades and high school students, government agencies, and private industry experts in environmental fields. An environmental career kit will be developed called Go Carts, which consists of models, videotapes, curriculum materials, pamphlets, brochures, and other resources. The Go Carts will be a complete environmental resource kit for teacher use.
1996
FL
4
Imaginarium Hands-on Museum -- $5,000
Pam Burt, 2000 Cranford Ave., Ft. Myers, FL 33916
Environmental Awareness and Activism for Everyone... Look Toward Tomorrow
Environmental Awareness and Activism for Everyone... Look Toward Tomorrow is educating teachers students, and the general public about potential human health problems associated with environmental pollution. The project will reach 18,000 school children and 1,000 teachers. They will develop scientific investigative skills as they learn about groundwater contamination and remediation. Displays of remediation methods and projects developed by students will be exhibited at Imaginarium.
1996
FL
4
Pinellas County Schools -- $14,428
Dr. Edward A. Brown III, 301 4th Street, SW, Largo, FL 33770
Teacher Training Environmental Technology Workshops
The Teacher Training Environmental Technology Workshops project creates a four-year, high school, program of study that prepares students for environmental careers. Two interdisciplinary teams of teachers representing vocational education, mathematics, science, language arts, and social studies will develop a curriculum. The curriculum will be developed by conducting a Developing a Curriculum (DACUM) Study to determine the necessary competencies for employment in environmental fields. It is anticipated that 90 percent of the graduates will enter environmental fields of employment. The workshops are designed to prepare the teachers for curriculum implementation.
1996
FL
4
School Board of Alachua County -- $4,974
Dr. Donna Omer, 620 East University Ave., Gainesville, FL 32601
Gum Root Swamp
The Gum Root Swamp project is providing physically handicapped students with interdisciplinary learning and job development while it increases student interest in ecology-related classes and careers. In cooperation with the St. Johns River Water Management District, the students co-manage an environmentally sensitive area called Gum Root Swamp. Students conduct field work that includes an inventory of major habitat regions, confirmation of existing habitat maps, and establishment of a trail system to connect various habitats.
1996
GA
4
Chattahoochee Nature Center -- $4,995
Michelle Stripling, 9135 Willeo Road, Roswell, GA 30075
The Wonders of the Woodlands and Wetlands
The Wonders of the Woodlands and Wetlands is a workshop that is providing environmental education skills for 25 teachers. The workshop focuses on the importance of feeling at ease teaching outdoors. The workshop will emphasize using the natural environment in developing lesson plans and curriculum units while increasing awareness of the center's resources and programs that complement the classroom curriculum.
1996
GA
4
Gordon County Schools, Gordon Central High School -- $4,800
Ms. Judy Peterson, 205 Warrior Path, Calhoun, GA 30703
The Wetland and Watershed (WE3) Management Program
The Wetland and Watershed (WE3) Management Program is initiating and implementing an integrated environmental education program for teachers that uses hands-on activities to develop the understanding of teachers and students regarding wetland and watershed management in the community. The primary vehicle for delivery will be workshops and outdoor classroom activities.
1996
GA
4
Upper Chattahoochee Riverkeeper Fund, Inc. -- $5,000
Sally Bethea, P. O. Box 7338, Atlanta, GA 30357-0338
Chattahoochee River Adopt-A-Stream Network
Chattahoochee River Adopt-A-Stream Network is an educational effort to develop six new Riverkeeper groups consisting of 100 individuals in the Chattahoochee River Watershed during the next year, and to empower citizens to take action within their own communities. Riverkeeper will assist citizens in actions to prevent or curtail pollution of the watershed. A quarterly newsletter will be distributed to inform the communities of the condition of the river and its watershed.
1996
HI
9
Hawaii Audubon Society -- $4,800
Wendy Johnson, 1088 Bishop Street, Suite 808, Honolulu, HI 96813
Teacher Training Environmental Workshops: Programs and Processes Relating to Hawaiian Resource Conservation
The Hawaii Audubon Society is partnering with the State Department of Education to offer workshops to 600 middle and high school science teachers on programs that address native Hawaiian environmental issues. The workshops supply teachers with the tools they need to motivate students to question, examine, and explore such issues as the extinction of endangered native species, the transition from agrarian to urban development, water rights, and Hawaiian sovereignty.
1996
HI
9
Sea Life Park Marine Research Education Foundation -- $5,000
Vanessa Keliiholokai, 41-202 Kalanianaole Hwy, Waimanalo, HI 96795
Beach Detectives - Investigating Marine Environments
This grant supports a project that combines nine teacher training workshops with a one-hour educational television program "KidScience" to present a curriculum for fifth and sixth graders that identifies sources and impacts of pollution affecting beach and marine environments. Follow-up class field trips take participants to community beach sites to implement the "Beach Detectives" curriculum and activities. Data collected from student beach research is posted on the KidScience Internet home page.
1996
ID
10
Idaho Department of Water Resources -- $5,000
Dick Larsen, 1301 North Orchard Street, Boise, ID 83706
Idaho Water Awareness Week
This grant provides support to the Idaho Water Awareness Week, which is sponsored by 25 federal, state, and local government agencies, irrigation and municipal water systems, and utility and private sector companies. Support is in cooperation with approximately 25 Idaho school districts and the Boise Public Schools Educational Foundation. This program for sixth graders uses existing science curricula specifically focused on water and environmental education issues. Curriculum and support materials are provided to the teachers to use in structured classroom activities.
1996
ID
10
Valley Boys and Girls Club -- $5,000
Bob Liming, P. O. Box 1627, Lewiston, ID 83843
Outdoor Education Resource Center
The participants in this project are developing an outdoor education resources center at Camp Wittman, a local family farm site for environmental education activities near Lewiston County. The participants will assemble a comprehensive variety of curriculum materials and support equipment to facilitate quality natural resource education during camp sessions. They also will provide a centralized reference base for outdoor educators and environmental educators to receive training and support for planning their own environmental education programs.
1996
IL
5
American Lung Association of Metropolitan Chicago -- $4,696
Ron Burke, Director, Environmental and Occupational Health, 1440 West Washington, Chicago, IL 60607
Asthma Train-the-Trainer Program
The Asthma Train-the-Trainer Program has the goal of training health-care providers on how to reduce the prevalence and severity of asthma among low-income minorities. Health-care providers will transfer the training to their patients and teach them how to evaluate and abate home environmental asthma-causing exposures. The training will be evaluated and shared with other health-care institutions.
1996
IL
5
Center for Instruction, Staff Development, and Evaluation -- $110,187 (HQ Grant)
Trudi L. Volk, 1925 New Era Road, Carbondale, IL 62901
Environmental Education for Responsible Citizenship
The Center for Instruction, Staff Development, and Evaluations project improves environmental education teaching skills for teachers and nonformal educators through workshops. Environmental Education for Responsible Citizenship trains 300 teachers and related personnel in Illinois to use existing research-proven environmental curricula with middle and secondary school students. The project helps these educators to conceptualize critical environmental issues and acquire and apply investigation skills for evaluation of environmental issues. These individuals are developing methodological skills to implement issue investigation and evaluation in classrooms. The project reaches 300 teachers and 10,000 students, including minorities.
1996
IL
5
Eugene Field Chicago Public School -- $4,358
Neal Schwartzberg, Science Lab Instructor, 7019 North Ashland, Chicago, IL 60626
Lake Links Teacher Education Program
The Lake Links Teacher Education Program is building on the partnership the Eugene Field School has developed with the Chicago Academy of Sciences in order to educate fourth through eighth grade teachers about the school's Great Lakes curriculum entitled, Lake Links. Workshops will focus on issues that are relevant to the local Lake Michigan ecosystem and will engage teachers in water quality testing. School to home connections and community involvement will be integrated throughout the project.
1996
IL
5
George Pullman Chicago Public School -- $4,650
Patricia Scott, Teacher, 11113 S. Forrestville, Chicago, IL 60628
Strategic Technological Environmental Project Strategies for an Ecological Utopia
Through the Strategic Technological Environmental Project Strategies for an Ecological Utopia the George Pullman Elementary School body is learning about local environmental issues in southeast Chicago and developing a school-wide conservation plan. Staff, parents and the community are participating in action-oriented projects with the students related to water quality, recycling, toxic emissions, and gardening.
1996
IL
5
Illinois Environmental Education Advocacy Consortium -- $5,000
Nan Buckardt, Treasurer, c/o Environmental Education Association of Illinois, 2060 North Clark Street, Chicago, IL 60614
Training Workshop for Nonformal Environmental Education Providers
The Illinois Environmental Education Advocacy Consortium is refining an in-service training workshop it recently developed for nonformal educators statewide. The workshop covers environmental education pedagogy, state learning standards, assessment, and environmental education resources. The workshop is enabling nonformal educators to incorporate the latest environmental education developments into programs they offer to Illinois classroom teachers.
1996
IL
5
Regional Office of Education #40 -- $5,000
Kyle Hlafka, Executive Director, 220 North Broad Street, Carlinville, IL 62626
H2O Below
The Regional Office of Education is providing educator training and follow-up networking sessions to 15 rural districts and eight private schools using H2O Below, an interdisciplinary groundwater education program. Teachers will learn how to conduct a well history survey and test water quality. Teachers will also learn how to use Beaver Dam State Park and McCully Heritage Project as outdoor learning laboratories.
1996
IN
5
Clarksville Riverfront Foundation -- $5,000
Dani Cummins, Director of Development, P. O. Box 741, Jeffersonville, IN 47131-0741
Interdisciplinary Environmental Summer Institute
The Clarksville Riverfront Foundation is conducting a five-week Interdisciplinary Environmental Summer Institute at the Falls of Ohio Interpretive Center State Park and National Wildlife Conservation area. The program involves 15 teachers and 150 students from school districts in Indiana and Kentucky. Teachers participate in two-day workshops and then lead a week-long experience for students using curriculum materials Clarksville developed under a previous EPA grant.
1996
IN
5
Heritage Hills Middle School -- $4,500
Michael Schriefer, North Spencer County School Corporation, P. O. Box 416, Lincoln City, IN 47552
Thematic Instruction Environmental Workshops
In the Thematic Instruction Environmental Workshops project, Heritage Hills Middle School is training its teachers about the delivery of thematic instruction related to environmental issues, and engaging students in research and hands-on activities. Parents and community members will join students in the design of an outdoor teaching laboratory to be developed on the forest area of the school campus.
1996
IA
7
Andrew Jackson Demonstration Farm Corp. -- $4,725
Theresa H. Weiss, 201 W. Platt St., Maquoketa, IA 52060
Teacher Training Workshop
The Teacher Training Workshop project trains middle school teachers to use a watershed approach to agriculture and the environment. Participants in the project are developing an outdoor environmental education site at the Andrew Jackson Demonstration Farm. A workshop is being held for the teachers to demonstrate what is available for outdoor education at the site and how it can be used to teach environmental education activities. The model developed for the project can be used by schools, organizations, or local government agencies to establish similar sites in Iowa.
1996
IA
7
Cedar County Conservation Board -- $5,000
Hector Ibarra, 1400 Cedar St., Courthouse, Tipton, IA 52772
Rings of Life: Learning and Growing Together
The Rings of Life: Learning and Growing Together project provides long-term learning experiences that require students, faculty, and community commitment and involvement. Rings of Life brings the community, businesses and schools together. The project is a three-year cycle of instruction involving four middle schools that are: planting trees; testing water and soil; analyzing core boring; writing reflectively on their findings; creating an Internet Web site; and developing computer-generated multimedia presentations while constructing a WILD School Site.
1996
IA
7
Iowa Department of Natural Resources -- $3,300
Larry L. Bean, Wallace Building, Des Moines, IA 50319-0034
Wind Energy Seminar and Workshop
The Wind Energy Seminar and Workshop provides a forum to improve environmental education skills for teachers, faculty, and nonformal educators knowledgeable in the area of wind energy production and use. Through direct mailings and other media activities, the project also is educating rural citizens of Iowa about the environmental benefits and economic value of using the wind to produce energy.
1996
IA
7
Kiwanis Nature Island -- $4,920
Cindy Blobaum, 111 Ninth St., Suite 180, Des Moines, IA 50314
Watching Our Water (WOW)
The Watching Our Water (WOW) project is assembling a team of knowledgeable urban, minority high school students who can actively educate others about the environmental and health issues surrounding the state-wide debate concerning the development of large-scale hog confinements and their potential effect on water quality. WOW is teaming with the Kiwanis Nature Island Naturalist and 20 Science Bound students from North High School who are learning about the source, potential contaminants, and treatment of water. They participate in valid scientific measurements and become an active agent of environmental education.
1996
IA
7
North Cedar Community Schools -- $5,000
Margaret Sandeghpour-Kramer, 400 Ball St., Clarence, IA 52305
Teacher Training
This project instructs teachers, administrators, and community volunteers in environmental and service learning education to facilitate developing the joint school-community trail and gardens system. The target audience includes 12 teachers, one administrator, sixth and seventh grade students, and 300 community participants. The results will include the establishment of a trail and garden system and the cleanup and restoration of a nearby stream.
1996
IA
7
Page County Soil & Water District -- $5,000
Kevin McCall, 1213 5th Avenue, Shenandoah, IA 51601
Environmental Education Program for Southwest Iowa
The Environmental Education Program for Southwest Iowa provides four in-service training sessions and supporting material for more than 75 teachers and administrators. As many as 2,500 students in kindergarten through twelfth grade have access to quality environmental education not previously available to them. The project will organize 25 environmental education programs for local community groups. The project's goal is to expand public understanding of Iowa ecology, dependence on the ecosystems, attainment of a sustainable life style, and to increase teaching skills involved in outdoor education.
1996
IA
7
Willow Creek Field Lab Foundation -- $4,630
Dan Towers, 114 N. Chestnut, Courthouse, Jefferson, IA 50129
Willow Creek Wetland Field Lab: Problem Solving Techniques
The Willow Creek Wetland Field Lab: Problem Solving Techniques project is improving environmental education teaching skills for educators from 13 public school districts and seven parochial schools in four counties, to engage almost 11,000 students in kindergarten through twelfth grade in on-site learning activities at a significant wetland complex. A series of workshops offered throughout the year, lead by local environmental specialists from various state and local agencies and organizations, present materials appropriate for the region. The project builds capacity within Iowa for developing and delivering wetland-based environmental education programs and will reach communities with a grassroots community-based organization which actively encourages wetland protection, development, and restoration.
1996
IA
7
Winnebago County Soil and Water Conservation District -- $771
Mark Sandvik, 163 First Avenue, E. P. O. Box 85, Thompson, IA 50478-0085
Equipment to Teach Water Ecology for the Lake Catherine Learning Center.
The project will focus on providing eighth graders a hands-on experience in comparing the ecology of wetlands to man-made impoundments. The study will focus on how wetlands filter pollutants and store eroded sediments. The sessions will combine field and laboratory work. The result will give the students an understanding of the biological diversity of wetland ecosystems.
1996
IA
7
Wright County Conservation Board -- $750
Bruce Voigts, 1768 O'Brien Avenue, Clarion, IA 50525
Water Testing of County Streams and Rivers in Wright County
The project will focus on educating teachers, students, and the general public about human health problems associated with environmental pollution from animal waste draining into the waterways of the county.
1996
KS
7
Haskell Indian Nations University -- $16,658
Bill Welton, 155 Indian Avenue, Lawrence, KS 66046
Environmental Education Practicum
The Environmental Education Practicum brings American Indian students and teachers or elders from various Indian nations together to accomplish objectives of a pollution prevention program to benefit an American Indian community. The target audience is 21 junior and senior high school students, three teacher and elder facilitators, and three student facilitators. The home communities who benefit from the exposure of these American Indian teachers and students are empowered to enhance environmental justice locally for culturally-diverse and low income populations.
1996
KS
7
Turner Unified School District #202 -- $4,999
Jim Benz, 800 S. 55 St., Kansas City, KS 66106
Expanding Water Studies into High School
The Expanding Water Studies into Turner High School and Neighboring Wyandotte County Schools project promotes environmental careers for high school students by expanding the current water studies program into the high school curriculum and into neighboring schools. The target audience is 600 students in ninth through twelfth grades in Turner High School and other Wyandotte County schools. This audience is being reached using the Missouri Stream Teams program and is being taught in the chemistry and biology classes.
1996
KY
4
Clay County Board of Education (Clay County High School) -- $4,000
Jocelyn Wolfe, 248 Richmond Road, Manchester, KY 40962
Development of an Outdoor Classroom
This project is creating an outdoor environmental research center that will be used by 12 teachers, 700 students and 15 community members for presentations, demonstrations, field trips, mentoring, and environmental lessons. Major emphasis will be on soil, water, and weather learning stations as well as a wetland area with raised walkways, and a garden and crop study area using environmentally friendly chemicals.
1996
KY
4
Learning Pursuits, Inc. -- $4,859
Jeanette McDermott, 1016 Baxter Ave., Louisville, KY 40204
No Place Like Dome
The No Place Like Dome project is helping high school students see the possibilities of the environmental career options available to them. The project provides a setting which allows students to work with industry and government environmental professionals in the process of planning, designing, and constructing a solar-powered demonstration classroom and greenhouse.
1996
LA
6
Zachary Historical Association -- $5,000
Lois Hastings, P. O. Box 1144, Zachary, LA 70791
Environmental Awareness and Testing Program
The Environmental Awareness and Testing Program involves 1,000 local middle school students (of whom approximately 50 percent are from a minority population), including special education students with mental and physical handicaps. At the Zachary Historical Association's unique facility, the students are learning research and testing techniques through hands-on experiences.
1996
ME
1
Aroostook Literacy Coalition -- $9,650
Ervin MacDonald, P. O. Box 190, Houlton, ME 04730
Pollution Prevention Education Project for the General Public
The Aroostook Literacy Coalition is a diverse, nonprofit organization that proposes to educate people in the state's northernmost, rural county about pollution prevention by offering a seminar series in each of six locations throughout the county. Topics in the Pollution Prevention Education Project for the General Public are based upon a statewide survey done under the "Maine Environmental Priorities Project" and include "Eco" tourism, air quality, sustainable forestry practices, drinking water quality, and regulations for recreational vehicle usage. Seminars are being designed so that participants can develop strategies to balance economic development, tourism, recreation, and preservation in their communities.
1996
ME
1
Houlton High School -- $5,000
Christy Fitzpatrick, P. O. Box 190, Houlton, ME 04730
Yard Waste Composting: Community Service Curriculum
The Yard Waste Composting: Community Service Curriculum project is developing a core of trained students to set up and monitor a pilot project on yard waste composting during the 1996-1997 school year. It will educate local citizens on the importance of composting yard waste, allow students and teachers a chance to use an experimental science class designed around a real-life project, and provide citizens of the Houlton area with a local site to compost yard waste. Students will create experimental plots to test various compost recipes, rates of turning, and physical arrangements for compost formation.
1996
MD
3
Calvert County Public Schools -- $24,975
Jo Ann Roberts, 1305 Dares Beach Road, Prince Frederick, MD 20678
Workshop - Creating and Using a School Yard Habitat
This project involves the development of a teacher workshop prototype to create and enhance a wildlife habitat area on school grounds. Training will be provided by a team from state, federal, and local agencies.
1996
MD
3
Maryland Association of Soil Conservation Districts -- $5,000
Lynn Hoot, 53 Slama Road, Edgewater, MD 21037
Envirothon
Maryland high school students will learn through competition at the annual statewide "Envirothon. The goal of the Maryland Association of Soil Conservation Districts is to expand the competition from 21 Maryland counties to all 24 counties. Also, this year they plan to start a noncompetitive summer program for middle school students.
1996
MA
1
Appalachian Mountain Club -- $5,000
Kevin T. Knobloch, 5 Joy Street, Boston, MA 02108
The Urban Stewards Program
The Urban Stewards Program is a community-based conservation project, as well as an environmental careers training program, for urban youth in the diverse and disadvantaged community of Chelsea. Participants in the program are teaching outreach and advocacy skills through the process of planning, promoting, and implementing a neighborhood environmental service project. The project is providing youth with the necessary training to become more competitive candidates for employment in the environmental and recreational fields. It also will help young people establish a community base for the maintenance of local parks and green spaces and to provide support for environmental issues.
1996
MA
1
E.N. Rogers Middle School, Lowell -- $5,000
Joseph Mastrocola, 89 Appleton Street, Lowell, MA 01852
The Merrimack River: Our Ecological and Industrial Lifeline
The Merrimack River: Our Ecological and Industrial Lifeline project will focus on educating teachers, students, and the public about human health problems from environmental pollution. The E.N. Rogers Environmental School, in collaboration with several partners, will use an environmental thematic curriculum to have students: examine the effects of water quality on an urban river; collaborate over the Internet with students from Great Britain on historical comparative research; and develop critical thinking, problem solving, decision making and laboratory skills.
1996
MA
1
Harvard School of Public Health -- $9,000
Marshall Katler, 665 Huntington Avenue, Boston, MA 02115
Environmental Health Education Project
The Environmental Health Education Project, which is an expansion of an existing Harvard School of Public Health program, aims to increase awareness of the environment and its effects on health among fifth grade public school students by sharing technical expertise with teachers and students. The project is a hands-on educational outreach program that brings high quality instruction about human health and its relation to the environment to inner-city school children.
1996
MA
1
Massachusetts Audubon Society, Arcadia Wildlife Sanctuary -- $5,000
Tony Symasko, 127 Combs Road, Easthampton, MA 01027
An Urban Collaborative Providing Environmental Field Trips
Through this project, the Arcadia Wildlife Sanctuary, in partnership with local organizations, provides summer environmental field trips for minority youth in Holyoke. Hispanic children between the ages of five and 12 who live in Holyoke housing development projects or are served by social agencies or nonprofit agencies are being introduced to environmental science through field trips to nearby natural areas, hands-on activities, and simple biological testing techniques.
1996
MA
1
Massachusetts Audubon Society, Broad Meadow Brook Wildlife Sanctuary -- $5,000
Deborah Carey, 414 Massasoit Road, Worcester, MA 01604-3346
Urban Youth: Bridging the Gap to Nature
The Urban Youth: Bridging the Gap to Nature project is educating the underserved, minority residents of Worcester through the program. Participants will be engaged in one of the following types of activities: after-school workshops for elementary students, teen parenting programs, summer programs in the parks, and preschool workshops. The emphasis is on hands-on, inquiry-based, self-directed learning, in which the minds and hearts of students are engaged.
1996
MA
1
Massachusetts Department of Fisheries, Wildlife, & Environmental Law Enforcement, Riverways Program -- $20,000
Maria Van Dusen, 100 Cambridge Street, Room 1901, Boston, MA 02202
Riverways Shoreline Surveys for Massachusetts Communities
The Riverways Shoreline Survey promotes the protection and restoration of rivers in Massachusetts by teaching citizens about the components of healthy rivers and encouraging active stewardship through stream adoption. Community groups will conduct shoreline surveys using Adopt-A-Stream manuals and supported by Riverways staff. Each survey will provide baseline data on nonpoint source pollution, stream flow, and riparian habitat so the groups can determine priorities for their stream section and implement their action plan with the assistance of local citizens, municipal governments, businesses, civic organizations, and Riverways staff.
1996
MA
1
Metropolitan District Commission -- $4,500
Karl Pastore, 20 Somerset Street, Boston, MA 02108
Environmental Education Obstacle Course
The Environmental Education Obstacle Course is offering metropolitan Boston area teachers and community group leaders an experiential program that fosters an understanding of key environmental concepts and enhances their environmental teaching skills. The project involves a 0.75 mile loop trail with four stations. Using a workbook provided, teams of teachers will perform a variety of tasks, including such things as water quality sampling and map reading, and answer a series of questions related to the environment.
1996
MA
1
The Thoreau Society, Inc. -- $20,000
Tom Harris, 44 Baker Farm, Lincoln, MA 01773
The Environmental Teacher Workshop
The Environmental Teacher Workshop focuses on the capacity of teachers to teach environmental studies across disciplines and to raise the environmental consciousness of high school students to prepare them to be committed, environmentally literate adults. This project will be accomplished by means of a six-week summer workshop at the Thoreau Institute in Lincoln. During the workshop, high school teachers are learning a multidisciplinary approach to environmental studies and will have an opportunity to work with world-class Thoreau scholars, botanists, geologists, environmentalists, and other professionals to prepare lesson plans for units to be taught the following fall.
1996
MA
1
University of Massachusetts Extension Service -- $5,000
Robert Schrader, 215 Stockbridge Hall, Amherst, MA 01003
Model for Community Environmental Education
The Model for Community Environmental Education project is completing the "Taunton River Watershed Connections Curriculum" for students in sixth through twelfth grades. The curriculum has been in development for four years. It will serve as a model for watershed outreach in pollution prevention from the school to the local community and businesses. The project team of scientists and educators will test, evaluate, and finalize the curriculum and disseminate the final product along with resource kits through workshops for teachers in the Taunton River watershed.
1996
MA
1
Upper Cape Cod Regional Technical School -- $5,000
Margaret Wise, 220 Sandwich Road, Bourne, MA 02532
Summer Exploratory Program in Environmental Technologies
The Summer Exploratory Program in Environmental Technologies project is attracting students into the school's Environmental Technology Program and ultimately into environmental careers by providing seventh and eighth graders with a summer exploratory education program. As a result of this project, students increase their awareness of the environment, become more knowledgeable about careers in the environmental field, and enroll in an environmental technology career pathway.
1996
MA
1
Wampanoag Tribe of Gay Head -- $12,555
Philippe Jordi, 20 Black Brook Road, Gay Head, MA 02535
The Aquinnah Environmental Education Project
The Aquinnah Environmental Education Project is using existing environmental curricula and case studies to develop a tribal environmental handbook. The goal of the project is to protect the Tribal lands' ecologically sensitive watershed from pollution, loss of wildlife habitat, and fisheries decline. It also includes hands-on field investigations and workshops to provide project participants with the skills they need to make informed environmental policy decisions.
1996
MI
5
Allegan Intermediate School District (ISD) -- $5,000
Linda Gan, Supervisor, Special Programs and Projects, 310 Thomas Street, Allegan, MI 49010
Applied Environmental Education and Community Involvement in Allegan County
The Applied Environmental Education and Community Involvement project in Allegan County involves a partnership with the local village and community and Allegan County Intermediate School District to teach students about the local watershed and municipal and wastewater treatment systems by engaging them in water quality testing. Students are gathering and analyzing the data with the local village and Department of Natural Resources, and students will present the information to the community through local forums.
1996
MI
5
Delta-Schoolcraft Intermediate School District -- $5,000
Robert W. Ling, Jr., Director, Clear Lake Education Center, 2525 Third Avenue South, Escanaba, MI 49829
Multicultural Forestry Camp
The Delta-Schoolcraft Intermediate School District is conducting a Multicultural Forestry Camp for African American, Native American, and Pacific Islanders to teach math and science and encourage the pursuit of environmental careers. Hands-on problem solving exercises are being led by natural resource professionals at the Hiawatha National Forest, Clear Lake Education Center, and the Michigan Technological University campus.
1996
MI
5
Glencairn Elementary School -- $5,000
Kari L. Naghtin, Associate Principal, 939 N. Harrison, East Lansing, MI 48823
Wetland-Watershed Environmental Education Project
In partnership with Michigan United Conservation Clubs, Michigan State University, and the Lansing Area Groundwater Management Board, the Wetland-Watershed Environmental Education Project is educating its teachers about groundwater, wetlands, and watersheds. Along with their 225 elementary students, the teachers monitor and protect the school's wetland and use it as a training ground for hands-on education.
1996
MI
5
Michigan Technological University -- $5,000
Joan Schumaker-Chadde, Education Outreach Specialist, Regional GEM Center, 1400 Townsend Drive, Houghton, MI 49931-1295
Watershed Education Program
The Watershed Education Program consists of various professional development opportunities for formal and nonformal educators in the western Upper Peninsula of Michigan. Included are one-day awareness workshops focused on cross-curriculum integration of existing water education resources; a one-week in-depth, hands-on workshop in water sampling, including chemical and biological water assessment and computer technology work; and a mini-grant program so workshop participants can purchase supplies for the classroom.
1996
MI
5
The Greening of Detroit -- $5,000
Denise Wecker-Seipke, Executive Director, Whittier Towers, 415 Burns Drive, Detroit, MI 48214
Treekeepers
Tree-Keepers Training Workshops assist community residents and volunteers in reforesting and revitalizing the empowerment zone in Detroit. Once trained, the treekeeper teams work closely with neighborhood groups to select, plant, and maintain tree stock on public lands.
1996
MI
5
U-SNAP-BAC, Inc. -- $6,450
Linda Smith, Executive Director, 11101 Morang, Detroit, MI 48224
Environmental Negotiations Skills Seminars
Environmental Negotiations Skills Seminars are two-day seminars offered by U-SNAP-BAC and several partners to residents in the east side of Detroit. The seminars teach participants how to negotiate with financial institutions, developers, and state and local governmental agencies on residential, commercial, and industrial redevelopment of Brownfields and other urban sites. Brownfields are abandoned or under-used industrial sites. These model seminars employ an innovative role-play technique and include a feedback tool that enables groups to monitor their negotiation behaviors and evaluate progress. U-SNAP-BAC will develop a final product that describes the process of planning and offering these seminars to enable other communities to offer similar programs.
1996
MN
5
Bell Museum of Natural History, University of Minnesota -- $5,000
Kevin Williams, Curator of Exhibitions, 10 Church Street, SE, Minneapolis, MN 55455
Making Urban Students Environmentally Aware Through Object-Based Learning
The Making Urban Students Environmentally Aware Through Object-Based Learning project provides professional development opportunities on environmental issues such as wetlands, soils, and habitats for teachers in ten urban, alternative schools of Minneapolis. Workshops employ object-based learning and will be followed up with class visits by educators in museums to assist teachers in the transfer of materials and teaching strategies to the classroom.
1996
MN
5
Dakota County Environmental Education Program -- $5,000
Charlotte Shover, Environmental Education Coordinator, 821 Third Street, Suite 100, Farmington, MN 55024
Dissemination and Embellishment of Project WET Materials
Dissemination and Embellishment of Project WET Materials involves a partnership with the Minnesota Zoo to support Project WET teacher workshops by providing and disseminating resource materials throughout the county. The environmental education coordinator is developing water history trunks and is purchasing materials that educators can use after they attend Project WET workshops. Dakota County also will work to connect teachers interested in water-quality education with city staff working on water quality and natural resource issues.
1996
MN
5
Minneapolis Public Schools -- $4,820
Linda Bjorklund, Development Coordinator, 807 Northeast Broadway, Minneapolis, MN 55413
Lincoln Environmental Project
The Lincoln Environmental Project enhances teacher effectiveness in the teaching of science at Lincoln Fundamental, a public elementary school located in a federally-designated enterprise community. Along with parent and community volunteers, Lincoln's staff will be trained to design and establish a natural environment on the school grounds. Once trained, the teachers will lead their students through hands-on experiences in order to beautify the school grounds.
1996
MS
4
Keep Mississippi Beautiful/People Against Litter -- $5,000
Sharon M. Buckner, 4785 I 55 N. Suite 103, Jackson, MS 39206
Teacher Environmental Workshop
The Teacher Environmental Workshop is introducing the Keep America Beautiful elementary curriculum - A Waste In Place - to educators for use in their classrooms. The emphasis of the program is reduction of solid waste and litter prevention through waste reduction, recycling, composting, waste-to-energy programs, and landfills. A series of nine workshops will target 223 teachers across the state of Mississippi.
1996
MS
4
Piney Woods Country Life School -- $4,500
Shayne Banks, P. O. Box 99, Piney Woods, MS 39148
Interdisciplinary Summer Institute Environmental Education Camp
The Interdisciplinary Summer Institute Environmental Education Camp project is encouraging students to explore environmental careers by introducing them to environmental issues and the management and preservation of natural resources. A camp for youth from 11 to 15 years old will be conducted. The camp will put emphasis on developing critical-thinking skills as applied to environmental issues and stimulating students' minds relative to general environmental issues and concerns.
1996
MO
7
Missouri Botanical Garden -- $14,012
Dr. Larry DeBuhr, P. O. Box 299, St. Louis, MO 63166
Dissemination of Environmental Science Curriculum
The Dissemination of Environmental Science Curriculum project improves environmental education teaching skills of teachers of second to fifth grades by disseminating an existing environmental science curriculum to new audiences using the Internet and World Wide Web. The immediate target audience is teachers at 5,000 elementary schools already using The Environment video series. The video series shows children how to investigate an environmental issue and identify ways to help solve environmental problems or change their own behavior.
1996
MO
7
University of Missouri - St. Louis -- $24,660
Marvin Beckerman, 8001 Natural Bridge Road, St. Louis, MO 63121-4499
Environmental Citizenship
This project improves environmental education skills of the teachers involved in the project and those education majors who serve as facilitators for the project. The project involves 150 students from six middle schools in St. Louis and St. Louis County. The focus will be on four issues: toxic waste, solid waste, air pollution, and mass transit. An investigative approach is used where students investigate the issues, discuss, develop, and implement a plan.
1996
MT
8
Blackfeet Community College -- $5,000
Carol Murray, P. O. Box 819, Browning Glacier County, MT 59417
Environmental Careers on the Blackfeet Indian Reservation
The purpose of this project is to establish a natural resources camp to educate the general public and promote environmental careers for the youth on the reservation. Presentations provide a hands-on learning experience to increase knowledge of environmental issues. This project educates the students, parents, and volunteers about natural resource issues important on the Blackfeet Indian Reservation.
1996
MT
8
Montana State University Extension -- $5,000
Sherry Lajeunesse, 334 Leon Johnson Hall, Bozeman, MT 59717
Electronic Landscape
This project creates an electronic home and garden center which uses state-of-the-art communication measures to educate and modify homeowner behavior. The project provides research-based, un-biased information to teach homeowners to solve their own landscape, home, and garden problems through multi-disciplinary approaches.
1996
MT
8
Montana State University -- $5,000
Mike Cavey, Room 203 Tatlor Hall, Bozeman, MT 59717
Montana Project Learning Tree
This project is for kindergarten through 12th grade teachers. It develops state capacity for promoting environmental education and outdoor education. Teachers learn ways to infuse environmental education into existing curricula. Efforts are being made to secure participation by Native American teachers.
1996
MT
8
Northern Plains Resource Council -- $5,000
Denise Roth/Teresa Erickson, 2401 Montana Avenue, #220, Billings, MT 59101
Pollution Prevention Project
This pollution prevention project, focused in the Yellowstone County community, motivates and increases the level of citizen involvement in environmental issues. Citizens adopt strategies to reduce or prevent health impacts from various forms of pollution.
1996
MT
8
Salish Kootenai College -- $39,296 (HQ Grant)
Kimberly Skyelander, P. O. Box 117, Highway 83, Pablo, MT 59855
Flathead Indian Reservation Pollution Prevention Education Program
The Salish Kootenai College project educates the population of Arlee, Montana about the human health problems that will result from an unsafe drinking source for the community. Participants in the Flathead Indian Reservation Pollution Prevention Education Program are developing a public outreach program using local media to spark interest and curiosity among Arlee residents about the quality of their water. They also are developing pollution prevention education workshops to educate the community about the threats to their water supply and discuss potential strategies to protect it. Finally, the program offers technical support to the Arlee community to implement their pollution control strategies. The target audience is the general population of 489 residents in Arlee on the Flathead Indian Reservation, half of whom are Native American. The project uses existing partnerships and can be duplicated on other reservations.
1996
NE
7
Educational Service Unit #13 -- $25,000
Penny Businga, 4215 Avenue 1, Scottsbluff, NE 69361
Exemplary Teacher Training
The Exemplary Teacher Training project improves environmental education teaching skills for teachers of kindergarten through eighth grade by the development and implementation of an environmental education curriculum and teacher resource guide unique to western Nebraska. Teaching skills are enhanced by training lead teachers and through the dissemination workshops at which the guide will be available in both printed and electronic (Internet) form. The target audience is 500 teachers and 6,200 students within 20 school districts throughout western Nebraska.
1996
NE
7
Lincoln Children's Museum -- $4,825
Lindy Bull, 121 S. 13th St., Lincoln Square, Lincoln, NE 68508
Water Resources Exhibit & Workshop
Lincoln Children's Museum Water Resources Exhibit & Workshop increases public understanding of urban and rural water sources and the impact of human activities as they relate to the quality and quantity of these sources. The target audience includes preschool and elementary-age children and their families. An interactive exhibit allows children and their families to explore the sources of community and rural water supplies. Workshops are being conducted for the general public using groundwater models.
1996
NE
7
Nebraska Association of Resources Districts -- $15,000
Craig Gottschalk, 601 S. 12th St., Suite 201, Lincoln, NE 68508
1996 National Envirothon Competition
The 1996 National Envirothon Competition enhances student and teacher interest and participation in environmental education. The project increases state participation from 30 to 40 states, Canadian participation from one to four provinces, and participation from three states of Mexico. Envirothon stimulates accelerated growth of the Nebraska state environmental education program.
1996
NE
7
Nebraska State 4-H Camp -- $5,360
Bernie Lorkovic, P. O. Box 87, Halsey, NE 69142
The NatureLink Family Outdoor Education Weekend
The NatureLink Family Outdoor Education Weekend is a family-oriented outdoor environmental education program designed to link people to nature and the environment and in doing so, helps to educate the public to appreciate and conserve natural resources. The target audience is approximately 100 people from urban and suburban families who spend a weekend to incorporate hands-on experiential environmental education activities.
1996
NE
7
Prairie Plains Resource Institute -- $5,000
William S. Whitney, 1307 S. Street, Aurora, NE 68818-2126
Summer Orientation About Rivers (S.O.A.R.)
Summer Orientation About Rivers (S.O.A.R.) is a two-week day camp for 120 students from grades three through six. The primary purpose is exposing elementary students to watershed concepts, biodiversity, and ecological relationships. Concentration will be on aquatic and terrestrial aspects of the Platte River ecosystem. A secondary purpose is the use of classroom teachers which will result in a teacher training program.
1996
NV
9
Clark County School District -- $15,165
Carol Tipton, 2832 East Flamingo Road, Las Vegas, NV 89121
Improving Teaching in K-5 Environmental Sciences: Field-based Experience with Environmental Scientists for Elementary Teachers and Follow-up Development of Model Instructional Guides
With assistance from this grant, a model is being developed for enhancing training for teaching elementary school-level environmental science using the district's Whitney Mesa Preserve and the Bureau of Land Management's Red Rock Canyon. Scientists from the University of Nevada, Las Vegas, Desert Science Institute, and Southern Nevada Water Authority are collaborating with 24 teachers to produce a field-based instructional guide which will be used to spread the program in subsequent years throughout the school district.
1996
NV
9
Shoshone-Paiute Tribe -- $5,000
Walden Townsend, P. O. Box 219, Owyhee, NV 89832
One-Week Workshop for Junior Hight Students from Owyhee Combined Schools to Survey Solid Waste Practices and to Identify and Make Recommendations of Alternatives to the Tribal Council
The Shoshone-Paiute Tribe is conducting a one-week workshop for junior high school students at Duck Valley Reservation, which is led by tribal members enrolled at Boise State University. During the workshop, students survey solid waste generation and disposal on the reservation, identify reduction strategies, and deliver a formal report to the Tribal Council.
1996
NV
9
Washoe County School District -- $5,000
Stacey Endres, 425 East 9th Street, Reno, NV 89520
Teacher Training in Interdisciplinary Great Basin Curriculum and Outdoor Classroom Activities
The Washoe County School District is providing a three-day outdoor environmental education experience at Great Basin for 180 sixth-grade students. The project trains 10 to15 teachers to use the Great Basin Interdisciplinary Curriculum. After receiving training, they can lead 25 high school students in a two-day outdoor education training field trip. Ultimately, the high school students will serve as mentors to the elementary students for their three-day program.
1996
NH
1
Granite State Association of the Future Farmers of America -- $4,313
Richard L. Barker, c/o NH Dept. of Education, 101 Pleasant Street, Concord, NH 03301
Teacher Education in Integrated Pest Management and Pesticides Application
The Teacher Education in Integrated Pest Management and Pesticides Application project is educating environmental, agricultural, and natural resources high school teachers about integrated pest management (IPM) and pesticides in their environment. The program features an initial workshop for 30 teachers, demonstrates how to integrate instructional materials distributed during the workshop into their school curriculum, and provides on-site, follow-up visits to provide further information and instruction and to gauge additional teacher and student needs.
1996
NH
1
New Hampshire Association of Conservation Districts -- $5,000
Dick Obyc, P. O. Box 2042, Concord, NH 03302-2042
New Hampshire Envirothon
The New Hampshire Envirothon is a growing national environmental education program aimed at public and private high school students and their teachers. The program for our future decision makers is designed to improve environmental awareness and appreciation for wise management and protection of natural resources. A training workshop conducted in the spring provides students and teachers an opportunity for hands-on learning through research and discussion and evaluation of natural resource issues. Students then participate in a statewide competition in a national Envirothon.
1996
NJ
2
Camp Vacamas -- $5,000
Michael H. Friedman, 256 Macopin Road, West Milford, NJ 07480
The Teachers Utilizing Natural Environments Program (TUNE)
The Teachers Utilizing Natural Environments Program (TUNE) will train 15 teachers and provide 100 students from elementary schools in Paterson to use the camp's outdoor facility for hands-on environmental learning experiences. TUNE will provide inner-city educators and students with the knowledge and opportunity to explore the environment and acquire the thinking skills needed to solve problems. The teacher workshops will be followed by a practical teaching weekend during which the educator-participants will teach the environmental lessons to students from their schools. The resulting In-TUNE With Nature manual will combine teaching materials and participants suggestions.
1996
NJ
2
Citizen Policy and Education Fund of New Jersey -- $5,000
Ralph Scott, 400 Main Street, Hackensack, NJ 07601
The Paterson Childhood Lead Poisoning Train-The-Trainer Project
The Paterson Childhood Lead Poisoning Prevention Train-The-Trainer Project is training 60 staff members from organizations in Paterson to teach their constituents about childhood lead poisoning and its prevention and enhance efforts to teach family members about local lead poisoning regulations. It is one of the first to target Paterson's Arabic population. This program will bring in as partners key organizations, agencies, and institutions that have strong relationships with low-income families and have the capacity to interact directly with them. The goal is to educate and encourage compliance with local laws requiring lead inspection and remediation in residential properties prior to re-rental or sale.
1996
NJ
2
Hackensack Meadowlands Development Corporation -- $4,870
Anne Galli, Two DeKorte Park Plaza, Lyndhurst, NJ 07071-3707
The New Jersey Critical Environmental Issues Seminar
The New Jersey Critical Environmental Issues Seminar is a two-week graduate level course for formal and nonformal educators of sixth through twelfth grades which consists of presentations, field trips, hands-on workshops, laboratory testing, and role-plays. The programming is designed to improve the environmental literacy and decision making skills of teachers and parents and encourage them to disseminate this knowledge and these skills to their constituencies. The focus of this seminar will be to pilot an environmental health component with a concentration on community-based issues and a newly strengthened section on wetlands.
1996
NJ
2
The Wetlands Institute -- $22,039
Karen Bage, 1075 Stone Harbor Boulevard, Stone Harbor, NJ 08247-1424
Facilitator and Teacher Training Workshops: WOW!: The Wonders of Wetlands
WOW!: The Wonders of Wetlands workshops are training 120 educators throughout New Jersey. The project provides additional training for 40 Project WET (Water Education for Teachers) facilitators and 80 educators in three workshops in WOW!, a recently developed Project WET curriculum. WOW!, designed to improve environmental education skills for formal and nonformal educators, provides hands-on activities emphasizing problem solving, investigative learning, and critical thinking about wetlands. Additional workshops on freshwater and saltwater wetlands will teach participants environmental education techniques and ways to incorporate wetlands curricular activities into their programs. In addition, within one year 800 additional educators should be reached as trained facilitators conduct additional workshops.
1996
NM
6
Las Cruces Public Schools -- $4,500
Marcy Oxford, 505 South Main Street, Las Cruces, NM 88001
Outdoor Classroom
This project involves Hillside Elementary students in kindergarten through fifth grade who are predominantly Hispanic in pilot testing hands-on environmental curriculum at an outdoor classroom located on 10 acres of trust lands donated by the New Mexico Land Office. The students will focus on plant and animal study, archaeology, and geology.
1996
NM
6
Pueblo of Pojoaque -- $24,920
Ron Martinez, Route 11, Box 208, Santa Fe, NM 87501
DOER (Developing Ownership of Environmental Resources) Program
The DOER (Developing Ownership of Environmental Resources) Program involves 150 students in sixth through eighth grades in hands-on activities, a participatory lecture series, and on-site field trips relating to water issues.
1996
NM
6
Regents of New Mexico State University, Waste Management Education & Research Consortium -- $144,981 (HQ Grant)
Dr. Larryl K. Matthews, Engineering Research Center, Office of Sponsored Programs, Box 30001, Dept. 3699, Las Cruces, NM 88003-8001
New Mexico/Mexico Needs Assessment and Environmental Teacher Training Program
The Waste-Management Education & Research Consortium at New Mexico State University project will conduct workshops to expand the environmental teaching capabilities of high school science and math teachers in New Mexico and the Mexican border city of Ciudad Juarez, Chihuahua. The New Mexico/Mexico Needs Assessment and Environmental Teacher Training Program ensures that high school environmental curricula reflect state-of-the art environmental education by training border area teachers to use existing environmental education resources such as New Mexico State Department of Education Benchmarks/Standards and National Consortium for Environmental Education and Training guidelines. A needs assessment is being conducted prior to the workshops to ensure their effectiveness. The more than 150 teachers who are being trained ultimately hope to reach an audience of more than 100,000 Mexican students and 82,000 high school students from New Mexico, including Native American and Hispanic students.
1996
NM
6
Young Women's Christian Association -- $25,000
Diane Mourning Brown, 7201 Paseo del Norte NE, Albuquerque, NM 87113
YWCA Kids and the Environment
More than 5,000 children and 600 adults participate in the YWCA Kids and the Environment program located in three economically and culturally diverse communities in Texas, Oklahoma, and Louisiana. Activities relate to pollution and source reduction, wildlife statutes, geology, and natural resource management and erosion control.
1996
NY
2
Beaver Lake Nature Center -- $4,295
Bruce W. Stebbins, 8477 East Mud Lake Road, Baldwinsville, NY 13027
Beaver Lake Nature Center Educational Activity Guide
Funding will be used to develop the Beaver Lake Nature Center Educational Activity Guide and its related teacher workshop and to compile an environmental education reference library. The activity guide and workshop will provide teachers with activities before, during, and following visits to the 596- acre natural area that receives 400 class visits each year. The guide and workshop will increase the abilities of participating teachers to take fuller advantage of the center's diverse collection of natural resources. The reference library will provide needed environmental education resources for the local educational community.
1996
NY
2
Boys Harbor, Inc. -- $5,000
Dr. Robert Wallace, 1 East 104th Street, Room 578, New York, NY 10029
Environmental Education Workshops For Parents
The Environmental Education Workshops For Parents project is reaching out to the parents of the children in its East and Central Harlem community to help them learn more about their children as they discover the ways in which their lives are intertwined with the environment. This program will consist of four workshops to teach parents how their children are acquiring math, reading, and writing skills in an integrated environmental science curriculum, how urban ecology impacts their lives, the ways in which city dwellers can change their environment, and how their children use technology in the classroom. The program seeks to enlist adults in their children's efforts to become citizens who take an active role in making well-informed environmental choices.
1996
NY
2
Brooklyn Center For The Urban Environment -- $5,000
John C. Muir, The Tennis House, Prospect Park, Brooklyn, NY 11215-9992
Coming to Grips With Toxics and Water Quality on the Gowanus Canal
Coming to Grips With Toxics and Water Quality on the Gowanus Canal is bringing together the Brooklyn Center for the Urban Environment (BCUE) with the New York City Community School District 15 and the Gowanus Canal Community Development Corporation to improve teaching skills and instruction. The project is focusing on environmental issues in Gowanus, an old industrialized and residential district in New York City. Impacted by pollution hazards resulting from its use for sewage and industrial waste, the Gowanus Canal will be central to BCUE's program. Teacher workshops, demonstration field-study programs, and a teacher resource package will target 25 teachers in Gowanus schools and 360 of their pupils. In addition, BCUE will reach out to the parents and local community residents through a variety of media.
1996
NY
2
Cayuga Nature Center -- $4,995
Janet E. Hawkes, 1420 Taughannock Boulevard, Ithaca, NY 14850
Water Quality Monitoring Network & Teacher
To preserve water quality in the Finger Lakes region by preventing nonpoint source pollution, the Water Quality Monitoring Network & Teacher project targets educators and their students in fourth through twelfth grades to raise their awareness regarding water pollution. Educators who have not previously participated in water quality monitoring will be trained to test the chemical, physical, and biological parameters of water quality. The program also will provide the training and a supportive network for central New York State teachers who are participating in water monitoring projects. It will establish a database of information gathered by new and ongoing class projects.
1996
NY
2
Columbus Elementary School -- $5,000
Patricia Wood, 275 Washington Avenue, New Rochelle, NY 10801
Investigating the Impact of Urban Development on Long Island Sound
This project is targeting second and fifth grade teachers and students in its multi-cultural urban population in a project to enable them to accept stewardship of Long Island Sound. Participants will receive training, develop units in English and Spanish, explore the impact of urban development on Long Island Sound, and develop bilingual, interactive environmental education exhibits and multimedia slide shows about Long Island Sound. Materials developed will be available to other New Rochelle schools. The project involves a partnership with the Norwalk Maritime Center in Connecticut.
1996
NY
2
Dutchess Community College -- $19,800
Dr. Arthur H. Pritchad, 53 Pendell Road, Poughkeepsie, NY 12601
The Dutchess Academy for Environmental Studies
The Dutchess Academy for Environmental Studies is an alternative educational program offering a two-year occupational environmental education program for 36 Dutchess County junior and senior high school students. The project is sponsored by the Dutchess Community College and the Dutchess County Board of Cooperative Educational Services (BOCES). After spending mornings at their schools in traditional courses, during the afternoon students will take courses at the community college's Norrie Point Environmental Site. The project will provide an educational alternative for students interested in the environment but not stimulated by traditional high school programs. The program will also provide in-service summer training and follow-up support to Dutchess County science teachers interested in infusing environmental monitoring and data collection and entry into their programs.
1996
NY
2
Homer Central School -- $4,901
Thaddeus Schug, 80 South West Street, Homer, NY 13077
Homer Environmental Science Program
The Homer Environmental Science Program in rural New York is targeting teachers of secondary biology, chemistry, and general science in schools which have or want to start aquatic study programs. The project is encouraging development of student-driven, open-ended laboratory studies. Four teacher workshops will train teachers in biological and chemical testing, provide instruction on the building of aquatic sampling devices and computer training, and build partnerships with regional districts for experimental aquatic studies through networking and data analysis.
1996
NY
2
Madison County Soil and Water Conservation District (SWCD) -- $5,000
Michael Johnston, P. O. Box 189, Morrisville, NY 13408
The Madison County Community Water Resources Education Program
The Madison County Community Water Resources Education Program is enabling a local government unit to initiate an educational program designed to conserve natural resources and prevent nonpoint source water pollution. The program will provide participating educators with resources to study a local water issue. The program enables teachers to either avail themselves of educational support services from the county's Soil and Water Conservation District in the form of classroom visits from staff or receive support to design their own programs to study a local water resource with students.
1996
NY
2
Phipps Community Development Corporation -- $5,000
Andrew Hyde, 43 West 23rd Street, New York, NY 10010
The Beacon Environmental Careers Program (BECP)
The Beacon Environmental Careers Program is a year-long initiative to provide teenagers from the South Bronx with an understanding of environmental careers and insight into the environmental conditions of their immediate community, West Farms, and the larger environmental issues of New York City. The project is incorporating pollution prevention initiatives, will educate high school students about careers as environmental professionals, and help students to understand the many-faceted environmental problems and solutions faced in the real world. Community service and outreach, career mentors, laboratory and observational activities, and workshops and meetings with professionals in the field will give young people background and experience with environmental issues and solutions.
1996
NY
2
Schenectady County Community College -- $4,979
Edward S. Baker, 78 Washington Avenue, Schenectady, NY 12305
Environmental Science Teacher In-Service Institute
Schenectady County Community College will work with Capital Region Maritime Center and the Capital Region Board of Cooperative Educational Services (BOCES) to produce a three-week Environmental Science Teacher In-Service Institute for regional educators of sixth through twelfth grades. The program will be fieldwork-based to assist teachers in development of classroom activities from existing environmental science curricula which pertain to local watershed issues and which are consistent with curricula approved by the state Board of Regents. The program will assist teachers in evaluating sites for field trips to develop students critical thinking skills and host a networking conference to enable participants to share their successes in integrating local watershed issues into environmental science curricula.
1996
NY
2
Schoharie County School Soil and Water Conservation District -- $4,930
Brenda Weaver, 41 S. Grand Street, Cobleskill, NY 12043
Septic Systems and Nonpoint Source Pollution Education Program
Students and teachers in fourth through sixth grades in six county school districts are the primary focus of the Septic Systems and Nonpoint Source Pollution Education Program. The goal of the program is educating county residents about the significance of septic systems in nonpoint source water pollution. Objectives are to help residents understand the nature of the karst topography of the region, home septic systems and their connection with water quality protection, and principles of water conservation. The program will combine school programs with educational outreach to community groups and local government, encouraging all participants to take action to prevent drinking water contamination through septic system care.
1996
NY
2
Shoreham-Wading River Central School District -- $4,986
Dr. Margaret Conover, Route 25A, Shoreham, NY 11786
Learning To Live In The Long Island Pine Barrens Science Museum
The Learning To Live In The Long Island Pine Barrens Science Museum project is enabling educators of fourth through seventh grades to use educational materials concerning the Long Island Pine Barrens, an ecosystem which lies atop a glacial aquifer upon which the drinking water of Long Island is dependent. Teachers are becoming familiar with existing curricula, being provided with opportunities to develop field skills, and are supported in efforts to create a school ground field study site. A program of workshops, field trips, and in-school consultations with a naturalist will enable participants to conduct a week-long interdisciplinary pine barrens unit for their classes. An understanding of the roles played by development, fire, and water in the pine barrens will enable students to make more informed decisions about this ecosystem.
1996
NY
2
St. Regis Mohawk Tribe -- $5,000
Ken Jack, RR1 Box 8A, Community Building, Hogansburg, NY 13655
Indoor Air Quality Awareness Program
The St. Regis Tribe's Indoor Air Quality Awareness Program is providing oversight in the development and organization of a series of seminars focusing on indoor air quality and especially its presence in homes on the Saint Regis Mohawk Reservation. The seminars will draw on the expertise of environmental professionals. Radon, environmental tobacco smoke, biological contaminants, combustion heating appliances, household products, formaldehyde, pesticides, asbestos, and lead will be the topics of the seminar. Health effects will be a focus, as well as low cost technology, prevention, and control methods. Available government and institutional resources will be identified and the ability to assist individuals with problems will be explored. The goal is for seminar participants to acquire the skills to resolve indoor air quality problems on their own and understand what actions others can take to assist them.
1996
NY
2
Theodore Roosevelt Sanctuary -- $4,955
Mary E. Richard, 134 Cove Road, Oyster Bay, NY 11771
Teacher Education Workshops and Environmental Teaching Kits
A combination of teacher education workshops and environmental teaching kits will be offered to educators on New York's Long Island enabling them to bring important local environmental issues to their students. Workshops and kits will include such topics as: pine barrens and groundwater, migratory birds, solid waste, Long Island Sound, and endangered species. Each of these topics has specific critical importance for Long Island residents. The workshops will show educators how to incorporate materials into classroom curricula; the kits will provide all materials needed to involve students in these areas of concern.
1996
NC
4
East Carolina University -- $25,750 (HQ Grant)
Dr. Katherine Warsco, School of Environmental Sciences, East Carolina University, Greenville, NC 27858-4353
Designing For Good Indoor Air Quality: Student Design Competition as a Teaching Tool
The East Carolina University project assists postsecondary instructors and students of design to further their knowledge of indoor air quality issues and apply this knowledge to develop innovative solutions for radon-free, nontoxic, and allergy-free interiors. Designing for Good Indoor Air Quality: Student Design Competition as a Teaching Tool is accomplishing this by developing, disseminating, and implementing materials of design to increase student and instructor knowledge of indoor air quality issues. The project sponsors a student competition that is challenging students to put their knowledge of indoor air quality issues to effective use. The project has a broad target audience--560 faculty and 30,000 students in two and four-year university interior design programs in the U.S. The coastal southeast region is the primary focus because of the region's large population of low income elderly people living in older homes that tend to have indoor air quality problems. The project ultimately is promoting a healthier living environment for individuals living in that region and can be duplicated elsewhere.
1996
NC
4
Pembroke State University -- $4,994
Dr. Thomas Ross, One University Drive, Pembroke, NC 28372-1510
Outdoor Learning Classroom: Environmental Workshop
The Outdoor Learning Classroom: Environmental Workshop is focusing upon improving environmental education skills for science teachers of kindergarten through twelfth grade. An outdoor learning classroom will be created and workshops will assist teachers in using the facility. The outdoor classroom will give students a wide variety of hands-on environmental learning experiences.
1996
NC
4
University of North Carolina at Wilmington -- $22,680
Pamela B. Whitlock, 601 S. College Rd., Wilmington, NC 28403
Project US-University Schools
Project US-University Schools is a teacher training project updating teachers on environmental issues that affect southeast North Carolina, particularly water, air, and soil pollution. A component of the project is to train a cadre of teachers who will continue to train teachers in their districts. An awareness conference for 100 middle school teachers will lead to an intensive summer institute for 20 lead teachers.
1996
NC
4
Winston-Salem/Forsyth County Schools/Sedge Garden Elementary School -- $4,900
Donald L. Martin, Jr., P. O. Box 2513, Winston-Salem, NC 27102-2513
Hands-on and Minds-on Environmental Education
The Hands-on and Minds-on Environmental Education project is providing teachers and students with training and instruction which will improve environmental education and learning in the classroom. Improving skills for teachers, faculty, and nonformal educators will be achieved through workshops. Members of the general public will be reached through a community-based organization. The project will result in an increased awareness of the impact of construction and the community's traditional agricultural activities on the environment.
1996
ND
8
North Dakota Council on the Arts -- $5,000
Troyd Geist, 4118 E. Broadway, Ste 70, Bismarck, ND 58501-4086
North Dakota Council on the Arts
This project demonstrates the interplay between traditional and scientific environmental knowledge, practices, and issues. It increases public awareness of environmental issues as they relate to cultural preservation.
1996
ND
8
University of North Dakota -- $13,684
Dr. Sally Eckert-Tilotta, Grand Forks County, Grand Forks, ND 58202
Environmental Workshop for Science Teachers
This project offers an environmental workshop for junior and senior high school science teachers. It also enables science teachers to explore the degradation of water. It includes teachers of biological and physical science and involves Native American and state schools in North Dakota.
1996
OH
5
Cuyahoga Valley Environmental Education Center -- $4,525
Deb Yandala, Director, P. O. Box 222, Peninsula, OH 44264
All the Rivers Run
The All the Rivers Run project consists of teacher education workshops for 300 elementary and middle school teachers in northeastern Ohio on ecosystem protection, biodiversity, and water quality issues in the Cuyahoga River watershed. The workshops are based on the center's newly developed inquiry-based curriculum. Workshops prepare teachers to bring their students to the Cuyahoga Valley Environmental Education Center for participation in a four-day residential environmental education program.
1996
OH
5
Glendale Habitat Discovery Garden, Inc. -- $4,786
Selene Loomis, 400 West Glendale Avenue, Bedford, OH 44146-3299
Glendale Habitat Discovery Garden
Participants in the Glendale Habitat Discovery Garden project are working with Glendale Primary School to improve and expand the land laboratory that currently exists on the school grounds. The organization will also work with the Bedford City school district to integrate environmental education materials into the school's curriculum. The focus of Glendale's hands-on education program, which targets staff, PTA members, and students, is on biodiversity and sustainability.
1996
OH
5
Rivers Unlimited Mill Creek Restoration Project -- $35,000 (HQ Grant)
Robin Corathers, Suite 610, Two Centennial Plaza, 805 Central Avenue, Cincinnati, OH 45202
Exploring the Mill Creek Valley (Phase II)
The Rivers Unlimited Mill Creek Restoration project develops environmental education methods and materials for use in middle and senior high schools and communities near the severely polluted Mill Creek ecosystem in southwest Ohio. Exploring the Mill Creek Valley (Phase II) is working to motivate the communities to improve the quality of the creek by creating computer simulations of healthy landscapes and incorporating this information into interactive/multimedia materials and public exhibits. The target audience is 104 teachers and adult volunteers and 800 participating high school students attending 15 schools in the Mill Creek area.
1996
OH
5
University of Akron -- $23,954
Dr. Helen Qammar, Department of Chemical and Civil Engineering, University Research Center, Akron, OH 44325-2102
Vertical Integration of Environmental Design for Engineering Students
Vertical Integration of Environmental Design for Engineering Students is a new environmental design curriculum being developed to engage engineering students in practical field experience. The curriculum presents students with a realistic case study about a small urban company in northeast Ohio and teaches them how to develop a pollution prevention and waste remediation design for the company. It is designed so that students can continue their work on the curriculum as they progress through their undergraduate degree program. The university hopes to promote environmental careers through the program and will share the course framework with other schools.
1996
OH
5
University of Cincinnati, School of Planning/DAAP -- $5,000
Dr. Jan Fritz, Professor, Box 210073, Cincinnati, OH 45221-0073
Environmental Justice Workshops
University of Cincinnati's School of Planning is integrating the topic of environmental justice throughout workshops on habitat, waste, environmental health, and water. Workshops target elementary teachers, camp counselors, and youth program directors who work with inner-city children in Cincinnati. In addition to highlighting a multitude of environmental education resources, the workshops require participants to critically examine local environmental justice issues.
1996
OK
6
East Canadian County Conservation District -- $4,201
Tamra Mach, 1625 E. Highway 66, El Reno, OK 73036
Environmental Education for a New Generation
Through Resources Days and Wildlife Education Days, 1,180 students in kindergarten through sixth grade are learning about local conservation issues through hands-on activities and an investigative approach.
1996
OK
6
Jasmine Moran Children's Museum -- $4,995
Tommy Mills, P. O. Box 1828, Seminole, OK 74868
Aquatic Education Exhibit
The Aquatic Education Exhibit is being refurbished and further developed to teach about water pollution problems using a hands-on scientific method. Large tanks filled with water, fish, and plants show the effect of a polluted environment and how polluted water can be turned into clean water. Forty-thousand students are expected to visit annually.
1996
OK
6
Oklahoma State University, Division of Agriculture -- $5,000
C.B. Browning, 139 Agriculture Hall, Stillwater, OK 74078
ECO-Camp: Environmental Education and Conflict Resolution Camp for Teen Leaders
ECO-Camps give participants from different backgrounds a balanced view of factors underlying environmental controversies and provide a set of conflict resolution skills to aid in addressing issues causing conflict. The project builds capacity at the local level for environmental education by introducing teen leaders to environmental concerns and building conflict resolution skills.
1996
OR
10
Central Oregon Environmental Center -- $5,000
Peter Geiser, 16 NW Kansas Street, Bend, OR 97701
Journey for the Planet - The Kids Ecoteam Program
This project educates 950 sixth-grade students in the Bend-LaPine School District about sustainable lifestyle practices. A step-by-step workbook, Journey for the Planet - The Kids Ecoteam Program, is provided to the children to learn how to change their behaviors and influence others to become more eco-wise consumers. In-service training is provided to the teachers. The project promotes partnerships with community and public organizations and empowers the students to make informed and responsible environmental decisions affecting pollution prevention.
1996
OR
10
City of Gresham - Department of Environmental Services -- $5,000
Amy Cortese, 1550 N.W. Eastman Parkway - Suite 175, Gresham, OR 97030-3830
Naturescaping for Clean Rivers
The Naturescaping for Clean Rivers program prevents pollution and improves wildlife habitat in a rapidly developing community. It informs, demonstrates, and involves volunteers in native landscaping, restoration, and enhancement of property while reducing reliance on water, fertilizers, pesticides, and energy. The project hosts workshops for 120 local property owners in the Gresham area. These workshops include field trips to demonstration sites and classroom learning about watersheds, the individual's connection to water quality, native plants, and the basic landscape design techniques. Neighborhood leaders are being recruited and trained to participate in demonstration site projects and volunteers are being recruited to assist with planting native vegetation throughout the city.
1996
OR
10
La Grande School District - La Grande High School -- $13,167
Dolores Carmichael, 2802 Adams Avenue, La Grande, OR 97850
Watershed and Forest Health Education Program
Under this grant, the school district is educating 882 high school students in the biological, social, and political issues involved in watershed and forest management using an outdoor laboratory setting. Aquatic survey data from Sheep Creek and pre-reforestation data from the Rebarrow Experimental Forest is being gathered and compiled by the trained teams of students. Data will be digitized and Geographic Information System (GIS) analysis will be conducted, then restoration and enhancement projects will be written and implemented for the watershed and forest study sites.
1996
OR
10
Marcola School District 79J -- $4,997
Maurice Thorne, 38300 Wendling Road, Marcola, OR 97454
Preserving a High Quality Watershed
This project expands the existing water quality monitoring program to include the high school students and other Marcola residents; propagates native plants in the school-owned arboretum; conducts cleanup and restoration projects and riparian surveys along the Mohawk River and Cartwright Creek; and, leads to the exchange of information with other school districts. These activities are being made possible by workshops with teachers, students, and residents in collaboration with McKenzie Watershed Council partner organizations and the Global Rivers Environmental Education Network. The information, data, and experiences gathered in the water quality monitoring program and workshops are being used as tools to address drinking water and groundwater protection, aquatic and upland habitat protection, and nonpoint source pollution in rural areas.
1996
OR
10
National Wildlife Federation -- $19,085
Beth Stout, 921 S.W. Morrison Suite 512, Portland, OR 97205
Schoolyard Wildlife Habitat
This project creates schoolyard wildlife habitats as outdoor classrooms at three elementary schools and one middle school in the Portland area, reaching approximately 400 students. Twelve to 16 teachers and 25 parents are trained to integrate use of the habitats into the overall school curriculum. The Federation is writing and distributing a workbook for teachers and schools on how to create schoolyard wildlife habitats in this region.
1996
OR
10
Oregon 4-H Foundation -- $5,000
Virginia Thompson, 5390 4-H Road NW, Salem, OR 97304
4-H EM*Power Waste Management Curriculum
The 4-H EM*Power Program (new 4-H Environmental Stewardship Waste Management curriculum) in Oregon is being implemented through workshops to build state-wide capacity to educate youth in waste management. These workshops are for teachers and other educators from both formal and nonformal programs. Under the leadership of adults trained in EM*Power workshops, youth in sixth through ninth grades are identifying waste management concerns; learning how waste management concerns become issues, and becoming empowered to take action on waste management issues in their community.
1996
OR
10
Oregon Groundwater Association -- $4,900
Nancy Sippel, 4130 SW 117th, #465, Beaverton, OR 97005
Sharing the Wealth: Groundwater, Oregon's Buried Treasure
This project improves environmental education skills for teachers and students through workshops providing the basis for each school (seven selected schools around the state) to develop a unique groundwater strategy as a community outreach component. Students have a unique opportunity to create, develop, and manage a project that challenges their critical thinking, problem solving, communication, and research skills. The target audiences for this project include: the middle through high school students and teachers from the seven schools throughout Oregon who receive buried treasure chests and participate in the workshop training, and the general public in the communities of the participating schools who gain a better understanding of the prevention of groundwater contamination.
1996
PA
3
Allentown School District -- $4,325
Jane Dotter, 31 South Penn Street, Allentown, PA 18101
Training Elementary Teachers in Outdoor Environmental Workshops
A minority school in downtown Allentown will integrate environmental education into the school curriculum for math, science, and English by training first through fourth grade teachers in outdoor environmental workshop settings.
1996
PA
3
Fairmont Park Historic Preservation Trust -- $5,000
Amy Freitag, 1616 Walnut Street, Suite 2310, Philadelphia, PA 19103
Community-based Environmental Education Program to Restore Significant Portions of Fairmont Park Landscape
The project will reach out to an ethnically and economically mixed community of 15,000 residents in the Sedgeley Park Area of Philadelphia. The goal of the program is to increase community care, use, and appreciation of the park as a community-based ecosystem and sustain regeneration of diverse native plant and animal species.
1996
PA
3
Pittsburgh Voyager -- $5,000
Beth O'Toole, 2000 Mary Street, Pittsburgh, PA 15203
A River Based Learning Center
This project will create a unique environmental science classroom program aboard a boat turned science laboratory. The project includes a field study to increase knowledge of freshwater ecology and river ecosystems, enhance analytical and problem solving skills, and create environmental consciousness and responsibility.
1996
PA
3
Pocono Mountains Chamber of Commerce -- $4,800
James H. Catanach, 556 Main Street, Stroudsburg, PA 18360
Waste Reduction/Recycling Program for Small Businesses
This innovative recycling and waste reduction program will provide the necessary audit manuals and educate small business personnel on how to conduct waste reduction audits.
1996
PA
3
School District of Philadelphia -- $2,050
Lauren Giddings, 21st St. South of the Parkway, Room 204, Philadelphia, PA 19103
Cleveland School Ecology Thematic Plan
This project will enable North Philadelphia's Grover Cleveland High School's 150 students to have the resources, materials, literature, and site visits to put into action their Ecology Thematic Plan in the 1996 to 1997 school year.
1996
PA
3
The Academy of Natural Sciences -- $22,625
Kathleen Fadigan, 1900 Benjamin Franklin Parkway, Philadelphia, PA 19103
The George Washington Carver Summer Scholars Program
Top participants at Philadelphia's George Washington Carver Science Fair will be recruited to participate in a summer scholars program. The Carver Fair is the nation's largest and most comprehensive urban science fair. Summer scholars will meet with Academy researchers, conduct research, and learn about environmental issues and careers.
1996
PA
3
Wildlands Conservancy -- $4,996
Rhonda Dietz, 3701 Orchid Place, Emmaus, PA 18049
Little Lehigh Watershed Curriculum Improvement Project
The Wildlands Conservancy teacher training project will expand knowledge and use of the Conservancy's well-known and highly regarded Little Lehigh Watershed curriculum.
1996
PA
3
Wissahickon Valley Watershed Association -- $2,364
Judith Gratz, 12 Morris Road, Ambler, PA 19002
Monitoring Water Quality of the Wissahickon Creek
Teachers and high school students in the Environmental Club in North Penn High School will investigate the Wissahickon Creek and conduct monthly water monitoring and study.
1996
PA
3
Zoological Society of Philadelphia -- $4,994
Ronald Fricke, Jr., 3400 West Girard Avenue, Philadelphia, PA 19104-1196
Junior Zoo Apprentice Program
Teaming up with the YMCA of Philadelphia and vicinity Black Achievers Program, the Philadelphia Zoo is beginning a Junior Zoo Apprentice Program. Urban youth will gain job skills and self-esteem, and they will begin to understand more about conservation, biology, and environmental careers.
1996
PR
2
Puerto Rico Agricultural Service (PRAES) -- $24,500
Nilda Gonzales, University of Puerto Rico, P. O. Box 5000, College Station, Mayaguez, PR 00681-5000
Superheroes of The 4-H Environmental Project
The Superheroes of The 4-H Environmental Project is targeting students in seven elementary schools in northeastern Puerto Rico's Canovanas, Loiza and Rio Grande communities. During the program, Puerto Rico Agricultural Service (PRAES) professionals and youth leaders are being trained and developing a curriculum; the youth leaders will implement the in-school activities. During the final phase, students and leaders will evaluate situations and make decisions (watch, think, and preserve) related to the environment in their locale. The program goal is develop a group of future decision makers who will make environmentally sound evaluations to protect and preserve natural resources.
1996
PR
2
University of Puerto Rico, Humacao University College -- $49,841 (HQ Grant)
Alida Ortiz, UPR Sea Grant Program, Humacao, PR 00792
Solid Wastes and Marine Debris: From Awareness to Action In-Service Training Workshop for Teachers in Puerto Rico
The University of Puerto Rico--Humacao University College project takes the problem of marine debris and solid waste from awareness to action. Solid Wastes and Marine Debris: From Awareness to Action In-Service Training Workshop for Teachers in Puerto Rico consists of a one-year, hands-on field workshop project that: (1) infuses the solid waste disposal problem as an environmental education component throughout the formal curriculum in Puerto Rico's school system, (2) trains 60 teachers with hands-on field experience in the scientific, social, and economic aspects of the solid waste problem, and (3) promotes the change of attitudes and behavior in students to lead to a reduction in the amount of solid waste found on Puerto Rican beaches and roads. The project reaches 60 teachers, but impacts more than 10,000 students.
1996
RI
1
Rhode Island Zoological Society, Roger Williams Park Zoo -- $4,997
Dr. Anne Savage, 1000 Elmwood Avenue, Providence, RI 02907
Water of Our World: Monitoring Ecosystems in Southern New England and Colombia
Water of Our World: Monitoring Ecosystems in Southern New England and Colombia, South America is expanding on an existing project in which teachers and students from Rhode Island and Colombia learn about water quality, perform water quality monitoring, and share information between the two countries. This year, seven teachers with nearly 240 sixth through tenth grade students from Rhode Island and three teachers with 120 students from Colombia will participate in this program by monitoring and working to preserve a river near each school.
1996
RI
1
Southern Rhode Island Conservation District -- $5,000
Charlotte Spang, P. O. Box 1522, Kingston, RI 02881
Active Watershed Education for the Narrow River and Saugatucket River Watersheds
The Active Watershed Education project is increasing awareness and knowledge about the Narrow River and Saugatucket River watersheds and providing the future stewards of these watersheds with the skills needed to make informed decisions about local environmental issues. The program will revise and disseminate existing watershed-specific curriculum guides, train 20 upper elementary and middle school teachers in the uses of this curriculum, and assist teachers and their students in assessing local environmental issues and conducting student-driven, community action projects related to these issues.
1996
RI
1
The Providence Plan, Providence -- $5,000
Jane Sherman, The Hanley Building, 56 Pine Street, Providence, RI 02903
Woonasquatucket River Environmental Education Program
Woonasquatucket River Environmental Education Program for educators and residents is teaching area residents about the benefits of the river and its wildlife habitats and enabling them to educate others about the subject. Joined by the Community Outreach Coordinator of the Providence Plan, the Rhode Island Audubon Society will work with teachers in elementary and middle schools along the river corridor, train a staff of five from the organization Progresso Latino, and train adults from communities along the river. The organization will select existing environmental education materials, translate them into Spanish, and use them for the training program. Once trainers have been trained, ongoing outreach programs to additional area residents will be conducted.
1996
RI
1
University of Rhode Island, Cooperative Extension Education Center -- $4,959
June Kinigstein, East Alumni Avenue, Kingston, RI 02881-0804
School Yard Gardens Project
This project will provide hands-on training and curriculum materials to enable 20 first through sixth grade teachers to establish and maintain with their students a natural vegetable and herb garden on their school grounds. Project objectives are for children in participating schools to become knowledgeable and skilled in pollution prevention concepts and techniques related to water, soils, and nonpolluting alternatives to pesticides and herbicides.
1996
SC
4
Furman University -- $24,900
Kenneth Sargent, 3300 Poinsett Highway, Greenville, SC 29613
Paris Mountain Watershed Laboratory
The Paris Mountain Watershed Laboratory project is educating undergraduates for careers in the environmental sciences. The Roper Moutain Science Center will conduct workshops for elementary, middle, and secondary school teachers as part of a watershed dynamics study. Students will be involved in watershed demonstration projects.
1996
SC
4
York Technical College -- $5,000
Dr. Edward Duffy, 452 S. Anderson Road., Rock Hill, SC 29703
Quality of Life to Quality of Water
The Quality of Life to Quality of Water project is promoting environmental careers and developing new environmental education programs. The student newspaper, campus promotions, faculty advisory meetings, and regular classes are being used to communicate the opportunities in environmental careers.
1996
SD
8
South Dakota School of Mines and Technology -- $18,082
Dr. Jon J. Kellar, 501 East St. Joseph Street, Rapid City, SD 57701
Environmental Summer Camp for Reservation Students
The Environmental Science and Technology Summer Camp is designed for middle school students on the Pine Ridge Reservation and uses a culturally-sensitive environmental management curriculum. It stimulates middle school students to pursue careers in engineering and science.
1996
SD
8
South Dakota State University -- $5,000
Tim Nichols, 156 Ag Hall, Box 2207, Brookings, SD 57007
Environmental Education for Native Americans
The Environmental Education Camp for Native American High School students in Brookings, South Dakota is stimulating interest in environmental careers. Native Americans are being used as role models in the natural resource sciences. Students are taught sound environmental decision-making practices.
1996
TN
4
Friends of Great Smoky Mountains National Park -- $5,000
Charles Maynard, 134 Court Ave., Sevierville, TN 37862
Correlation of Curriculum to North Carolina Standards
This project correlates the second, fifth, and seventh grade units of the existing curriculum in Tennessee for kindergarten through eight grade students with the North Carolina State curriculum standards and objectives. These units will educate students to recognize threats to their environment and includes approximately 1,000 participants who are residents of the Cherokee Indian Reservation. The project will make use of the Great Smoky Mountains National Park as a hands-on teaching site.
1996
TN
4
Tennessee Agricultural Extension Service -- $5,000
Robert Burns, P. O. Box 1071, Knoxville, TN 37901-1071
Animal Waste Management Training
The Animal Waste Management Training project is presenting a workshop to agricultural extension agents concentrating on the selection of new animal waste management systems and the operation and maintenance of both new and existing systems. The goal is to increase the environmental knowledge of livestock producers so that their waste management systems will meet all environmental regulations and function in an environmentally sustainable manner.
1996
TN
4
Tennessee Technological University -- $5,000
Dr. Foydor Shutov, Campus Box 5077, Cookeville, TN 38505
Plastics Recycling Workshop for Teachers
The Plastics Recycling Workshop for Teachers is training a group of teachers about the environmental importance of recycling plastic materials. A unit of instruction for seventh through twelfth grades will be developed and presented during a one-week teachers' workshop.
1996
TX
6
Central Independent School District -- $5,000
Susan Sanders, P. O. Box 39, Pollok, TX 75969
Central Independent School District (CISD) Outdoor Education Facility
An outdoor education and research facility for students in seventh through twelfth grade is being developed to address local environmental issues and problems where clearing of pine forests is a major issue. The site is also being used for teacher in-service training for such hands-on curricula as Project WILD and Project Learning Tree.
1996
TX
6
Edinburg CISD -- $3,760
Elizabeth Sanches, P. O. Box 990, Edinburg, TX 78539
Tracing River Field Trips: How Clean Water Affects Health
Field trips are being provided for fourth grade students to sites on the Rio Grande to monitor water quality, tour the river system and city water treatment plant, and study health issues related to water pollution.
1996
TX
6
Grapevine-Colleyville ISD -- $5,000
Sherri Steward, 3223 Mustang Drive, Grapevine, TX 76051
Environmental Outreach Program
This environmental outreach program helps high school students become mentors to students in kindergarten through sixth grade. Presentations are being conducted in a unique outdoor laboratory.
1996
TX
6
Green Classroom -- $67,430 (HQ Grant)
Carla Marshall, 1701 Briar, Austin, TX 78704
The Green Classroom Community Environmental Learning Center
The Green Classroom, Inc. project forges an environmental education partnership--a Junior/Senior Alliance--between elementary school children and adults in Austin, Texas. The Green Classroom Community Environmental Learning Center includes an environmental resource library to provide a forum for the junior/senior alliance. Both adults and children from the community together use the center to work on environmental issues and exhibits. An existing, well-established environmental curriculum framework is being distributed via workshops, videos, newsletters, and other means to these individuals and to a broader audience that includes the Austin Independent schools and state-wide schools. The project reaches 420 students from a low socioeconomic minority neighborhood (Bouldin Creek), 1,200 households, and 13,000 teachers from the Austin Independent School District and elsewhere in the state.
1996
TX
6
Jesse H. Jones Park Volunteers -- $4,495
Karen Stockton, 20634 Kenswick Drive, Humble, TX 77338
C(onserve), P(reserve): R(enew) for Water Drops
This project involves a series of 24 water awareness programs and hands-on field study trips for 500 students who are 10 to 17 years old. The programs will be presented at the Jesse Jones County Park, a bottomland habitat preserve.
1996
TX
6
Red River Valley Girl Scout Council -- $5,000
Ginger Haan, 2025 NW Loop 286, Paris, TX 75460
Explore the World of Science & Nature at Camp Gambill
The science and nature camp will offer 100 to 150 youth hands-on activities to increase their knowledge of native ecology and techniques for Trident Prairie restoration and provide an outdoor laboratory for biological, ecological, and cultural studies.
1996
TX
6
River Basins Institute, Inc. -- $5,000
Gary Endsley, P. O. Box 1104, Atlanta, TX 75551
Environmental Leadership Bridge Program
The Environmental Leadership Bridge Program links minority and female high school students with environmental science occupations related to the local forest products industry. At a one-week field school, hands-on curricula allow participants to conduct those activities traditionally performed by environmental scientists.
1996
TX
6
Texas Natural Resource Conservation Commission -- $24,500
John Janak, 12100 Park 35 Circle, Austin, TX 78753
Teaching New Drivers about the Impact of Their Vehicles on Air Quality
This project includes developing a video and classroom curriculum for high school drivers' education classes with emphasis on stopping air pollution at one source, the automobile.
1996
TX
6
The Fort Worth Audubon Society -- $3,900
Norma Bartholomew, 4904 Bonnell, Fort Worth, TX 76107
Environmental Outreach for Inner-City Youth
Approximately 200 inner city Hispanic youth from 9 to 15 years old are participating in hands-on environmental awareness activities including recycling, tree planting, and involvement with community service.
1996
TX
6
The Nature Conservancy -- $5,000
Lisa Williams, P. O. Box 1440, San Antonio, TX 78295
The Seeds of Knowledge
A pilot program in two schools is teaching junior high and high school students the value of native plants and how to produce seedlings for habitat restoration. Fifth grade students are participating in tree planting.
1996
UT
8
University of Utah -- $5,000
Christie Probst Lassen, Red Butte Garden and Arboretum, 1471 Federal Way, Salt Lake City, UT 84102
Workshops Teaching Skills
This Canyon Conservationist Educator Workshop introduces key concepts and environmental field methods into the science curriculum. It provides environmental education and outdoor teaching skills to both teachers and nonformal educators.
1996
UT
8
Utah Society of Environmental Education -- $5,000
Tim Brown, 350 South 400 East, Suite G-4, Salt Lake City, UT 84092
Trunk Survey Project
The Trunk Survey project consists of trunks containing environmental education materials and activities to be used by teachers. An inventory is being published to list existing environmental education trunks and how they can be accessed. The trunks are designed according to identified needs and are used to conduct workshops to improve environmental education teaching skills.
1996
UT
8
Utah State University -- $21,849
Dr. Sharon Ohlhorst, Cache County, Logan, UT 84322
Schoolyard Classrooms
This project involves schoolyard classrooms in northern Utah where master teachers are trained to use the yard for teaching environmental stewardship. The project is a collaboration of seven school districts working to extend their classrooms into nearby areas.
1996
UT
8
Utah Valley State College -- $4,978
James C. Callison, 800 West 1200 South, Orem, UT 84058-5999
Career Awareness in Environmental Technology
This five-day, hands-on training program promotes career awareness in environmental technology. The target audience is comprised of high school students of the Ute Indian Tribe.
1996
VT
1
Lyndon State College -- $5,000
Frances Barhydt, Vermont Energy Education Program, Lyndonville, VT 05851
Energy and the Environment: A Teacher Training Program
Energy and the Environment: A Teacher Training Program is providing teachers and students in fifth through eight grades with the opportunity to work with the Vermont Energy Education Program (VEEP) "Energy-Scientist-in-the-Classroom." VEEP provides teachers of third through eighth grade with workshops, teaching materials, equipment and supplies, and on-site follow-up to empower them to provide their students a thorough thematic approach to energy efficiency, renewable energy, and the environment.
1996
VT
1
Vermont Association of Conservation Districts -- $5,000
Nancy Allen, RD 2, Box 3420, Middlebury, VT 05753
Vermont Envirothon
Vermont Envirothon is a growing national environmental education program aimed at public and private high school students and their teachers. The program is designed to improve environmental awareness and appreciation for wise management and use and protection of natural resources by our future decision makers. A training workshop conducted in the spring provides students and teachers an opportunity for hands-on learning through research, discussion, and evaluation of natural resource issues. Students then participate in a statewide competition with finalists going on to compete in a national Envirothon.
1996
VA
3
Black Diamond Resource Conservation and Development Council -- $5,000
Blaine Delaney, Route 4, Box 49, Lebanon, VA 24266
Southwest Virginia Environmental Education Conference
This project involves training to improve the environmental education skills of kindergarten through twelfth grade teachers within the Black Diamond Resource Conservation, and Development Area. A conference will be held for the six counties in the southwestern tip of Virginia. The conference will raise educator's awareness of the unique area of Appalachia and will build a network of knowledgeable educators on environmental issues.
1996
VA
3
Close-Up Foundation -- $8,300
Shannon McLeod, 44 Canal Center Plaza, Alexandria, VA 22314
Citizens and the Government: Partnership for Environment Change
This project will prepare young people for effective and constructive participation in the government by analyzing the need for government control of environmental issues in each community.
1996
VA
3
Project Underground Incorporated -- $5,000
Diane Barnes, P. O. Box 13079, Richmond, VA 23225
Project Underground
This is a multi-disciplinary environmental education program designed for use by educators of kindergarten through twelfth grade. The activities are designed to increase critical thinking, problem solving, and other process skills within the understanding of underground systems. Teaching about caves and underground resources of local karst areas is important in Appalachia due to the limited groundwater resources vulnerable to contamination.
1996
VA
3
Reston Environmental Education Foundation -- $5,000
Susan Russell-Robinson, P. O. Box 3421, Reston, VA 20190
H.O.S.E. - Hands on Solar Energy - Phase II
The funds from this grant will support a training workshop to equip three to four staff members of the Reston Association to present energy conservation and solar energy programs to school and summer camp participants through Hands on Solar Energy Phase II.
1996
VA
3
The Environmental Education Center (formerly The Miller School of Albermarle) -- $5,000
John Hermsmeier, P. O. Box 2377, Charlottesville, VA 22903-9328
Building a School-Based Habitat Network
The Environmental Education Center will use grant funds to host teacher workshops focused on school yard habitats, building partnerships to establish habitat areas, and maintain the person-to-person network created by the partnerships through computer networks.
1996
VA
3
Virginia Polytechnic Institute and State University -- $5,000
Dr. William Conger, Dept. of Chemical Engineering, 133 Randolph Hall, Blacksburg, VA 24061-0249
Green Engineering
This "green engineering" course will introduce students to careers in environmental fields and promote a greater understanding of the role of technology and its impact on society. Approximately 60 university students of diverse backgrounds will take part. Graduates of this course will become future engineers, scientists, business professionals, and teachers.
1996
WA
10
Blue Mountain Demonstration Forest -- $5,000
Jack Waud, P. O. Box 3143, Port Angeles, WA 98362
The Blue Mountain Demonstration Forest
The Blue Mountain Demonstration Forest will be used as the field site for outdoor studies to develop an education program about forest ecosystems and modern forest practices for 25 elementary school teachers and 100 children in the Sequim and Port Angeles School Districts. The project is training teachers to use the curriculum and access the forest.
1996
WA
10
Chief Leschi School of the Puyallup Tribe -- $5,000
Cherlyn Pijanowski, 5625 52nd Street, E., Puyallup, WA 98371
Chief Leschi School of the Puyallup Tribe
This project provides teacher training towards improving lesson plans that promote environmental stewardship for 12 kindergarten through twelfth grade Native and Non-Native teachers and four Native American students at the Chief Leschi Tribal School. Approximately 400 students will benefit from this training. The training focuses on watersheds, wetlands, degradation impacts on anadromous fisheries and shellfish, and environmental justice. The workshops are hands-on training that emphasize problem-solving and critical thinking skills. The training is conducted with a variety of community-based partners.
1996
WA
10
RE Sources -- $13,275
Carl Weimer, 1155 N. State #625, Bellingham, WA 98225
Northwest Airnet Air Quality High School Project
This project adopts New England's successful "Air Net" project, based on air quality and atmospheric science curriculum, for 1,500 high school students in a three-county area in Northwest Washington. Products include a teacher-training workshop, air quality in-class presentations, an end-of-year "Congress" in which students will exchange results and information on what they have learned, and an Internet news group for teachers and students to share results of air quality experiments.
1996
WA
10
Salish Sea Discovery Center -- $5,000
Katherine Murphy, 9948 Shorty Campbell Road, Kingston, WA 98346
Salish Sea Program
The Salish Sea Program involves 1,200 students in seventh through twelfth grades each year in researching and taking action on 40 issues facing the quality of Puget Sound waters. The program occurs in the students' classrooms, in the local community, and aboard a student-operated research sailing vessel. Students experience scientific careers through participating in the daily tasks of those areas. Approximately 40 to 80 teachers are exposed to a community-based action-oriented approach to presenting environmental education, and ultimately will provide existing grassroots groups with young adults who have the skill and motivation to act to solve environmental problems.
1996
WA
10
Seattle Audubon Society -- $5,000
Christine Peterson, 8050 35th Avenue NE, Seattle, WA 98115
Finding Urban Nature (FUN)
Finding Urban Nature (FUN) is a hands-on nature program for third and fourth graders in the Seattle Public Schools. FUN combines the curiosity of children with trained community volunteers, the enthusiasm of knowledgeable teachers and the coordination skills of a highly respected environmental organization. The Seattle Audubon Society trains parents and other volunteers to lead small groups of children through eight separate hands-on environmental education activities over the school year. The explorations take place on the schools grounds, and the children learn that nature is everywhere.
1996
WA
10
St. Martin's College -- $5,000
Huabin Chen, 5300 Pacific Avenue SE, Lacey, WA 98503
Integrating Telecommunication and Technology into Environmental Education
This project develops a core of teacher leadership to support a rural school district's use of telecommunication and other technology within environmental education at the kindergarten through eighth grade level. Elma School District is located in a severely economically depressed western coastal area. It also fosters global awareness and international cooperation in addressing environmental issues, such as acid rain and water quality, through telecommunication. Teachers are trained on how to use electronic mail; explore the Internet; and use CD-ROM programs, videodiscs, probeware, and other technology in environmental education.
1996
WA
10
Steilacoom Historical School District - Saltar's Point Elementary School -- $4,796
Kristina Sullivan, 908 Third Street, Steilacoom, WA 98388
Forest Ecology: Training Project
This grant revises and strengthens environmental education curriculum by incorporating both the work of Project Global Rivers Environmental Education Network (GREEN) and the school's study of forest ecology into a program of study for students in third through fifth grades. The project provides in-service training to teachers in the study of local forest ecology and communicates this teacher expertise to the entire student body through field trips to forested sites.
1996
WA
10
Stevens Elementary School - Seattle Public Schools -- $5,000
Pamela Roberts, 815 4th Avenue, North Seattle, WA 98109
Weather Station - Curriculum Link Project
This project provides hands-on experience with scientific and math concepts through on-site manual and automated weather monitoring systems and data. It develops and supports service learning links between five to ten Seattle Community College students and 120 third to fifth grade students at Stevens Elementary.
1996
WA
10
Washington State Department of Ecology -- $5,000
Christine Corrigan, P. O. Box 47600, Olympia, WA 98504-7600
Central Washington Teacher Workshop
The Department of Ecology is organizing and conducting three teacher air quality workshops in selected rural schools in central Washington. Each workshop trains 15 to 20 teachers and reaches 900 to 1,200 students. The workshops will help teachers incorporate air quality education into their normal curriculum with the message carried home by students.
1996
WA
10
Western Washington University -- $5,000
Marie Eaton, MS 9118, Bellingham, WA 98225
Whatcom Watershed/Service Learning Project
This grant supports the training of teachers, future educators, and students to deliver high quality environmental education and service learning as part of the on-going Whatcom Watersheds Service Learning Project. The target audience includes 30 university students, 120 high school students, 100 elementary school students, 20 teachers, and 10 community members. Funds are used to coordinate two workshops and for watershed and wetlands resource materials.
1996
WV
3
Lightstone Foundation -- $5,000
Dr. Anthony E. Smith, HC 63, Box 73, Moyers, WV 26814
Future Stewards
This project will promote environmental careers for students by providing training and apprenticeships in natural resource conservation, family farming, and rural community development. Federal funding will support wages for five high school students, a project director, and project expenses.
1996
WV
3
West Virginia Division of Environmental Protection -- $5,000
Roseanne Long, 10 McJunkin Road, Nitro, WV 25143
Project WET Teacher Training Workshop: Groundwater Quality Issues
Teachers in four rural eastern West Virginia counties will learn about water and groundwater issues from the West Virginia Division of Environmental Protection (WVA DEP). WVA DEP will use Project WET (Water Education for Teachers) materials to illustrate the issues, which are particularly sensitive to water contamination because of the local karst hydrogeology.
1996
WI
5
Bad River Mashkisibi Tribal School, Bad River Band of Lake Superior Tribe of Chippewa -- $24,696
Angela White, Principal, P. O. Box 39, Odanah, WI 54861
Mashkisibi Watershed Education Project
The Mashkisibi Watershed Education Project will integrate Native American culture into already existing watershed curriculum; offer a high school ecology course; and deliver educator training. Students engage in field work and action-oriented projects from an Ojibwe cultural perspective. Tribal elders will relay values through storytelling and contribute to the curriculum, which will prepare students in northern Wisconsin with the skills needed to address resource conflicts.
1996
WI
5
Cable Natural History Museum -- $4,340
Allison Slavick, P. O. Box 416, Cable, WI 54821
Traveling High School Exhibit and Curriculum.
The Cable Natural History Museum is working with high school biology teachers at Drummond High School to co-teach a course entitled, Environmental Issues and You. During the course, students research, design, and produce a traveling exhibit about regional aquatic environmental issues, such as Lake Superior coastal wetlands. In addition, students are developing accompanying curriculum resources.
1996
WI
5
Milwaukee School of Engineering -- $3,225
Dr. Deborah Jackman, 1025 N. Broadway, Milwaukee, WI 53202-3109
Promoting Environmental Careers through Upward Bound Program
The Milwaukee School of Engineering (MSOE) is integrating an environmental engineering education module into its Upward Bound program for disadvantaged high school students. MSOE's project familiarizes students with the importance of understanding how environmental issues impact the quality of their present and future lives. In addition, the project is sparking the students' interest in environmental careers by taking them on field trips to local landfills and wastewater treatment plants.
1996
WY
8
Wyoming Geographic Alliance -- $17,621
Linda Marston, University of Wyoming, Box 3371, Laramie, WY 82071
Environmental Education Institute
This institute will use a new Internet component to train teachers of kindergarten through twelfth grade in Wyoming about mountain environs, resources, and development. Approximately 300 teachers will participate through an in-service component to produce new or modified activities, including a digitized map to be used on the Internet in classrooms throughout Wyoming.
1996
WY
8
Wyoming Girl Scout Council -- $4,996
Jane Caller, P. O. Box 50307, Casper, WY 82605
No Trace Camping
This project recruits and trains program specialists. It provides the Girl Scouts an analysis of old accepted methods of camping and explores new alternatives for preserving the environment by adopting a "no-trace" camping program. Through this project 455 girls from Wyoming and Colorado participate at a resident camp and 1,900 girls at a day camp. The project includes girls from the Wind River Indian Reservation.
1997
AL
4
Cahaba River Society -- $17,500
Rachel Reinhart, 2717 7th Avenue South, Suite 205, Birmingham, AL 35233
Cahaba/Black Warrior Clean
This project provides for 105 water resource field trips for approximately 2,300 students and 60 teachers. Four teacher workshops, each a week in length; six day-long teacher field trips and planning sessions; and fifteen curriculum training workshops, each a full-day session, are conducted for 315 teachers. A curriculum developed by the Chesapeake Bay Foundation was adapted to create an interdisciplinary classroom and field curriculum that is tailored to regional issues and that complements the field experiences.
1997
AL
4
Cullman County Soil and Water Conservation District -- $5,000
Robert Harbison, 301 1st Street N. E., Cullman, AL 35056-1456
Teaching the Teachers
Under this project, teachers and other educators learn to develop and deliver their own environmental education programs for elementary and secondary school students. In addition, members of conservation district boards and Earth Team volunteers have the opportunity to participate in workshops. The two-day workshop trains participants to use the material provided to teach classes and gives them the opportunity to practice their newly acquired skills in a classroom setting.
1997
AL
4
Franklin County School System/East Franklin Junior High School -- $5,000
Wyatt Hutcheson, P. O. Box 610, Russellville, AL 35653
Development of an Environmental Education Program
This project develops an environmental education center at the East Franklin Junior High School. The center includes an outdoor classroom and nature trail that has a wetlands habitat, a bird habitat, and a native plant habitat. The project is designed to teach students about the threats to human health posed by pollution and to educate them about environmental careers. A companion workshop trains teachers in the use of Project Learning Tree.
1997
AL
4
Jacksonville State University -- $162,615 (HQ Grant)
Margaret B. Bogan, 700 Pelham Road North, Jacksonville, AL 36265
Environmental Education, From Awareness to Action
Under this teacher training project, secondary school teachers improve their skills at 11-day in-service workshops, during which they examine model teaching strategies. The project is intended to increase the teachers' environmental awareness and attitudes, as well as to prompt them to take action to influence the use of water resources and to foster public understanding of the effects of such use. Teachers learn new teaching and assessment strategies that inspire students to become active learners and high achievers, communicate with an international network of colleagues teaching about the environment, facilitate action programs for students, and provide district in-service education. The teachers keep and submit notebooks of the projects and Internet communications their students conduct. The project serves teachers in Alabama, Florida, Georgia, Kentucky, Mississippi, North Carolina, South Carolina, and Tennessee.
1997
AK
10
Alaska Bird Observatory - Fairbanks -- $4,995
Nancy DeWitt, P. O. Box 80505, Fairbanks, AK 99708
Songbirds of Interior Alaska
The purpose of the Songbirds of Interior Alaska project is to create an interactive workbook and curriculum module guide for kindergarten through sixth-grade programs that promotes conservation of migratory and resident birds in Alaska's boreal forest. The project provides in-service training for 60 elementary school teachers in the North Star Borough School District, Fairbanks, where minorities represent more than 25 percent of the school population. Emphasis is placed on activities that introduce students to protection of habitat and bird conservation.
1997
AK
10
Kuigpagmuit Inc. -- $5,000
Vince J. Beans, P. O. Box 32209, Mountain Village, AK 99632
Tribal Environmental Training Program
The Tribal Environmental Training Program is intended to establish a culturally sensitive environmental education program that emphasizes tribal responsibility for dealing with hazards created by human activities. Under the project's Trainers-of-Trainers (TOT) component, biologists and environmental scientists from the Native American Fish and Wildlife Society provide culturally sensitive training to tribal leaders in three Yu'pik Eskimo villages. The society's technical assistance database is available to the project, as well. Each TOT graduate implements at least two community activities, using a plan the trainer developed through the TOT program. Under the program, a game and a community awareness activity are being developed, and information is being made available on the World Wide Web.
1997
AK
10
University of Alaska - Fairbanks -- $4,782
Douglas Schamel, Institute for Arctic Biology, P. O. Box 757000, Fairbanks, AK 99775-7000
Wetlands Ecology Training Project
The Wetlands Ecology Training Project (W.E.T.) is conducting a series of interactive workshops and outdoor activities for elementary teachers who have little or no experience in the conduct of scientific investigations. The project increases teachers' knowledge of pond ecology, methods of scientific investigation, and use of scientific equipment and relevant curriculum materials. Teachers learn firsthand how to conduct field studies and use scientific supplies. The workshop requires that each participant conduct an investigation with his or her class. The project is being conducted in the North Star Borough School District, Fairbanks, which has 9,400 students in 19 elementary schools. Minorities, most of whom are Alaska natives, make up approximately 25 percent of those students.
1997
AS
9
American Samoa Community College -- $5,000
Don Vargo, P. O. Box 26, Pago Pago, AS 96799
Field Guide to the Wildlife of the Protected Areas of Samoa
American Samoa Community College, Pago Pago, is developing a field guide to the wildlife that inhabit Samoa's wetlands, rain forests, and coral reefs. The guide is intended for use both in the field and in the classroom by middle and high school students and adults to identify wildlife species that inhabit protected areas of Samoa. The guide describes and illustrates in full color numerous species of birds, fish, and reptiles and includes thought-provoking questions and activities that stimulate an understanding of the environmental challenges facing the tiny island ecosystem. Key partners that provide monetary or technical support to the project include the American Samoa Environmental Protection Agency, the Department of Education, the Department of Marine and Wildlife, Fagatele Bay Marine Sanctuary, Le Vaomatua, and Le Tausagi.
1997
AZ
9
Agua Fria-New River Natural Resource Conservation District -- $5,000
Kathy Killian, 3150 N. 35th Avenue, Suite 7, Phoenix, AZ 85017
Project Preserve Expansion Effort
This project is designed to expand the community's 20-acre outdoor environmental education facility to include a desert tortoise habitat that complements the dry wash, modern vegetable and flower garden, native Arizona plant garden, pond, and Native American village currently in place. In addition, the curriculum that accompanies the outdoor resource is being updated to incorporate lessons on threatened and endangered species and on aquatic ecosystems and water quality. Teachers, in particular 40 who are new to the area, are being trained in the use of the facility.
1997
AZ
9
Arizona 4-H Youth Foundation -- $5,000
Jawanda Mast, 4341 East Broadway, Phoenix, AZ 85040
Maricopa County 4-H Project: Stop Trashing Our Planet
This project trains teenagers from 10 junior high schools to deliver environmental education to schools and community groups. The mentor teens, in keeping with the 4-H learn-by-doing tradition, organize children in their own and nearby schools to participate in recycling activities. The project also is producing a guidebook to help teachers support the teen activities. Partners in the effort include the Extension Service of Maricopa County; Phoenix Clean and Beautiful; and Kennedy K-8 School, which conducted a successful pilot program.
1997
AZ
9
Nothern Arizona University -- $5,000
Lynda Hatch, P. O. Box 4085, Flagstaff, AZ 86011
Northern Arizona University Alpine Partnership
Alpine Partnership brings together faculty and pre-service teacher candidates at the university with staff of informal education facilities in the Flagstaff area to develop and implement an environmental education curriculum that the teacher candidates present to school children and other visitors to those institutions. Lessons developed for this project enable students and visitors to examine and identify the ecological, political, economic, social, and educational issues that affect each environmental decision. Major partners working with Northern Arizona University's Education Department to support the project include Lowell Observatory; the Arboretum at Flagstaff; the Museum of Northern Arizona, and the National Park Service monuments of Walnut Canyon, Sunset Crater Volcano, and Wupatki. Those institutions provide visitor services to approximately 40,000 school children per year, as well as to more than 100,000 other visitors from throughout the United States and the world.
1997
AZ
9
Phoenix College/Maricopa County Community College District -- $23,677
Kathleen Preece, 2411 West 14th Street, Tempe, AZ 85281-6941
Fresh Air Project: Collaborative Program to Link Community Problem Solving and Awareness About Air Pollution to K-12 Systemic Reform Initiatives
This project establishes 35 collaborative teams, each usually made up of a class, a teacher advisor, and a community advisor, to explore air pollution problems in Phoenix. Teachers attend workshops, 20 of which are scheduled under the project, at which they learn about the city's air pollution problems, appropriate hands-on classroom activities, and a format for developing student projects. A similar number of workshops for parents acquaint them with air pollution problems and increase their knowledge of potential hazards to their children's health. During the workshops, parents also explore ways to minimize those effects. The closing event scheduled for the project is a Fresh Air Fest at which students display their science fair projects and explore environmental careers. The event also provides an opportunity to solicit innovative solutions to air quality issues in the Phoenix metropolitan area.
1997
AZ
9
Pima Center for Conservation Education -- $4,816
Kimberly Otero, 4343 North Oarcle Road, M-192, Tucson, AZ 85705
A Simulation Activity in Natural Resources Management: Working Within the Framework of the National Environmental Policy Act
This project is developing resource material for social studies classes at Cross Middle School that employ simulation and role-playing to demonstrate the steps usually taken to perform an environmental impact assessment. The students are assigned a role as a member of one of four stakeholder groups: proponents, public agencies, private consulting firms, and the general public. Over the course of several weeks, students visit a site; research the environmental and economic factors that affect it; and identify the regulatory, sociopolitical, and resource constraints that influence the particular position they will defend. The culminating activity is the effective communication to the group of the stand each student developed during the simulation.
1997
AZ
9
Pima County Department of Environmental Quality -- $4,030
John Bernardo, 130 West Congress Street, 3rd Floor, Tucson, AZ 85701-1317
Bilingual Air Quality Education
The Bilingual Air Quality Education project is training 15 teachers who are bilingual in English and Spanish through a half-day workshop designed to increase their knowledge of air quality issues. Each school represented at the workshop receives 10 copies of a clean air curriculum. After the teachers complete the workshop, trainers work with them in their classrooms for a minimum of two class sessions to demonstrate ways to integrate air quality lessons into the classroom schedule.
1997
AZ
9
University of Arizona -- $4,992
Nader Chalfoun, P. O. Box 210075, Tucson, AZ 85721
House Energy Doctor: Interactive Multimedia Workshop
This project conducts energy awareness and conservation seminars at three Tucson high schools. Approximately 120 high school students participate in the round of three workshops. Under a competitive format, teams of 11th-grade science students assess various energy-saving strategies to reduce the utility bills for a residence typical of the neighborhood. Multimedia computer analysis showing the fundamentals of each strategy, the energy-saving results achieved, and the resulting reduction in annual utility bills provides information that students on the various teams use to debate among themselves which plan is most effective before they submit their selections for judging.
1997
AR
6
Sevier County 4-H Council -- $5,000
Ralph Tyler, 115 N. 3rd Street #212, Dequeen, AR 71832
Upstream Educational Activity for Youth
The Upstream Educational Activity for Youth is an intensive educational program aimed at involving students in environmental issues. Youth learn about water quality and assist in the development of programs related to the topic. They develop videos and slide shows on farming, land management, timber operations, and mining. In addition, they show how downstream water quality is affected. Further, the young people collect water and soil samples for analysis.
1997
AR
6
White River Planning and Development District -- $22,900
Van Thomas, P. O. Box 2396, Batesville, AR 72503
Teacher Environmental Education Workshops
The purpose of the project undertaken by the White River Planning and Development District, Inc. (WRPDD) is to enhance public awareness of and involvement in environmental issues in each city and community in the area's 10 counties, which are overwhelmingly rural and poor. The project bases its community outreach efforts on the education of school-age children. To address the need for the establishment of consistent programs in the district's public schools, the project provides a series of environmental education workshops for teachers and informal educators. During the one-day workshops, educators learn how to incorporate concepts related to recycling, composting, and environmental education into their curricula. Each lesson proposed during the workshops can be incorporated into teaching on other subjects, such as mathematics, science, and English, and is accompanied by complete instructions and examples that conform to usual classroom procedures. Staff of the Arkansas Department of Pollution control and Ecology and of the University of Arkansas Cooperative Extension Service join WRPDD in the project by serving as instructors for the workshops.
1997
AR
6
Wilbur D. Mills Education Service Corporation -- $3,800
Shirley Hooks, 210 N. Main Street, Drawer #1016, White County, Beebe, AR 72012
Central Arkansas Student-Teacher Environmental Awareness Congress
The goal of this concentrated project is to increase the understanding of issues related to water quality and related topics among sixth-grade teachers and students. It educates them about the threats that water pollution poses to human health. Teachers, students, and members of community organizations become actively involved through environmental workshops and research conducted by the students. Participants also conduct water-testing activities. Another goal of the project is to organize a Student-Teacher Environmental Awareness Congress to train teachers and students.
1997
CA
9
City of Arcata -- $4,850
Juli Neander, 736 F Street, Arcata, CA 95521
Arcata Marsh Interpretative Center Educational Exhibit
This project provides an interpretive exhibit that demonstrates the unique features of the community's integrated wetland and wastewater treatment facility for an estimated 10,000 annual visitors. The educational exhibits highlight the biological and technical aspects of the use of constructed wetlands to treat wastewater and provide wildlife habitat. As an example of appropriate technologies for the reuse of wastewater and restoration of wetlands, the interpretive center and adjacent wildlife sanctuary attract large numbers of visitors, ranging from school children to public officials and consulting engineers. Using the interpretive displays, Friends of Arcata Marsh conduct educational tours of the facilities that focus on the water cycle, human use of water resources, the use of restored wetlands for wastewater treatment, and wildlife habitats.
1997
CA
9
East Bay Asian Youth Center -- $5,000
Rasjidah Franklin, 2065 Kittredge Street, Suite M, Berkeley, CA 94704
Training Teachers and Teens in Environmental Education
This project provides training through a two-day workshop for 10 high school students and 24 teachers from three elementary schools. The training equips participants to implement compost projects at school sites. Joint workshops for the teachers and students employ inquiry models to teach waste reduction, pollution prevention, and health in the context of urban organic gardening. After training, the high school students serve as mentors to elementary school students to guide the younger students in understanding the relationships among waste, pollution, and nutrition issues. The University of California Cooperative Extension Service in Alameda County and the Alameda County Waste Management Authority collaborate with the East Bay Asian Youth Center in the sustainable urban agriculture project.
1997
CA
9
Friends of Oakland Parks and Recreation/Brookdale Discovery Center -- $5,000
Richard Bolecek, 1520 Lakeside Drive, Oakland, CA 94612
Courtland Creek: An Urban Creek Community Learning Project
The Courtland Creek project provides training for three high school students in the Courtland Creek neighborhood to become training assistants working with adult consultants to increase awareness of the importance of a healthy creek habitat among their peers, their families, and other members of the community. The project focuses on educating teachers, students, parents, community leaders, and the public about the threats that pollution poses to human health. Through hands-on community workshops, participants keep toxic substances out of the creek, restore native plants to the area, and reintroduce native amphibians if water quality proves satisfactory for the survival of those species. Key partners in the project include the Environmental Sciences Academy of the Oakland Unified School District, the California Academy of Sciences, and the Urban Creek Council.
1997
CA
9
George Washington Elementary School/Burbank Unified School District -- $5,000
Richard Moskun, 2322 N. Lincoln Street, Burbank, CA 91504
Habitat Environmental Learning Project
The Habitat Environmental Learning Project (HELP) is developing an environmental science native plant garden on the campus of George Washington Elementary School. Under the HELP project, 90 students in third to fifth grade at Washington and two adjacent schools participate in three-week sessions, working in groups of 15, to learn to identify native plants, cultivate conditions that enhance their growth, compare native ecosystems in the environmental science garden with those in the surrounding neighborhood, and maintain journals to record their activities in support of the project. Information about the progress of the project is disseminated through newsletters distributed to parents, through the local media, and on the school's World Wide Web page. Partners in the project include the Burbank Education Foundation, the City of Burbank Parks and Recreation, and the Burbank Rotary Club and its service unit, Interact, for high school students.
1997
CA
9
Inyo County Office of Education -- $5,000
Lo Lyness, 135 South Jackson Street, Independence, CA 93526
Eastern Sierra Institute for Secondary Students
This project provides 60 to 80 high school students a five-day residential program in the study of issues related to water use. The participants are recruited from Inyo, Mono, and Los Angeles counties. Students become involved in an intensive effort to assess vegetative health, soil conditions, air and water quality, and the water and power infrastructures. They shadow and interact with resource managers and scientists as they practice using on-site investigative tools and laboratories. Partners in the project include the Los Angeles Unified School District; the Bureau of Land Management, the U.S. Department of the Interior; the Inyo County Water Department; the California Department of Fish and Game; and the Los Angeles Department of Water and Power.
1997
CA
9
Los Angeles Educational Partnership -- $18,870
Patricia Dung, 315 West 9th Street, Suite 1110, Los Angeles, CA 90015
Environmental Issues: Chaparral, Wetlands, Coastal Sage, Sand Dunes, and Oak Woodlands
The Environmental Issues project conducts training for 120 teachers in the Los Angeles Unified School District to help them foster awareness among their inner-city students of the interrelationships and interdependency of the ecosystems that surround the city. The project is creating World Wide Web pages that highlight local fragile ecosystems, including chaparral, wetland, coastal sage, sand dune, and oak woodland habitats. Using the Internet to acquaint students with environmental issues that affect those local habitats, the project provides students with current resources and leads them in investigations, virtual field trips, and environmental action projects. Students are enabled to make decisions to act responsibly and to take action in the community to improve the environment for all living things. Partners in the project include the University of California Los Angeles Science Project and the Los Angeles Unified School District.
1997
CA
9
Monterey Regional Waste Management District -- $5,000
Heidi Feldman, P. O. Box 6, Marina, CA 93933
"Small Planet School Education Program: Educational Materials, Teacher Workshops, and Demonstration Area
This project implements a comprehensive program of outreach to the schools to prompt students to become active participants in waste reduction. Teachers in five school districts enjoy opportunities to obtain training in the relationship between the generation and disposal of waste and the environment and human health. The project also is developing materials for classroom use that encourage students to design and manage recycling programs at their schools. Students have the opportunity to visit a waste management facility to learn first-hand how waste is handled at such facilities. Partners in the project include the Monterey County Office of Education, the Watershed Institute of California State University Monterey Bay, and the Monterey City Disposal Service.
1997
CA
9
Oakland Arts Magnet/Far West School -- $10,000
Susan Quinlan, 5623 Broadway Terrace, Oakland, CA 94618
Integrated Recycling and Yard Waste
This composting project is a model meant to guide the Oakland Unified School District's efforts to establish a school-based recycling program for its 120 schools. The project, which is implementing an integrated recycling and yard waste composting project as a model for the school district, is an important aspect of educational reform. Under the leadership of a recycling coordinator, teams of students undergo extensive training to equip them to educate other students, faculty, and staff about the concepts and practice of recycling and composting. The organizational structure of the project focuses on becoming self-sustaining and achieving the goal that 90 percent of all recyclable materials are diverted from the waste stream. Partners in the project include the Oakland Museum, the East Bay Community Foundation, the Alameda County Waste Management Authority, and the City of Oakland.
1997
CA
9
Pacific Oaks College -- $5,000
Jan Brown, 5 Westmoreland Place, Pasadena, CA 91105
Environmental Education Training for Teachers and Young Students
This training partnership project provides six hours of environmental education staff development for 75 teachers of pre-school children. During the project's NaturKind workshops, the teachers learn to use simple activities based on habitats of land snails and earthworms to introduce three- to five-year-old children to ways to explore the world around them. Follow-up support is available to workshop participants by telephone and through on-line computer consultation. Pacific Oaks College collaborates with the Roger Tory Peterson Institute to conduct the NaturKind workshops for Head Start centers, subsidized children's centers, and state pre-school programs.
1997
CA
9
Resource Conservation District of Greater San Diego County -- $4,570
Penny Dockry, 332 South Juniper Street, Suite 110, Escondido, CA 92025
Learning About the Watersheds Through Classroom Presentations
This project expands the Water Awareness: Keeping San Diego Bay Clean program to serve an additional 1,513 sixth-grade students in areas outside the Port District's sphere of influence, but in the overall watershed area. The ongoing program for schools in the Port District focuses on non-point-source pollution from trash, petroleum products, fertilizers, pesticides, and animal waste. Through classroom presentations that are a model of the watershed, students and teachers learn about watershed health by applying problem-solving and decision-making skills to develop an understanding of the causes of non-point-source pollution in the San Diego Bay watershed and of preventive measures that can control such pollution. Partners in the project include the San Diego County Office of Education, the Otay Water District, and the San Diego Unified Port District.
1997
CA
9
San Francisco Recycling Center -- $5,000
Natasha Stillman, 1145 Market Street, Suite 401, San Francisco, CA 94103
Recycle Challenge 2000
Recycle Challenge 2000 is a science-based comprehensive project designed to use service learning to broaden participation in recycling programs at schools in San Francisco. The project promotes participation by training a corps of 20 middle and high school youth recruited from culturally diverse sections of the city. In their own and neighboring schools, the students conduct service learning activities that focus on waste management and recycling. Partners in the project include the San Francisco Unified School District, the San Francisco Volunteer Center, the service program Linking San Francisco, and the San Francisco Clean City Coalition.
1997
CA
9
Save San Francisco Bay Association -- $5,000
Marcia Slackman, 1736 Franklin Street, 4th Floor, Oakland, CA 94612
Seafood Consumption Information Project
This project targets the subsistence fishing population in six Bay Area counties to acquaint them with contaminants in bay waters and with ways to minimize the threats to health that consumption of fish from contaminated waters can pose. The goal of the project is to reach 2,000 individuals, including the fishing population itself, community members and leaders, students at all grade levels, teachers, and health workers. To disseminate its message, the project uses presentations in classrooms, community meetings, health clinics, and libraries, as well as one-on-one outreach to the fishing population. Partners in the project include the Asian Pacific Environmental Network; Estuary Action Challenge, a project of the Earth Island Institute; the Oakland Chinese Community Council; and Impact Assessment, California Department of Health Services.
1997
CA
9
Shasta County Office of Education -- $16,016
David Klasson, 1644 Magnolia Avenue, Redding, CA 96001
Environmental Science Leadership Development Workshops
This project provides five-day workshops for 100 teachers, classroom aides, community coordinators, and natural resource professionals. The two workshops, open to participants from counties in northern California, train participants to use environmental education curricula developed by the Adopt-a-Watershed Foundation, Project WILD, Project Learning Tree, and A Child's Place in the Environment, as well as the California State Environmental Education Guide. Key partners in the project include the Whiskeytown Environmental School; the Adopt-a-Watershed Foundation; the California Department of Education; the Society of American Foresters; Horsetown-Clear Creek Preserve; the California Department of Fish and Game; the Forest Service, U.S. Department of Agriculture; the U.S. Natural Resources Conservation Council; the Western Shasta Resource Conservation District; the Bureau of Land Management, U.S. Department of the Interior; and the Shasta-Tehama Bioregional Council.
1997
CA
9
Water Education Foundation -- $5,000
Judy Wheatley, 717 K Street, Suite 517, Sacramento, CA 95814
Water Conservation in Disadvantaged, Culturally Diverse Inner City Schools
This project provides training in water resources and conservation for 100 primary grade teachers in Sacramento, San Diego, and San Francisco school districts. The workshops focus on the use of educational software developed by the Water Education Foundation, in cooperation with the Bureau of Reclamation and Division of Water Conservation, for teaching students in kindergarten through third grade about water conservation and pollution prevention in urban areas.
1997
CO
8
Adams City High School -- $4,927
Don Bruce, 4720 East 69th Avenue, Commerce City, CO 80022
Students as Catalysts for Pollution Prevention
The goal of this project is to increase the availability to students, teachers, and the public of pollution prevention strategies and resources that can contribute to a safer environmental future. The project involves more than 300 high school students, particularly 200 students at Adams City High School who live in a culturally diverse, low-income area and are challenged by residential and commercial pollution in their communities, which are in close proximity to five Superfund sites. The students produce multimedia presentations that highlight pollution prevention, environmental justice, and environmental health. In addition, the project makes available on the Internet a risk reduction curriculum, resources, and projects for schools and communities. The primary partners with Adams City High School in the project are Front Range Community College, the Northwest Metro Pollution Prevention Alliance, the city of Commerce, the Tri-County Health Department, ENVIR-MGMT, MAACO, and Conoco.
1997
CO
8
Clean Air Campaign of Pike's Peak Region -- $2,000
Barb Negley, 219 West Colorado Avenue, #210, Colorado Springs, CO 80903
Clean Air for High School Classrooms
The goal of the Clean Air for High School Classrooms project is to educate the community to solve air quality problems through pollution prevention activities. The project is designed specifically to educate teachers and students about the properties of air and the effects of air pollution, as well as the development of intellectual skills that support pollution prevention efforts. Under the project, 25 educators in the 13 public-school districts in the Pike's Peak region educate 750 students; through those students, the project reaches 2,250 people, members of the students' families. Hands-on workshops for educators make use of a variety of educational materials, including the Clean Air for the High School Classroom resource packet, air quality monitors provided by the Environmental Services Division of Colorado Springs Utilities, and curricula provided by local environmental organizations. The project also focuses on educating teachers in environmental issues and pollution prevention. The primary partners in the project are Clean Air for the High School Classroom, the Environmental Services Division of Colorado Springs Utilities, and such local environmental organizations as Keep Colorado Springs Beautiful and Wecycle.
1997
CO
8
Colorado Alliance for Environmental Education -- $16,100
Mike Way, 999-18th Street, #2750, Denver, CO 80202
Colorado Environmental Education Correlations Project
This project provides training to educators in curriculum content standards and provides a comprehensive, cross-referenced list of environmental education programs that can be used to meet the requirements of the statewide curriculum content learning standards. The project targets the state's 50,000 educators, with emphasis on the 1,500 individuals designated to serve as environmental education liaisons under the Conservation Education Section of the Colorado Department of Education. In addition, some 2,300 providers of environmental education have been invited to participate in the project, which is intended to help educators become aware of state curriculum content standards through workshops and a compendium of environmental education programs. Under the project, 10 training workshops for environmental education providers are being conducted through community-based environmental education networks. Among the issues addressed during the workshops are development and delivery of environmental education and reform of education. The primary partners in the project are the Colorado Alliance for Environmental Education, the Colorado Department of Education, and educators throughout the state.
1997
CO
8
Colorado Wildlife Federation -- $8,471
Diane Gansauer, 445 Union Boulevard, #302, Lakewood, CO 80228
Urban NatureLink
This project focuses on awareness among families in Denver of the wildlife, habitat, and environmental issues that affect their neighborhoods. It provides resources families can use as they see fit to protect or improve their environment. The target audience of the project is 15 to 20 urban families, totaling an estimated 30 to 70 participants of all ages, who live in underserved minority or low-income communities. The Urban NatureLink project includes the current programs of the Colorado Wildlife Federation and five other educational programs, which educate culturally diverse, low-income audiences about environmental issues, thereby advancing environmental justice. The primary partners in the project are the Colorado Division of Wildlife, the Colorado Bird Observatory, Denver Parks and Recreation, and the Thorne Ecological Institute.
1997
CO
8
Electronic Pathways -- $5,000
John Hoover, 3215 Marine St/CU, Box 456, Boulder, CO 80309
Environmental Science Career Communications Network
This project is expanding the Electronic Pathways World Wide Web site called Career Communications Network for Women and Girls. The project provides equal access and opportunity to participate fully in today's information age to underserved and underrepresented populations. It involves 50 to 70 women's and girls' organizations in Colorado that have access to the Internet. The product reaches its audience through a needs assessment survey and the Career Communications Network, as well as through a Web site that provides career information in several categories, including health occupations, science, and nontraditional occupations.
1997
CO
8
Friends of Bluff Lake -- $4,750
Sarah Mooney, 3051 South Elm Street, Denver, CO 80222
Kindergarten Curriculum
This project provides the first environmental education curriculum specifically geared to kindergarten students in the Denver metropolitan area and involves that target audience in environmental education programs. The target audience is traditionally underserved, racially-mixed, low-income schoolchildren, involving approximately 700 students and their teachers. The environmental education curriculum and life experiences for students reach that audience through two-hour environmental education field trips, reinforced by pre- and post-visit activities. The project provides city children an opportunity to experience a wild place in the midst of a densely-populated urban area. Partners in the project are the Friends of Bluff Lake, the Denver Public Schools, and the Aurora Public Schools.
1997
CO
8
Grand Valley Earth Coalition -- $6,064
Sandi Sturm, P. O. Box 4758, Grand Junction, CO 81502
Community Environmental Education Project
The Community Environmental Education Project enables students, educators, and residents in Grand Valley to make informed decisions based on an understanding of environmental systems and to assess the effects of human activity on those systems. It involves teachers in the work of local environmental agencies; the teachers then bring the knowledge they have gained back to the classroom, and both teachers and students increase their environmental awareness through direct experience. Three government agencies provide teacher training and capacity-building through internships. Public outreach, an environmental lecture series, and roundtable discussions with high school and college students, along with an Internet Web site created under the project, round out the educational effort.
1997
CO
8
Hygiene Elementary School -- $4,900
Billie Pett, P. O. Box 300, Hygiene, CO 80533
Aquatic Discoveries
The Aquatic Discoveries project, conducted solely by Hygiene Elementary School, teaches students about environmental issues that affect water, such as conservation, quality, and aquatic ecosystems. It also increases awareness of such issues, engages students in the development and application of critical-thinking skills and problem-solving strategies, and encourages them to take positive environmental action and become involved in the concerns of their communities. The project involves all staff and students at Hygiene Elementary School, which has a primarily Caucasian population, with a minority of African American and Hispanic students, and works to involve parents and other members of the community, as well. During the school year, students conduct numerous projects to be featured at the Aquatic Discoveries environmental festival. Newsletters, classroom participation by students, after-school programs, and communication with the media, as well as the environmental festival itself, promote the project and build public awareness of environmental issues that affect water.
1997
CO
8
Ignacio School District -- $5,000
Julie Somers, 315 Ignacio Street, Ignacio, CO 80309
Ignacio Water Quality
This project builds awareness of environmental issues and ethics, teaches research techniques, explores technologies, strengthens teamwork and communication skills, and examines career options in environmental fields in an applied, hands-on manner. Each semester, 20 students, a majority of whom are Hispanic or Native American, take part directly in the program, with the entire school population, as well as members of the community, also reached by the effort. Another goal of the project is to combine an Environmental Science class with a new class in Field Techniques and Science Technologies. The project aims to stimulate interest in environmental careers through increased environmental awareness, improve skills in environmental sampling techniques and communication, strengthen teamwork, and generate better use of technology and application of the scientific method. The primary partners in the endeavor are the Ignacio School District, the Southern Ute Indian Tribe, and the River Watch Program of the Colorado Division of Wildlife.
1997
CO
8
Project Food, Land, and People -- $66,700 (HQ Grant)
Roxanne Brickell, 635 Iris Avenue, Boulder, CO 80304
Project Food, Land, and People
Project Food, Land, and People fills a gap by addressing the interrelationships among agriculture, the environment, and society. The goals of the project are to build educational capacity in various states to train educators to use existing curriculum materials related to those issues; to implement an improved training workshop model; to meet the need for environmental education materials in Spanish; and to serve a culturally and geographically diverse cross-section of educators in states in six EPA regions - California, Colorado, Connecticut, Florida, Ohio, and Texas. The project trains more than 150 facilitators, who in turn conduct workshops for several thousand educators. The educators reached through the project include teachers in bilingual classrooms in which curricula are taught in Spanish and English. The project also serves organizations that work in environmental education, natural resources, and agriculture. In addition, the project provides additional lessons in Spanish in response to needs expressed by educators in bilingual classrooms.
1997
CO
8
William Marsh Rice University -- $18,894
Robyn Wright-Dunbar, Mancos, CO 81328
Mancos Canyon Discovery
This project develops correlations between environmental education programs and state standards for curriculum content. Students in grades three through five at the Ute Mountain reservation and public school teachers in the two-county region neighboring the reservation are involved in the environmental education effort that is designed to be a catalyst to advance education reform on the state, local, and tribal levels. The target audience is a diverse population that is 9 percent Hispanic and more than 16 percent Native American. In 1999, students in grades six to eight will join the project, increasing the number of participants to more than 100 students per summer. The project is developing a locally organized, self-sustaining, backyard learning resource. The primary collaborators in the project are the Ute Mountain Tribe, RE-1 Independent School District, and The Four Corners Coalition.
1997
CT
1
Lyme Consolidated School/Connecticut Regional School District -- $5,000
Donna Turchi, RFD #2, Box 478, Lyme, CT 06371
Salmon Restoration/Watershed Study Project
The Salmon Restoration/Watershed Study Project provides an indoor aquatic laboratory designed to heighten students' awareness of the adjacent Connecticut and Eightmile River tidelands. Teachers are trained to use the rivers and the aquatic station as laboratories for fostering scientific inquiry. The project is a collaborative effort between the Lyme Consolidated School and the Edgerton Elementary School in New London and its minority population.
1997
CT
1
New Haven Ecology Project, Inc. -- $4,955
Joanne Sciulli, c/o West Rock Nature Center, P. O. Box 2969, New Haven, CT 06515
Future Environmental Educator Training
The Future Environmental Educator Training (FEET) project trains urban teenagers to become environmental educators in West Rock, a primarily African American community in New Haven. FEET trains six teen educators who lead programs for as many as 400 children and adults in the following year. The program exposes the young people to careers in education and the environmental professions, fields that are in dire need of racial diversification.
1997
CT
1
Save the Sound, Inc. -- $5,000
T. Robins Brown, 185 Magee Avenue, Stamford, CT 06902
Long Island Sound Education for New Rochelle, New York
This project increases children's awareness and knowledge of Long Island Sound, New York and its watershed by involving them in hands-on activities. Teachers learn how to integrate activities related to Long Island Sound, watershed preservation, and the threats that water pollution poses to health into their classroom programming. The program reaches 15 to 20 teachers of fourth- and fifth-grade classes in New Rochelle. Under the program, the students of the participating teachers take part in beach classes led by experienced naturalists at Long Island Sound Beach. Partners with Save the Sound, Inc. in the project are the New Rochelle Environmental Partnership and the City School District of New Rochelle.
1997
CT
1
SoundWaters -- $5,000
Nathan Frohling Brewers Yacht Haven Marina, Washington Blvd., Stamford, CT 06902
Urban Ecology Project at Monterey Village
The project educates from 30 to 60 children in fourth through eighth grade from a low-income, culturally diverse population, along with their families, in issues related to non-point-source pollution. It demonstrates the link between Monterey Village, a privately owned, low-income housing project, and the Norwalk River Watershed that flows into Long Island Sound.
1997
DE
3
Center for Inland Bays -- $4,950
Bruce Richards, P. O. Box 297, Nassau, DE 19969
Aquaculture Education Initiative
This initiative focuses on priority areas and uses environmental education as a catalyst for expanding inland bays aquaculture programs to encourage improvement in public policy, influence future research, and encourage economic aspects of aquaculture. The project also educates the public about environmental issues that affect their communities through community-based organizations or through print, film, broadcast, or other media. The study area is the inland bays watershed that encompasses eastern Sussex County. The area has a unique diverse population of primarily European ancestry, along with African Americans, Hispanics, American Indians, and Asians. The target audiences are local organizations, the Citizen's Advisory Committee, the Scientific and Technical Advisory Committee, and Business People for the Bays.
1997
FL
4
Florida State University -- $5,000
Ellen Granger, Office of Research, Tallahassee, FL 32306-3067
Sea-to-See: An Introduction to Marine Organisms
The Sea-to-See program brings the marine environment into the elementary classroom and provides workshops for elementary teachers. Under the program, 3,000 second- and fourth-grade students have the opportunity to explore the array of macro-invertebrate life that populates the near-shore marine environment of north Florida. Students explore that environment through two touching tanks - one representing the salt marsh, oyster bar, and sandy bottom and the other representing the extremely diverse sea grass beds.
1997
FL
4
Focus Center, Inc. -- $4,300
Jennifer B. Petro, 139 Brooks Street, Fort Walton Beach, FL 32548
Woods to Water: An Environmental Approach
This project provides students with an understanding of the environmental dangers present in local soil and water. It makes students aware of the environmental health risks that pollution poses to humans. In addition, it promotes awareness of environmental policies, possible approaches to cleanup, and pollution prevention.
1997
FL
4
Lake County School District/Umatilla High School Public Service Academy -- $5,000
Lauren Stricklen, 201 W. Burleigh Boulevard, Tavares, FL 32778
Emeralda Marsh Living Classroom
The Emeralda Marsh Living Classroom project allows 90 students the opportunity to explore the Emeralda Marsh Restoration Area through a variety of activities. It helps the students to develop an understanding of the resource and the value of its preservation. The activities offered under the program incorporate a variety of instructional strategies and techniques described in current education research. The project is a collaborative effort with the Saint Johns River Water Management District.
1997
FL
4
School Board of Alachua County -- $4,950
Dr. Donna Omer, 620 East University Avenue, Gainesville, FL 32601
Not In My Back Yard
Not In My Back Yard is an interdisciplinary program for 170 students in fifth grade that investigates issues of environmental quality related to solid waste disposal in the community. The students, representing various socioeconomic and racial populations, work in collaborative groups to investigate local ecosystems and learn to become informed citizens who take responsible environmental actions.
1997
GA
4
Chattahoochee-Flint Regional Development Center -- $19,245
Lisa J. Hollingsworth, P. O. Box 1600, Franklin, GA 30217
Comprehensive Regional Environmental Database
This project provides a comprehensive regional environmental database, on CD-ROM, that includes mapped data on environmentally sensitive areas and solid waste management capacity. The project also provides a training workshop for planning commissioners, local planning staff, elected officials, and other interested persons to educate them in using the database to support the review of land use permit applications and decisions about approval or denial of such applications. The project also assists local governments in arranging special programs that introduce high school students to the CD-ROM program and its use.
1997
GA
4
Coastal Kids -- $4,520
Cathy Tobler, P. O. Box 21243, St. Simons Island, GA 31522
Coastal Encounters Project
The Coastal Encounters Project focuses on building the capability of local teachers and informal educators to enhance and deliver environmental education and to increase students' awareness of the effects of tourism and other local industries on the coastal environment. In four workshops, 60 teachers work in collaboration with Coastal Encounters to integrate the curriculum into current classroom instruction. Through 18 field trips, the project also provides the opportunity for almost 1,000 students to participate in hands-on activities and work on group assignments and problem-solving exercises.
1997
GA
4
Environmental Education Alliance -- $4,875
Deron Davis, 2125 Elachee Drive, Gainesville, GA 30504
Develop and Distribute Georgia Education Resource Guide
This project provides a resource guide to environmental education facilities throughout the state of Georgia. Educators and other interested persons can use the resource guide to find field trip locations and information that can be integrated into current environmental curricula. The guide also helps ensure that environmental information is consistent.
1997
GA
4
Georgia Envirothon -- $4,900
Terry Seehorn, Route 1, Box 1A1, Rabun Gap, GA 30568
The Georgia Envirothon - A High School Environmental Competition
The hands-on academic competition conducted under this project provides 148 students and 48 teachers an opportunity to enhance environmental education through interaction between agencies responsible for the protection of natural resources and educators. Students interact with natural resource professionals at competition stations that give them a better understanding of the day-to-day problems and opportunities people who hold those jobs encounter. A college and career fair is an integral part of the competition.
1997
GA
4
Seven Rivers Resource Conservation and Development Area, Inc. -- $5,000
Dale D. Sellers, 400 East Park Avenue, Suite 5, Baxley, GA 31513
Project Environmentally Correct
Project Environmentally Correct! addresses the issue of wetland ecosystems and provides sustained and intensive professional development to teachers and staff of the Appling County Middle School to improve instruction in environmental science. Students use two ponds that feature nesting boxes and an observation platform to study aquatic and wetland ecology, learn to conduct water testing, and study the habitats.
1997
HI
9
Hawaii State Department of Education -- $133,465 (HQ Grant)
Colleen Murakami, P. O. Box 2360, Honolulu, HI 96804
Water Issues Teacher Training Project
This project supports both education reform and environmental education in Hawaii. Its objectives are to create and implement a development program that improves teachers' understanding of water issues and strengthens their skills, to develop partnerships with the Department of Health and the University of Hawaii, to upgrade an electronic database to be used throughout the state for the study of water issues, and to develop a cadre of 24 master teacher trainers to deliver workshops. The project involves 120 public school teachers of diverse ethnic origins who teach grades 6 to 12.
1997
ID
10
Idaho Department of Water Resources -- $5,000
Dick Larsen, Public Information Office, 1301 N. Orchard Street, Boise, ID 83706
Idaho Water Awareness Week
The Idaho Water Awareness Week program equips sixth graders with the educational tools and understanding they need to develop and maintain an appreciation of the importance of water in their lives. The project uses an existing curriculum that specifically focuses on water to teach 11,500 students from a variety of school environments, including home schools. Under the project, extensive organized student activities, including field trips, environmental projects, and hands-on programs, reinforce classroom activities. The program gives students the opportunity to develop critical-thinking and decision-making skills while they increase their scientific and general knowledge about issues related to water and the environment.
1997
ID
10
Northwest Nazarene College -- $20,000
Lianne Yamamoto, Teacher Education Department, 623 Holly, Nampa, ID 83686
The Examining Regional Biodiversity Systems Project
The Examining Regional Biodiversity Systems Project enriches the overall environmental literacy and environmental action skills of middle school students living in small-town and rural communities in Idaho, Washington, and Oregon; enhances the planning and instructional skills of middle school teachers in areas related to environmental education; and expands the capacity of schools to provide superior activities focused on environmental issues, with a special emphasis on hands-on activities for young people. A professional training cadre of 21 middle school teachers from seven schools delivers the program. The innovative approach that forms the basis of the program focuses on a model that demonstrates how people experience a change in attitude, and subsequently a change in behavior, as they investigate solutions to various environmental issues.
1997
ID
10
Southeast Idaho Council of Governments -- $1,400
Chuck Prince, Portneuf Watershed Council, P. O. Box 6079, Pocatello, ID 83205
Portneuf Watershed Council Water Quality Education
This project aims to improve public awareness of the importance of the quality of both surface water and groundwater in a four-county region. The project focuses on developing critical-thinking skills related to the possible effects of certain land uses on water bodies and the degradation of water quality that may result from certain actions. Models of groundwater and surface-water flow and videotapes are used in presentations and demonstrations for students, teachers, civic groups, community and tribal leaders, and the general public. The presentations are designed to equip those audiences to make informed decisions about land use, the protection of water quality, and possible solutions to problems related to those issues.
1997
IL
5
American Lung Association of Illinois -- $4,953
Karen Lanter, 6100 Center Grove Road, Edwardsville, IL 62025
Open Airways for Schools
Under this project, the American Lung Association (ALA) of Illinois is training nursing students at Southern Illinois University and school nurses in East St. Louis and Granite City to use the highly structured and user-friendly curriculum Open Airways. The curriculum teaches 8- to 11-year-old students how to control and manage their asthma. The trained educators will reach more than 200 students in 20 schools throughout East St. Louis and Granite City, areas in which 99 percent of the children are African American from families that have incomes less than the average in the state. Through participation in the program, children learn to manage their asthma by identifying factors that trigger attacks, including environmental conditions. Children therefore experience improved health and increase their awareness of environmental issues, particularly those related to environmental justice.
1997
IL
5
Benedictine University -- $4,948
Mary Mickus, 5700 College Road, Lisle, IL 60532
Elementary Outreach Program - Discovery Boxes
Under this project, the Jurica Nature Museum, housed in the Scholl Science Center, is expanding its environmental education and outreach program by developing discovery boxes that focus on local issues related to biodiversity and the ecosystem. The boxes, which are distributed on loan to elementary school teachers, contain a variety of environmental lessons and activities. The project reaches more than 3,000 students in their classroom, as well as 80 school groups that visit the museum's new and improved interactive environmental exhibits. Through the discovery box activities and museum visits, students learn to identify environmental issues, state facts accurately, and resolve problems and develop an understanding of how difficult decisions are reached. The project also trains science teachers in methods of teaching a curriculum on environmental diversity.
1997
IL
5
Center for Instruction, Staff Development, and Evaluation -- $153,843 (HQ Grant)
Trudi Volk, 1925 New Era Road, Carbondale, IL 62901
Environmental Education for Responsible Citizenship
The Environmental Education for Responsible Citizenship project builds upon an earlier project of the Center for Instruction, Staff Development, and Evaluation that trained 300 educators in 10 states and Puerto Rico in the use of two curricula. The new project introduces a leadership component, the Trainer of Trainers Workshop, which brings together 50 of the trained and experienced teachers to prepare them to conduct five-day workshops in their regions for an estimated 1,250 other educators. The project involves more than 1,200 formal and informal educators in grades 5 through 12 and makes special effort to target teachers of minorities. The curriculum is published in both English and Spanish.
1997
IL
5
Chicago Park District -- $4,783
Sofia Refetoff, 425 E. McFetridge Drive, Chicago, IL 60605
Environmental Education in Urban Parks
Under this project, the Chicago Park District is integrating environmental education into its core program through a series of intensive staff development workshops and lectures. Managers, park supervisors, and park instructors receive training in the educational programs Project Learning Tree, Project WET, Project WILD, and Project Aquatics and in waste management. Park staff learn to integrate environmental education into the district's existing programs, which serve more than 40,000 children throughout the city. In its first year, the project reached approximately 360 park personnel from 260 city parks, as well as an estimated 3,600 students influenced by the trained employees. The Chicago Park District conducts the project in partnership with the Illinois Department of Natural Resources and the Chicago Academy of Sciences.
1997
IL
5
Heartland Community College -- $5,000
Mark Finley, 1226 Towanda, Bloomington, IL 61701
Mackinaw Watershed Environmental Education
Heartland Community College is conducting this project designed to increase public awareness of and knowledge about environmental issues that affect the upper Mackinaw River system. The project focuses first on community education and then on teacher education. Its community courses teach high school students and members of the public to collect information about environmental assessment in the local watershed, evaluate the information, and identify stresses on the river system. In addition, a five-day summer workshop teaches educators to use the Mackinaw River as a natural laboratory. The project has reached more than 100 students and more than 30 teachers from several communities. The Heartland Community College conducts the project in partnership with The Nature Conservancy.
1997
IL
5
Illinois Environmental Protection Agency -- $24,000
Brian Urbaszewski, P. O. Box 19276, Springfield, IL 62794
A Tour of the Urban Environment
Under this project, the Illinois Environmental Protection Agency is enhancing the air pollution component of a new environmental science exhibit at the Museum of Science and Industry called A Tour of the Urban Environment. Using an interactive device and a display unit, the exhibit educates students and the public about the sources of urban ozone smog, the health risks it poses, and solutions to the smog problem. The project fosters an understanding of the human actions and scientific processes that lead to the formation of ozone and encourages consideration of preventive actions that might decrease ozone levels in the Chicago region. Each year, the museum hosts more than 400,000 students in school and other youth groups among its 1.7 million visitors.
1997
IL
5
Metropolitan Chicago Council of Campfire, Inc. -- $5,000
Jean D. Lachowicz, 203 N. Wabash, #1518, Chicago, IL 60601
Farm Camp
The Farm Camp project takes 40 boys and girls in the Campfire organization, along with 12 trained adult volunteers, to an organic farm in Caledonia, Illinois, where the children spend three days learning about the day-to-day operations of the farm and observing environmentally conscious food production and farming. The children explore the issues of agricultural waste, biodiversity, and erosion. Through a series of hands-on activities, the children learn to think critically and evaluate environmental issues and the relationship of such issues to hunger, land use, agricultural techniques, and earth awareness.
1997
IL
5
Public School District #29 - Sunset Ridge Elementary School -- $5,000
Georgia Bozeday, 525 Sunset Ridge Road, Northfield, IL 60093
Impact of the Water Cycle on Regional and Global Ecosystems
Students in grades four to eight at Sunset Ridge Elementary School study their local wetlands through daily collection of various data. The activities conducted under this project include field trips to local wetland habitats and to a water reclamation plant. The students then share the data collected with others throughout the world through the GLOBE program, a worldwide network of students and scientists working together to learn about the global environment. Students also create multimedia presentations based on their outdoor investigations. In addition, educators attend GLOBE training workshops that equip them to use the computer program effectively in their classrooms. More than 250 students participate in wetland activities and the GLOBE program.
1997
IL
5
The Conservation Foundation of Du Page County -- $5,000
Anne Marie Smith, 703 Warrenville Road, Wheaton, IL 60187
Envirothon
The Du Page County Envirothon tests students' knowledge and understanding of issues related to the use of the state's resources, cultivates a desire to learn more about the natural world, and promotes interest in environmental careers. After competing at the county level, students proceed to a statewide competition. State winners then participate in a competition that involves participants from 15 states. Du Page and Kane counties draw participants from environmental clubs at public high schools, various private schools, and 4-H clubs. The expanding program is expected to reach 140 students and 35 teachers in its second year. Du Page County and the Kane-Du Page Soil and Water Conservation District work in partnership to coordinate and host the Envirothon.
1997
IN
5
Vigo County School Corporation -- $3,990
C. Jean Church, 961 Lafayette Avenue, Terre Haute, IN 47804
Substitute Teacher Environmental Project
Through a program at Utah State University, Vigo County trains an in-service facilitator in water education. The facilitator then trains 20 substitute teachers in the Vigo County school system to be water education specialists so that they can teach environmental lesson plans when they substitute throughout the school district. The training workshop focuses on learning to use the Comprehensive Water Education Book, a text designed to accomplish the objectives set forth by the National Science Council. In the classroom, students study issues related to water quality, wise use of water, and non-point-source pollution. They explore those issues through learning activities based on sound, hands-on techniques of inquiry. The project reaches more than 8,000 students during the school year.
1997
IA
7
American Water Works Association, Iowa Section -- $5,000
Angie Mann, 2201 Valley Drive, Des Moines, IA 50321
Iowa Children's Water Festival
The Iowa Children's Water Festival is a one-day educational event that gives fifth graders the opportunity to learn about the important role of water in the environment. To ensure statewide participation, random regional drawings are conducted to select 1,500 students to attend the event, held at the Ankeny campus of the Des Moines Area Community College. The Des Moines Water Works is a partner in the project.
1997
IA
7
Iowa Department of Education -- $4,420
Duane Toomsen, Grimes State Office Building, Des Moines, IA 50319-0146
Nature Speaks
The Nature Speaks project develops numerous communication skills linked with experiences in the natural environment. Through the project, 26 teachers participate in a workshop designed to connect the disciplines of language arts, social studies, science, physical education, and art with ecology and understanding of environmental relationships in learning-by-doing activities. The University of Northern Iowa is a partner in the project.
1997
IA
7
Iowa Renewable Energy Association -- $5,000
Thomas Deves, 3863 Short Street, Dubuque, IA 52002
Iowa Electrathon
Under the Iowa Electrathon project, schools design, build, and race one-person electric vehicles. Students are involved directly in the design and construction of the cars and are involved indirectly in obtaining sponsors, arranging publicity, and project planning. More than 500 schools in Iowa - public, private, and parochial - participate in the project. Teachers attend a workshop during which they explore environmental issues and learn to build the Electrathon vehicles. The Electrathon is intended to bring attention to the environmental problems caused by conventional cars and to demonstrate the practicality of electric vehicles. Partners in the project are the Iowa Renewable Energy Association and the Center for Energy and Environmental Education at the University of Northern Iowa.
1997
IA
7
Maharishi University of Management -- $5,000
Terry Allen, 1000 North 4th Street, Fairfield, IA 50556
Creating an Ecosystem: A Model K-12 Environmental Curriculum
The curriculum implementation project includes faculty training, student education, and distribution of educational material to the public. The target audience includes 650 students and faculty of the school selected for the project, as well as an estimated 200 students and teachers from other schools. The project addresses a fundamental environmental problem, the need to develop sustainable methods of agriculture, and includes a faculty workshop and classroom and greenhouse activities. Food workers who teach the Common Roots Curriculum are partners with the university in the project.
1997
IA
7
Missouri & Mississippi Divide Resource Conservation & Development, Inc. -- $4,560
Keith Edwards, 618 Park Avenue, Sac City, IA 50583
Iowa Organic Agriculture Education Project
The Iowa Organic Agriculture Education Project increases awareness and knowledge of organic agriculture among farmers and provides them the skills they need to apply organic agriculture practices. Farmers who are converting to organic farming and others who use organic practices are the target audience. A series of six workshops provide training for more than 300 members of the farming community. The participants gain an understanding of the effects of farming practices on human health. Missouri & Mississippi Divide Resource Conservation & Development, Inc.; Golden Hills Resource Conservation and Development, Inc.; the Heartland Organic Cooperative; and the Iowa Department of Agriculture and Land Stewardship are partners in the project.
1997
IA
7
University of Iowa -- $5,000
Dave Conrads, E216 Field House, University of Iowa, Iowa City, IA 52242
Wild 2000, A Wildcare Project
Wild 2000, A Wildcare Project provides all children in the Iowa City Community School District (ICCSD) the opportunity to participate in a week-long outdoor environmental educational experience sometime during their elementary school years. The week-long program is modeled on a wildlife camp program that focuses on various ecosystems in the area. The pilot program begins with five elementary schools, including more than 250 students and 15 teachers. The students participating are fourth, fifth, and sixth graders from a multicultural background. Partners in the project are the ICCSD and the University of Iowa.
1997
KS
7
Baker University -- $12,450
Roger Boyd, 8th & Grove, Baldwin City, KS 66006
Wetlands With a Vision
The Wetlands With a Vision project incorporates student and teacher training, as well as community-based education, to increase the use of an outdoor classroom by area schools. The project trains a group of volunteers as tour leaders, who then are equipped to improve awareness and understanding among the general public of the value and functions of wetlands. Under the project, pamphlets that provide check lists of birds, mammals, fish, herbs, and plants found in the wetlands are integrated into the current curriculum. Because of their locations, wetlands adjoining Haskell Indian Nations University and wetlands in the flood plain of the Wakarusa River benefit from the program. The target audience of the project is kindergarten through 12th-grade students in the Douglas County school system.
1997
KS
7
Butler County Community College -- $3,797
Judy Carney, 901 S. Haverhill Road, El Dorado, KS 67042
Developing a Water Festival in Butler County
Under this project, a one-day water festival is held for more than 400 fourth- and fifth-grade students in Butler County. The water festival raises public awareness of the problem of non-point-source pollution in the Butler County water supply. Partners in the project are Butler County Community College and the Butler County Conservation District.
1997
KS
7
Haskell Indian Nations University -- $25,000
William M. Welton, 155 Indian Avenue, Lawrence, KS 66046
Environmental Education Through Distance Learning
Haskell Indian Nations University (HINU) and the Haskell Environmental Research Studies Center are extending environmental education through distance learning for underserved American Indian audiences. The project uses satellite technology in collaborative efforts to build tribal capacity by providing formal environmental education to tribal educators and students. Teachers are trained in the use of culturally relevant material from the curricula Investigate Your Environment and Project Learning Tree. The teachers in turn reach 300 sixth- through eighth-grade American Indian students. Under the project, HINU works in cooperation with tribally controlled colleges in five states - Nebraska, South Dakota, North Dakota, Montana, Washington - and with tribes in Kansas.
1997
KS
7
Kansas Association for Conservation and Environmental Education -- $25,200 (HQ Grant)
John Strickler or Gary Hulett, 2610 Claflin Road, Manhattan, KS 66502-2798
Development and Dissemination of State Environmental Education Standards
Through a partnership of public and private-sector organizations, the project integrates environmental education into kindergarten through 12th-grade programs and fosters the state's current efforts in education reform. The three objectives of the project are to develop environmental education standards for the state that are based on national standards, to conform various teacher training materials, and to distribute the new standards and materials with the state's core curricular standards through teacher training workshops. The project reaches more than 1,500 kindergarten through 12th-grade teachers and pre-service teachers each year.
1997
KS
7
Kansas Rural Center -- $4,825
Jerry Jost, P. O. Box 133, Whiting, KS 66552
Making the Pieces Fit in Sustainable Agricultural Conference
This conference makes available effective learning opportunities in practical approaches to sustainable agriculture. It provides networking opportunities for approximately 275 farmers among the community-based farming clusters in the Heartland Network. The effort is sponsored jointly by the Kansas Rural Center and Kansas State University.
1997
KS
7
Unified School District #323 Perry Public Schools -- $5,000
Paula Kellogg, Third and Bridge Streets, Perry, KS 66073
Local and Global Education to Enhance Environmental Awareness
The Local and Global Education to Enhance Environmental Awareness project prepares staff of the school district to serve as trainers in the Global Learning and Observations to Benefit the Environment (GLOBE) program and to develop an outdoor study site. More than 70 teachers are trained in the use of the GLOBE program and have access to the study site, and more than 1,000 students participate in the project. Through Internet capabilities available in all classrooms in Unified School District #323, students and staff communicate with other students, teachers, and scientists throughout the world. Local organizations, such as scouts and Quail Unlimited, Inc., take an active role in maintaining and using the study site.
1997
KS
7
W. Clement Stone Nature Center -- $5,000
Martha Birrel, 7240 SW 10th Street, Topeka, KS 66615
Fostering Environmental Responsibility in the Urban Environment
This project extends opportunities for environmental and outdoor activities to low-income and at-risk youth. The program is offered to 20 leaders and 430 young people, ages 8 to 14, from eight schools and two youth organizations. Approximately 66 percent of the young people participating in the project are African American or Hispanic. Student education and teacher training, with an emphasis on conservation of the natural environment, contribute to that population's appreciation of the natural world.
1997
KS
7
Wyandotte County Health Department -- $6,169
Joseph Connor, 619 Ann Avenue, Kansas City, KS 66101
Project Protect: A Community-Based Program to Prevent Childhood Lead Poisoning
Project Protect uses a coordinated community-based educational process to reduce the risk of exposure to lead in high-risk families. The project director trains 34 staff members from three community-based organizations who then give presentations to three neighborhood associations and three child-development classes at local colleges. The object is to personalize educational activities related to prevention of lead-poisoning for 926 targeted families who have children six and under who live in low-income housing built before 1978.
1997
KY
4
Jefferson County Public Schools/Medora Elementary School -- $4,964
Larry D. Hamfeldt, P. O. Box 34020, Louisville, KY 40232-4020
River as Giver
The River as Giver project teaches students to become global citizens, take personal responsibility for preserving the integrity of the Ohio River, and understand the influence the river has on their daily lives. The students and their teachers participate in hands-on activities at the river and at school. Students and members of the community have access to science stations set up at Riverside, a restored farmstead that reflects life in the 1800s.
1997
KY
4
Knox County Board of Education/Lay Elementary School -- $16,238
David Cole, 200 Daniel Boone Drive, Barbourville, KY 40906
Lay School Environmental Education Project
This project trains teachers to use wetlands to teach students and the community about environmental issues and to monitor the health of a wetland. Teachers are trained through workshops to use the on-site natural wetland to meet the instructional goals of the curriculum as a whole. Students have the opportunity to verify the environmental effects of pollution on wetlands. Use of the wetland for study and research increases students' scientific knowledge and ability to use scientific methods.
1997
KY
4
Monticello Independent Board of Education -- $5,000
Margaret Broadhurst, 135 Cave Street, Monticello, KY 42633
Outdoor Classroom/Nature Trail
This project establishes an outdoor classroom and nature trail that brings environmental education to students, school personnel, and the community. At the outdoor classroom, students participate in hands-on learning experiences that move them from a passive to an active role in the learning process. The nature trail includes a path accessible to the handicapped.
1997
KY
4
Oldham County Board of Education -- $5,000
Linda D'Antoni, P. O. Box 218, Buckner, KY 40010
Preschool Environmental Education Center
The Preschool Environmental Education Center provides preschool children with increased knowledge of the local environment and how it is affected by various factors. Through that knowledge, the youngsters and the preschool's partners develop increased capacity to engage in community efforts to preserve their local environment. The on-site environmental education center is used extensively by 149 preschool children.
1997
LA
6
Big River Council Camp Fire -- $5,000
Gwen Stewart, 4874 Constitution Avenue, Suite 1E, Baton Rouge, LA 70808
Primary Nature Trail
The Primary Nature Trail project gives inner-city youth an opportunity to acquire environmental knowledge and awareness through the written and pictorial information about trees and other plants that is provided along the path. The young people also observe and collect samples of lichens, fungi, and insects found in and around decaying logs. The nature trail includes a compost pile, a butterfly garden, and a wetland, as well as nesting boxes that allow observation of the occupants. Users of the trail also can observe bats, ducks, and birds in their natural habitats. In addition, an archaeological dig highlights fossils for observation.
1997
LA
6
Cenla Pride -- $3,800
Betty Jones, 802 Third Street, Alexandria, LA 71301
Water Quality Career Camp
The Water Quality Career Camp educates students about environmental issues to encourage their interest in environmental careers, specifically in the area of water quality. Students develop an understanding of urban storm-water runoff and its effects on aquatic ecosystems. They also attend a day camp program, conduct hands-on projects and activities, and take field trips related to water quality. A public awareness component rounds out the project.
1997
LA
6
Louisiana University Marine Consortium -- $18,060
John Caruso, 8124 Highway 56, Chauvin, LA 70344
Effects of Eutrophication and Hypoxia in Louisiana's Coastal Waters
The Louisiana University Marine Consortium (LUMCON), a cooperative effort of the state's 13 public universities, 6 private institutions of higher education, their governing boards, and several state environmental agencies, sponsors this project for university-level students. The project seeks to provide such students detailed, in-depth education on the widespread and closely related phenomena of eutrophication and oxygen depletion in Louisiana's coastal waters. Students involved in the project participate in one of LUMCON's three principal programs: field trip programs that enrich regular session courses and those that are conducted during spring break and summer and courses provided under the Louisiana Alliance for Minority Participation (LAMP) Program, all of which provide the students first-hand experience in the marine environment. The target audience of the project is graduate and undergraduate students enrolled in the 19 member universities of the consortium, of which five are historically minority colleges and universities. Each year, some 400 students participate in some phase of the program.
1997
LA
6
Tallulah Elementary School -- $5,000
Becky Lancaster, 1100 Johnson Street, Tallulah, LA 71282
Outdoor Environmental Education Classroom Problem-Solving Project
The Outdoor Environmental Education Classroom project provides students an opportunity for hands-on environmental education. It includes nature trails, observation platforms, a weather station, flower and rock gardens, a water study area, ponds, bird feeders, nesting boxes, and soil study areas. The center is a vital environmental learning resource for all students and teachers in the parish.
1997
LA
6
Xavier University of Louisiana, Deep South Center for Environmental Justice -- $177,485 (HQ Grant)
Beverly Wright, 7325 Palmetto St, Campus Box 45B, New Orleans, LA 70125
The New Orleans Environmental Justice Education Teacher Training Program
This teacher training program addresses environmental threats to health, especially those that affect children. The project uses a newly designed curriculum that incorporates issues and concerns related to environmental justice into the regular science curriculum taught by 225 elementary school teachers. The curriculum emphasizes those issues, as well as skills correlated to Education Goals 2000, Louisiana Education Assessment and Curriculum Program Objectives, and Science 2000 objectives. Modules address lead, air pollution and asthma, pesticides, landfills, and the abandoned and possibly contaminated urban sites known as brownfields. Teachers trained through the program reach more than 6,000 students. The Deep South Center for Environmental Justice, the public school system of New Orleans, and the National Lead Information Center are partners in the project.
1997
ME
1
Aroostook Band of Micmacs -- $3,728
Fred Corey, Environmental Health Director, 759 Main Street, Presque Isle, ME 04769
Environmental Workshops and Newsletters: Education, Problem Solving, and the Environment
This two-part project provides workshops for tribal youth and distributes newsletters to the tribal community. Through the three workshops provided, the young people examine issues related to non-point-source pollution, solid waste and landfills, and water quality. The two newsletters produced under the project cover environmental hazards known to affect the Micmac community. The Maine Department of Environmental Protection and the U.S. Department of Agriculture, collaborators in the development and presentation of the workshops, provide staff, educational resources, and equipment for field exercises.
1997
ME
1
Audubon Expedition Institute -- $15,000
Lissa Widoff, Development Director, P. O. Box 365, 243 High Street, Belfast, ME 04915
Fostering a New Generation of Environmentally Literate Teachers
This project establishes a summer master's degree program in ecological literacy, which fosters a new generation of environmentally literate teachers. After preparation of curricula and course syllabi, selection and training of faculty, and planning for its field and urban segments, the program reaches 20 teachers and the students in each of their classrooms, thereby affecting as many as 400 non-traditional (working) students. The project is a collaborative effort of the Audubon Expedition Institute and Lesley College of Cambridge, Massachusetts.
1997
ME
1
Blue Hill Consolidated School -- $5,000
Patrick Phillips, Blue Hill, Blue Hill, ME 04614
Enhancing Environmental Education Through Collaboration and Inservice
The core curriculum developed under this project involves students in the care of injured wildlife and research related to the needs of those creatures and enhances awareness of endangered species, especially in the Blue Hill Peninsula and Mount Desert Island area. The project uses existing resources to integrate the subject matter into environmental education at the seventh- and eighth-grade levels. The project also provides support for kindergarten through sixth-grade curricula. Blue Hill Consolidated School conducts the project in collaboration with the Acadia Wildlife Foundation and College of the Atlantic.
1997
ME
1
Northern Maine Development Commission -- $17,559
Robert P. Clark, Executive Director, P. O. Box 779, 2 South Main Street, Caribou, ME 04736
Household Hazardous Waste Education and Exchange Program
The Household Hazardous Waste (HHW) Education and Exchange Program provides regional workshops for citizens, businesses, industries, schools, nonprofit organizations, and municipalities in northern Maine, an area that has a population of 79,582. The project also provides workshops through which teachers and students learn about inventorying and reusing HHW, as well as reducing the amounts of such waste generated. The workshops, which reach more than 15,000 students, are conducted in conjunction with solid waste professionals in Aroostok County, local water and sewer utility districts, and the Northern Maine Solid Waste Management Committee.
1997
MD
3
Center for Social Organization of Schools -- $5,000
Alan Ruby, Johns Hopkins University, 3505 N. Charles Street, Baltimore, MD 21218
Water Pollution Unit for 8th-Grade Science
This project works with several inner-city middle schools in Philadelphia, Pennsylvania to address the issue of water pollution and health problems related to the quality of local drinking water. The curriculum conforms to new standards for science and environmental ecology programs established for Pennsylvania schools. Teachers learn, and then bring to the classroom, hands-on activities that examine issues related to urban water supplies, such as problems associated with older water treatment systems and old delivery systems and urban sources of water contamination. The curriculum also examines environmental careers and gives students an opportunity to explore ways to prepare for a future in environmental science.
1997
MD
3
Chesapeake Audubon Society -- $3,799
Richard Leader, 11450 Audubon Lane, Easton, MD 21601
Environmental Education and Career Exposure for Adjudicated Youth
Pickering Creek Environmental Center works with a residential program for male adjudicated students, all from low-income families, to provide environmental education. The course provides the 24 students in the program with a positive introduction to the outdoors and builds their communication and teamwork skills. Through classroom programs, field trips, and schoolyard habitat programs, the project gives the students the opportunity to explore environmental careers and involves them in hands-on projects that directly improve the environment. Under the program, students earn credits toward their high school diplomas. The project is a partnership effort of the Chesapeake Audubon Society, which owns and operates the environmental center, and Bethany House.
1997
MD
3
Living Classrooms Foundation -- $165,850 (HQ Grant)
Scott Raymond, 802 S. Caroline Street, Baltimore, MD 21231
Chesapeake Little Sheds Nitrate Net Project
This project involves hands-on education at shoreside facilities and in floating classrooms that complements the efforts of scientists to implement areawide pollution monitoring and to address the interactions between air and water. Under the project, students study technology to increase their scientific literacy and understanding of the complex environmental issues that affect the Chesapeake Bay. Students collect and analyze environmental data to be used by both the education and the scientific communities. The skills and knowledge students develop through the project are a crucial factor in meeting the challenge to improve the health of the Chesapeake Bay.
1997
MD
3
Maryland Forestry Board Foundation -- $5,000
Michael Grant, P. O. Box 4205, Annapolis, MD 21403
Forest Conservation and Natural Resources Career Week
The Forest Conservation and Natural Resources Career Week program brings environmental education to 48 high school students attending a one-week summer camp. Applicants, two from each county in the state, are selected through a competitive interview process. The camp, developed for students interested in pursuing careers in forestry or other natural resource management fields, is located on 100,000 acres of the Savage River State Forest. Teams of eight students each use their newly acquired skills to perform an environmental analysis of an assigned tract of land and solve a complex environmental problem.
1997
MD
3
Montgomery County Government -- $5,000
Boyd Church, 101 Monroe Street, 4th Floor, Room 410, Rockville, MD 20850
Clean Streets, Clean Streams Program
The Clean Streets, Clean Streams Program educates the community about the effects of non-point-source pollution, particularly the improper disposal of waste automotive fluids, on the region's public drinking water. Program materials, available in Chinese, Korean, Spanish, and Vietnamese, describe methods of catching leaks and spills, as well as proper cleanup and disposal of contaminated materials. They are displayed at the county's Ethnic Heritage Festival and at the county fair. In addition, the availability of the materials is announced on radio broadcasts, and they are distributed in educational packages.
1997
MD
3
Southern Maryland Resource Conservation and Development, Inc. -- $364
Ken Hafner, 303 Post Office Road, Suite B4A, Waldorf, MD 20602-2702
Nanjemoy Creek Environmental Education Center Meadow Habitat
Under this project, 150 disadvantaged youth, grades five through eight, are establishing an improved meadow habitat at Nanjemoy Creek Environmental Education Center. The students also study aquatic, tidal marsh, river shoreline, upland woods, and meadow habitats to learn how the environmental quality of the creek affects the ecosystem of the Chesapeake Bay.
1997
MA
1
Alternatives for Community and Environment, Inc. -- $5,000
Penn Loh, 2343 Washington Street, 2nd floor, Roxbury, MA 02119
Youth Educators for Asthma Prevention
This project is conducted in Roxbury, an impoverished city of 60,000 residents, 90 percent of whom are people of color. Roxbury has the highest rate of asthma in Massachusetts. A corps of 16 to 24 Roxbury youth, ages 14 to 21, are trained in two after-school sessions. They then design workshops, skits, handouts, and other outreach devices to share their knowledge with other youth, teachers, and adults in their community. All materials developed are compiled into a manual on asthma that is distributed to educators in Boston.
1997
MA
1
Camp Fire Council for Eastern Massachusetts -- $5,000
Cynthia Beaudoin, 108 Union Wharf, Boston, MA 02109-1281
WorldWise
In eastern Massachusetts, the WorldWise project, a national effort of Camp Fire Boys and Girls, has five learning objectives: The Ecosystem; Limiting Factors; Habitat and Niche; Matter and Energy Flow in Ecosystems; and Succession. Staff of 15 licensed urban after-school programs, including several in Boston and Cambridge, and of suburban programs participate in workshops and community service activities. Using a written survey, the 30 workshop participants evaluate presentations that are provided to an average of 375 children each year.
1997
MA
1
Center for Ecological Technology, Inc. -- $5,000
Nancy Nylen, 112 Elm Street, Pittsfield, MA 01201
Environmental Teleconference Project: River Awareness and Action
This project actively engages students at four high schools and two colleges in investigating the environmental condition of the Hoosic River. The project builds local capacity by expanding educational programming and increasing awareness on the part of the general public of issues that affect the watershed. The project broadcasts educational television programming to approximately 14,000 households and culminates in an interactive teleconference among participating schools. The project is a collaborative effort of the Center for Ecological Technology, Inc.; the Hoosic River Watershed Association; and the Northern Berkshire Community Television Corporation.
1997
MA
1
Chelsea Human Services Collaborative -- $5,000
Edward Maravkovitz, 300 Broadway, Chelsea, MA 02150
Environmental Issues in Chelsea: Capacity-Building for Informed Decisions and Responsible Action
Environmental Issues in Chelsea provides an educational conference focused on four recent reports about environmental concerns that affect Chelsea, a low-income city at high risk for environmental problems, including lead poisoning and conditions that cause or aggravate asthma in children. The target audience includes 100 community leaders in Chelsea, of whom 50 percent are low-income and 50 percent are Hispanic. Further, 25 percent of that audience are youth leaders, and 10 percent are public officials. An additional 1,000 people, of a similar demographic composition, are targeted through the public media. Key partners in the project are the Environmental Diversity Forum, the Bridge School of Chelsea, the Massachusetts Toxics Campaign Fund, the Chelsea Record, and the Spanish language newspaper El Mundo.
1997
MA
1
Earth Works Project, Inc. -- $5,000
Bill Taylor, 11 Green Street, Jamaica Plain, MA 02130
Schoolyard Orchard Outdoor Classroom
The Schoolyard Orchard Outdoor Classroom project expands Earth Works Project, Inc.'s efforts to encourage teachers and young people to plant and care for fruit and nut trees, shrubs, and vines and to teach them about food production and ecosystems. The project provides 30 hands-on activities organized according to several themes or units and field-tests and evaluates the materials as they are used by at least 12 teachers and 200 students. The project also provides a curriculum handbook for the training of 40 teachers of primarily low-income students in kindergarten through grade six in the use of schoolyard urban orchards. Approximately 800 students are involved directly in the project.
1997
MA
1
Falmouth Public Schools -- $5,000
Joan Muller, 340 Teaticket Highway, East Falmouth, MA 02536-6527
Adult Basic Education Focusing on Groundwater and Pollution Issues
This project improves and enriches the current science curriculum of the Adult Basic Education (ABE) program by adapting a groundwater and pollution course for ABE students and distributing the materials to other programs on Cape Cod, where concerns about groundwater pollution are particularly high because of the Superfund hazardous waste site at the Massachusetts Military Reservation. The primary goal of the project is to educate 15 adult-education instructors and 120 adult learners who, lacking high school diplomas, are marginally employed or unemployed. The learning program includes hands-on activities and reading and writing assignments. The participants also keep journals.
1997
MA
1
Holland Elementary School -- $1,190
Debra Benveniste, Town Hall, P. O. Box 170, Holland, MA 01521
Environmental Fair Day at Lake Siog
The Environmental Fair Day project is a day-long series of workshops: Life of the Forest Floor, Life of the Pond, Life of the Beaver Dam, Wetland Identifiers, and The Night Sky. Serving approximately 100 to 150 people, including 70 children, the workshops help participants develop awareness of indicators of both health and distress for wetland areas, ponds, and forests. Some individuals are trained to provide the workshops to other audiences. Partners in the endeavor include the Holland Park Commission, The Hitchcock Center for the Environment, the Planetarium at Amherst College, and the Massachusetts Division of Fisheries and Wildlife.
1997
MA
1
Massachusetts Audubon Society -- $60,000 (HQ Grant)
Cleti Cervoni, 208 So. Great Road, Lincoln, MA 01773
Watershed Environmental Science Education Project
The Watershed Environmental Science Education Project uses environmental education as a catalyst to advance education reform on the state, local, and tribal levels. Using watersheds as a theme, the project provides professional development services to science teachers. It documents best practices and communicates them to staff of the Massachusetts Audubon Society and to environmental educators in Massachusetts, other New England states, and other parts of the United States. More than 70 middle and high school science teachers at 30 schools develop their knowledge of concepts related to watersheds and confidence in leading field-study trips to natural areas. In turn, they act as mentors for other teachers and share with more than 4,000 students exciting new ways to learn about mathematics and science through exploration of their local watershed. Staff at six Audubon wildlife sanctuaries work in partnership with the 30 schools to conduct the project.
1997
MA
1
Northeast Sustainable Energy Association -- $17,700
Nancy Hazard, 50 Miles Street, Greenfield, MA 01301
Journey to the Future: Elementary Education for Pollution Prevention and Sustainable Living
This project provides a set of curriculum materials focused on technologies and behaviors that create a sustainable society. The project provides an interactive educational booklet for elementary school students and a teacher guide that focuses on the everyday decisions and actions that people make as individuals. In addition, educators from New York and New Jersey attend workshops on the use of the materials. The project provides a vision of sustainable living and decision making that fosters pollution prevention. Partners in the public and private sectors, including environmental educators, work with the Northeast Sustainable Energy Association in developing and delivering the curriculum materials.
1997
MA
1
Parker River Clean Water Association -- $5,000
David C. Mountain, P. O. Box 823, Byfield, MA 01922
Schoolyard Ecology for the Parker River Basin
This project expands a program developed under a 1995 grant from EPA by the Triton Regional School District. It provides 10 elementary school teachers a five-day summer workshop and follow-up activities on the subject of watersheds. The training assists teachers in using hands-on, inquiry-based learning and is designed to increase their knowledge of organisms and environments in their communities.
1997
MA
1
Thompson Island Outward Bound -- $5,000
Carol Nugent, Director of Development, Education Center, P. O. Box 127, Boston, MA 02127
Summer Institute for Interdisciplinary Science-Based Learning
This program increases the use of hands-on environmental teaching strategies in the public schools of Boston. The program serves 26 public school teachers and 60 public middle school students, 85 percent of whom are people of color. Through the six-week Outward Bound Summer Institute, the teachers participate in a five-day seminar to learn pedagogy and in expeditions in Boston Harbor to learn about their marine environment. The teachers then develop curricula based on Boston Harbor that they use in summer school and in their public school classrooms.
1997
MA
1
Westport Community Schools -- $17,558
Lana M. Paolillo, 17 Main Road, Westport, MA 02790
Finfish Restoration Project
Under the Finfish Restoration Project, students and teachers work together to breed and raise three species of fish including scup, black sea bass, and winter flounder, in closed saltwater recirculation systems and to restock the waters in the area. The project involves 150 students in 8th grade and 100 students in 10th through 12th grades in two schools, all of whom participate in site visits between the schools, share data, and give presentations on their work. The project is a collaborative effort of Durfee High School in Fall River and Westport Middle School in Westport.
1997
MA
1
Westport River Watershed Alliance, Inc. -- $5,000
Gay Gillespie, 1151 Main Road, P. O. Box 3427, Westport, MA 02790
Watershed Education Program
The Watershed Education Program (WEP) provides an interdisciplinary curriculum that focuses on watershed ecology and encourages students to become stewards of their fragile environment. WEP targets approximately 90 teachers and 1,328 students in kindergarten through eighth grade. Current efforts ensure that the WEP curriculum kits are fully integrated into the classroom program by providing additional kits to schools at which entire grades previously shared a single kit and by conducting workshops that increase the confidence of teachers in their ability to lead students through the WEP activities. The Westport River Watershed and Westport Community Schools have been partners in the program for several years.
1997
MI
5
Arab Community Center for Economic and Social Services -- $20,060
Kathyrn Savoie, 2651 Saulino Court, Dearborn, MI 48120
Youth Empowerment Project
The Youth Empowerment Project seeks to create environmental awareness in an Arab American community located in southeast Michigan and to encourage community action on local issues that involve environmental justice. The program targets youth ages 12 to 19 who are members of an Arab American community of 250,000. Experts give monthly presentations on issues related to environmental justice at middle schools and high schools, and at meetings of youth groups, as well. Under the project, approximately 15 youth participate in the Rouge River Flood Plain Ecology Program at the University of Michigan, while 10 others participate in the Young Naturalist Program at the university. The Arab Community Center for Economic and Social Services also organizes and coordinates a two-month summer program of environmental education activities. Students conduct an in-depth study of the Rouge River ecosystem, access environmental data on line to share with members of the community, produce an environmental newsletter, and distribute the newsletter to 800 households in the immediate area.
1997
MI
5
City of Ann Arbor -- $4,888
Cheryl Saam, 1831 Traver Road, Ann Arbor, MI 48105
Taking Action in Recycling
Taking Action in Recycling provides 19 full-day field trips for students in area schools. Through the field trips, approximately 1,140 students become familiar with the recycling process and learn how to implement recycling programs at their schools. Each field trip begins at the Leslie Science Center, where staff members introduce the concepts of natural cycles, ecosystems, and interdependency. Students participate in hands-on activities, nature hikes, simulation games, and group discussions. They then have the opportunity to see recycling in action at the Solid Waste Department's material recovery facility. After the field trip, students and teachers receive recycling boxes and are encouraged to establish recycling programs in their schools. The Leslie Science Center and the City of Ann Arbor Solid Waste Department work in partnership to sponsor the project.
1997
MI
5
Cranbrook Educational Community -- $4,962
Michelle Goyette, 1221 N. Woodward Avenue, Bloomfield Hills, MI 48303
Understanding Honey Bees
Under this project, the Cranbrook Institute of Science seeks to significantly improve its honey-bee education program. The institute uses the program to educate student groups and the general public about the value of the honey bee population and the risks that population currently faces in the environment. Through the program's outreach effort, educators travel to schools in the Detroit area to teach more than 400 students about insects and honey bees. Cranbrook also trains 20 junior-high and high-school students as volunteers at its nature center and assists in educating the public about the honey bee population. Volunteers research the honey bees at the Cranbrook Educational Community and then use the Internet to share the information they have gathered with other institutions. More than 2,000 students and 100 teachers participate in educational activities at the nature center.
1997
MI
5
Global Rivers Environmental Education Network -- $65,673 (HQ Grant)
Keith Wheeler, 206 South Fifth Avenue, Suite 150, Ann Arbor, MI 48104
The GREEN Leadership Initiative: Creating Learning Communities for Watershed Education and Health
The GREEN Leadership Initiative addresses the high-priority environmental issue of water quality and its effect on human health. The project provides training and evaluation sessions for facilitators, as well as 10 watershed workshops. A training retreat enhances understanding of capacity-building and health-related issues. In addition, the project has improved existing watershed programs and established new programs in targeted areas by providing two workshops in each of five EPA regions.
1997
MI
5
Inland Seas Education Association -- $4,975
Thomas Kelly, 101 Dame Street, Suttons Bay, MI 49682
Virtual Schoolship
The World Wide Web site developed by the Inland Seas Education Association (ISEA) under this project expands and enhances ISEA's education program entitled Schoolship. Through the virtual schoolship, students who are unable to participate in the education programs offered on board ISEA's research vessel can take part on line. Students can download and manipulate data, request specific information, and ask questions of Schoolship professionals and other Schoolship participants. They are challenged to navigate through the Web site, perform virtual testing and sampling, view pictures, and record observations. The Web site also facilitates students' participation in the Schoolship program's pre- and post-activity evaluations and helps them apply their knowledge to their own communities.
1997
MI
5
Lake Superior State University -- $5,000
Bill Bowerman, 650 Easterday Avenue, Sault Ste. Marie, MI 49783
Cooperative Radon Survey
Through this program, the Environmental Institute at Lake Superior State University is educating students and homeowners about radon, an environmental health hazard. More than 1,200 students in grades 5 through 12, many of whom are Native Americans, receive age-appropriate environmental health presentations in their science classes. Through hands-on participation in desktop environmental chemistry laboratory exercises, students are encouraged to think critically and use problem-solving techniques when learning about radon. Students and their families also participate in a home radon survey. Those homes in which high levels of radon are detected receive information about how to reduce those levels. Science teachers and the university's Internet Web site provide updates on the radon study.
1997
MI
5
Michigan State University -- $20,460
Michael Klepinger, Room 334, Natural Resources Building, East Lansing, MI 48824
Experiential Learning Using Biological Control of Purple Loosestrife
This project focuses on control of a pest plant through the introduction into the environment of an insect predator that feeds on the plant. Personnel of Michigan State University (MSU) work with educators and students to develop a set of lesson plans for primary and secondary students on the practice of biological control, the effect of exotic species on local flora and fauna, the biology of purple loosestrife, and wetland ecology. Lesson plans, which are accompanied by a set of learning activities, describe methods of releasing and monitoring the plant-feeding beetle used as the biological control agent. Students are introduced to laboratory and field methods and share and compare results through an Internet site called the purple pages. Educators receive hands-on training to support their use of the activities in their classrooms, as well as beetle-rearing kits provided by the university.
1997
MI
5
Southeast Michigan Council of Governments -- $5,000
Kathleen Lomako, 660 Plaza Drive, Suite 1900, Detroit, MI 48226
Educational Curriculum Package on Ozone
Under this program, two workshops train teachers throughout southeastern Michigan in the use of the Spatially Plotted Ozone Tracking System (SPOTS) software, a computer-animated program that tracks ozone formation in 16 states. The curriculum educates users about the formation and transport of ground-level ozone and provides teachers with activities they can incorporate into their lesson plans. The information booklet for teachers that accompanies the software helps improve current teaching methods and provides new approaches to education about ground-level ozone.
1997
MN
5
Hamline University -- $5,000
Tracy J. Fredin, Center for Global Environmental Education, 1536 Hewitt Avenue, St. Paul, MN 55104
A Thousand Friends of Frogs
Under this project, the Center for Global Environmental Education at Hamline University uses frogs as bioindicators to educate the public about the state of the environment. The center is expanding its education program into the neighboring states of Wisconsin, Iowa, North Dakota, and South Dakota. The Hamline Center for Environmental Education is distributing 500 copies of the curriculum Frogs as Bioindicators to formal and informal educators, as well as reaching 10,000 people through an on-line education project. The program provides educators the opportunity to attend a summer workshop at which they learn how to incorporate the study guide and activities into their classroom activities. The center also maintains a World Wide Web site, manages a listserver to facilitate communication among participants, conducts an interactive Internet project that links students with experts, and provides a toll-free hotline to answer questions.
1997
MN
5
Southwest State University -- $4,240
Elizabeth Desy, 1501 State Street, Marshall, MN 56258
Guidebook and Hands-on Activities Using Regional Resources
Southwest State University uses the wildlife area on its campus to promote the development of environmental education programs in local schools. Approximately 29,000 kindergarten through 12th-grade teachers and students in a 16-county area take part in the project. The university is surveying the animal populations of the wildlife area, developing pre-visit activities for students who tour the area, and developing hands-on activities for teachers to conduct with their students while they are in the wildlife area.
1997
MN
5
Twin Cities Public Television -- $78,107 (HQ Grant)
Richard Hudson, 172 E. 4th Street, St. Paul, MN 55101
Newton's Apple: Environmental Impacts on Children's Health
"Newton's Apple: Environmental Impacts on Children's Health is a series of three video segments designed to be aired on the public television series Newton's Apple to educate viewers about environmental threats to health and strategies for minimizing the exposure of children to those threats. The videos are reinforced by an outreach effort that includes lessons and resource pages in the teacher's guide to the series and a special feature on the Newton's Apple World Wide Web site. The video segments and supplementary materials, broadcast on 300 stations across the nation, educate millions of parents, teachers, and young people about environmental hazards and guide them in taking responsible action to minimize the exposure of children to those threats.
1997
MS
4
Crow's Neck Environmental Education Center -- $4,913
Matthew P. Miller, P. O. Box 460, Tishomingo, MS 38873
Summer Institute in Environmental Education
The Summer Institute in Environmental Education trains teachers in northern Mississippi to incorporate environmentally sound principles into the science curriculum, with particular emphasis placed on the recruitment of schools serving minority populations. The project is conducted by a partnership of the Biological Field Station, the Department of Biology, and the School of Education of the University of Mississippi; the North Mississippi Environmental Education Consortium; and the Crow's Neck Environmental Education Center.
1997
MS
4
Jackson Public Schools -- $16,375
Noah Gray, 6190 Highway 18 W, Jackson, MS 39209
Study of Water Pollution and Aqua-Fair
This project focuses on the dissemination of an environmental curriculum on water pollution prevention for 2,500 sixth-grade students and 50 teachers. The project trains teachers to work with students to make them conscious of the effects of water pollution. An Aqua-Fair culminating the students' learning experiences includes a number of activities that highlight a variety of issues related to water.
1997
MS
4
University of Mississippi -- $5,000
Bonnie J. Krause, University Museums, University, MS 38677
Environmental Education Training
This project provides three traveling trunk programs that are based on the pine forest of northern Mississippi: Plants and Civilization; Animal Adaptation; and Soil Erosion. The programs are available for use by local classroom teachers. Each traveling trunk contains all the materials teachers need to present the topic to their classes.
1997
MO
7
Macon County University Extension Council -- $5,000
Wanda Eubank, 119 North Rubey, Macon, MO 63552
Water Quality Education for Educators
This project provides a water quality workshop for teachers, students, and informal educators from the 21-county Northeast Extension Region of Missouri. The project puts into place a train-the-trainer model that reaches at least 4,500 teachers in its first year. The 45 hours of instruction included in the workshop explore water quality issues, examine existing curricula, and strengthen program development and public education outreach skills. Among the partners in the project are the Natural Resources Conservation Service; the Mark Twain Water Quality Demonstration Project; soil and water conservation districts; and the Missouri Department of Conservation, Health, and Natural Resources.
1997
MO
7
Native American Health/Aids Coalition Educational Division -- $16,718
Shirley Hoskins, 6025 Prospect, #103, Kansas City, MO 64130
Native American Interactive On-Line Educational Program
The goal of the Native American Interactive On-Line Educational Program is to develop a school-based, on-line network devoted to environmental efforts conducted by Native Americans. Such efforts are designed to prevent health problems, minimize environmental injustice, and assess the health priorities of the Native American community. The program teaches the history of respect for Mother Earth to 200 students, 25 teachers, and more than 500 community members. The program eventually will be expanded to reach 400 tribes and 300 Indian-controlled schools. Partners with the Native American Health Clinic are the Selective Learning Network, a national on-line educational program, and the Kickapoo Nation School.
1997
MO
7
Seneca R-VII Schools -- $20,841
Charles Yust, P. O. Box 469, Seneca, MO 64865
Habitat Patrol
The Habitat Patrol project gives students and community members the opportunity to use today's technology to expand their knowledge of environmental management. Through community-based education, the project reaches 1,437 students and more than 2,500 members of the Eastern Shawnee, Modoc, and Wyandotte tribes, as well as approximately 2,000 members of the general population. Participants learn about the technology through media modules. Further, the entire community participates in the construction and maintenance of a water garden. The project is intended to increase all participants' knowledge and awareness of their ecosystem.
1997
MO
7
Southwest Missouri State University -- $19,242
Charles W. Emerson, 901 S. National, Springfield, MO 65804
Environmental Baseline Investigation of Fulbright Springs Watershed
The environmental baseline investigation conducted under this project assesses and maps the environmental condition of Fulbright Springs and land use patterns in the area, which is a sensitive watershed and an important source of drinking water. A workshop demonstrates the potential uses of the global positioning system (GPS) technology for representatives of local environmental groups, neighborhood associations, and public agencies. The Fulbright Springs project addresses the high-priority environmental issue of urbanization and its effects on the quality of groundwater. A primary partner in the project is the Watershed Committee of the Ozarks.
1997
MO
7
University of Missouri 4-H Youth Program -- $20,000
L. Jo Turner, 212 Whitten Hall, Columbia, MO 65211
Streets to Streams - Water Quality Education for Youth
Streets to Streams prepares 40 professionals to be water quality trainers. The professionals in turn train 400 educators who reach 8,000 youth. The Streets to Streams curriculum, with a target audience of students ages 9 to 13, responds to the high-priority need to protect surface and groundwater. A key component of the curriculum is the inclusion of standards correlated to standards adopted by the Missouri Board of Education.
1997
MO
7
Wyman Center -- $4,500
Linda Sanders, 600 Kiwanis Drive, Eureka, MO 63025
Sunship Earth Program
The Sunship Earth Program helps participants develop an understanding of and appreciation for the relationship between people and the natural world that will lead to positive environmental actions. Sunship Earth reaches children attending schools in lower income and culturally diverse neighborhoods in which access to business, education, and health resources is limited. The program is based on a five-day camp experience. During the camp program, participants explore the process of environmental decision making. Wyman Center is a social service organization that serves children, youth, and families in lower income and culturally diverse neighborhoods.
1997
MT
8
Missoula Young Men's Christian Association (YMCA) -- $4,642
J. Porter Hammitt, 3000 South Russell, University Hall 116, University of Montana, Missoula, MT 59801
Missoula Community Environmental Education Program
The Missoula Community Environmental Education Program is a year-round project that offers quality learning experiences in environmental education. More than 100,000 residents of the community have the opportunity to take part in the program's outdoor sessions, during which experienced instructors lead educational activities that vary in length from one hour to one day. The instructors demonstrate and disseminate field-tested curricula developed under other programs, borrowing primarily from established sources. They focus the learning experiences on issues related to the environment and natural resources of western Montana.
1997
MT
8
University of Montana -- $25,000
Ken D. Hubbard, Research Administration, Missoula, MT 59812-0002
Integrated Ecosystem Conservation Framework
The Integrated Ecosystem Conservation Framework project develops and demonstrates a new, balanced, integrative teacher training course outline for environmental education. The primary goals of the project are improvement of skills in teaching environmental subjects among middle- and high-school teachers and improvement of teacher-training skills in the same area among faculty members at the University of Montana. A pilot workshop demonstrates materials and teaches educators how to use them and evaluate them. Problems addressed through the curriculum include polarization and conflict among such environmental issues as those related to endangered species, harvesting of timber, reintroduction of bear and wolf populations, and water quality. In addressing such issues, the project focuses on teaching critical-thinking and problem-solving skills. Under long-term plans, the revised curriculum will be offered as a two- to four-credit course through the continuing education summer program at the university. Primary partners in the project are the Boone & Crockett Conservation Education Program, the Western Montana Ecosystem Management Learning Center Program, and the Missoula Curriculum Consortium.
1997
NE
7
Chadron Clean Community System, Inc. -- $2,709
Lois Cawrse, 250 Main Street, Chadron, NE 69337
Waste-In-Place & Waste: A Hidden Resource
This project provides the first teacher workshop in Northwest Nebraska related to solid waste management for 25 teachers in a three-county area. The teachers in turn present the materials to 625 students, who then share the information with their families. Partners in the project include the city of Chadron; the Forest Service, U.S. Department of Agriculture; the Nebraska Environmental Trust; and the Nebraska Department of Environmental Quality.
1997
NE
7
Lincoln-Lancaster County Department of Health -- $4,800
John Chess, 3140 N Street, Lincoln, NE 68510-1514
Environmental Education for Groundwater Quality in Domestic Water Wells
This project builds upon the Lincoln-Lancaster County Department of Health's (LLCDH) Groundwater and Environmental Self-Help Check List Program. With a target audience of rural homeowners, acreage owners, and farmers, as well as high school students, the project educates participants about groundwater quality and protection of that resource and demonstrates how to evaluate the adequacy of domestic water wells. The curriculum unit introduces hydrology, describes methods of installing wells, and teaches participants how to check the quality of groundwater. The unit is available to teachers and other adults for use in supplementing the well check list. Partners in the project are LLCDH, the lead agency; the state's Department of Health; and the University of Nebraska.
1997
NE
7
Nebraska State 4-H Camp -- $4,960
Bernie Lorkovic, P. O. Box 87, Halsey, NE 69142
NatureLink, Family Outdoor Education Weekend
NatureLink provides a meaningful outdoor educational experience to urban and suburban families from low-income and culturally diverse backgrounds. The program, presented over a three-day weekend, includes workshops organized as family Learnshops, during which parents experience the outdoors with their children. Such intergenerational participation reinforces the message that natural resources must be protected for future generations. Mentors work with families during the weekend and make a commitment to keep in touch with the families after the program has ended. Partners in the program are the Big Brothers and Big Sisters organizations, whose members work with single-parent families and at-risk youth.
1997
NV
9
Nevada Department of Conservation and Natural Resources -- $4,500
Jean Murray, 1550 East College Parkway, Suite 142, Carson City, NV 89710
Wet, Wild, and Woody
Wet, Wild, and Woody is a three-part project that provides a two-day teacher workshop in water resources and conservation; a course on water issues for teacher candidates at the University of Nevada Reno; and the expansion of a World Wide Web site to include the project's activities. Under the format of traditional training in environmental education developed for the earlier Project WET, Project WILD, and Project Learning Tree, participants in the Wet, Wild, and Woody in-service workshop develop critical-thinking skills, particularly in the area of assessing the role human activities play in causing environmental pollution. The College of Education at the University of Nevada Reno is offering to 30 teacher candidates a new 15-hour course, taught by the project's facilitators and professionals from state agencies. The Web site maintained by the Nevada Department of Conservation and Natural Resources links with the water education site of Utah State University to allow professionals in the Water Planning Division to respond to questions posed by students throughout the state.
1997
NV
9
University of Nevada Las Vegas -- $23,679
William Schultze, Office of Sponsored Programs 1037, University of Nevada Las Vegas, Las Vegas, NV 89154-1037
Freshman Interest Groups: Mentoring, Environmental Education, and Sustainable Practices
This project organizes freshman interest groups as clusters of 15 to 25 students enrolled in the same sections of three core courses. The interest groups provide opportunities for freshman students to join upper-division students in environmental studies to develop thesis projects, as well as to work in community development with students at Crestwood Elementary School and environmental professionals. The community involvement effort centers on creating wetlands from treated wastewater discharge. The water quality and endangered species project is designed to determine, through water quality monitoring, the feasibility of raising endangered species of fish in ponds located in the wetland. Partners in the project include the government and school district of Bolder City, the Bureau of Reclamation, and the Nevada Department of Wildlife.
1997
NV
9
Washoe County School District -- $5,000
Joanne Everts, 425 East Ninth Street, Reno, NV 89520?0106
Project Great Basin
This project provides teacher training for 700 elementary school staff to help them integrate into all curriculum areas concepts related to the environmental and cultural diversity found in the Great Basin. The training provides a cadre of teacher trainers at each grade level in the district's 55 elementary schools. The trainers encourage teachers to include consideration of the diversity of the local region in all aspects of student learning. The purpose of such an approach is to develop in students an appreciation for environmental and cultural diversity, as well as an understanding of the need for conservation of the area's fish and other wildlife and native plants. Key partners with the school district in the program include the Biological Resources Research Center of the University of Nevada Reno; the Departments of Education and Geography at the University of Nevada Reno, University of Nevada Reno Cooperative Extension; the Washoe Storey Conservation District; Wilbur May Museum; Nevada State Parks; the Nevada Divisions of Wildlife and Agriculture; the Bureau of Land Management, U.S. Department of the Interior (DOI); and the U.S. Fish and Wildlife Service, DOI.
1997
NH
1
New Hampshire Association of Conservation Districts -- $5,000
R.J. Dick Obyc, 3 Coombs Road, Somersworth, NH 03878-2001
New Hampshire ENVIROTHON
ENVIROTHON is a statewide, high school environmental education program in its fifth year. It builds upon the strengths of previous years with 28 registered teams totaling 13,000 students and directly involves 195 students and 28 teacher-advisors. More than 100 volunteers help conduct the program, which is open to all high school students in the state. Under the project, students study, analyze, and evaluate real-life land use problems. They then participate in a statewide competition, with winners going on to compete in the national ENVIROTHON.
1997
NH
1
New Hampshire Project Learning Tree -- $5,000
Esther Cowles, 54 Portsmouth Street, Concord, NH 03301
Project Learning Tree
The Project Learning Tree pilot project develops innovative methods of delivering the project's curriculum in forest management to 11 rural public schools in the Upper Connecticut River Valley. The project is conducted in partnership with two forest product companies, Champion International Corporation and International Paper Company. It provides two workshops, including forest field trips, for 18 elementary school teachers and one for 10 secondary school teachers.
1997
NH
1
University of New Hampshire -- $5,000
Frank Mitchell or Nancy Lambert, New Hampshire Cooperative Extension Service, 111 Pettee Hall, Durham, NH 03824
Project SERVE: Students for Environmental Resource Volunteerism and Education
Project SERVE is an environmental outreach program for high school students, who earn credit for working with conservation groups in their communities on local resource protection projects. It involves 10 to 16 students, six town conservation commissions, and two teachers in exploring such topics as functional evaluation of wetlands, monitoring of water quality, identification of sources of pollution, delineation and description of watersheds, and mapping of vernal pools. Partners in the project include Kearsarge Regional High School, the New London Conservation Commission, the Springfield Conservation Commission, and the Newbury Conservation Commission.
1997
NJ
2
Camp Vacamas Association, Inc. -- $5,000
Michael H. Friedman, 256 Macopin Road, West Milford, NJ 07480
GREEN YOUTH Program
Under the GREEN YOUTH Program, Camp Vacamas provides experiential education for at-risk inner city youngsters from diverse backgrounds. GREEN YOUTH educates students from Paterson's Eastside High School to become peer trainers in environmental education. Through four in-school workshops, the program teaches a corps of 20 juniors and seniors the activities, environmental concepts, and skills they need to conduct workshops for other students. Participants in the program explore important environmental issues as they acquire the problem-solving and decision-making skills that are the core of education.
1997
NJ
2
Citizen Policy & Education Fund of New Jersey -- $14,995
Ralph Scott, 400 Main Street, Hackensack, NJ 07601
Newark Area Lead Poisoning Education, Train-the-Trainer Project
This project creates a Newark area infrastructure in lead poisoning education by training staff from 24 area organizations and agencies. The Citizen Policy & Education Fund (CPEF) works in partnership with agencies that provide services to families at high risk for lead poisoning. Staff learn to incorporate lead-poisoning prevention education into their regular work with families, thereby establishing programs in their own agencies. CPEF facilitates communication and collaboration among agencies to increase their effectiveness and provides ongoing assistance and follow-up training.
1997
NJ
2
Global Learning Inc. -- $5,000
Jeffrey Brown, 1018 Stuyvesant Avenue, Union, NJ 07083-6023
New Jersey and Sustainable Development Conference
The New Jersey and Sustainable Development Conference gives middle and high school science and social studies teachers the opportunity to address the issues of sustainable development in New Jersey. The program demonstrates and distributes supplemental interdisciplinary curriculum materials developed under the New Jersey Sustainable Development Project. The project also addresses recently adopted state educational standards and provides interactive, highly motivating educational activities.
1997
NJ
2
Greater Newark Conservancy -- $5,000
Lisa Lerl, 303-9 Washington Street, 5th Floor, Newark, NJ 07102
Water Quality Project
The Water Quality Project's goals include improving the quality of environmental education in three urban elementary and middle schools in Newark, New Jersey, by working with teachers to create an environmental education program that has the potential to become a permanent part of the three schools' programming. Teachers focus on the Hudson-Raritan Estuary, learning about the area's ecology and exploring methods of incorporating hands-on activities into their curricula. An information exchange among the three schools allows students to conduct comparative monitoring of the estuary and link the project to other statewide water monitoring programs.
1997
NJ
2
Hackensack Meadowlands Development Commission -- $4,995
Robert Sikora, 2 DeKorte Park Plaza, Lyndhurst, NJ 07071-3707
Improving Environmental Education Teaching Programs
This project employs two successful teacher training models, the summer seminar on environmental issues and an in-service training and curriculum revision meeting. The project assists teachers in the development, delivery, and institutionalization of quality environmental education programs through districtwide planning for the revision of curricula. The in-service training involves fifth- and sixth-grade teachers from schools in Hoboken in three days of training and five curriculum planning sessions. The summer session for 20 teachers is a two-week graduate level course that incorporates a variety of teaching methods, hands-on workshops, and laboratory exercises, as well as a mock public hearing that serves as a problem-solving exercise.
1997
NJ
2
New Jersey Department of Environmental Protection -- $30,150 (HQ Grant)
Tanya Oznowich, New Jersey Department of Environmental Protection, P. O. Box 402, Trenton, NJ 08625-0402
New Jersey Classroom Reform
This project provides faculty, parents, and students in kindergarten through grade 12 comprehensive and effective supplemental and enrichment materials in environmental education that support the New Jersey core curriculum content standards (CCCS) and other needs identified through education reform efforts in the state. Under the project, 13 trained facilitators develop a multisubject matrix for each activity and a master matrix of cross-referenced activities for each of the four projects the program includes. Further, 15 to 20 trained facilitators identify needs and develop new modules or a series of enhancements of current workshops that link each project to the CCCSs. The modules or enhancements are pilot-tested in eight project workshops. A three-day workshop for facilitators that highlights support for education reform rounds out the project.
1997
NJ
2
North Arlington Board of Education -- $1,100
Loris Chen, 222 Ridge Road, North Arlington, NJ 07031
Project WET/WOW Workshop
The North Arlington Board of Education provides a one-day in-service training program to assist elementary school teachers in developing environmental lessons based on Project WET/WOW and ensuring that those lessons meet the standards for core curricula established by the state of New Jersey for various disciplines. The workshop is designed to educate teachers about critical issues related to watersheds and to improve environmental instruction in the elementary schools of the district. Teachers are introduced to environmental lessons that can be integrated into the curriculum to meet state standards for kindergarten through fifth-grade programs.
1997
NJ
2
Schooner Clyde A. Phillips, Inc., t/a Delaware Bay Schooner Project -- $5,000
Meghan E. Wren, 2800 High Street, Port Norris, NJ 08349
The River as Classroom
This project supports environmental education sailing trips for more than 3,000 New Jersey students. The program emphasizes compatible and incompatible uses of the Delaware Estuary resource and explores the stresses on the estuary that result from daily decisions. Students in grades 4 through 12 in public, parochial, and independent schools take part in the program. The activities conducted on the schooner, as well as related preparation and follow-up experiences, encourage a heightened awareness of the interdependence of humans and the Delaware Estuary.
1997
NM
6
Friends of the Rio Grande Nature Center -- $5,000
Karen Brown, 2901 Candelaria Northwest, Albuquerque, NM 87107
Aquatic Education Workshops
Friends of the Rio Grande Nature Center is a cooperative, long-term, citizen project dedicated to gathering and sharing information about the ecological conditions of the Rio Grande and its riverside forest ecosystem. The project examines the plants and animals of the bosque and explores the ways in which their evolution has been changed by human activity. Environmental educators participate in aquatic ecology workshops that expand existing curricula to focus on aquatic resources and the need to protect, maintain, and study those resources.
1997
NM
6
La Plata Middle School -- $5,000
Tom Sweitzer, 2810 N. Swan Street, Silver City, NM 88061
La Plata's Plot to Improve Urban Arroyo Healthy Riparian System
Drawing on data from an inventory survey of sites, this project creates maps that depict the information collected through that survey. It is replacing nonnative species of plants and installing a nature trail and an in-stream structure to catch sediment and pond water. The project also provides a video that documents the process of restoration at the site.
1997
NM
6
New Mexico Museum of Natural History & Science -- $4,860
Kristin Gunckel, 1801 Mountain Road Northwest, Albuquerque, NM 87104
Econnections Environmental Education Project in Rural New Mexico
This comprehensive project helps to build state and local capacity to deliver quality environmental education by providing school districts with a continuum of environmental education programs. It improves instructional strategies in environmental education by providing teachers with curriculum and workshops that reflect efforts in the state to achieve education reform. The project also provides students and teachers a means of examining and developing an understanding of environmental issues in their own communities.
1997
NM
6
Recursos de Santa Fe -- $4,901
Kessa Shipley, 826 Camino De Monte Rey, A-3, Santa Fe, NM 87505
Gonzales Elementary G-SCAPE II - Model Water Conservation Education Project
This project addresses critical environmental issues in high desert areas where water is in very short supply and the levels of human population are skyrocketing. The project is designed to increase awareness of such issues and develop a heightened sense of responsibility for conserving water. To measure the effectiveness of the program, the use of educational materials related to water issues and the comments of students and parents are tracked.
1997
NM
6
Salt Missions Trails Mainstreet -- $3,825
Susan Simons, P. O. Box 48, Estancia, NM 87016
Estancia Landfill Reclamation Project
This project familiarizes low-income culturally distinct community groups with the environmental hazards posed by an old dump site and equips them with the tools and information they need to make decisions about actions they should take to resolve the problem. Students and science teachers use new curriculum material and meet with experts in waste management from local public agencies and private industry. The curriculum materials developed under the project are easily adaptable for use in other school districts.
1997
NY
2
Cities in Schools - New York, Inc. -- $5,000
Donna Goodman, c/o Metropolitan Corporative Academy, 362 Schermerhorn Street, Brooklyn, NY 11217
Education Reform
This project creates a comprehensive environmental science program based on the urban ecology of Brooklyn for students at a public alternative high school in Brooklyn. The project links and expands an environmental science curriculum and a summer woodlands restoration program conducted in Brooklyn's Prospect Park. The project also meets requirements established by the state and city for science programs, gives students experience in scientific research, educates young people to value and protect public parks and woodlands, and provides an introduction to environmental careers.
1997
NY
2
City Parks Foundation -- $4,500
Carrie Messenger, 830 Fifth Avenue, New York, NY 10021
SEED: Schoolyard Environmental Education Directive
This project provides hands-on schoolyard gardens in the Chancellor's district, where a group of the lowest-performing public schools in the city is located. The premise of the program is that engaging students in a hands-on gardening program will help them become more aware of environmental issues. The gardening program also builds self-esteem, reinforces literacy education, increases literacy, helps educators improve their teaching skills, and forges special relationships with the neighboring community. For many of the students in the first targeted schools, the project provides their first opportunity to experience the natural world. The project is conducted by the City Parks Foundation under a new partnership with the New York City Board of Education.
1997
NY
2
Community Environmental Center -- $24,000
Richard M. Cherry, 22-09 Queens Plaza North, Long Island City, NY 11101
Preparing Youth to Create a Better Environment
This project integrates environmental education into community service projects for New York City teenagers. Supervised groups of teenagers design, implement, and evaluate community service projects focused on urban environmental health. Community workshops examine the environmental health issues that affect economically and ethnically diverse communities in Manhattan and Queens. In addition, staff of partner organizations are trained in environmental education and urban environmental issues. Partners in the project with the Community Environmental Center are the Young Men's Christian Association (YMCA) and the Jacob Riis and Grand Street settlement houses.
1997
NY
2
Cornell Cooperative Extension of Warren County -- $4,687
Laurel R. Gailor, Schroon River Road, HCR 02, Box 23B, Warrensburg, NY 12885-9601
Warren County Watershed Education Program
The Warren County watershed education program conducts outreach efforts and provides educational activities to improve public awareness of the importance of water quality in Warren County. The program accomplishes that objective through a two-day workshop for representatives of the lake association. The workshop focuses on the hydrology of the region and teaches strategies for fostering cooperative efforts to resolve issues that affect the watershed. Another 10 workshops are designed to provide the specific information that local government officials need to support effective decisions about such issues. In addition, county science teachers attend a one-day workshop to learn about planning issues related to the watershed. Partners in the project include the Warren County Soil and Water Conservation District, the Lake Champlain-Lake George Regional Planning Board, the Cornell Cooperative Extension of Warren County, and the Warren County Water Quality Strategy Committee.
1997
NY
2
Council on the Environment, Inc. -- $5,000
Michael Zamm, 51 Chambers Street, Room 228, New York, NY 10007
Training Students to Organize - Academy of Environmental Science in East Harlem
The Council on the Environment educates high school and intermediate school students to organize environmental improvement projects in their schools. The council provides its Training Student Organizers program to the Academy of Environmental Sciences, a public school in East Harlem for grades 7 through 12. The project educates students and their teachers to organize projects to teach other students, parents, community leaders, and the public about the threats to human health posed by environmental pollution, especially the effects of such pollution on young people.
1997
NY
2
High School for Environmental Studies -- $5,000
Robert Maslow, 444 West 56th Street, New York, NY 10019
High School Course in Environmental Justice and Decision Making
The High School for Environmental Studies (HSES) provides a one-year course in environmental justice to high school students. Subjects included in the course are environmental history, economics, ethics, politics, racism, decision making, urban planning, and urban design. The project also makes available a curriculum guide, a textbook, and a list of resources for the study of environmental justice and decision making, as well as an annual publication, Environmental Justice, which is written and edited by students. A network of supportive organizations and individuals outside the school serve as resources to provide insight into environmental careers, politics, and economics. Queens College is a partner in the project.
1997
NY
2
Institute of Ecosystem Studies -- $14,586
Martha Ched, Box R, Route 44A, Millbrook, NY 12545
Building Watershed Bridges
Building Watershed Bridges establishes a network of schools and resource partners to develop, coordinate, and sustain watershed education in the mid-Hudson Valley. The project also develops an organized and accessible clearinghouse of educational resources related to watershed issues. Resource partners provide workshops and other support for educators working to involve students in watershed stewardship projects. Students in rural, suburban, and urban schools share their experience, as well as information about issues related to the watershed, and collaborate in conducting watershed stewardship projects.
1997
NY
2
Jewish Community Center of Staten Island, Inc. -- $5,000
Lewis Stolzenberg, 475 Victory Blvd., Staten Island, NY 10301
Forever Green: Lessons to Live by from the Staten Island Greenbelt
Forever Green improves the environmental knowledge and teaching skills of camp staff, enabling them to understand issues related to the protection of habitat as they affect open areas and natural resources on Staten Island. More than 30 counselors learn how to integrate hands-on environmental activities into their camp programs. They also learn how to engage campers in testing of soil, water, and air quality; restoration of native plants; and nature identification games. The program is designed to improve the young people's ability to apply critical-thinking skills to issues related to the interrelationships among living things and the role of the greenbelt in the urban ecology of Staten Island. High Rock Park, a public park on the island, is a partner in the project.
1997
NY
2
Lake George Association -- $5,000
Mary Arthurbeebe, P. O. Box 408, Lake George, NY 12845
Reaching New Heights, Floating Classroom
This project improves a program designed to educate every seventh grader in the Lake George area in stewardship of the lake and science topics related to the lake's environment. The program, which combines on-shore learning and hands-on activities on the lake, teaches students basic limnology and gives them an understanding of the importance of the watershed that surrounds Lake George. Students learn about nutrient cycles and the oligotrophic status of the lake. Through various activities, they come to understand the role of the lake as the source of drinking water for the area and to assume stewardship for the lake. The program takes students through the learning activities during the fall, the optimum time of the year for limnological studies, and teaches the economic and ecological importance of the lake in the lives of area residents.
1997
NY
2
Nunataks, Ltd./Greenburgh Nature Center -- $5,000
William Lawyer, 99 Dromore Road, Scarsdale, NY 10583
Riley Pond Community Environmental Education Project
The Riley Pond Community Environmental Education Project educates members of the community of Fairview about the problems and promise of Riley Pond, a polluted natural resource in the heart of the low- to moderate-income, culturally diverse community. The project focuses on environmental justice and community education. It offers young people in the community the opportunity to learn field and classroom research techniques and skills in collection and analysis of data and fosters an intergenerational collaborative relationship between fifth- and seventh-grade students and senior citizens. If results of the community's research effort indicate that revitalization of the pond is practicable, the project will develop a plan for doing so. The Riley Pond project is a partnership effort of the Fairview-Greenburgh Community Center (FGCC) and the Greenburgh Nature Center.
1997
NY
2
Putnam/Northern Westchester Board of Cooperative Educational Services -- $5,000
Donna L. Schroeter, 200 BOCES Drive, Yorktown Heights, NY 10598
Environmental Education Kits
The Putnam/Northern Westchester Board of Cooperative Educational Services (BOCES) provides five environmental kits, each focused on a different ecosystem and supported by a strong teacher training component. The kits include extensive instructional and educational materials and a teachers' guide that suggests activities that help students learn about the value of ecosystems, the roles humans play in bringing about change in ecosystems, and issues that affect ecosystems. An advisory committee made up of teachers, curriculum specialists, project coordinators, and a member of the staff of the project's partner organization oversees development of the kits. The kits are used by district schools and in training sessions and are distributed to teachers on request. The Center for Environmental Education is a partner in the project.
1997
NY
2
Rachel Carson Intermediate School -- $5,000
Lauren Gezzi, 46-2 Colden Street, Flushing, NY 11355
A Family Affair: A Source-Reduction Educational Program
This project uses environmental education to nurture and develop critical thinking and problem- solving skills as students, parents, and members of the community learn how to avoid toxic substances commonly found in the household. Graphs and charts support the effort to reach first-generation immigrant children and families who have poor English language skills. The families receive information about household toxins and alternative products they can choose. Cooperative learning, team teaching, and learning through drama are employed to help students discover the hazards of household toxins and develop a personal responsibility strategy.
1997
NY
2
Roger Tory Peterson Institute of Natural History -- $5,000
Mark Baldwin, 311 Curtis Street, Jamestown, NY 14701
The Training Partnership Project
The Training Partnership Project provides staff development in nature and environmental education for pre-schools, child care centers, and kindergartens. The project disseminates the NaturKind training model, which features methods of teaching about the environment and nature in age-appropriate ways, through workshops for early childhood educators. The instructors in turn strive to prepare local training associates who then organize workshops for their peers. The NaturKind workshops target Headstart centers, subsidized children's centers, and state pre-school programs in northern Chautauqua and southern Erie counties. The Roger Tory Peterson Institute and Pacific Oaks College are collaborators in the project.
1997
NY
2
Seneca Nation of Indians -- $4,950
Lionel R. John Health Center, P. O. Box 500, Salamanca, NY 14779
Asthma Education and Prevention
The Asthma Education and Prevention Project of the Seneca Nation Health Department (SNHD) focuses on the training of health-care providers, health educators, and asthma patients and their families. The goal of the project is to increase awareness among patients and their families of effective means of preventing and managing asthma. Training in prevention and management of asthma is provided to medical staff and health-care professionals. An Asthma Education and Prevention Day at each SNHD center focuses on prevention and management, as well as issues related to indoor air quality. The SNHD maintains a referral system for arranging for the conduct of environmental assessments, as well as a resource library on the subject.
1997
NY
2
State University of New York (SUNY) at Morrisville -- $4,987
Douglas J. Nelson, P. O. Box 901, Morrisville, NY 13408
Developing Environmental Decision-Making Skills for Urban Youth
This project provides an environmental decision-making workshop for 9th and 10th graders from the Syracuse metropolitan area. Approximately 75 youths participate in a one-day workshop that involves them in identifying local environmental issues and the data needed to support decisions about those issues. Workshop participants demonstrate their understanding of the effects of releases of pollutants into selected environments and use the critical-thinking skills they have developed by taking part in a public meeting. The Central New York Regional Minority Access Consortium is a partner in the project with the State University of New York (SUNY) College of Agriculture and Technology at Morrisville Environmental Training Center.
1997
NY
2
Surprise Lake Camp -- $5,000
Adam Benderson, 50 West 17th Street, 7th Floor, New York, NY 10011
Camp Staff Training Program
The Camp Staff Training Program supports a camp training program for Jewish residential camps in the eastern United States. The project is designed to increase environmental expertise among counselors and nature specialists by teaching them how to conduct environmental education programs. The informal educators who staff the camps attend workshops led by experts in the field, who train the participants in delivery of programs and activities. The participants also learn to integrate environmental ethics into various aspects of camp life. They receive information about practical lessons and activities, a manual, and a song book to help them implement the programs in their camps.
1997
NY
2
The Croton Arboretum & Sanctuary, Inc. -- $5,000
Evelyn H. Singer, P. O. Box 631, Croton-on-Hudson, NY 10520
Environmental Education: Water Monitoring
This project, part of a more extensive effort to provide an innovative outdoor learning environment, focuses on a threatened wetland on the grounds of the arboretum. The program recruits and trains the trainers who learn the skills and knowledge needed to deliver effective educational experiences. Through training workshops and seminars, community leaders, teachers, faculty, and students learn to collect and interpret data from established sampling sites in the biologically diverse wetland. They also develop wetland education programs and train new participants as they enter the program. The project expands the arboretum's collaborative partnership with the local school district and establishes a new partnership with municipal environmental boards and commissions.
1997
NC
4
Colburn Gem & Mineral Museum -- $5,000
Cassandra H. Love, P. O. Box 1617, Asheville, NC 28802
You Have the Power
This project focuses on designing, demonstrating, and distributing an environmental education unit matched to a fifth-grade curriculum. Workshops for 26 teachers examine environmental issues related to the production and use of energy, as well as issues that arise from pollution associated with energy production.
1997
NC
4
Mountain Area Gardeners in Communities -- $5,000
Mort Jonas, P. O. Box 168, Asheville, NC 28802
Environmental Education Center in the Garden
The Environmental Education Center in the Garden provides students with outdoor hands-on environmental experiences that demonstrate the relationships between environmental science and garden ecosystems. In addition, 36 teachers participate in a series of workshops consisting of hands-on environmental lessons that enable them to teach the basic techniques of organic gardening and related environmental topics. A series of seminars and workshops for the general public provides information about topics of interest to the community.
1997
OH
5
Case Western Reserve University -- $4,988
Glenn Odenbrett, 10900 Euclid Avenue, Cleveland, OH 44106
Watershed Education
The Watershed Education Project seeks to educate more than 200 students, primarily African American, enrolled in a local underserved school district. Case Western Reserve University recruits, trains, and deploys a corps of 10 student environmental leaders who serve as role models and liaisons between the school district and the environmental education organizations that are partners in the project. The student leaders educate other students about watersheds, water quality, and water pollution. Students engage in hands-on activities and experiments in the classroom and visit the partner environmental education organizations to apply the knowledge they have acquired. The university also integrates hands-on watershed education activities into pre-college summer programs for minority students. Through environmental service learning projects, students monitor water quality and evaluate contamination of soil.
1997
OH
5
Environmental Education Council of Ohio -- $25,000
Deb Yandala, 397 W. Myrtle Avenue, Newark, OH 43055
Ohio EE 2000 - Building State Capacity
This project implements a statewide strategy for building environmental education capacity in Ohio. It promotes interdisciplinary environmental education that conforms with the current education reform efforts in the state. Under the project, a broad-based planning group develops and implements a statewide strategic environmental education plan, incorporates current research related to reform-based education and comparative risk into the plan, distributes the plan statewide for comment, and forms work groups to implement the plan. Participants in the project include policy makers, educators, representatives of business and industry, members of citizen groups, and staff of state agencies. Partners in the project are the Environmental Education Council of Ohio, the Ohio Alliance for the Environment, the Ohio Department of Education, the Ohio Department of Natural Resources, and the Ohio Environmental Protection Agency.
1997
OH
5
Environmental Mobile Unit -- $5,000
Sharon Edwards, 5431 Tallawanda Lane, Oxford, OH 45056
The M.O.L.E. Project
The Measuring Our Local Environment (M.O.L.E) project is designed to strengthen the environmental problem-solving skills of both teachers and students through observation and evaluation of their local environments, as well as action to improve those environments. A naturalist from the environmental mobile unit (EMU) works with teachers to develop lesson plans that give students the opportunity to investigate a number of environmental issues, at both local and regional levels. Students gather data and exercise their problem-solving skills while learning about water quality, air quality, wildlife habitat, and soil. The naturalist also educates teachers, students, and their families about pollution; helps teachers improve their skills in teaching environmental topics; and supports the goals of the state's education reform efforts. More than 50 teachers and 1,500 kindergarten through sixth-grade students participate in the EMU program.
1997
OK
6
Fox Public Schools -- $4,840
Linda Anderson, P. O. Box 248, Fox, OK 73435
Earth Science Project Teacher Training Workshop
This training and environmental workshop for teachers equips them with a curriculum that enables them to teach the basic concepts of earth science through the exploration of hydrocarbons. Using the curriculum, teachers help students increase their knowledge and understanding of oil and gas as important natural resources and of the effects of the production and use of those resources on the local environment.
1997
OK
6
Heart of Oklahoma Council Camp Fire -- $5,000
Vanna Pribble, 3309 E. Hefner Road, Oklahoma City, OK 73131
DaKani Outdoor Environmental Classroom Project
This accredited program has a long history of providing outdoor programs to children and teens who have little access to more traditional outdoor programs. It focuses on educational experiences that equip those young people with the knowledge and skills they need to exert a positive influence for the preservation of the environment. The program incorporates basic hands-on training that teaches the young people how to observe and listen to birds and identify their habitats, identify insects, test water and soil, and explore other aspects of their environment.
1997
OK
6
Kaw Nation of Oklahoma -- $3,243
Christopher Winter, P.O. Drawer #50, Kaw City, OK 74641
Environmental Education Leadership Workshop Native American Land Ethic Project
The workshop is an educational tool designed to strengthen land ethics among 6th- through 12th-grade students. It helps them develop their critical- and creative-thinking skills by engaging them in hands-on activities that strengthen their ecological literacy. Further, the workshop assists educators in integrating the land ethic curriculum into their classroom programs, as well as into adult learning settings.
1997
OK
6
Midwest City-Del City Independent School District -- $3,263
Chester Weems, 7217 S. E. 15th Street, Midwest City, OK 73110
Find Your Wings - Butterfly and Hummingbird Nature Garden
Find Your Wings gives both teachers and students the opportunity to develop an outdoor living laboratory devoted to attracting butterflies and hummingbirds. Participants in the project also tag butterflies, research plants needed for butterfly habitat, and maintain the shelters at the facility. The students observe the life stages of the butterflies, as well as the habits of hummingbirds. In addition, teachers are trained to integrate the scientific information into their curriculum.
1997
OK
6
Solid Waste Research Institute -- $16,253
Ken Purdy, 111 W. Shawnee, Tahlequah, OK 74464
Abatement of Open Dumping Environmental Education Program
This project helps students develop an understanding of the importance of clean water and soil and of the sources of pollution that are associated with improper management of solid waste. The project also enhances knowledge and awareness among students of the hazards associated with open dumping. By conducting experiments and developing demonstrations, students learn to analyze the consequences of open dumping and make informed decisions about management of solid waste in their homes and communities.
1997
OK
6
Tulsa County Independent School District -- $4,774
Joe Birdwell, 3027 S. New Haven, Box 470208, Tulsa, OK 74114-0203
Partnership to Promote Informed Decisions
Under this project, teachers and students receive curriculum kits that motivate learning and refine existing secondary curricula on issues related to ozone, and lead teachers are trained to use and distribute the kits. The materials in the kits help Tulsa's secondary students to become environmentally informed citizens and to enhance their critical-thinking, problem-solving, and decision-making skills.
1997
OR
10
Linn Soil and Water Conservation District -- $4,996
Susan Gries, South Santiam Watershed Council, 33630 McFarland Road, Tangent, OR 97389
Water Quality Monitoring Program
The purpose of this project is to implement a water quality monitoring program in cooperation with three teachers from Lebanon, Sweet Home, and Scio High Schools, while providing community-based education to young people and other members of the community. Under the project, participants gather data on water quality and riparian and aquatic habitats to fill gaps in data available on the area watershed. They learn about biological, physical, and chemical water quality monitoring techniques and about issues that affect the watershed and strengthen their critical-thinking and analytical skills.
1997
OR
10
McKenzie School District #68 -- $14,000
Jim Fanning, 51187 Blue River Drive, Finn Rock, OR 97413
McKenzie Sustainable Watersheds Environmental Education Program Development Project
The McKenzie Sustainable Watersheds Environmental Education Program Development Project engages teachers and the project's community partners in adapting existing curricula to local needs and circumstances, and integrating such curricula into the framework of the McKenzie Sustainable Watersheds Program as practical educational exercises. The project, which reaches more than 400 students and their families, emphasizes local capacity to deliver quality environmental education through a participatory process that includes a series of teacher workshops. The project demonstrates practical ways to use environmental education programs, solidifies partnerships with the community, and sets standards for projects.
1997
OR
10
Milton-Freewater Unified School District #7 -- $4,755
Diane Groff, 138 S. Main, Milton-Freewater, OR 97862
Science Technology Environmental Land Laboratory and Research Project
The Science Technology Environmental Land Laboratory and Research (STELLAR) project seeks to identify environmentally sound solutions to persistent and recurring problems in the local agricultural community. Students in kindergarten through grade 12 who participate in the STELLAR project become environmental stewards as they research the interconnectedness of management of crops, the watershed, and weeds through the project's living classroom approach to scientific investigation. The STELLAR project is designed to reach the area's rapidly growing Hispanic population, who make up approximately 33 percent of enrollment in the Milton-Freewater Unified School District; few such students enroll in traditional science courses.
1997
OR
10
Northwest Film Center -- $5,000
Ellen S. Thomas, 1219 SW Park Avenue, Portland, OR 97205
Alien Invasion Film Project
Under the Alien Invasion Film Project, 75 junior and senior high school honor students from diverse economic and racial backgrounds create a 20-minute film and printed study guide that focuses on the effects of alien and invasive plant and animal species on an indigenous habitat. Through the project, students acquire a variety of skills related to scientific inquiry and process, research, community outreach, and the technical and artistic aspects of film making. The project provides a model for the certificate of advanced mastery (CAM) in the Natural Resource Systems focus area, a key component of education reform in the Portland public schools and throughout Oregon.
1997
OR
10
Orlo -- $5,000
Pete DuBois, P. O. Box 10342, Portland, OR 97214
The Garbage Gurus
The Garbage Gurus uses the creative arts to increase understanding of environmental issues among citizens and engage them in addressing such issues. The project educates students and teachers, links schools with community organizations, and provides workshops for students during which they explore environmental careers and activism. Through the Orlo Road Show, which visits selected watersheds throughout the Pacific Northwest, 10,000 students and members of community groups experience a 45-minute musical assembly and attend workshops.
1997
OR
10
Portland State University -- $19,181
Julie Magers, Center for Science Education, P. O. Box 751, Portland, OR 97207
Water Workshop Series for Teachers
The Water Workshop Series for Teachers trains educators of kindergarten through 12th-grade students to lead and facilitate the improvement of science education by establishing community, research, and education partnerships. The project offers 12 workshops to approximately 165 teachers throughout Oregon and southern Washington and brings together numerous existing public and private programs, materials, and resources in water education. Teachers have available the tools, resources, and expert guidance they need to effectively incorporate water education activities into their current curricula.
1997
OR
10
Rogue Valley Council of Governments -- $69,500 (HQ Grant)
David Jacob, P. O. Box 3275, 155 S. Second Street, Central Point, OR 97502
Bear Creek Stewardship Project
The Bear Creek Stewardship Project provides educational opportunities for students and teachers in the Bear Creek watershed and in rural communities in southwestern Oregon. The project sponsors a training session for educators that focuses on monitoring of water quality and provides equipment, supplies, and references necessary to conduct such testing. It also provides study kits and supports a water quality monitoring program for students. A student congress and a watershed education symposium give students the opportunity to share the results of their projects and work to improve the condition of Bear Creek. In addition, the program funds school and class environmental education projects through a small grant program and sponsors two large-scale stream cleanups, as well as the Adopt-a-Storm-Drain Program that provides drain-painting kits and informational brochures for use by students and teachers. Completing efforts under the project are two videos produced by students, one that focuses on the project itself and another that addresses misuse of storm drains, and a rural outreach program. Approximately 1,000 students in grades 1 through 12, as well as 40 educators, are involved in the project.
1997
OR
10
School District No. 1 - Madison High School -- $4,840
Julie Howland, P. O. Box 3107, Portland, OR 97208
Madison High School Water Analysis Team
The Madison High School Water Analysis Team project provides the ethnically diverse population of Madison High School, which is 37 percent minority, with the opportunity to become involved in real science, build a broader understanding of water quality issues, explore careers in natural resources, and take positive action to benefit their communities. Some 30 to 90 students and two teachers participate in the project, which is intended to raise the percentage of students at Madison who take science courses from the current lowest level among Portland high schools.
1997
OR
10
Sherwood School District 88J -- $11,130
Janet Bechtold, 23295 So. Sherwood Blvd., Sherwood, OR 97140
Sherwood Sustainable Community Education Initiative
The Sherwood Sustainable Community Education Initiative promotes interdisciplinary environmental education by making available a reproducible model that demonstrates the benefits of sustainable development and fosters partnerships among schools, environmental groups, businesses, and government. The three primary activities offered under the project are a pilot teacher training workshop that provides information about innovative trends in environmental and sustainability education and curricula in use throughout the nation, pilot projects that test the model with students and members of community groups, and two or three pilot projects that test the effectiveness of the proposed methodology.
1997
PA
3
Academy of Natural Sciences -- $24,914
Kathleen Fadigan, 1900 Benjamin Franklin Parkway, Philadelphia, PA 19103
The George Washington Carver Water Quality Research Program
The George Washington Carver Water Quality Research Program sponsors a new summer program called the George Washington Carver Summer Scholars Program. The principal goal of the program is to encourage students to pursue environmental careers by increasing their awareness of water quality issues and strengthening their ability to perform hands-on scientific research. Students also are encouraged to participate in the George Washington Science Fair and to present their project findings to the community. Partners with the Academy of Natural Sciences in the project are the School District of Philadelphia and Temple University.
1997
PA
3
Darby Creek -- $4,873
Carol Killmaier, P. O. Box 583, Lansdowne, PA 19050
Steam Watch Program - Community Environmental Education
The Darby Creek Valley Association (DCVA) maintains a volunteer project under which members of the community monitor the Darby Creek watershed. The project has a strong environmental education component that reaches out to local schools and residents in the vicinity of the creek. The DCVA uses existing monitoring protocols that were developed specifically for volunteers and for environmental education. The community monitors use the knowledge they have gathered to discuss environmental regulations, land use planning, and habitat improvement projects during meetings with representatives of both state agencies and municipalities. The project educates the community about the importance of riparian corridors, vegetation of riparian areas, and storm-water control in protecting stream ecology, human health, and property.
1997
PA
3
Girls Club of Allentown -- $5,000
Deborah Fries, 1302 Turner Street, Allentown, PA 18102
We Care Program
This project provides to low-income, inner-city girls, ages 5 through 18 years, a program designed to educate them in environmental issues, increase their awareness of individual responsibility for protection of the environment, and promote their involvement in environmental activities. The We Care Program, Children Acting Responsibly Toward the Environment, informs the young participants about environmental issues related to their homes, communities, and world and shows them how they personally can bring about positive change as members of a community. They also explore at least 10 environmental careers, both traditional and nontraditional. To support the project, the Girls Club of Allentown works in partnership with the Lehigh Environmental Education Consortium, a group of eight local public and private institutions, and participates in Adopt an Acre, a program of The Nature Conservancy.
1997
PA
3
Grass Roots Alliance for Solar Pa -- $4,955
Laurie Cameron, 3500 Lancaster Avenue, Philadelphia, PA 19104
Energy-Efficient and Environmentally Sensitive Building Design
This project expands and implements an existing workshop that provides developers of low- to moderate-income community-based housing with information about new choices in design and construction. The workshop addresses two key environmental inequities that low-income populations face: high utility costs and poor indoor air quality. The curriculum, founded on the principles of building science, includes information about green products and renewable energy technologies. Workshops are held in Pennsylvania, Maryland, Delaware, and Washington, D.C.
1997
PA
3
Keystone College -- $8,550
Todd Sorber, P. O. Box 50, La Plume, PA 18440
Project WET and More
Keystone College conducts four-day summer workshops for teachers of kindergarten through grade 12. The training provides participants with support for incorporating water education into their school curricula. Training includes 15 hours of environmental education and engages the teachers in an intensive study of the local watershed. Teachers also visit environmental centers and learn how to gain access to information available on the Internet. Partners with the college in the nontraditional teacher training effort include the Wyoming County Conservation District and Northeastern Educational Intermediate Unit #19.
1997
PA
3
Pennsbury School District -- $4,225
Cindy DeMaria, 134 Yardley Avenue, P. O. Box 338, Fallsington, PA 19058
Environmental Science: Issues and Answers
This project provides an environmental education program for both teachers and students. The program encourages students to take an active role in developing an understanding of local natural systems and the issues associated with those systems. Students concentrate on vegetation, birds, and soil in the fall; in spring, they investigate topography, mammals, and reptiles. Using the data they collect, they then develop maps and a field guide. The Pennsbury School District and Silver Lake Nature Center are partners in the project.
1997
PA
3
Philadelphia Water Department -- $20,540
Ed Grusheski, 1101 Market Street, Philadelphia, PA 19107
Urban Watershed Exhibit Master Plan
This project supports the planning and design of the Fairmount Water Works Interpretive Center's (IC) primary environmental exhibits - together called The Urban Watershed. The IC is the primary environmental education forum of the Philadelphia Water Department. The IC exhibit draws approximately 80,000 visitors a year.
1997
PA
3
School District of Philadelphia -- $4,998
Leonard White or Jacqueline Dubin, Jay Cooke Middle School, 21st Street South of Parkway, Room 408, Philadelphia, PA 19103
Science, Math, and Technology Institute Project
This project teaches students about the components of an ecosystem, introducing them to such environmental issues as water pollution and waste disposal. The students participate in field studies and enjoy opportunities to meet and work with people in the environmental fields. They learn about the latest technology and are encouraged to develop critical-thinking and problem-solving skills, while helping to solve a simulated environmental crisis.
1997
PA
3
School District of Philadelphia -- $4,999
Tim Beaver, A. L. Fitzpatrick Elementary School, 21st Street South of Parkway, Room 408, Philadelphia, PA 19103
Science, Math, and Technology Institute Project
Under the Science, Math, and Technology Institute Project, students learn to plan, build, study, and maintain a habitat. They turn waste into useful soil and garden debris, which is used in a habitat that attracts and sustains butterfly populations and is designed to be self-sustainable for future years. Students learn that they can help to improve the city environment through their own efforts.
1997
PA
3
The Schuylkill Center for Environmental Education -- $7,121
Gayle Whittle, 8480 Hagy's Mill Road, Philadelphia, PA 19128
Environmental Education in an Alternative School Curriculum
This project introduces environmental education into the Montgomery County Youth Center Shelter Alternative School for at-risk students, ages 12 through 17. The project trains both teachers and students in aquatic ecology, examining the effects of pollution in aquatic ecosystems and teaching chemical and field biological techniques for testing water quality. The students participate in field studies to determine whether water pollution is present in the body of water under study, identify regulations that protect it, characterize the risks any existing pollution poses to human health, and assess the need for water treatment.
1997
PA
3
Wilkes-Barre Riverfront Parks Committee -- $5,000
Coreen Weilminster, 16 East Northampton Street, Wilkes-Barre, PA 18701
Disadvantaged Youth Environmental Education: Training Regarding Negative Health Effects of Pollution
This two-week day-camp project focuses on the health threats posed by pollution and develops critical-thinking skills by giving the participants the opportunity to attempt to resolve specific environmental health problems. Experts in different environmental fields guide the campers in exploring such subjects as ecology, ecosystems, and the nutrient and water cycles. The participants also learn to identify the needs of living things, examine the importance of diversity, and develop basic understanding of plant and animal identification.
1997
PA
3
Woodland Hills School District -- $8,583
Josephine Smerdel, 2430 Greensburg Pike, Pittsburgh, PA 15221
Environmental Water Study
This project engages high school students in actively studying the quality of water in streams that run through the school district. Under the project, 50 high school students teach approximately 500 fifth graders about the relationship between the streams and the three rivers that come together in Pittsburgh. The high school students also maintain a World Wide Web site, which they use to communicate with other students who are studying environmental issues, and work with local municipalities to teach the public about water pollution.
1997
PR
2
The Conservation Trust of Puerto Rico -- $23,500
Alexis Molinares, P. O. Box 9023554, San Juan, PR 00902-3554
Hacienda Buena Vista: An Environmental Education Laboratory
Hacienda Buena Vista conducts a one-year model program in south-central Puerto Rico that educates teachers and students in two rural schools in the Ponce area. Using the hacienda, a museum and educational facility for the public, as a living laboratory, the teachers and students learn about ecological issues associated with the subtropical forest. They use the riparian and cultivated areas of the hacienda property to increase their understanding of issues of conservation and environmental protection that are associated with rural farm settings. The project also provides educators materials on conservation and solutions to environmental challenges in the small farm setting and coffee cultivation operations.
1997
RI
1
Rhode Island Association of Wetland Scientists -- $2,287
James G. Turek, P. O. Box 1514, Providence, RI 02901-1514
Wetlands Training Workshops Program
This program provides a full-day workshop for high school teachers, staff of local government agencies, members of the conservation commission, and advanced-level high school students. The participants learn how to identify and classify wetlands and examine their structure and functions. Providing participants expanded opportunities to take part in field activities, the project instructs them in the ecological functions and societal values that wetlands provide, such as protection of water quality and wildlife habitat. The workshops help teachers improve their teaching skills, encourage students to enter environmental careers, and guide local government officials in using sound science as the basis for decisions about regulation and management of wetlands. The Audubon Society of Rhode Island is a partner with the Rhode Island Association of Wetland Scientists in the project.
1997
RI
1
Southside Community Land Trust -- $10,000
Carol Millette, 288 Dudley Street, Providence, RI 02907
Creation and Integration of an EcoLab into an Existing Ecoliteracy Curriculum
This project integrates an ecology laboratory into an existing ecoliteracy curriculum. The project provides biweekly teacher training through workshops that feature dynamic classroom presentations. Teachers and students work to reclaim a 3,775-square-foot lot adjacent to the Asa Messer Elementary School. Their efforts are creating the ecology laboratory, which includes an artificial wetland, a woodland, and a pond, as well as shrubs, trees, and plants that attract and support amphibians, birds, and butterflies and other insects. The school is a partner with the Southside Community Land Trust in the project.
1997
RI
1
The Nature Conservancy -- $25,000
Christopher Littlefield, Bioreserve Manager, P. O. Box 1287, Block Island, RI 02807
The Block Island Environmental Education Program
The Block Island Environmental Education Program increases the understanding and commitment of teachers, students, families, and other members of local communities to the protection of the fragile natural resources of Block Island. The project targets 130 students in all grade levels, every elementary school teacher in the system, several secondary-level teachers, and 800 permanent residents of the island. It offers participants outdoor experiences and hands-on projects that encourage sharing of experience through displays, articles, contributions of information, and presentations by students. The Block Island program is a new partnership between the Nature Conservancy and the Block Island School.
1997
SC
4
City of North Charleston -- $3,000
Shannon B. Praete, 4900 LaCross Road, North Charleston, SC 29419-1906
Coasting Through the Summer
Coasting Through the Summer is a program for minority and low-income children. The children attend a camp for 11 hours per week over 12 weeks. They take part in a variety of activities designed to increase their knowledge about the environment, particularly water and the coastal and marine environment.
1997
SC
4
University of South Carolina, Institute of Public Affairs -- $3,990
Langdon S. Warner, Carolina Plaza, Columbia, SC 29208
Use of Siting Game as an Assessment Tool
The Siting Game is an interdisciplinary simulation of real-world environmental problems designed for use by teachers of 9th- to 12th-grade social studies programs. The game is played in a fictitious location by 30 to 50 students. Ten high school teachers attend a two- to three-day workshop that includes a review of key elements and a demonstration of the game. The teachers receive complete packages of game materials so they can play the game at their own schools.
1997
TN
4
Ijams Nature Center -- $5,000
Bo Townsend, 2915 Island Home Avenue, Knoxville, TN 37901-2601
Earth Flag Program
This project is designed to reduce the amount of solid waste generated in 51 elementary schools, 13 middle schools, 11 high schools, 2 vocational schools, and 46 private schools in Knoxville, Tennessee. Students practice daily hands-on waste reduction activities that reinforce concepts in environmental education. Schools are awarded Earth Flags for exhibiting continued attainment of five environmental goals: reducing and reusing; recycling; composting; maintaining sustainable sites; and practicing effective communication.
1997
TN
4
Knox County School System -- $5,563
Monty Howell, 912 South Gay Street, Knoxville, TN 37902
Adopt-a-Creek
Adopt-a-Creek provides three middle school and three high school science teachers with the instructional skills to teach students about procedures for monitoring water quality. Newly trained students adopt a designated section of a stream in their community, develop baseline stream characterization data, record the results of their investigation in a database, and use the results to identify areas that require cleanup and those that are in need of protection. The project also provides teachers with instructional skills to help train other faculty members.
1997
TN
4
Memphis Botanic Garden -- $4,990
Mary Helen Butler, 750 Cherry Road, Memphis, TN 38117
Teaching Urban Ecology
This project provides 100 teachers the opportunity to attend hands-on workshops designed to improve their classroom skills and equips them with interdisciplinary, ready-made lesson materials and activities that supplement the existing curriculum. Partners in the project with the Memphis Botanic Garden are the Tennessee Department of Conservation and the Lichterman Nature Center.
1997
TN
4
Middle Tennessee State University -- $9,677
Cindi Smith-Walters, P. O. Box 60, Murfreesboro, TN 37132
Environmental Education for Everyone E3
This project trains 50 educators in the use of selected Outdoor Biology Instructional Strategies (OBIS) folios. Each participant in turn trains at least three educators in the use and implementation of OBIS. The project emphasizes science content, integrated curricula, and teaching strategies that incorporate environmental themes.
1997
TX
6
Austin Community Gardens Inc. -- $5,000
Frank Fuller, 4814 Sunshine Drive, Austin, TX 78756
East Austin Wildscaping Initiative
Under the East Austin Wildscaping Initiative, young people assist in the development of gardens that provide habitats for a variety of wildlife. Wildscapes are living laboratories that diversify the urban habitat, providing food and refuge for song birds, small mammals, reptiles, butterflies, and other pollinators. The project also increases understanding among children about the environment, plants, and animals and the role each plays in the ecosystem.
1997
TX
6
Denton Independent Schools -- $4,999
Zan Austin, 1307 N. Locust, Denton, TX 76201
Water the Cycle of Life Project - 8th Graders to Produce Public Service Commercials
This interdisciplinary project heightens students' understanding of the similarity between the drinking-water cycle and the Earth's water cycle. The students take part in activities that demonstrate how easily water can become polluted and replicate methods of cleaning water. They also conduct studies of water use in their own homes.
1997
TX
6
Eisenhower High School -- $4,720
Anastasia Vought, 7922 Antoine, Houston, TX 77088
Where Have all The Flowers Gone?
Where Have All the Flowers Gone? increases students' critical-thinking, problem-solving, and decision-making skills through a cross-curricular, multilevel environmental education program. The program includes the development and implementation of an integrated curriculum guide that applies new education standards mandated by the state. The project also involves students, parents, teachers, administrators, and members of the community in the design, creation, and maintenance of an outdoor living classroom and trains teachers in the best ways to use the curriculum guide and the outdoor classroom.
1997
TX
6
Greater Park Place Community Development Corps -- $5,000
Antonia Cahn, P. O. Box 262784, Houston, TX 77207
Sims Bayou Urban Nature Center - Computer Environmental Education Project
This project establishes the Sims Bayou Urban Nature Center, a computer-aided environmental education project that brings year-round nature discovery programs to area schools. It also includes a community garden program for youth and adults that teaches horticulture and marketing skills.
1997
TX
6
LDL Educational Resources Foundation -- $4,481
Liz Sherrell, P. O. Box 1283, Glen Rose, TX 76043
Create An Ongoing Environmental Classroom
The environmental classroom is an outdoor environmental studies laboratory designed to increase the environmental knowledge and awareness of elementary school students. It gives them the opportunity to develop an interactive and interdependent relationship with their environment through hands-on, problem-solving experiences with nature.
1997
TX
6
Texas Water Development Board -- $22,500
Bill Hoffman, P. O. Box 13231, Austin, TX 78711
Texas Water Conservation & Water Resource Education Project
The Texas Water Conservation & Water Resource Education Project provides new and revised classroom education material through direct mail, the Internet, the Texas Education Agency, and workshops for teachers. Its goal is to provide directly to the classroom material that promotes the development of critical-thinking, problem-solving, and decision-making skills related to water conditions in the state and water conservation and management of resources in general. Under the project, classroom exercises and activities, as well as resource materials for teachers, on water conservation and resource issues specific to Texas are distributed to classrooms. The Texas Water Development Board (TWDB), sponsor of the project, also provides demonstration workshops to help teachers learn to use the materials effectively in their classrooms. The Texas Natural Resource Conservation Commission, the Texas State Soil and Water Conservation Board, and the Harris-Galveston Conservation Commission, as well as the Water and Environment Association of Texas and the Texas Section of the American Water Works Association, are among the organizations involved with TWDB in partnership efforts to support the project, which in turn is intended, in part, to support the development of a consensus water plan for the state.
1997
TX
6
Texoma Council of Camp Fire -- $4,500
Rachel Hampton, Boys & Girls, 728 W. Sears, Denison, TX 75020
Nature Watch: Student Field Trips; Students and Ecosystems
The Nature Watch program educates students about the importance of ecosystems and how they affect our current and future lives. The program uses group activities to facilitate learning about the environmental issues that affect local ecosystems.
1997
TX
6
The LEAF Alliance -- $4,531
Susan Alexander, Route 1, Box 335, Pineland, TX 75968
Discovering Watersheds
Discovering Watersheds provides an environmental science unit and trunk kit designed to teach students about watersheds, the environmental problems related to them, and possible solutions to such problems in an enjoyable and motivating way suitable for both indoor and outdoor classroom use. The activities encourage students to think critically about preventing and controlling pollution. Students also design, build, and demonstrate a model of a working septic system that contributes to pollution control.
1997
TX
6
YMCA of Metropolitan Dallas -- $10,000
Ilene Stern, 601 N. Akard Street, Dallas, TX 75201
Outdoor Education Center at Camp Grady Spruce
The Outdoor Education Center (OEC) at Camp Grady Spruce works with culturally and ethnically diverse fifth- and sixth-grade students in 10 counties in the Dallas-Fort Worth area to increase the students' knowledge and awareness of environmental issues. The project is based on intensive, yet friendly, immersion in the environmental curriculum.
1997
UT
8
Decker Lake Wetland Preserve Foundation -- $17,461
Diana Smith, 869 East 4500 South, #513, Salt Lake City, UT 84107
Water Quality Education
The primary purpose of the water quality education project is to educate area students about water quality in the watershed. Two elementary, two junior high, and two high schools within a five-mile radius of Decker Lake participate in the project, and eight local businesses help support it. Under the project, elementary school students learn about the threats to human health posed by environmental pollution, while the junior high and high school students participate in a volunteer water monitoring program. Outreach efforts and a media campaign designed by the students spread the message about environmental issues and pollution of the watershed.
1997
UT
8
South Sanpete School District -- $4,874
Ellen Walker, 39 South Main, Manti, UT 84642
Sanpete Native Plants and Range Issues
The Sanpete Native Plants and Range Issues project improves students' awareness and understanding of range quality and improves teachers' knowledge of environmental issues. It gives students hands-on work and problem-solving experience in the environmental area. The project involves 75 students, 4 full-time teachers, several part-time teachers, and other staff members in field trips to local range lands and in planning for and operation of a greenhouse. Under the project, teachers attend workshops designed to help them integrate environmental issues into their curricula, and students complete the 4-H range evaluation project. The primary partners in the project are the Sevier Valley Tech Building Trades Program; the School to Careers program; the Sanpete County Extension Service; the Forest Service, U.S. Department of Agriculture; Spring City Elementary School; and a local private company that markets seed of native plants.
1997
UT
8
Utah Society for EE -- $21,000
Tim Brown, 350 South 400 East, #G64, Salt Lake City, UT 84111
Environmental Education Evaluation Initiatives
Environmental Education Evaluation Initiatives, a project that involves 4,000 teachers, increases communication and cooperation among various providers of environmental education throughout the state of Utah. It provides a standardized evaluation instrument and other improvements of evaluation tools currently in use. Workshops conducted to disseminate the materials are supplemented by telephone and electronic communications. Among the numerous entities involved in the project are the Utah State Office of Education, the National Energy Foundation, Red Butte Garden and Arboretum, Utah Project Learning Tree, Utah Project WET, Utah Ag in the Classroom, Utah Project WILD, Utah State University, Canyonlands Field Institute, and Four Corners School of Outdoor Education.
1997
UT
8
Utah State Office of Education -- $60,000 (HQ Grant)
Brett Moulding, 250 East 500 South, Salt Lake City, UT 84111
Systematic Education Reform in Utah
This project integrates environmental education into Utah's statewide education reform efforts. It works with teachers and students to build learning based on environmental projects into the state's new ninth-grade Earth Systems Science Course. Through action projects, students apply the concepts they have learned to real-world environmental problems. Under the project, 40 science teachers receive training and funding to help engage their students in such learning experiences, and ninth-grade students in the earth systems course plan and implement environmental projects and enlist the assistance of local community and government organizations. In addition, high school students use the Internet to communicate their experiences and share resources with other earth systems science classes and teach local elementary school students about the work the older students have done and its significance. Project staff refine the system for training and supporting teachers, evaluate the project, and distribute the results nationwide.
1997
UT
8
Utah State University -- $4,961
Sharon Ohlhorst, Forest Resources, Old Main Room 112, Utah State University, Logan, UT 84322-1415
Sense of Place
This project is designed to develop educational partnerships and activities that help families discover or rediscover a sense of place in their local natural environment. The community-based project targets single-parent, low-income, and minority families in the Cache Valley area who have children between the ages of 4 and 14. It offers outdoor opportunities through which families can develop a connection with the land. The families also develop observational and interpretive problem-solving skills and gain proficiency in critical thinking, and are exposed to general education in environmental topics. Primary partners in the project are Utah State University; Logan Canyon Nature Center; the Forest Service, U.S. Department of Agriculture; and the Bridgerland Audubon Society.
1997
VT
1
American Lung Association of Vermont -- $3,570
Janet Riley Francis, 30 Farrell Street, South Burlington, VT 05403-6196
Open Airways for Schools
Open Airways for Schools is an asthma-management program that provides cost-effective asthma education to school-age children who have asthma and to their families. The target audience lives in the most rural section of Vermont, known as the Northeast Kingdom, which has a total population of 59,648 in 2,410 square miles, including approximately 1,972 adults and 1,077 children with asthma. The project trains school nurses to implement the program, which targets children between the ages of 8 to 11. Among other activities, children receive take-home assignments to complete with their parents.
1997
VT
1
Food Works -- $5,000
Todd Comen, 64 Main Street, Montpelier, VT 05602
Community Park for Teaching Local Ecology Project
This project focuses on helping teachers develop seasonal units of hands-on activities for use in teaching local ecology in the outdoor laboratory of Hubbard Park, a 185-acre city park in Montpelier. Students gain a greater knowledge of the diverse habitat by constructing learning centers and interpretive displays. The target audience of the project is low-income students between the ages of 6 and 18 who live in Montpelier.
1997
VT
1
Vermont Center for the Book -- $9,153
Sally Anderson, P. O. Box 441, Chester, VT 05143
Mother Goose Meets Mother Nature Project
The Mother Goose Meets Mother Nature Project uses picture books, discussion, and activities to bring environmental issues to life for pre-school children, their parents, and the professionals who work with them. It trains 30 early childhood educators from 10 communities to focus on the effectiveness of works of children's literature as vehicles for environmental education and to organize and facilitate parent programs for 200 at-risk families. The Vermont Center for the Book works collaboratively on the project with the Vermont Institute for Natural Sciences, the Stewardship Institute of Shelburne Farms, and the Vermont Department of Libraries.
1997
VA
3
Newport News Public Schools -- $4,777
Larry Vought, 12465 Warwick Boulevard, Newport News, VA 23606
Family Center Environmental Research and Action Projects
The goal of this project is to encourage students and their families not only to become informed about environmental issues, but also to become involved in efforts to resolve those issues. The project emphasizes hands-on learning that promotes exploration and understanding and includes river cleanups, design and installation of a wetland or backyard habitat, study of household water quality issues and measures to improve air quality, and study of the effects of pollution on human health. Directly participating in the project are 550 kindergarten through fifth-grade students in Newport News. Families who are involved in the project through their children prepare reports on their activities that are aired on the school's cable television channel.
1997
VA
3
Portsmouth Public Schools -- $19,042
Catherine Roberts, P. O. Box 998, Portsmouth, VA 23705
Oyster Restoration
This program for seventh-grade students helps replenish the oyster population in a tributary of the Chesapeake Bay. Activities provided under the program focus on educating students from at-risk, low-income backgrounds about environmental issues and improving teachers' skills in environmental education. In addition to mathematics and science skills, activities encompass the disciplines of English and history, along with language arts and communication skills. The project is a partnership effort of the Portsmouth public school system, the Chesapeake Bay Foundation, and the Virginia Marine Resources Commission.
1997
VA
3
Project Underground -- $5,000
Carol Zokaites, 620 McDaniel Drive, Christiansburg, VA 24073
Project Underground
Project Underground introduces teachers of kindergarten through grade 12 to karst environments, with their sinkholes and systems of interconnected caves. Teachers learn about those fragile environments and the need to protect them as human populations in karst areas increase and draw on their underground water resources.
1997
VA
3
Rockbridge Area Conservation Council -- $4,310
Michael Van Ness, P. O. Box 564, Lexington, VA 24450
Waste Watchers at Central
This project teaches kindergarten through third-grade children how to solve the problem of excessive waste at home and at school. The experimental education program features an interactive puppet show, activities to be carried out at home, investigative field trips, and a litter cleanup project. Beginning with the puppet show Save the Trashasaurus, the program provides a series of lessons on decision-making and critical-thinking skills. Children learn how to make and manage a compost pile; evaluate their families' waste management habits; and prepare suggestions for their parents about ways to reduce, recycle, and reuse waste materials at home.
1997
VA
3
Tazewell SWCD -- $5,000
Patricia Neel, 552 East Riverside Drive, North Tazewell, VA 24630-9573
Tazewell Education Program
The goal of this project is to increase the level of awareness and understanding of conservation among young people and farm communities in Tazewell County. The project examines issues associated with conservation, management of solid waste, and litter prevention. It exposes participants to adopt-a-watershed programs and teaches best management practices for agriculture, targeting primarily small-scale, part-time farmers through workshops. The key partners in the conservation education program are the Tennessee Valley Authority; Tazewell County; the Tazewell County Schools; the Natural Resources Conservation Service; and the New River Highlands Resource, Conservation, and Development Council.
1997
VA
3
Virginia Institute of Marine Science -- $5,000
Jane Lopez, P. O. Box 1346, Gloucester Point, VA 23062
Development of Internet-Deliverable Environmental Education Units
This project trains teachers to develop educational activity units that are offered over the Internet. Availability of the units is publicized through local and national newsletters and conferences. The project is conducted by the staff of the Chesapeake Bay National Estuary Research Reserve, which is managed by the Virginia Institute of Marine Science, and the College of William and Mary.
1997
WA
10
Adna School District -- $4,769
Debbi Davis, P. O. Box 148, Adna, WA 98522
The Tech Prep Program
Tech Prep enhances students' understanding of environmental careers and transfers classroom learning to actual field work. Ninth-grade students in a small rural community, as well as special needs students, participate in the program. Students perform extensive water quality testing and produce a database of the information that they have compiled. The project aims to improve water quality in local streams, thereby increasing the number of salmon that return to those streams to spawn.
1997
WA
10
Bainbridge Island School District -- $15,000
Brent Peterson, 8489 Madison Avenue NE, Bainbridge Island, WA 98110
Bainbridge Island Wildlife Corridor Study
Integrated into the existing watershed education program in Bainbridge schools, the Bainbridge Island Wildlife Corridor Study supports an ongoing effort to identify and preserve an islandwide wildlife habitat corridor. Activities conducted under the program include workshops, in-field data collection, and exhibits at public events. Participants are working with partners in the program, including government agencies and community organizations, to develop a database of components of the wildlife habitat and species observed in areas to be included in the wildlife corridor. The primary audience of the program is students in grades 4 through 12 in the Bainbridge Island School District and their teachers.
1997
WA
10
Central Basin Audubon Society -- $3,348
Joye Lucas, Education Committee, 2129 South Belair Drive, Moses Lake, WA 98837
Lakeview School Arboretum and Wildlife Habitat
Under this project, an arboretum and wildlife habitat was constructed on the grounds of Lakeview School for use as a laboratory for observing and investigating the interrelationships among birds and other wildlife and their habitat. Wildlife biologists, refuge managers, and nursery staff conduct workshops in the new living lab. Students use the laboratory to observe and investigate habitats of the Columbia River Basin and to draw conclusions and solve problems related to those habitats. The project targets the school's fourth- to sixth-grade students, 25 percent of whom are minorities and 31 percent of whom are children of low-income families.
1997
WA
10
Columbia River Exhibition of History, Science and Technology -- $4,975
Gwen Leth, P. O. Box 1890, Richland, WA 99352
Environmental Summer Science Camp
This community-based program educates students and their parents about the environmental issues that affect the Columbia River. The science camp program, of which examination of cleanup efforts at the nearby Hanford Nuclear Reservation is an integral part, is designed to show youngsters that study of the environment is science and that science is fun and accessible. The program reaches 105 fourth-, fifth-, and sixth-grade students and their families and places special emphasis on reaching families that home-school their children.
1997
WA
10
Confederated Tribes of the Chehalis -- $5,000
Rio Lara-Bellan, Chehlis Tribal Learning Center, P. O. Box 536, 420 Howanut Drive, Oakville, WA 98568
Chehalis Tribal Learning Center Workshops
This project provides environmental education to young people from 8 to 12 years old who live on the Chehalis Indian Reservation and in the community of Oakville. Participants learn about management of water resources, treatment of solid waste and wastewater, recycling and composting, restoration and management of habitat, fisheries, and wetland conservation, and explore air quality issues, as well. The young people attend workshops conducted by environmental professionals and participate in field trips during the summer.
1997
WA
10
Kitsap Conservation District -- $17,051
Carla Pizzano, 817 Sidney Avenue, Port Orchard, WA 98366
Kitsap County Fair On-Site Agricultural Waste Composting Demonstration Project
The Kitsap County Fair On-Site Agricultural Waste Composting Demonstration Project addresses the effects on water quality of management of livestock waste and creates an awareness of the benefits to both farm and community of the composting of livestock waste. The Conservation District provides a demonstration exhibit at the Kitsap County Fair that both educates the community and manages the livestock waste generated at the fair. The project is intended to increase understanding among officials of local jurisdictions of the benefit of taking a leadership role in addressing such environmental issues and to encourage members of the community to adopt the role of resource stewardship related to decisions about land use. Among its target populations are owners of livestock operations in the county, as well as the support services and interest groups associated with the farming industry.
1997
WA
10
Local Government Institute -- $5,000
Don Morrison, 4009 Bridgeport Way West, Suite E, Tacoma, WA 98466-4326
Local Official Problem-Solving Skills Enhancement Project
This project adapts existing environmental information and curricula to the environmental education needs of members of the city council and planning commission of a small city in the state of Washington.
1997
WA
10
Metropolitan Park District of Tacoma -- $5,000
Tom Weathers, 1919 S. Tyler, Tacoma, WA 98405
Environmental Education and Career Awareness for Multi-Cultural Schools
The Environmental Education and Career Awareness for Multi-Cultural Schools program provides a model for environmental education and career awareness programs for multicultural schools. The model, which is intended to increase knowledge, provide hands-on opportunities, and promote environmental justice, is intended for use in schools that have large multicultural populations, specifically in three fourth-grade classes located in economically disadvantaged communities in the Tacoma School District and six classes of junior and senior high school students in the Bethel School District. Teachers receive training through workshops and students gain experience through service projects and strengthen their awareness of environmental careers.
1997
WA
10
Pacific Science Center -- $5,000
Carole Hoffman, 200 Second Avenue North, Seattle, WA 98109
Family Science Career Awareness Workshop
The Family Science Career Awareness Workshop is a new program designed specifically for underserved populations that reaches primarily low-income, culturally diverse girls, ages 6 to 12. The five workshop sessions, reaching 60 children and their families, focus on increasing interest in careers in environmental science.
1997
WA
10
Pullman School District #267 -- $4,800
Stewart Higgins, District Administration, Larry and Hall Drive, Pullman, WA 99163
Pullman School District Teachers' Workshop
Under this program, wetlands, flood plains, and streams are used to integrate education in biology, agriculture, mathematics, language arts, geography, civics, and technology. The program draws on existing curricula in soil morphology, production of greenhouse gases, and qualitative analysis of vegetation. Various aspects of the program will involve all students, from kindergarten through 12th grade, enrolled in the Pullman School District, which has a 14 percent minority population.
1997
WA
10
The Giraffe Project -- $5,000
Laura Rudd, 197 Second Street, Langley, WA 98260
Eastern Washington Giraffe Project
The Giraffe Project focuses on the use of environmental education to advance the goals of education reform, informing teachers, students, parents, and community leaders about the threats to human health posed by environmental pollution and making the public aware of the environmental issues that affect their communities. The program works with before- and after-school child care sites, each of which develops and implements an environmental community service project. Young people taking part in the program, which targets students in kindergarten through 12th grade, learn to identify the issues that have the greatest effect on their environment and to apply problem-solving skills in addressing those issues.
1997
WA
10
Yakima Valley Opportunities Industrialization Center -- $4,977
Mary Jane Vujovic, 815 Fruitvale Boulevard, Yakima, WA 98902
Household Hazardous Waste Neighborhood Education Project
The Household Hazardous Waste Neighborhood Education Project strengthens the capacity of the Lower Yakima Valley Rural Enterprise Community to both develop and deliver quality environmental education programs and public education in environmental issues of significant concern to the community. To do so, the organization provides customized educational programs to Spanish-speaking adults who have limited proficiency in English and limited literacy in their native language. Five bilingual and bicultural members of the AmeriCorps Program, along with 25 volunteers from the community, are trained to serve as household hazardous waste educators. The AmeriCorps members and volunteers in turn educate 100 adults in one-on-one and small group sessions.
1997
WV
3
Little Eagle Child Care Center -- $5,000
Lisa Shawyer, P. O. Box 1208/Stop 900, Martinsburg, WV 25401
Kids Discover Nature's Gifts
The participants in the Kids Discover Nature's Gifts program, ages 4 to 12, establish observation sites and wildlife feeding stations in various ecological habitats. A computer database of information collected by the students themselves allows the students to compare their results with other documented information and study both differences and similarities.
1997
WV
3
Pine Cabin Run Ecological Laboratory -- $5,000
Nancy Ailes, Route 1, Box 328, High View, WV 26808
Reducing Non-Point-Source Pollution Committee
This project educates the community about issues related to non-point-source water pollution. The goal of the project is to work through the newly established Watershed Stakeholder Advisory Committee and with the community to reduce pollution in the Lost River and Cacapon River watersheds. Using methods learned during monthly meetings, the members of the committee reach out to their respective communities to implement agreed-upon strategies to reduce non-point-source pollution. The project targets members of the community who represent every significant category of river user throughout the watershed.
1997
WV
3
Potomac Headwaters RC&C Region, Inc. -- $5,000
Roger Boer, 1450-6 Edwin Miller Boulevard, Martinsburg, WV 25401
Groundwater and Public Health
Under this project, local government officials, teachers, migrant workers, students, and the general public learn about the relationships between the quality of groundwater and public health and about the specific threats to public health that have been identified in Berkeley County, West Virginia.
1997
WI
5
Blackhawk Council of Girl Scouts -- $2,900
Juli Speck, 2710 Ski Lane, Madison, WI 53713
Increasing Environmental Programming in Girl Scouting
The Blackhawk Council of Girl Scouts is using a series of workshops and training sessions to enhance and expand its environmental education program. Training courses conducted by naturalists provide troop leaders with teaching skills, seasonal information, and supplementary environmental education activities designed to promote environmental awareness and stewardship attitudes. Leaders receive resource materials, field guides, and information about natural history that they can incorporate into the programs they conduct with their scouts. A corps of volunteer naturalists assists the troop leaders, and supplementary training enables volunteers to lead nature hikes, organize day camps programs, and create environmental service projects. The effort also includes workshops on the Project WILD, Project WILD/Aquatic, and Project Learning Tree curricula. The workshops and training sessions reach more than 200 leaders and other volunteers.
1997
WI
5
Keep Greater Milwaukee Beautiful, Inc. -- $5,000
Margo Anne Kuisis, 1313 W. Mount Vernon Avenue, Milwaukee, WI 53233
Learning Side-by-Side
Keep Greater Milwaukee Beautiful, Inc. provides an interactive learning experience for students and teachers that fosters an understanding of pollution prevention, waste management, and concepts related to water quality. The organization conducts workshops in which teachers learn how to incorporate environmental education into their lesson plans under existing curricula. The workshops increase teachers' knowledge of pollution prevention, waste management, and water quality. Students participate in hands-on field trips and take part in pre- and post-visit classroom activities. The project reaches 25 elementary school teachers, 15 secondary school teachers, and 1,600 to 2,400 students.
1997
WI
5
Lac Courte Oreilles Band of Lake Superior Chippewa -- $4,970
Dan Tyrolt, Route #2, Box 2700, Hayward, WI 54843
Environmental Awareness Education Project
This project establishes an environmental education and awareness program within the Lac Courte Oreilles tribal community. To spark the interest of the community, the program addresses environmental issues related specifically to reservation policies and conditions. Under the project, materials related to pertinent environmental issues are developed, collected, categorized, and distributed. The program also offers members of the community training in composting and recycling and workshops on groundwater contamination. The tribe produces an environmental newsletter, conducts public forums, and prepares radio announcements to educate members of the community about issues that affect their daily lives. More than 3,000 members of the tribal community benefit from the project.
1997
WI
5
Wisconsin Academy of Sciences, Arts, and Letters -- $4,883
Gary Lake, 1922 University Avenue, Madison, WI 53705
Environmental Education Through Children's Literature and Television
Formal and informal educators participate in a week-long summer institute designed to showcase the wide variety of resources available to support environmental education efforts. Participants are immersed in children's literature, television, and activities. They participate in activities chosen from existing curricula to increase their level of comfort with environmental issues and concepts. The 30 educators who take part in the program reach some 3,000 or more students.
1997
WY
8
Magic City -- $4,121
John Firestone or Mary Rozmajzl, 1750 Westland Road, #166, Cheyenne, WY 82001
Eco Center Recycling
Students and members of the general public learn about recycling and the need to keep our environment clean for ourselves and wildlife through the Eco Center project. School groups tour the Eco Center facility to learn first-hand. They view recycling exhibits at the center and receive recycling decals they can display to demonstrate their commitment to the concept. The project reaches approximately 225 students a month, some 15 percent of whom are African American or Hispanic. The Wyoming Game & Fish Department is a partner with Magic City in the project.
1997
WY
8
Teton Science School -- $3,662
April Landale, Box 68, Kelly, WY 83011
Project WET Workshops
Project WET teaches experiential natural science to people of all ages in the greater Yellowstone region. Participants in the program include 20 teachers of kindergarten through 12th-grade programs, 16 graduate students, and 16 Girl Scout leaders. The project provides three training workshops for environmental educators through the program, which is accredited by Utah State University, the University of Wyoming, and Prescott College.
1997
WY
8
University of Wyoming -- $5,000
Duane Keown, Box 3992, Wyoming Hall, Laramie, WY 82071
Wild Wonderful Wyoming
This project provides an environmental education manual for use in elementary schools in the entire state of Wyoming and parts of Montana and Nebraska. The manual focuses on training and materials that teach about the environment and natural resources. The curriculum is the work of 53 teachers who collaborated in its development. State resource management agencies, environmental organizations, the University of Wyoming, and Wyoming schools are partners in the project.
1997
WY
8
WY Association for Environmental Education -- $4,750
William Edwards, 520 Harvard Lane, Cheyenne, WY 82009
Environmental Education Master Plan
The Environmental Education Master Plan seeks to improve environmental literacy. The project focuses on direct mailings, newsletters, workshops, conferences, and public meetings to strengthen environmental knowledge among students, teachers, and other adults. The Governor's Office of the State of Wyoming; the Wyoming Department of Education, Department of Agriculture, Department of Environmental Quality, and Game and Fish Department; and the North American Association for Environmental Education collaborate on the project.
1997
WY
8
Wyoming Recycling Association -- $5,000
Leslie Gnidinger, 250 Lincoln Avenue, Lander, WY 82520
Solid Waste Education
This project provides a solid waste education program for the Wind River Indian Reservation, serving a low-income minority population of approximately 14,000. Student workbooks and do-it-yourself educational packets are distributed to offices, classrooms, and homes; educational pamphlets, posters, and promotional materials publicize the program. Workshops for teachers, office workers, and the general public, along with a Recycling Expo, round out the effort to curb improper disposal of hazardous waste on the reservation. The University of Wyoming's Conservation Connection, the Wyoming Department of Environmental Quality, and the Wind River Recycling Coalition are partners in the project.
1998
AL
4
Center for Environmental Research and Service -- $4,800
Michael William Mullen, Troy State University, Troy, AL 36082
Community Water Conservation Education
This project addresses the trends in groundwater levels in the wiregrass region of southeast Alabama through a comprehensive community water conservation education program. The project uses a program aimed at middle school students. Through the use of printed materials, local media, a community water festival, targeted workshops, and the provision of tools for water conservation, the project increases public awareness of the area's dependence on groundwater resources. The project is offered in Troy and other towns and cities in the wiregrass region.
1998
AK
10
Alaska Bird Observatory-Fairbanks -- $4,500
Nancy DeWitt, P. O. Box 80505, Fairbanks, AK 99708
Songbirds of Alaska
The primary objectives of the Alaska Songbird Project are the promotion of bird conservation and environmental career development. The project works to increase awareness of the need to conserve Alaskan habitat for migratory songbirds by conducting an Alaska bird camp and Alaskan songbird workshops and by providing student internships. Through interactive research projects, approximately 114 young people, representing a 25 percent minority population (15 percent Alaskan Native or Indian and more than 50 percent female) learn about ornithology, ecology, environmental issues, scientific research, and environmental careers.
1998
AK
10
Fairbanks North Star Borough School District -- $5,000
Linda Schandelmeir, 520 Fifth Avenue, Fairbanks, AK 99701
Air Pollution Monitoring for Children
The goal of the Partners in Science Program (PISP) is to educate sixth grade students in an inner-city school in Fairbanks about the significance of air quality. Assisted by practicing scientists, some 60 students (more than 50 percent of the students are members of minority groups, primarily Native American or African American) and 45 teachers implement simple air pollution measurement techniques. Working in conjunction with the Global Learning and Observations to Benefit the Environment (GLOBE) project, participants learn to address the relationship between human health and air quality. Teacher and student materials are to be shared with other teachers in the district.
1998
AK
10
South East Regional Resource Center -- $4,851
JoAnn Henderson, 210 Ferry Way, Suite 200, Juneau, AK 99801
Faculty Training Workshop
The faculty training workshop for Alaskan Native Student Wilderness and Enrichment Retreat (ANSWER) Camp provides Galena City Schools and Louden Tribal Council educators with the skills and tools they need to integrate outdoor activities into academic courses. At the workshop, university and high school educators, members of Alaskan Native communities, and college students training to become teachers learn how to design, develop, and deliver classes that incorporate aspects of local government, industries, and culture. The workshop prepares the educators to implement the curriculum at the ANSWER Camp to be held in the summer of 1999.
1998
AK
10
Upper Copper Valley Community Development Corporation -- $24,306
Everlyn Beeter, P. O. Box 357, Gakona, AK 99586
Tribal Environmental Education Project
Improving the quality of salmon runs and environmental health are the two basic objectives of this project. The instructors teach low-income and Alaskan Native children and elders about environmental issues that affect their community, particularly about hazardous materials and how they affect community health, water quality, and the salmon runs. A special month-long summer classroom and field session educates school children about hazardous materials and the effects of those materials. To compliment those activities, the regular environmental and biological sciences curriculum focuses on hazardous material. In addition, students participate in community service projects related to their studies.
1998
AZ
9
Southwest Public Recycling Association -- $23,125
Mitra Khazai, P. O. Box 27210, Tucson, AZ 85726
Community Environmental Education Campaign
Focusing on the issues of recycling, proper disposal of waste oil, and alternatives to household chemicals, this project offers training for the teachers of grades 3 through 5 in the six elementary schools of Douglas, Arizona. Backup for the training includes development of bilingual classroom teaching materials and establishment of a resource library. A supplemental radio and newspaper advertising campaign aimed at parents coincides with the school lessons. The goal of the project is to increase awareness of the effect of an individual's choice of actions and behaviors on water and air quality and generation of solid waste.
1998
AZ
9
Yavapai/Prescott Tribe -- $4,514
Debbie Roberts, 530 East Merritt Avenue, Prescott, AZ 86301
Organic Garden Project
Under this project, an organic garden affords hands-on experiences for approximately 40 young people of the Yavapai/Prescott Tribe, under the direction of an educational coordinator and volunteer parents and elders. The coordinator prepares a curriculum manual for Native American organic gardening that emphasizes plants used by the tribe. Each participant is held responsible for planting and caring for specific crops that were planted by their ancestors. In place of pesticides, the young people learn how to use the interaction and interdependence of insects and animals, such as butterflies, worms, and bats, to cultivate plant development in a natural setting. They then invite their parents and members of their community to a harvest festival featuring food they have grown and prepared.
1998
AR
6
Arkansas Human Development Corporation -- $9,580
Clevon Young, 300 South Spring Street, Suite 800, Little Rock, AR 72201
Farm Worker Environmental Education Program
Exposure of farm workers to pesticides is a serious problem among the rural populations of Arkansas. The project educates service providers, farmers and growers, and migrant and seasonal farm workers and their families through mini-fairs, public forums, and personal visits to provide hands-on demonstrations of the ways in which migrant workers and their families can become exposed.
1998
AR
6
Arkansas State University -- $4,560
Brent Wurfel, 213 E. 6th Street, Mountain Home, AR 72653
Demonstrating Small-Scale Chemistry
Workshops and conferences for high school and college chemistry instructors in Arkansas demonstrate the use of small-scale chemistry. Small-scale chemistry is a proven technique that reduces the costs of chemistry instruction by using small amounts of chemicals. Use of the technique reduces the cost of chemicals, reduces the amount of waste generated, and makes laboratories safer. Small-scale chemistry provides a new way to teach creative problem solving, the processes of invention and discovery, analytical thinking, and the elements of descriptive chemistry.
1998
AR
6
Cabot Public Schools -- $5,000
Bill Holden, 404 North Second, Cabot, AR 72023
Cabot Schools Environmental Education Teacher Workshops
In partnership with the Arkansas Department of Pollution Control and Ecology, the Cooperative Extension Service, and the Central Arkansas Regional Solid Waste Management District, the Cabot Public Schools provide refresher workshops for teachers and students. The workshops reacquaint them with and update their information about issues related to air and water pollution, household hazardous waste, pollution prevention, composting, and recycle-reuse-reduce programs.
1998
AR
6
Central Arkansas Regional Solid Waste Management District -- $5,000
Leigh Ann Covington, P. O. Box 300, Lonoke, AR 72086
HOP (Hazards of Pollution) Portable Model
Teacher workshops and interactive classroom projects demonstrate the hazards of improper disposal of wastes and open burning, as well as the benefits of composting, recycling, and other environmental issues through a working 3-D Hazards of Pollution model. The model is intended for use in grades 3 through 7.
1998
AR
6
Four-County (NW) Regional Solid Waste Management District -- $4,991
Doli Brown, 2 N. College Avenue, Suite 302, Fayetteville, AR 72701
Open Burning Tool Kit
Open trash burning is a major environmental problem in the four-county area served by this project. This project is intended to reach students, businesses, and residents of both rural and urban areas. It uses workshops conducted in both English and Spanish for educators; seminars for residents; videotapes aired on cable television; and the Open Burning Tool Kit, which is distributed to classrooms. The lessons address the need to break the cycle of burning trash and seek to build understanding of the relationship between human actions and adverse effects on human health and the environment. Because a variety of delivery methods are used, the program is expected to reach its various audiences effectively.
1998
AR
6
Jessieville School District #1 -- $900
Cheryl Kastner, 7900 N. Highway 7, Jessieville, AR 71949
Jessieville Recycles
This project makes students, parents, and teachers aware of issues related to ecology and the environment and potential health hazards caused by the dumping of trash. That goal is accomplished by promoting awareness of recycling through the establishment of designated collection sites and the conduct of workshops sponsored by the Parent-Teacher Association.
1998
AR
6
Mississippi County Economic Opportunity Commission, Inc. -- $5,000
Sam Scruggs, P.O. Drawer 1289, Blytheville, AR 72316-1289
Ecosystem Discovery Exhibit
The hands-on, self explanatory Ecosystem Discovery Exhibit demonstrates the interdependence of the various natural elements (water, air, sunlight, earth, plants, and animals) that make up the ecosystem. The exhibit stresses whole-system designs, with demonstrations of practical uses of solar orientation, gravity, biological resources, and energy produced on site; the relationships of animals to gardens; and containment and use of waste produced in the system.
1998
CA
9
Adopt-A-Watershed -- $40,831 (HQ Grant)
Jesse Miller, 731 Market Street, Suite 600A, San Francisco, CA 94103
Leadership Institute
The National Resources Conservation Service works in partnership with Adopt-A-Watershed's Leadership Institute to implement pre-service teacher training, using an existing model. The partnership is pilot-testing a natural resource education course for education majors at two historically black land grant colleges. The partnership provides course material, trains professors, and pilot-tests one class of pre-service elementary and secondary education majors at each college, as part of their curricula. The Leadership Institute offers a forum for training professors under a train the trainers model that equips participants both to establish sustainable Adopt-A-Watershed programs in their own communities and to lead, train, and support other teachers in replicating the programs throughout the region.
1998
CA
9
African American Development Association -- $10,250
Allen Edson, 1235 Peralta, Oakland, CA 94607
Environmental Education Network Collaborative
This project establishes a model environmental science corridor for urban youth from middle school through graduation from college or university. Through the linking of the faculties of a middle and a high school with that of a community college, a program of culturally relevant environmental projects enables students to follow a path leading to professional careers in the environmental field. A network of environmental professionals provides teacher training and follow-up classroom support. Using a nearby marsh and lake as outdoor classrooms, older students act as role models and instructors for younger students as they explore ecosystems and study issues related to environmental justice.
1998
CA
9
California State University, Chico -- $5,000
Kristin Cooper-Carter, Kendall Hall, Room 114, California State University, Chico, CA 95929-0870
Streaminder Salmon and Steelhead from Eggs to Fry
This project offers an eight-hour workshop that links salmonid life cycles with stream ecology for 30 teachers of kindergarten through grade 12 to support restoration of native fisheries. Students of the teachers trained through the workshops have the opportunity to raise salmon and steelhead from eggs to a stage at which they can be released into local streams. In conjunction with that project, students visit nearby streams to study riparian ecosystems, test water quality, and conduct bioassessment. Using the data they collect, the students determine whether the habitat is sufficiently healthy to allow the release of the salmon and steelhead fry they have cared for.
1998
CA
9
Carquinez Regional Environmental Education Center -- $4,860
David J. Hicks, P. O. Box 65, Crockett, CA 94525
Training High-Risk Youth in Habitat Restoration
Under this project, 15 high school students and their science teachers develop the knowledge and skills they need to restore a portion of an historic riparian habitat. Each week for 32 weeks, an urban horticulturist and wildlife specialist guide students by small group instruction and field experiences through the cycle of habitat restoration: site preparation, propagation and reintroduction of native horticulture and wildlife, and monitoring of the vitality of the habitat. The project has built-in sustainability because students and teachers currently being trained become mentors for the next year's class.
1998
CA
9
Chaffey Joint Union High School District -- $4,000
Robert Shaver, 211 West Fifth Street, Ontario, CA 91762
ED-SAC: Environmental Disturbance in San Antonio Creek
This project provides some 100 to 120 high school sophomores a way to measure scientifically the effects of human intrusion on comparative habitats, one close to and the other remote from population. Students visit both sites once a month to take samples of the water, collect and catalog the types of trash and debris found, and observe the condition of plants and wildlife. Using the data they collect, students can draw conclusions about the comparative health of the two habitats. They report their findings to the community through articles in the local newspaper and presentations to the school board and city council.
1998
CA
9
Fortuna High School -- $4,495
Pam Halstead, Fortuna High School, 379 12th Street, Fortuna, CA 95540-0398
Fortuna Integrated Watershed Study
This project provides an integrated science curriculum at the ninth grade level that focuses on interdisciplinary study of conditions in local creeks. In partnership with the Fortuna Creeks Project, the Fortuna Parks and Recreation Department, and the AmeriCorps Watershed Stewards Project, the high school science department leads students in water quality monitoring, assessment of stream habitats, sampling of macroinvertebrate species, riparian restoration, and spawning survey activities. The incoming freshman class receives training in the use of scientific instruments in a real-world setting, interpretation of the data they collect, mentoring, and the development of networks through which they can share recommendations for stewardship of local natural resources with the community.
1998
CA
9
Green City Project -- $5,000
Dana Lanza, P. O. Box 31251, San Francisco, CA 94131
Careers in Environmental Education
This project is a partnership effort of San Francisco Recycling, the California Coastal Commission, the California Native Plant Society, and the San Francisco Park and Recreation Department to train 20 high school students from inner-city neighborhoods to become docents to 20 elementary school classrooms in the city. The selected high school students choose from a field of three areas of study: waste management, conservation of habitat, or water issues. Students devote two hours per week for 12 weeks to preparatory sessions during which they not only master their subject, but also learn speaking skills and how to create presentation materials. During the spring semester, the high school students are matched with an elementary school teacher to work with the younger children to complete a hands-on community project in the docent's area of study.
1998
CA
9
Kern County Superintendent of Schools -- $9,500
Shirley Oesch, 1300 17th Street - City Center, Bakersfield, CA 93301-4533
Kern River Connections
This project expands the number of schools participating the Adopt-a-Watershed curriculum from 7 to 20 schools and provides Global Learning and Observations to Benefit the Environment (GLOBE) training for 40 additional teachers. Project partners include the Kern River Water Agency; the Forest Service, U.S. Department of Agriculture; the California Department of Fish and Game; and the Kern River Preserve. Through application of the GLOBE protocols, students learn to make decisions and take actions to address and remediate environmental problems that the students identify through their investigations.
1998
CA
9
Lindsay Wildlife Museum -- $5,000
Lisle Lee, 1931 First Avenue, Walnut Creek, CA 94596
Monitoring and Habitat Enhancement Program for At-Risk Youth
The museum staff, the city's parks and recreation department, and the faculty of Summit High School offer 20 at-risk students and their teachers opportunities to monitor and restore habitats along Gallindo Creek on the slopes of Mt. Diablo. Classroom and field exercises based on the Adopt-a-Watershed curriculum are conducted once a week during the school year. The project's main components include cleanup of the creek and the riparian zone and monitoring of water quality, enhancement of butterfly habitats, and establishment and maintenance of a database. In addition, students make presentations to the city council, the parks department, the youth council, and other interested organizations.
1998
CA
9
Oakland Recycling Association -- $5,000
Susan A. Blueston, 635 - 13th Street, #210, Oakland, CA 94612-1220
Recycling Education and Resource Center
This project partially funds one intern to provide recycling outreach programs for 90 fourth through sixth grade classrooms in Alameda County, California. The program provides hands-on, interactive learning experiences about waste reduction and conservation of natural resources through classroom art projects that use materials recovered from the waste stream, field trips to the transfer station, establishment of a compost program, and targeting of a specific recyclable material for research on its origin and uses. The program demonstrates the usefulness of objects otherwise considered garbage and encourages students to think before purchasing items marketed in elaborate but nonrecyclable packaging.
1998
CA
9
Palos Verdes Peninsula Land Conservancy -- $5,000
Wendy Millet, 904 Silver Spur Road, #274, Rolling Hills Estates, CA 90274
Habitat-Based Science Curriculum for Elementary Schools
This project provides a curriculum based on local habitats and training for 90 intermediate grade teachers in the Palos Verdes Peninsula School District. In preparing for the program, staff of the land conservancy select from among existing environmental education resources and adapt them to the natural open-space areas within walking distance of the teachers' schools. Naturalists train teachers and parent volunteers in grade- and site-specific plans for implementing the curriculum.
1998
CA
9
San Diego Natural History Museum -- $17,714
Katherine Boskoff, 1788 El Prado, San Diego, CA 92101
Establishing a Regional Environmental Education Coordinator
This project matches a grant from the California State Department of Education to establish a full time coordinator to build capacity to deliver quality environmental education in the San Diego area, a large and diverse region that encompasses ocean, urban, rural, desert, and mountain habitats. The coordinator, housed in the San Diego Museum of Natural History, provides resources, promotes networking, and serves a clearing house for a potential audience of 20,000 teachers in 43 public school districts, private schools, and informal education programs.
1998
CA
9
San Diego State University -- $5,000
Dr. Melody Hunt, 5250 Campanile Drive, San Diego, CA 92182-1931
Student and Teacher Training in Water Quality Monitoring
This project establishes partnerships among several departments of San Diego State University, the Tijuana River National Estuarine Research Reserve, the San Diego County Water Authority, and several middle and high schools in San Diego. University students serve as mentors and trainers for middle and high school students in creating a monitoring program to perform regular water quality testing in semiarid San Diego area and international watersheds. The accompanying curriculum covers water treatment, water reclamation, non-point-source runoff pollution, and watershed management. In addition, the San Diego County Water Authority offers training to more than 300 teachers in the use of water monitoring kits to implement the program.
1998
CA
9
San Francisco Conservation Corps -- $5,000
McCrae Parker, 1050 South Van Ness Avenue, San Francisco, CA 94110
McLaren Park Youth in Action Project
This project joins the San Francisco Conservation Corps with the city's parks and recreation department to support restoration of native plants in a square-mile park in the southeast portion of the city. Through the corps' McLaren Park Youth in Action program, 50 older teens are trained to teach units on native plant ecology and restoration techniques. The older youth then work with 100 middle school students to develop the knowledge and skills they need to become stewards of the park, conducting service projects focused on removing nonnative and restoring native plant species.
1998
CA
9
San Joaquin Office of Education -- $5,000
Judi Wilson, P. O. Box 213030, Stockton, CA 95213
Project FEED (Families Exploring Environmental Dilemmas
This project, which involves 30 elementary schools in San Joaquin County, provides a family-oriented event that offers hands-on activities designed to increase awareness of health threats caused by pollution of our natural resources and by improper practices in the management of solid and hazardous waste. A manual based on the successful practices presented in the California Department of Health Services' No Waste Anthology and the Alameda Office of Education's Toxics: Taking Charge prepares parents and staff at each school to stage the event. Follow- up training for parents and staff covers the materials and logistics needed to stage a successful event, tips for attracting families to the event, and troubleshooting problem areas. A mentor from the science, health, or environmental fields assists each school by making a presentation on the goals of Project FEED, answering questions, and interacting with families as they prepare for and participate in the event.
1998
CA
9
Santa Monica Baykeeper -- $10,000
Captain Terry Tamminen, P. O. Box 10096, Marina del Rey, CA 90295
Beachkeepers
This project establishes a partnership of the Regional Water Quality Control Boar