Presidential Innovation Award for Environmental Educators (PIAEE) 2014 Winners
EPA Region 1
Gerard Reymore, Randolph Technical Career Center
Randolph, Vermont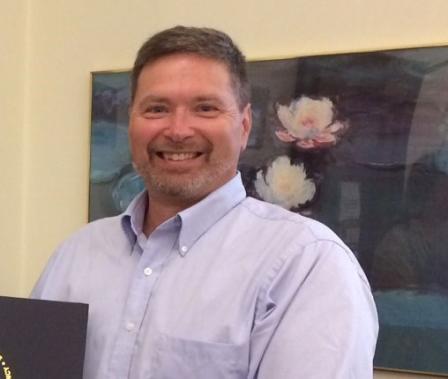 Located in Randolph, Vermont, the Randolph Technical Career Center serves a rural and economically challenged student body, and many students possess learning disabilities. For the past 9 years, Gerard Reymore has developed innovative ways to connect students to the natural world, spark their curiosity, and build strong environmental literacy skills that empower the students to contribute meaningfully to their community, while also building their career opportunities.
He incorporates agricultural and land management practices into their curriculum and often takes them into the field to learn about topics they are familiar with, including maple sugaring, logging and farming. He inspires students to learn about their environment, public health, and shared resources by using a combination of field-based experience, community partnerships, and community service, and he helps students build relationships with landowners, businesses and others in the Town of Randolph.
Gerard has established a strong network of local experts, business leaders and members of the community who help students learn through field experiences, and by giving back to the community. For example, after Tropical Storm Irene and Superstorm Sandy brought devastation to the area, Gerard empowered students to help others in the community during the storm recovery process by bringing in local scientists to teach students how to effectively participate in stream cleanup efforts, including bank stabilization, soil testing, and rehabilitation.
In addition, students manage their own maple tree forest where sap is collected yearly and used to produce maple syrup that is donated to the community and used in school cafeterias. Gerard's students also participate in many other empowering, skill-building, field-based activities, including measuring the age, height, and diameter of trees, and storing data in a geographic information system (GIS) in order to analyze trends in forest growth and correlate them to climate and soil conditions for the local area.
Melinda Learning, R. Stewart Esten Elementary School
Pembroke, Massachusetts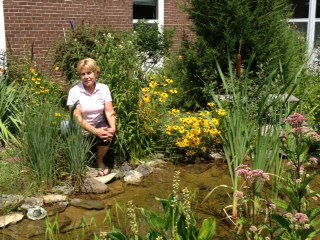 Melinda Learning uses a hands-on learning approach to teach reading, writing, social studies, math, science and environmental education at R. Stewart Esten Elementary School. Two examples of Melinda's approach to environmental education are her creation of the Esten Community Nature Trail and a wildlife habitat and garden within the school courtyard.  Both allow students to explore the world around them, help them learn about the importance of natural resources and promote environmental awareness within the community. 
Melinda and her students have been maintaining and expanding the Esten Community Nature Trail since 1996 through activities such as investigating plant life, studying stream sites, building a boardwalk trail over a maple swamp, publishing several field guide books on the native wildlife they have discovered, and collecting bark rubbings for kindergarten classes. The wildlife habitat and garden includes a frog pond, a running stream, flower beds, garden plots, flowering trees and evergreens. With the help of Melinda and the local community, students were able to transform what had been a desolate area into a refuge for wildlife and a place where students learn about plant and animal life cycles.
Melinda's efforts have engaged students in authentic investigative research and have provided them with opportunities to explore the outdoors in a natural environment. She also helps other classroom teachers prepare their students for investigations within the nature trail by providing resources such as tool kits, posters, books, and by suggesting activities to conduct in association with the nature trail investigation. Additionally, through grants, Melinda has been able to procure investigative tools such as binoculars, magnifying glasses, soil sampling tubes, compasses, stream study pails, water viewers and litmus paper. Melinda's impact on her school is profound, and her ongoing efforts provide her students with opportunities to learn outdoors. Her commitment to environmental education includes continuous coordination to find funding and collaborate with local experts and community organizations.
---
EPA Region 2
Darelis Flores, The School of San Juan
San Juan, Puerto Rico
In addition to teaching elementary classes at the School of San Juan, Darelis Flores serves as the coordinator for the Eco School Environmental Program, which works to promote environmental awareness at the school and within the community.  Among her many accomplishments is the establishment of a recycling center at the school, where members of the community, as well as the municipal public works, can deposit recyclable material. The recycling center is such a success that Darelis has been contacted by other communities seeking guidance on how to start a similar center. Under Darelis' leadership, students help to ensure that all areas of the school are recycling.
Six years ago, Darelis played a pivotal role in establishing a student-run school garden. Harvest goes back into the school and the community. Many students have been inspired to create their own gardens at home. Darelis also directs the Environmental Club Pekekes through which children in first through eighth grade carry the message of environmental stewardship to their peers, families, and community. Members attend workshops, conduct field visits to see environmental impacts first hand, and interact with other schools internationally to share green tips.
As the coordinator of her school's environmental activities, Darelis assists other teachers in selecting a yearly environmental theme to integrate into the curriculum. Students then choose an innovative project, which in the past has included installation of a hydroponic garden powered by a solar panel.  Darelis' efforts in environmental education affect her students' lives beyond the classroom. Her students obtain the knowledge they need to be informed, active citizens who can minimize the school's environmental footprint and solve environmental issues in their community.
Nathaniel Wight, Bronx Design & Construction Academy
Bronx, New York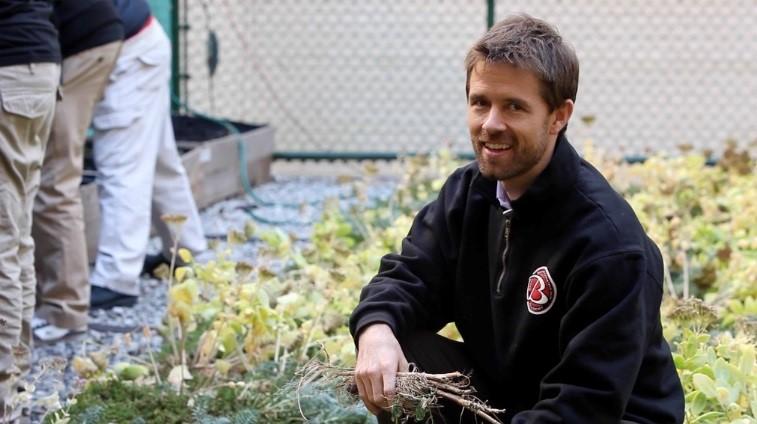 Bronx Design & Construction Academy is located in one of the poorest Congressional districts in the United States. As a founding teacher, Nathaniel Wight was pivotal in creating a learning environment where students make connections between sustainable technology and real-world environmental issues. 
Nathaniel coordinated the installation of a green roof at the school and now students in his Energy–Environment Research Club and in ecology classes use the green roof to learn about environmentally sustainable building practices, food production and urban ecosystems. Students collect temperature data through which they learn the concept of the Urban Heat Island Effect, an important environmental issue in cities.
In addition, architectural and pre-engineering students survey the roof and use computer-aided programs to digitize data, plumbing students build rainwater harvesting and irrigation systems that conserve water, and carpentry students experiment with sustainable building designs. Nathaniel's students also collect organic waste from the school and compost the material for the green roof's garden to prepare it for yearly plantings they do collaboratively with elementary students and senior citizens.
Nathaniel's students actively participate in sustainability events beyond the school and have been recognized locally, nationally, and internationally for their environmental stewardship. Nathaniel also serves as a mentor to his fellow teachers, where his dedication and passion for environmental education inspire others to learn and teach about environmental sustainability. His efforts have been so successful that plans to build an Energy Environment Research Center at the school are ongoing. The educational center will provide another opportunity for students and the community to learn about current environmental topics such as renewable energy systems.
---
EPA Region 3
David Andrews, Butler Junior High School
Butler, Pennsylvania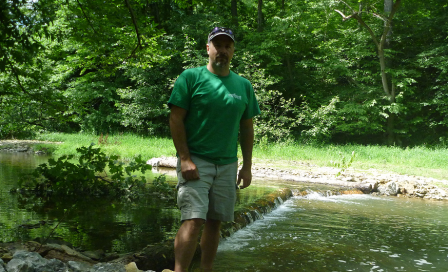 David Andrews teaches general science, environmental science and chemistry at Butler Junior High School in Butler, Pennsylvania, a suburban/rural area that serves a socially and economically diverse population. For 6 years, David has used the Trout in the Classroom (TIC) program to provide opportunities to students to raise Brook trout and release them into streams to help the local fish population.
David's work with TIC helps make habitat improvements to one of the local streams, perform fish population and water quality surveys, and learn how chemical, biological, and human-interaction factors affect the fish population.  David also has organized student tree-plantings to help rebuild a riparian buffer, student participation in litter cleanups, and opportunities for students to work side by side with professional biologists.
David inspires his students to give back to the community by participating in local projects that not only improve the habitat of local waterways but also environmental conditions in general, e.g., coordinating paper recycling at the school to reduce the amount of garbage being sent to landfills. Through service-learning projects such as these, as well as challenging curriculum that focuses on local concerns like healthy ecosystems and the Marcellus Shale energy field, David's students gain a greater awareness of environmental issues and an appreciation for natural resources.
In addition to being an educator, David serves on several committees and works to widen the horizons for his students and the community they live in. David is a member of the XTO Energy Community Advisory Panel, which communicates with natural gas companies and the community to learn about and discuss energy options. David's efforts to perform community service by establishing partnerships with local government agencies, state management officials, and corporations have earned him the Governor's Award for Environmental Excellence.
Angela Whittaker, Cumberland County High School & Middle School
Cumberland, Virginia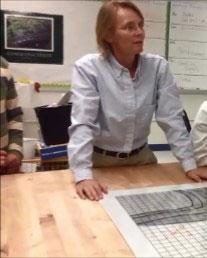 As a teacher for 17 years, Angela Whittaker has played a pivotal role in development of environmental education curriculum in Virginia and nationwide.  For the last 7 years, Angela has been developing the Education for Sustainability Program, which fosters partnerships between the school, local businesses and the community. The program consists of hands-on courses in career and technical education (which have been adopted by the Virginia Department of Education), sustainable and renewable energy, and green building design. 
Angela also developed Learning from Nature, a class that is taught to middle school students, who learn about biological gardening, soil management, sustainable landscape design, and water conservation by working with community experts in outdoor gardens, a greenhouse, and research landscapes. Each student designs a project to educate others about the importance of healthy food and sustainable resource management. For example, students built a raised bed garden that supplies food to the school cafeteria, the cooking class, and the local food bank.
Angela developed courses for grades 9 through 12 that focus on green building design and renewable technologies. As part of these courses, students complete service projects; e.g., building compost bins to educate cafeteria staff on composting, designing a photovoltaic system to install on the school's roof, teaching younger students about solar thermal energy, and designing a solar energy-powered irrigation system for the school's garden. Angela has also provided her students with activities such as the nationwide Recycle Bowl contest. Students in her sustainability class trained the student body and faculty about recycling and developed a recycling program for the elementary school. Angela's dedication to environmental education continues to inspire students to promote environmental sustainability in their school and their community.
---
EPA Region 4
Charlene Mauro, Navarre High School
Gulf Breeze, Florida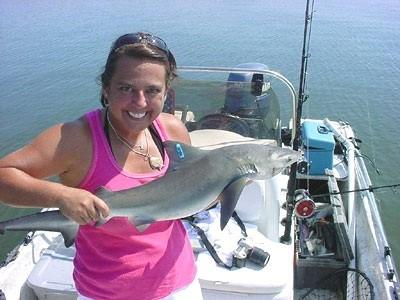 Charlene Mauro has been an environmental educator in Santa Rosa County for 15 years and has been instrumental in the development of a nationally recognized marine science program. As the founder of the Navarre Beach Marine Science Station, her enthusiasm for science and learning has inspired many of her students to pursue college degrees in science, technology, environment and education. Approximately 85 percent of them have received Bright Futures scholarships when they graduated.
After thousands of community services hours and hard-won grant funding were expended, in 2009 Charlene and her students opened the Navarre Beach Marine Science Station in a formerly unoccupied ranger station. Since it opened, the Navarre Beach Marine Science Station has hosted more than 5,000 students and members of the community with programs and curricula designed for 3-year-olds to adults. The station offers field activities, overnight programs, public open houses, summer camps, festivals and programs for special needs children, all of which focus on conservation and respecting the marine ecosystem. Curricula at the station incorporate Science, Technology, Engineering, and Mathematics. Students learn how to keep laboratory journals, collect data and specimens, and collaborate with professionals on their research. Charlene's efforts expose students to real-world experiences and environmental research careers, and challenge her students to be critical thinkers. 
Students and visitors to the Navarre Beach Marine Science Station obtain an appreciation of the importance of the marine ecosystem and how they can make a difference. Charlene has earned several honors for her work, including National Marine Educator of the Year, Outstanding Florida High School Science Teacher, University of Florida Distinguished Educator, Navarre area Citizen of the Year, University of West Florida Outstanding Young Alumnus, and is a two-time winner of the EPA Gulf Guardian Award.
---
EPA Region 5
Paul Ritter, Pontiac Township High School
Pontiac, Illinois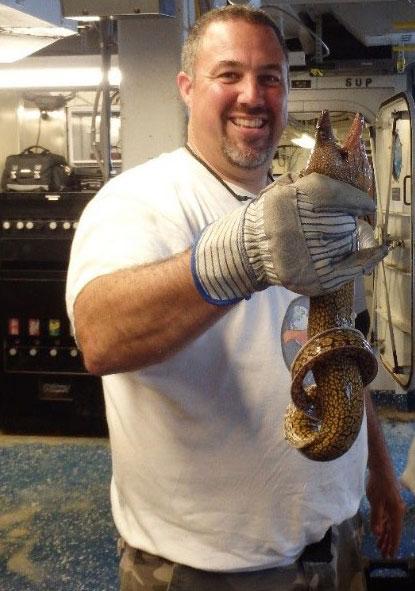 As a teacher at Pontiac Township High School for 17 years, Paul Ritter has developed an interdisciplinary curriculum that fosters collaboration among students and the community, challenges students to think critically about real-world environmental issues, and empowers students to conserve resources.
Paul's Operation Endangered Species (OES) program develops students' writing skills and promotes collaboration among students, professionals and government entities while educating the students on endangered species and how to take action to help preserve them. Paul's International Prescription Pill and Drug Disposal (P2D2)  program connects students, local pharmacies, police departments and municipal officials in order to educate the public on proper prescription and non-prescription drug disposal practices, drug misuse, and the harm that improperly discarded drugs do to the environment.
The P2D2 program has been so successful it has grown nationwide with participation of students from across the country. The program has international reach as well; Paul's students are currently helping youth in Brazil implement the program.  Paul has organized several other projects that engage his students and community, including educating the public on the hazards of dumping pollution-causing materials into storm drains, educating students on proper recycling methods, and developing a plan to lower the energy consumption of the City of Pontiac.
Many of Paul's programs have gained international recognition, including an invitation from the United Nations Environmental Programme to speak in Kenya at the 2013 Tunza International Youth Conference, where Paul and his students presented their OES and P2D2 Programs.  Paul also has received state and national recognition for his commitment to environmental education. In addition to being the President of the Illinois Science Teachers Association, Paul was named the National Science Teachers Association's Environmental Educator of the Year in 2011.
Michael Sustin, West Geauga High School
Chesterland, Ohio
As an environmental science teacher for 23 years, Michael Sustin has been pivotal in development of environmental education in the West Geauga High School District. In 2004, Michael formed the first Envirothon team at the high school. To prepare students for the competition, Michael developed hands-on lessons in soil, aquatics and forest ecology, wildlife studies and environmental issues.  Because of Michael's success establishing an Envirothon team, the school administration asked Michael to develop an environmental science course. 
Michael created a program that incorporates laboratory and field experience, research projects and student collaboration with professionals, and teaches lessons about resource conservation, wildlife management and sustainability – and then obtained grant funding for the program.  Activities have included planning and constructing a 12,000-square-foot rain and butterfly garden planted with native species, and constructing a ¾-mile trail for place-based ecosystem studies with a vernal pool that connects the high school and middle school gardens.
Michael has continued to develop environment-focused curriculum and has formed community partnerships with organizations including the Geauga Park District, Cuyahoga Valley National Park, Geauga Soil and Water Conservation District, and the Ohio Department of Natural Resources' Division of Wildlife. After students reported seeing a bear in a park, Michael developed the Bobcat and Black Bear Research Program. With the assistance of local government agencies, Michael's students learn about land navigation; flora, fauna, track and scat identification; camera surveillance; and literature research. 
Michael's success has earned him several honors, including the 2008 Educator of the Year from the Geauga Soil and Water Conservation District, and recognition from the Cleveland Museum of Natural History in 2009, the Environmental Education Council of Ohio in 2010, the North American Association for Environmental Education in 2010, and as a National Geographic Grosvenor Teacher Fellow in 2012.
---
EPA Region 6
Laura Wilbanks, Whiteface Elementary School
Whiteface, Texas
For 25 years, Laura Wilbanks has developed innovative outdoor environmental education programs that challenge her students to solve real-world problems using science, technology, engineering and mathematics. Her instruction goes beyond the classroom and into their communities and the outdoors, where students gain hands-on, project-based, real-world experience and learn the importance of team building.
Laura's innovative environmental education program Science Rocks U integrates environmental education concepts into all subjects offered at the school. Students studying history and social studies learn about regional geography, students in art class sketch in nature journals, and physical education classes take hikes and learn the importance of hydration.
Laura encourages her students to collaborate with environmental agencies, scientists and experts to develop solutions to environmental issues. Her students have made many significant achievements, including the discovery that a particular shortgrass prairie plant was capable of hyper-accumulating arsenic from soil and could be used for bioremediation in contaminated areas; another was the discovery that green tea was effective at blocking ultraviolet rays and could be used as a sunscreen ingredient. Both discoveries have real-world applications that were recognized in 2013 by geoscience experts, as well as by former First Lady, Laura Bush.  Through a partnership with the Bosque Ecological Monitoring Program, Laura's students also learn how to conduct environmental monitoring, including measuring water levels, evaluating invasive species encroachment and conducting surveys of the endangered Texas horned lizard.
Laura's efforts to advance environmental education have been recognized by several organizations, including the Muleshoe National Wildlife Refuge, Ogallala Commons, and the National Science Teachers Association. Laura also was the recipient of the 2013 GREEN Award by the Texas Tech University International Center for Arid and Semi-arid Land Studies to acknowledge the arsenic project she conducted with her students.
---
EPA Region 7
Kristine Denton, King Science & Technology
Omaha, Nebraska
For 10 years, Kristine Denton has taught environment-oriented classes at King Science & Technology, a grade 5 - 8 urban school with a high percentage of participants in the federal lunch program.  Kristine encourages her students to improve the environment and to be active in the community.  Inspired by a University of Nebraska seminar, she partnered with the non-profit organization Whispering Roots and empowered her students to build two aquaponic systems in her classroom. These self-sustaining systems use waste collected from fish to provide nutrients to a soilless growing bed. 
The systems introduce students to the benefit of sustainable farming methods. Students learn about crop rotation, water quality, photosynthesis and the nitrogen cycle, and are responsible for taking care of the fish, plants and lighting. Students log the daily test results to track data over time and identify trends. The produce harvested from the growing beds is donated to the local homeless shelter. Students lead tours and teach elementary students about how the system functions. Her students also maintain an urban farm of raised beds outside the school, then donate the harvest to local families.
Kristine engages her students by inviting community experts into the classroom.  While Whispering Roots staff teach students how to maintain the aquaponic systems, environmental science students from the university teach the importance of water quality, and representatives from a local environmental consulting company promote recycling.
Kristine has been recognized for her efforts: the Center for Green Schools gave her the 2013 Trailblazing Teacher award, and the Omaha Reader Magazine named her one of Omaha's Most Creative Educators. Currently, Kristine writes a science curriculum for the Omaha Public School System that includes lessons on global warming, recycling, animal conservation, renewable energy source, water and air quality.
Darrin Peters, Rockwood Summit High School
Fenton, Missouri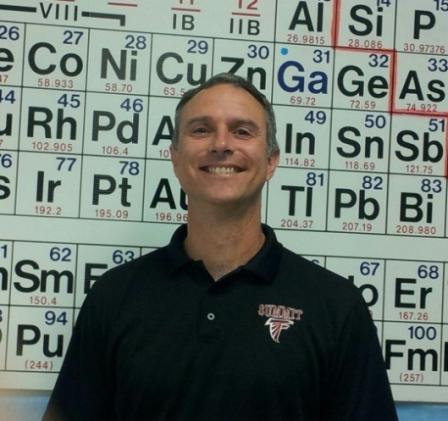 Darrin Peters developed an innovative curriculum that provides students at Rockwood Summit High School the opportunity to learn about renewable fuel. The project challenges students to conduct web research, design experiments, and produce usable biodiesel that passes ASTM International standards. The students test the fuel in a chassis dynamometer and five-gas emission analyzer at a local technical college. Tests using petroleum diesel and the student-produced biodiesel are conducted using the school's two diesel vehicles, and students collect data to evaluate horsepower, torque and emissions.
Students learn firsthand that vehicles that use biodiesel do not produce hydrocarbons, unlike those that use petroleum diesel. Results of their experiments are recorded in their scientific journals and discussed in the class. Students also present their findings to other schools in the area, businesses, and science centers.  In addition, they serve their community by making the high school a waste vegetable oil collection point for residents and nearby businesses. Several businesses and organizations sponsor the program, and biodiesel that is produced by the students is used in two school biodiesel vehicles.
In addition to teaching students in his organic chemistry class to perform experiments to produce biodiesel, Darrin organized an after-school club for students who are not enrolled in the class. Participation in the after-school program has become popular and productive. As part of the program, students learn how to make hand soap from methanol that is recovered from waste glycerin that is produced from the biodiesel production process. The soap is bottled using containers and labels donated by a local sponsor and is sold to local businesses. Darrin's approach to environmental education excites and involves students during and after school hours through innovative learning experiences.
---
EPA Region 8
Christopher Lambrecht, Summit High School
Breckenridge, Colorado
After a few years of teaching at Summit High School in Breckenridge, Colorado,  Christopher Lambrecht developed an intellectually stimulating core biology curriculum that include community perspectives and partnerships, real-world investigations, and data collection. Christopher's Stream Ecology course includes topics on riparian ecosystems and focuses on geological, hydrological, physical, and chemical stream characteristics; drainage basin characterization; stream movement; and aquatic community drift and migration. Students learn how to collect laboratory and field samples and participate in the Trout in the Classroom Program, which includes interaction with local professionals from the Division of Wildlife and the Division of Natural Resources. The course teaches students valuable lessons, including the implications of overfishing, point source pollution, and how human activities alter the ecosystem.
The Fire Ecology course Christopher developed incorporates various written material, subject matter on past fire events in the area, field-based instruction, and the expertise of local professionals. Key concepts covered in the course include the science of fire, fire weather, the history of the Forest Service, and fire mitigation and community planning. During the course, Christopher and his students work with local fire districts, local engineering firms, and the Summit County Information Systems. They develop maps using real community data and build fire behavior models under certain topographic and weather conditions.
Amber Stout, Jefferson Elementary School
Pierre, South Dakota
Amber Stout uses innovative outdoor teaching methods to engage her students in project-based learning about environmental protection and conservation. Students in her class, as well as parents and community members who are invited to participate in her outdoor class activities, experience nature firsthand. In addition, Amber encourages her students to share with their families the concepts they have learned at school. Amber organizes the creation of a butterfly garden every spring, where students learn about butterfly habitat and track butterfly species.
Other projects she has implemented include building a worm farm, baking treats in solar ovens, and hatching trout eggs in the classroom. During the trout hatching project, students monitor water quality parameters such as temperature and pH, and they monitor fish growth for several months. The project culminates with a field trip to the Oahe Dam where the students release the trout, with the assistance of the local Game, Fish, and Parks staff, into the Missouri River. This project teaches students the importance of nature preservation and ecosystem balance.
Students in Amber's classes also learn about the life cycle of birds, their habitat, and conservation and adaptation by incubating several species of bird eggs. During this hands-on project, her students monitor the temperature of the eggs, turn them, provide care after they hatch and then release the young birds into the wild. Students also visit a pheasant hatchery to help state officials band birds.
Amber is not only an inspiration to her students, but to her fellow teachers and the community as well. Through grants she has obtained, Amber has purchased science instruction materials that encourage nature-based learning and has offered them to teachers across the district.
---
EPA Region 9
Melanie Blas, Simon Sanchez High School
Yigo, Guam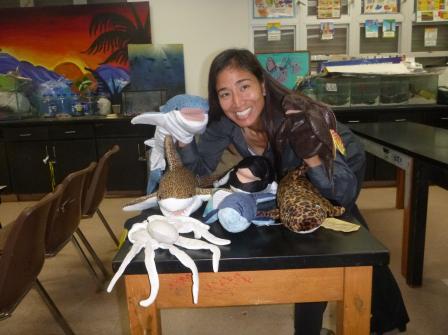 The majority of students qualify for lunch assistance at Simon Sanchez High School in Yigo, Guam. Melanie Blas has been educating students for 19 years about the importance of protecting the island's natural resources, the ocean ecosystem, and the environment in general.
Melanie incorporates hands-on activities in her classes, such as field trips to Cocos Island to observe the Ko'Ko' bird in the wild and to learn about how the invasive brown tree snake has been decimating the local bird population. Her students clean up beaches to protect the island's reefs, and plant trees with the Guam Environmental Protection Agency, the Department of Agriculture, and the Divisions of Aquatics and Wildlife Resources (DAWR) to prevent soil erosion.
Melanie stresses the importance of sharing knowledge - her students educate the public about sustainability and the dangers of plastics in the ocean, and participate in a traveling puppet show and fair to educate younger students about watershed protection. Melanie empowers her students to write letters to leaders around the world and attend legislative hearings to interject information and passion about environmental sustainability, such as shark finning and its effects on the ocean ecosystem. She also helps her students realize that their actions and voice can have an effect on their island and beyond. Students maintain Facebook pages and design websites to share information on environmental issues.
Melanie frequently presents at conferences, including the Guam Department of Education Service Learning conference, the Service Learning Expo, and the National Partnership for Environmental Technology Education Indigenous Fellows Institute on Guam. She is organizing two conferences in partnership with the DAWR that will focus on invasive species and has been selected to serve on the National Oceanic and Atmospheric Administration's delegation to the Guam-Hawaii Learning Exchange.
Bret Sutterley, Walnut Elementary Education Center
Turlock, California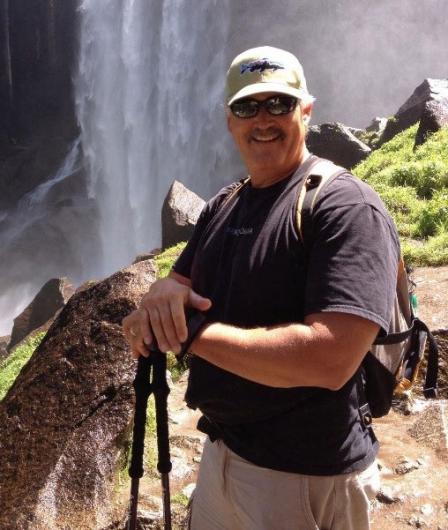 Walnut Elementary Education Center is a magnet school located in Turlock, California, that serves an economically and ethnically diverse community. As an elementary school environmental educator for 35 years, Bret Sutterley has been instrumental in the growth of environmental education and stewardship at his school. Bret uses grant funding to create hands-on activities for his students. He organizes tree plantings, conducts recycled art projects, plans assemblies on endangered species, and helped set up the Go Green film festival. Bret also developed the school garden, where children learn how to raise healthy foods, and The Walnut Energy Center, which contains a solar array and a working wind turbine.
As part of Bret's curriculum, elementary school children also raise salmon, learn their life cycle,  and release baby salmon into the area's rivers, thereby learning the importance of the local waterways and the organisms that depend on them. Bret provides a variety of opportunities for students to learn about local environmental concerns, including field trips to the Pacific Ocean, Yosemite and the central valley grasslands. In addition, Bret has established partnerships with experts in the environmental field, including professors at California State University, medical doctors, biologists, and city and state officials.
Bret has been widely recognized as a leader in environmental education: the 2014 City of Turlock's Educator of the Year, Rotary Outstanding Teacher Awards in 2002 and 2008, a Who's Who in Education Award in 2004, The Prudential Education Foundation Award, the MOSCE Credit Union Excellence in Teaching Award, and the Stanislaus Service Center Council Bell Award. Bret has been invited to speak at many conferences, including a NASA Teacher's conference, the International Reading Association conference, the California Reading Association State conference, and the California Kindergarten Association State Conference.
---
EPA Region 10
Kathleen Ferguson, Okanogan High School
Okanogan, Washington
Kathleen Ferguson teaches Chemistry, Earth Science, Physical Science, Biology, Advanced Biology, Anatomy, and Ecology, to students in grades 7 - 12 at Okanogan High School in Okanogan, Washington. Kathleen has been a teacher for 29 years, and during those years has gotten her students involved in real world environmental studies that take advantage of the excitement and effectiveness of outdoor, experiential learning.
Kathleen's students, including Native American, Hispanic and special education students, work with field scientists throughout the school year.  For example, her Ecology students have been working with the Fisheries Division of the Colville Confederated Tribes to study the effects of interventions to rehabilitate a spawning channel on the Okanogan River.  Biologists from the Conservation District teach the students about sustainable agricultural practices. Understanding that students enjoy being outside and that learning thrives when students are excited about what they are experiencing, Kathleen has her Advanced Biology students participate in the local, long term Oden Road Fire Study each year, researching water quality, soils, bird populations, and insect activity at the fire site.  In addition, her Ecology and special needs students help the Conservation District with a native plant sale each spring, identify flora and fauna on Conservancy Island near the edge of the city, and create interpretive signage along a community walking/cross-country trail.
Throughout Kathleen's teaching career, she has inspired and influenced other educators. As a National Board Certified teacher and trained mentor, she has coached K-12 teachers during their certification process and mentored student teachers who went on to successful careers in education. She has also worked with K-12 teachers to develop curriculum units in their school district, and has been a presenter at summer institutes in the Education Service District and at the Washington Science Teachers annual conference.
---
2014 PIAEE Honorable Mention Recipients:
Naomi Volain, Springfield Central High School, Springfield, Massachusetts
Eric Magers, Manchester Essex Regional High School, Manchester, Massachusetts
Maggie Favretti, Scarsdale High School, Scarsdale, New York
Ellyce Cavanaugh, Springhurst Elementary School, Dobbs Ferry, New York
Kathryn Conner, Mundo Verde Bilingual Public Charter School, Washington, D.C.
Julia Colaw, Petersburg Elementary School, Petersburg, West Virginia
Dr. Suzanne Banas, South Miami Middle Community School, Miami, Florida
John Rhude, Nicolet High School, Glendale, Wisconsin
Joseph Brady, New Philadelphia High School, New Philadelphia, Ohio
Kenton Page, Peggy Carnahan Elementary School, San Antonio, Texas
Mary Erwin, Wilson Middle School, Albuquerque, New Mexico
Eric Kessler, Center for Advanced Professional Studies, Overland Park, Kansas
Sara Forness, West Fargo High School, West Fargo, North Dakota
David Allan, Pacific Valley School, Big Sur, California
Margaret Godshalk, Kimball Elementary School, National City, California