President's Environmental Youth Award (PEYA) 2010 Winners
---
EPA Region 1:
Genetic Analysis of the Brown, Brook, and Tiger Trout Populations within the Lake Champlain Basin
Markie P.
The Lake Champlain Basin covers over 8,000 square miles in Vermont and New York and is a vital ecosystem to the region. When Markie Palermo, an 11th grader, learned about the declining brook trout population she asked if genetic analysis could be used to potentially solve this environmental problem.  Brook trout are very important because they serve as an indicator for quality of coldwater habitats and as the fishing industry has grown the trout population has an economic impact as well. While brook trout are native to the area, non-native brown trout were being stocked in the basin's tributaries. Regional and state agencies were concerned that the native brook trout populations within the basin were declining due to the health of the ecosystem and/or mating of native female brook trout with male brown trout (hybridization), producing a sterile tiger trout. It was unknown if this hybridization was occurring in the Lake Champlain Basin.
After Markie attended a presentation by Dr. Elwess on DNA analysis, she asked about using genetic analysis to investigate the potential hybridization in the basin. Dr. Elswess agreed to let Markie work with her during the 2011 summer. Markie was also able to obtain assistance from other state and federal experts to help conduct her research and investigate her hypothesis of hybridization. With protocols and techniques in place and help from the experts, Markie successfully obtained trout DNA samples through the capture and safe release of the trout. The samples were analyzed and Markie's research served to show two things: first, a genetic survey was that can serve as a baseline for further genetic monitoring of brook trout, brown trout and possible tiger trout within the Lake Champlain Basin, and second, the genetic testing that supports that hybridization has occurred within the basin. Unfortunately, Tropical Storm Irene and other natural storms had a destructive impact on the trout population this past year, making Markie's study even more important.
The results were disseminated on the local, regional, state and national level. Media covered her project and her research paper was accepted for publication by the Journal of Experimental Secondary Science (national journal) for their January/February 2012 issue. Markie also presented her findings at the National Association of Biology Teachers National Conference in the fall of 2011. Markie's project may contribute to planning decisions concerning the stocking of fish with in the basin and protection of habitat that will contribute to a healthy economy and ecosystem.
---
EPA Region 2:
Planet Green
Christopher  Y.
Young people have the power to change the world, and that's why Christopher believes in harnessing that power to combat environmental issues on our society today - and prevent them from growing into larger problems later on in our lifetime. Chris started Kids Change the World in middle school and then developed Plant Green to empower young people with start-up grants, websites, and other grassroots services and resources to start charitable, nonprofit programs to benefit the environment. Plant Green's website features educational facts about the environment and other resources for teachers to use in the classroom. Christopher believes that awareness is key in combating any issue because there is power in numbers.
Christopher's unique approach to solving environmental problems has led him to use an indirect approach to pinpointing environmental problems that are detrimental to human's health. He funded lung cancer research at some of the world's most acclaimed facilities and has invested in research that is trying to find the cause of lung cancer. Additionally, he has partnered with hospitals and other organizations around the world to perform 60 cleft-surgeries, a birth defect hypothesized to be caused by a myriad of environmental problems in developing countries. By investing in this unique approach of enabling others to "take action" in communities and funding research that will pinpoint environmental issues to raise awareness and concern, Christopher believes that this is one of the best ways to creating a better world.
---
EPA Region 3:
Hydroelectricity through Rainwater Collection: World Impact Starts in Your Own Backyard
Megan R.
Megan's engineering goal for the second year of her project was to generate a greater amount of electricity in her rain barrel than the first year of her project by implementing the hydroelectric system to her home. Her purpose was to create more electricity by enhancing the components of her generator. The results of Megan's project demonstrated that she generated three times the electricity than year one, which she found to be statistically significant. With Megan's generator system, seven six-volt batteries could be filled within a year. These batteries could be deposited into the power grid or even sent to communities around the world in need of electricity. By implementing her rain barrel system she found that approximately 2.63 metric tons of carbon dioxide emissions could be diminished from the atmosphere annually. For Megan, this is of vital importance because her home state of Pennsylvania is ranked third nationally in highest emissions and it is projected that within ten years, it could be ranked first. Also, almost $50 could be saved from her family's home electric bill by the generation of approximately 4,552 watts of power annually.
The rain barrel also has enormous impacts to our environment. By working with a local watershed organization to implement additional rain barrels, Megan is helping to conserve water and helping to prevent flooding. She contacted Create Change Africa about their water crisis relief efforts and the impact of rain barrels on developing countries with a limited supply of drinking water. In these countries, individuals rely on rain and water collection to survive. By installing her rain barrel in developing countries, the lives of millions can be impacted. Not only can a fresh water supply be possible, but electricity could be made possible, too!
---
EPA Region 4:
C.L.E.A.N. (Choosing to Lead Environmental Action Now) Club, Storm Drain Tagging & Environmental Education
Andrew D.
A Pulaski County 4-H'er, Andrew has a deep rooted passion for environmental education and wanted to be able to share it with others. Andrew noticed that Pulaski County needed help because of the rising levels of pollution in the Ocmulgee River from the city. In 2011, Andrew decided to confront the Hawkinsville City Manager to start the process concerning a storm drain tagging project in the city of Hawkinsville, and he convinced the manager to help with the project. To get peer support, Andrew started a club for 4-H students called the C.L.E.A.N. (Choosing to Lead Environmental Action Now) Club. 
---
EPA Region 5:
Community Recycling Campaign, Inc.
Sachin Rudraraju
Olentangy Liberty High School student Sachin Rudraraju launched the Community Recycling Campaign (CRC) in 2007. He noticed that unused computers and other electronic items were being sent to landfills instead of being sent for recycling. During his research he found out that although many companies recycle electronics, there is a fee involved. He decided to start a campaign to raise community awareness and provide alternative solutions for old or outdated computers and electronics in local subdivisions. The mission of CRC is based on the principal "help ever, hurt never; love all, serve all" to promote recycling awareness in the public, make a positive contribution to global conservation of energy, and to support "reduce, reuse and recycle". Volunteers collect electronic items, refurbish them, and give them to local charities for reuse. Items that cannot be refurbished are sent to the proper e-waste centers for recycling and disposal. CRC is responsible for diverting thousands of pounds of electronic waste from landfills to recycling centers in the city of Powell, Ohio.
In addition to e-waste recycling, Sachin's team participated in various service activities to help local charities, including: clothing recycling and fundraising for charities such as the hemophilia foundation, UNICEF and India Flood Relief Victims. The organization now offers a free pick up service from friends and families as well as different drop off locations, which they have set up. They organize computer refurbishing on the first Sunday of every month. They also started an initiative to promote recycling awareness and to run some small recycling projects in adopted schools. As part of the program they started a recycling knowledge center in each adopted school. In turn, each school encourages students to start small recycling projects and waste management programs.
---
EPA Region 6:
Bringing Bats to Beavers Bend
Ainsley Campbell
After taking an AP environmental science class, Ainsley became concerned about the long-term harmful effects of pesticides as well as the huge numbers of disease-carrying insects in local parks. When it came time to apply for her Girl Scout Gold Award during her junior year of high school, she decided to design and implement a project that would address those concerns. The purpose and goal of Ainsley's project was to help her community solve the problem of insect control through environmentally safe and sustainable methods. After researching this subject and meeting with the environmental services manager for the City of Frisco, she received permissions to build and hang ten bat boxes in a wooded park near her home. This project was needed because in suburban areas such as Frisco, development has destroyed wooded areas where bats like to live and reduced the overall number of bats. An individual bat eats thousands of insects each day, so restoring the bat population can reduce the number of insects, such as disease-carrying mosquitoes, and therefore reduce the use of harmful pesticides. Also, by keeping the insect population in check, bats help maintain the natural balance of both animal and plant life. By giving the bats a permanent home in an area where they would thrive, Ainsley hoped to create a sustainable solution to a problem that affects her entire community.
Ainsley received donations of cash and materials, then enlisted the help of her family and friends to build ten bat boxes using chemical-free wood and materials. The boxes were hung without using nails or hooks imbedded into the trees. She educated the community about her project through a scrapbook and the internet.
---
EPA Region 7:
Purple Loosestrife Project
Class of 2013, Niobrara High School
The Purple Loosestrife Project is a wetlands conservation project focused on controlling Purple Loosestrife, an aggressively invasive plant species, around the tiny town of Niobrara, Nebraska. This project originated six years ago as a good excuse to get outside the high school biology class to help conservation agencies dig thousands of Loosestrife roots out of the wetland areas which are used to raise Galerucella beetles in captivity. A host-specific biological control method, the beetles are propagated to maintain biodiversity in the wetlands by eating only Purple Loosestrife plants.
This project started out as a one day a year community service project that has grown into a yearlong intensive conservation program, a legacy passing from one biology class to the next. This past year, biology students collaborated with various state and federal agencies including Nebraska Game and Parks, US Army Corps of Engineers, Lower Niobrara Natural Resource District, Missouri National Recreational River and County Invasive Species boards to raise the Galerucella beetles in a constructed pond in an under-used playground area. Using GPS and population counts, the effect the beetles had on Purple Loosestrife infestations has been documented. The result has been an increase in diversity in wetlands that were once completely infested with the "purple plague".
The project has been a great opportunity for the students. It not only meets state and local science standards, but more importantly gives students the opportunity to do real science work and engage them in problem based learning. This project has given students an opportunity to become more involved in their community and helps them understand the environment is not permanent and that we must help maintain and protect it. Students grow from simply being a resident and by becoming an active citizen in the community.
---
EPA Region 8:
Radon Awareness Project (RAP)
Christina and Eric B.
In November 2010, Christina and Eric developed the Radon Awareness Project (RAP) to educate Coloradans that radon exposure can cause lung cancer. Ms. Faye Dugan inspired them with the sad and untimely death of her husband Steve who was exposed to radon while working in his basement. Christina and Eric feel that it is important to recognize inherent dangers in the environment.   Radon, a radioactive gas from uranium breakdown in our rocks and soil, is one such danger that we can reduce or prevent altogether from getting in our lungs. Colorado has an unusually high level of the gas; over 21,000 people die from radon each year in the U. S. and estimated 500 die in Colorado.
Christina and Eric worked with their state health department, EPA, and the American Lung Association and in 8 months grew the collaboration to include Jefferson County Health Department, Habitat for Humanity, Girl Scouts, 4-H, and CanSAR (Cancer Survivors against Radon). They addressed a basic part of our community, the homeowner, by educating them on radon and testing. They presented to community outreach groups and government officials demanding greater attention to this invisible killer.  Publicity was via the web site), a RAP rap song, newspaper articles, local News and various blogs.
The RAP is a concerted effort through multi-faceted community outreach and media exposure in order to reach homeowners; it is applicable to all states with high radon zones. The RAP has culminated in starting public policy in Colorado. Christina and Eric Bear have learned that kids, no matter how young, can positively impact environmental effects on health.
---
EPA Region 9:
The Whale
Oak Park High School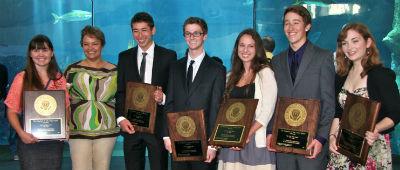 Since 2009, six high school students have been raising awareness of large container ships striking and killing migrating whales in the Santa Barbara Channel, including the boundaries of the Channel Islands National Marine Sanctuary. They wanted to educate people about the beauty & majesty of whales; learning and becoming involved in whale protection issues and understanding how whales around the world remain in danger due to hunting, pollution, and global climate change.
They started out developing a lesson plan for middle and high school students about whale migration in the Channel, the complex issue of ship strikes and other threats. They've done extensive research through the years regarding recommendations and petitions to move the shipping lanes out of the sensitive areas and reduce the speed of the ships as they transit through them. They planned a Week of Whale in 2011. With the help of the PTA's at all 8 of the schools, they were able to fund naturalist Brent Nixon, an expert on whales, to hold assemblies at all the schools at Oak Park USD. They also arranged a community whale watching expedition for 125 people to view migrating California gray whales and humpback whales, serving as docents for the day, along with two naturalists from the American Cetacean Society. The students also authored a creative whale activity book that they used as one of their interactive activities while visiting elementary school students in the district. All of the 4,200 students in the schools were impacted by the various projects.
---
EPA Region 10:
Boise Riverbank Restoration Project
Carl B., William D., and Nathan W.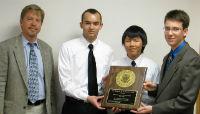 Carl Breidenbach, William D'Onofrio and Nathan Wong, along with community support, undertook the rehabilitation of a stretch of eroding bank on the Boise River greenbelt. As part of their class process, the students decided to write a mock grant proposal. But, instead of staying as a mock proposal, they actually submitted the proposal, were accepted and received funding. The students also ran into several hurdles causing the project to take much longer than their one year project plan. In fact, it spanned almost two years during which the students transitioned from junior high to high school. Even with this significant educational transition and time element, the students saw the project through to completion.
To protect both land and aquatic life, they were determined to re-stabilize a destroyed area of the Boise River bank. Their plan was to provide a limited access trail complete with plant native plants but the specific requirements of this seemingly simple landscaping project required far more than anticipated. Soon after contacting the city with their proposal, they were working with people on every level of government, non-profits and businesses - Boise City, Ada County, Idaho Department of Water Resources, the Army Corps of Engineers and Trout Unlimited and the Rock Placing Company. After students explained their vision to the Rock Placing Company, they made a significant contribution by donating the materials, stone slabs, heavy equipment and staff resources to create access to the popular beach.
The next phase involved re-vegetation. After months of research and well into the following fall, the students could finally plant. By engaging and enlisting the help of Timberline Tree Club, they planted over 100 native plants, moved a massive 3/4 log bench to create a sitting area, and planted a 25 foot weeping willow to symbolically replace one nearby that had died. Although the project took almost two years it will last for decades, improving trout habitat, water quality, and creating a beautiful spot to stop along the Boise River.