President's Environmental Youth Award (PEYA) 2012 Winners
---
EPA Region 1:
Wind Energy Powers Camden Hills Regional HS
Camden Hills Regional High School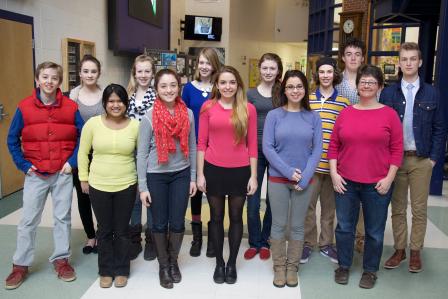 Nine years ago, a group of students, called the Windplanners, initiated an effort to understand the energy usage of their school. Efficiency upgrades were made and soon the group began to explore the feasibility of installing a wind turbine on campus. For the last eight years, these students have analyzed wind resource data, built up public support, collaborated with town and state officials, raised funds through private donations and competitive grants, analyzed energy usage at their school, and taken action to improve energy efficiency. Efficiency and conservation measures in the 2012-2013 school year have saved over $2,000.
The turbine is the first magnetic drive wind turbine of its size in Maine. It was student-purchased and is a school-owned and operated machine, perhaps the first in the nation at this scale. The turbine is expected to produce 100,000 kWh for the first year, which is currently about 10% of the school's electricity usage. Over the next few years, through further efficiency upgrades and conservation measures, the students anticipate producing 20% of the school's electricity from wind.
In celebration of the first year of operation, and to promote whole school awareness about energy, the Windplanners spearheaded a green week from April 8-12, 2013. Each day, they focused on one sector of energy consumption (electricity, heating, transportation, and food/waste) and made a collective school-wide effort to reduce consumption. The event culminated with a full school assembly where the results and data were shared. The Windplanners hope to inspire students to be a part of the solution and to make a school-wide plan of action.
---
EPA Region 2:
Take the Challenge
Christopher J.
"Take the Challenge" is an environmental documentary that calls people to action, encouraging them to reflect on their everyday actions and think about the consequences that actions have on our oceans and local waters. The video is also meant to be educational, developing awareness of ocean acidification and the huge negative impact of carbon dioxide.
This has been a four year project. It began as a short video for Christopher's community, to describe problems in their local water. After interviewing the director of a science museum, Christopher met scientists at Woods Hole Oceanographic Institute, Philippe Cousteau of Earth Echo International, Ban ki-Moon (United Nationals Secretary General), and others. From scientists to world leaders - everyone who is aware of these problems is working to get the word out: these are not "local" issues; they affect everyone.
The documentary aired on public television in Long Island and New York City, and again on Cablevision throughout Nassau County. The educational coordinator of "Inquiry-to-Insight," an international, interactive program between marine research stations and high schools and colleges, shared the video within their network. The video was shown in schools in several states; it was also used as a motivational tool for Earth Day. The documentary received national recognition by the Alliance for Community Media at their 2012 Hometown Video Awards (Youth: Empowerment category).
This has been a phenomenal journey for Christopher - he achieved his goal of creating something to give to others, encouraging them to make a difference in the environment. He met many supportive people and learned the technical and creative requirements for making a documentary. Christopher looks forward to working with others on related projects. In fact, Christopher recently agreed to help a local group of bay association leaders with a video for their program and to be a spokesperson for their cause.
---
EPA Region 3:
The Use of TI02 Implemented Nanoparticles with the Aid of Ultra Violet Light to Help Deterge and Detoxify Groundwater, to the Extent of Being Consumed
Murwarid Rahimi
The goal of Murwarid's research was to figure out a cheap, effective and environmental friendly method for water purification. The idea, discovered through investigation, is the use of titanium dioxide, in the form of implemented organic nanoparticles, to purify water. The oxidizing and photocatalysis properties of TI02 nanoparticles instigated the proposal of this simple technique. With the help of ultraviolet light and Murwarid's high school biology lab, this experiment was completed and proven to be accurate with astonishing supporting data and analysis. Murwarid proved that as increasing amounts of TI02 implemented nanoparticles were added to the 10.0 ml of contaminated water, derived from the Potomac River, the more visually and statistically purified the water became.
---
EPA Region 4:
Balls-Go-Round, Inc.
Karly and Jeffrey K.
Karly and Jeffrey are a brother and sister team who co-founded the non-profit organization "Balls-Go-Round, Inc." It was in middle school when the pair realized that hundreds of thousands perfectly good tennis balls were being discarded not only by their tennis academies, but by country clubs and various tournaments annually. While living in New York at the time, they'd begun to collect and recycle thousands of balls by gathering them in boxes and garbage bags and networking them into inner city communities.
After the family moved to Vero Beach, Florida, Karly and Jeffrey up scaled their concept of REPLAY-REBOUNCE as Florida was clearly a mecca for tennis. They recreated new networks with high-end resorts, clubs, academies, and even high schools/colleges to simply pay it forward to needy youth organizations and children's programs.
Recipients include Title-1 poverty schools (who have never experienced "Field Day"), tennis for the disabled, inner city programs, and missionary flights to Haiti/Dominican Republic to impoverished children. They also donate regularly to animal shelters for play and adoption goody bags. Once balls are truly dead, many other household uses include dry erasers, holiday ornaments, herb gardens, etc.
As a result of their project, Karly and Jeffrey have saved over 300,000,000 balls from being dumped in the landfills each year. Karly and Jeffrey have become true leaders and a catalyst in re-thinking "rebounce" and have recycled 250,000+ ball back into replay! Now in high school, the pair speaks at sustainability forums, educate Universities/Colleges about tennis-teams' infinite waste, greening campus life, and helping hundreds of country clubs recycle/network. Since 2007, their small vision has produced an alarming amount of recognition and awareness of this epic waste, environmental impact and desperate need to help Balls-Go-Round!
---
EPA Region 5:
Zephyr Wind Project
Mahtomedi High School Eco Club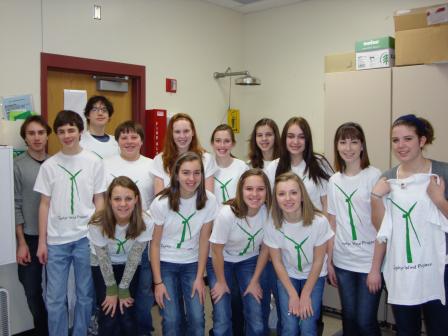 Students in the Eco Club worked with the community and a wind contractor to raise $100,000 in private donations and grants needed to build a 10 kilowatt wind turbine next to their high school football field. (See photo below.) The turbine provides power for the high school stadium's lights, scoreboard, and concession stand and serves as an educational tool for the community. Excess power goes into the Xcel Energy grid and revenues from that energy go back to the school. Since installation in September 2011, the turbine's carbon offsets equals 202 trees or 8 tons of C02 saved.
Read the Eco Student blog post about the Zephyr Wind Project.
---
EPA Region 6:
Save the Blackland Prairie
Chandler B.
Chandler planned, led, and carried out four very significant project in natural resource conservation and environmental improvements at the Connemara Conservancy. Chandler obtained four tons of rock to create and build a rock apron and dam around a storm sewer in order to slow erosion and to redirect water into the Blackland Prairie Meadow at the Connemara Conservancy. In the area of Invasive Species Control, Chandler removed Johnson grass and Bermuda grass from the Meadow and replaced them with native Texas grasses. Chandler also built and repaired birdhouses, built a rabbit hutch and released box turtles, currently on the Texas threatened list, into The Meadow. In addition, Chandler removed trash and flood debris from Rowlett Creek, which runs through the Conservancy. Chandler then monitored and publicized water quality monitoring and obtained a Proclamation from the Mayor of Allen which declared September 18, 2012 as "Water Monitoring Day" commending the Connemara Conservancy for it's "commitment to promoting good stewardship of our water resources". Chandler generated over 1,000 volunteer hours and involved 100s of Cub Scouts, Girl Scouts, Boy Scouts and interested adult and youth volunteers. Chandler also applied for and won a $1,000 Disney grant to help complete his projects. Chandler has other grant applications pending at this time to assist with his initiatives in the Blackland Prairie.
---
EPA Region 7:
Action4Air: An Anti-Idling Campaign
Center for Creative Learning
Fourth grade students from the There's No Zone Like the Ozone classes at Rockwood School District's Center for Creative Learning (CCL) started a vehicle anti-idling campaign called Action4Air. The Action4Air project is an anti-idling campaign to reduce idling at the CCL. The students wanted to take on this project because vehicle idling is a source of ground-level ozone. This campaign started in 2011 when the students saw the Clean Air Partnership website; they wanted to know how they could become a partner to help improve air quality.
The students set two goals: reduce idling on campus and spread the message. The students completed a survey of idling cars in the county and in the parent pick up line so they could have a baseline to compare measurements. In the first year, all bus idling stopped at the CCL and parent idling decreased from 53 percent to 38 percent. The survey was completed again in the fall, showing that idling had decreased another 11 percent. Altogether idling in the parent pick up line has decreased by 26 percent.
The students have spread the message about their project through media coverage and the CCL website, and have  created an Action4Air webpage. Most recently, the students wrote an anti-idling proposal that was presented to the school board in October 2012. This policy was voted upon and approved on February 7th by the school district's Board of Education.
---
EPA Region 8:
Fairview Net Zero Club
The Fairview Net Zero Club decided in 2008 that it wanted to ban plastic bags in Boulder, CO. In April, 2011 it set out to make this goal reality. After researching the topic, the club expanded its goal to include putting a fee on paper bags. On November 15, 2012 Boulder passed an ordinance placing a 10-cent fee on paper and plastic bags. Boulder estimates this will eliminate 10,000,000 bags annually and generate $400,000 in annual revenue earmarked for recycling initiatives. It will impact an estimated 200,000 people in the Boulder area.
The club spent 19 months successfully lobbying Boulder City Council to pass an ordinance. The Fairview Net Zero students spoke at nearly every city council meeting during that time. They thoroughly researched the topic and convinced the city staff and council to take action. They are widely credited with getting the ordinance passed and were interviewed by channels 7, 8, and 9, CBS News Radio New York, the Boulder Camera and the Royal Banner. Their story was picked up on the wire and published in numerous newspapers, blogs, and websites. Fairview Net Zero Club grew to nearly 50 students, showing that students do want to contribute to their communities.
200,000 people will change their behaviors and hopefully think more about the impact on the environment they make in their daily lives. Eliminating untold millions of bags in future years and funneling millions of dollars into Boulder recycling in the next few years would make any group proud, but that this was a group of teenagers with no budget and no political connections, makes it that much more remarkable. The story was picked up because these teenagers showed the world that a group of dedicated kids with a well-thought-out plan can do anything. 
---
EPA Region 9:
Green Kids Now
Pavan Raj G.
Pavan founded the non-profit organization "Green Kids Now, Inc" for kids to join together from all around the world to care for the environment, raise awareness, take action and share ideas & experiences. He has written two children story books. "Two Tales from a Kid" shows the importance of the whole community coming together to keep their environment clean and "Geckoboy-The Battle of Fracking" introduces the new method of innovation-Biomimicry to kids and also raises awareness of the side effects of fracking. He currently is the International Reporter for the Primary Perspective Radio Program in Australia, a show that is for kids and created by kids. His short interviews with experts on environmental topics are broadcast from Melbourne, Australia and New York's Earthpreservers EPTV and about 150 schools in the Asia-Pacific region listen from their classrooms. He also founded the annual Green Kids Conference several years ago to educate kids and their families on environmental issues; focusing on children and promote, encourage, and reward new innovative ideas from them. He was able to initiate a partnership with Microsoft and through their sponsorship, continues to reach out to other organizations and groups for future participation. He's had approximately 800 adults and youth attend each year. Pavan has been working with schools around the Bay Area to help obtain the Green Star Award, offered by many counties and cities. He has created a do-it-yourself step by step guidance document that was published in September of 2012 that help the youth move in the Path of Innovation: how they can apply their academic areas like STEM (Science, Technology, Engineering, Mathematics), introduces Biomimicry as the method of innovation, and show the fundamentals of industry standard project management.
---
EPA Region 10:
ROC the Kenai
Courtney S.
Courtney developed an environmental awareness program called the ROC the Kenai which stands for "Respect Our Community". This is a youth driven environmental organization. ROC the Kenai focuses on resolving the problem of proper disposal of fish remains generated by thousands of dip net fishermen at the mouth of the Kenai River and the prevention of the bacteria, fecal coliform. This bacterium is thought to be created by the overwhelming amounts of fish and seagull waste left on the beach. In order to tackle this problem, the group focused on building public awareness, outreach, partnering with local organizations, working with the City of Kenai to keep litter and fish waste off the beach, and convincing the City Council to change the city codes and regulations to enforce proposer disposal of fish waste. After two years of work on the beaches, the City Council is now ready to impose a regulation that will take effect this upcoming dip net season.
During the month of July, Kenai is overwhelmed with fishermen from all over the state in search of the Kenai River red salmon. This fishery allows 25 fish per head of household and 10 fish for every other family member. The community benefits from the dip net fishery, but 900 tons of fish waste and tons of trash litter the beaches of the river.
Courtney secured printing costs from the City to create a public awareness brochure to hand out to the dip netters as an educational tool. She and others spent hours on the beach handing out the brochures, talking to the people about the project to increase public awareness, and cleaning up the beach.
Courtney presented her project to the Kenai City Council, and returned for updates numerous times. She attended city work sessions and Harbor Commission meetings as an advocate for ROC the Kenai and the environment. After spending many hours on the beach, she reported back to the City Council with suggestions to better the fishery from dip netters themselves. Courtney suggested signage in different languages be created, and strict enforcement of city codes and regulations be enforced because many users of this fishery show no regard for the community or the environment.