President's Environmental Youth Award (PEYA) 2015 Winners
---
EPA Region 1:
Nutrasafe: Creating an Eco-Friendly Plant Food for the Environment
Connecticut
Team: The Plant Phenoms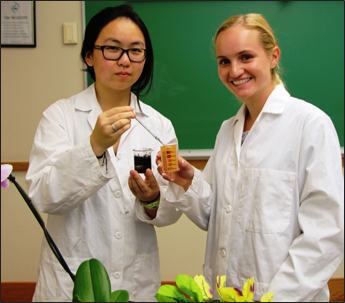 Motivated by the threatening side effects posed by traditional agricultural fertilizers, the Plant Phenoms team sought to understand and pursue environmentally friendly alternatives. Although plants require nutrients to grow, traditional fertilizer application methods and amounts threaten the environment. Waters from brooks, streams, creeks,lakes, and oceans can become polluted by nitrates and phosphates. The overabundance of nitrogen and phosphorus can cause algae to multiply, particularly when waters are warm and calm. When the algae die, they are eaten by bacteria that deplete the oxygen and leave aquatic "dead zones," where fish and other aquatic life cannot survive.
The Plant Phenoms developed and tested a new eco-friendly plant food called Nutrasafe. This plant food comes in soluble, vegetarian gel capsules that are filled with dried and ground banana and orange peels. By using gel capsules, the plant food can be easily distributed directly into the soil. The Plant Phenoms performed multiple trials with different fertilizers. Plants given Nutrasafe grew as well as plants given traditional fertilizers, and formed less algae in water. The Plant Phenoms have plans to present their work to middle school and elementary school students, and share Nutrasafe capsules with their community's school gardens.
---
EPA Region 2:
Fighting Deforestation of the Pine Barrens with Vertical Greenhouses
New Jersey
Team: Greenhouse Gladiators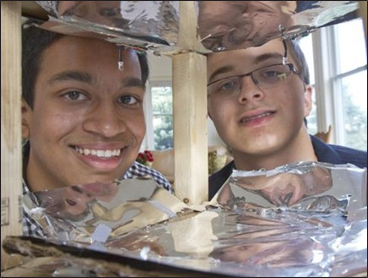 The Pine Barrens, a sandy, coastal forest that covers over 1.1 million acres of New Jersey, is home to over 850 species of plants, 39 species of mammals, 91 species of fish, and 59 species of reptiles; is responsible for recharging the 17 trillion-gallon Kirkwood- Cohansey aquifer; and is a recognized International Biosphere Reserve. In recent years, the commercial production of blueberries and cranberries has contributed to damage and deforestation of the Pine Barrens. The Greenhouse Gladiators team was formed to combat deforestation due to these agriculture activities in the Pine Barrens.
The Greenhouse Gladiators designed a vertical greenhouse to combat local deforestation. Vertical greenhouses conserve the amount of farmland needed by growing plants upward on a series of open shelves, compared to traditional growing methods that take up wider land areas. These structures typically allow farmers to grow more crops, but are not cost- effective because they rely on expensive, light-emitting diode (LED) lighting. The Greenhouse Gladiators built a scale model of a cost-effective vertical greenhouse that used metal to reflect natural sunlight to the crops. In tests, the Greenhouse Gladiators found that their reflective design outperformed typical LED lighting. Their research was published in the Journal of Agricultural Engineering and Biotechnology.
Now, the Greenhouse Gladiators are working to build vertical greenhouses for local farmers and have created an online petition to raise money. Local farmers can receive a small vertical greenhouse if they pledge to not expand into the Pine Barrens. The Greenhouse Gladiators hope to send a message that with innovation, humans can coexist with the environment.
---
EPA Region 3:
Zero Waste: Are You Sure?
Pennsylvania
Team: Park Forest Elementary Zero Waste Team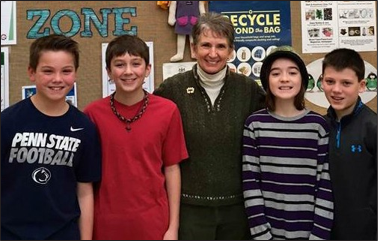 Inspired by neighboring Pennsylvania State University's sustainability efforts and a challenge from their principal, Park Forest Elementary School Zero Waste Team members are leading the charge to make their school become waste free.
To begin, the students collaborated with Pennsylvania State University to conduct a waste audit. After analyzing the data and developing a waste reduction plan, the Zero Waste Team began the "Are You Sure?" educational campaign to challenge students and staff to reduce waste and properly dispose of items that could be repurposed, recycled, or composted. Students' goals included recycling milk bottles, plastic bags, disposable coffee pods, and other hard-to-recycle items. Another part of the waste reduction plan included composting: classroom waste in worm bins (also called vermicomposting), garden and yard waste in outside containers, and lunch room organic waste collected by a commercial composter. The Zero Waste Team also encouraged students and staff to use only one paper towel each after washing to dry their hands, and to compost those paper towels. As a result of the Zero Waste effort, the Park Forest Elementary School recycled 470 pounds of metal cans, 1,695 pounds of plastic bottles, and 9,660 pounds of mixed paper in 2015. While the school still produces some waste, there are measurable improvements from the Are You Sure? challenge. First, the school no longer fills its dumpster as quickly. The refuse truck arrives just two times per week versus five. Accordingly, the school's waste disposal bills decreased from $534 to $261 per month.
As current students prepare to transition to middle school, they mentor new student leaders in order to maintain and expand the success of the Zero Waste Team. Additionally, the Zero Waste Team is working with their county waste professionals to replicate the Are You Sure? challenge and bring proven practices to neighboring schools.
Impact of Energy Consumption Reduction on Household Carbon Footprints
Pennsylvania
Rohan Chalasani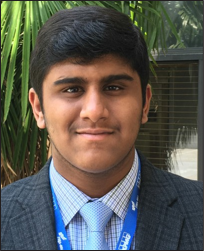 Rohan completed this project  after becoming interested in the impact of an individual household on greenhouse gas emissions and climate change mitigation. He investigated  the impact of relatively hassle-free, energy-saving methods on a single household's environmental footprint. Rohan conducted an experiment over the course of ten weeks, breaking down energy-conserving methods into three areas: electricity, natural gas, and water. During five control weeks, he measured the energy consumption in the household with no conservation actions taken. In five experimental weeks, Rohan lowered the thermostat by 1.8 degrees Fahrenheit, unplugged appliances at night, reduced light use, and shortened shower times to 10 minutes per shower.
Rohan calculated that the household experienced a 23% reduction in its total carbon dioxide emissions due to the energy-conservation actions. He found that while taking a shorter shower had a minimal effect on energy usage, reducing natural gas had significant effects on the household's total carbon footprint, contributing to 75% of total reduction. Rohan extrapolated the results of his experiment to show that if 50% of households implemented his same methods, the United States could see a 200 million metric-ton reduction in total carbon dioxide emissions. This is the equivalent of reducing emissions from 4.1 million barrels of oil. Rohan's results underscore that small actions taken by many individuals have the potential to yield measurable greenhouse gas emissions reductions.
---
e-Treasure, Inc.
Florida
Team: Kady M.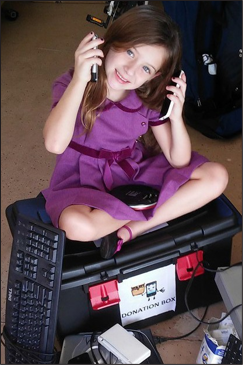 After discovering electronic waste is the fastest-growing segment of items in landfills, Kady came up with the idea of eTreasure to keep the environment free of electronic waste, use resources wisely, and protect the Earth. She began electronics collection drives to ensure the proper  disposal of electronics. When possible, these electronics are refurbished and redistributed to help people in her community. Cell phones, tablets, and computers are first cleared and then donated to students, schools, soldiers, or other community members who otherwise would not have access to these technologies.
Kady has placed collection containers at schools throughout her county, and worked with city professionals to collect and ensure proper disposal, refurbishing, and  redistribution  of  electronic  waste.  Since  its  inception in March 2015, eTreasure, Inc. has developed partnerships with local corporations, registered as a nonprofit corporation, collected over 500 pounds of eTrash, and become an official "Cell Phones for Soldiers" public drop-off location. Kady's goal for e-Treasure is to eventually provide refurbished tablets to every student in the county.
Low-Cost Hetero-nanostructure Semiconductor Uses Visible Light Energy to Efficiently Degrade Toxins
North Carolina
Team: Joshua Zhou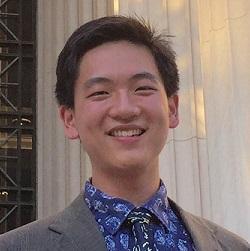 Joshua successfully created a more efficient, low-cost, and environmentally friendly method of improving water quality and reducing pollution, particularly the pollutant 2,3,7,8-tetrachlorodibenzo-p-dioxin (TCDD). TCDD is a persistent, manmade human toxin unintentionally produced during manufacturing or incomplete combustion from fires, automobiles, coal-based power production, and other processes. TCDD contaminates rivers and other drinking  water sources, impairs ecosystems, and has well-documented adverse impacts on human health. Joshua discovered existing TCDD remediation technologies were both inefficient and expensive, limiting their widespread use. He developed a unique material of semiconductor crystals that can affordably and efficiently degrade pollutants using visible light energy.
Not only does the new material successfully degrade TCDD, one of the most stable organic pollutants, but it will degrade most pollutants. The material, once placed in the environment, has no operational costs due to its passive use of visible light. Joshua hopes that the technology will serve as an affordable water pollution remediation option in developing nations. He has received international recognition and was honored with EPA's prestigious Patrick H. Hurd Sustainability Award for his innovative approach to producing a safe, affordable, and simple method for degrading pollutants.
---
EPA Region 5:
CYC Sunshine Youth Garden
Illinois
Team: Chicago Youth Centers-Nature Team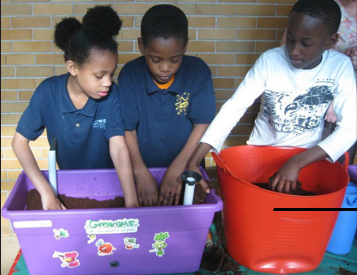 The Chicago Youth Center (CYC) Nature Team is a group of 18 energetic, enthusiastic, and outdoor-loving students aged 5-9 years who plan and care for the CYC Sunshine Youth Garden. The garden serves as an outdoor classroom for students to learn and teach others; a peaceful place for kids to work, play, and relax together; and a place for students to share fun activities with their families, friends, and neighbors. Garden mainstays include a community mural, sculptures, a memory garden, and vegetable and herb gardens.
The Sunshine Youth Garden engages students year-round. In the winter, the Nature Team brainstormed and planned the garden for the following summer. For the 2014-2015 season, the Nature Team planned sections of the garden, including a strawberry patch, a sunflower challenge, and "Worm City" - an area for composting, checking weather, and digging worms. In the spring, team members hosted a community garden party to kick off the gardening season. Over the summer and fall, team members donated fresh tomatoes, greens, carrots, peppers, and sunflowers to neighbors who visited the garden. The Nature Team members are eager to share what they have learned, and plan to work with other children to create another youth garden.
2015 Funded Projects of the Carmel Green Teen Micro-Grant Program
Indiana
Team: Carmel Green Teen

The Carmel Green Teen Micro-Grant Program is a nonprofit, youth-led program that empowers young people to take action by funding youth- driven projects. The goal of its eight teenage board members, also called  the Carmel Green Teen, is to challenge youth in Carmel, Indiana, to use their skills, creativity, and energy to help make their community greener and more sustainable. Since 2009, the Carmel Green Teen has funded and supervised 43 grant projects that engaged over 800 young people. Funded projects have reduced pollution, conserved natural resources, saved energy, and restored native habitats and species. The team oversees the execution of each project and gauges its environmental impact.
In 2015, the Carmel Green Teen administered six community environmental projects, including two projects to promote the recycling of water bottles and aluminum cans, two projects to encourage the use of reusable water bottles, a project to create beneficial habitat conditions for Monarch butterflies, and a project to support an Earth fair. The projects completed in 2015 and prior have positive benefits to the local environment. Some of the quantified benefits include: planting over 2,200 trees, bushes, and wildflowers, recycling tons of materials from school cafeterias each month, reducing 500 tons of carbon dioxide emissions each year, eliminating the use of more than half a million plastic bags and thousands of plastic water bottles each year, and distributing compact fluorescent light bulbs, saving $2,100 in electricity bills each year.
Additionally, through the work of the Carmel Green Teen and its supported projects, youth  learn  about  environmental  stewardship  and  become environmental champions in the community.
---
EPA Region 6:
Beyond the Classroom Recycles at St Mary's
Oklahoma
Rhodes M.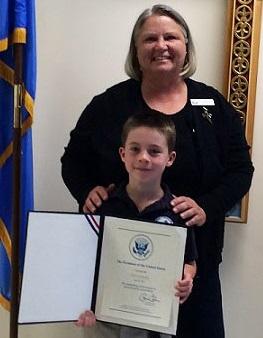 Rhodes decided to take action when he learned that the school's recycling program was coming to an end. Rhodes devised a new recyclables collection program that would be cost-free for the school. After seeking support from the school's administrator, Rhodes placed recycling bins in each classroom and staff workroom. Every week, Rhodes and students from the Beyond the Classroom program collected plastic, aluminum, and paper recyclables. A local Girl Scout Troop then took these recyclables to the proper disposal location. By collecting and delivering the recyclables, the school did not need to pay for a separate recycling service, making the project cost-  free and sustainable with ongoing support from student volunteers.
Inspired by Rhodes' recycling initiative, students in the Beyond the Classroom program launched another campaign to save electricity. To begin, the students are turning off school computers each afternoon and taking responsibility to restart them each morning. In another classroom, students are encouraged to use reusable lunch boxes instead of plastic or paper bags. In fact, across the school there has been a shift in attitude with young students holding teachers and staff accountable for properly sorting recyclables. Rhodes hopes to establish a program for composting cafeteria leftovers in the near future.
Formation of Casis Forest Club
Texas
Drew B.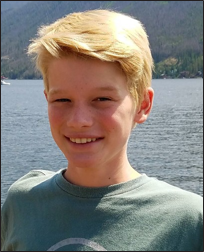 The Casis Elementary School adjoins a three- acre tract of forest land affectionately called the "Casis Forest." Through a community volunteer, student Drew learned of some threats to the forest's long-term health, including compacted soil, severe erosion, a lack of understory, and invasive species. Drew founded the Casis Forest Club and enlisted his peers to restore and protect the land. He arranged monthly meetings with students, a faculty sponsor, parents, community members, and outside experts to learn about the forest's health and pick up trash. They also conducted forest maintenance activities such as mulching trails, building erosion control features, and planting native species.
Five years later, the Casis Forest Club has successfully improved the health of the forest by at least two measures. First, the number of desirable plant and animal species has increased. Second, the city's Water Protection Department has attributed the students' work to downstream water quality improvements. There has also been a positive impact on the school's educational mission. Teachers conduct academic lessons in the forest. Physical education classes, including cross-country running on the trails, now take place in the forest. The club continues today with support from families, community members, environmental organizations, and parent-teacher association donations.
---
EPA Region 7:
Osage Earth Care
Missouri
Team: Cameron G.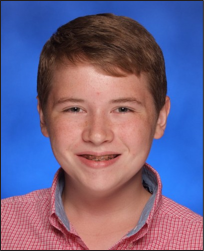 Concerned about the quantity of school waste headed to the local landfill, Cameron began the Osage Earth Care initiative to recycle paper. In fall 2013, Cameron began placing collection boxes for recyclable paper in every middle school classroom. Implementation spread to the high school in fall 2014 and the elementary school in October 2015. As the initiative spread, so have the types of recyclables collected. The initiative now also accepts plastic bottles, newspapers, and magazines at local schools. Each month the initiative collects approximately 1,440 gallon of recyclables, which Cameron personally helps collect from bins and deliver to appropriate facilities for recycling.
Outside the school system, Cameron coordinates with local businesses to collect and recycle cardboard. He uses a vertical cardboard baler to prepare the cardboard for recycling. Thus far, he has diverted over 4,000 pounds of cardboard from landfills. Through his actions, Cameron hopes to foster environmental awareness, and mainstream recycling practices among his peers and other community members.
RAGBRAI Recycling Program Assistance
Iowa
Team: Laurel Stelter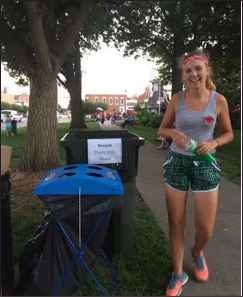 Laurel has successfully participated in six Register's Annual Great Bicycle Ride Across Iowa (RAGBRAI) events since she was 13. RAGBRAI is a 7-day bicycling event that attracts 8,500 riders and 15,000 to 40,000 spectators to Iowa each year.During her third time participating, Laura became concerned by the lack of recycling along the route and contacted the event planners to begin and sustain a bottle and can recycling campaign. Prior to Laurel's involvement, communities along the route were given minimal guidance on trash disposal and recycling. Yet, each of the riders produced an estimated 1.5 gallons of trash during a typical overnight stopover.
With support from RAGBRAI, Laurel's campaign encouraged towns along the route to provide recycling opportunities for riders. In order to achieve this, Laurel researched recycling programs across the state; designed and gave a PowerPoint presentation to host communities; developed resources and tip sheets; helped event planners with key recycling messages, signage, and placement; and documented successes and areas for improvement. After the program began, Laurel documented recycling opportunities during RAGBRAI and their convenience for riders. In 2014, Laurel expanded on what she had learned, revising her presentation and trash disposal and recycling guidance in RAGBRAI handbooks. The community response to her message has been overwhelmingly positive. Laurel has become known as the "RAGBRAI recycling girl" and found that communities are eager to show her their improved recycling containers. She is currently sharing her experience to improve recycling at other community events.
---
EPA Region 8:
Ban Styrofoam in Lake County Schools!
Colorado
Team: Styrofoam Stoppers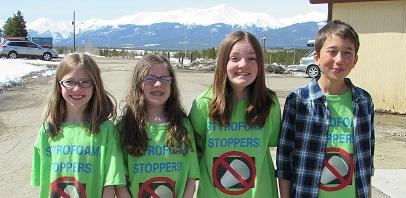 The Styrofoam Stoppers team was formed try to eliminate the use of polystyrene in their school cafeteria after learning about its negative environmental and health consequences. To begin, the Styrofoam Stoppers researched barriers to moving away from polystyrene and alternative options for the school. They presented their findings to other classrooms and reached out to a local conservation organization. They also made changes in their personal habits (e.g., using paper napkins instead of polystyrene plates during snack time and encouraging other students to do the same).
Next, the Styrofoam Stoppers teamed up with the Lake County High School Green Team and the Cloud City Conservation Center to conduct waste audits in their district. The student found that the school district was a major producer of waste, sending almost 120,000 pounds of it to a landfill each year, 16% of which was food packaging, including polystyrene. The students compiled this information for the school district. They showed it would be more economical to wash reusable dishes than to purchase and dispose of polystyrene. As a result, the Styrofoam Stoppers successfully convinced the school board to end the use of polystyrene in the entire district beginning in the 2015-2016 school year. By banning polystyrene and switching to reusable bowls, silverware, and trays, the Styrofoam Stoppers helped the district significantly reduce its waste and contribute to the community's overall waste diversion goals.
Solar Panels: Short and Long Rays of Effect
Colorado
Team: Mackintosh Academy 8th Grade Students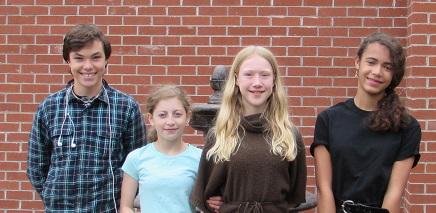 Believing solar power is a safe and cost-effective means for generating energy, Mackintosh Academy 8th graders researched, wrote, and successfully earned a grant to install solar panels at their school. In parallel with a solar panel installation two years later, the students spearheaded two campaigns to begin educating their peers on the benefits of solar power and to launch interest in the panels and their performance. First, at the Solar Celebration, the Mackintosh community celebrated the panel installation with informative presentations, and creative songs and dance. The celebration cultivated enthusiasm for the panels and the power they would generate. Second, during the Autumnal Equinox Inquiry, each classroom tracked data from the panels' monitoring system and presented the findings about the system and how energy is harnessed from the sun. The students used videos, skits, songs, and artwork to distill this complex information.
Additionally, the students are using system monitoring data to inform building operations. For example, they determined that certain buildings were using air conditioning in excess. As a result of the solar panels and improved practices, Mackintosh Academy is saving thousands of dollars on its electricity bill. With these savings, the students have developed a "Solar Scholar" scholarship fund. The solar panels have successfully prevented nearly 20,000 pounds of carbon dioxide from being generated and will continue to produce environmental, economic, and educational benefits for the school and community.
---
EPA Region 9:
Water Conservation at Meadows Elementary with Earth Library
California
Joshua C.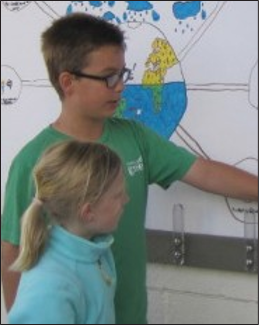 Joshua, a fifth grade student at Meadows Elementary School, was inspired to action as he learned about the California drought. With approval from the school principal, Joshua began educating his peers with illustrative flyers, changing the way art brushes were cleaned to reduce water usage, and starting an Earth Library for fellow students to access books about environmental protection.
After taking these initial steps, Joshua took note of his fellow students' actions and further sought to improve awareness. He created additional posters with water conservation tips, provided "Meadows Water Hero" stickers to students that used reusable water bottles, and set up a booth at Science Night advocating for water conservation and encouraging students to sign a pledge to save water and the Earth. Joshua still hopes to implement several longer-term actions at the school, including replacing grass with turf, installing sensor-activated sinks, adding mulch to plant beds, and planting drought-tolerant plant varieties. Through his efforts, Joshua estimates that he has reached more than 600 students and their families. He has realized that one person can inspire people to make a difference and, at the same time, make a difference as an individual.
Solving Storm and Flash Floods in City Streets by Using Network of Flow Sensors
California
Sanjana Shah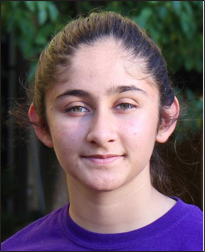 After getting caught in a flood-induced traffic jam with her family, student Sanjana Shah observed that street flooding causes major cascading disruptions in the lives of thousands of people. To better understand and address street flooding, she completed an independent project consisting of original research, development of a monitoring device, and a pilot project to test the device. In her research, she discovered that the major causes for street flooding are clogged drains, insufficient and non-uniform distribution of drain openings, inadequate drain  pipe sizes, and changes in soil permeability over the years.
Sanjana developed the Smart Flood Sensor, using a magnetic, flow- sensor monitoring device, to collect water flow data at drain openings. Via a Bluetooth module, these data are uploaded to central Internet of Things servers and analyzed to predict floods and their severity at nearby drain openings. Sanjana tested these Smart Flood Sensors in her local neighborhood. She configured the sensors to send data to the servers and alert her neighbors when flood threshold levels exceeded 75% of drain pipe capacity. Sanjana believes her sensors have the potential to generate real- time alerts, proactively deploy crews that can fix damaged or clogged drain openings, and prevent flooding.
---
EPA Region 10:
Creating a Salmon Mascot for Kitsap County
Washington
Team: 4th Grade Big Redd Designers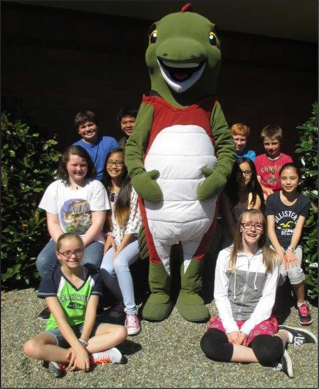 Studying salmon and their  habitats, Clear Creek Elementary fourth graders decided to raise awareness and knowledge about salmon populations with fellow community members. The students determined that a mascot could educate community members that salmon presence is an important indicator of local watershed health. The students designed the mascot with the help of an international mascot company and held a community vote to select its name, "Big Redd." Big Redd has made appearances at local elementary, middle, and high schools; salmon releases with fingerlings raised by students; the annual Seafair's Whaling Days parade; the Hood Canal Green Summit; and at salmon camps at the Hood Canal Salmon Enhancement Group property.
Additional efforts by these students have helped raise awareness about watershed health. They created a video explaining why the watershed is important to salmon populations and painted a mural highlighting the importance of the community's creek. The students feel they have achieved their goal of raising awareness among other students and community members.
Kids4Wolves
Washington
Story Warren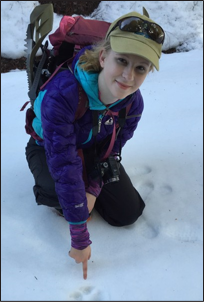 Story has been passionate about wolves since she observed them in the wild as  a young child. She enjoys studying the wolves' history, behavior, ecology, and impacts on other species. To bolster this knowledge, she meets with wolf scientists, attends coexistence workshops, interviews nongovernmental organization leaders, volunteers at Wolf Haven International, and studies wolves in the wild.
Story created Kids4Wolves to share her knowledge with other young people about conserving and coexisting with wolves. Kids4Wolves has initiated numerous letter-writing campaigns, participated in policy proceedings, and created informational videos. Story hopes to positively change attitudes about wolves by communicating in-person and across Kids4Wolves' various social media platforms. Her goal is to generate interest among young people about wildlife and the outdoors, educate students with well-founded science, and inspire people to get involved in wolf-related policy. Kids4Wolves has a presence in many classrooms; the news media; and local, federal, and state policy proceedings.