From the introduction: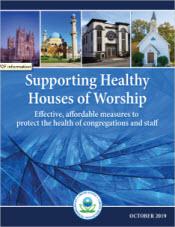 Read the news releaseThere are thousands of places of worship in the United States. Many of these buildings were built decades or even over a century ago and—like many older buildings—may contain environmental conditions that could pose increased risks to the health of congregants and staff.
Children are particularly vulnerable to many environmental risks. Since many places of worship play important roles in children's lives—through schooling, daycare, and other services—please consider using this document to ensure that your place of worship is a healthy and safe environment for children.
This booklet is designed to identify some of the most common types of environmental health concerns found in older facilities and contains voluntary recommendations that maintenance staff may use to limit risks to congregations. It also provides one-stop access to learn some facts about these issues and existing low-cost or no-cost measures to prevent, reduce, and resolve each of the highlighted environmental issues.
Read the full booklet, below.
You may need a PDF reader to view some of the files on this page. See EPA's About PDF page to learn more.