Battery Manufacturing Effluent Guidelines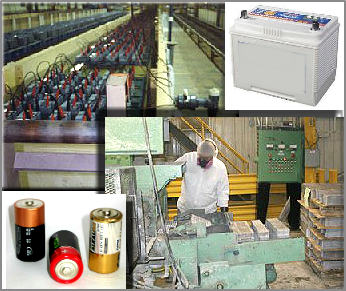 EPA promulgated the Battery Manufacturing Effluent Guidelines and Standards (40 CFR Part 461) in 1984 and amended the regulation in 1986. The regulation covers direct

direct dischargerA point source that discharges pollutants to waters of the United States, such as streams, lakes, or oceans. and indirect

indirect dischargerA facility that discharges pollutants to a publicly owned treatment works (municipal sewage treatment plant). dischargers. The Battery Manufacturing Effluent Guidelines and Standards are incorporated into NPDES permits for direct dischargers, and permits or other control mechanisms for indirect dischargers (see Pretreatment Program).
On this page:
---
What is the Battery Manufacturing Industry?
Battery manufacturing encompasses the production of modular electric power sources where part or all of the fuel is contained within the unit and electric power is generated directly from a chemical reaction. There are three major components of a cell—anode, cathode, and electrolyte—plus mechanical and conducting parts such as case, separator, or contacts. Production includes electrode manufacture of anodes and cathodes, and associated ancillary operations necessary to produce a battery.
Water is used in battery manufacturing plants in preparing reactive materials and electrolytes, in depositing reactive materials on supporting electrode structures, in charging electrodes and removing impurities, and in washing finished cells, production equipment and manufacturing areas.
Wastewater is generated from many processes within the plants, including formation area washdown, plate curing, product rinsing, cooling, equipment and floor area washing, laboratory washing, hand washing, laundry, truck washing and wet scrubbers (air pollution controls). Regulated pollutants (varying by subcategory) include cadmium, chromium, cobalt, copper, cyanide, iron, lead, manganese, mercury, nickel, oil & grease, silver and zinc.
These activities are included within the following NAICS groups:
335911: Storage Battery Manufacturing
335912: Primary Battery Manufacturing
Note: the NAICS listing is provided as a guide and does not define the coverage of the Battery Manufacturing category. For precise definitions of coverage, see the applicability sections in 40 CFR Part 461.
---
Facilities Covered
The category is organized on the basis of anode material and electrolyte, with seven subcategories:
Cadmium
Calcium
Lead
Leclanche
---
Guidance Document
---
Rulemaking History
1986 Amendment
Revised Subpart C pursuant to litigation
1984 Initial Rulemaking
Documents, including:

Final Rule (March 9, 1984)
Development Document (September 1984)
Industry description, wastewater characterization, treatment technologies, regulatory compliance cost estimates and pollutant loadings for the final rule
Notice of Data Availability (November 21, 1983)
Proposed Rule (November 10, 1982)
---
Additional Information
For additional information regarding Battery Manufacturing Effluent Guidelines, please contact Jezebele Alicea-Virella (alicea.jezebele@epa.gov) or 202-566-1755.