Explosives Manufacturing Effluent Guidelines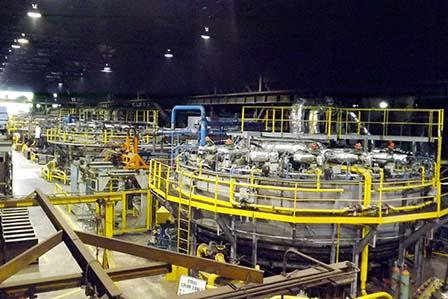 EPA promulgated the Explosives Manufacturing Effluent Guidelines (40 CFR Part 457) in 1976. The regulation only applies to direct dischargers

direct dischargerA point source that discharges pollutants to waters of the United States, such as streams, lakes, or oceans.. The Effluent Guidelines are incorporated into NPDES permits.
On this page:
---
What is the Explosives Manufacturing Industry?
Explosives manufacturing can be divided into two broad areas: military and commercial. Military plants produce strictly for the military and commercial plants produce for both military and non-military clients. Plants can differ in size, product and type of operation. Ammonium nitrate-based explosives, dynamite, and nitroglycerin are generally considered commercial explosives, while TNT, HMX, and RDX are generally considered military explosives.
Sources of wastewater pollutants include aqueous wastes from reactors, filtration systems, decanting systems, distillation vacuum exhaust scrubbers, caustic scrubbers, process equipment cleanouts, area washdowns, formulation equipment cleanup and spill washdowns.
Explosives Manufacturing is included within NAICS group 325920. The NAICS listing is provided as a guide and does not define the coverage of the Explosives Manufacturing category. For precise definitions of coverage, see the applicability sections in 40 CFR Part 457.
---
Pollutants and Subcategories
Regulated Pollutants
The regulated parameters vary by subcategory, and include:
COD

BOD5

TSS

pH (abnormally high or low)

Oil and grease
Regulation Subcategories
Manufacture of Explosives
Explosives Load, Assemble, and Pack Plants (plants which blend explosives and market a final product, and plants that fill shells and blasting caps)
Excluded Processes
In explosives manufacturing, a portion of the wastewater pollutants comes from the manufacture, concentration, recovery, and purification of sulfuric, nitric, acetic, and other acids. The wastes associated with this portion of explosives manufacturing are addressed in other Effluent Guidelines categories:
---
Rulemaking History
1976 Initial Rulemaking
BPT
Documents, including:

Interim Final Rule (March 9, 1976)
Development Document (March 1976)
Industry description, wastewater characterization, treatment technologies, regulatory compliance cost estimates and pollutant loadings for the final rule
---
Additional Information
For additional information regarding Explosives Manufacturing Effluent Guidelines, please contact Anthony Tripp (tripp.anthony@epa.gov) or 202-566-1419.