Oil and Gas Extraction Effluent Guidelines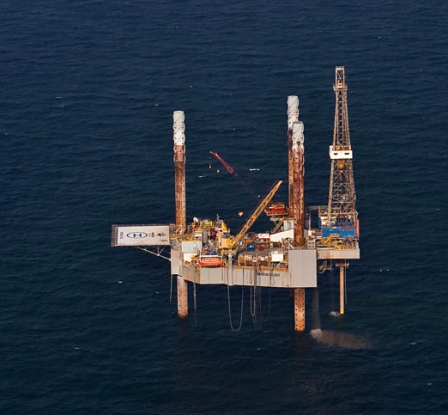 EPA promulgated the Oil and Gas Extraction Effluent Guidelines and Standards (
40 CFR Part 435
) in 1979, and amended the regulations in 1993, 1996, 2001 and 2016. The regulations cover wastewater discharges from field exploration, drilling, production, well treatment and well completion activities. These activities take place on land, in coastal areas and offshore.
The Oil and Gas regulations apply to conventional and unconventional oil and gas extraction with the exception of coalbed methane. The regulatory requirements are incorporated into
NPDES permits
.
 
On this page:
---
What is the Oil and Gas Extraction Industry?
Oil and Gas Extraction is the exploration and production of petroleum and natural gas from wells. The industry generates wastewater from the water extracted from the geological formations and from chemicals used during exploration, well drilling and production of oil and gas.
These activities are included within NAICS code 211111, Crude Petroleum and Natural Gas Extraction. (Note: the NAICS group listings are provided as a guide and do not define the coverage of the Oil and Gas regulations. For precise definitions of coverage, see the applicability sections in 40 CFR Part 435.)
---
Facilities Covered
The Oil and Gas regulations apply to facilities organized into 5 subcategories:
Offshore

Onshore

Coastal

Agricultural and Wildlife Water Use

Stripper Wells
---
Unconventional Extraction - Pretreatment Standards
EPA established pretreatment standards under Subpart C in 2016. These standards prohibit discharges of wastewater pollutants from onshore unconventional oil and gas (UOG) extraction facilities to publicly owned treatment works.
---
Study of Oil and Gas Extraction Wastewater Management - 2019
EPA is conducting a holistic study of the management of produced water from onshore oil and gas wells. The study is not looking specifically at any one existing effluent guideline category.
---
Coalbed Methane Extraction Documents - 2010/2013
EPA has not promulgated effluent limitations guidelines and standards for pollutant discharges from coalbed methane extraction facilities. EPA had initiated a coalbed methane rulemaking, but announced its decision to discontinue this effort in Fall 2014.
---
Rulemaking History
2016 Amendment
2001 Amendment
Added requirements for the discharge of synthetic-based drilling fluids (SBFs) and other non-aqueous drilling fluids
1996 Amendment
Added BAT, BCT, NSPS, PSES and PSNS, and revised BPT limitations for coastal facilities
1993 Amendment
Added BAT, BCT and NSPS requirements for offshore facilities
Documents, including:

Final Rule (March 4, 1993)
Proposed Rules:

March 13, 1991
November 26, 1990
October 21, 1988 (Notice of Data Availability)
August 26, 1985
1979 Initial Rulemaking
BPT limitations for Offshore; Onshore; Coastal; and Agricultural and Wildlife Water Use subcategories
Documents, including:

Final Rule (April 13, 1979)
Interim Final Rules:

October 13, 1976 (Subparts C through F)
September 15, 1975 (Subparts A and B)
---
Additional Information
For additional information on Oil and Gas Effluent Guidelines, please contact Jesse Pritts (pritts.jesse@epa.gov) or 202-566-1038.